But to stand out amongst the competition, you'll need a well-written and compelling internship CV.
It can be hard to know what to include, but I'll take you through everything you need to know in this guide.
It includes 2 CV examples for an internship and will help you to land interviews and secure that first step on the ladder.
Guide contents
CV for internship example
Structuring and formatting your CV
Writing your CV profile
Detailing work experience
Your education
Skills required for your CV for internship

CV for internship CV example 1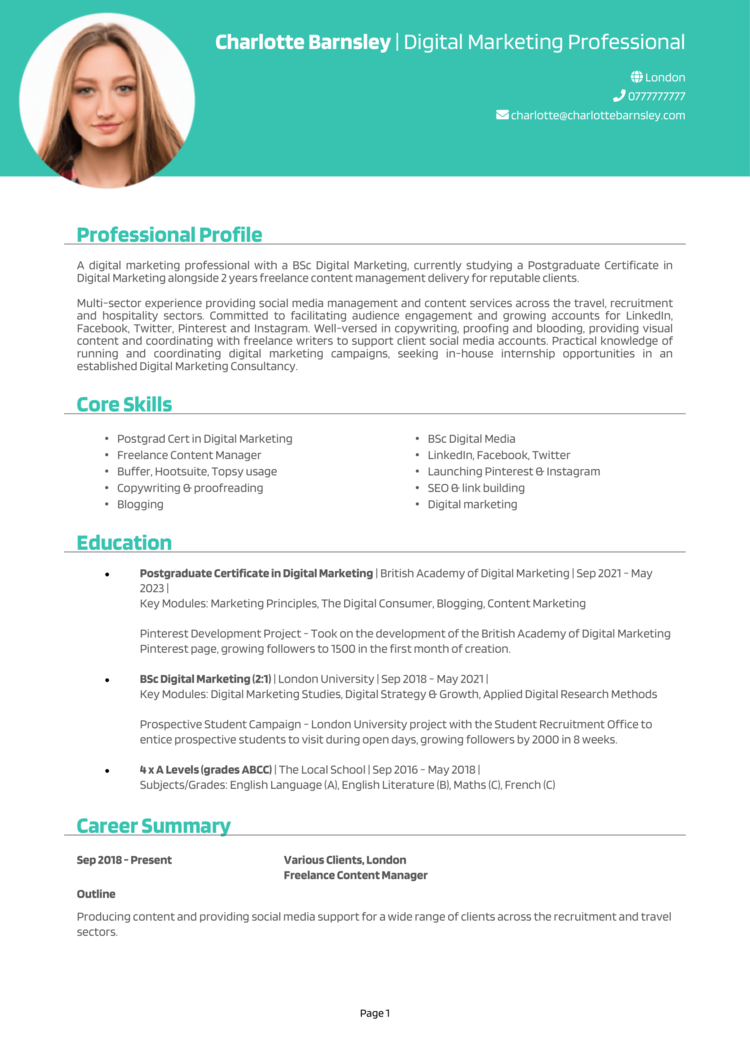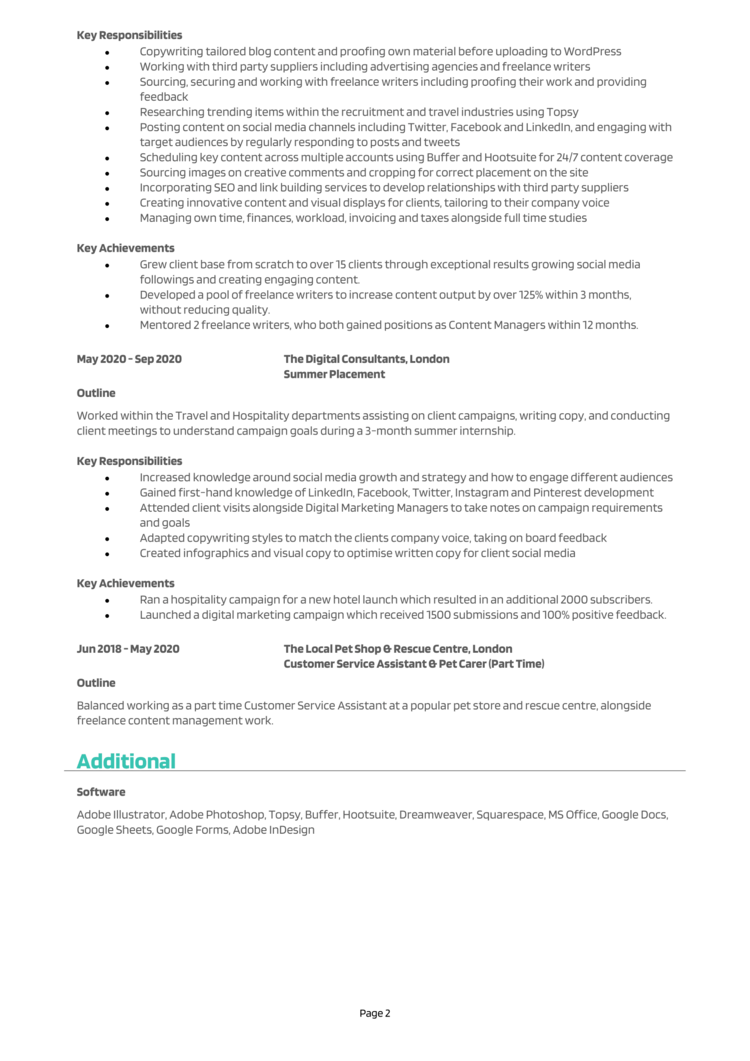 CV for internship CV example 2
Before you start writing your CV, it can be helpful to know what the finished document should look like. Take a good look over the CV example above and try to aim for the same high standard whilst writing your own.
CV for internship CV structure & format
Recruiters are busy, and if they can't find the information they're looking for in a flash, it could be game over for your application.
You need to format and structure your CV in a way which allows the reader to pick out your key information with ease, even if they're strapped for time.
It should be clear, easily legible, well-organised and scannable – check out some simple tips and tricks below:
Formatting Tips
Length: Recruiters will be immediately put off by a lengthy CV – with hundreds of applications to read through, they simply don't have the time! Grabbing their attention with a short, snappy and highly relevant CV is far more likely to lead to success. For an internship, one page of A4 should be enough — but you can go up to two sides if necessary.
Readability: Help out time-strapped recruiters by formatting your CV for easy reading. Using lots of bullet points and lists will help them to skim through your info, while clearly formatted headings will allow them to navigate towards the content which is most useful to them.
Design: When it comes to CV design, it's best to keep things simple and sleek. While elaborate designs certainly command attention, it's not always for the right reasons! Readability is key, so whatever you choose to do, make sure you prioritize readability above everything.
Avoid: Ditch logos, images or profile photos. Not only do they take up valuable space, but they may even distract recruiters from your important written content.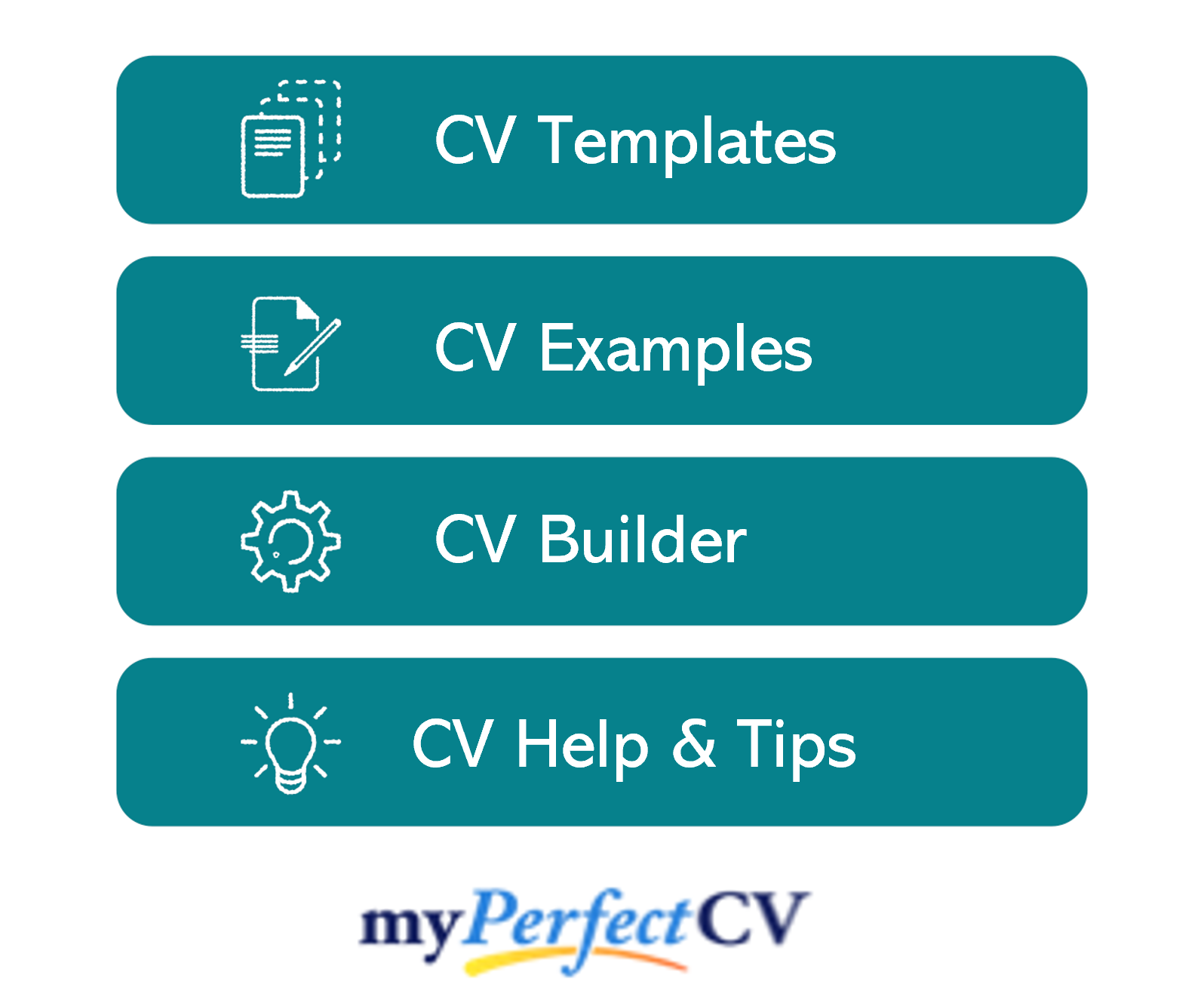 Structuring your CV
Divide your CV into the following major sections:
Name and contact details – Head your CV with your name and contact details, to let the reader know who you are and how to contact you.
CV profile – A brief paragraph which summarises your skills and experience and highlights why you're a good match for the role.
Core skills list – A snappy, bullet-pointed list of your most relevant skills.
Education – A summary of any relevant qualifications or professional training you've completed.
Work experience – A structured list of your work experience in reverse chronological order.
Hobbies and interests – An optional section, which should only be used if your hobbies are relevant to the jobs you're applying to.
Feel a little unsure of exactly what to include in each of the above sections? Next, I'll cover each section in more detail.
CV Contact Details
Start off your CV with a basic list of your contact details.
Here's what you should include:
Mobile number
Email address – It's often helpful to make a new email address, specifically for your job applications.
Location – Share your town or city; there's no need for a full address.
LinkedIn profile or portfolio URL (optional) – Make sure the information on them is coherent with your CV, and that they're up-to-date.
Quick tip: Delete excessive details, such as your date of birth or marital status. Recruiters don't need to know this much about you, so it's best to save the space for your other CV sections.
CV for internship Personal Statement
Your CV personal statement provides a brief overview of your skills, abilities and suitability for a position.
It's ideal for busy recruiters and hiring managers, who don't want to waste time reading unsuitable applications.
Think of it as your personal sales pitch. You've got just a few lines to sell yourself and prove you're a great match for the job – make it count!
Tips to consider when creating your profile:
Avoid clichés: 'Determined team player who always gives 110%' might seem like a good way to fill up your CV profile, but generic phrases like this won't land you an interview. Recruiters hear them time and time again and have no real reason to believe them. Instead, pack your profile with your hard skills and tangible achievements instead.
Make it short and snappy: Recruiters are busy, so to ensure your personal statement is actually read, it's best to keep it short and snappy. 8-12 punchy lines makes for the perfect length.
Research your target internship: Recruiters can spot a generic, mass-produced CV at a glance – and they certainly won't be impressed! Before you write your profile (and CV as a whole), read through the job ad and make a list of any skills, knowledge and experience required. You should then incorporate your findings throughout your CV.
What to include in your CV for internship personal statement?
Education + qualifications – As you're a junior/entry-level candidate, these are particularly important. Highlight any particularly relevant qualifications and provide a brief summary of your education as a whole. Don't go into too much detail, though — save the exhaustive list of your qualifications for your education.
Experience – Whether it's work experience from school, a University placement, a volunteer role or even relevant experience from extracurricular hobbies and projects, give recruiters an insight into what you've done so far.
Skills + knowledge – Take a look at the job description to discover what skills and knowledge the employer is specifically looking for. If you can match any, make sure to incorporate them into your personal statement.
Motives – Employers will be keen to know why you're applying for the roles you're applying for and how your goals and interests align with the role — after all, they want to hire someone who's genuinely passionate about gaining the role.
Quick tip: A poorly written CV will fail to impress recruiters and employers. Use our partner's CV builder to create a winning CV in minutes with professional templates and pre-written content for every industry.
Core skills section
Next, you should create a bullet point list of your core skills, formatted into 2-3 columns.
Here, you should focus on including any skills or knowledge listed in the job advertisement.
This will instantly prove that you're an ideal candidate, even if a recruiter only has time to briefly scan your CV.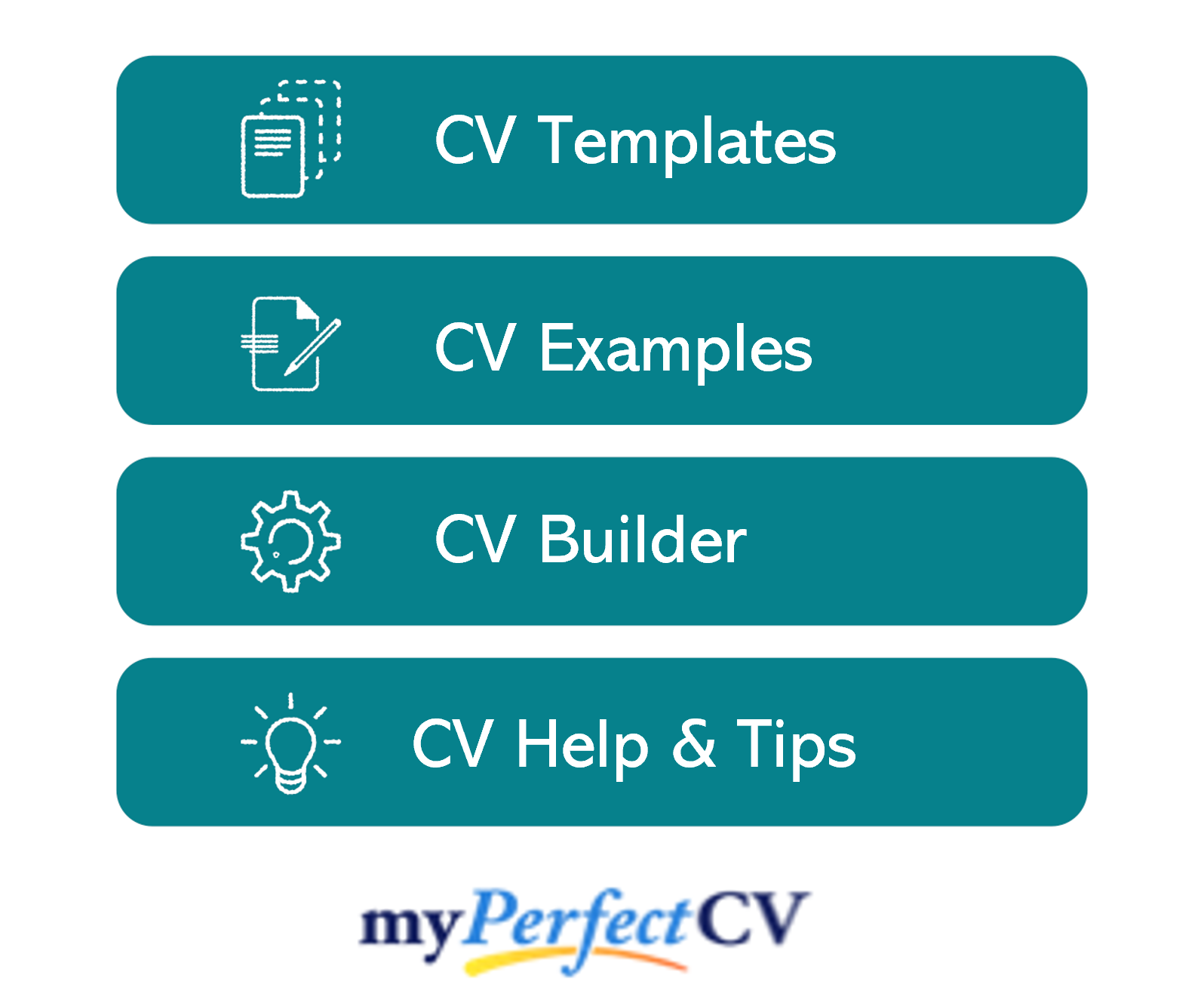 Education
As you'll have limited work experience, you can dedicate lots of space for your education.
You should list your formal academic qualifications, such as:
As well as any specific sector qualifications or training, if you have any.
Note down the name of the qualification, the establishment at which you studied, and the date of completion.
You can also discuss relevant modules, projects and assignments in more detail, focusing on showcasing the skills gained.
Work experience/Career history
Next up is your work experience section. Start with your current (or most recent) job and work your way back through your experience.
Don't worry if this section of your CV is short. Employers don't expect interns to have years of experience — they're looking for potential.
This could be university placements, work experience, freelance, voluntary, part-time or temporary jobs too.
However, make sure to focus on the transferable skills you've picked up during these roles or activities, especially any that are relevant to the internship you're applying for.
Structuring your roles
Lengthy, unbroken chunks of text is a recruiter's worst nightmare, but your work experience section can easily become clunky.
To avoid this, use my tried-and-tested 3-step structure, as illustrated below:
Outline
Begin with a summary of your role, detailing what the purpose of your job was, who you reported to and what size of team you were part of.
E.g.
"Reporting to the marketing manager, I undertook a one-month placement at a city-centre marketing agency. I assisted with a range of digital marketing projects including social media marketing and content writing."
Key responsibilities
Next up, you should write a list of your day-to-day duties within the job.
Even if the role is unrelated, try to highlight any transferable skills that could benefit the internship you're applying for.
E.g.
Used Photoshop to design a range of images for a client's social media accounts.
Wrote blogs on the subject of social media marketing for the agencies company blog.
Used Hootsuite to help schedule social media posts for a range of clients.
Key achievements
Round up each role by listing 1-3 key achievements, accomplishments or results.
Wherever possible, quantify them using hard facts and figures, as this really helps to prove your value.
E.g.
Achieved 1k likes on an Instagram post I designed for a sportswear brand.
Gained the Google Ads and Facebook Blueprint Certifications.
Interests and hobbies
The hobbies and interests CV section isn't mandatory but can be beneficial if you don't have much relevant experience under your belt.
Be careful with what you include though. Consider hobbies that exhibit skills that are required for the role you're applying for, or which show transferable skills or initiative.
For example, being part of a sports team, running your own blog, a creative pursuit or playing an instrument make good additions.
But generic hobbies like 'watching TV' won't impress recruiters, so you're best off saving the space for other CV sections.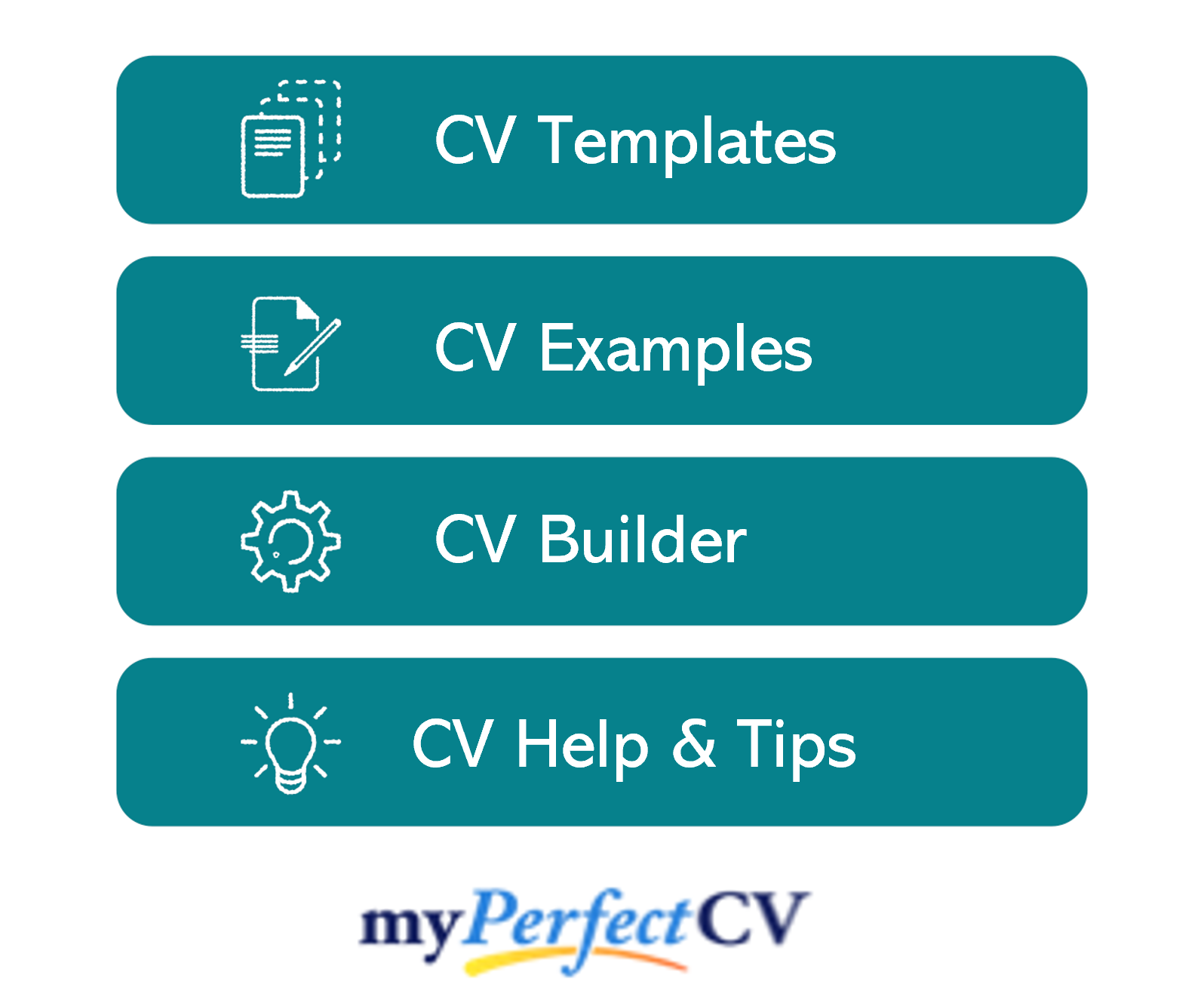 Essential skills for your CV for internship
The skills required will vary from role to role and depending on which sector you're entering, so make sure to tailor your CV to the job description.
However, most employers value candidates with a range of transferable soft skills, such as:
Communication – Whether it's customers, clients, colleagues or your boss, your new role will likely involve lots of written and verbal communication. Make sure to pinpoint how you've used communication skills during your studies and in extracurricular activities.
Teamwork – Internships and jobs, in general, are often based on working together as a team to achieve certain goals. So, pack your CV with plenty of examples of teamwork, such as being part of a sports team or working on a group project in school/university.
Time management + organisation – Employers want to know you'll get to work on time, be able to meet deadlines and manage your time effectively. You can prove you've got what it takes by sharing examples of times you've met deadlines or juggled assignment during your studies or held up a part-time job alongside studying.
IT skills – Nowadays, most jobs include at least some computer work. Employers want to hire interns who are tech-savvy and can get to grips with new programmes quickly. Make sure to highlight how and where you've used various programmes and software.
Writing your CV for internship
An interview-winning CV for an internship needs to be both visually pleasing and packed with targeted content.
Whilst it needs to detail your education, experience and relevant skills, it also needs to be as clear and easy to read as possible.
Remember to research the role and review the job ad before applying, so you're able to match yourself up to the requirements.
If you follow these guidelines and keep motivated in your job search, you should land an interview in no time.
Best of luck with your next application!