If you're searching for creative roles, it's essential to have a well-structured and visually pleasing CV, which highlights your valuable strengths.
But producing a strong CV can be a difficult and time consuming task, so a good CV template can make that job a little easier.
So, I've put together a simple-but-effective creative CV template, and provided 7 CV examples to aid you in producing your own interview winning CV.

Creative CV template – Graphic designer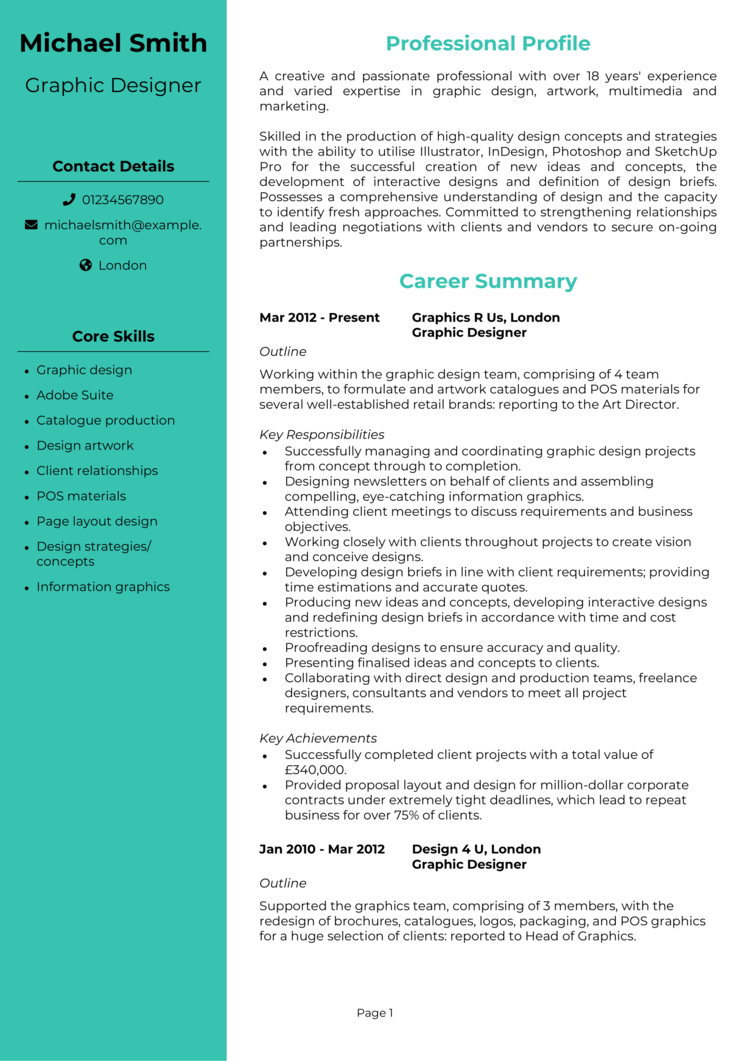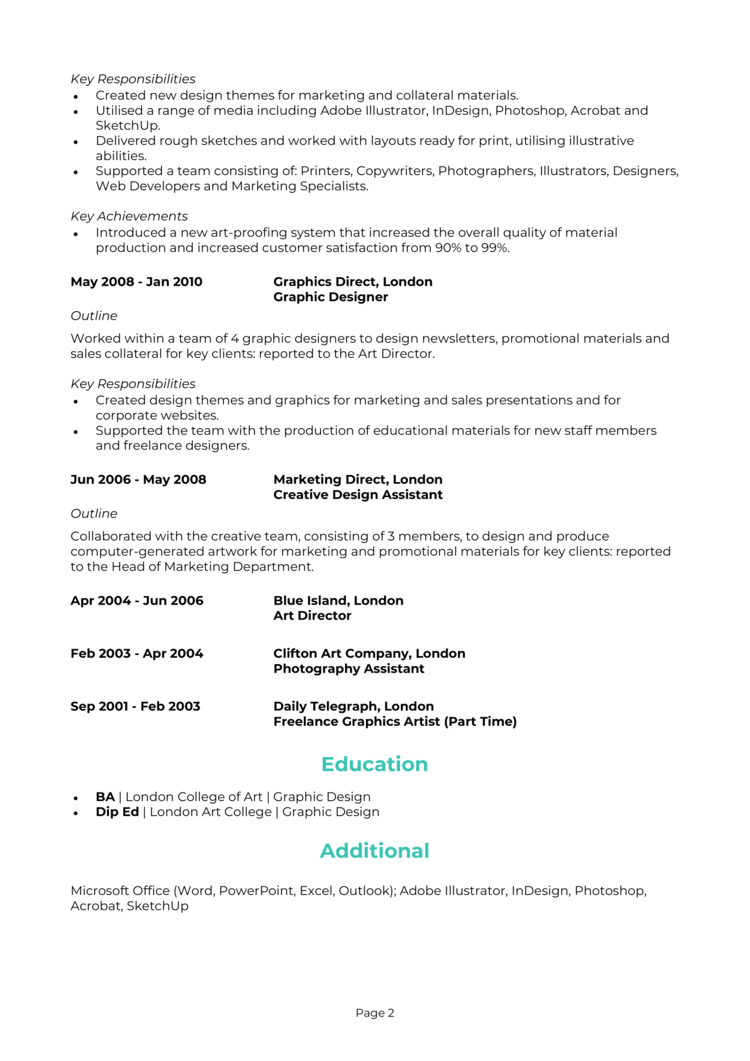 The above example CV demonstrates how to correctly format your CV, allowing recruiters to easily flow through your experience, and find the creative skills they are looking for.
When you're trying to enter a competitive industry such as graphic design, it's crucial to have a visually pleasing CV that highlights your strengths.
Using this CV template…
Profile and core skills
Your CV profile is an introduction to your CV and your chance to sell the experience, qualifications and skills that make you perfect for graphic designer roles.
You need to be drawing recruiters' attention at the top of the page and enticing them to read deeper into your CV.
Place a core skills section underneath your profile, enabling recruiters at first glance to see your industry specific strengths and tools you use, such as Adobe packages.
Work experience
In your work experience section, record your previous roles in reverse chronological order, featuring those positions most applicable to the graphic design sector.
Break up your role descriptions by firstly providing context to recruiters with an overview of your role, before listing any core duties undertaken.
Look to explore project involvement, additional duties taken on or any key relationships built.
Achievements
Potential employers want to see the value you added in previous roles, so detail any impressive achievements throughout your career.
Education
Complete your CV with an educational section that is comprised of courses most related to the industry you're pursuing.
For example, design, illustration or fine art degrees or courses in CAD or other design software should be featured in this section.
For any creative CV, add a link to a portfolio of work in your contact details, if applicable.
Creative copywriter CV template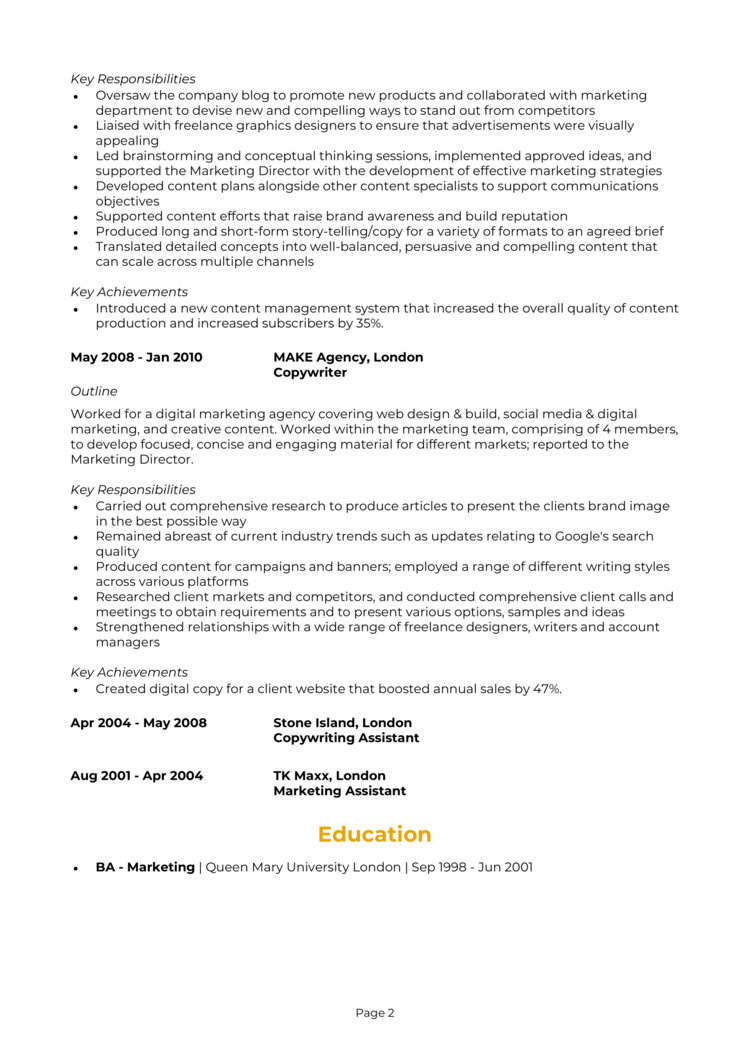 For your copywriter CV, you want to be accentuating your experience, whether freelancing or in-house through a well-defined and professional CV structure.
Using this CV template…
Profile
This is an opening paragraph, which like a blurb to a book, gives an overview to your CV and showcases any relevant experience, qualifications or strengths.
Tailoring this section to the industry you're pursuing is imperative, helping recruiters to quickly realise why you should be selected.
Beneath add a core skills section, use your sector research to comprise a list which is custom built for copywriter roles.
Work experience
This section shouldn't just be limited to full time employment, but should incorporate all experience whether freelancing, self-employed projects, part time positions or any work experience.
Look to adopt a role description structure that is made up of three sections:
1) Give recruiters an overview of the role you assumed and the company you were part of
2) List your responsibilities in bullet point form
3) Add any key achievements, displaying the value you added
Hobbies and Interests
Interests and hobbies is an optional section that can be used to further provide evidence of your transferable skills.
For example, with copywriter roles, select hobbies such as writing a blog in your free time or being part of a creative writing class, which showcase your passion for the industry.
Creative interior designer CV template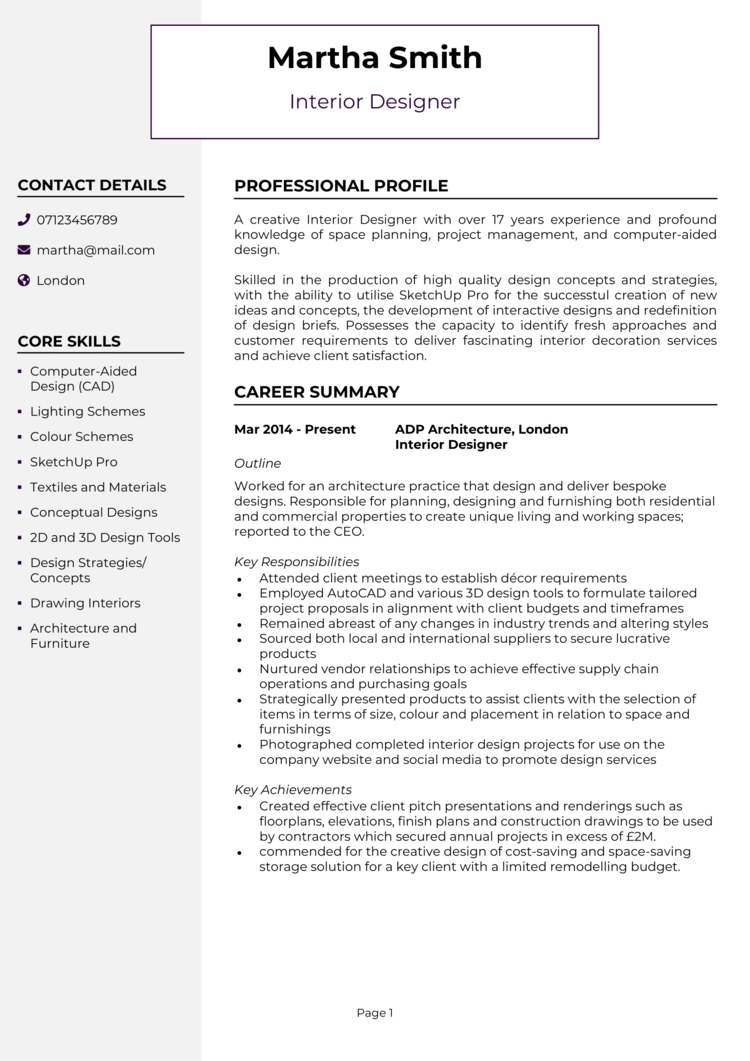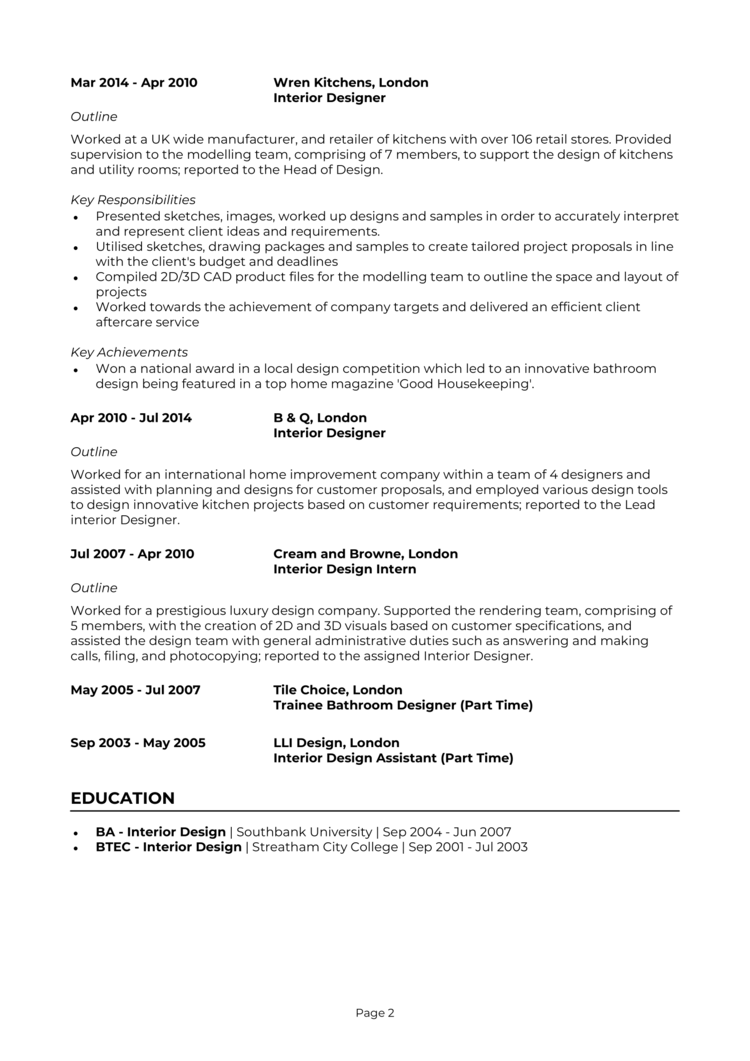 When you're exploring opportunities as an interior designer, an aesthetically pleasing CV is vital to displaying the important aspects of your experience.
How to use this CV template…
Profile
Think of your CV profile as your sales pitch!
A tailored profile is imperative to drawing recruiters' attention, engaging them to read further into your CV.
This should be a concise opening made up of 5-10 lines that summarises your marketable skills, experience and qualifications..
You need to be unique in your descriptions and customise yourself to the industry to stand out from the crowd.
Work experience
In this section you want to be providing recruiters' insight into your career history, whilst breaking up large blocks of text with defined sections and bullet points.
Look to document the value you had within each organisation by including any key achievements.
Don't limit yourself to full time positions but instead include any freelancing opportunities, work experience, internships or placements.
Hobbies and Interests
Unlike other sections, this is optional but can be beneficial if the hobbies and interests you include help to further your application.
Avoid generic hobbies and instead tailor these to the industry, for example if you enjoy restoration in your spare time include this within your CV, detailing any particular examples.
Creative web developer CV
If you're considering a new role in the web development industry, you're first impression needs to be strong with an engaging CV.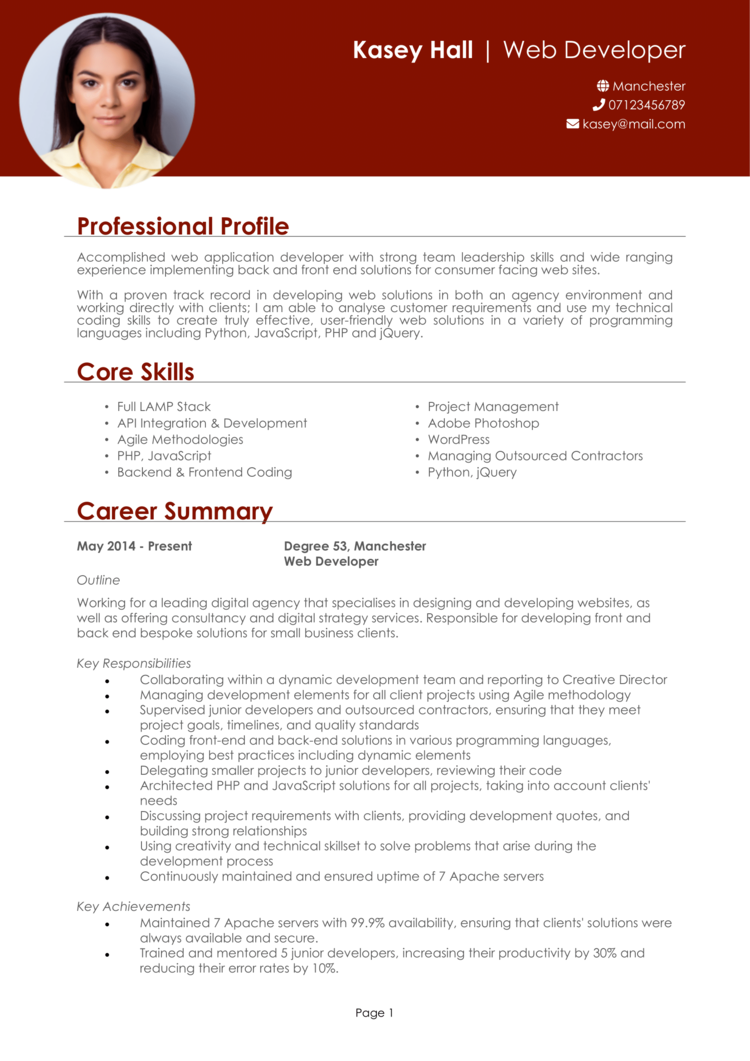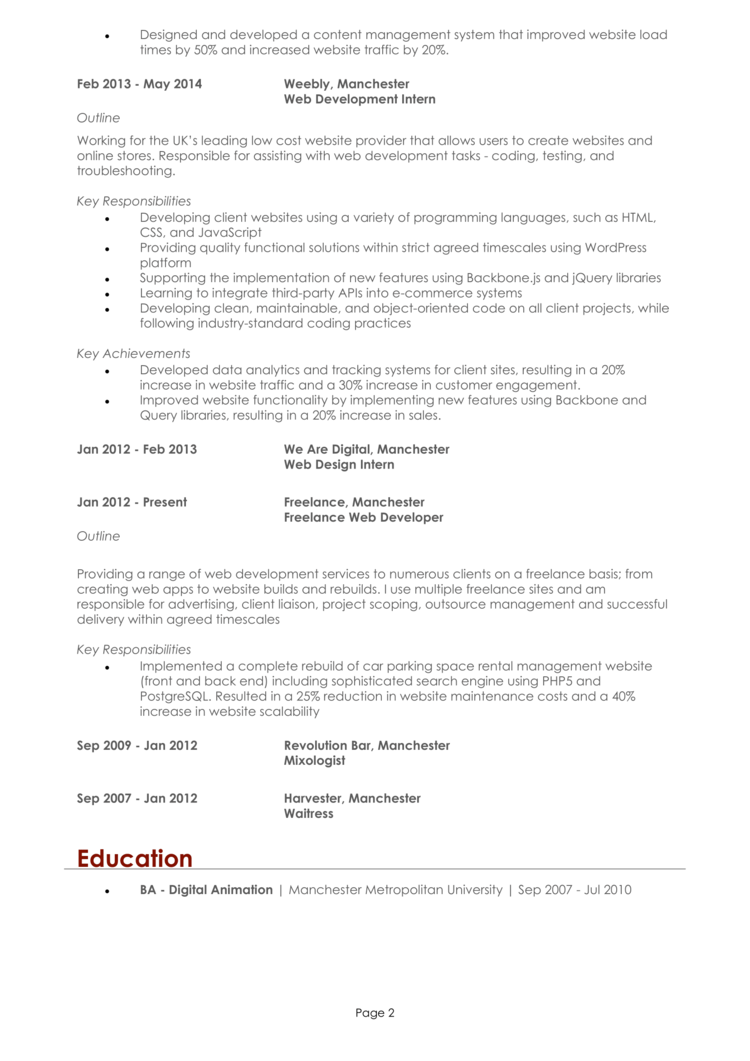 How to use this CV template…
CV profile
Begin your CV with a punchy opening that summarises your capability with the aim of drawing in recruiters.
Reflect on the skills, qualifications and experience needed in the industry and start to tailor your profile to web developer roles.
Prior to producing this section, research the sector, adding key words and strengths, making it easy for recruiters to spot your relevancy for the industry.
Career summary
Start each role with an outline to give an insight to recruiters about the position you assumed and the company you worked for.
Follow up with a bullet pointed list of the duties you fulfilled, including any additional project involvement.
You also need to be representing the impact you had within that role, including facts and figures to strengthen your examples.
Qualifications
Focus on any qualifications that are required within this sector, whether that is design degrees, web design courses or certificates in interactive media.
Consider even adding a section that can link to web sites you have designed in previous roles, showcasing your ability and expertise.
Creative architect CV template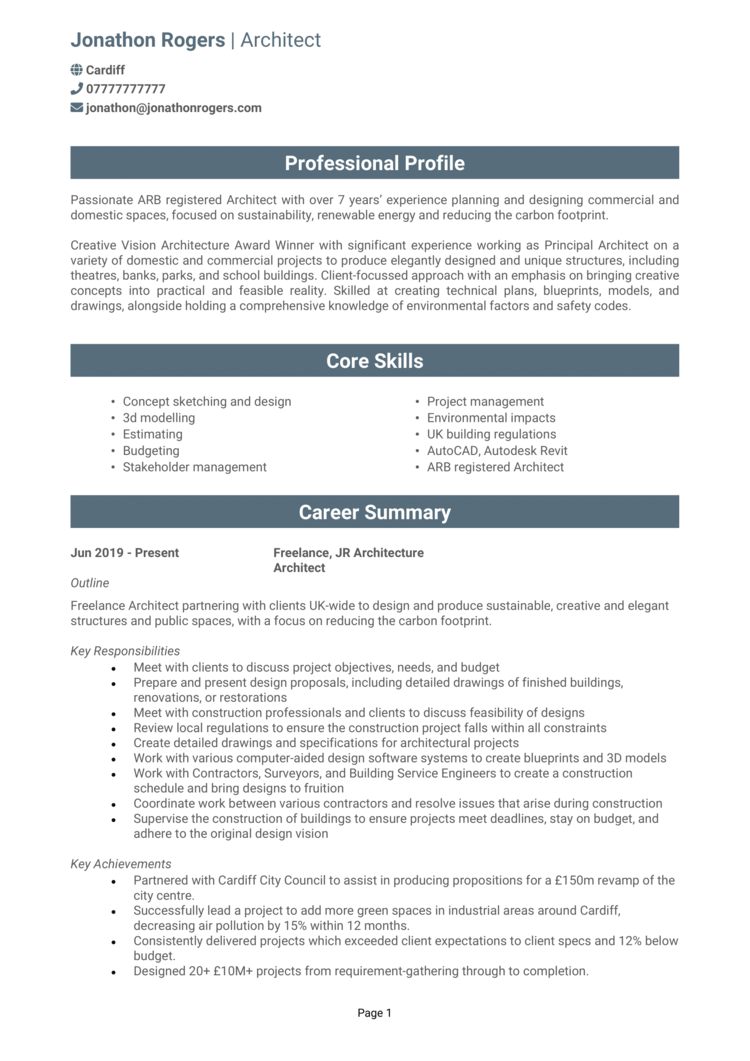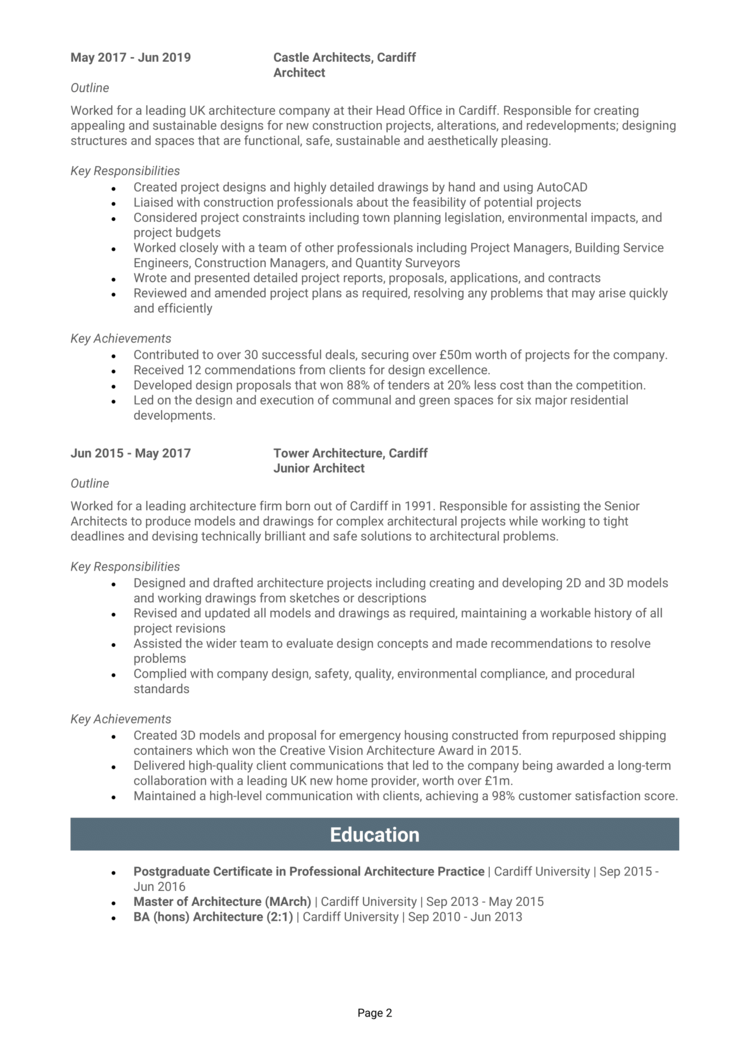 How to use this CV template…
Profile
This opening paragraph should be a brief intro to the qualifications, experience and strengths that make you a strong candidate for architect positions.
Research the industry prior to producing this section, allowing you to add key words or industry specific specifications.
Work history
Commence this section with your most recent roles, working backwards through your career history, giving more depth to roles that are related to this industry.
Break your role descriptions into three sections: 1) Outline – an overview of your role, 2) Responsibilities – a bullet point list of your duties, 3) Achievements – impressive results which demonstrate the value you had within an organisation.
Education
Look to include any qualifications you have secured such as degrees in architecture, or RIBA courses or apprenticeships in the sector.
Consider also adding any memberships obtained whether being chartered in the RIBA or a registered member of the Architect board.
Creative marketing CV template
The below CV layout demonstrates exactly how you should be structuring your marketing CV, to highlight your core strengths and most applicable experience.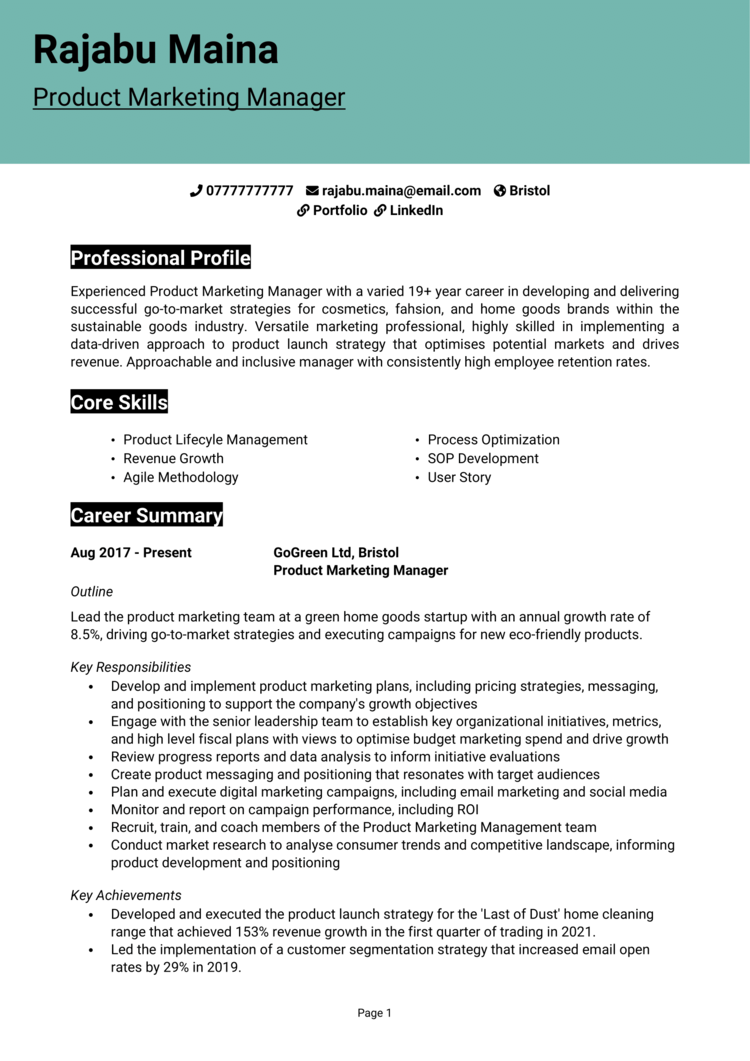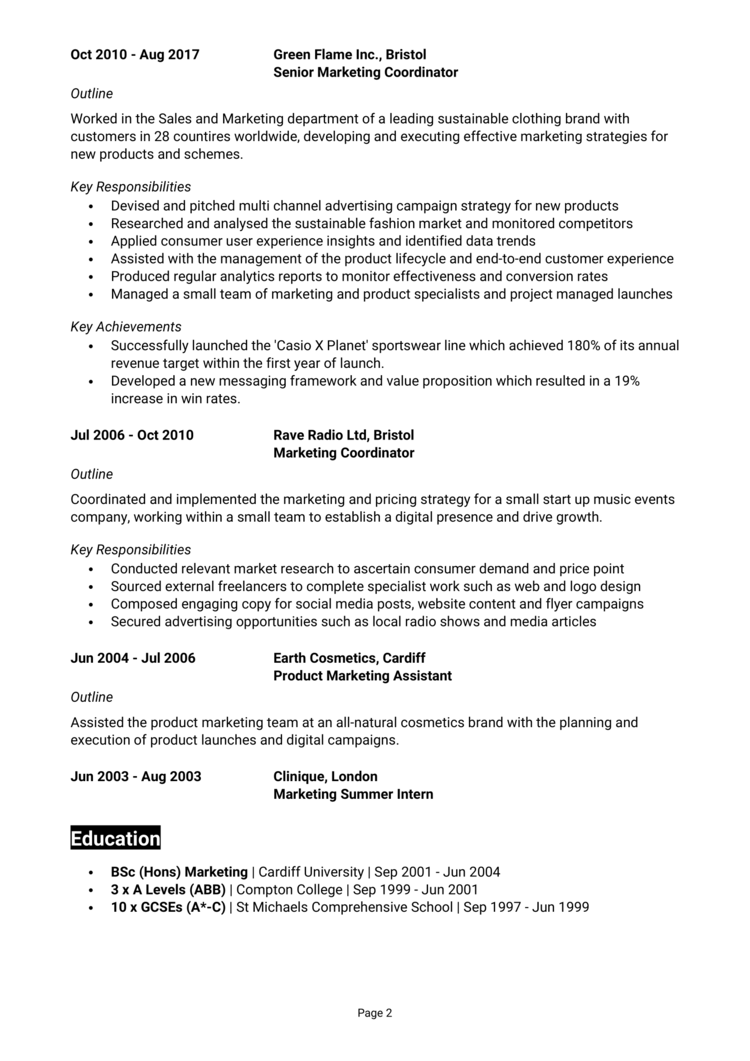 How to use this CV template…
CV profile
Keep the most essential information to the top of the page, drawing recruiters to read further into your CV.
Use your profile (or personal statement) to add any core strengths, qualifications and experience you have within the marketing sector, tailoring yourself to the industry in a concise opening.
Work experience
Record your work experience in reverse chronological order, reserving space for your most recent or related roles and shortening your descriptions as you work backwards.
Look to incorporate the full range of your experience whether freelancing, work experience, full or part time roles or placements.
It's essential to add any key achievements, displaying the value you had within an organisation.
Education
Begin this section with qualifications needed to pursue roles in marketing, whether that be degrees in marketing or HNDs in communication.
Also, look to incorporate any memberships to bodies such as the CIM.
Creative acting CV template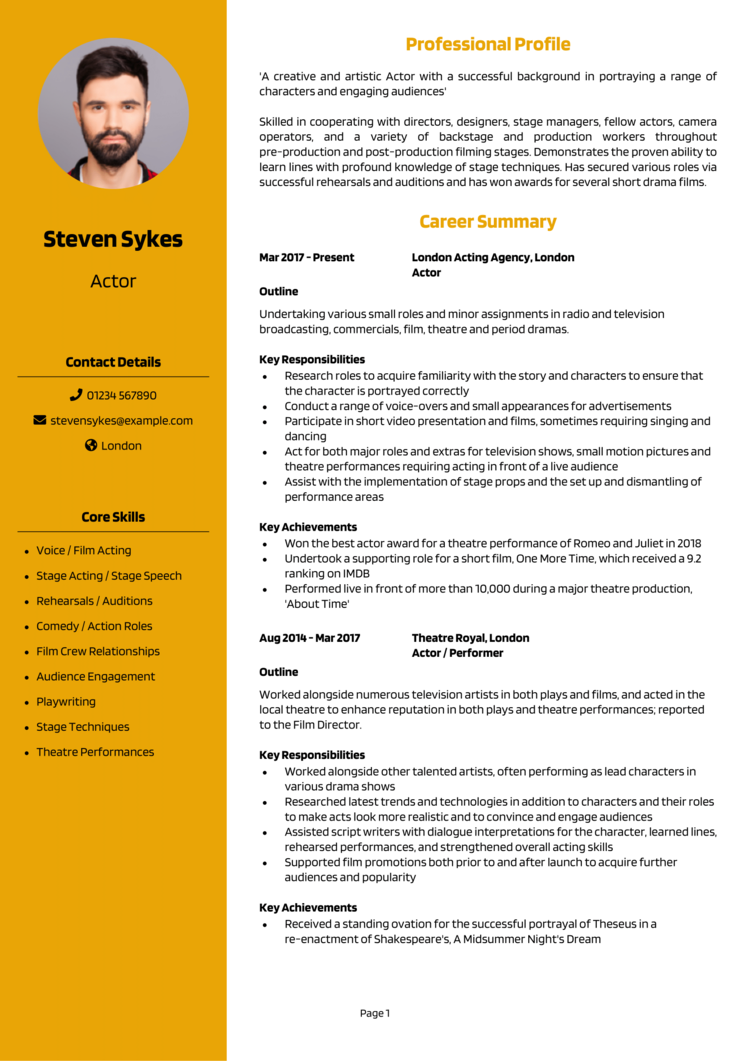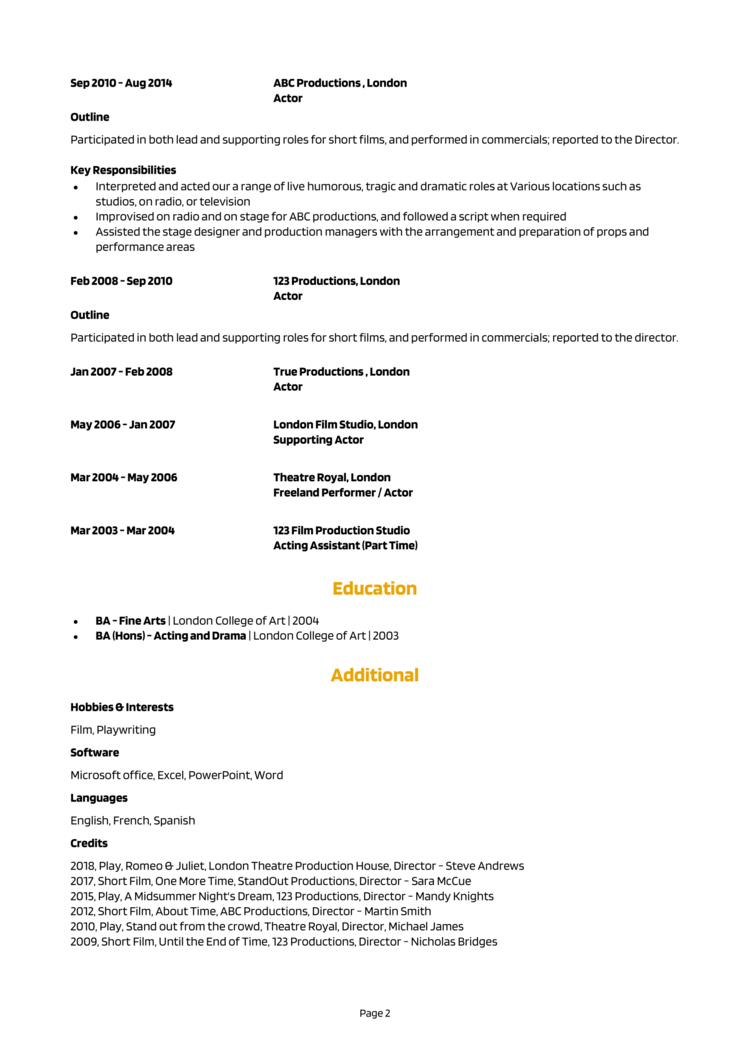 In a very competitive market such as acting, a combination of compelling content and a clear CV structure is crucial in getting noticed by recruiters.
How to use this CV template…
Profile and core skills
Open your CV with a paragraph that summarises your work experience, industry related qualifications and core skills.
At first glance allowing recruiters to clearly see why they should pick you, making sure to tailor yourself to the acting industry.
Underneath your profile, include a core skills section comprised of two to three columns of bullet points, making your marketable strengths a focal point.
Work history
Within your work experience section, you want to be displaying the range of experience you have undertaken whether this be amateur productions, involvement with onstage or onset team such as placements, work experience or even credited roles in series.
Document the duties you undertook as well as giving context to recruiters about the company or organisation you were part of.
Look to also display key achievements, for example reflect on the number of episodes you appeared on a show, or time spent with writers working on new story lines.
Education
Consider qualifications or courses needed in the acting sector, whether these be degrees in drama or diplomas in theatre studies.
Reserve space by giving greater detailed to related qualifications, providing a brief overview to additional courses.
Download CV template or see Google Docs CV template
CV writing tips
When you're looking for new roles your CV is your first impression, so it needs to stand out from the competition.
The below tips will support you in producing a killer CV that will land you plenty of interviews.
Do your research
You shouldn't be sitting down to produce your CV, until you have researched your chosen industry.
Research will enable you to tailor your CV to the sector, making it easier for recruiters to identify why you'd be the perfect candidate.
Look through company websites, job adverts or social media sites to compile a list of key words and strengths, matching yourself to the sector.
Use a simple font
Elaborate fonts are difficult to read and could result in key information being lost within your CV.
Therefore, look to adopt a clear and simple to read font, that doesn't distract from the content within your CV.
Keep your CV under 2 pages
You need to be catering for modern attention spans, whilst also considering the number of CVs recruiters read by recruiters on a daily basis.
Your CV shouldn't go beyond two side of A4, this length is sufficient to sell yourself and gives you the opportunity to give more detail in interview stages.
Break text up as much as possible
Big blocks of text are difficult to read and can result in key information being lost.
You need to work towards a clear, concise structure, using bullet points, sections and headers to break up these chunky paragraphs, helping to facilitate ease of reading.
Include numbers
Providing the impact you had within any organisation is essential if you want your CV to stand out.
Instead of just adding statements that detail your skills, give examples and figures to boost these.
For example,
Instead of saying: I am a productive person, always looking to improve on processes.
Say "I implemented a new file system, which increased productivity by 20%."
The second example give more context and will appeal further to recruiters.
Creative CV templates – Get started
You're now ready to produce your own interview winning CV.
Don't forget to bookmark StandOut CV – we have lots of CV advice and job hunting tips to help you
Good luck!
---