Whether you are recruiting staff or looking for a job, it's important that you understand job descriptions.
Job descriptions (or JDs as they are sometimes called) are crucial documents that help employees and employers understand what is expected of them both during an employment term.
This guide will explain everything you need to know about job descriptions, whether you are a job seeker, recruiter, business owner or HR professional.
This guide contains…

What is a job description?
A job description is a written document which describes the purpose and responsibilities of a particular job, along with the skills and experience that a candidate would need in order to carry out the job successfully.
Job descriptions are created by employers and shared with candidates during the application process, and kept by employees for the duration of their time in that job.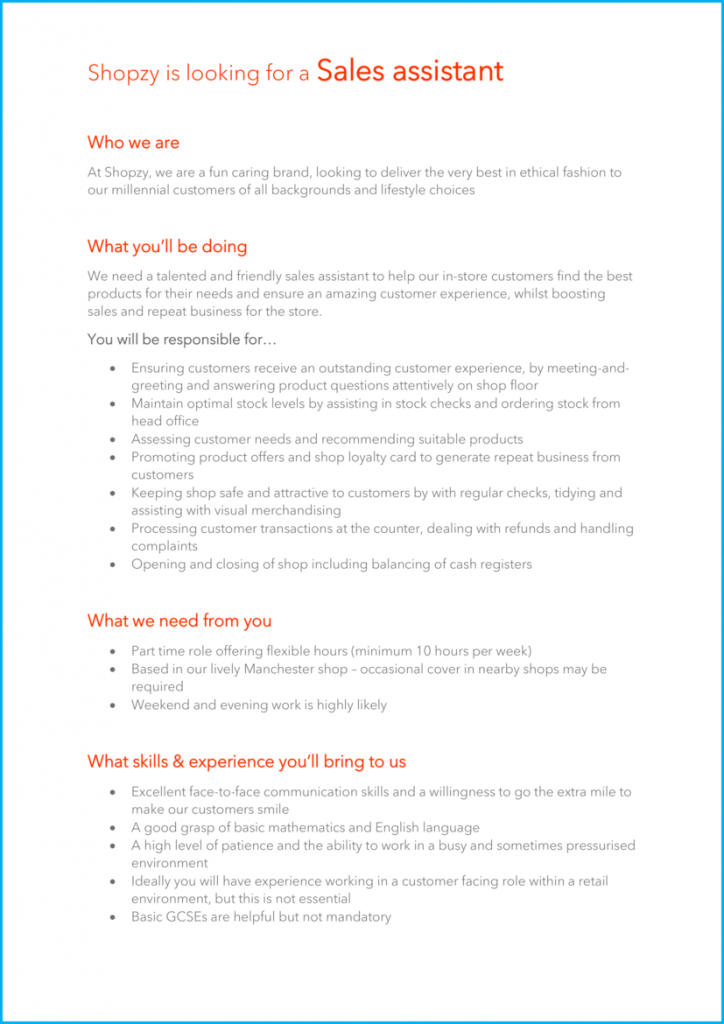 What is the purpose of a job description?
Job descriptions have several functions which assist businesses, candidates and employees, during the applications process and the duration of the job, including:
Providing potential candidates and employees with a full understanding of who they will be working for and the main job responsibilities
Showing candidates the skills, experience and qualifications needed to be successful in the role
Giving recruiters a detailed brief of which type of candidates to approach when recruiting for the job
Allowing HR staff and business management to define the job duties, so that new hires can be integrated into the team efficiently and work is disturbed properly across the business with no overlap or gaps
Providing a benchmark for management to measure the employee's performance
Providing a vital reference document for HR or management in cases of employee disputes
Benefits of a good job description include;
Improved recruitment process and quality of new hires
Improved employee satisfaction
Improved staff performance
Reduction in staff turnover
Negative impacts of a poor job description include;
Fragmented recruitment process and poor quality of new hires
Employees becoming confused about what their responsibilities are
Poor staff performance
Increased staff turnover

Who writes job descriptions?
Job descriptions will usually be written by a staff member of the employer's company, but could also be written by an external consultancy.
The following people within an organisation would normally be responsible for writing job descriptions;
Business owners: In small companies of around 1 – 5 staff, the owner of the business will often write the job descriptions
Hiring managers: In larger companies, there will usually be a head-of-department for the particular area who are hiring, and that person will be known as the hiring manager
HR professionals: If a company has a Human Resources department, then it's possible that a member of the HR team will be responsible for recruitment functions, including the writing of JDs
Recruiters: Some companies will have internal recruitment teams who sit outside of HR, and are responsible for managing the recruitment of all employees for the company.
How to write a job description
Writing a good job description is essential for attracting and maintaining good staff.
Although job descriptions will vary slightly depending on the job and company, there are a few guidelines you should stick to when writing one, if you want to get the best results.
Format and structure
A job description should be a text document, ideally written with a word processor like Microsoft Word or Google Docs, and saved as a non-editable PDF before sharing.
The document should be around one page of A4 in length and written with a clear font, and broken up into clear sections with bold headings and bullet points for ease of reading.
The colour scheme can differ depending on your company branding, but should remain simple – you may also want to include a company logo at the top.
To ensure all the essential information is included, follow the structure below as closely as possible…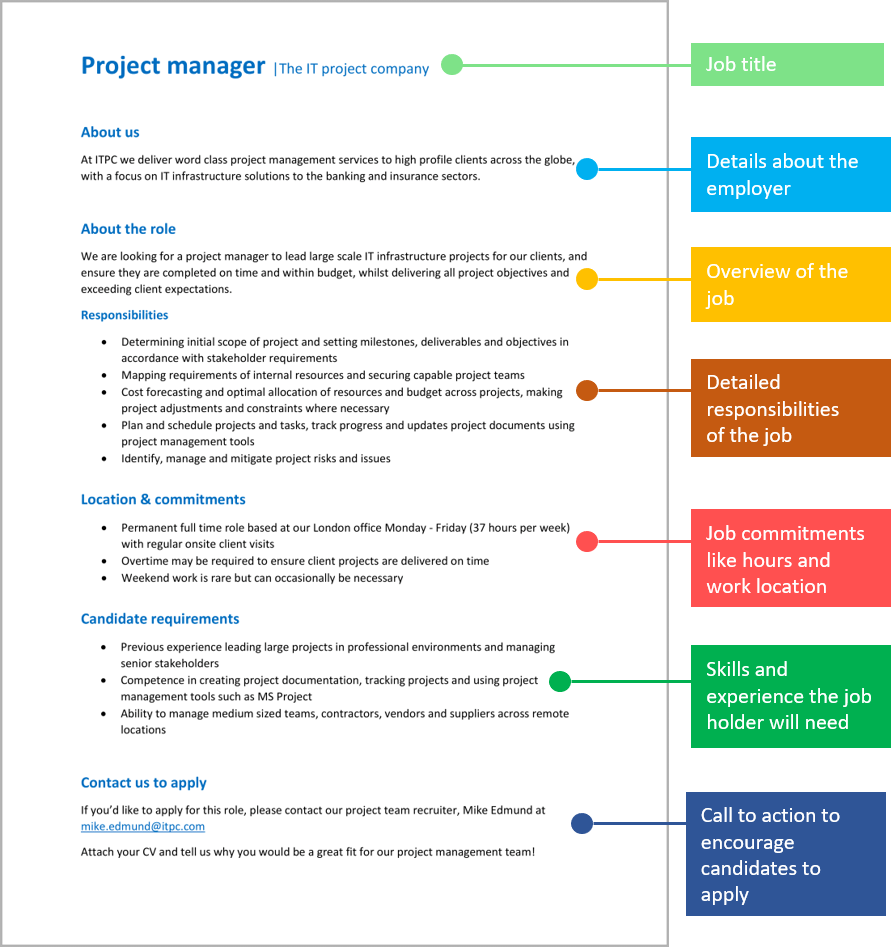 Job title
Head the top of the page with the job title in large bold font – keep it short, simple and easy for all to understand.
Quick tip: Avoid gimmicky job titles like "marketing ninja" or "finance guru" – they aren't cool, and they might make candidates doubt the credibility of your company. Instead use a commonly searched job title like "marketing manager" to stay professional and ensure your job ads get plenty of search traffic.

Company details
Provide a brief overview of your organisation, including what services or products they offer, what markets you operate in, and who your customers are. You can also add some details on the company culture and history.

Job summary
A brief summary of the job's main purpose and how they fit into the bigger picture of the organisation's operations.

Department and reporting lines
In larger companies you may need to add a further 1-2 sentences to explain which department the role sits within, and what the function of that department is. In all cases you will need to outline who the job holder will be reporting to (who their line manager will be)
Job responsibilities
List out the core responsibilities of the job in around 6 – 10 concise bullet points. This points will vary greatly depending on the job, but will include things like; who the employee will communicate, what processes they will manage, what work they will produce, and what results they might be accountable for.
Smaller companies will tend to list more responsibilities than large ones, because their roles will often cross multiple functions (e.g. a junior sales person in a company of 3 staff could also have some administration and marketing responsibilities because the company is not large enough to have an admin and marketing department)
Larger companies will often have smaller lists of responsibilities, because having more staff allows them to have more defined roles, and employees will not normally need to assist the firm outside of their own department.

Expectations and commitments
Detail the commitments required to the role, such as work hours, part-time/full-time, perm/contract and workplace location. Highlight anything that falls outside of normal job expectations, such as travel, overtime, and working evenings or weekends.

Candidate requirements
Outline the requirements that a candidate must meet to be considered for the job and perform well in it. This should include;
Hard skills such as software proficiency, languages, industry specific skills etc.
Soft skills such as communication, attention to detail, problem solving etc.
Previous experience within industries, working with certain customers or locations etc.
Qualifications including academic and vocational courses

Call to action
At the very bottom of the page, add a brief note which encourages suitable candidates to apply and how to do so, including a contact name and email address they can send their CV to
This section is only for the benefit of potential candidates who see the job description before they apply for the job. This is likely only to be internal candidates or referrals, as most candidates will apply for the job via an online job advert, before interacting with the recruiter/hiring manager, and being sent the job spec.
However, if you are copying your job description copy into your online job adverts, all applicants will be able to see this info.

Should you include salary?
Whether or not you choose to include salary or salary range in your job description (and job adverts) is entirely optional and will depend on your recruitment strategy.
Some companies choose not to include a salary range to keep their options open and discuss salary with candidates further down the line… Others advertise high salaries in an attempt to attract a larger number of applicants… And there are many more strategies in between those two, so if you're unsure, then discuss with your team or do some research online and decide what is best for your organisation.
Common job description mistakes to avoid
When writing a job description, avoid these common mistakes which could attract the wrong candidates, provide poor guidance to employees, or even break employment laws.
Discrimination
Jobs should only be awarded on merit via the candidate's skills, knowledge and experience, and your job description should reflect this.
UK employment law (and many other countries) prevent employers from discriminating against potential employees on the grounds of personal characteristics like:
Age
Sex
Marital status
Gender
Health
Disability
Religion
This can sometimes be done unintentionally, for example writing "handyman" or "young graduates" could just be a slip of the keyboard, so triple check that no parts of your job description appear discriminatory before putting it to use.
Using jargon
Using too many jargon terms or overdoing the "corporate speak" can confuse and annoy candidates, meaning less applications for your role.
For  example, writing  something like…
"looking for a digital guru to shape our vision and growth hack us beyond our KPIs"
Doesn't make any sense to most people… Especially those at junior level.
Keep the language simple and professional to deliver the clearest message to all.
Including too many responsibilities
Having an endless responsibility list will overwhelm candidates and make for a horrible reading experience.
If you find yourself going over 10 bullet points, then you may find that you are listing tasks rather than responsibilities. Try to think about the bigger picture of the role, and the functions and results the employee will be responsible for, rather than the smaller tasks they will be carrying out.
How to make a job description more appealing
Aside from the guidelines above, there are a few more tips you can use to make your job descriptions more appealing and attract more of the right candidates…
Write as if you are talking to a real person (which you will be): Most job descriptions are impersonal, cold and boring. Of course, you have to keep it professional, but try to add a splash of personality and connect with readers
Put yourself in the candidate's shoes: If you want to write a job description that will excite candidates and encourage them to apply, think about what potential candidates would want to know about the role, and what elements of the role would interest them most.
Speak to current employees: If you are hiring into an established team then asking current team members about the role will help you to define it properly and ensure the job description is accurate.
Can my employer change my job description?
Job responsibilities often change over time as the way we work evolves, and slight adjustments to job descriptions are to be expected (this is something that can be covered in the responsibilities section of a JD).
However, a sudden drastic change to a job description (such as turning an accountant into a taxi driver) is not acceptable.
Any major changes in an employees job duties must be discussed and agreed prior to commencing.
Here are a few job description examples for a range of professions and industries, to give you an idea of how a job description should look, and the type of information it should include..
Search the site for further examples, our browse our job description example page.
There are also templates you can download for free beneath the example section.
Project manager job description example
Project manager |The IT project company 
About us
At ITPC we deliver word class project management services to high profile clients across the globe, with a focus on IT infrastructure solutions to the banking and insurance sectors.
About the role
We are looking for a project manager to lead large scale IT infrastructure projects for our clients, and ensure they are completed on time and within budget, whilst delivering all project objectives and exceeding client expectations – reporting to the Head of UK Projects
Responsibilities
Determining initial scope of project and setting milestones, deliverables and objectives in accordance with stakeholder requirements
Mapping requirements of internal resources and securing capable project teams
Cost forecasting and optimal allocation of resources and budget across projects, making project adjustments and constraints where necessary
Plan and schedule projects and tasks, track progress and updates project documents using project management tools
Identify, manage and mitigate project risks and issues
Regular communication, reporting and progress updates to stakeholders
Recruiting and managing contractors, vendors suppliers and other external parties
Managing and allocations all internal resources and ensuring deliverables and milestones are met
Location & commitments
Permanent full time role based at our London office Monday – Friday (37 hours per week) with regular onsite client visits
Overtime may be required to ensure client projects are delivered on time
Weekend work is rare but can occasionally be necessary
Candidate requirements
Essential
Previous experience leading large projects in professional environments and managing senior stakeholders
Competence in creating project documentation, tracking projects and using project management tools such as MS Project
Ability to manage medium sized teams, contractors, vendors and suppliers across remote locations
Strong written and verbal communication skills, leadership, problem solving, budgeting and mediation abilities
Preferred
Recognised project management qualification such as Prince2 or PMP
Strong knowledge of, or background in IT infrastructure
Contact us to apply
If you'd like to apply for this role, please contact our project team recruiter, Mike Edmund at mike.edmund@itpc.com
Attach your CV and tell us why you would be a great fit for our project management team!
Find average salaries, skills, requirements, qualifications and more on our full project manager job description guide.
Sales assistant job description example
Shopzy is looking for a Sales assistant 
Who we are
At Shopzy, we are a fun caring brand, looking to deliver the very best in ethical fashion to our millennial customers of all backgrounds and lifestyle choices
What you'll be doing
We need a talented and friendly sales assistant to help our in-store customers find the best products for their needs and ensure an amazing customer experience, whilst boosting sales and repeat business for the store – reporting to the shop manager.
You will be responsible for…
Ensuring customers receive an outstanding customer experience, by meeting-and-greeting and answering product questions attentively on shop floor
Maintain optimal stock levels by assisting in stock checks and ordering stock from head office
Assessing customer needs and recommending suitable products
Promoting product offers and shop loyalty card to generate repeat business from customers
Keeping shop safe and attractive to customers by with regular checks, tidying and assisting with visual merchandising
Processing customer transactions at the counter, dealing with refunds and handling complaints
Opening and closing of shop including balancing of cash registers
What we need from you
Part time role offering flexible hours (minimum 10 hours per week)
Based in our lively Manchester shop – occasional cover in nearby shops may be required
Weekend and evening work is highly likely
What skills & experience you'll bring to us
Excellent face-to-face communication skills and a willingness to go the extra mile to make our customers smile
A good grasp of basic mathematics and English language
A high level of patience and the ability to work in a busy and sometimes pressurised environment
Ideally you will have experience working in a customer facing role within a retail environment, but this is not essential
Basic GCSEs are helpful but not mandatory
Want to apply? Get in touch today
If you think you've got what it takes to join our passionate and fun-loving team, drop us an email at recruitment@shopzy.com, attach your CV and tell us why you'd love to work here.
Find sales assistant average salaries, skills, requirements, qualifications and more on our full sales assistant job description guide.
Account manager job description example
Account manager – DL Car Rental 
Our vision
We strive to remain Europe's leading car and van rental provider by offering the highest quality vehicles to our customers, market leading service and insurance provision at affordable prices.
The role
We are looking for an account manager to manage a portfolio of existing UK corporate clients, foster strong relationships, manage service provision and maximise sales opportunities within all accounts.
Key responsibilities
Initiate regular meetings with key account contacts to strengthen relationships and assess ongoing client needs
Act as main point of contact for client queries and complaints, in order to resolve efficiently
Map out quarterly plans for key accounts, identifying opportunities of poor performance and areas prime for growth – identify key client staff to contact and develop accounts
Grow revenue streams within client accounts via cross-selling and up-selling on existing plans
Stay up-to-date with all new products and services and update clients accordingly
Generate sales forecasts and track progress throughout each quarter
Develop win-win solutions for both company and client via effective contract negotiation
Monitor client service provision to ensure customer satisfaction and efficiency
Job details
| | | |
| --- | --- | --- |
| Permanent role | 35 hours per week | Overtime required as necessary |
| Full-time | Reading office | Occasional travel for client visits required |
| Monday to Friday | Reports to: UK sales manager |   |
Key skills and experience required
Previous experience in a client facing sales role in a B2B environment
Proven track record of building relationships and closing revenue-generating deals
Ability to communicate with senior stakeholders at executive and C-level
Strong abilities in negotiation, networking, persuasion, presentation and time management
Experience managing service provision to B2B customers
Previous experience in corporate care rental is preferred but not essential
How to apply
If you would like to apply for this role, please send your CV to our UK sales team leader Gary Ince – g.ince@dlcars.com explaining your suitability and availability.
Find account manager average salaries, skills, requirements, qualifications and more on our full account manager job description guide
Job description templates
Our job description templates provide you with fully formatted downloadable text documents, with guidance notes for creating your own professional and effective job descriptions.
Simply download one that suits the style of your organisation, fill out the details needed for your job (using our example job descriptions for inspiration if you need to)
Then, save your job description as a non-editable PDF before distributing to the job market.
Basic job description template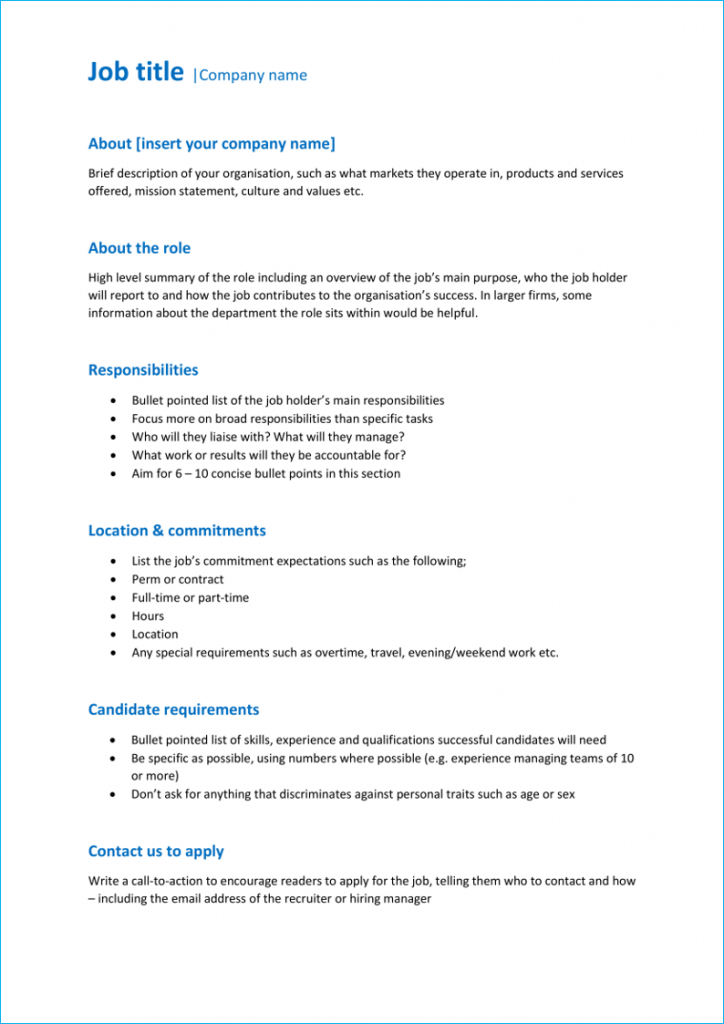 Tech firm job description template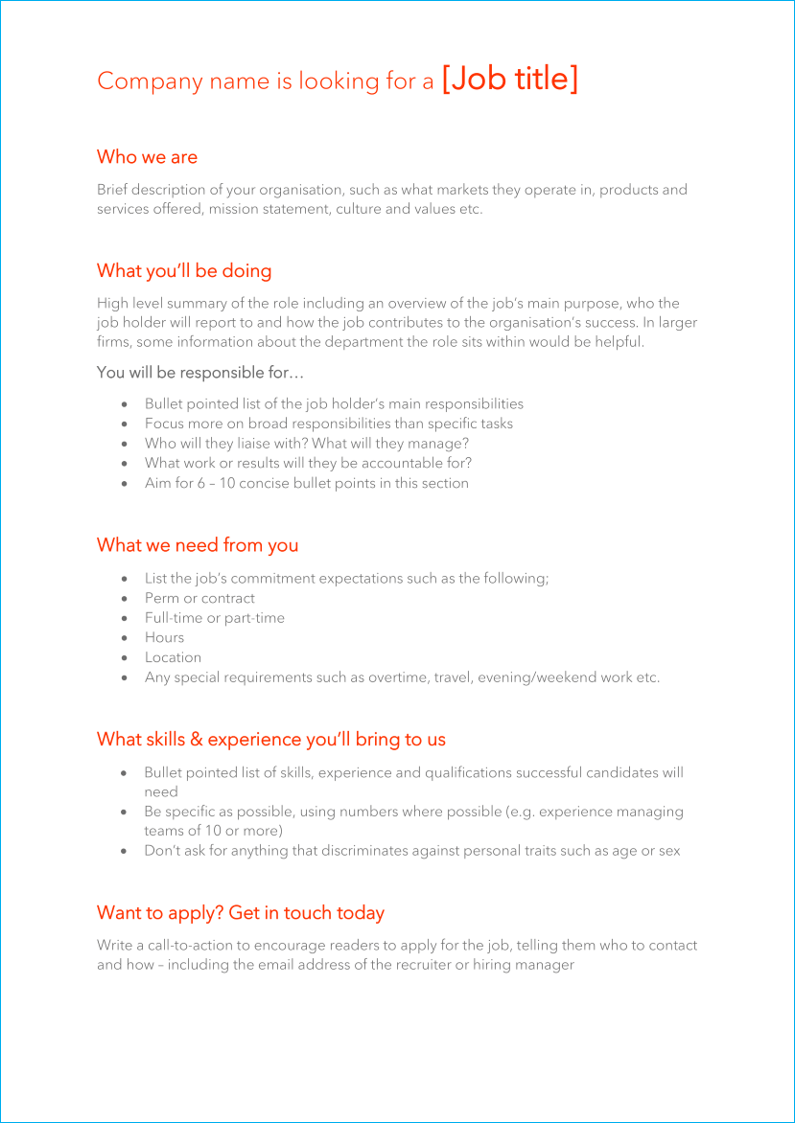 Corporate job description template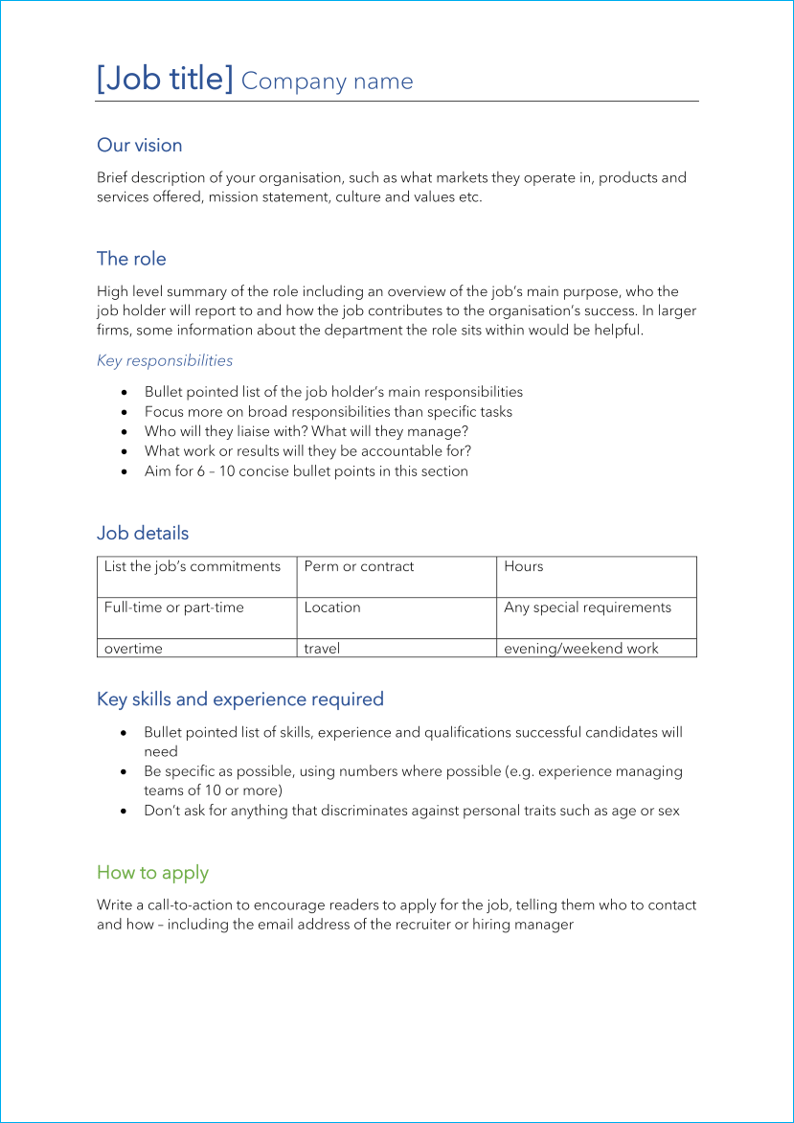 Writing a job description
Writing a job description can be challenging, but armed with the advice and resources above, you should be able to create a clearly defined job description which attracts quality candidates, keeps them focused and happy, and retains them with your company for a long time.