Are you ready to take the next step in your career and oversee a large-scale project and the entire team?
If you're looking for a senior position where you can put your organisation, scheduling and communication skills to good use, you need a carefully crafted application.
But if you're concerned that your CV writing skills are not as sharp as your project management skills, we can help. Check out our detailed writing guide and senior project manager CV example below.
Contents
| | |
| --- | --- |
| How to write a Senior Project Manager CV | |

Senior Project Manager CV example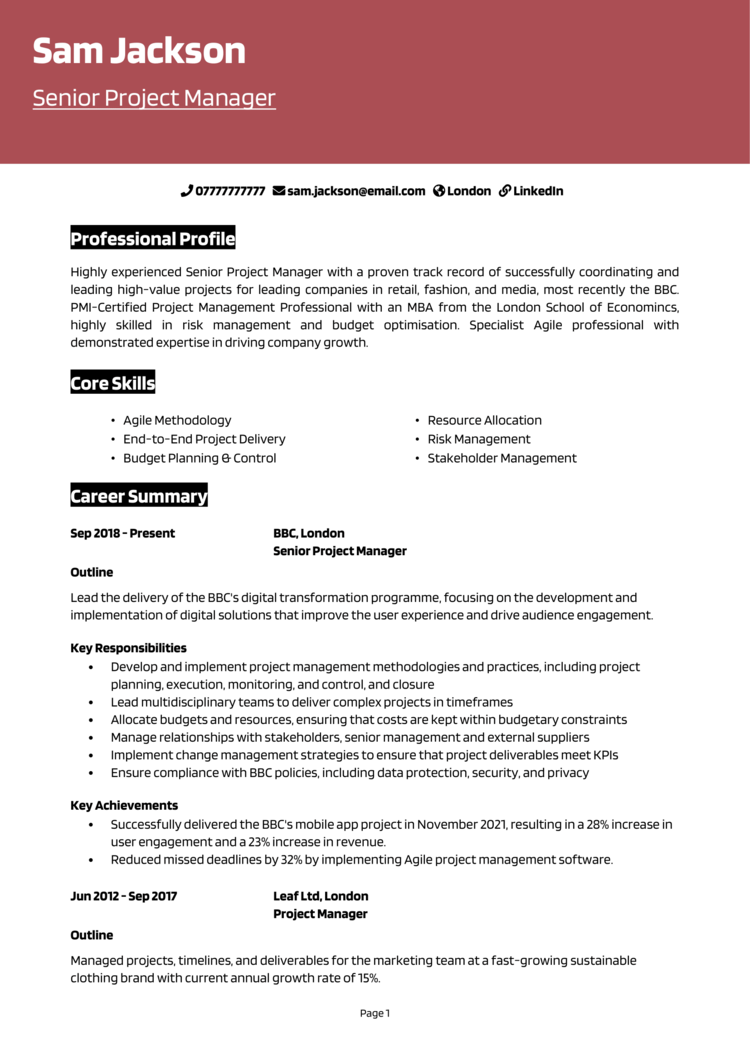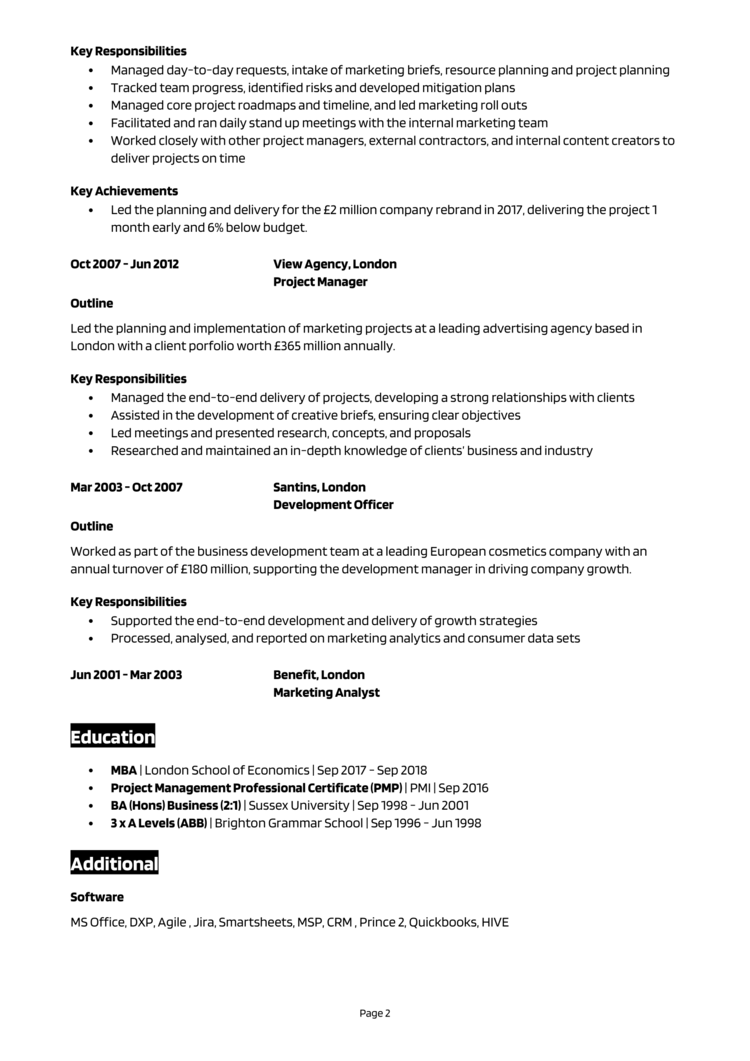 This is a good example of a Senior Project Manager CV which is professionally formatted, and structured in a way that allows recruiters to easily find and understand the candidate's key selling points.
Take some time to look at this CV and refer to it throughout the writing of your own CV for best results.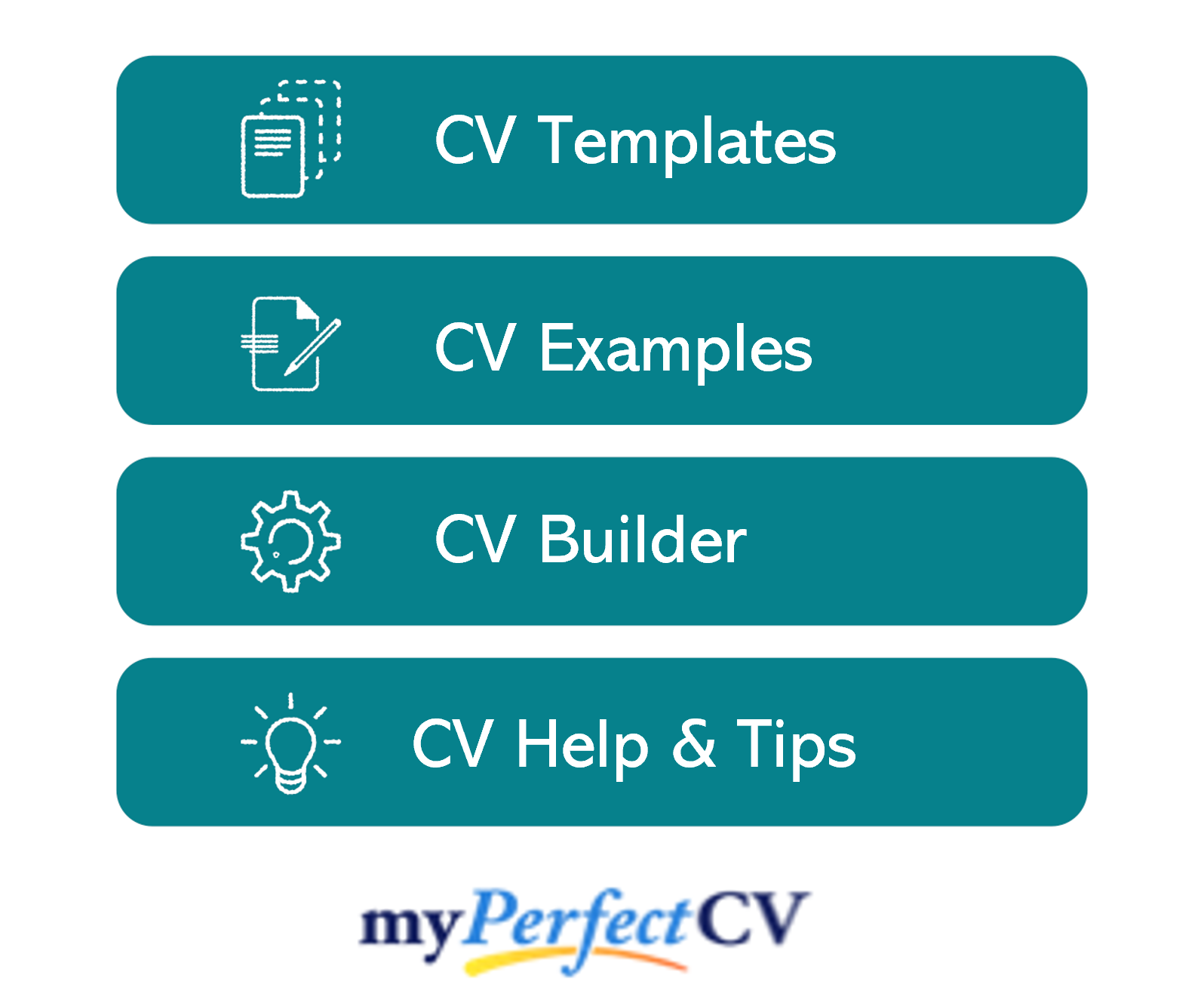 Senior Project Manager CV format and structure
In a highly competitive job market, recruiters and employers are often inundated with applications. If they can't find what they're looking for in your CV quickly, they may skip past your application and move on to the next one in their inbox
So, it's crucial to structure and format your CV in a way that enables them to find your essential details with ease, even if they're pressed for time.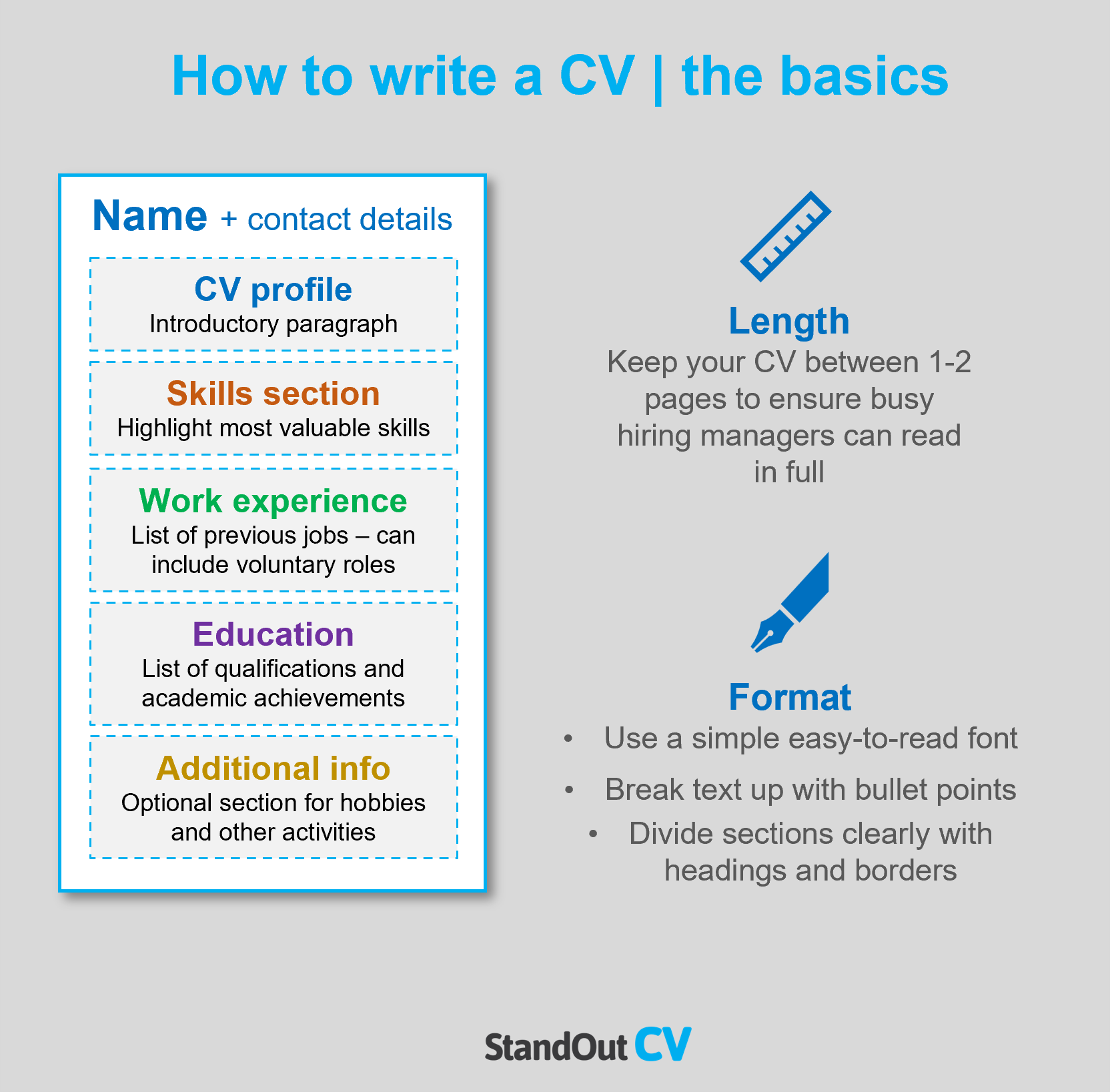 Tips for formatting your Senior Project Manager CV
Length: Whether you've got one year or three decades of experience, your CV should never be more than two sides of A4. Recruiters are busy people who're often juggling numerous roles and tasks, so they don't have time to read lengthy applications. If you're a recent graduate or don't have much industry experience, one side of A4 is fine.
Readability: Recruiters appreciate CVs that they can quickly scan through without trouble. Ensure yours makes the cut by formatting your headings for attention (bold or coloured fonts should do the trick) and breaking up long paragraphs into smaller chunks or short, snappy bullet points.
Design & format: Your CV needs to look professional, sleek and easy to read. A subtle colour palette, clear font and simple design are generally best for this, as fancy designs are often harder to navigate.
Photos: Don't add profile photos to your CV unless you work in an industry or region which prefers to see them. Most employers in the UK will not need to see one.
Quick tip: Creating a professional CV style can be difficult and time-consuming when using Microsoft Word or Google Docs. To create a winning CV quickly, try our partner's CV Builder and use one of their eye-catching professional CV templates.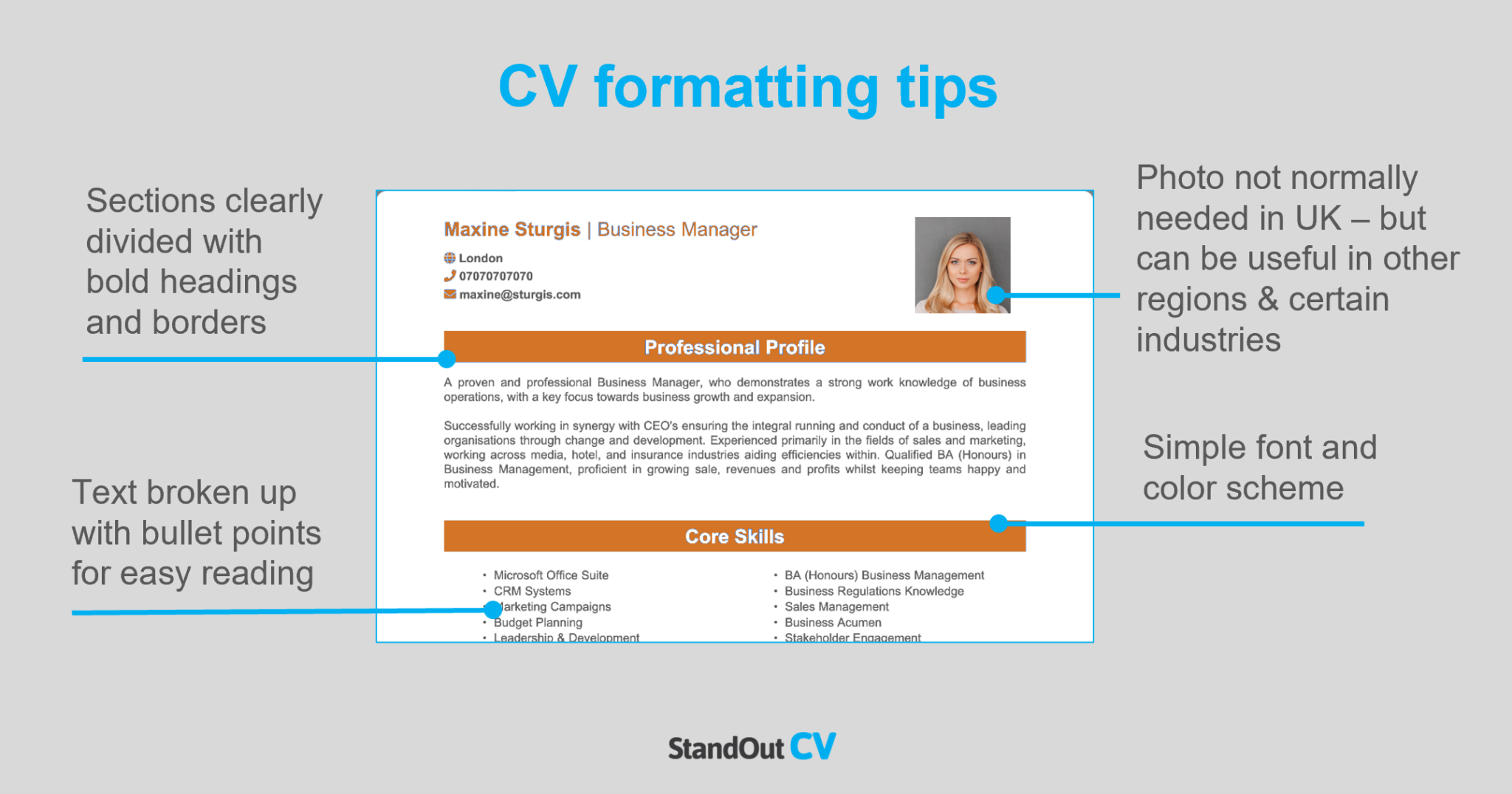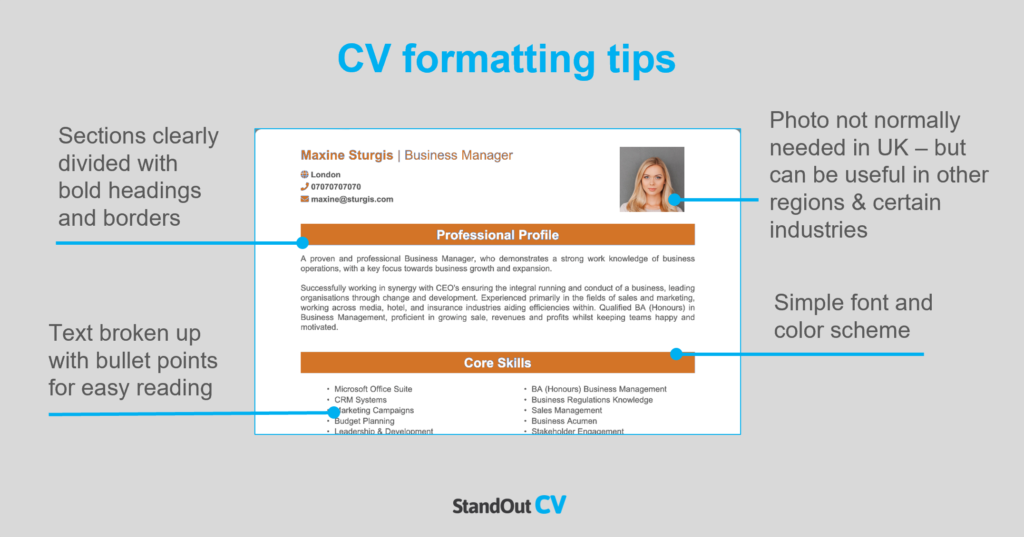 CV structure
When writing your CV, break up the content into the following key sections, to ensure it can be easily digested by busy recruiters and hiring managers:
Contact details – Always list these at the very top of your CV – you don't want them to be missed!
Profile – An introductory paragraph, intended to grab recruiters attention and summarise your offering.
Work experience / career history – Working from your current role and working backwards, list your relevant work experience.
Education – Create a snappy summary of your education and qualifications.
Interest and hobbies – An optional section to document any hobbies that demonstrate transferable skills.
Now you understand the basic layout of a CV, here's what you should include in each section of yours.
Contact Details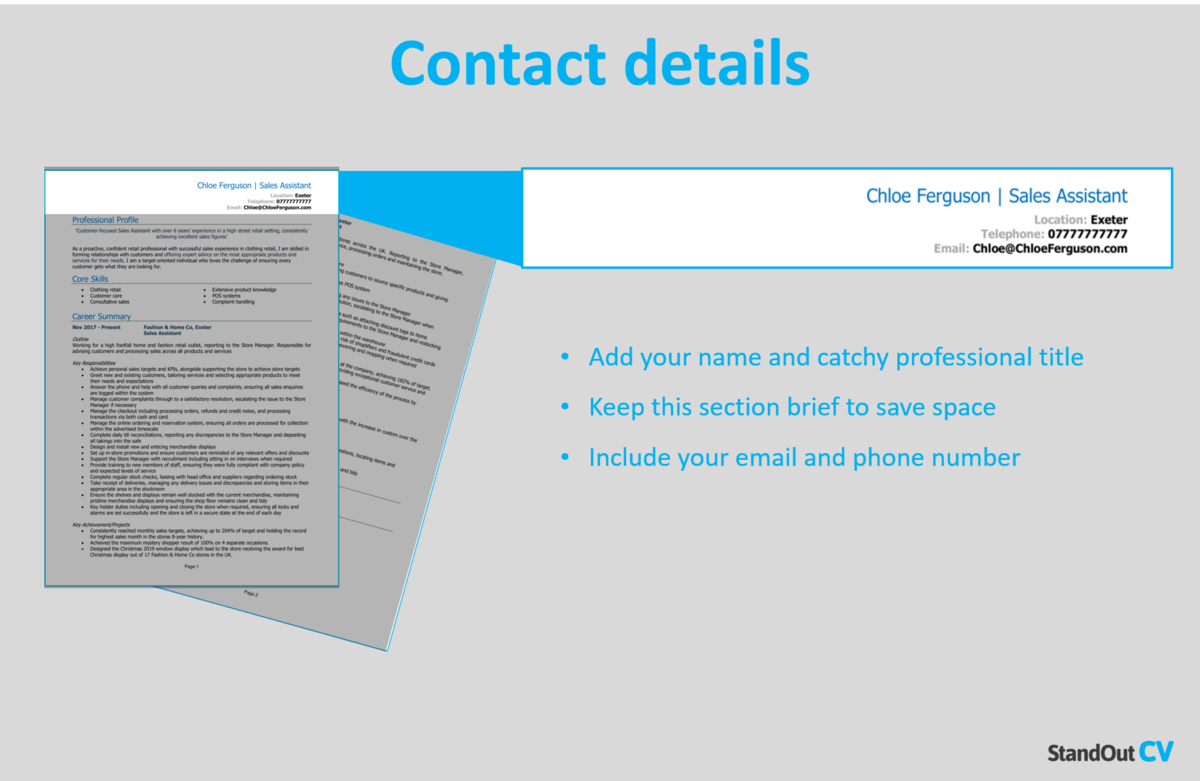 Start off your CV with a basic list of your contact details.
Here's what you should include:
Mobile number
Email address – It's often helpful to make a new email address, specifically for your job applications.
Location – Share your town or city; there's no need for a full address.
LinkedIn profile or portfolio URL – Make sure the information on them is coherent with your CV, and that they're up-to-date
Quick tip: Delete excessive details, such as your date of birth or marital status. Recruiters don't need to know this much about you, so it's best to save the space for your other CV sections.
Senior Project Manager CV Profile
Grab the reader's attention by kick-starting your CV with a powerful profile (or personal statement, if you're a junior applicant).
This is a short introduction paragraph which summarises your skills, knowledge and experience.
It should paint you as the perfect match for the job description and entice recruiters to read through the rest of your CV.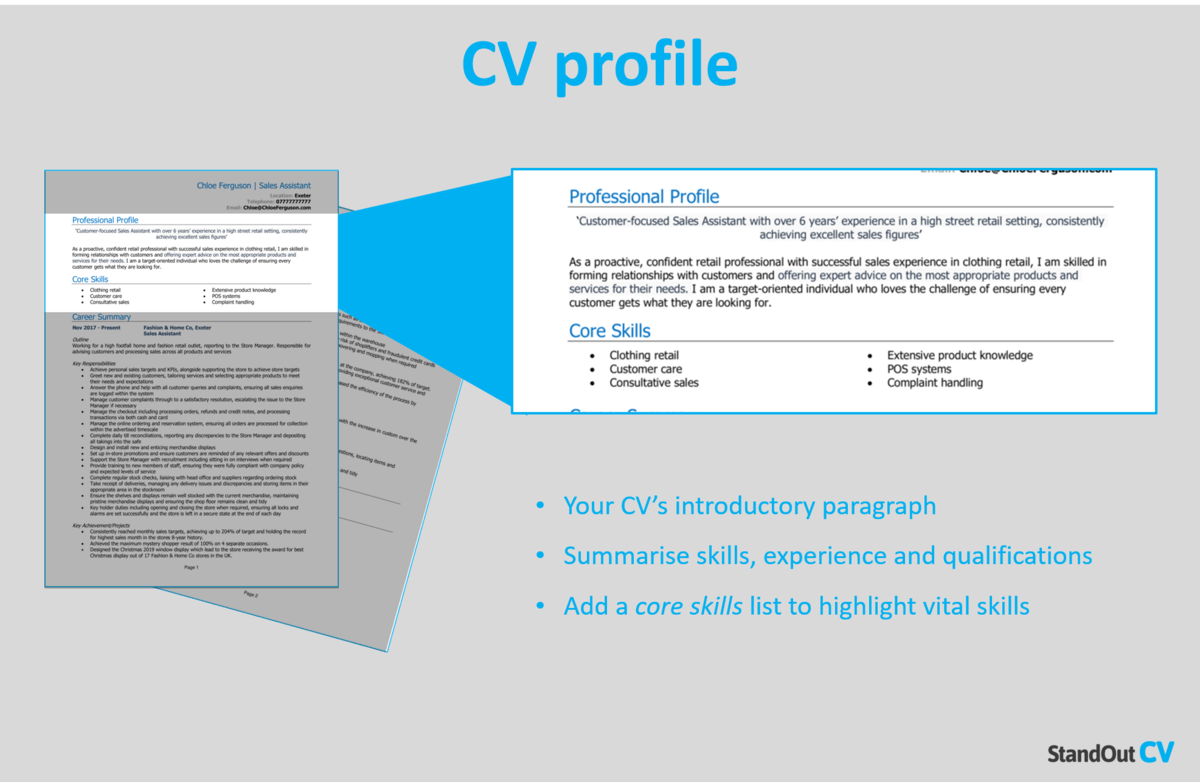 How to write a good CV profile:
Make it short and sharp: When it comes to CV profile length, less is more, as recruiters are often time-strapped. Aim for around of 3-5 persuasive lines.
Tailor it: Before writing your CV, make sure to do some research. Figure out exactly what your desired employers are looking for and make sure that you are making those requirements prominent in your CV profile, and throughout.
Don't add an objective: Career goals and objectives are best suited to your cover letter, so don't waste space with them in your CV profile.
Avoid generic phrases: Clichés like "blue-sky thinker with a go-getter attitude" might sound impressive to you, but they don't actually tell the recruiter much about you. Concentrate on highlighting hard facts and skills, as recruiters are more likely to take these on board.
Example CV profile for Senior Project Manager
Highly experienced Senior Project Manager with a proven track record of successfully coordinating and leading high-value projects for leading companies in retail, fashion, and media, most recently the BBC. PMI-Certified Project Management Professional with an MBA from the London School of Economics, highly skilled in risk management and budget optimisation. Specialist Agile professional with demonstrated expertise in driving company growth.
What to include in your Senior Project Manager CV profile?
Experience overview: To give employers an idea of your capabilities, show them your track record by giving an overview of the types of companies you have worked for in the past and the roles you have carried out for previous employers – but keep it high level and save the details for your experience section.
Targeted skills: Ensure that your profile highlights your key skills that are most relevant to your Senior Project Manager, and tailor them to match the specific job you are applying for. To do this, refer to the job description to closely align your skills with their requirements.
Important qualifications: If you have any qualifications which are highly relevant to Senior Project Manager jobs, then highlight them in your profile so that employers do not miss them.
Quick tip: If you are finding it difficult to write an attention-grabbing CV profile, choose from hundreds of pre-written profiles across all industries, and add one to your CV with one click in our partner's CV Builder. All profiles are written by recruitment experts and easily tailored to suit your unique skillset.
Core skills section
To ensure that your most relevant skills catch the eye of readers, create a core skills section below your profile.
This section should be presented in 2-3 columns of bullet points highlighting your applicable skills. Before crafting this section, carefully examine the job description and create a list of any required skills, specialisms, or knowledge.
Use this list to include the necessary information in your section and present yourself as the ideal match for the position.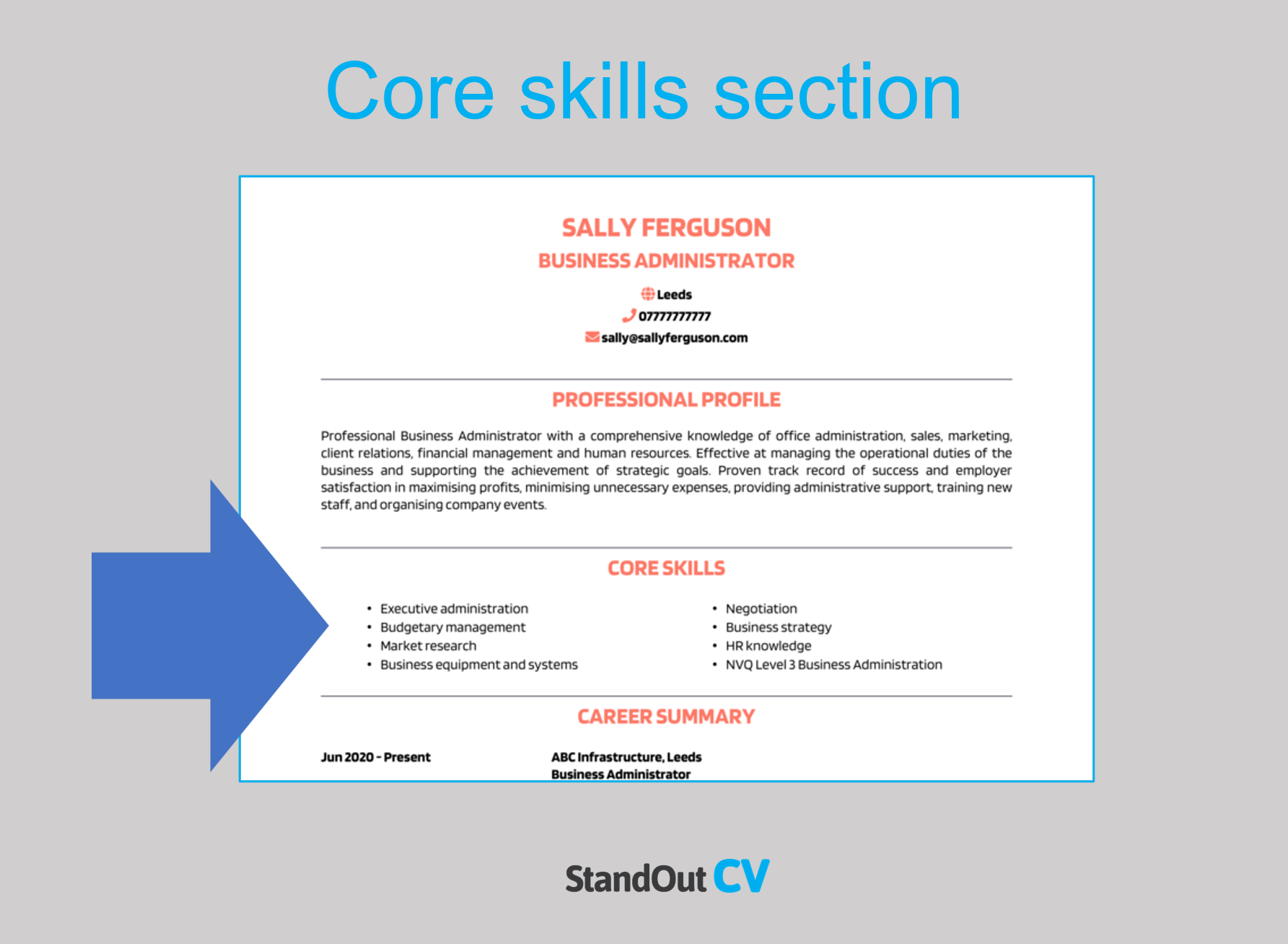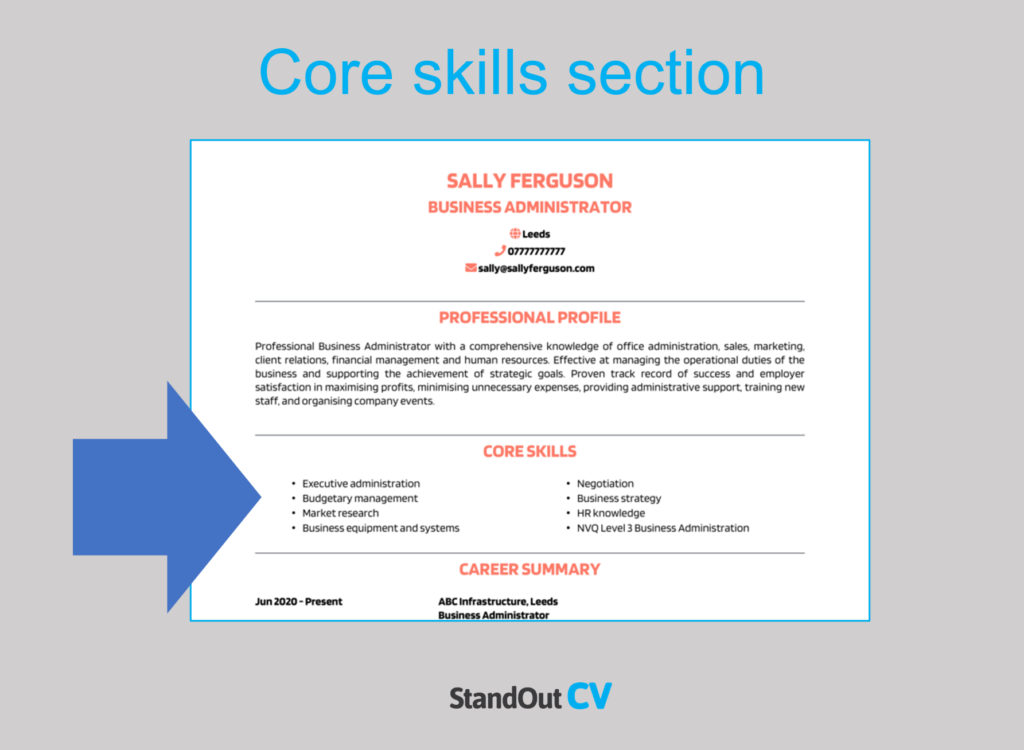 Important skills for your Senior Project Manager CV
Project Management – Managing complex projects, from initiation to completion, ensuring successful delivery within scope, budget, and timeline.
Leadership – Providing strong leadership, inspiring and motivating project teams, and fostering a collaborative and high-performing work environment.
Stakeholder Management – Effectively engaging and managing stakeholders at all levels, including clients, team members, vendors, and executives, to ensure project success and alignment with organisational objectives.
Risk Management – Identifying, assessing, and mitigating project risks, as well as developing contingency plans to address unforeseen challenges and ensure project continuity.
Strategic Planning – Developing and executing strategic project plans, aligning project objectives with broader organisational goals and priorities.
Budgeting and Financial Management – Developing and managing project budgets, tracking financial performance, and ensuring optimal resource allocation to achieve project objectives.
Quality Assurance – Implementing quality control processes, conducting audits, and ensuring compliance with quality standards and best practices.
Contract and Vendor Management – Managing contracts and vendor relationships, including negotiating terms, monitoring performance, and resolving issues to ensure contractual obligations are met.
Change Management – Navigating and managing organisational change, including assessing impacts, communicating effectively, and driving adoption of new processes or technologies.
Communication and Presentation – Effectively conveying project progress, risks, and recommendations to stakeholders, and deliver impactful presentations to senior management.
Quick tip: Our partner's CV Builder has thousands of in-demand skills for all industries and professions, that can be added to your CV in seconds – This will save you time and ensure you get noticed by recruiters.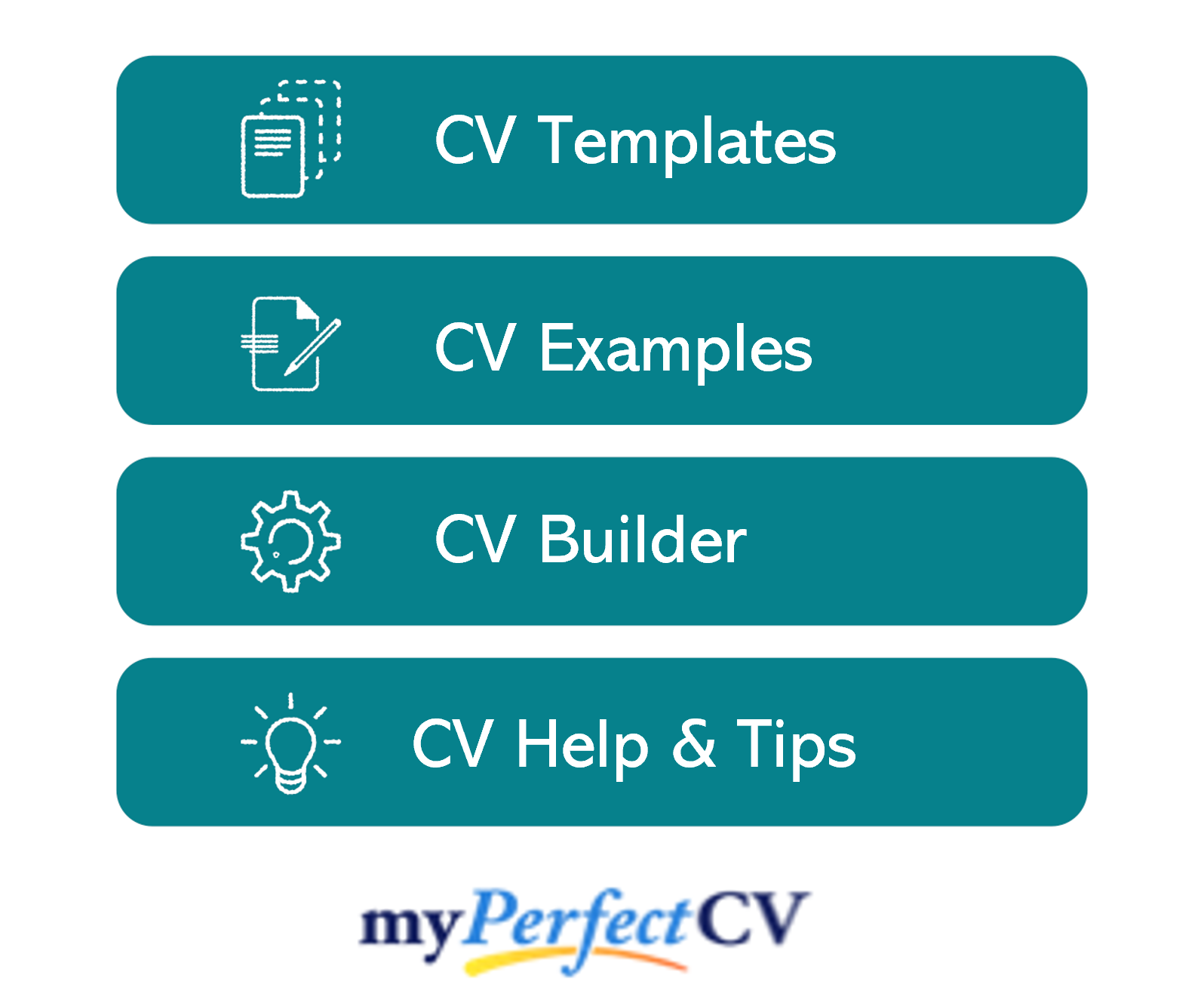 Work experience
Recruiters will be itching to know more about your relevant experience by now.
Kick-start this section with your most recent (or current) position, and work your way backwards through your history.
You can include voluntary and freelance work, too – as long as you're honest about the nature of the work.
Structuring each job
Lengthy, unbroken chunks of text is a recruiters worst nightmare, but your work experience section can easily end up looking like that if you are not careful.
To avoid this, use my tried-and-tested 3-step structure, as illustrated below:
Outline
Start with a brief summary of your role as a whole, as well as the type of company you worked for.
Key responsibilities
Follow with a snappy list of bullet points, detailing your daily duties and responsibilities.
Tailor it to the role you're applying for by mentioning how you put the target employer's desired hard skills and knowledge to use in this role.
Key achievements
Round up each role by listing 1-3 key achievements, accomplishments or results.
Wherever possible, quantify them using hard facts and figures, as this really helps to prove your value.
Sample job description for Senior Project Manager CV
Outline
Lead the delivery of the BBC's digital transformation programme, focusing on the development and implementation of digital solutions that improve the user experience and drive audience engagement.
Key Responsibilities
Develop and implement project management methodologies and practices, including project planning, execution, monitoring, and control, and closure
Lead multidisciplinary teams to deliver complex projects in timeframes
Allocate budgets and resources, ensuring that costs are kept within budgetary constraints
Manage relationships with stakeholders, senior management, and external suppliers
Quick tip: Create impressive job descriptions easily in our partner's CV Builder by adding pre-written job phrases for every industry and career stage.

Education section
In your education section, make any degrees, qualifications or training which are relevant to Senior Project Manager roles a focal point.
As well as mentioning the name of the organisation, qualification titles and dates of study, you should showcase any particularly relevant modules, assignments or projects.
Hobbies and interests
Although this is an optional section, it can be useful if your hobbies and interests will add further depth to your CV.
Interests which are related to the sector you are applying to, or which show transferable skills like leadership or teamwork, can worth listing.
On the other hand, generic hobbies like "going out with friends" won't add any value to your application, so are best left off your CV.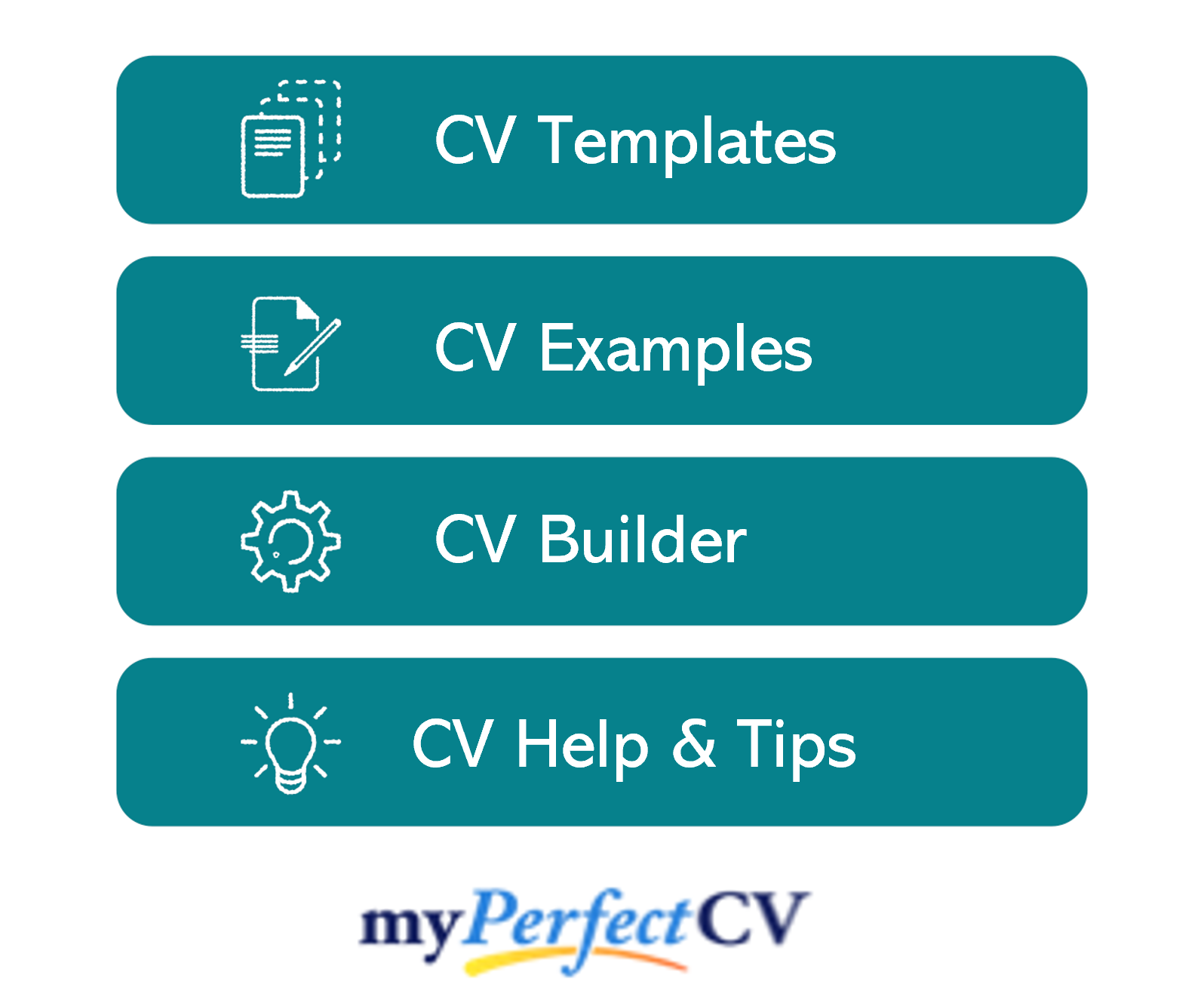 A strong, compelling CV is essential to get noticed and land interviews with the best employers.
To ensure your CV stands out from the competition, make sure to tailor it to your target role and pack it with sector-specific skills and results.
Remember to triple-check for spelling and grammar errors before hitting send.
Good luck with the job search!