You are organised, efficient, and you can pick and pack with the best of them. Now you just need a CV that will prove it.
And we can help you to craft a succinct and engaging application that will wrap your skills, experience and qualifications up in a neat little bow.
Simply check out our writing guide below, complete with a picker packer CV example to inspire your own.
Contents
| | |
| --- | --- |
| How to write a Picker Packer CV | |

Picker Packer CV example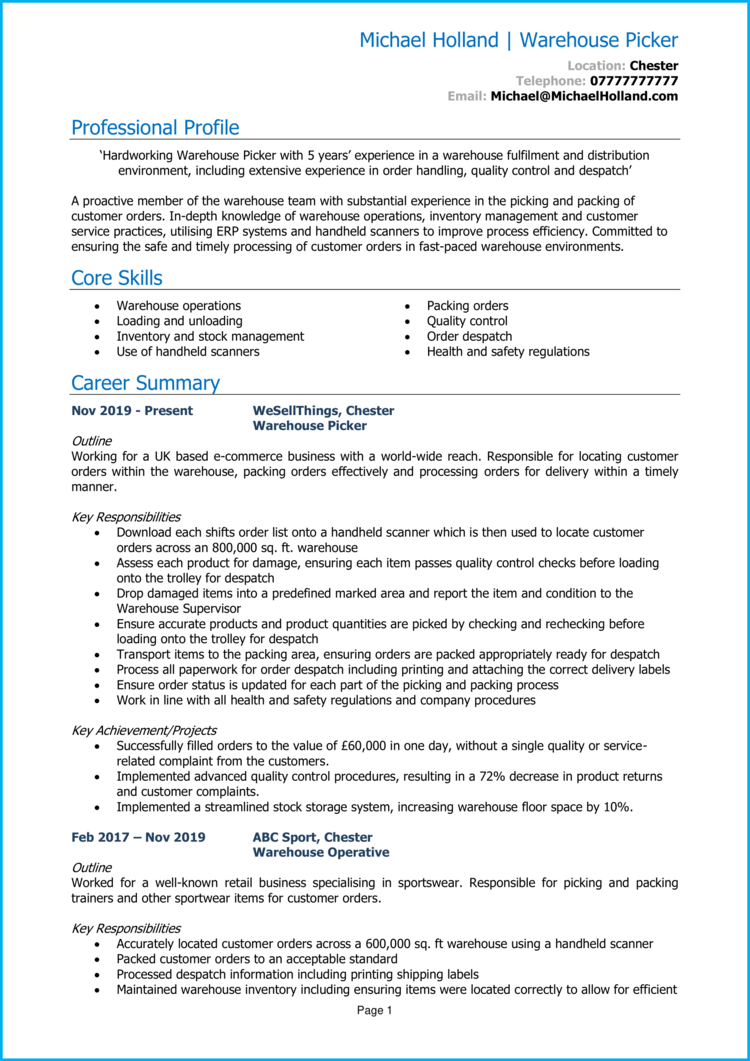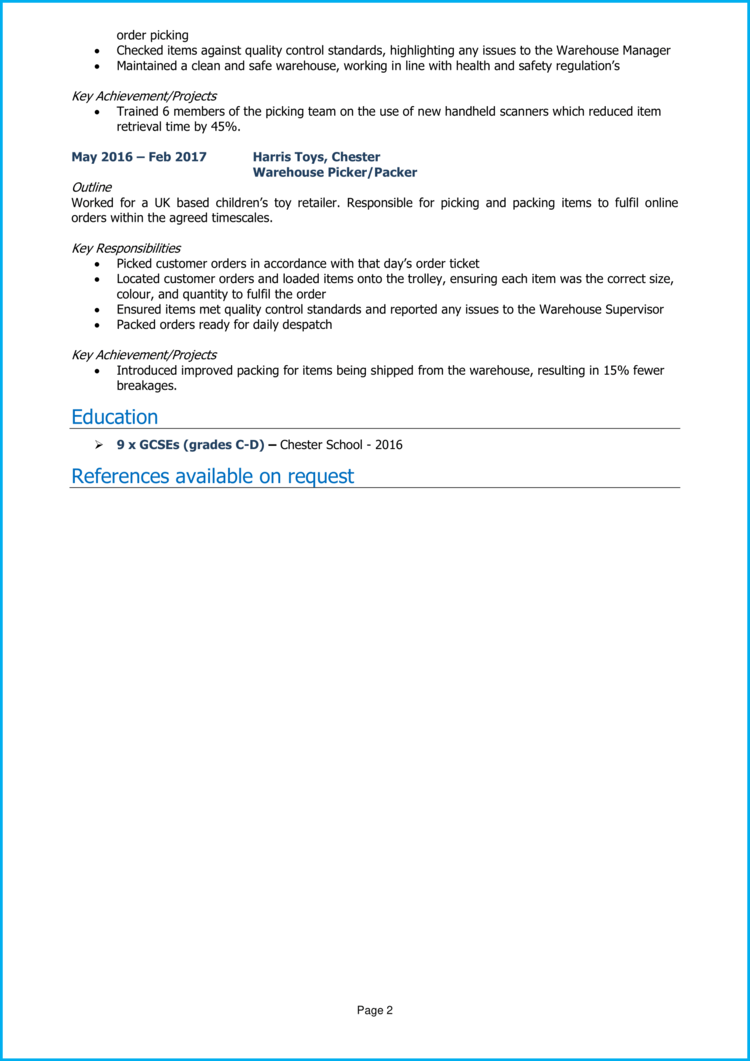 This example CV demonstrates how to structure and format your own Picker Packer CV, so that it can be easily digested by busy hiring managers, and quickly prove why you are suitable for the jobs you are applying to.
It also gives you a good idea of the type of skills, experience and qualifications that you need to be highlighting in your CV.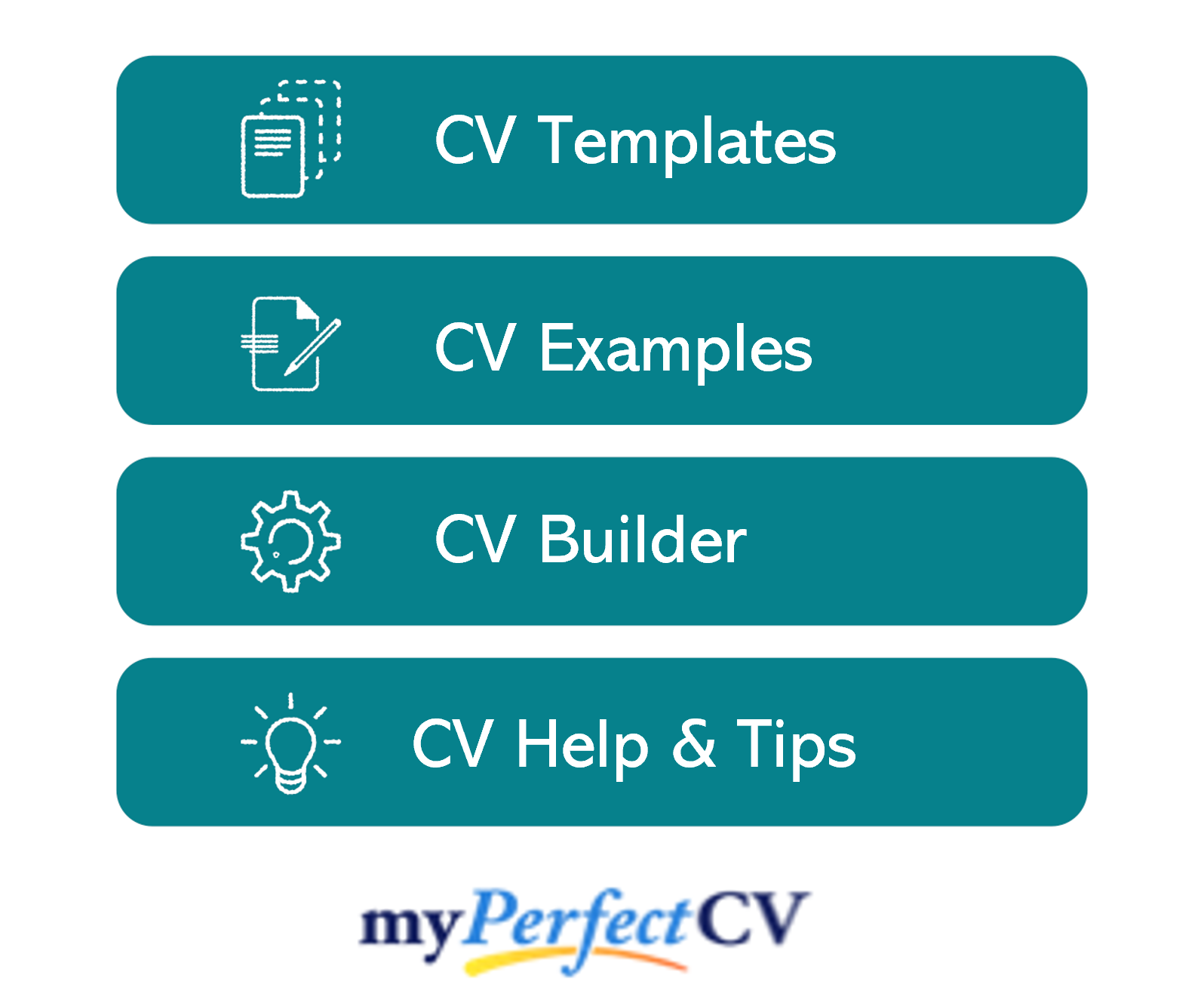 Picker Packer CV structure & formatting
Your CV is the first impression you'll make on anybody who reads it.
A disorganised, cluttered and barely-readable CV could seriously decrease your chances of landing interviews, so it's essential to make sure yours is slick, professional and easy to navigate.
You can do this by using a clear structure and formatting your content with some savvy formatting techniques – check them out below: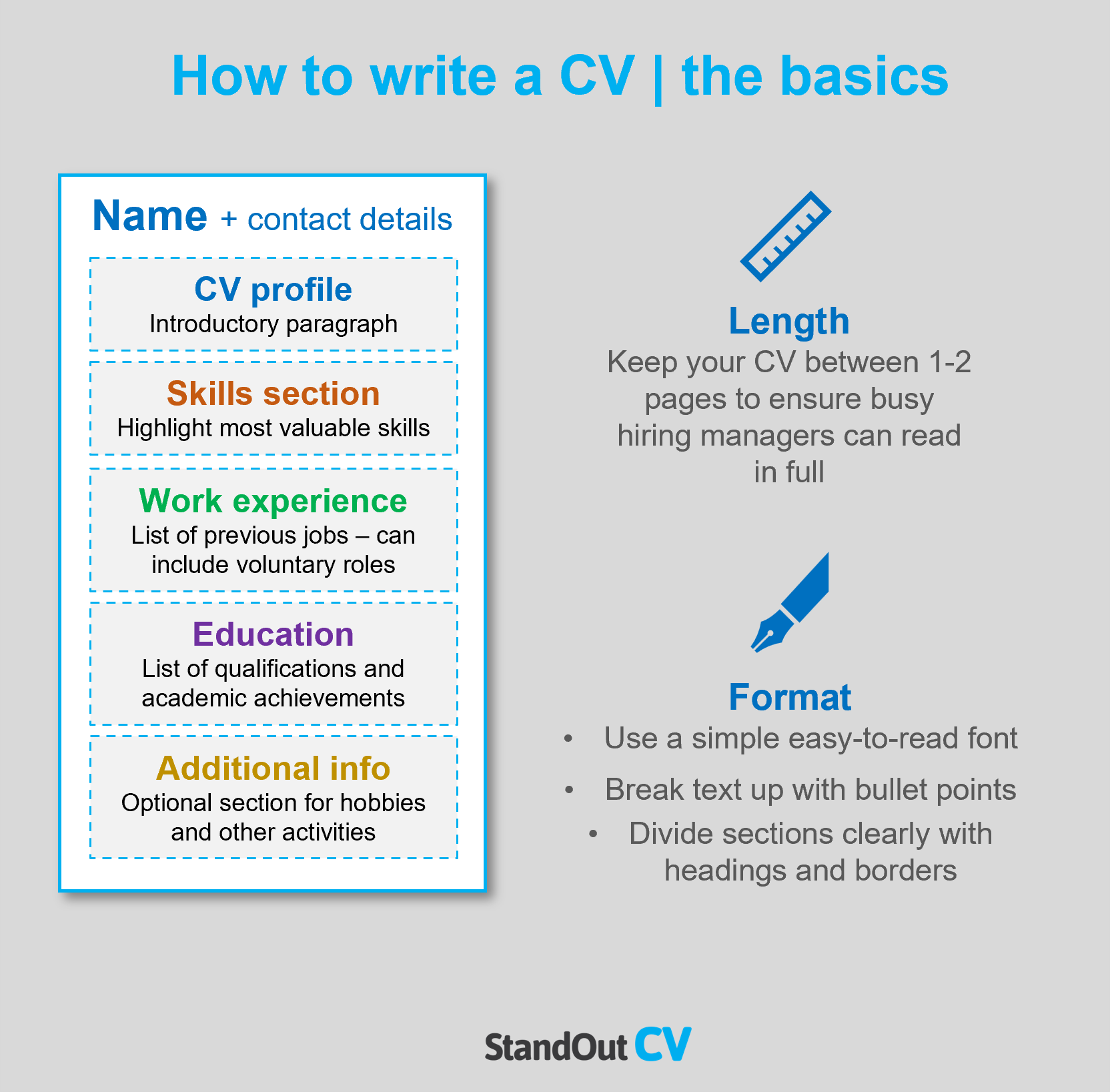 How to format your CV
Length: If you want to hold the reader's attention and ensure your CV isn't yawn-worthy, it's best to stick to two sides of A4 or less. This is more than enough room to highlight why you're a good match for the role – anything more can quickly become tedious!
Readability: Columns, lists, bullet points, bold text and subtle colour can all help to aid the readability of your CV. Your overarching goal should be to make the content as easy to read and navigate as possible, whilst also aiming to make your key skills and achievements stand out.
CV design: It's generally best to stick to a simple CV design, as funky or elaborate designs rarely add any value to your application. A clear, modern font and a subtle colour scheme work perfectly and allow your skills, experience and achievements to speak for themselves.
Photographs: Recruiters can't factor in appearance, gender or race into the recruitment process, so a profile photo is not usually needed. However, creative employers do like to see them, so you can choose to include one if you think it will add value to your CV .
Quick tip: Creating a professional CV style can be difficult and time-consuming when using Microsoft Word or Google Docs. To create a winning CV quickly, try our partner's CV builder and use one of their eye-catching professional CV templates.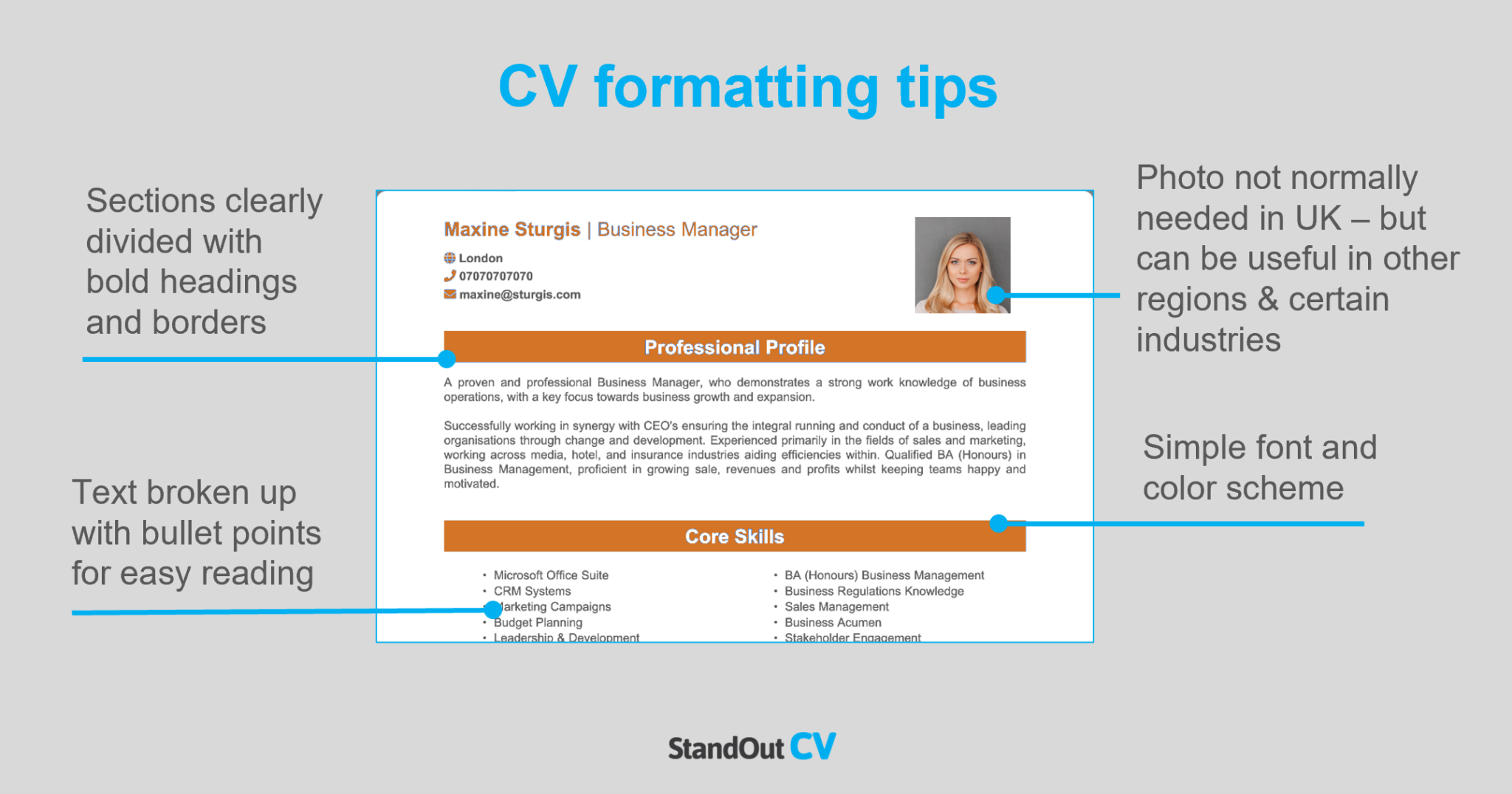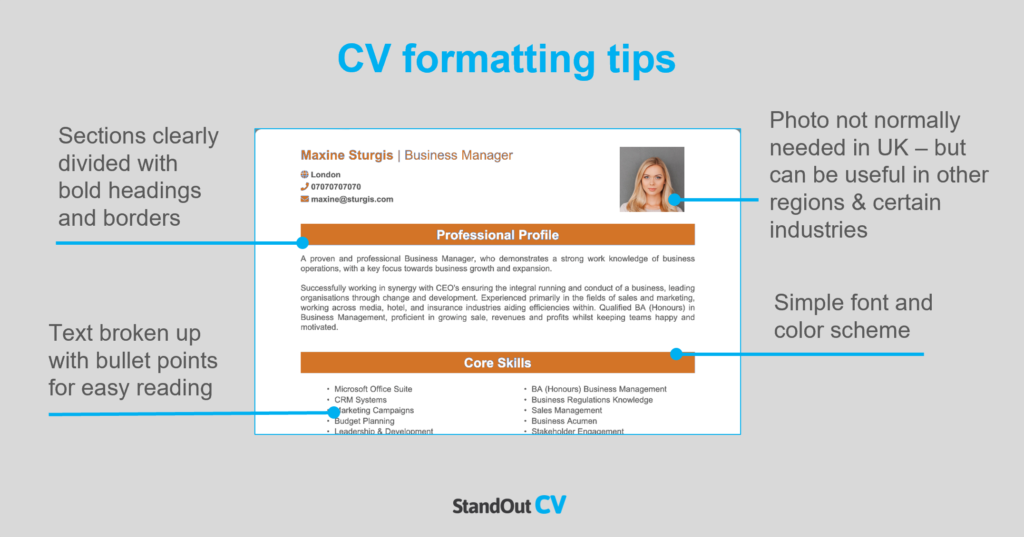 CV structure
Divide your CV into the following major sections when writing it:
Name and contact details – Head your CV with your name and contact details, to let the reader know who you are and how to contact you.
CV profile – A brief paragraph which summarises your skills and experience and highlights why you're a good match for the role.
Core skills list – A snappy, bullet-pointed list of your most relevant skills.
Work experience – A structured list of your work experience in reverse chronological order.
Education – A summary of any relevant qualifications or professional training you've completed.
Hobbies and interests – An optional section, which should only be used if your hobbies are relevant to the jobs you're applying to.
Now, let's take a closer look at what you should include in each section of your CV.
CV Contact Details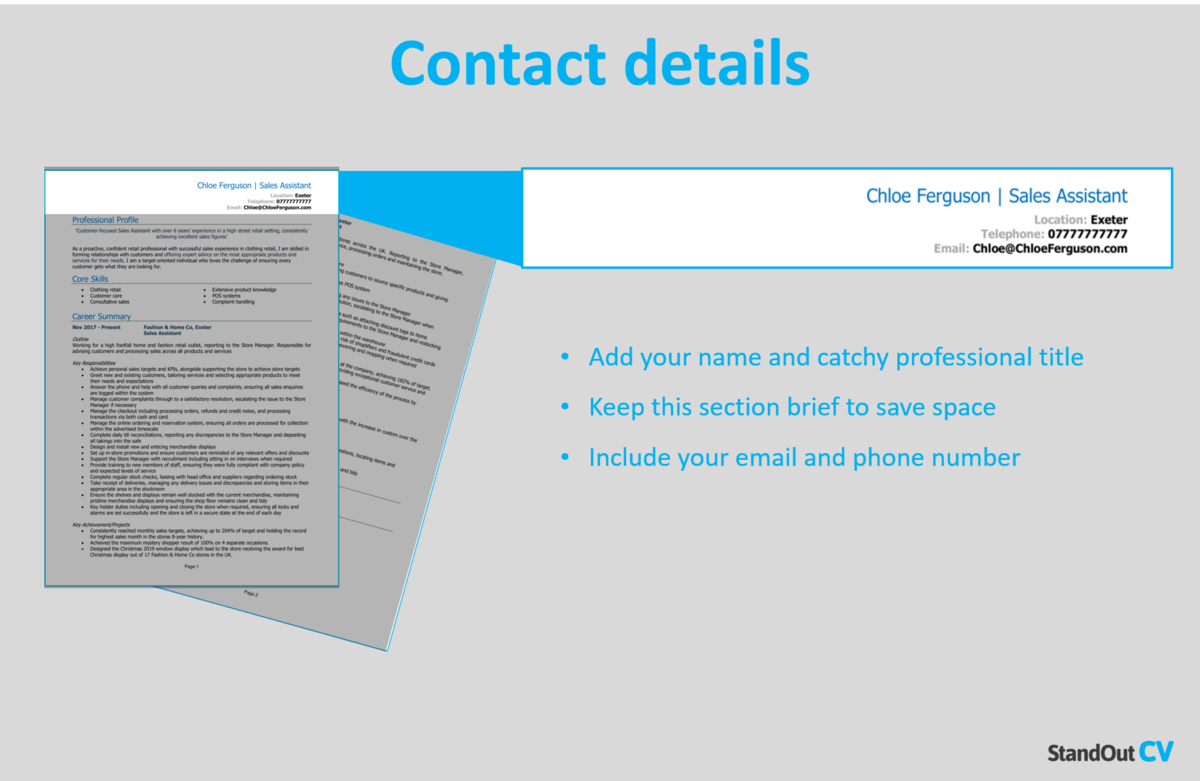 Kick-start your CV with your contact details, so recruiters can get in touch easily.
Here's what you should include:
Mobile number
Email address – Make sure it's professional, with no silly nicknames.
Location – Your town or city is sufficient, rather than a full address.
LinkedIn profile or portfolio URL – Ensure they've been updated and are looking slick and professional.
Quick tip: Avoid listing your date of birth, marital status or other irrelevant details – they're unnecessary at this stage.
Picker Packer CV Profile
Recruiters and hiring managers are busy, so it's essential to catch their attention from the get-go.
A strong introductory profile (or personal statement, for junior candidates) at the top of the CV is the first thing they'll read, so it's a great chance to make an impression.
It should be a short but punchy summary of your key skills, relevant experience and accomplishments.
Ultimately, it should explain why you're a great fit for the role you're applying for and inspire recruiters to read the rest of your CV.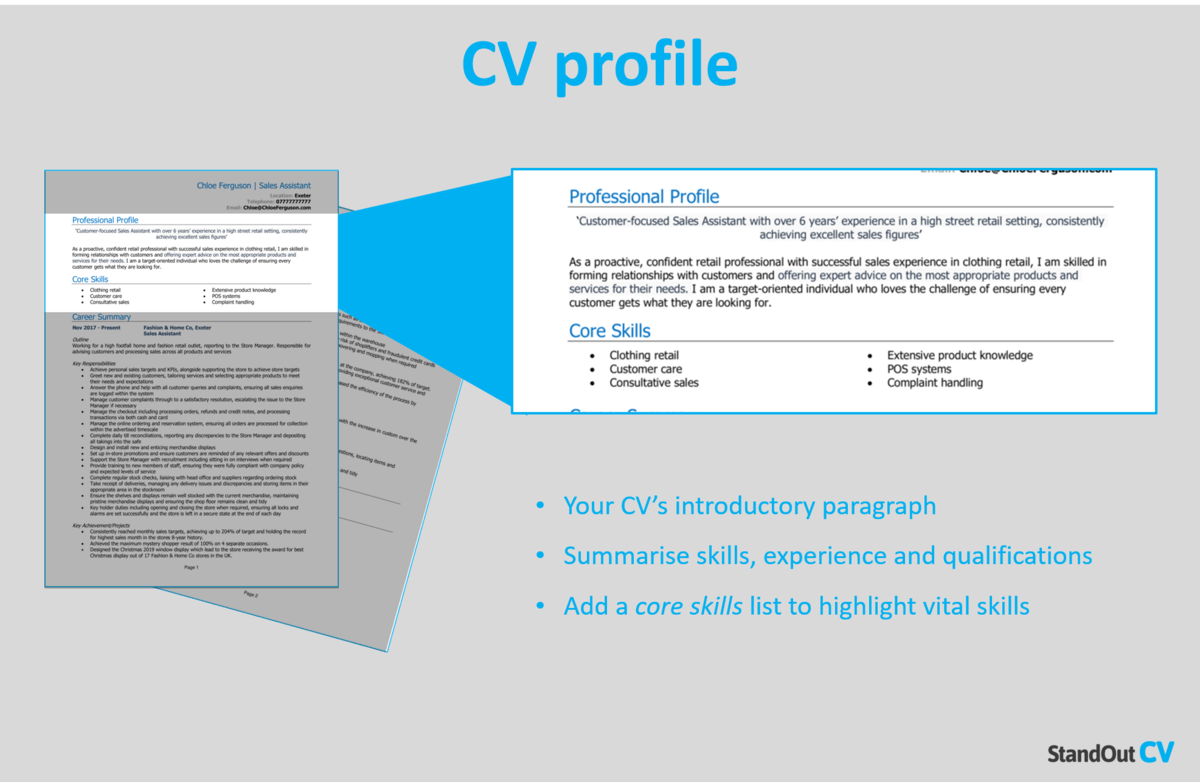 CV profile writing tips:
Make it short and sharp: It might be tempting to submit a page-long CV profile, but recruiters won't have the time to read it. To ensure every word gets read, it's best to include high-level information only; sticking to a length of 3-5 lines.
Tailor it: Before writing your CV, make sure to do some research. Figure out exactly what your desired employers are looking for and make sure that you are making those requirements prominent in your CV profile, and throughout.
Don't add an objective: Want to talk about about your career goals and objectives? While the profile may seem like a good space to do so, they're actually much better suited to your cover letter.
Avoid generic phrases: Clichés like "blue-sky thinker with a go-getter attitude" might sound impressive to you, but they don't actually tell the recruiter much about you. Concentrate on highlighting hard facts and skills, as recruiters are more likely to take these on board.
Example CV profile for Picker Packer
Hardworking Warehouse Picker with 5 years' experience in a warehouse fulfilment and distribution environment, including extensive experience in order handling, quality control and despatch. A proactive member of the warehouse team with substantial experience in the picking and packing of customer orders. In-depth knowledge of warehouse operations, inventory management and customer service practices, utilising ERP systems and handheld scanners to improve process efficiency. Committed to ensuring the safe and timely processing of customer orders in fast-paced warehouse environments.
What to include in your Picker Packer CV profile?
Summary of experience: To give employers an idea of your capabilities, show them your track record by giving an overview of the types of companies you have worked for in the past and the roles you have carried out for previous employers – but keep it high level and save the details for your experience section.
Relevant skills: Make your most relevant Picker Packer key skills clear in your profile. These should be tailored to the specific role you're applying for – so make sure to check the job description first, and aim to match their requirements as closely as you can.
Vital qualifications: If the jobs you are applying to require candidates to have certain qualifications, then you must add them in your profile to ensure they are seen by hiring managers.
Quick tip: If you are finding it difficult to write an attention-grabbing CV profile, choose from hundreds of pre-written profiles across all industries, and add one to your CV with one click in our partner's CV builder. All profiles are written by recruitment experts and easily tailored to suit your unique skillset.
Core skills section
In addition to your CV profile, your core skills section provides an easily digestible snapshot of your skills – perfect for grabbing the attention of busy hiring managers.
As Picker Packer jobs might receive a huge pile of applications, this is a great way to stand out and show off your suitability for the role.
It should be made up of 2-3 columns of bullet points and be made up of skills that are highly relevant to the jobs you are targeting.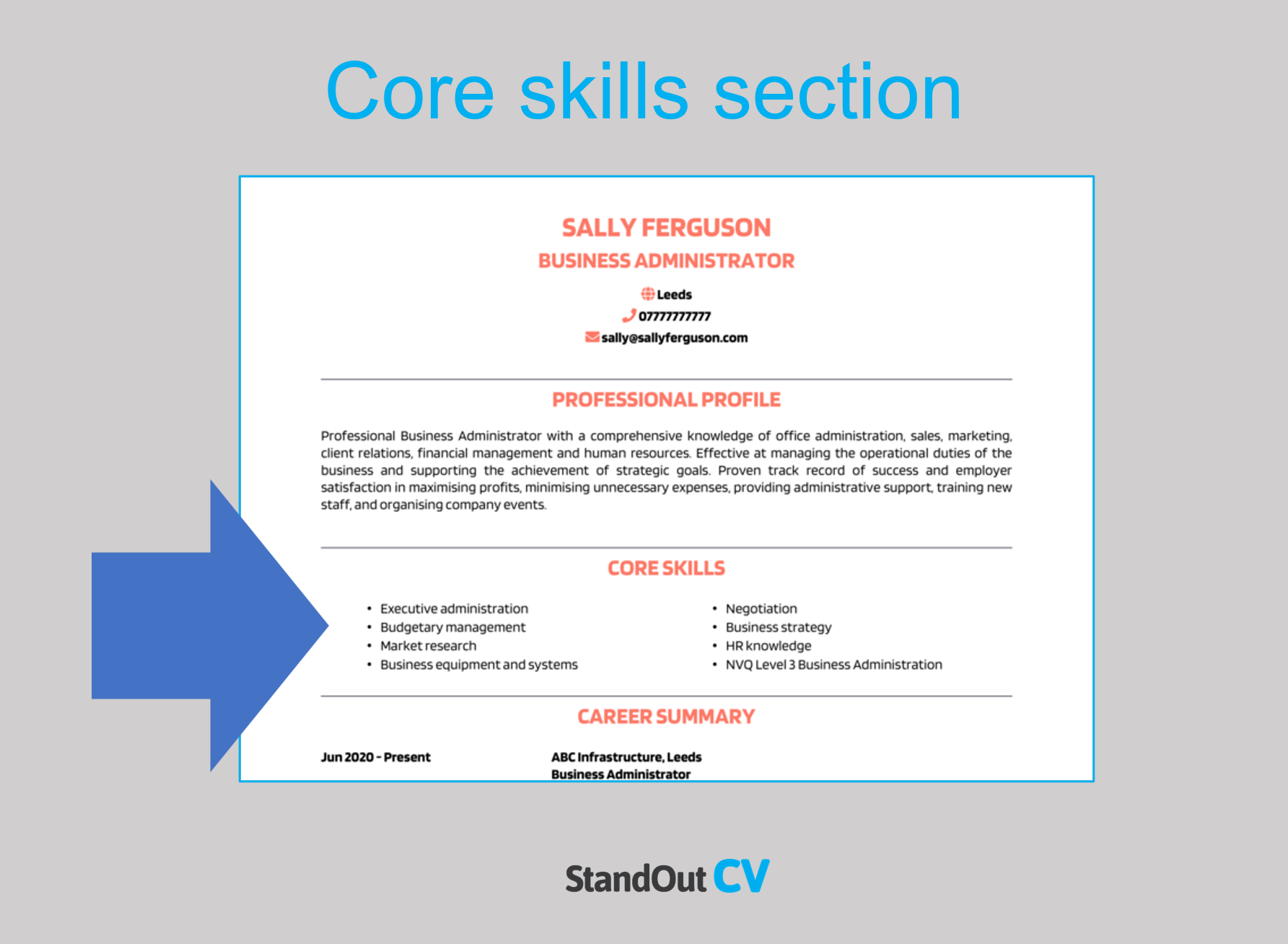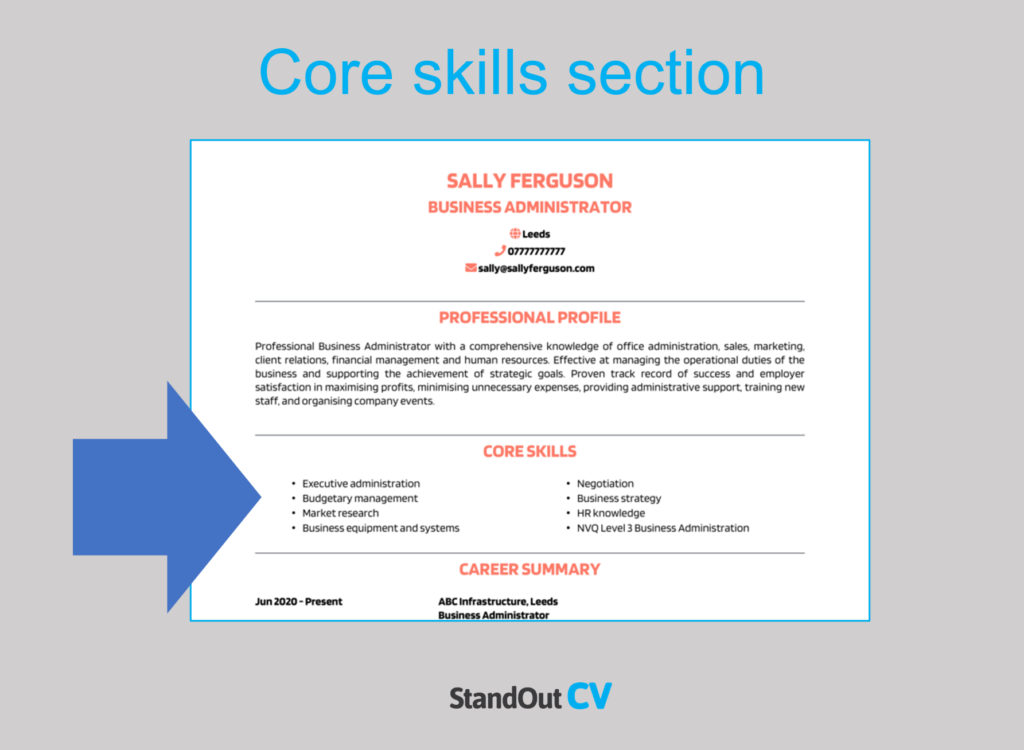 Vital skills for your Picker Packer CV
Warehouse operations – understanding all areas of warehouse operations including receiving, organising, fulfilling and distributing processes.
Loading and unloading – packing, loading, and unloading trucks and pallets including receiving shipments, unloading and loading packages, and operating loading and unloading conveyor mechanisms.
Inventory and stock management – receiving, storing, tracking and ordering inventory to ensure appropriate levels of stock.
Use of handheld scanners – utilising handheld technology to scan items in and out of inventory.
Quality control – identifying damaged goods and highlighting them to the management team prior to them leaving the warehouse as part of a customer order.
Quick tip: Our partner's CV builder has thousands of in-demand skills for all industries and professions, that can be added to your CV in seconds – This will save you time and ensure you get noticed by recruiters.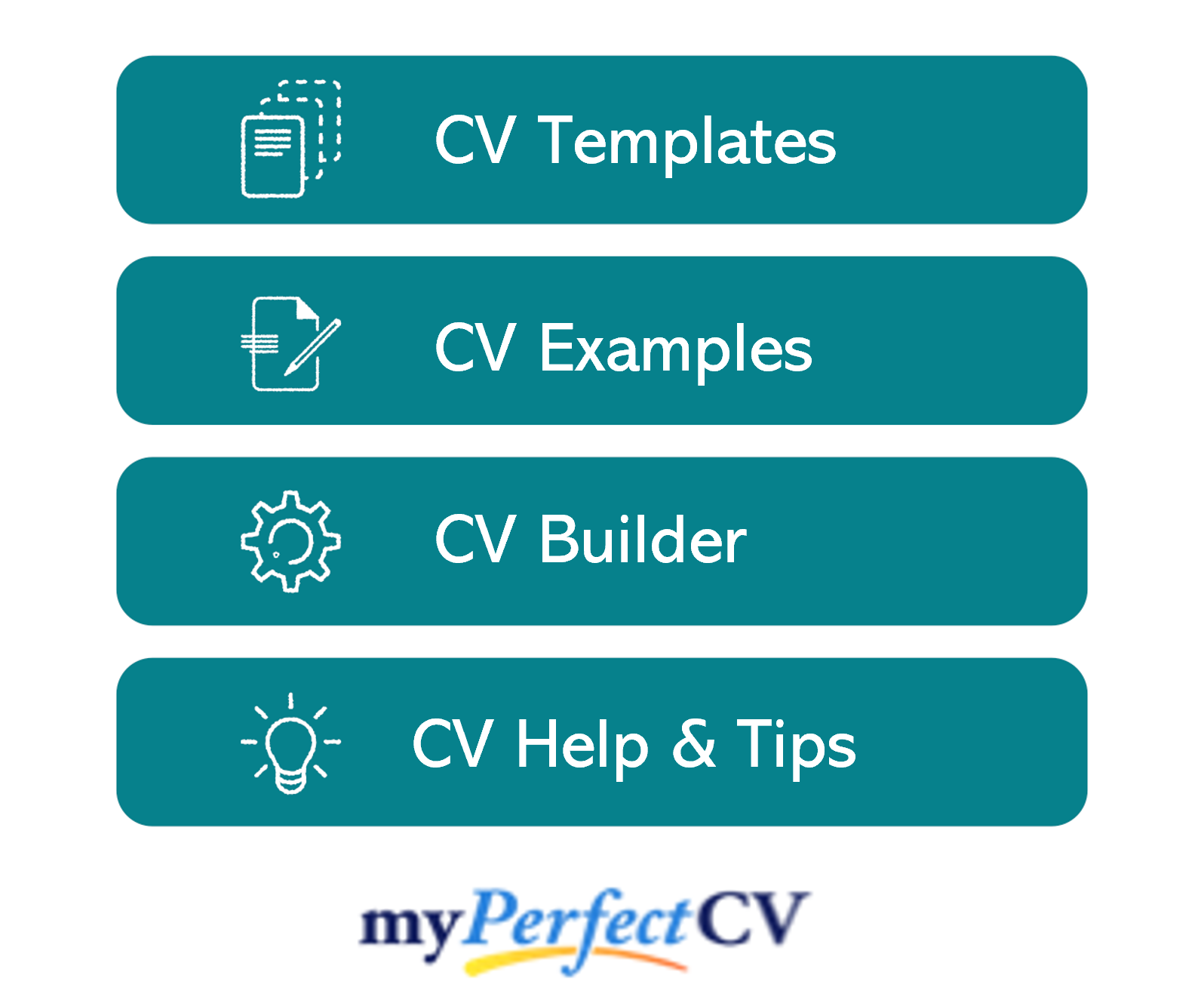 Your work experience section
Next up is your work experience section, which is normally the longest part of your CV.
Start with your current (or most recent) job and work your way backwards through your experience.
Can't fit all your roles? Allow more space for your recent career history and shorten down descriptions for your older roles.
Structuring each role
Your work experience section will be long, so it's important to structure it in a way which helps recruiters to quickly and easily find the information they need.
Use the 3-step structure, shown in the below example, below to achieve this.
Outline
Firstly, give the reader some context by creating a punchy summary of the job as a whole.
You should mention what the purpose or goal of your role was, what team you were part of and who you reported to.
Key responsibilities
Next up, you should write a short list of your day-to-day duties within the job.
Recruiters are most interested in your sector-specific skills and knowledge, so highlight these wherever possible.
Key achievements
Finish off by showcasing 1-3 key achievements made within the role.
This could be anything that had a positive effect on your company, clients or customers, such as saving time or money, receiving exemplary feedback or receiving an award.
Sample job description for Picker Packer CV
Outline
Working for a UK based e-commerce business with a world-wide reach. Responsible for locating customer orders within the warehouse, packing orders effectively and processing orders for delivery within a timely manner.
Key Responsibilities
Download each shifts order list onto a handheld scanner which is then used to locate customer orders across an 800,000 sq. ft. warehouse
Assess each product for damage, ensuring each item passes quality control checks before loading onto the trolley for despatch
Drop damaged items into a predefined marked area and report the item and condition to the Warehouse Supervisor
Ensure accurate products and product quantities are picked by checking and rechecking before loading onto the trolley for despatch
Quick tip: Create impressive job descriptions easily in our partner's CV builder by adding pre-written job phrases for every industry and career stage.

Education and qualifications section
In your education section, make any degrees, qualifications or training which are relevant to Picker Packer roles a focal point.
As well as mentioning the name of the organisation, qualification titles and dates of study, you should showcase any particularly relevant modules, assignments or projects.
Hobbies and interests
Although this is an optional section, it can be useful if your hobbies and interests will add further depth to your CV.
Interests which are related to the sector you are applying to, or which show transferable skills like leadership or teamwork, can worth listing.
On the other hand, generic hobbies like "going out with friends" won't add any value to your application, so are best left off your CV.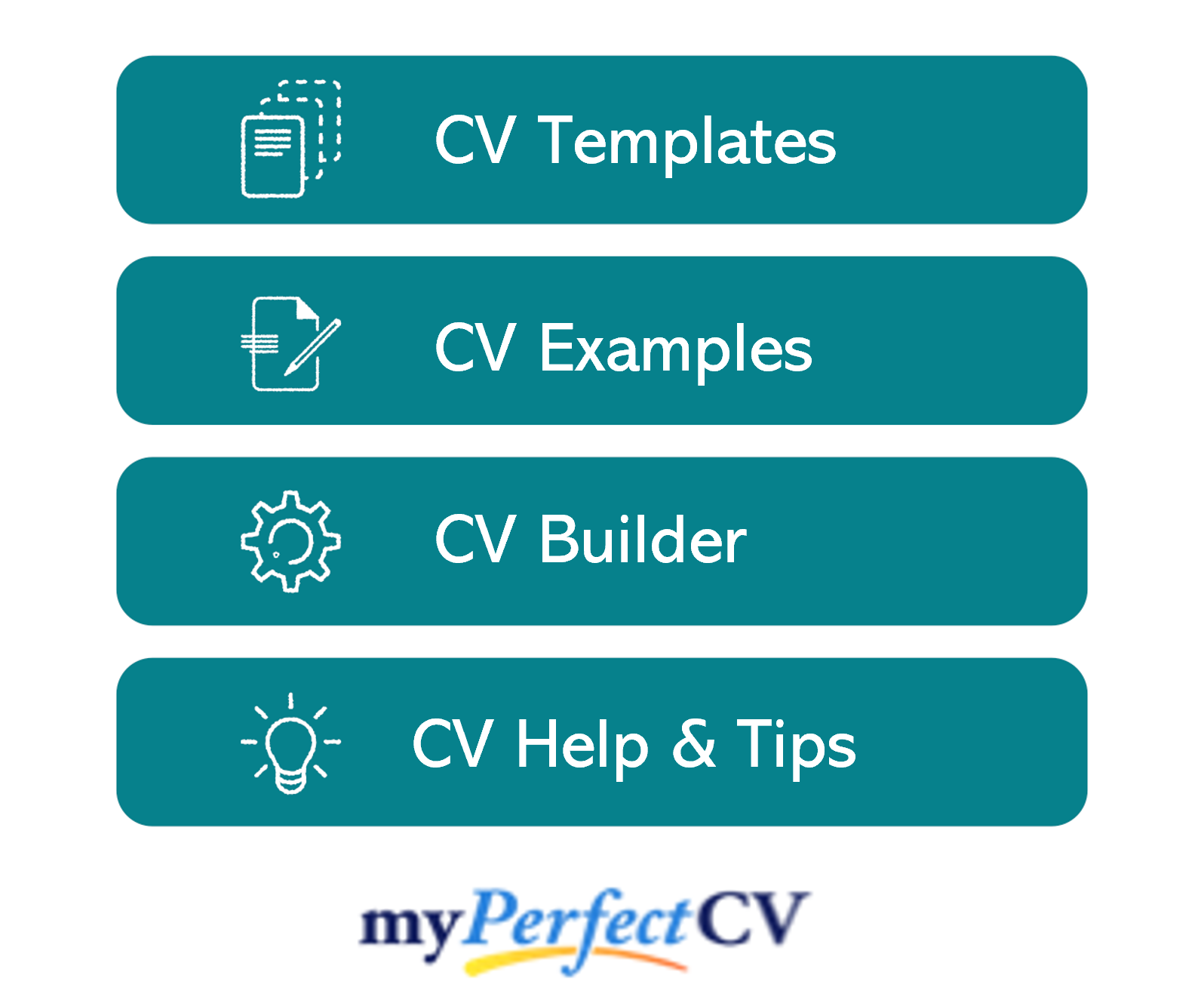 Writing your Picker Packer CV
A strong, compelling CV is essential to get noticed and land interviews with the best employers.
To ensure your CV stands out from the competition, make sure to tailor it to your target role and pack it with sector-specific skills and results.
Remember to triple-check for spelling and grammar errors before hitting send.
Good luck with the job search!