Are you looking for your next optometrist role? Then you need an application that stands out.
But we can see that you're struggling to perfect your CV, which is why we've created this step-by-step guide.
We've also put together an optometrist CV example to help you visualise and then write your own application.
Contents
| | |
| --- | --- |
| How to write a Optometrist CV | |

Optometrist CV example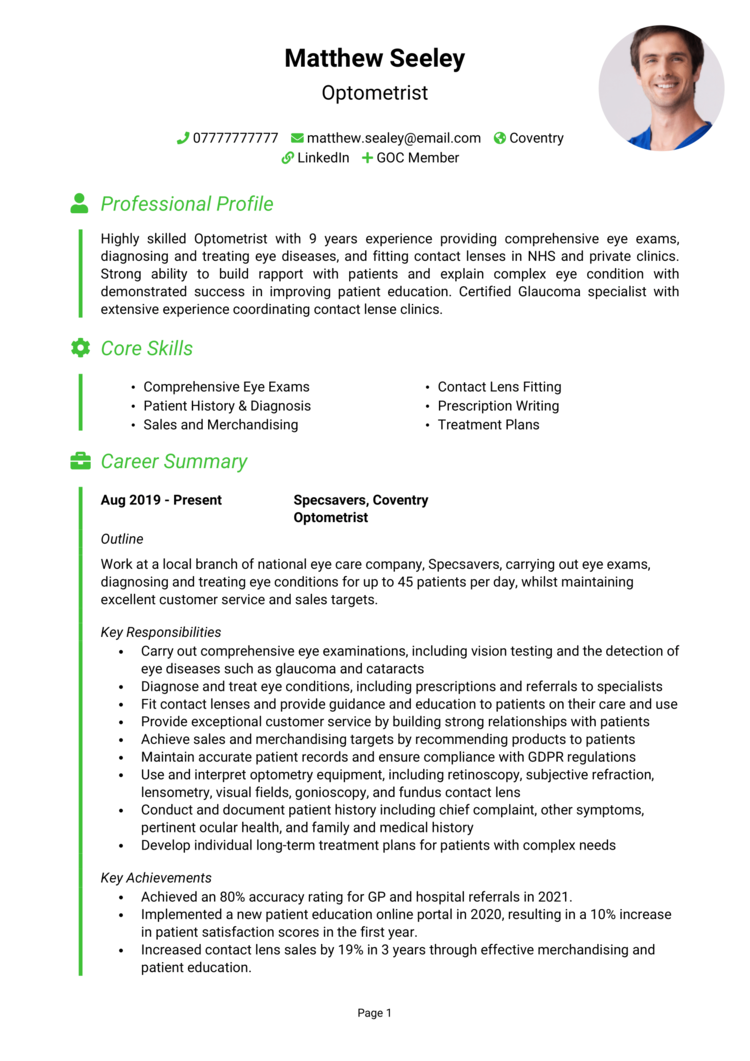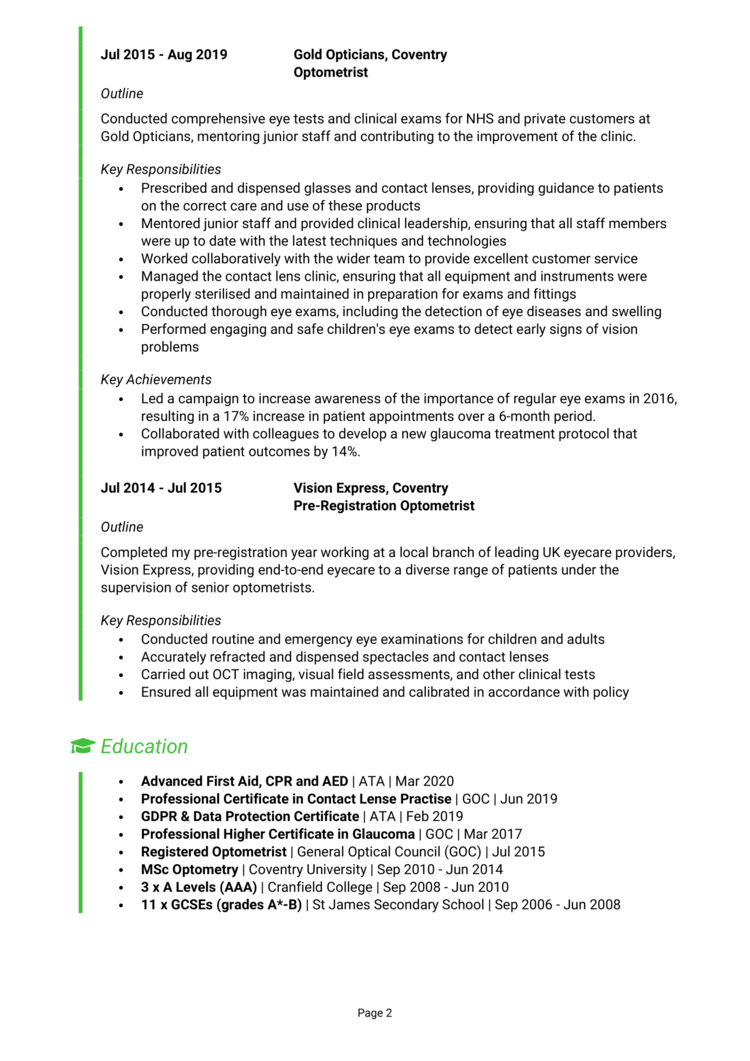 This CV example showcases the optimal structure and format for your Optometrist CV, providing a pleasant reading experience for busy recruiters.
It also demonstrates the skills, experience and qualifications you should emphasize in your own CV to increase your chances of landing job interviews.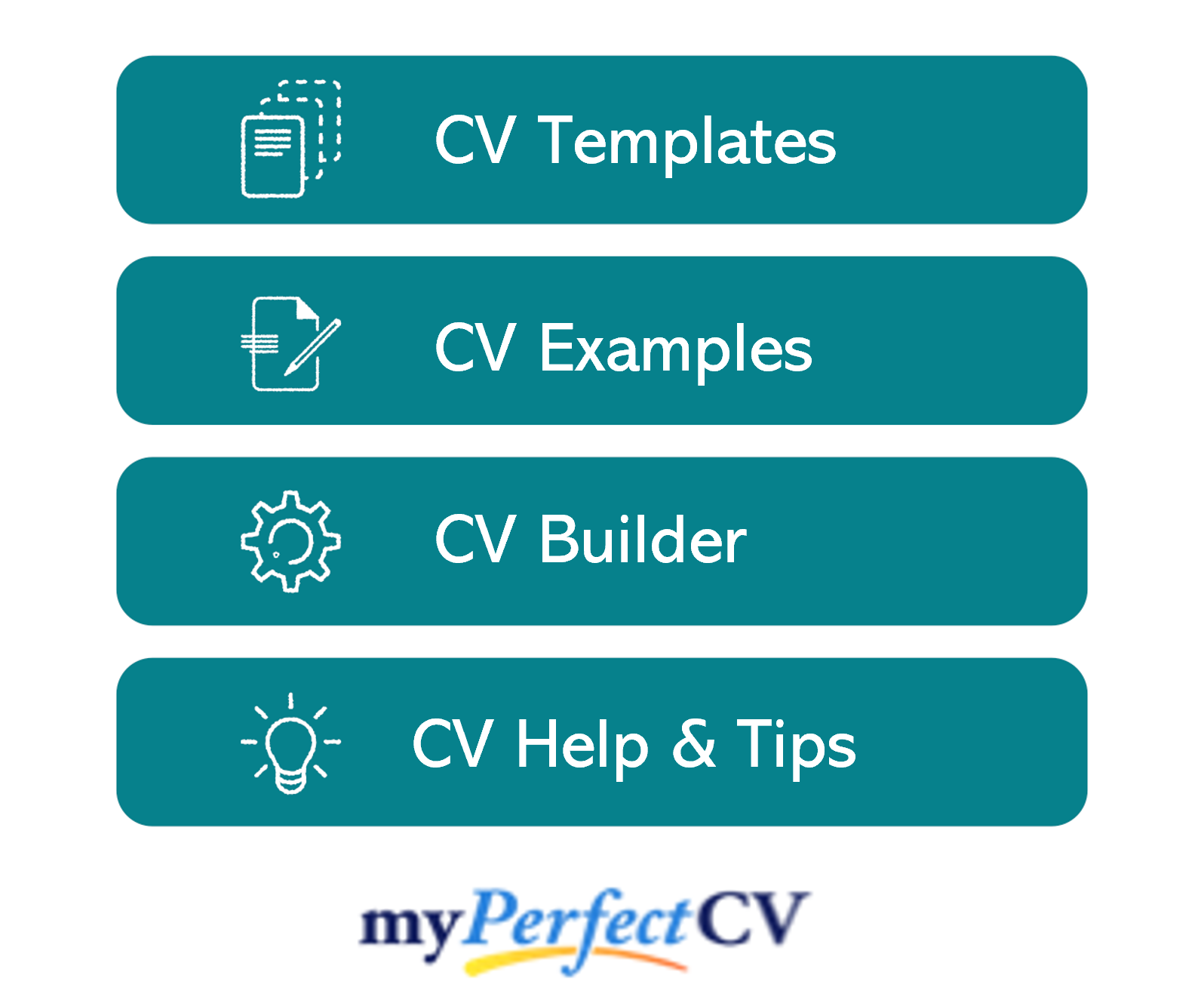 Optometrist CV format and structure
Hiring managers and recruiters are frequently overloaded with applications, and if they can't identify the relevant information in your CV within a few seconds, your application may be overlooked.
To avoid this, it's essential to format and structure your CV in a manner that makes it simple to pick out the most important information, even if the reader is in a rush.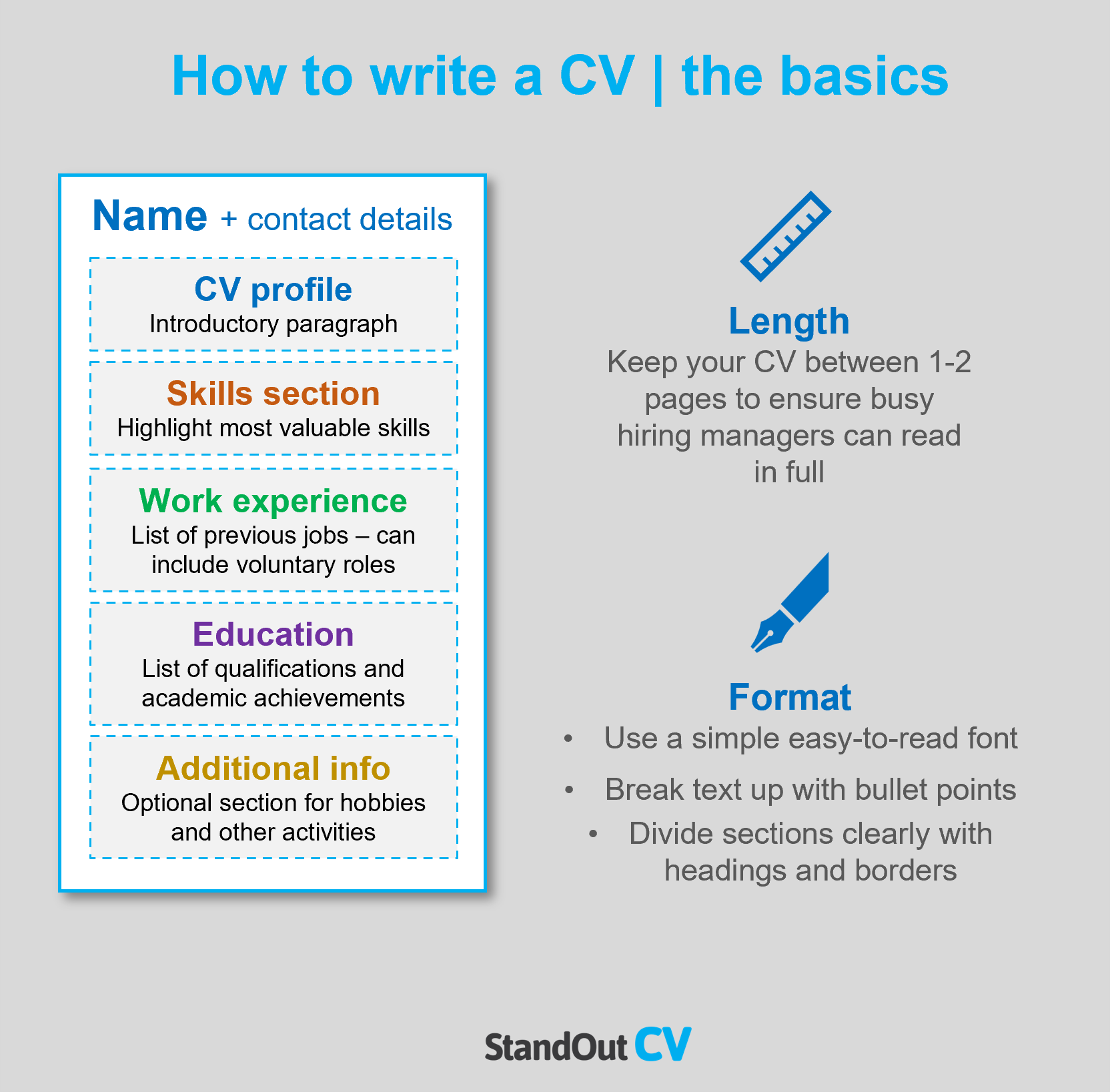 Tips for formatting your Optometrist CV
Length: Your CV should always be limited to two sides of A4, regardless of whether you have a year or three decades of experience. With recruiters juggling multiple responsibilities, they don't have time to sift through lengthy applications.
Readability: By formatting your section headings with bold or a different colour font and using bullet points to break up large blocks of text, you can help busy recruiters quickly scan through your CV. This makes it easier for them to find important details without wasting time.
Design & format: It's generally best to stick to a simple CV design, as funky or elaborate designs rarely add any value to your application. A clear, modern font and a subtle colour scheme work perfectly and allow your skills, experience and achievements to speak for themselves.
Photos: Recruiters can't factor in appearance, gender or race into the recruitment process, so a profile photo is not usually needed. However, creative employers do like to see them, so you can choose to include one if you think it will add value to your CV .
Quick tip: Creating a professional CV style can be difficult and time-consuming when using Microsoft Word or Google Docs. To create a winning CV quickly, try our partner's CV Builder and use one of their eye-catching professional CV templates.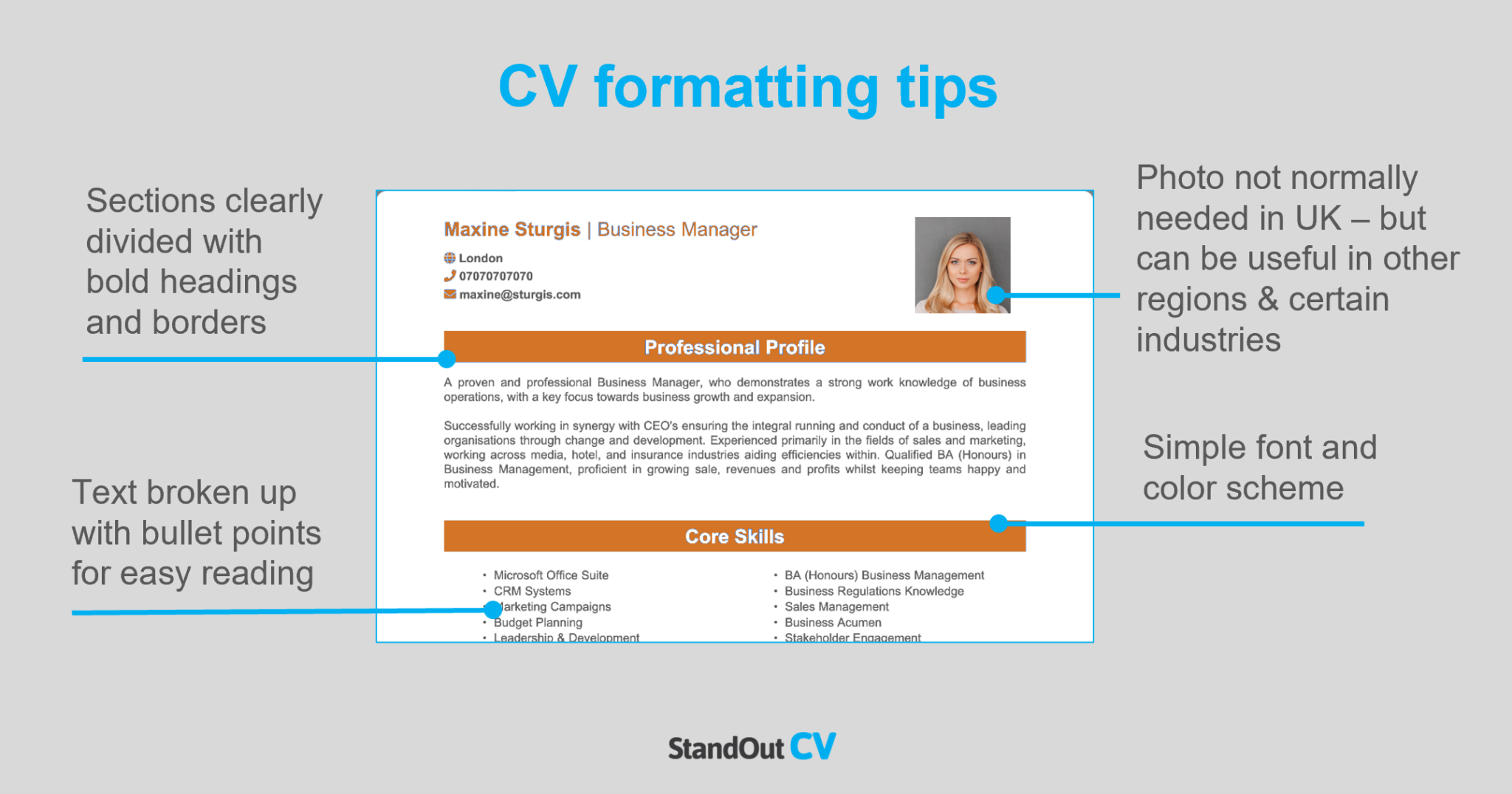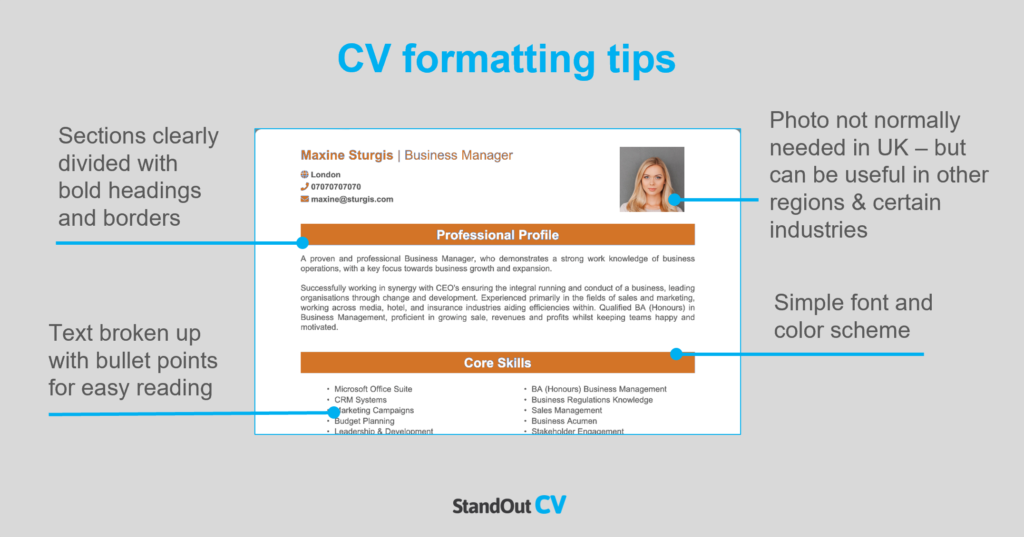 CV structure
When writing your CV, it's important to structure the content into the following key sections to ensure easy digestion by busy recruiters and hiring managers:
Contact details: List your contact details at the top of your CV to prevent them from being overlooked.
Profile: Begin with an introductory paragraph that captures recruiters' attention and summarises what you have to offer employers.
Work experience/career history: List your relevant work experience in reverse chronological order, starting with your current position.
Education: Provide a brief summary of your education and qualifications.
Interests and hobbies: An optional section to showcase any hobbies that highlight transferable skills relevant to your target jobs.
Now you understand the basic layout of a CV, here's what you should include in each section of yours.
Contact Details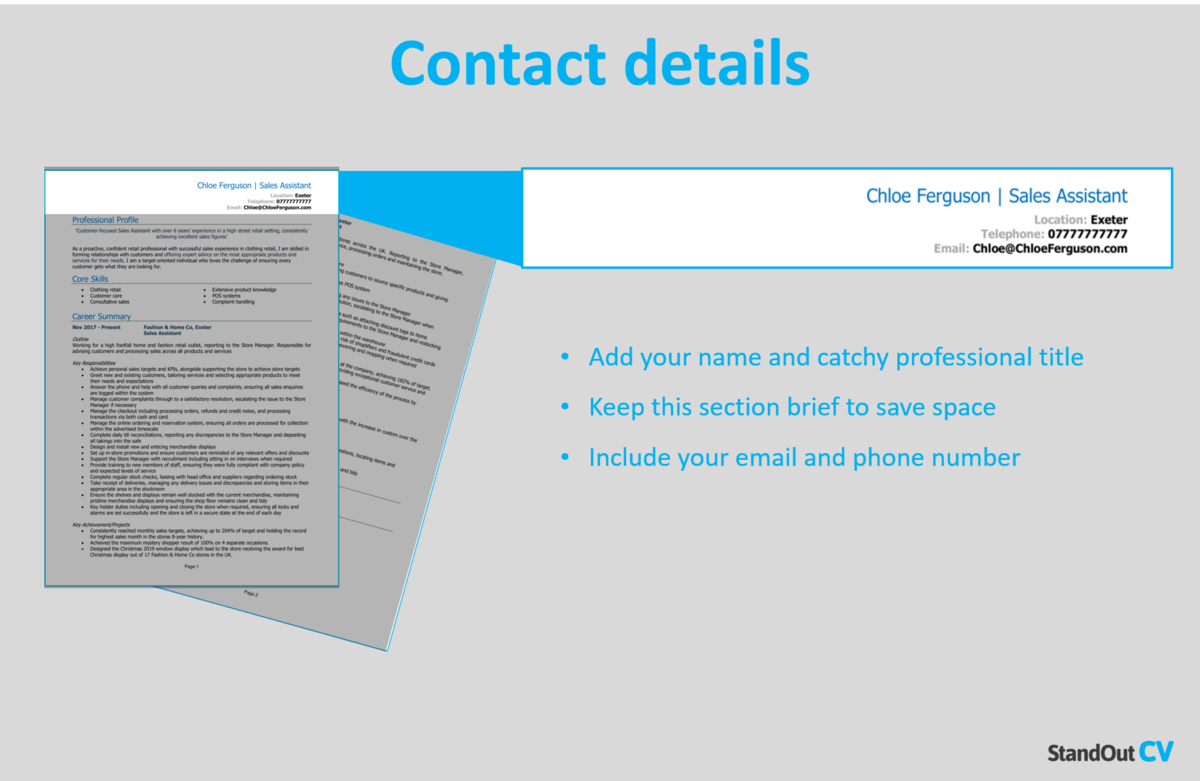 Tuck your contact details into the corner of your CV, so that they don't take up too much space.
Stick to the basic details, such as:
Mobile number
Email address – It should sound professional, such as your full name.
Location -Just write your rough location, rather than your full address.
LinkedIn profile or portfolio URL – If you include these, ensure they're sleek, professional and up-to-date.
Optometrist CV Profile
Your CV profile is the first thing recruiters will read – so your goal is to give them a reason to read onto the end of the document!
Create a short and snappy paragraph that showcases your key skills, relevant experience and impressive accomplishments.
Ultimately, it should prove to the reader that you've got what it takes to carry out the job.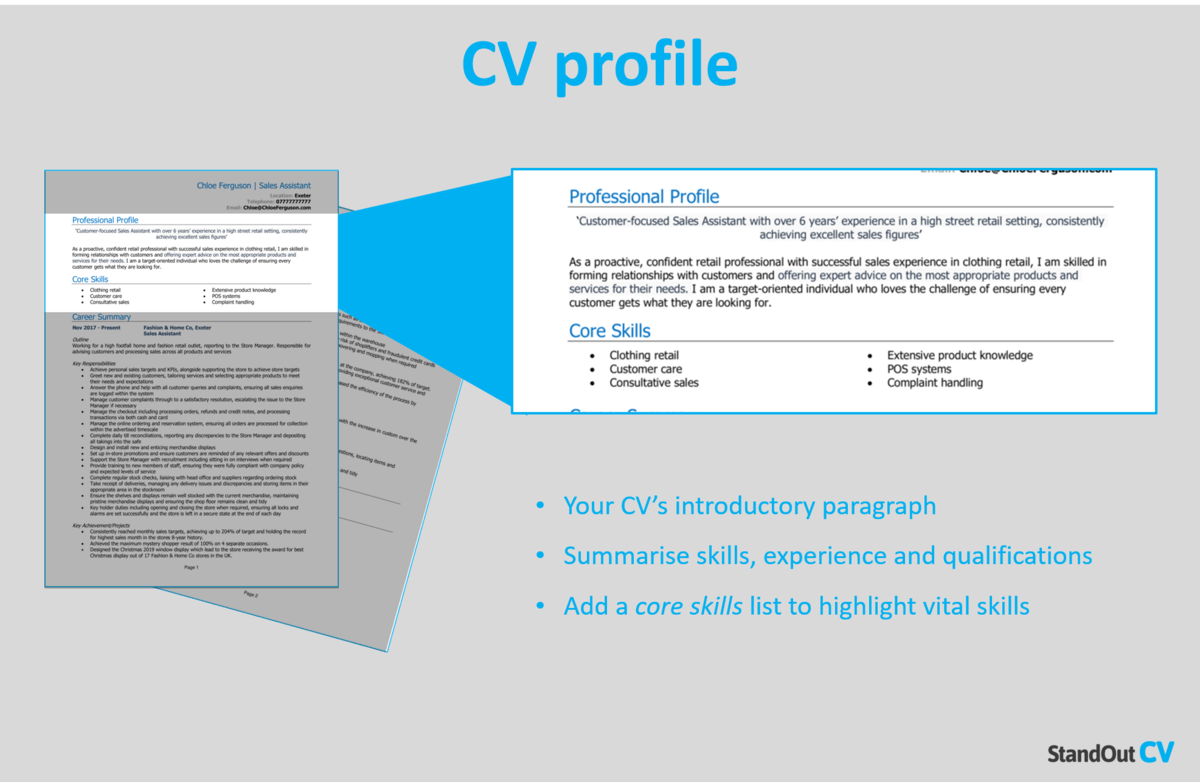 How to write a good CV profile:
Make it short and sharp: When it comes to CV profile length, less is more, as recruiters are often time-strapped. Aim for around of 3-5 persuasive lines.
Tailor it: Before writing your CV, make sure to do some research. Figure out exactly what your desired employers are looking for and make sure that you are making those requirements prominent in your CV profile, and throughout.
Don't add an objective: Want to talk about about your career goals and objectives? While the profile may seem like a good space to do so, they're actually much better suited to your cover letter.
Avoid generic phrases: If your CV is riddled with clichès like "Dynamic thought-leader", hit that delete button. Phrases like these are like a broken record to recruiters, who read them countless times per day. Hard facts, skills, knowledge and results are sure to yield far better results.
Example CV profile for Optometrist
Highly skilled Optometrist with 9 years' experience providing comprehensive eye exams, diagnosing, and treating eye diseases, and fitting contact lenses in NHS and private clinics. Strong ability to build rapport with patients and explain complex eye condition with demonstrated success in improving patient education. Certified Glaucoma specialist with extensive experience coordinating contact lens clinics.
What to include in your Optometrist CV profile?
Experience overview: Start with a brief summary of your relevant experience so far. How many years experience do you have? What type of companies have you worked for? What industries/sectors have you worked in? What are your specialisms?
Targeted skills: Make your most relevant Optometrist key skills clear in your profile. These should be tailored to the specific role you're applying for – so make sure to check the job description first, and aim to match their requirements as closely as you can.
Important qualifications: If you have any qualifications which are highly relevant to Optometrist jobs, then highlight them in your profile so that employers do not miss them.
Quick tip: If you are finding it difficult to write an attention-grabbing CV profile, choose from hundreds of pre-written profiles across all industries, and add one to your CV with one click in our partner's CV Builder. All profiles are written by recruitment experts and easily tailored to suit your unique skillset.
Core skills section
To ensure that your most relevant skills catch the eye of readers, create a core skills section below your profile.
This section should be presented in 2-3 columns of bullet points highlighting your applicable skills. Before crafting this section, carefully examine the job description and create a list of any required skills, specialisms, or knowledge.
Use this list to include the necessary information in your section and present yourself as the ideal match for the position.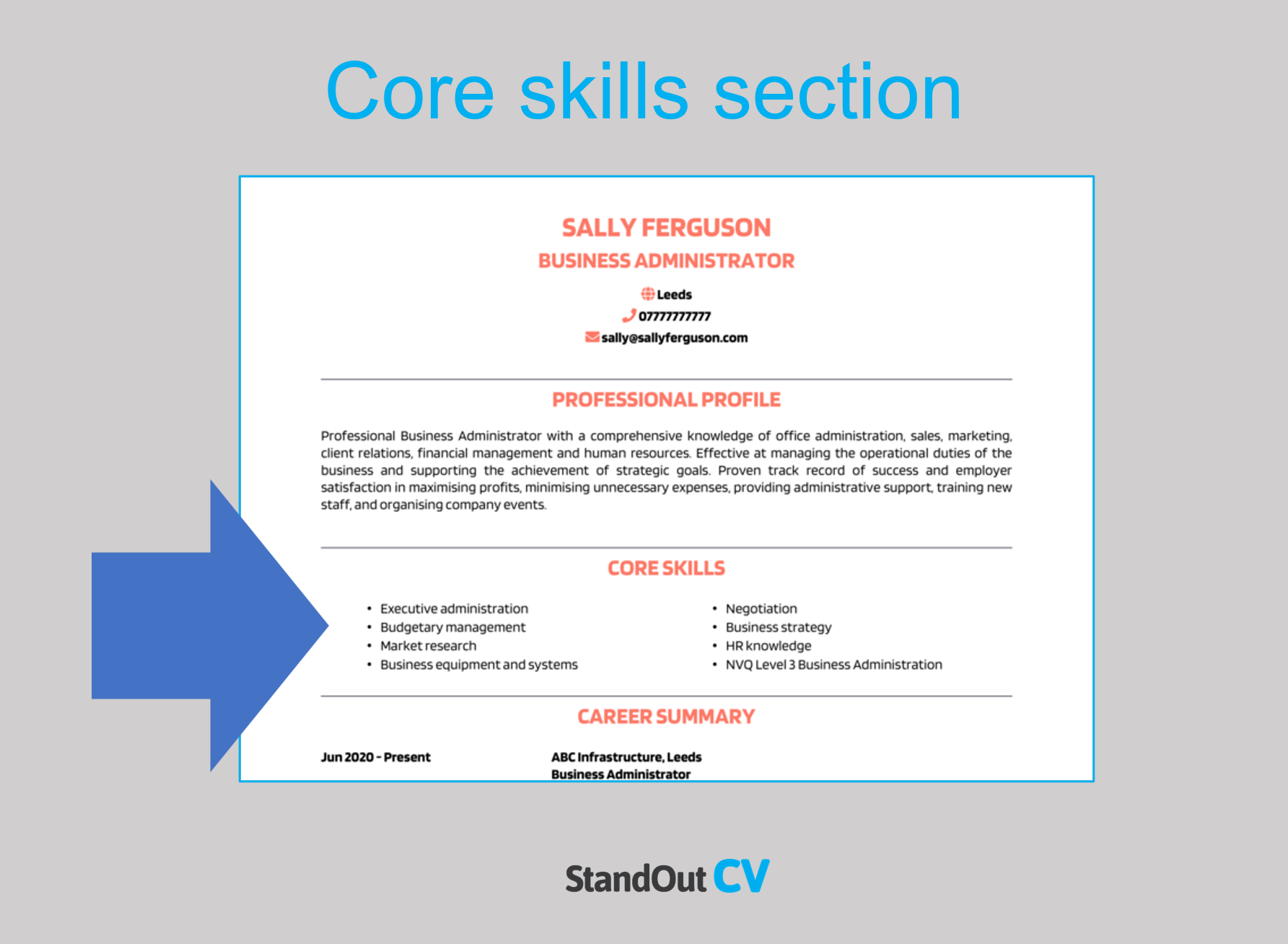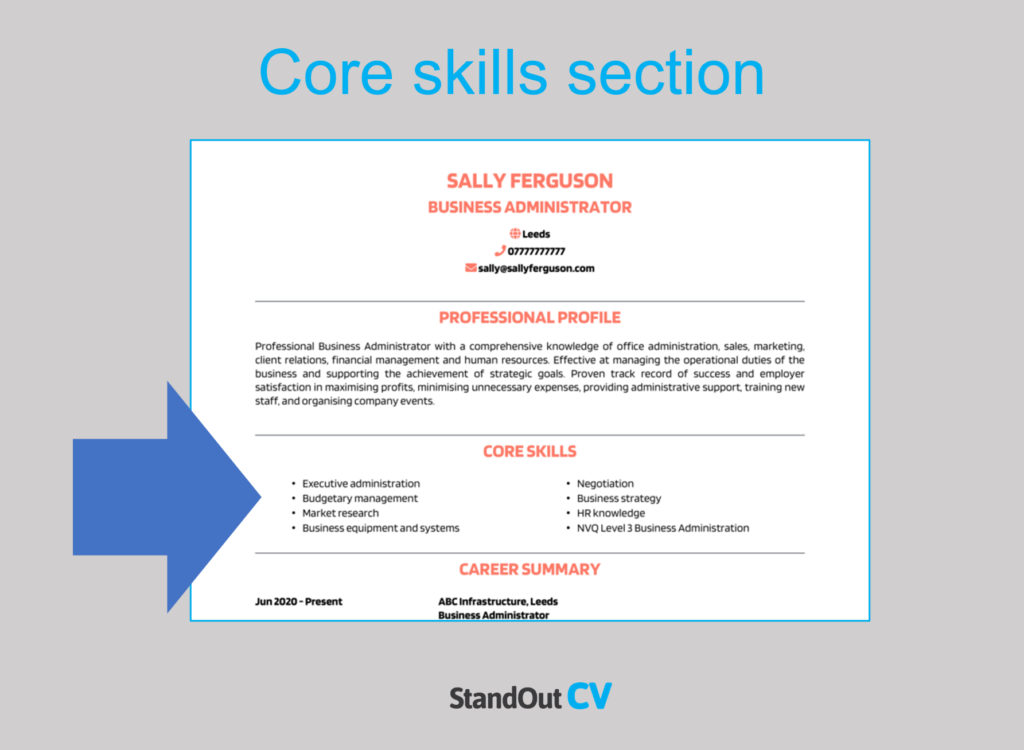 Important skills for your Optometrist CV
Refraction – Conducting accurate and precise refraction tests to determine the appropriate prescription for corrective lenses.
Eye Examination – Performing comprehensive eye examinations, including assessing visual acuity, examining eye health, and detecting eye conditions and diseases.
Contact Lens Fitting – Fitting and prescribing contact lenses, considering factors such as corneal shape, lens materials, and patient's lifestyle and visual needs.
Binocular Vision Assessment – Assessing and diagnosing binocular vision problems, including strabismus, amblyopia, and accommodative disorders.
Ocular Disease Management – Diagnosing and managing common ocular conditions and diseases, such as glaucoma, cataracts, and macular degeneration.
Low Vision Assessment – Evaluating and assisting patients with low vision, recommending and prescribing appropriate visual aids and adaptive technologies.
Paediatric Optometry – Providing eye care to children, including vision screening, diagnosis and management of paediatric eye conditions, and collaboration with other healthcare professionals.
Referral and Co-Management – Recognising complex eye conditions requiring referral to ophthalmologists or other specialists, and effectively co-manage patient care.
Patient Communication – Explaining eye conditions, treatment plans, and preventive measures to patients of all ages and backgrounds.
Clinical Record Keeping – Accurately documenting patient histories, examination findings, diagnoses, and treatment plans in compliance with legal and professional standards.
Quick tip: Our partner's CV Builder has thousands of in-demand skills for all industries and professions, that can be added to your CV in seconds – This will save you time and ensure you get noticed by recruiters.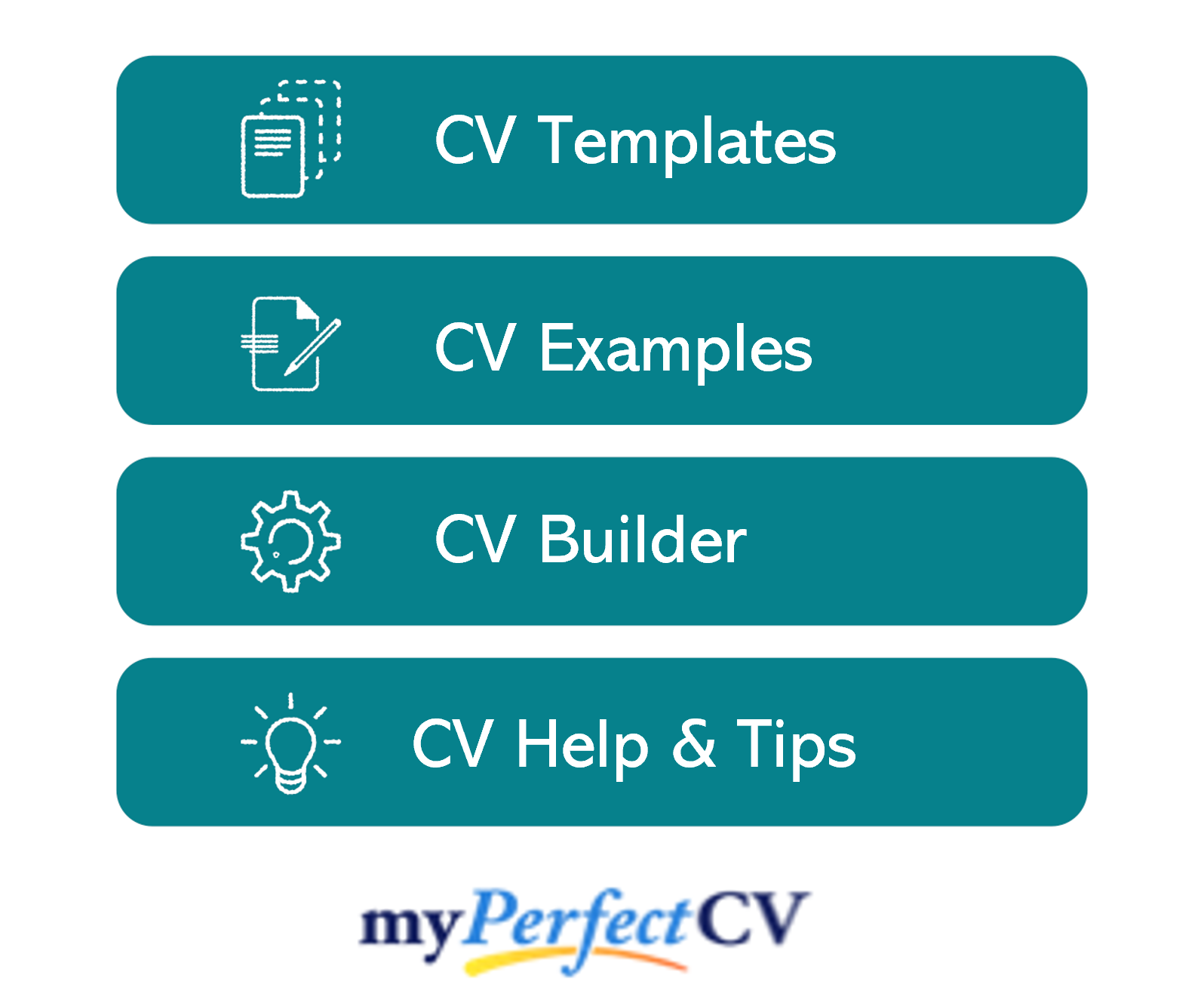 Work experience
Next up is your work experience section, which is normally the longest part of your CV.
Start with your current (or most recent) job and work your way backwards through your experience.
Can't fit all your roles? Allow more space for your recent career history and shorten down descriptions for your older roles.
Structuring each job
The structure of your work experience section can seriously affect its impact.
This is generally the biggest section of a CV, and with no thought to structure, it can look bulky and important information can get lost.
Use my 3-step structure below to allow for easy navigation, so employers can find what they are looking for:
Outline
Start with a brief summary of your role as a whole, as well as the type of company you worked for.
Key responsibilities
Next up, you should write a short list of your day-to-day duties within the job.
Recruiters are most interested in your sector-specific skills and knowledge, so highlight these wherever possible.
Key achievements
Round up each role by listing 1-3 key achievements, accomplishments or results.
Wherever possible, quantify them using hard facts and figures, as this really helps to prove your value.
Sample job description for Optometrist CV
Outline
Work at a local branch of national eye care company, Specsavers, carrying out eye exams, diagnosing and treating eye conditions for up to 45 patients per day, whilst maintaining excellent customer service and sales targets.
Key Responsibilities
Carry out comprehensive eye examinations, including vision testing and the detection of eye diseases such as glaucoma and cataracts
Diagnose and treat eye conditions, including prescriptions and referrals to specialists
Fit contact lenses and provide guidance and education to patients on their care and use
Provide exceptional customer service by building strong relationships with patients
Quick tip: Create impressive job descriptions easily in our partner's CV Builder by adding pre-written job phrases for every industry and career stage.

Education section
After your work experience, your education section should provide a detailed view of your academic background.
Begin with those most relevant to Optometrist jobs, such as vocational training or degrees.
If you have space, you can also mention your academic qualifications, such as A-Levels and GCSEs.
Focus on the qualifications that are most relevant to the jobs you are applying for.
Hobbies and interests
Although this is an optional section, it can be useful if your hobbies and interests will add further depth to your CV.
Interests which are related to the sector you are applying to, or which show transferable skills like leadership or teamwork, can worth listing.
On the other hand, generic hobbies like "going out with friends" won't add any value to your application, so are best left off your CV.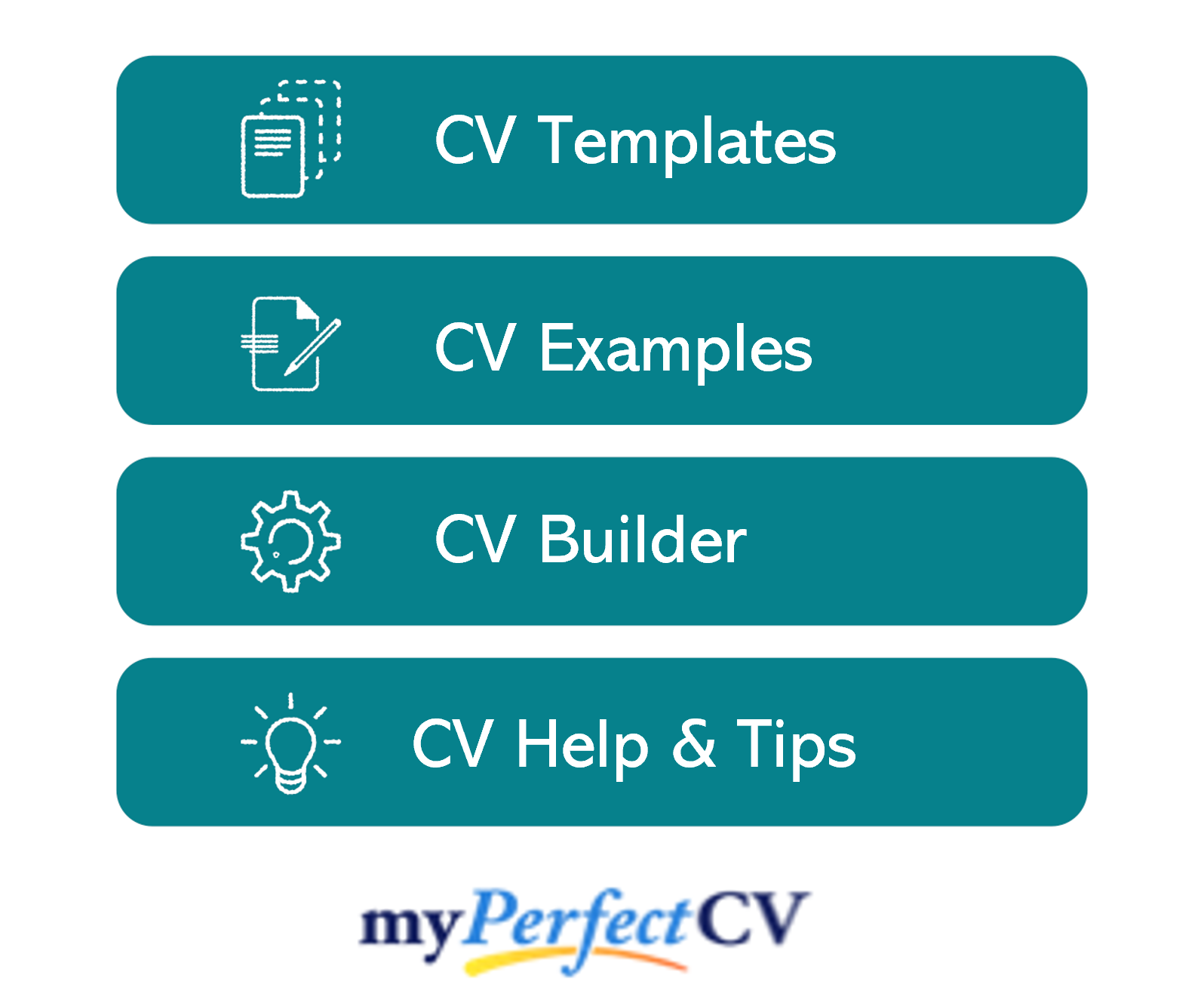 An interview-winning CV for a Optometrist role, needs to be both visually pleasing and packed with targeted content.
Whilst it needs to detail your experience, accomplishments and relevant skills, it also needs to be as clear and easy to read as possible.
Remember to research the role and review the job ad before applying, so you're able to match yourself up to the requirements.
If you follow these guidelines and keep motivated in your job search, you should land an interview in no time.
Best of luck with your next application!