Saving lives and keeping everyone safe in the water is all in a day's work for you. At least it would be if you could land that coveted lifeguard position.
With a big talent pool to choose from, you need to go above and beyond to grab the recruiter's attention.
Using our lifeguard CV example and step-by-step guide below, you can create a CV that will make waves and land you an interview in no time.
Contents
| | |
| --- | --- |
| How to write a Lifeguard CV | |

Lifeguard CV example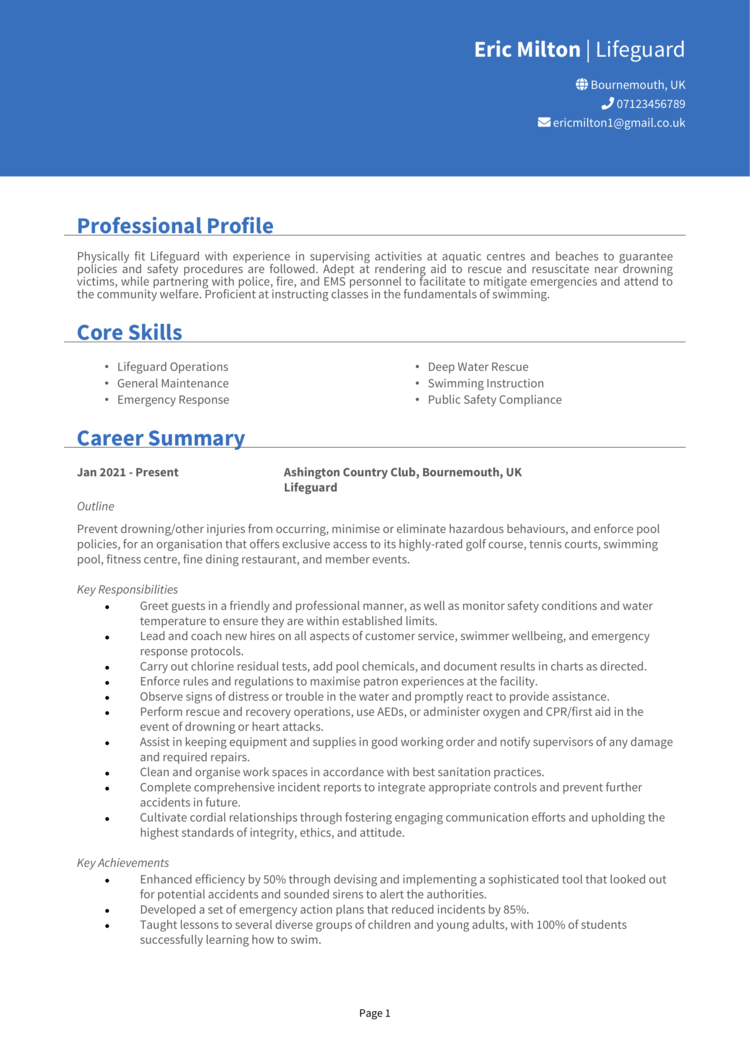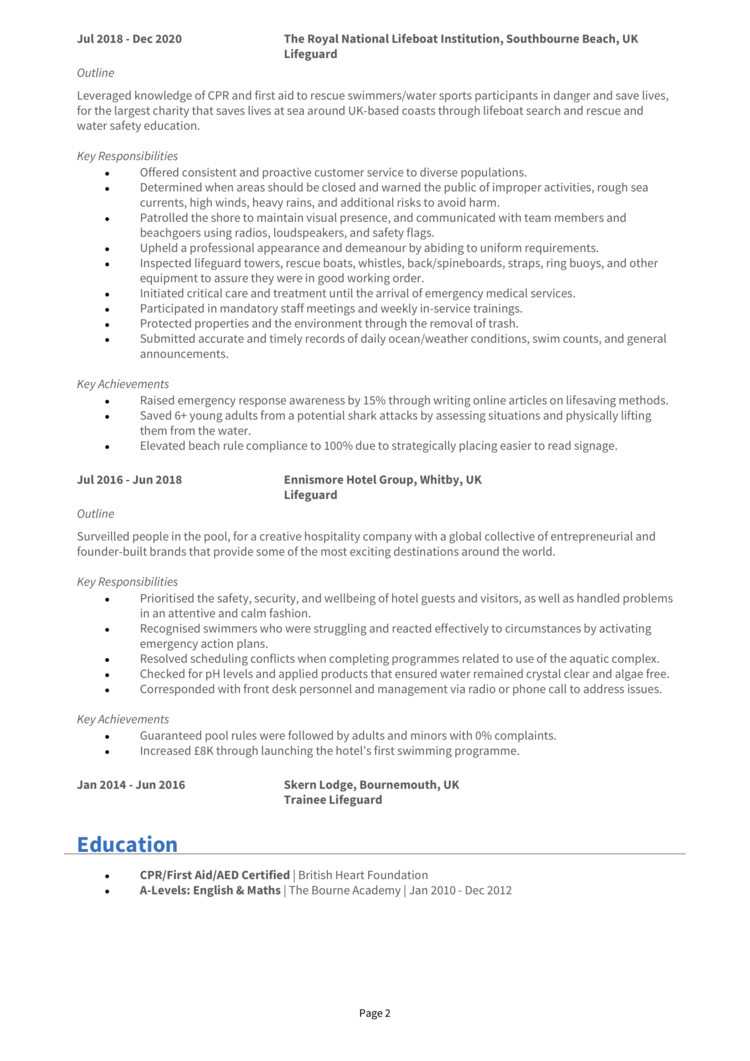 This example CV demonstrates how to structure and format your own Lifeguard CV, so that it can be easily digested by busy hiring managers, and quickly prove why you are suitable for the jobs you are applying to.
It also gives you a good idea of the type of skills, experience and qualifications that you need to be highlighting in your CV.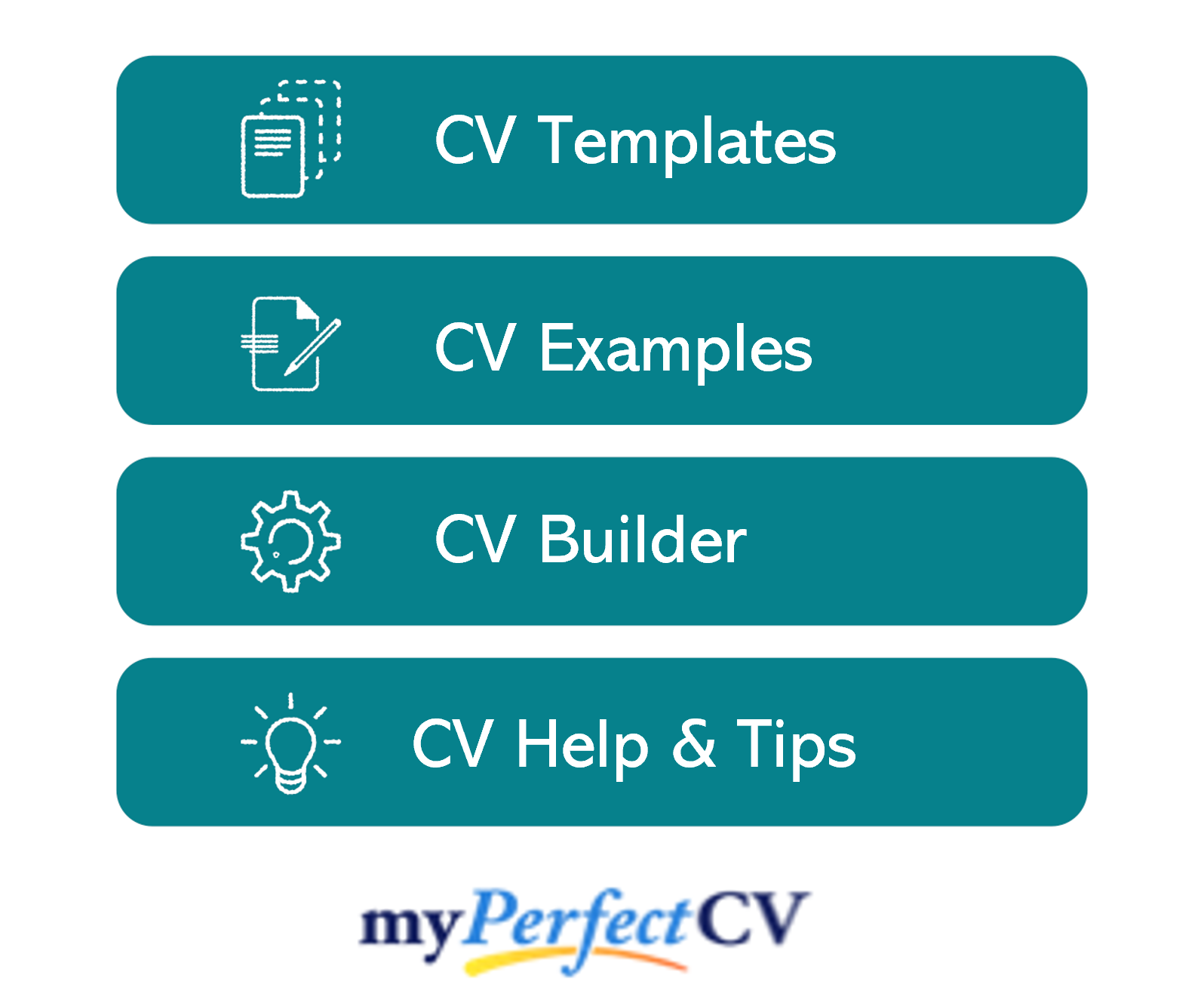 Lifeguard CV layout and format
Recruiters and employers are busy, and if they can't find the information they're looking for in a few seconds, it could be game over for your application.
You need to format and structure your CV in a way which allows the reader to pick out your key information with ease, even if they're strapped for time.
It should be clear, easily legible, well-organised and scannable – check out some simple tips and tricks below: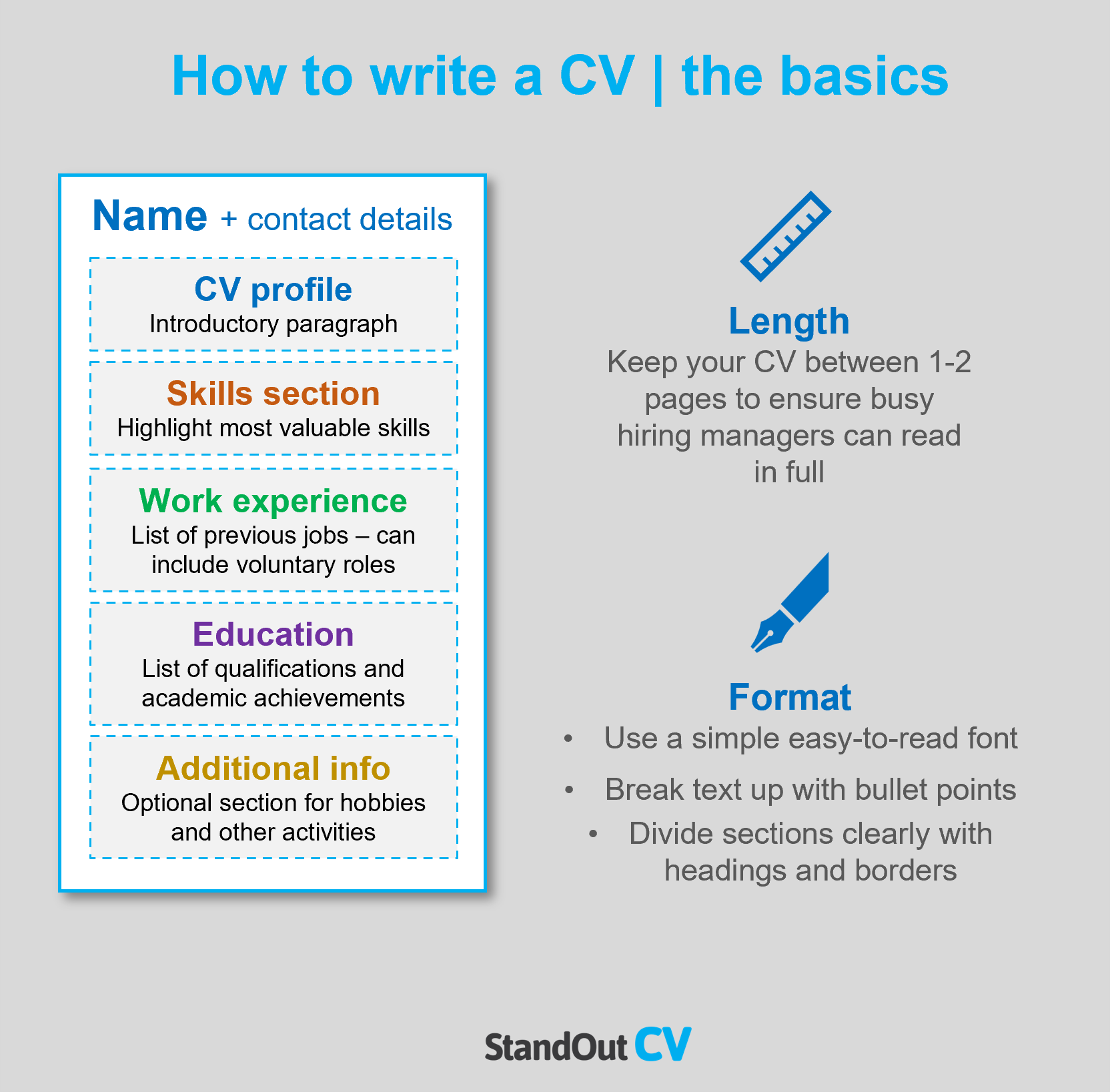 Tips for formatting your Lifeguard CV
Length: Whether you've got one year or three decades of experience, your CV should never be more than two sides of A4. Recruiters are busy people who're often juggling numerous roles and tasks, so they don't have time to read lengthy applications. If you're a recent graduate or don't have much industry experience, one side of A4 is fine.
Readability: To help busy recruiters scan through your CV, make sure your section headings stand out – bold or coloured text works well. Additionally, try to use bullet points wherever you can, as they're far easier to skim through than huge paragraphs. Lastly, don't be afraid of white space on your CV – a little breathing space is great for readability.
Design: It's generally best to stick to a simple CV design, as funky or elaborate designs rarely add any value to your application. A clear, modern font and a subtle colour scheme work perfectly and allow your skills, experience and achievements to speak for themselves.
Photos: Headshot photos aren't requiered in a CV by most employers, but some creative and artistic industries like to see them. If you decide to inclide one, make sure you look smart and professional in the picture.
Quick tip: Creating a professional CV style can be difficult and time-consuming when using Microsoft Word or Google Docs. To create a winning CV quickly, try our partner's CV Builder and use one of their eye-catching professional CV templates.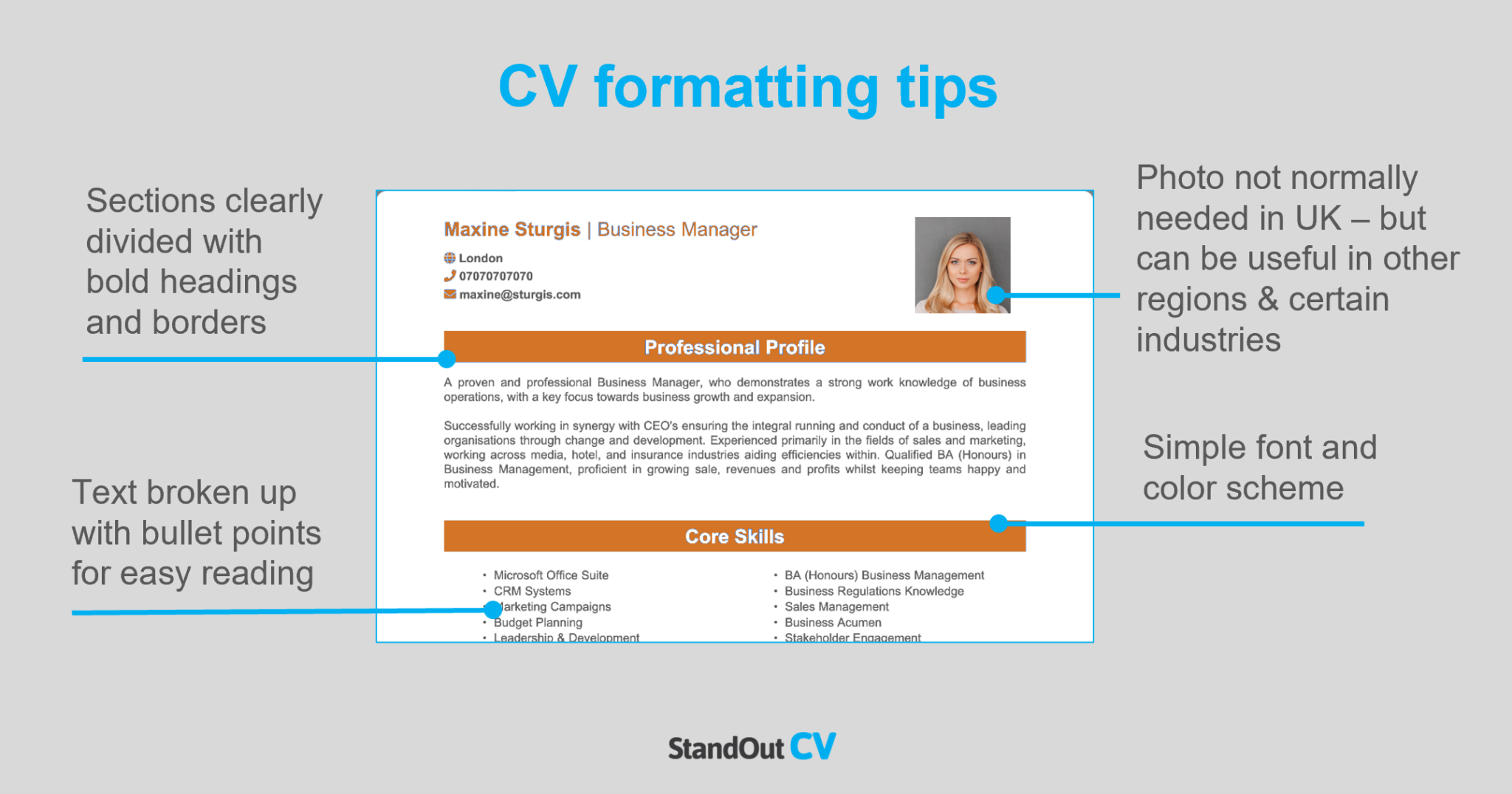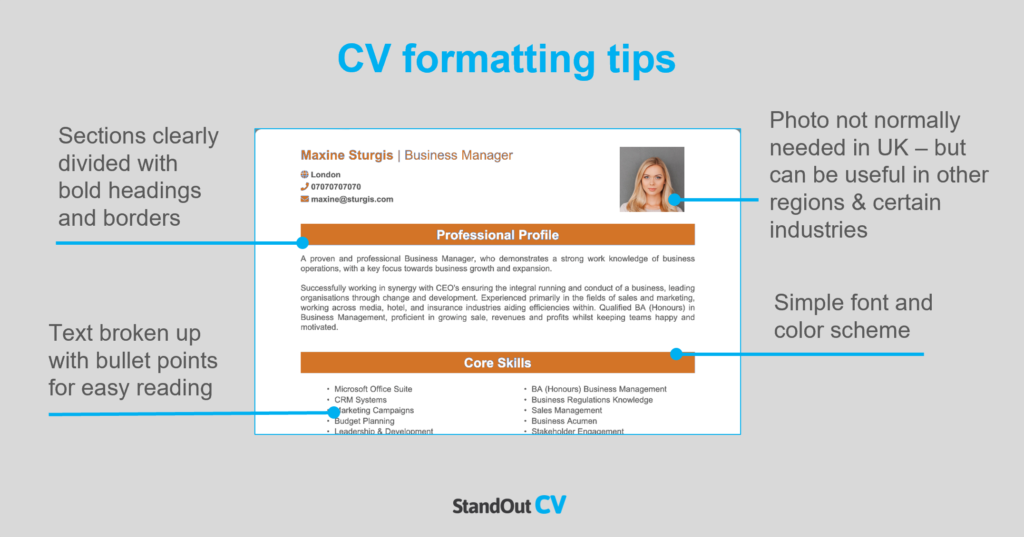 CV structure
When writing your own CV, break up your CV content into the following key sections:
Name and contact details – Place them at the top of your CV, so that employers can easily get in touch.
CV profile – A punchy sales pitch of your key experience, skills and achievements to reel readers in.
Core skills section – A bullet-pointed snapshot of your abilities.
Work experience – A well-structured list of your relevant work experience.
Education – An overview of any relevant qualifications or professional training you have.
Hobbies and interests – A short description of any relevant hobbies or interests (optional).
Now you understand the basic layout of a CV, here's what you should include in each section of yours.
Contact Details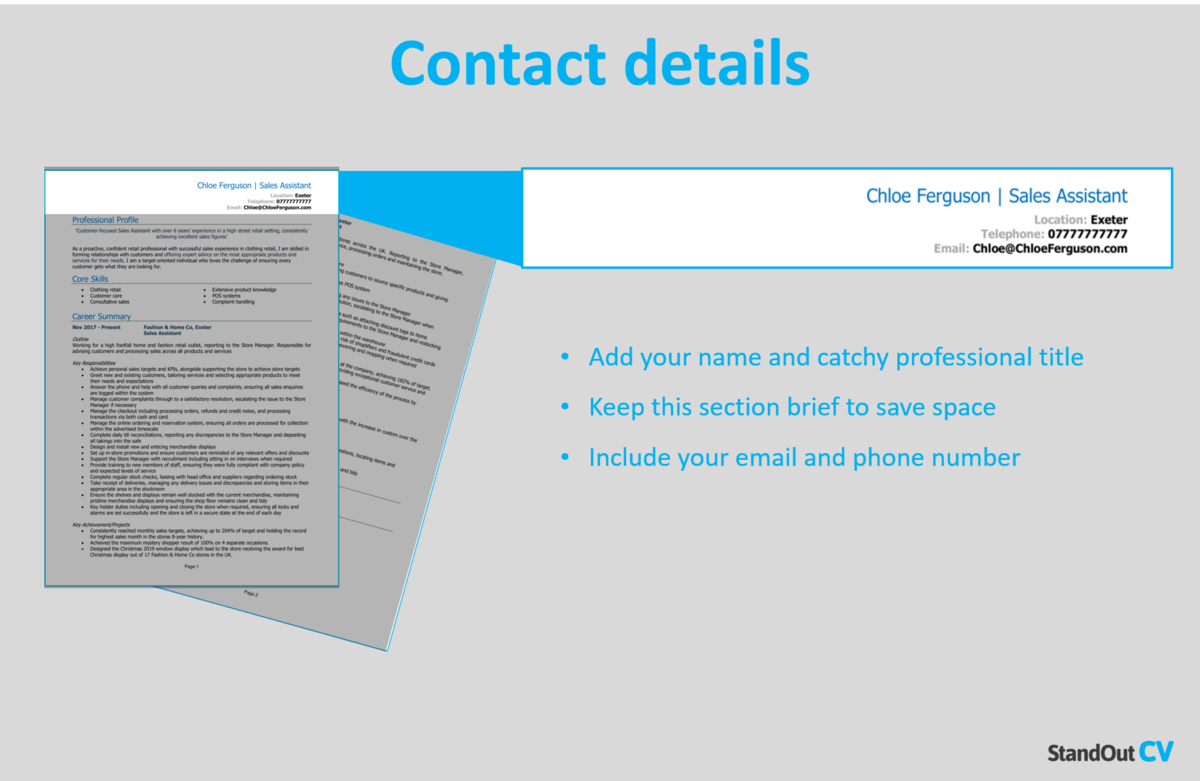 Make it easy for recruiters to get in touch, by heading your CV with your contact details.
There's no need for excessive details – just list the basics:
Mobile number
Email address – Use a professional address with no nicknames.
Location – Just write your your general location, such as 'London' or 'Cardiff' – there's no need to put your full address.
LinkedIn profile or portfolio URL
Lifeguard CV Profile
Make a strong first impression with recruiters by starting your CV with an impactful profile (or personal statement for junior applicants).
This short introduction paragraph should summarise your skills, experience, and knowledge, highlighting your suitability for the job.
It should be compelling enough to encourage recruiters to read through the rest of your CV.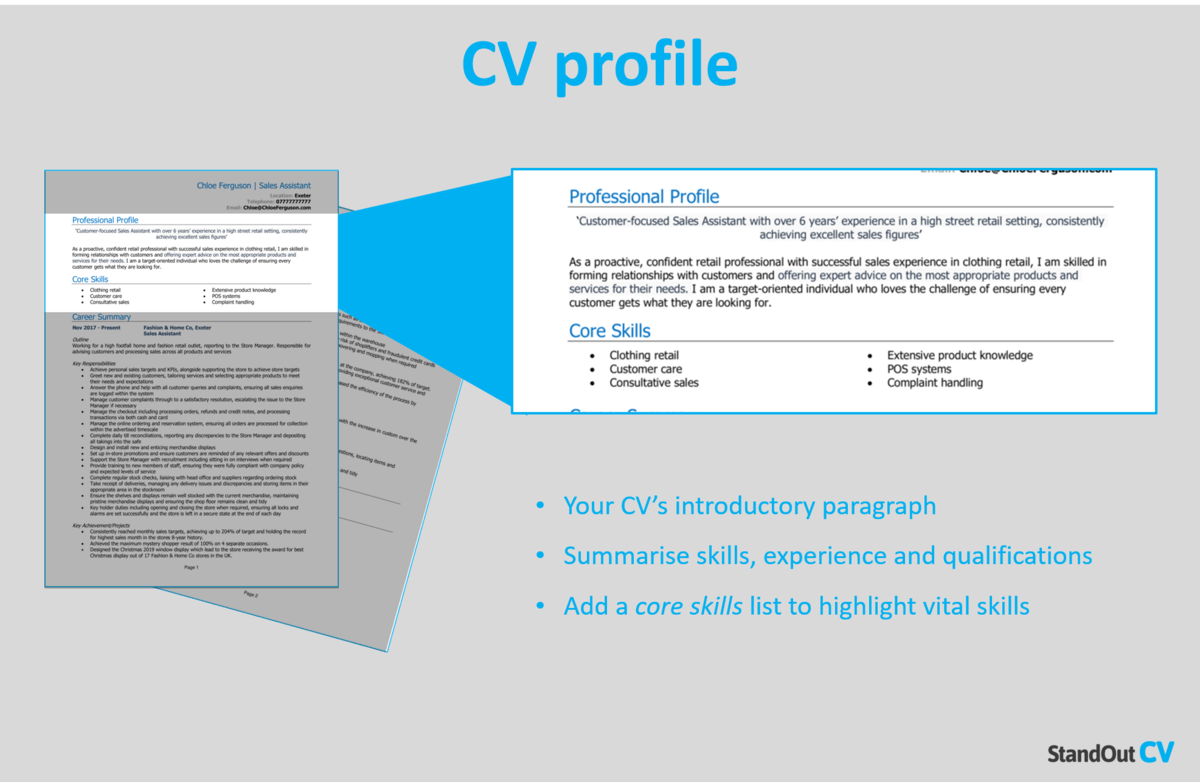 CV profile writing tips:
Make it short and sharp: The best CV profiles are short, sharp and highly relevant to the target role. For this reason, it's best to write 3-4 lines of high-level information, as anything over might be missed.
Tailor it: No matter how much time you put into your CV profile, it won't impress if it's irrelevant to the role you're applying for. Before you start writing, make a list of the skills, knowledge and experience your target employer is looking for. Then, make sure to mention them in your CV profile and throughout the rest of your application.
Don't add an objective: Leave your career objectives or goals out of your profile. You only have limited space to work with, so they're best suited to your cover letter.
Avoid generic phrases: Focus on fact, not fluff. Phrases like "Committed and enthusiastic thought-leader" and "Dynamic problem solver" might sound fancy, but they'll do nothing for your application. Not only do they sound cheesy, but they have no substance – stick to real skills and facts
Example CV profile for Lifeguard
Physically fit Lifeguard with experience in supervising activities at aquatic centres and beaches to guarantee policies and safety procedures are followed. Adept at rendering aid to rescue and resuscitate near drowning victims, while partnering with police, fire, and EMS personnel to facilitate to mitigate emergencies and attend to the community welfare. Proficient at instructing classes in the fundamentals of swimming.
What to include in your Lifeguard CV profile?
Experience overview: Start with a brief summary of your relevant experience so far. How many years experience do you have? What type of companies have you worked for? What industries/sectors have you worked in? What are your specialisms?
Targeted skills: Ensure that your profile highlights your key skills that are most relevant to your Lifeguard, and tailor them to match the specific job you are applying for. To do this, refer to the job description to closely align your skills with their requirements.
Key qualifications: Be sure to outline your relevant Lifeguard qualifications, so that anyone reading the CV can instantly see you are qualified for the jobs you are applying to.
Quick tip: If you are finding it difficult to write an attention-grabbing CV profile, choose from hundreds of pre-written profiles across all industries, and add one to your CV with one click in our partner's CV Builder. All profiles are written by recruitment experts and easily tailored to suit your unique skillset.
Core skills section
Add a core skills section below your profile to draw attention to your most applicable skills and make them stand out to readers.
This should consist of 2-3 columns of bullet points that emphasise your relevant skills.
Before creating this section, review the job description and compile a list of any specific skills, specializations, or knowledge needed. Incorporate these findings into your list to portray yourself as the ideal candidate for the position.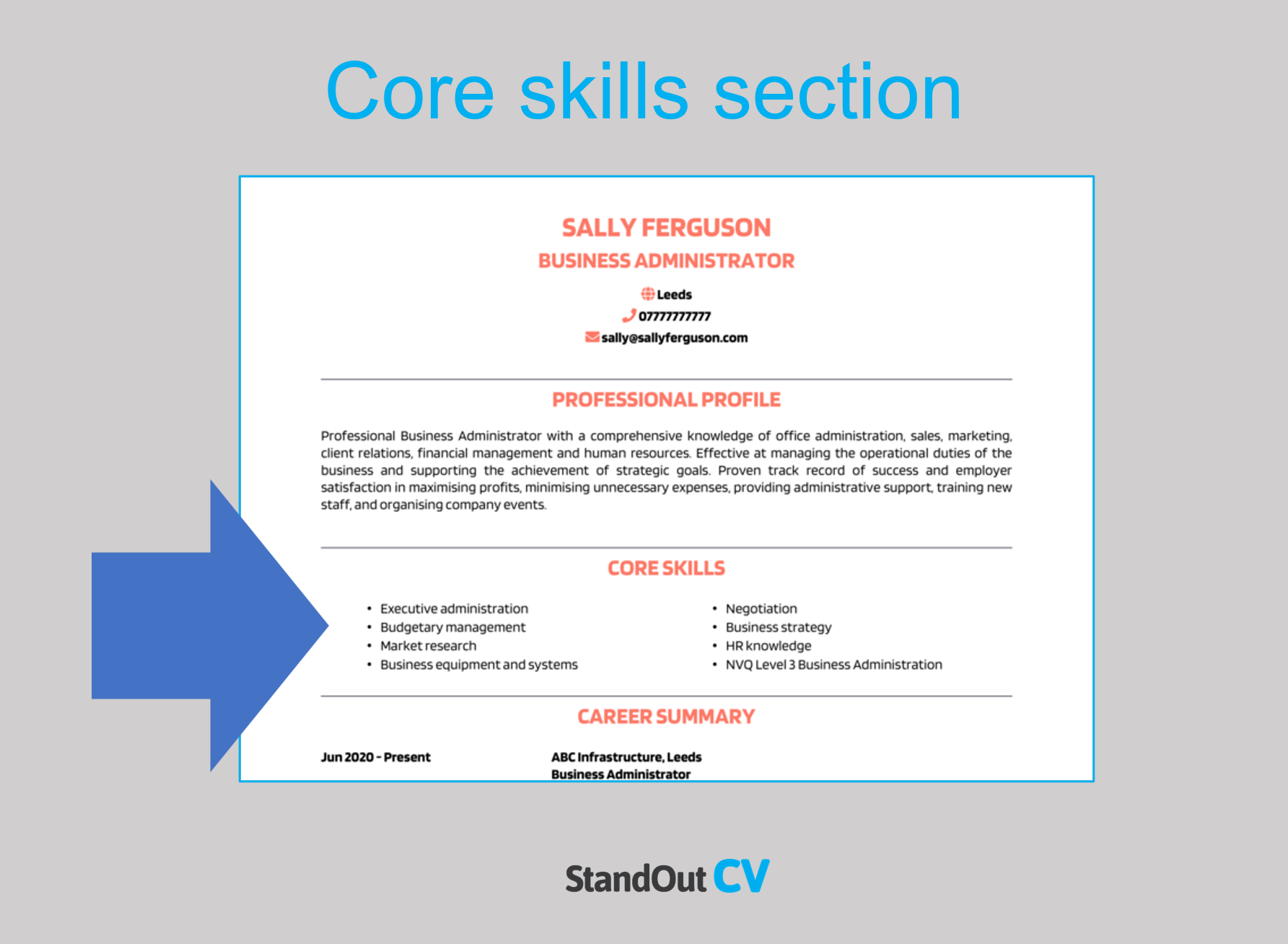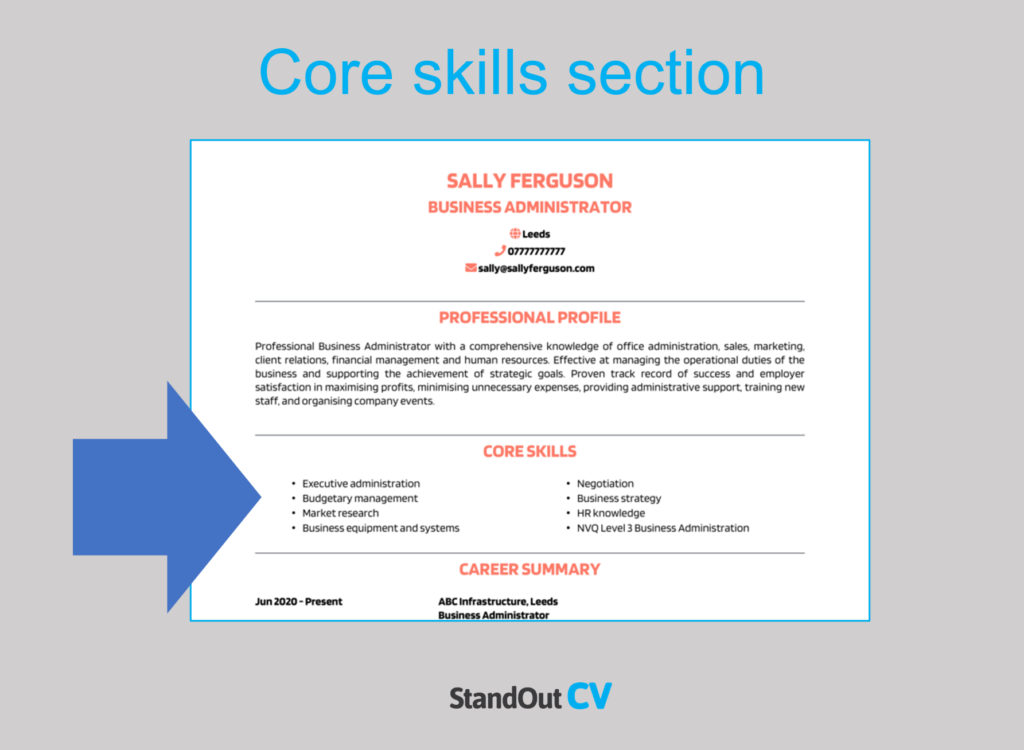 Important skills for your Lifeguard CV
First Aid – Administering first aid, including CPR, in case of an emergency.
Water Rescue – Swimming strongly and efficiently, along with knowledge of rescue techniques, to quickly and safely save someone in danger.
Vigilance – Remaining alert and attentive to the surroundings to spot and prevent potential accidents before they happen.
Safety Communication – Utilising good communication skills to convey important safety information to patrons, as well as effectively communicating with other staff members in the event of an emergency.
Physical Fitness – Remaining in good physical condition to perform duties, which can include swimming, running, and other physically demanding tasks.
Emergency Response – Thinking quickly and making important decisions under pressure in the event of an emergency.
Customer Service – Making patrons feel welcome and encouraging them to follow safety guidelines.
Hazard Management – Paying close attention to details to spot potential hazards or safety violations.
Adherence to Policies and Procedures – Following all relevant policies and procedures to ensure the safety of patrons and to avoid any liability issues.
Quick tip: Our partner's CV Builder has thousands of in-demand skills for all industries and professions, that can be added to your CV in seconds – This will save you time and ensure you get noticed by recruiters.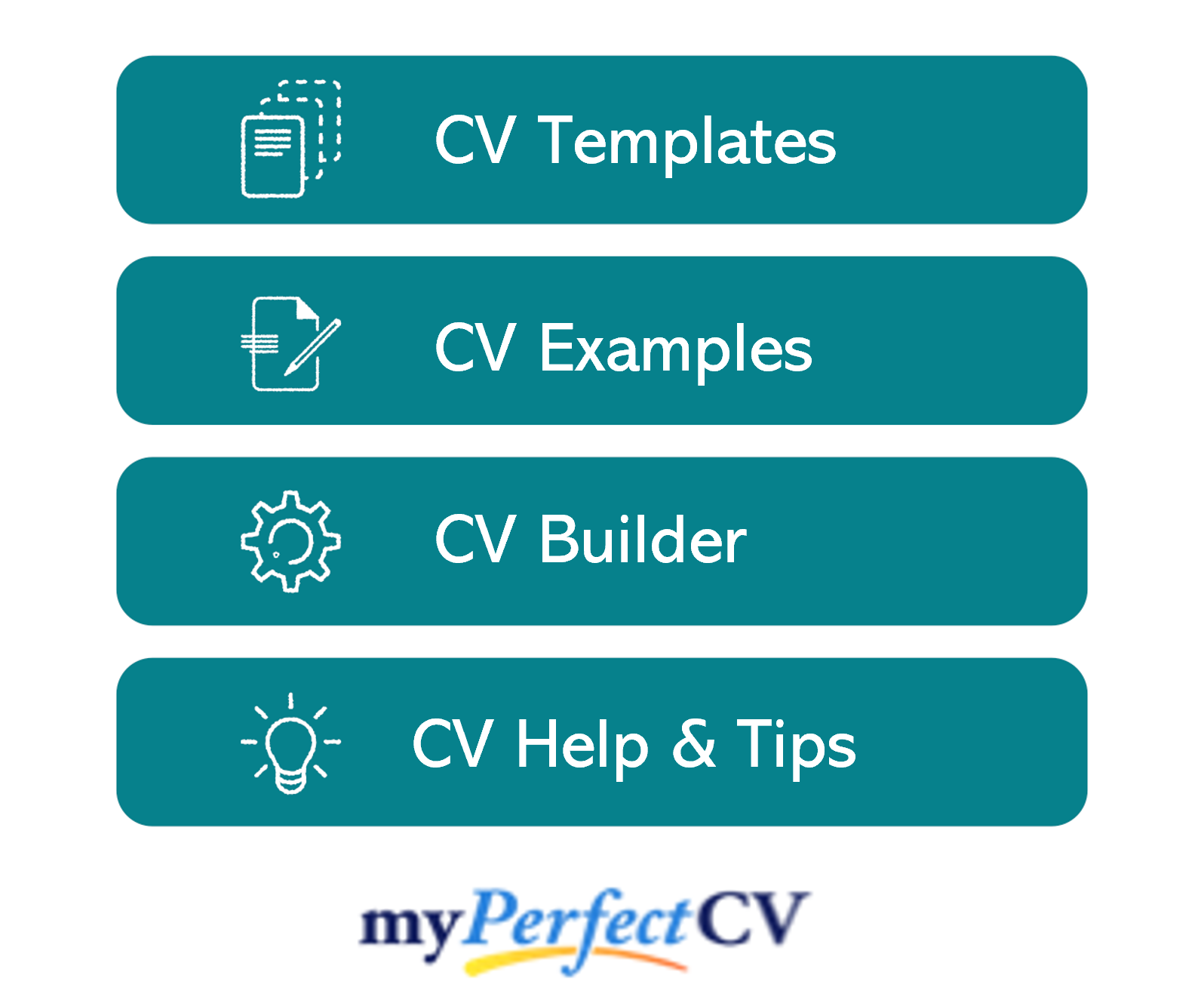 Work experience section
By this point, employers will be keen to know more detail about you career history.
Starting with your most recent role and working backwards, create a snappy list of any relevant roles you've held.
This could be freelance, voluntary, part-time or temporary jobs too. Anything that's relevant to your target role is well-worth listing!
Structuring each job
Recruiters will be keen to gain a better idea of where you've worked and how you apply your skill-set in the workplace.
However, if they're faced with huge, hard-to-read paragraphs, they may just gloss over it and move onto the next application.
To avoid this, use the simple 3-step role structure, as shown below:
Outline
Start with a 1-2 sentence summary of your role as a whole, detailing what the goal of your position was, who you reported to or managed, and the type of organisation you worked for.
Key responsibilities
Use bullet points to detail the key responsibilities of your role, highlighting hard skills, software and knowledge wherever you can.
Keep them short and sharp to make them easily digestible by readers.
Key achievements
Finish off by showcasing 1-3 key achievements made within the role.
This could be anything that had a positive effect on your company, clients or customers, such as saving time or money, receiving exemplary feedback or receiving an award.
Sample job description for Lifeguard CV
Outline
Prevent drowning/other injuries from occurring, minimise or eliminate hazardous behaviours, and enforce pool policies, for an organisation that offers exclusive access to its highly rated golf course, tennis courts, swimming pool, fitness centre, fine dining restaurant, and member events.
Key Responsibilities
Greet guests in a friendly and professional manner, as well as monitor safety conditions and water temperature to ensure they are within established limits.
Lead and coach new hires on all aspects of customer service, swimmer wellbeing, and emergency response protocols.
Carry out chlorine residual tests, add pool chemicals, and document results in charts as directed.
Enforce rules and regulations to maximise patron experiences at the facility.
Quick tip: Create impressive job descriptions easily in our partner's CV Builder by adding pre-written job phrases for every industry and career stage.

Education and qualifications
Although there should be mentions of your highest and most relevant qualifications earlier on in your CV, save your exhaustive list of qualifications for the bottom.
If you're an experienced candidate, simply include the qualifications that are highly relevant to Lifeguard roles.
However, less experienced candidates can provide a more thorough list of qualifications, including A-Levels and GCSEs.
You can also dedicate more space to your degree, discussing relevant exams, assignments and modules in more detail, if your target employers consider them to be important.
Hobbies and interests
This section is entirely optional, so you'll have to use your own judgement to figure out if it's worth including.
If your hobbies and interests could make you appear more suitable for your dream job, then they are definitely worth adding.
Interests which are related to the industry, or hobbies like sports teams or volunteering, which display valuable transferable skills might be worth including.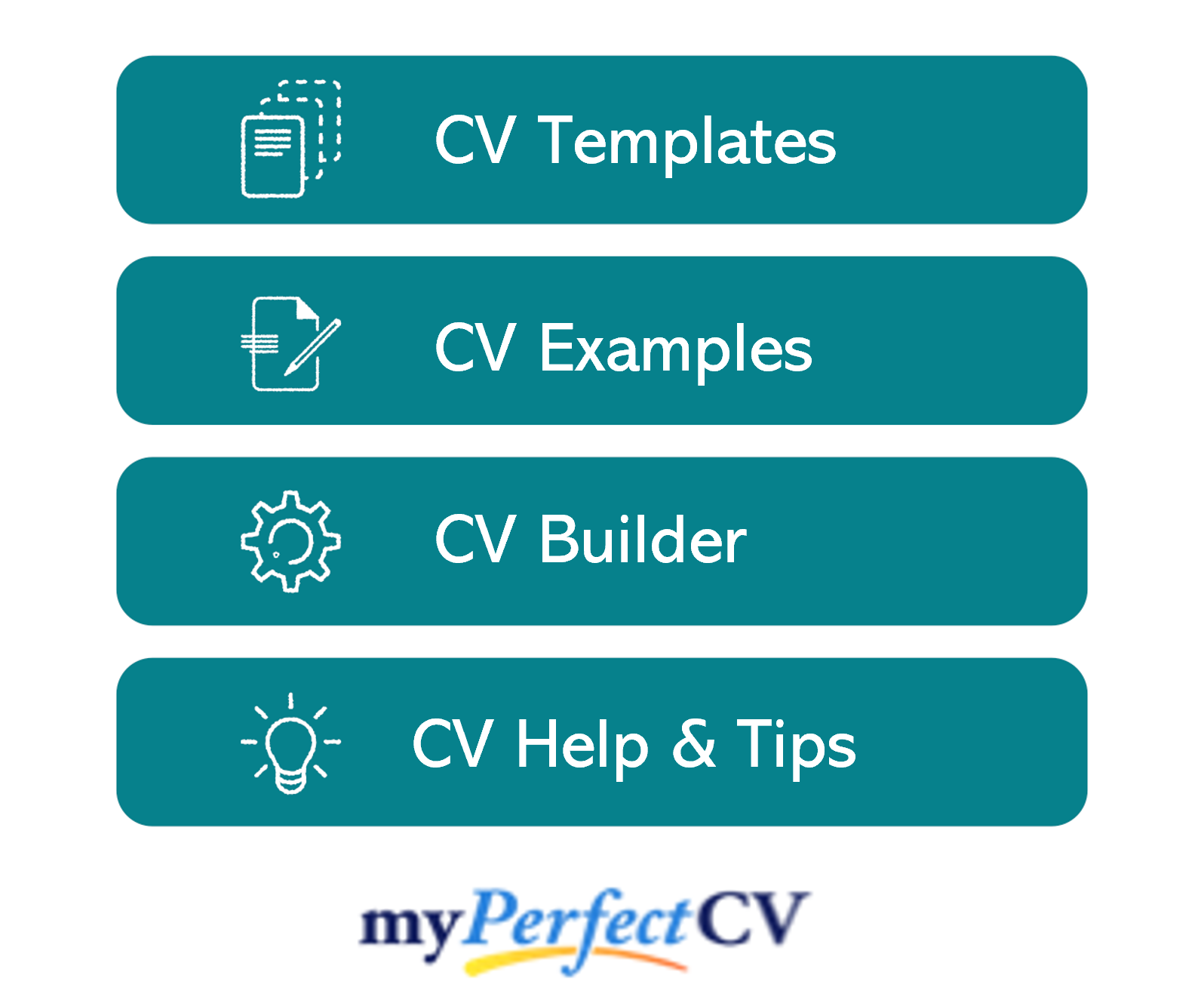 A strong, compelling CV is essential to get noticed and land interviews with the best employers.
To ensure your CV stands out from the competition, make sure to tailor it to your target role and pack it with sector-specific skills and results.
Remember to triple-check for spelling and grammar errors before hitting send.
Good luck with the job search!