A role as a lettings manager is very varied and as such, it requires a broad range of skills including leadership, persuasion, negotiation and organisation.
You also need to be able to showcase your past results; the properties and the teams that you've managed.
However, getting all of this into one CV can feel harder than letting a crumbling bedsit on the Heathrow flight path. But we can help! Check out our guide and lettings manager CV example below.
Contents
| | |
| --- | --- |
| How to write a Lettings Manager CV | |

Lettings Manager CV example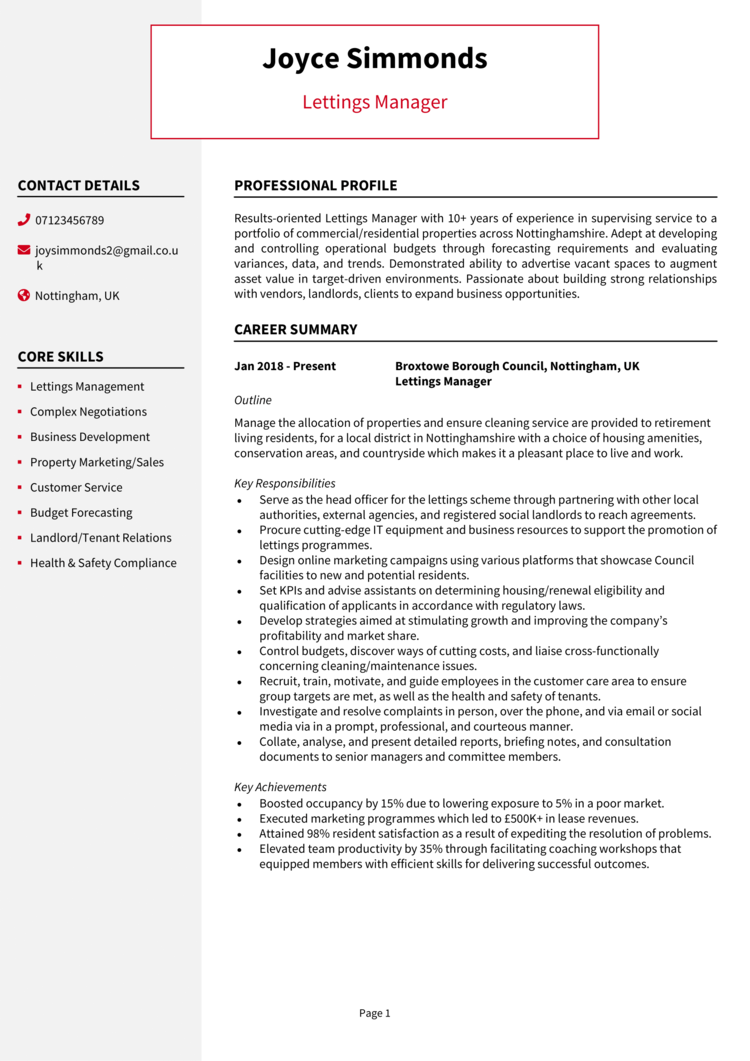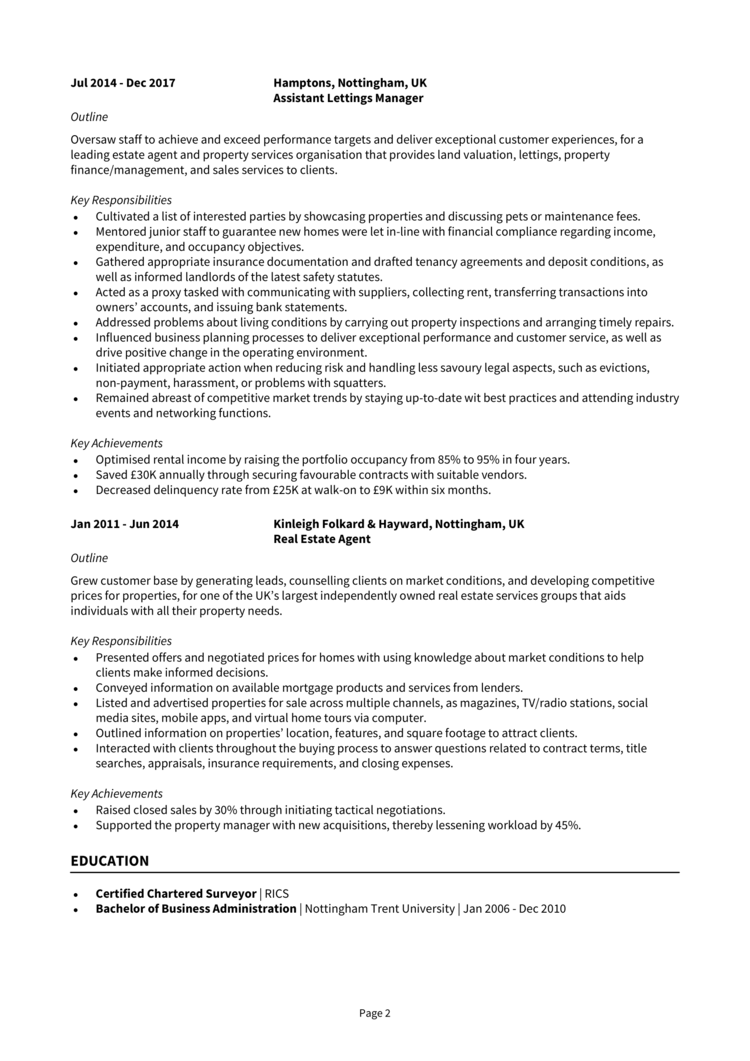 This CV example demonstrates the type of info you should be including within your Lettings Manager CV, as well as how to format and layout the content in a way which looks professional and is easy for time-strapped recruiters to read.
This is the look and feel you should be aiming for, so remember to refer back to it throughout your CV writing process.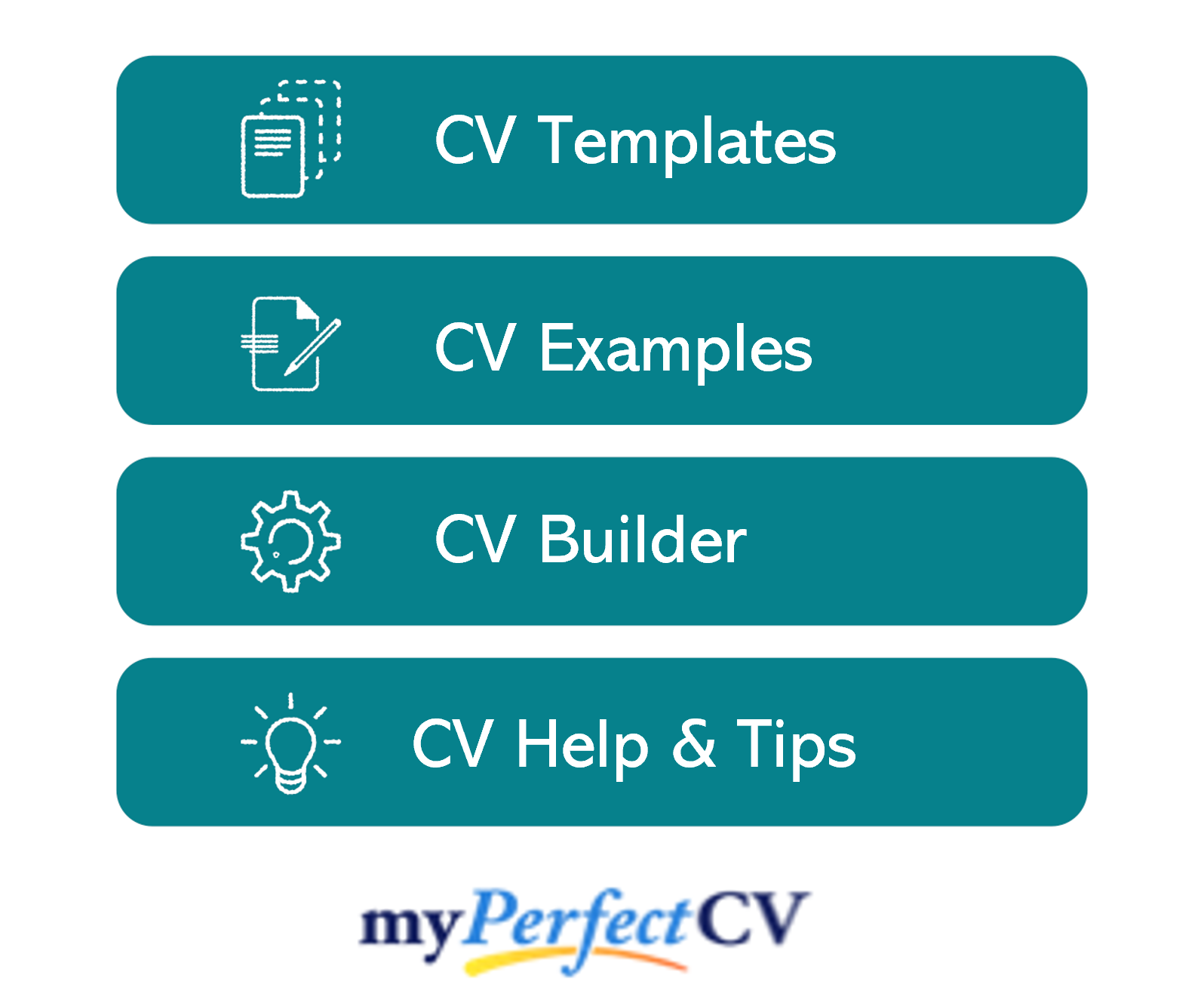 Lettings Manager CV layout and format
If you focus purely on the written content of your CV but ignore the style and layout, your efforts could end up wasted.
No matter how suitable you are for the role, no recruiter wants to spend time squinting and trying to navigate a badly designed and disorganised CV.
Instead, make sure to organise your content into a simple structure and spend some time formatting it for ease of reading – it will ensure every recruiter and hiring manager can read your CV with ease.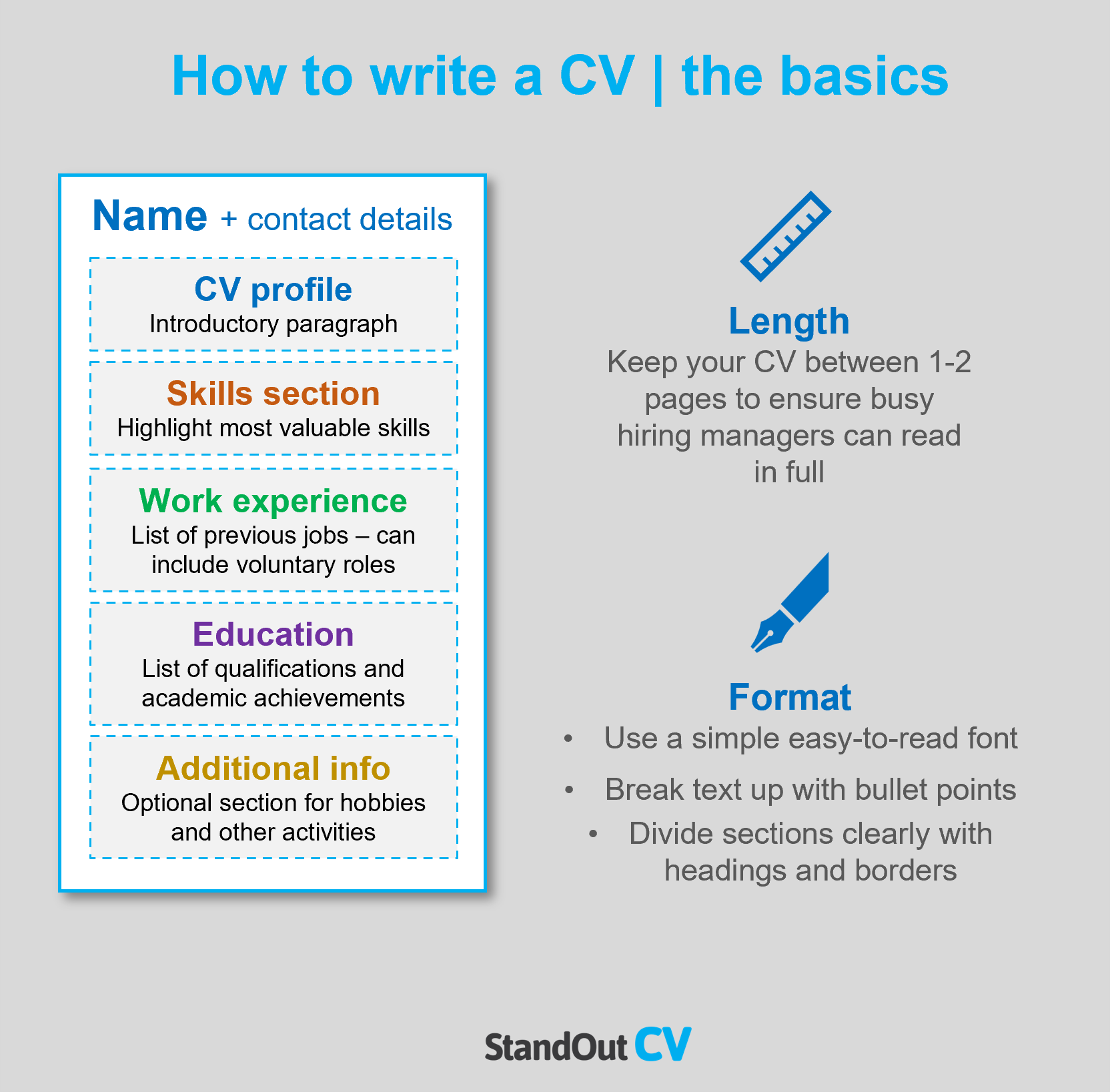 Tips for formatting your Lettings Manager CV
Length: Two sides of A4 makes for the the perfect CV length, though one page is okay for less experienced applicants. This forces you to make sure that every single sentence adds value to your CV and ensures you avoid unnecessary  info.
Readability: Recruiters appreciate CVs that they can quickly scan through without trouble. Ensure yours makes the cut by formatting your headings for attention (bold or coloured fonts should do the trick) and breaking up long paragraphs into smaller chunks or short, snappy bullet points.
Design: When it comes to CV design, it's best to keep things simple and sleek. While elaborate designs certainly command attention, it's not always for the right reasons! Readability is key, so whatever you choose to do, make sure you prioritise readability above everything.
Photos: You can add a profile photo to your CV, if you want to add some personality to it, but they are not a requirement the UK, so you don't have to.
Quick tip: Creating a professional CV style can be difficult and time-consuming when using Microsoft Word or Google Docs. To create a winning CV quickly, try our partner's CV Builder and use one of their eye-catching professional CV templates.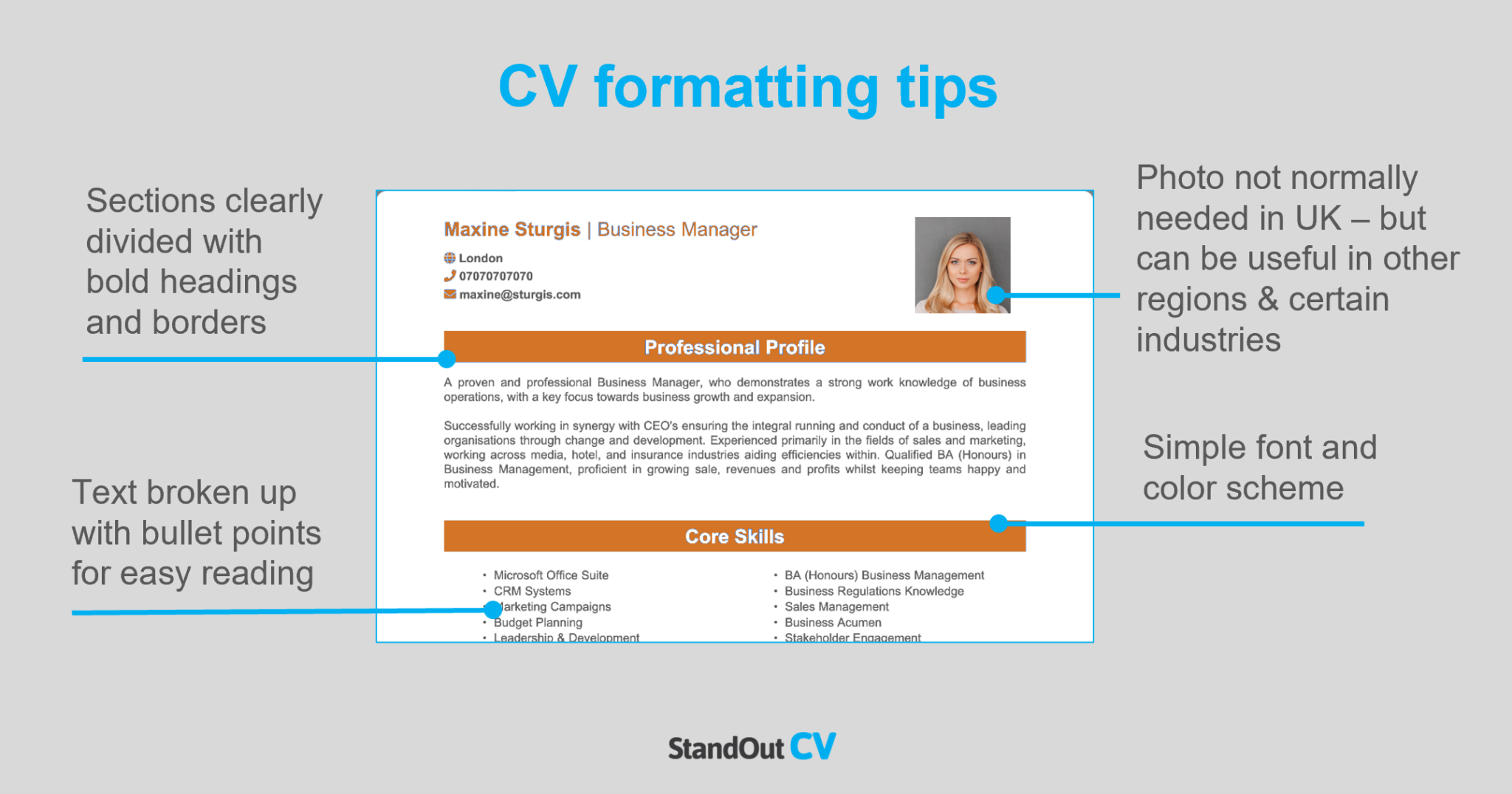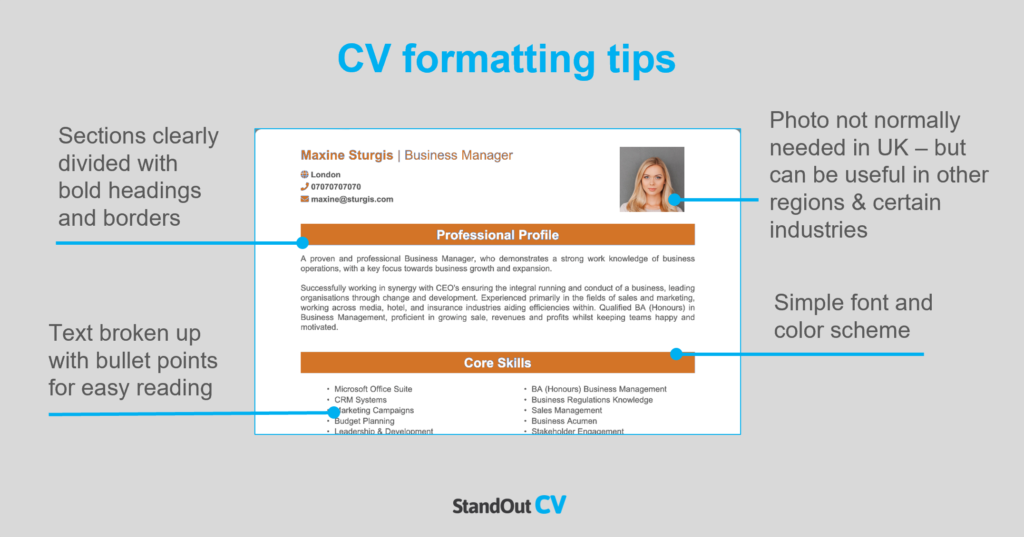 CV structure
As you write your CV, divide and sub-head into the following sections:
Name and contact details – Always start with these, so employers know exactly how to get in touch with you.
CV profile – Add a short summary of your relevant experience, skills and achievements, which highlights your suitability.
Core skills section – A 2-3 columned list of your key skills.
Work experience – A detailed list of any relevant work experience, whether paid or voluntary.
Education – An overview of your academic background and any training you may have completed.
Hobbies and interests – A brief overview of your hobbies and interests, if they're relevant (optional).
Now you understand the basic layout of a CV, here's what you should include in each section of yours.
Contact Details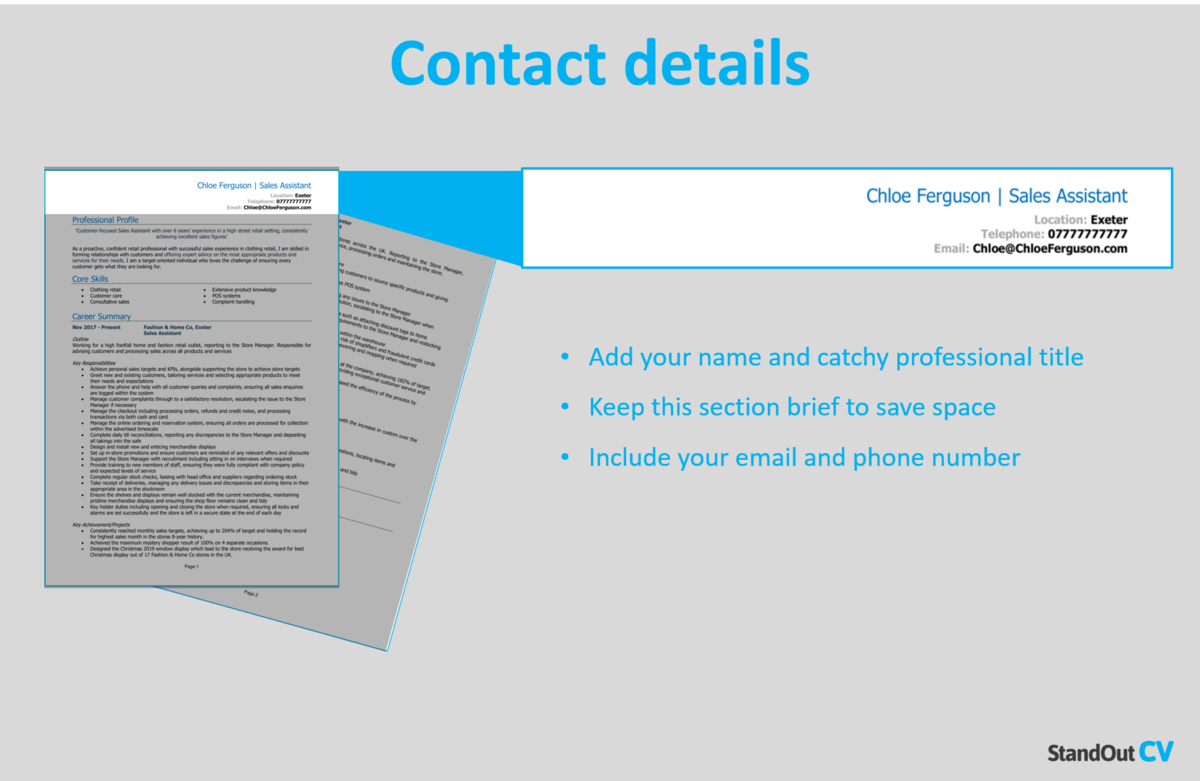 Begin by sharing your contact details, so it's easy for employers to give you a call.
Keep to the basics, such as:
Mobile number
Email address – It should sound professional, with no slang or nicknames. Make a new one for your job applications if necessary.
Location – Simply share your vague location, for example 'Manchester', rather than a full address.
LinkedIn profile or portfolio URL – Remember to update them before you send your application.
Lettings Manager CV Profile
Your CV profile (or personal statement, if you're an entry-level applicant) provides a brief overview of your skills, abilities and suitability for a position.
It's ideal for busy recruiters and hiring managers, who don't want to waste time reading unsuitable applications.
Think of it as your personal sales pitch. You've got just a few lines to sell yourself and prove you're a great match for the job – make it count!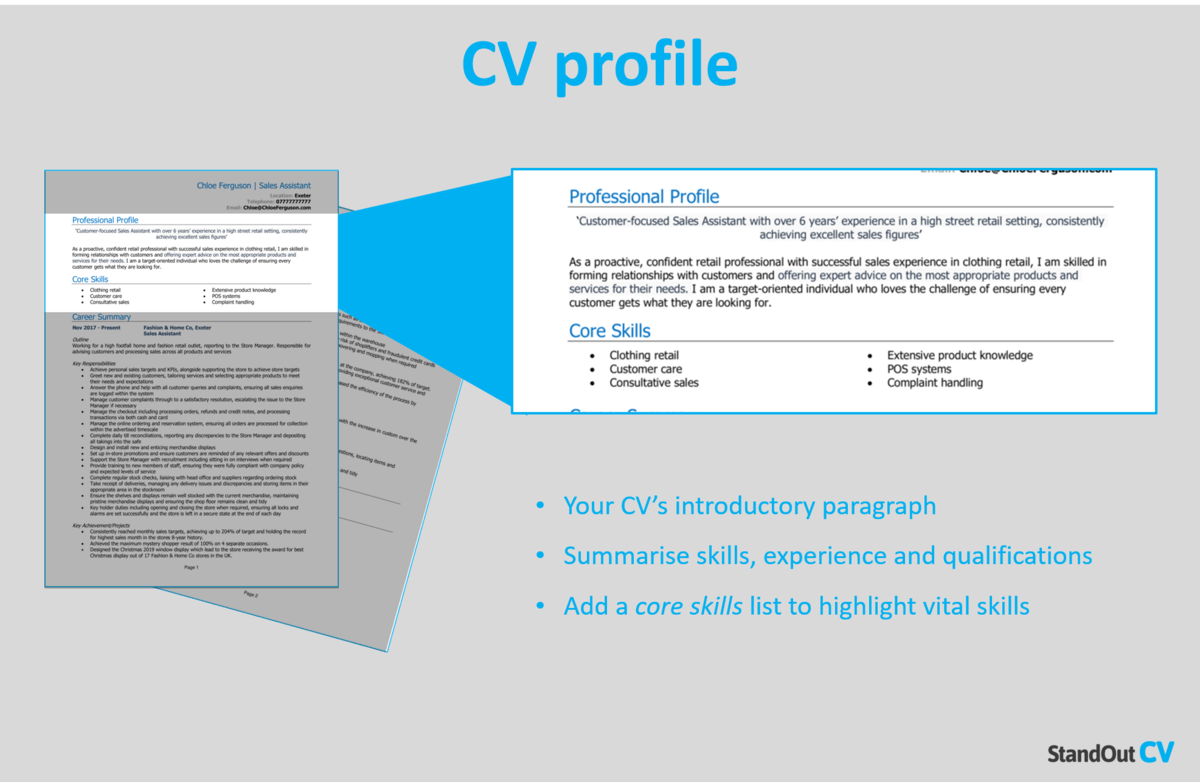 CV profile writing tips:
Make it short and sharp: Recruiters are busy, so to ensure your profile is actually read, it's best to keep it short and snappy. 3-5 punchy lines makes for the perfect profile.
Tailor it: The biggest CV mistake? A generic, mass-produced document which is sent out to tens of employers. If you want to land an interview, you need to tailor your CV profile (and your application as a whole) to the specific roles you're applying for. So, before you start writing, remember to read over those job descriptions and make a list of the skills, knowledge and experience the employers are looking for.
Don't add an objective: If you want to discuss your career objectives, save them for your cover letter, rather than wasting valuable CV profile space.
Avoid generic phrases: If your CV is riddled with clichès like "Dynamic thought-leader", hit that delete button. Phrases like these are like a broken record to recruiters, who read them countless times per day. Hard facts, skills, knowledge and results are sure to yield far better results.
Example CV profile for Lettings Manager
Results-oriented Lettings Manager with 10+ years of experience in supervising service to a portfolio of commercial/residential properties across Nottinghamshire. Adept at developing and controlling operational budgets through forecasting requirements and evaluating variances, data, and trends. Demonstrated ability to advertise vacant spaces to augment asset value in target-driven environments. Passionate about building strong relationships with vendors, landlords, clients to expand business opportunities.
What to include in your Lettings Manager CV profile?
Experience overview: Showcase your aptitude for the job you are aiming for by giving a brief summary of your past work history, including the industries you have worked in, the kinds of employers you have served, and the roles you have held.
Targeted skills: Highlight your skills which are most relevant to Lettings Manager jobs, to ensure that recruiters see your most in-demand skills as soon as they open your CV.
Key qualifications: If the jobs you are applying to require candidates to have certain qualifications, then you must add them in your profile to ensure they are seen by hiring managers.
Quick tip: If you are finding it difficult to write an attention-grabbing CV profile, choose from hundreds of pre-written profiles across all industries, and add one to your CV with one click in our partner's CV Builder. All profiles are written by recruitment experts and easily tailored to suit your unique skillset.
Core skills section
Underneath your profile, write a core skills section to make your most relevant skills jump off the page at readers.
It should be made up of 2-3 columns of bullet points of your relevant skills.
Before you do this, look over the job description and make a list of any specific skills, specialisms or knowledge required.
Then, make sure to use your findings in your list. This will paint you as the perfect match for the role.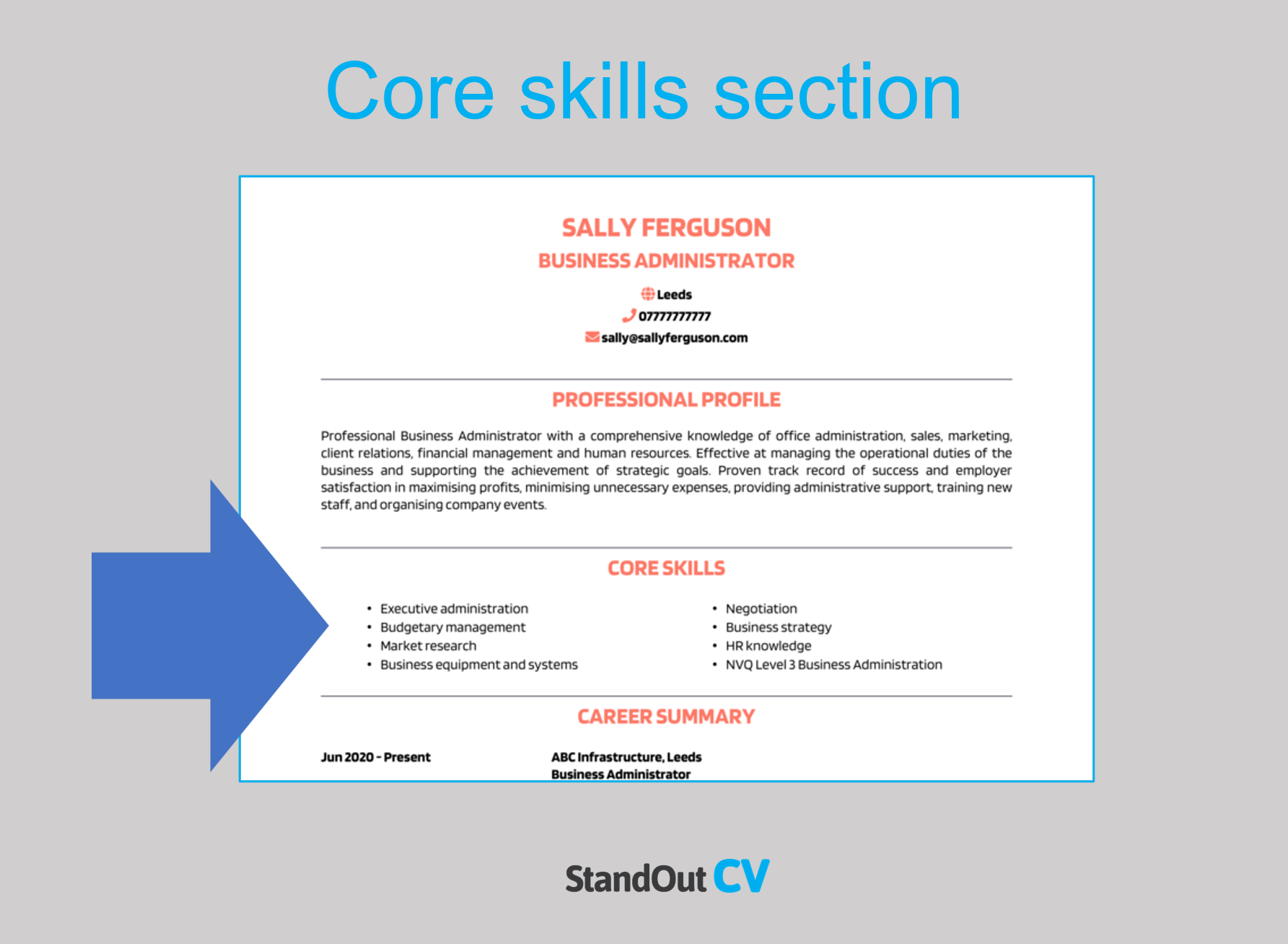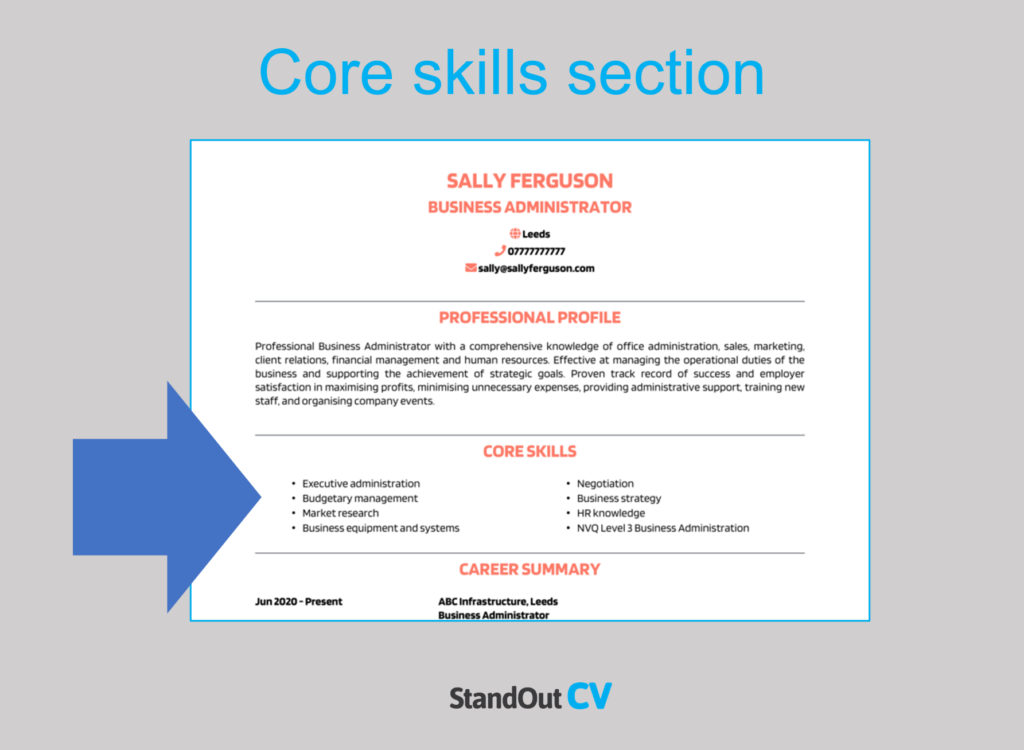 Important skills for your Lettings Manager CV
Property management – Managing multiple properties, ensuring that they meet regulatory standards, are properly maintained, and are profitable for the landlord.
Marketing and advertising – Creating and executing marketing and advertising plans to attract potential tenants and maintain a high occupancy rate for rental properties.
Negotiation – Utilizing strong negotiating skills to ensure that both the landlord and the tenant are satisfied with the terms of the lease agreement.
Tenant screening – Conducting thorough background checks on potential tenants to ensure that they are reliable, financially stable and able to pay rent on time.
Contract management – Utilizing expertise in drafting lease agreements, ensuring that they are compliant with legal requirements and protecting the interests of the landlord.
Customer service – Effectively managing tenant complaints and maintaining a positive relationship with both landlords and tenants.
Financial management – Managing budgets and expenses, generate financial reports, and provide recommendations to landlords on how to increase their ROI.
Legal knowledge – Maintaining knowledge of landlord and tenant laws, including eviction laws, to ensure compliance with legal requirements and protect the interests of the landlord.
Industry knowledge – Keeping up to date with market trends, rental prices, and property values to make informed decisions and provide valuable advice to landlords.
Quick tip: Our partner's CV Builder has thousands of in-demand skills for all industries and professions, that can be added to your CV in seconds – This will save you time and ensure you get noticed by recruiters.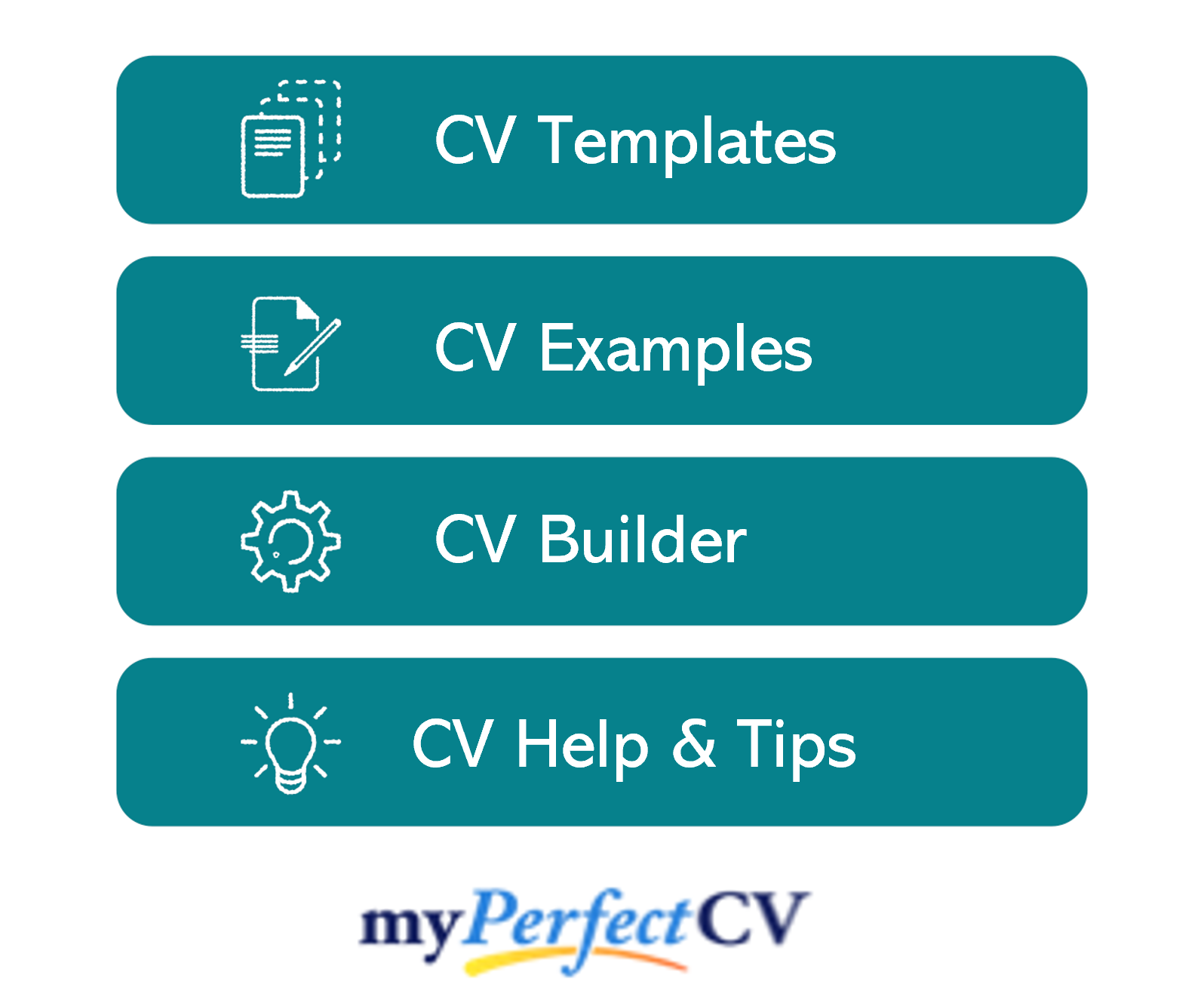 Work experience section
Now it's time to get stuck into your work experience, which should make up the bulk of your CV.
Begin with your current (or most recent) job, and work your way backwards.
If you've got too much experience to fit onto two pages, prioritise space for your most recent and relevant roles.
Structuring each job
The structure of your work experience section can seriously affect its impact.
This is generally the biggest section of a CV, and with no thought to structure, it can look bulky and important information can get lost.
Use my 3-step structure below to allow for easy navigation, so employers can find what they are looking for:
Outline
Start with a 1-2 sentence summary of your role as a whole, detailing what the goal of your position was, who you reported to or managed, and the type of organisation you worked for.
Key responsibilities
Using easy-to-read bullet points, note down your day-to-day responsibilities in the role.
Make sure to showcase how you used your hard sector skills and knowledge.
Key achievements
Lastly, add impact by highlight 1-3 key achievements that you made within the role.
Struggling to think of an achievement? If it had a positive impact on your company, it counts.
For example, you might increased company profits, improved processes, or something simpler, such as going above and beyond to solve a customer's problem.
Sample job description for Lettings Manager CV
Outline
Manage the allocation of properties and ensure cleaning service are provided to retirement living residents, for a local district in Nottinghamshire with a choice of housing amenities, conservation areas, and countryside which makes it a pleasant place to live and work.
Key Responsibilities
Serve as the head officer for the lettings scheme through partnering with other local authorities, external agencies, and registered social landlords to reach agreements.
Procure cutting-edge IT equipment and business resources to support the promotion of lettings programmes.
Design online marketing campaigns using various platforms that showcase Council facilities to new and potential residents.
Set KPIs and advise assistants on determining housing/renewal eligibility and qualification of applicants in accordance with regulatory laws.
Quick tip: Create impressive job descriptions easily in our partner's CV Builder by adding pre-written job phrases for every industry and career stage.

Education and qualifications
Although there should be mentions of your highest and most relevant qualifications earlier on in your CV, save your exhaustive list of qualifications for the bottom.
If you're an experienced candidate, simply include the qualifications that are highly relevant to Lettings Manager roles.
However, less experienced candidates can provide a more thorough list of qualifications, including A-Levels and GCSEs.
You can also dedicate more space to your degree, discussing relevant exams, assignments and modules in more detail, if your target employers consider them to be important.
Hobbies and interests
Although this is an optional section, it can be useful if your hobbies and interests will add further depth to your CV.
Interests which are related to the sector you are applying to, or which show transferable skills like leadership or teamwork, can worth listing.
On the other hand, generic hobbies like "going out with friends" won't add any value to your application, so are best left off your CV.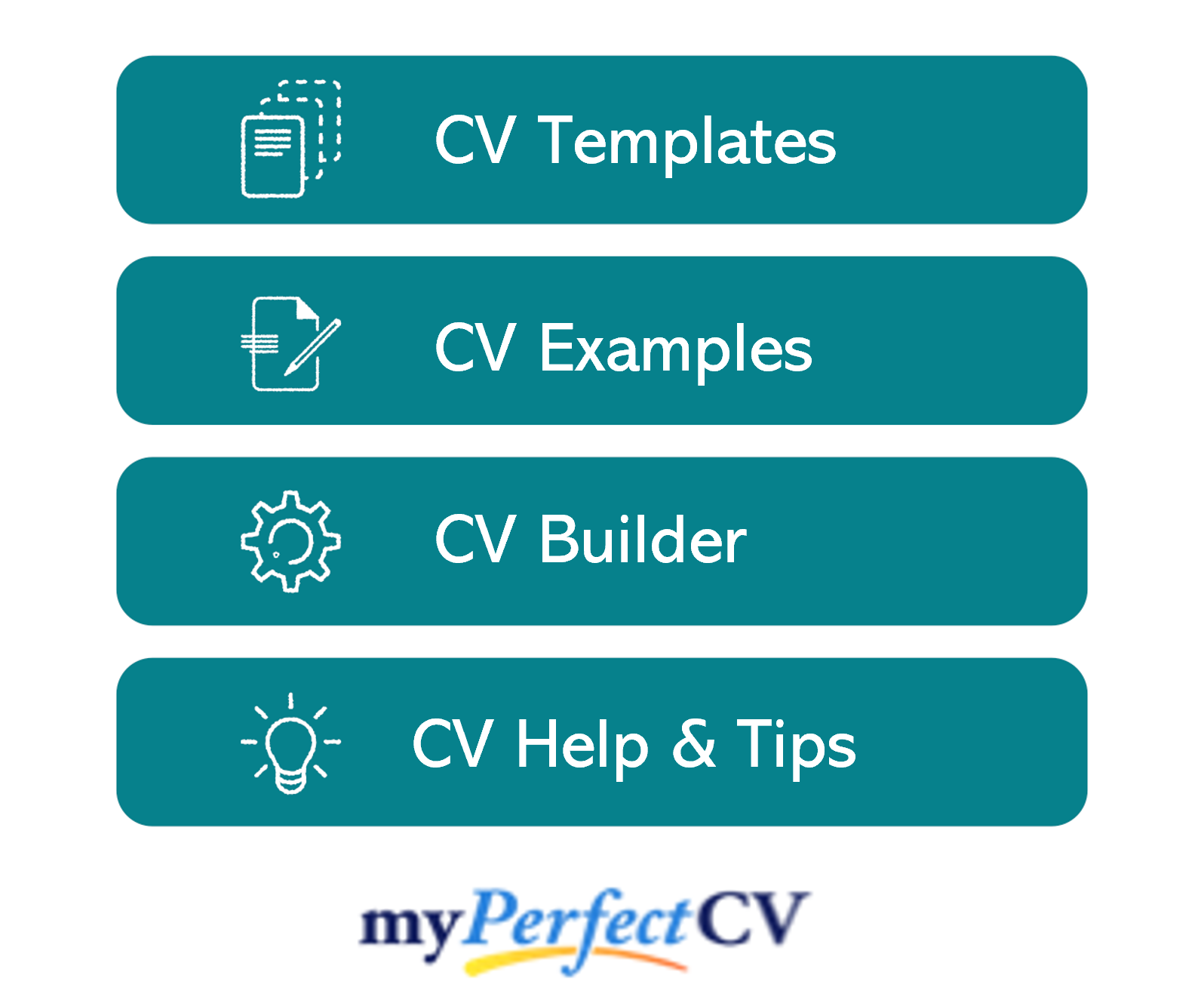 Once you've written your Lettings Manager CV, you should proofread it several times to ensure that there are no typos or grammatical errors.
With a tailored punchy profile that showcases your relevant experience and skills, paired with well-structured role descriptions, you'll be able to impress employers and land interviews.
Good luck with your next job application!