Do you love creating fun and functional kitchens for your clients? Then it's time to put your vision and creativity skills to good use in your next kitchen designer role.
But to secure the job, you first need to create an impressive application.
So, for a CV that shines brighter than a polished marble worktop, make use of our writing guide and kitchen designer CV example below.
Contents
| | |
| --- | --- |
| How to write a Kitchen Designer CV | |

Kitchen Designer CV example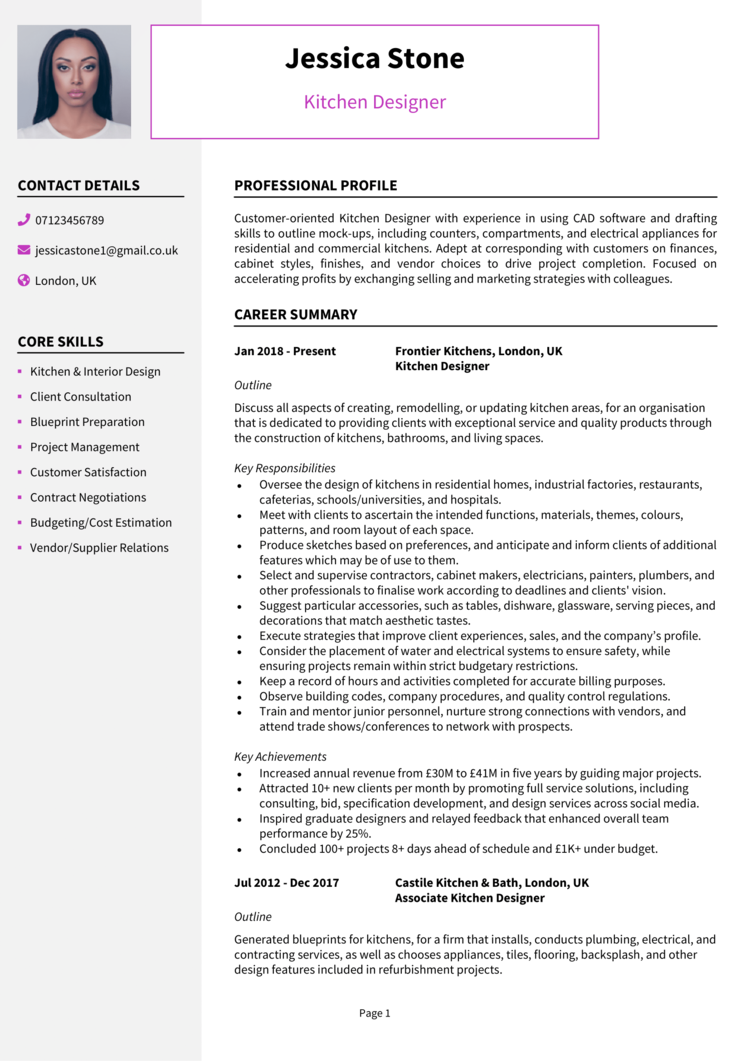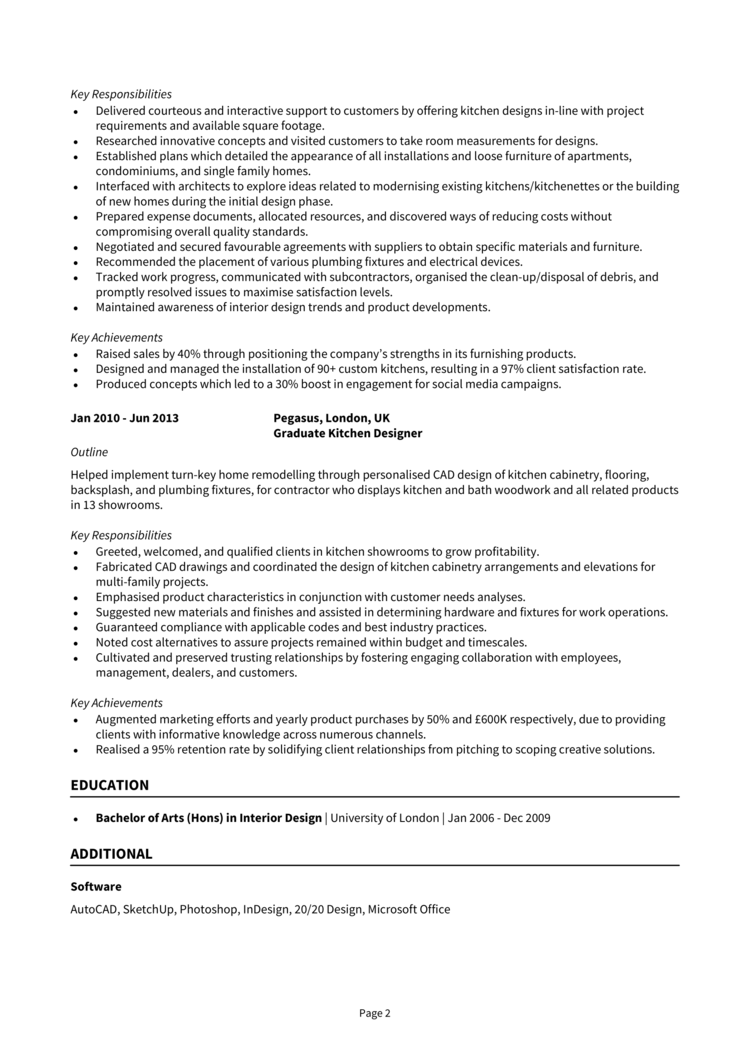 This CV example illustrates the ideal structure and format for your Kitchen Designer CV, making it easy for busy hiring managers to quickly identify your suitability for the jobs you're applying for,
It also gives some guidance on the skills, experience and qualifications you should emphasise in your own CV.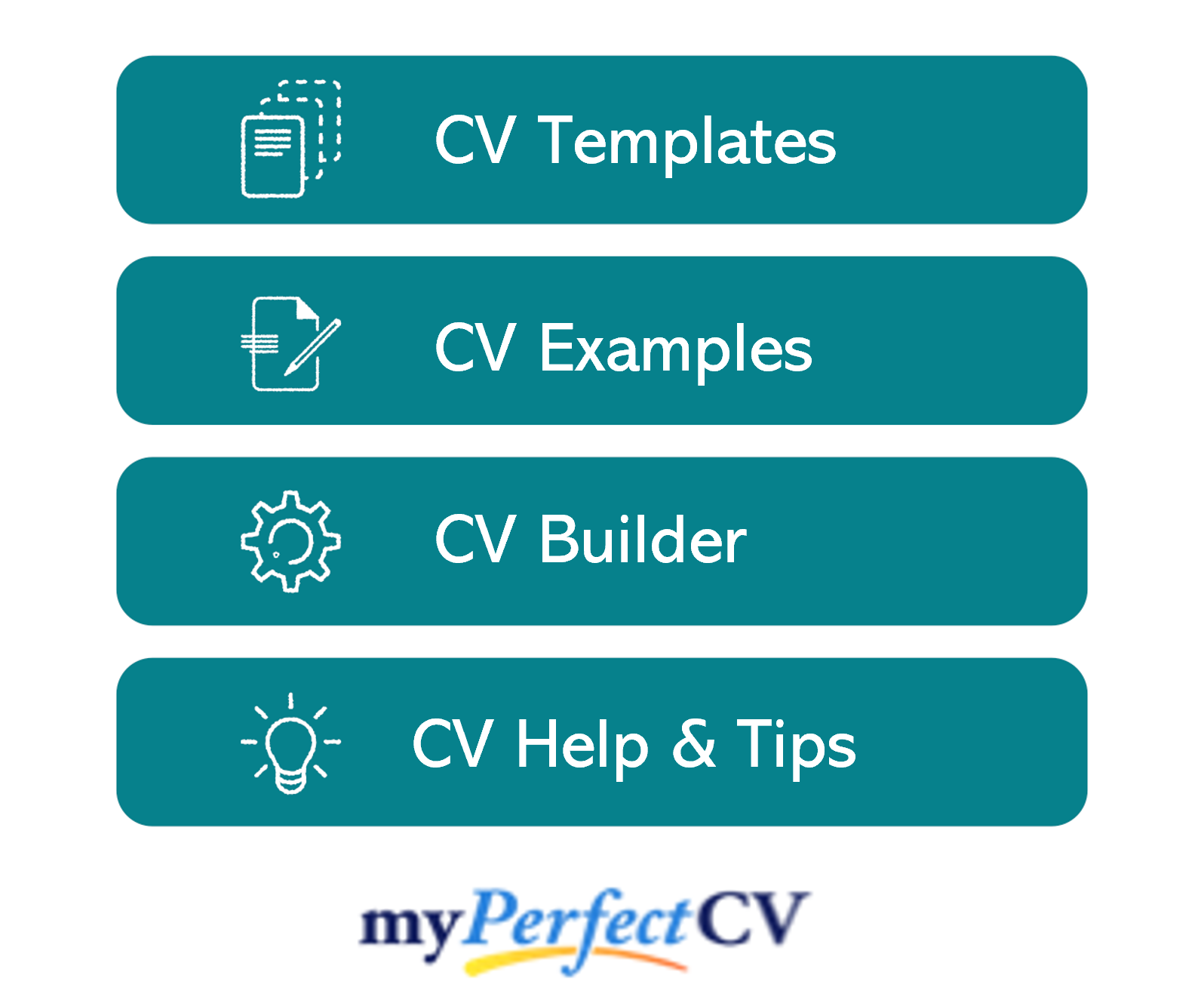 Kitchen Designer CV layout and format
Recruiters and employers are busy, and if they can't find the information they're looking for in a few seconds, it could be game over for your application.
You need to format and structure your CV in a way which allows the reader to pick out your key information with ease, even if they're strapped for time.
It should be clear, easily legible, well-organised and scannable – check out some simple tips and tricks below: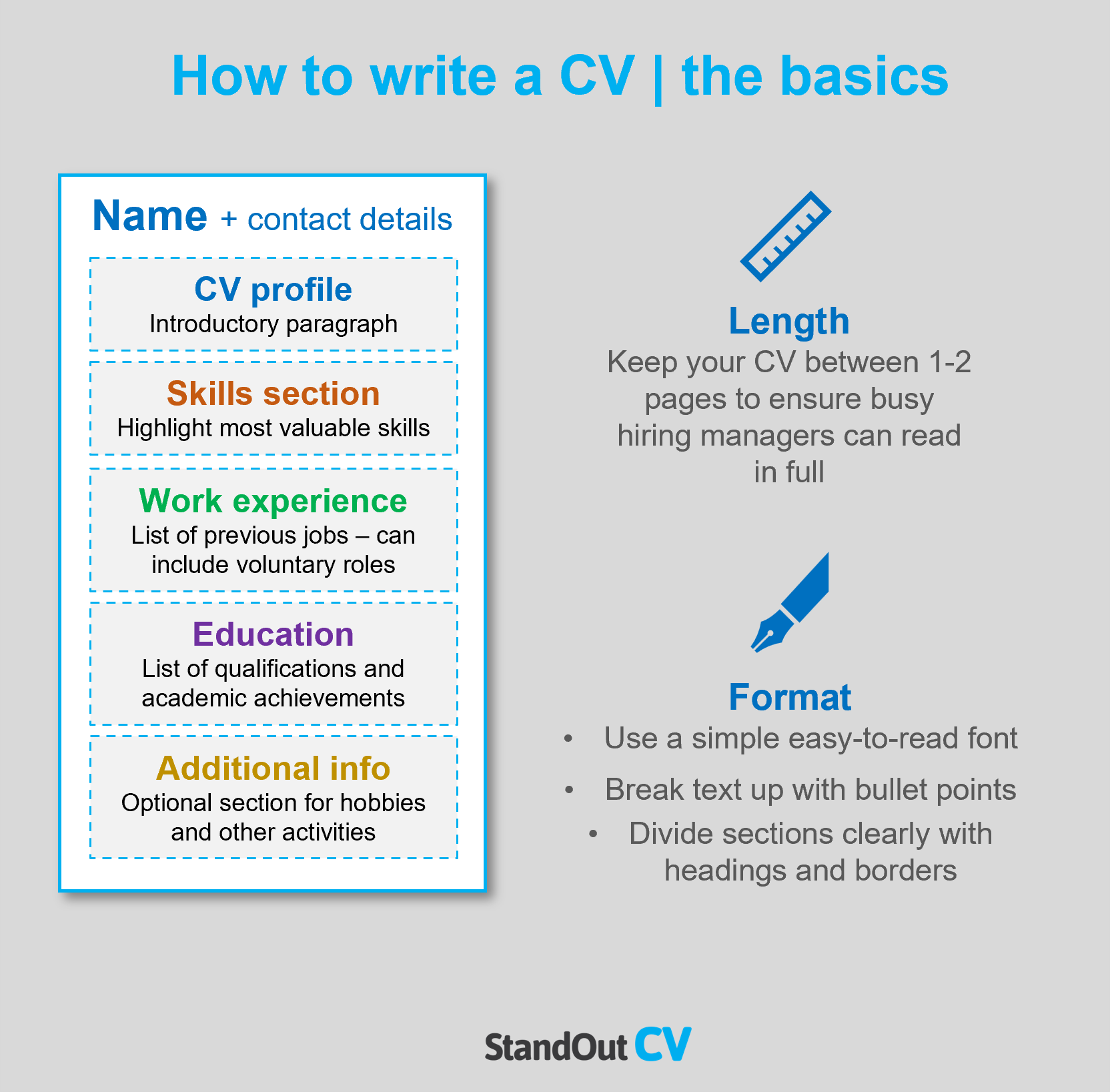 Tips for formatting your Kitchen Designer CV
Length: Recruiters will be immediately put off by lengthy CVs – with hundreds of applications to read through, they simply don't have the time! Grabbing their attention with a short, snappy and highly relevant CV is far more likely to lead to success. Aim for two sides of A4 or less.
Readability: By formatting your section headings with bold or a different colour font and using bullet points to break up large blocks of text, you can help busy recruiters quickly scan through your CV. This makes it easier for them to find important details without wasting time.
Design: When it comes to CV design, it's best to keep things simple and sleek. While elaborate designs certainly command attention, it's not always for the right reasons! Readability is key, so whatever you choose to do, make sure you prioritise readability above everything.
Photos: Don't add profile photos to your CV unless you work in an industry or region which prefers to see them. Most employers in the UK will not need to see one.
Quick tip: Creating a professional CV style can be difficult and time-consuming when using Microsoft Word or Google Docs. To create a winning CV quickly, try our partner's CV Builder and use one of their eye-catching professional CV templates.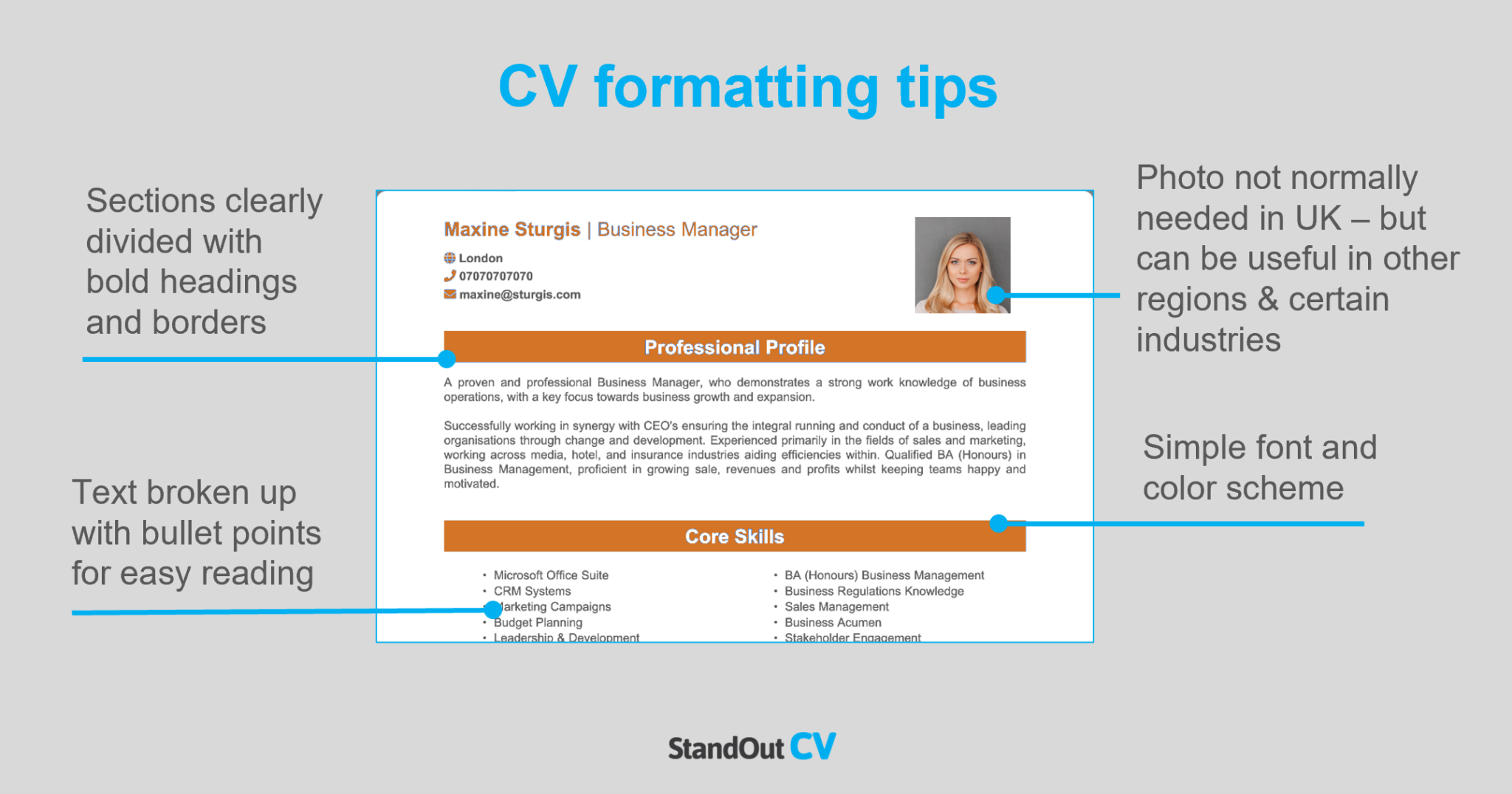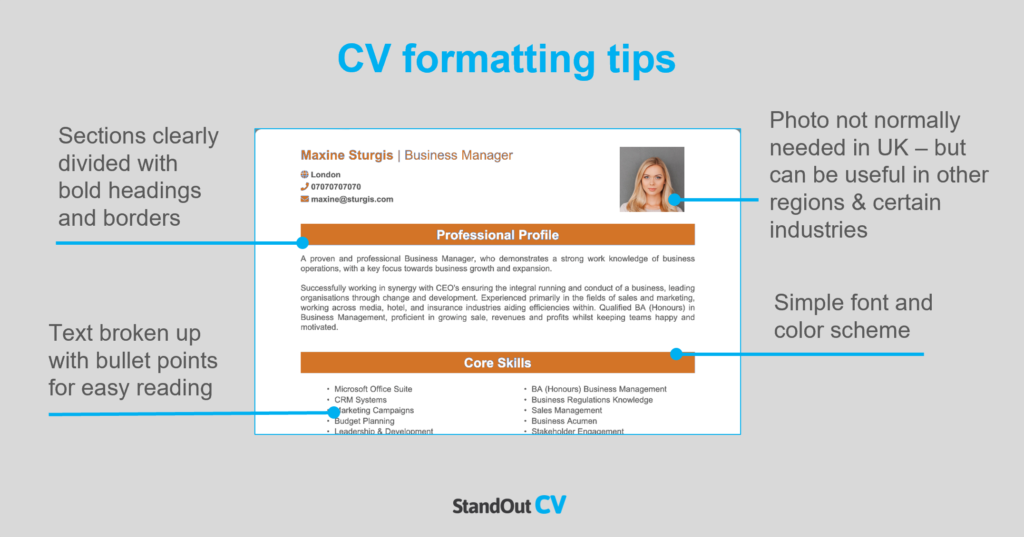 CV structure
When writing your own CV, break up your CV content into the following key sections:
Name and contact details – Place them at the top of your CV, so that employers can easily get in touch.
CV profile – A punchy sales pitch of your key experience, skills and achievements to reel readers in.
Core skills section – A bullet-pointed snapshot of your abilities.
Work experience – A well-structured list of your relevant work experience.
Education – An overview of any relevant qualifications or professional training you have.
Hobbies and interests – A short description of any relevant hobbies or interests (optional).
Now you understand the basic layout of a CV, here's what you should include in each section of yours.
Contact Details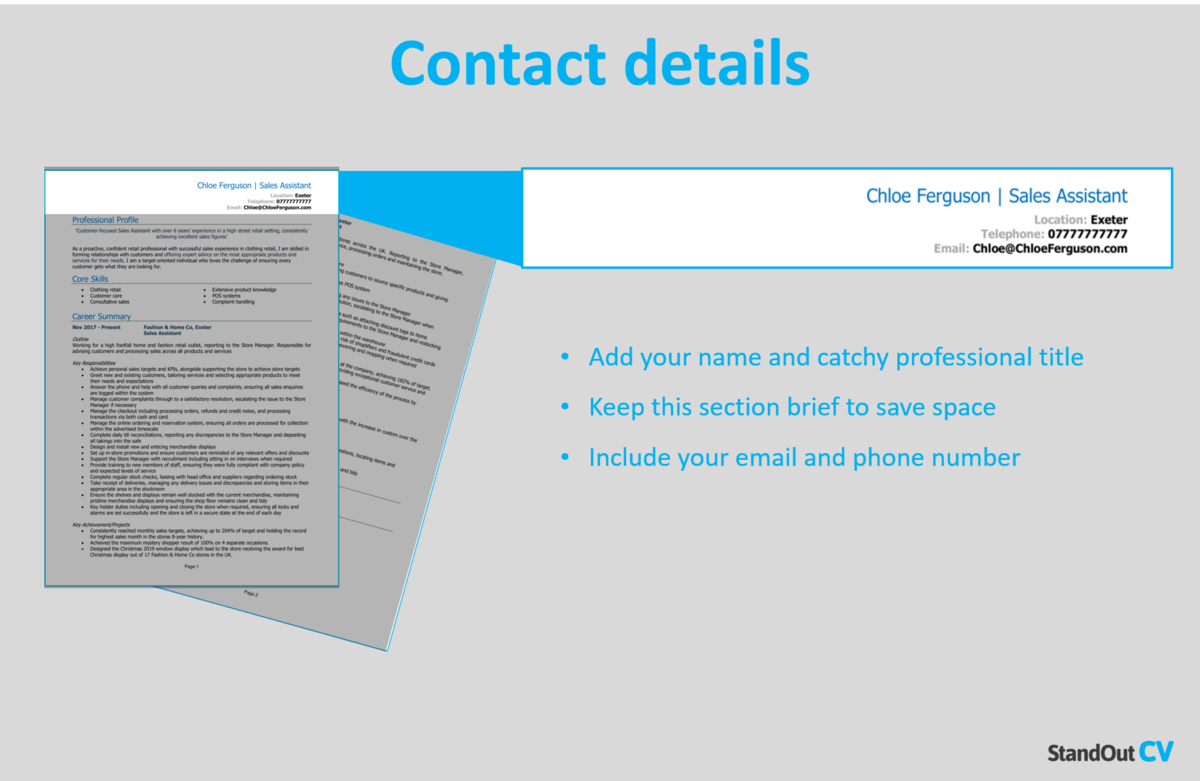 Begin by sharing your contact details, so it's easy for employers to give you a call.
Keep to the basics, such as:
Mobile number
Email address – It should sound professional, with no slang or nicknames. Make a new one for your job applications if necessary.
Location – Simply share your vague location, for example 'Manchester', rather than a full address.
LinkedIn profile or portfolio URL – Remember to update them before you send your application.
Kitchen Designer CV Profile
Your CV profile is basically a short introductory paragraph, which summarises your key selling points and highlights why you'd make a good hire.
So, write a well-rounded summary of what you do, what your key skills are, and what relevant experience you have.
It needs to be short, snappy and punchy and, ultimately, entice the reader to read the rest of your CV.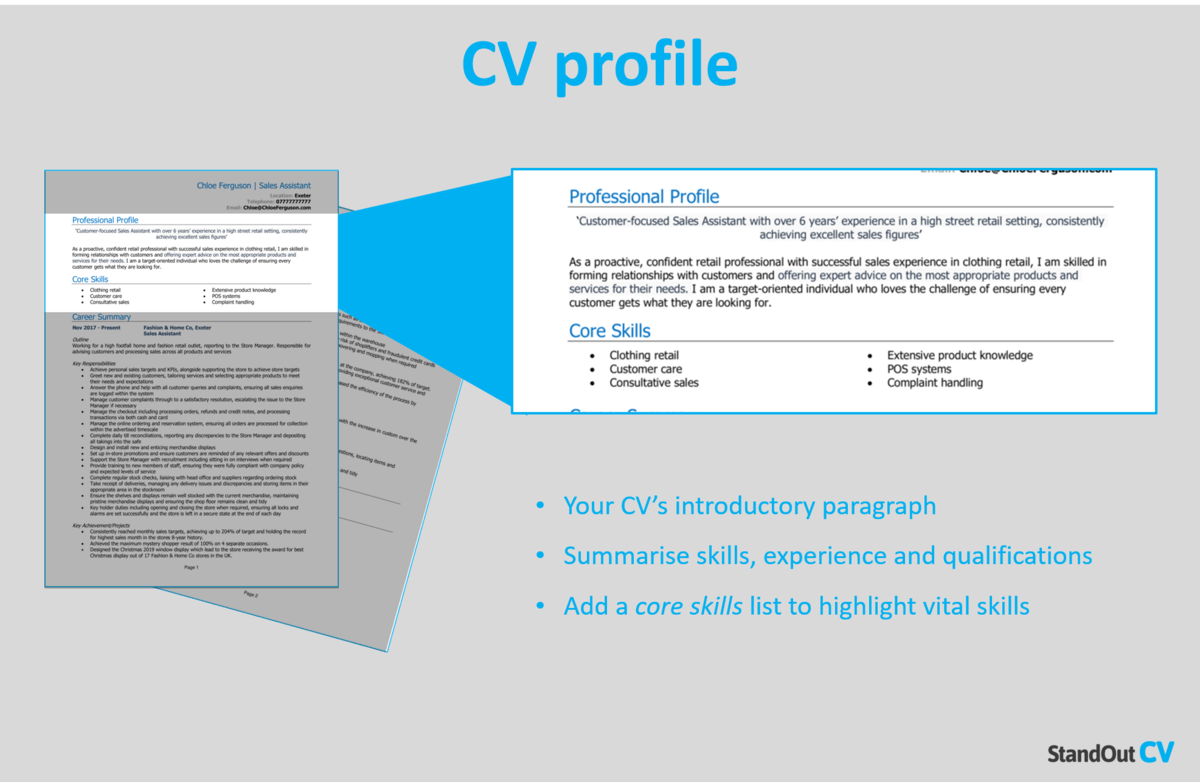 CV profile writing tips:
Make it short and sharp: Recruiters have piles of CVs to read through and limited time to dedicate to each, so it pays to showcase your abilities in as few words as possible. 3-4 lines is ideal.
Tailor it: The biggest CV mistake? A generic, mass-produced document which is sent out to tens of employers. If you want to land an interview, you need to tailor your CV profile (and your application as a whole) to the specific roles you're applying for. So, before you start writing, remember to read over those job descriptions and make a list of the skills, knowledge and experience the employers are looking for.
Don't add an objective: You only have a small space for your CV profile, so avoid writing down your career goals or objectives. If you think these will help your application, incorporate them into your cover letter instead.
Avoid generic phrases: "Determined team player who always gives 110%" might seem like a good way to fill up your CV profile, but generic phrases like this won't land you an interview. Recruiters hear them time and time again and have no real reason to believe them. Instead, pack your profile with your hard skills and tangible achievements.
Example CV profile for a Kitchen Designer
Customer-oriented Kitchen Designer with experience in using CAD software and drafting skills to outline mock-ups, including counters, compartments, and electrical appliances for residential and commercial kitchens. Adept at corresponding with customers on finances, cabinet styles, finishes, and vendor choices to drive project completion. Focused on accelerating profits by exchanging selling and marketing strategies with colleagues.
What to include in your Kitchen Designer CV profile?
Experience overview: Showcase your aptitude for the job you are aiming for by giving a brief summary of your past work history, including the industries you have worked in, the kinds of employers you have served, and the roles you have held.
Targeted skills: Make your most relevant Kitchen Designer key skills clear in your profile. These should be tailored to the specific role you're applying for – so make sure to check the job description first, and aim to match their requirements as closely as you can.
Key qualifications: If the jobs you are applying to require candidates to have certain qualifications, then you must add them in your profile to ensure they are seen by hiring managers.
Quick tip: If you are finding it difficult to write an attention-grabbing CV profile, choose from hundreds of pre-written profiles across all industries, and add one to your CV with one click in our partner's CV Builder. All profiles are written by recruitment experts and easily tailored to suit your unique skillset.
Core skills section
Next, you should create a bullet pointed list of your core skills, formatted into 2-3 columns.
Here, you should focus on including the most important skills or knowledge listed in the job advertisement.
This will instantly prove that you're an ideal candidate, even if a recruiter only has time to briefly scan your CV.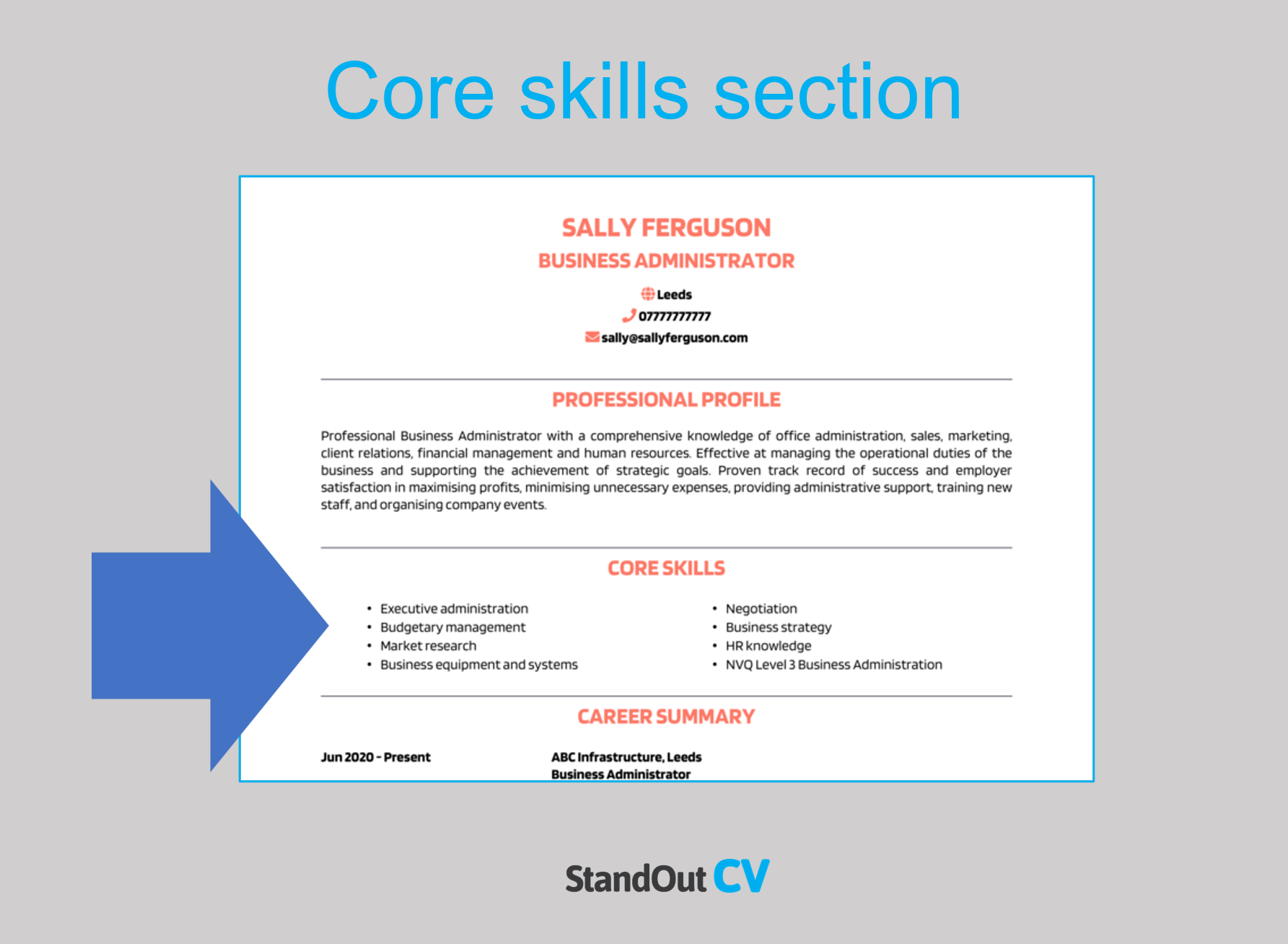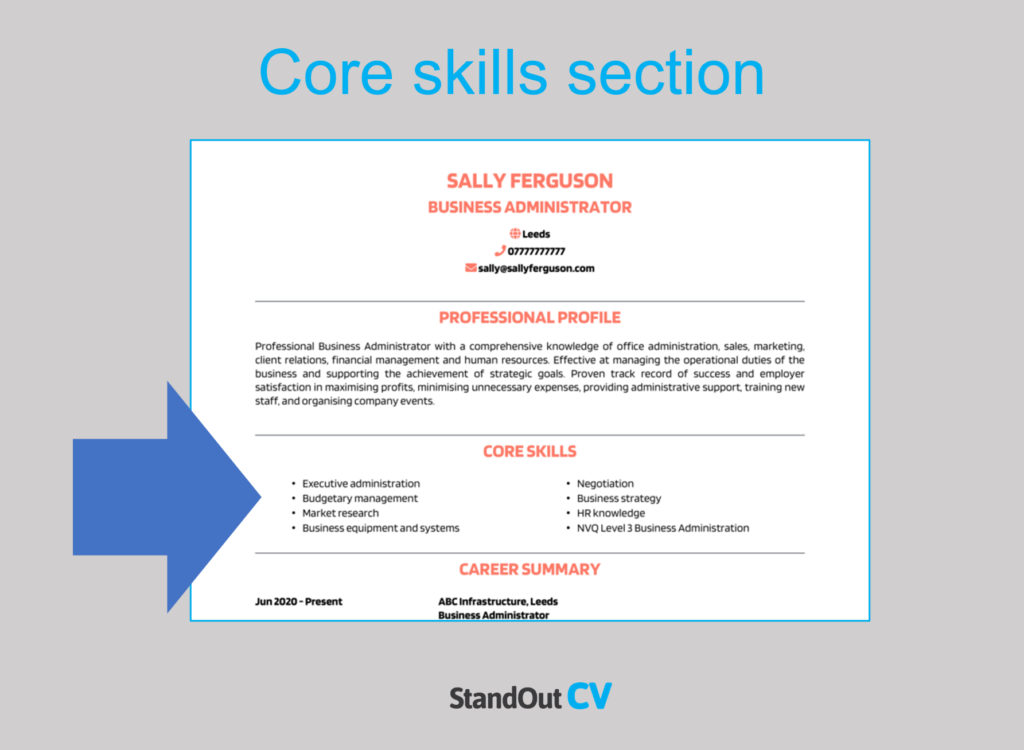 Important skills for your Kitchen Designer CV
Design software – Utilising design software such as AutoCAD, SketchUp, and 2020 Design to create accurate 2D and 3D kitchen designs.
Building codes and regulations – Utilising knowledge of building codes and regulations to ensure that the kitchen design meets legal requirements for safety and accessibility.
Creative problem resolution – Finding solutions to design challenges that arise during the design process.
Project management – Ensuring that the project stays on schedule and within budget.
Materials and finishes – Utilising knowledge of materials and finishes to select the right products for the design, considering durability, maintenance, and cost.
Ergonomics – Utilising knowledge of ergonomics to create a kitchen design that is comfortable and functional to use.
Customer service – Providing clients with a positive experience throughout the design process.
Quick tip: Our partner's CV Builder has thousands of in-demand skills for all industries and professions, that can be added to your CV in seconds – This will save you time and ensure you get noticed by recruiters.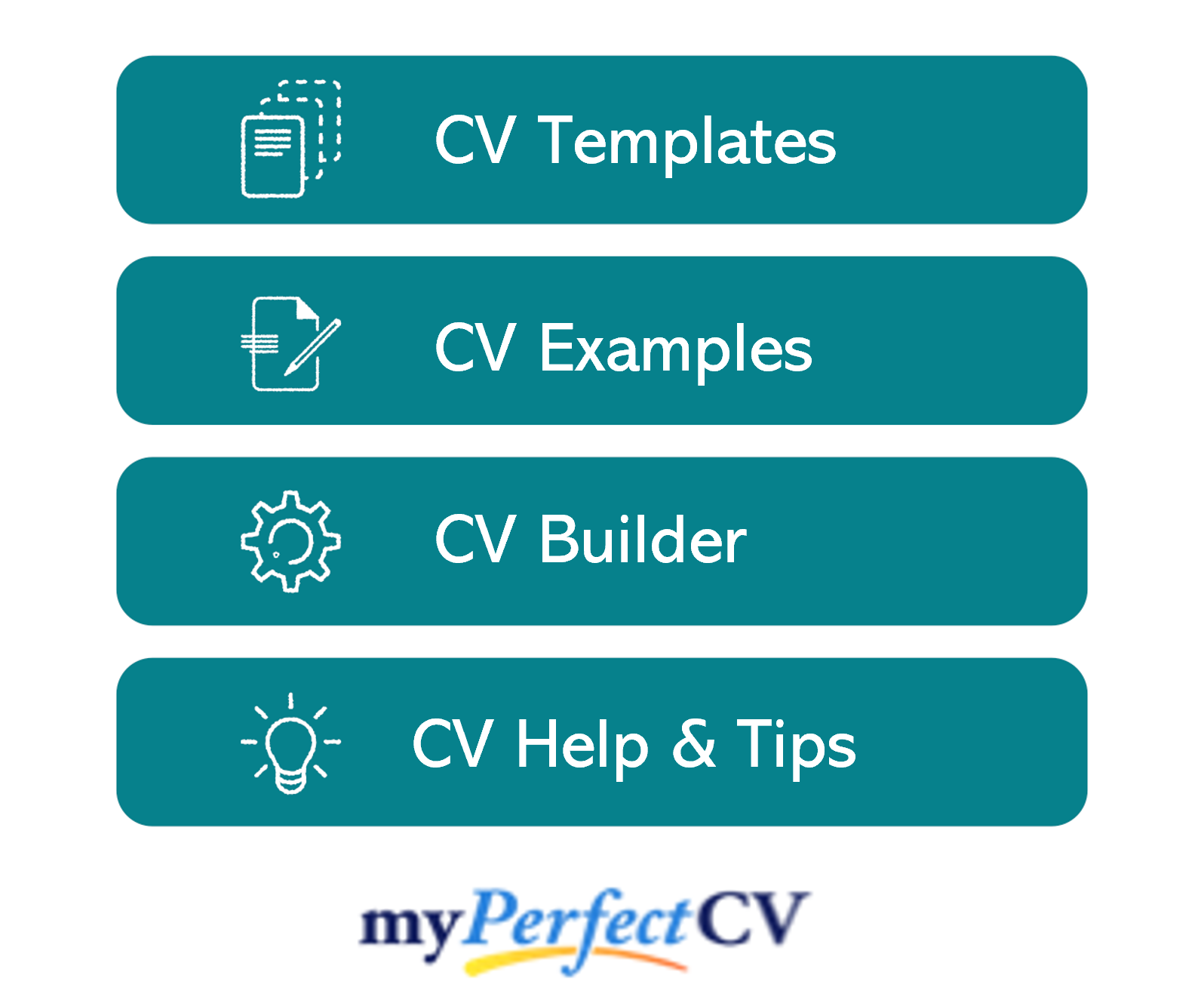 Work experience section
Now it's time to get stuck into your work experience, which should make up the bulk of your CV.
Begin with your current (or most recent) job, and work your way backwards.
If you've got too much experience to fit onto two pages, prioritise space for your most recent and relevant roles.
Structuring each job
Whilst writing your CV, it's essential to look at it from the eyes of a recruiter.
If they're met with giant blocks of text which are impossible to navigate, they might get frustrated and skip onto the next CV.
Instead, make use of the 3-step structure shown below, to give them a pleasant reading experience.
Outline
Provide a brief overview of the job as a whole, such as what the overriding purpose of your job was and what type of company you worked for.
Key responsibilities
Use bullet points to detail the key responsibilities of your role, highlighting hard skills, software and knowledge wherever you can.
Keep them short and sharp to make them easily digestible by readers.
Key achievements
Finish off by showcasing 1-3 key achievements made within the role.
This could be anything that had a positive effect on your company, clients or customers, such as saving time or money, receiving exemplary feedback or receiving an award.
Sample job description for Kitchen Designer CV
Outline
Discuss all aspects of creating, remodelling, or updating kitchen areas, for an organisation that provides clients with exceptional service and quality products through the construction of kitchens, bathrooms, and living spaces.
Key Responsibilities
Oversee the design of kitchens in residential homes, industrial factories, restaurants, cafeterias, schools/universities, and hospitals.
Meet with clients to ascertain the intended functions, materials, themes, colours, patterns, and room layout of each space.
Produce sketches based on preferences and anticipate and inform clients of additional features which may be of use to them.
Select and supervise contractors, cabinet makers, electricians, painters, plumbers, and other professionals to finalise work according to deadlines and clients' vision.
Quick tip: Create impressive job descriptions easily in our partner's CV Builder by adding pre-written job phrases for every industry and career stage.

Education and qualifications
At the bottom of your CV is your full education section. You can list your formal academic qualifications, such as:
As well as any specific Kitchen Designer qualifications that are essential to the jobs you are applying for. Note down the name of the qualification, the organisation at which you studied, and the date of completion.
Hobbies and interests
Although this is an optional section, it can be useful if your hobbies and interests will add further depth to your CV.
Interests which are related to the sector you are applying to, or which show transferable skills like leadership or teamwork, can worth listing.
On the other hand, generic hobbies like "going out with friends" won't add any value to your application, so are best left off your CV.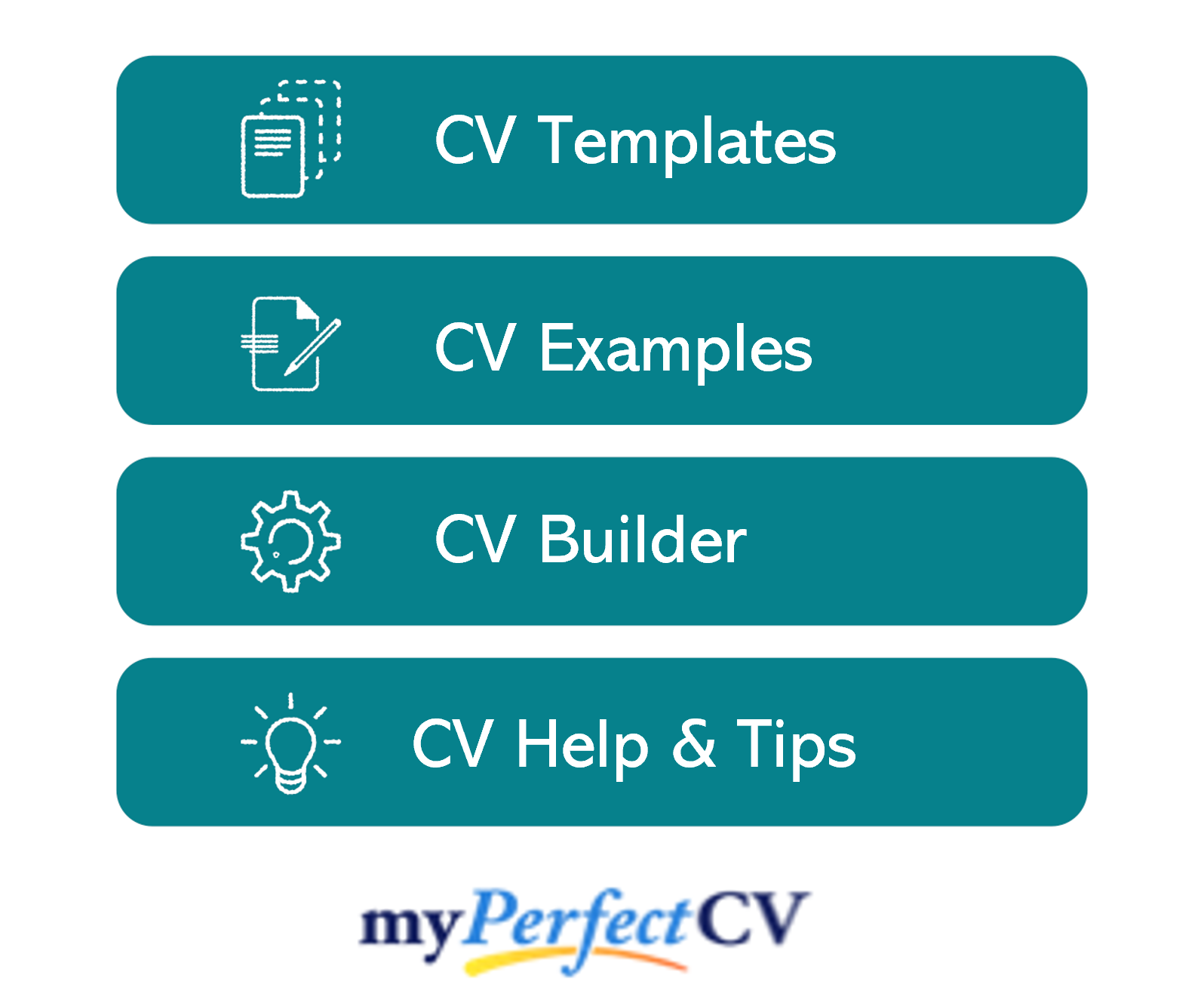 Creating a strong Kitchen Designer CV requires a blend of punchy content, considered structure and format, and heavy tailoring.
By creating a punchy profile and core skills list, you'll be able to hook recruiter's attention and ensure your CV gets read.
Remember that research and relevance is the key to a good CV, so research your target roles before you start writing and pack your CV with relevant skills.
Best of luck with your next application!