You're able to create entire worlds from scratch, build fun new characters and spark classic rivalries between good and evil. Yet writing a CV feels so hard.
Well, with this guide we can help you to take your career to the next level.
Check out all our top writing tips, along with a game design CV example below to help you create a winning application.
Contents
| | |
| --- | --- |
| How to write a Game Design CV | |

Game Design CV example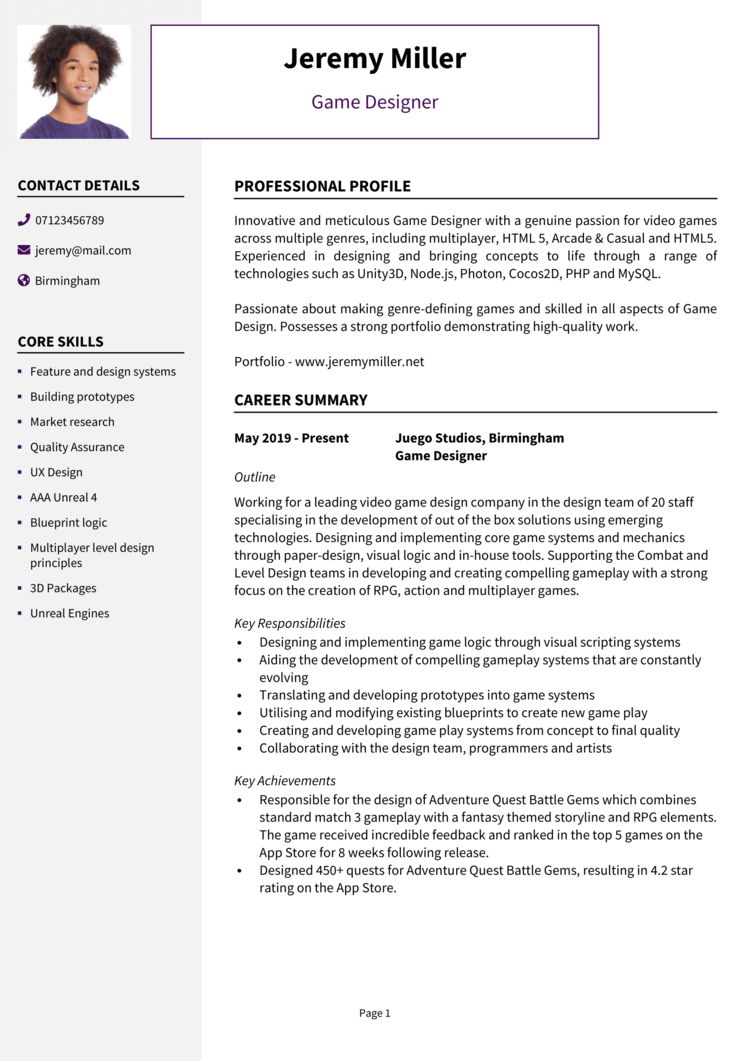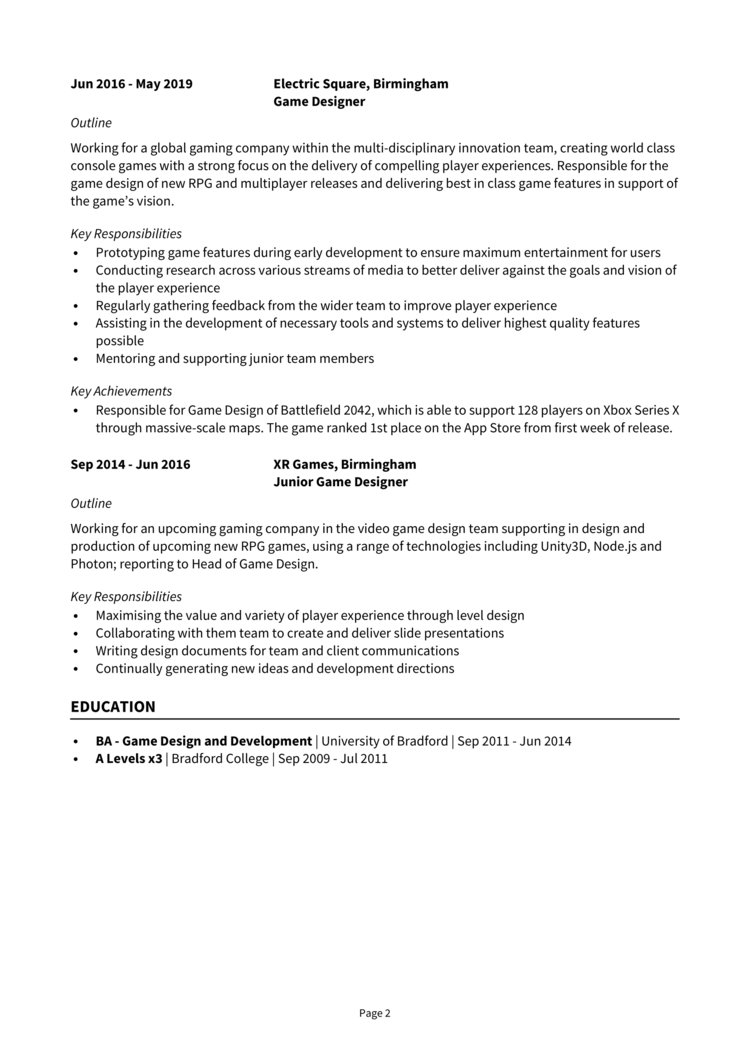 Before you start writing your CV, take a look at the example Game Design CV above to give yourself a good idea of the style and format that works best in today's job market.
Also, take note of the type of content that is included to impress recruiters, and how the most relevant information is made prominent, to ensure it gets noticed.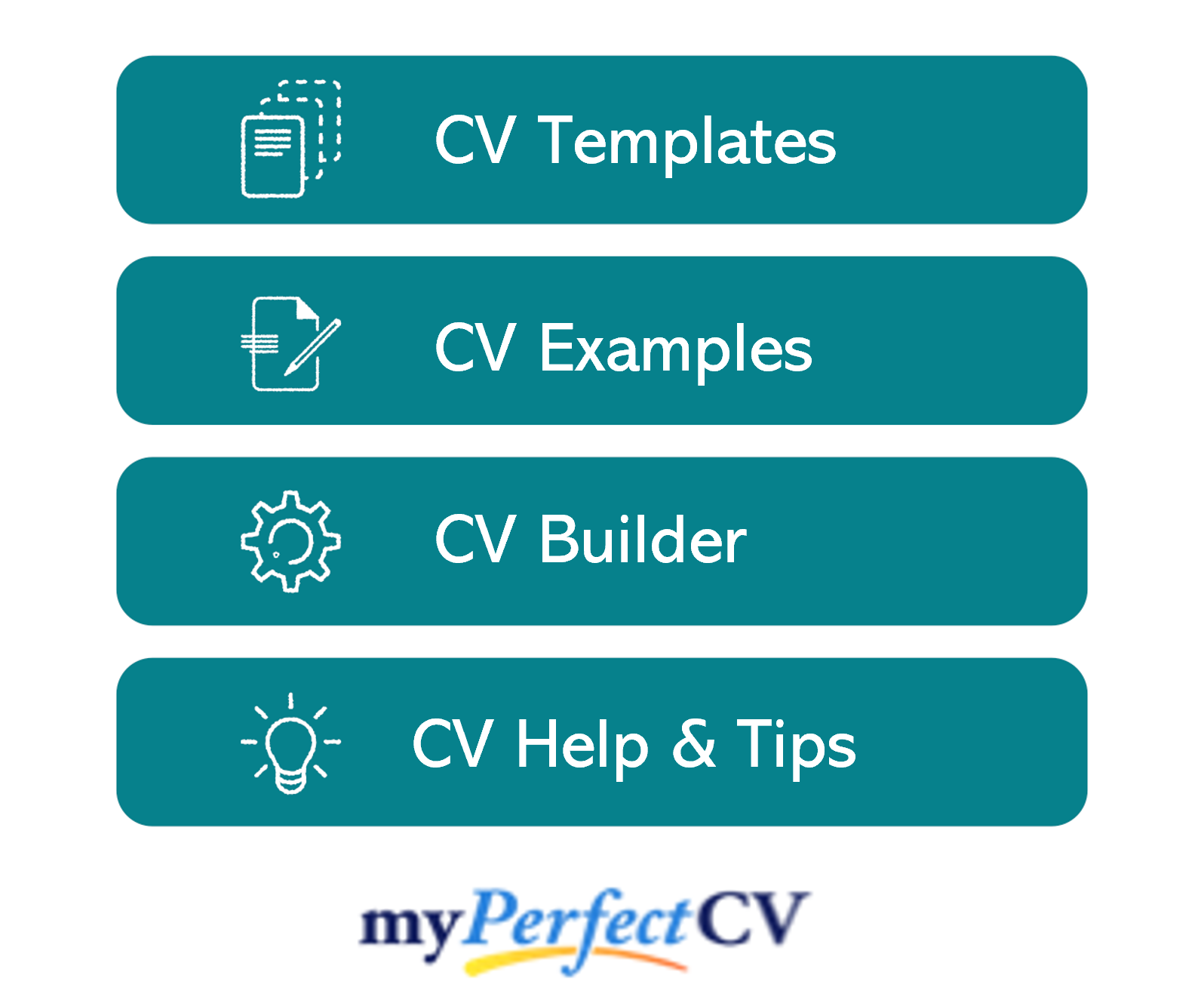 Game Design CV layout and format
If you focus purely on the written content of your CV but ignore the style and layout, your efforts could end up wasted.
No matter how suitable you are for the role, no recruiter wants to spend time squinting and trying to navigate a badly designed and disorganised CV.
Instead, make sure to organise your content into a simple structure and spend some time formatting it for ease of reading – it will ensure every recruiter and hiring manager can read your CV with ease.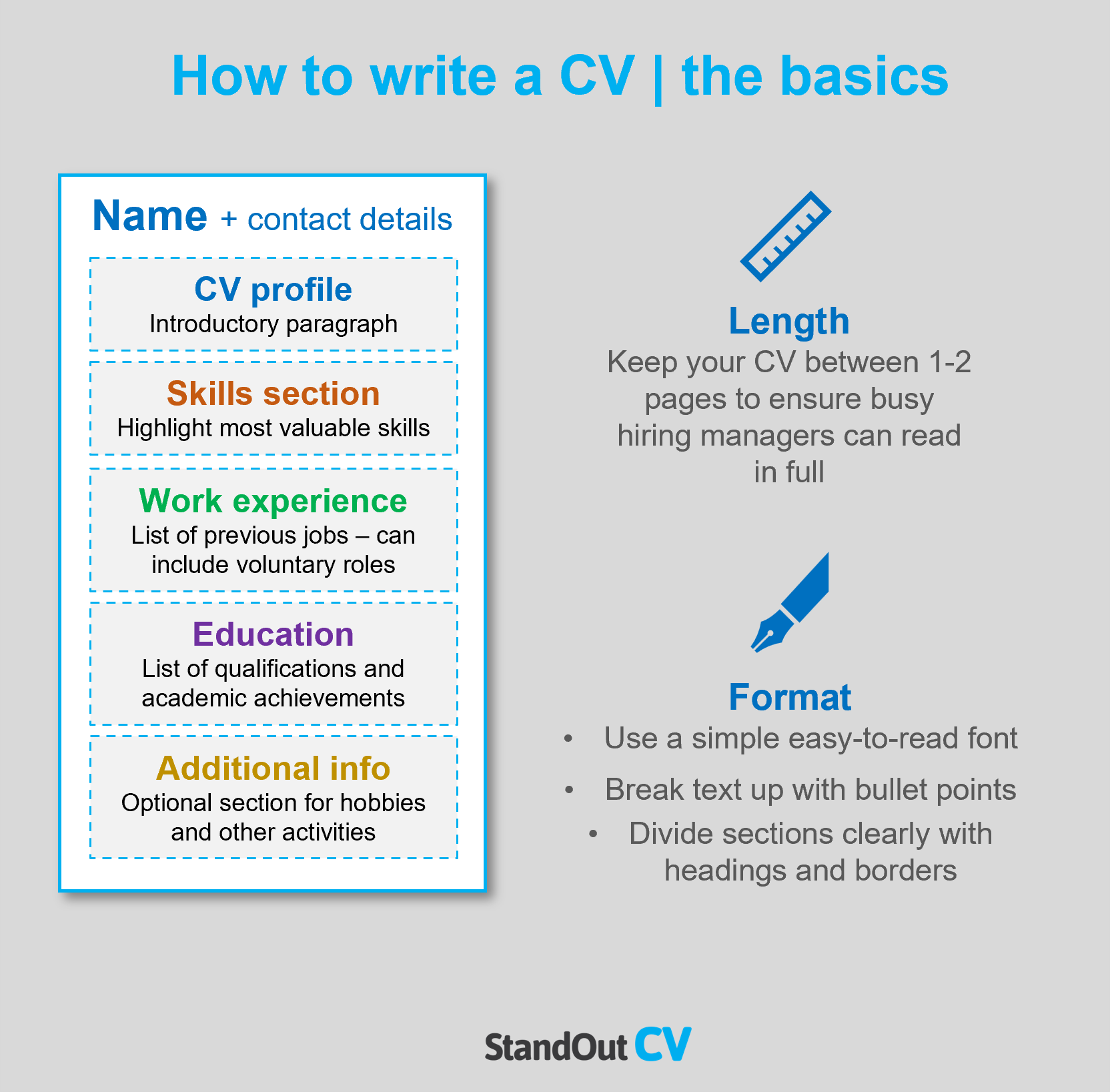 Tips for formatting your Game Design CV
Length: Whether you've got one year or three decades of experience, your CV should never be more than two sides of A4. Recruiters are busy people who're often juggling numerous roles and tasks, so they don't have time to read lengthy applications. If you're a recent graduate or don't have much industry experience, one side of A4 is fine.
Readability: Recruiters appreciate CVs that they can quickly scan through without trouble. Ensure yours makes the cut by formatting your headings for attention (bold or coloured fonts should do the trick) and breaking up long paragraphs into smaller chunks or short, snappy bullet points.
Design: While it's okay to add your own spin to your CV, avoid overdoing the design. If you go for something elaborate, you might end up frustrating recruiters who, above anything, value simplicity and clarity.
Photos: You can add a profile photo to your CV, if you want to add some personality to it, but they are not a requirement the UK, so you don't have to.
Quick tip: Creating a professional CV style can be difficult and time-consuming when using Microsoft Word or Google Docs. To create a winning CV quickly, try our partner's CV Builder and use one of their eye-catching professional CV templates.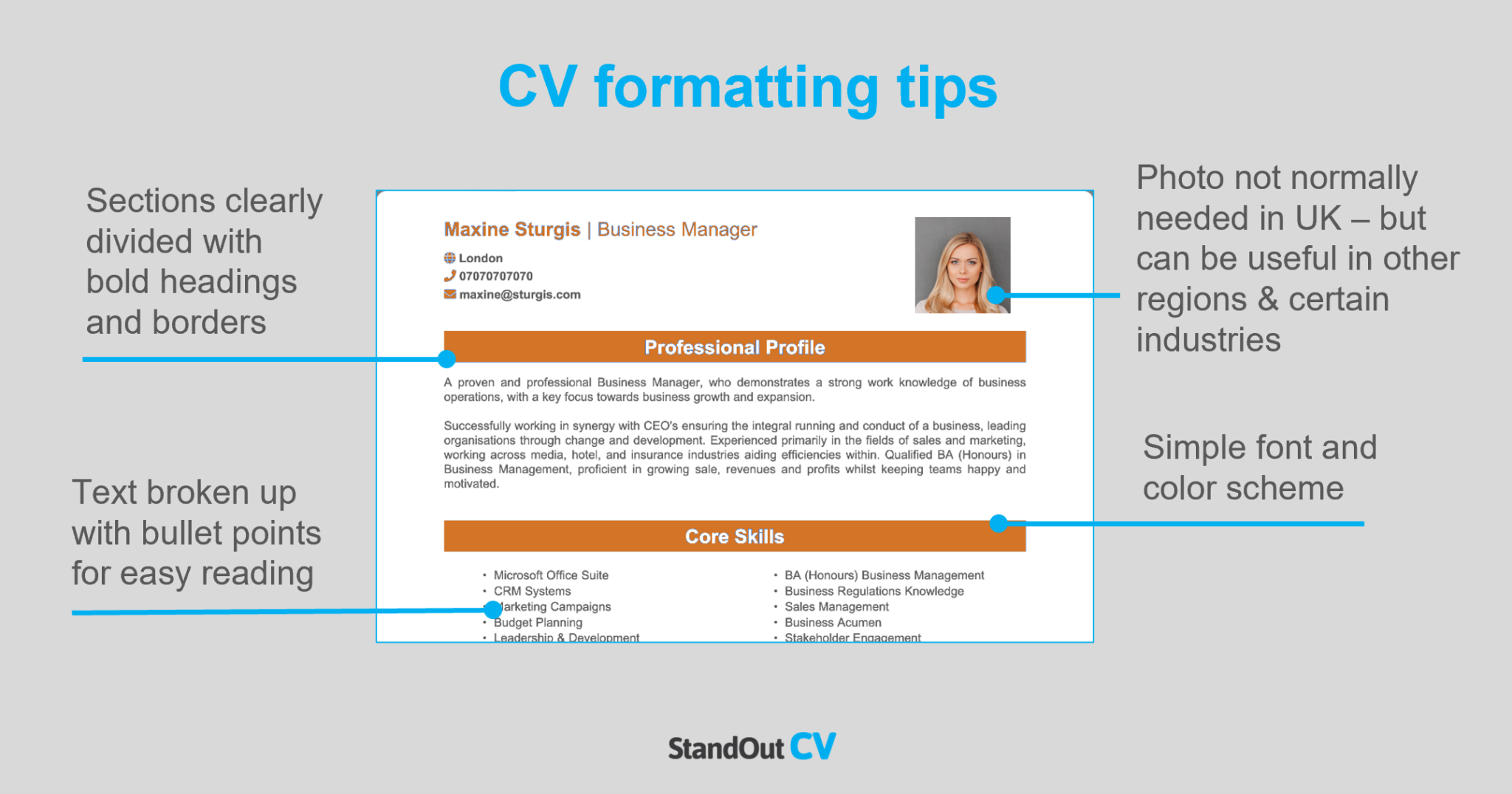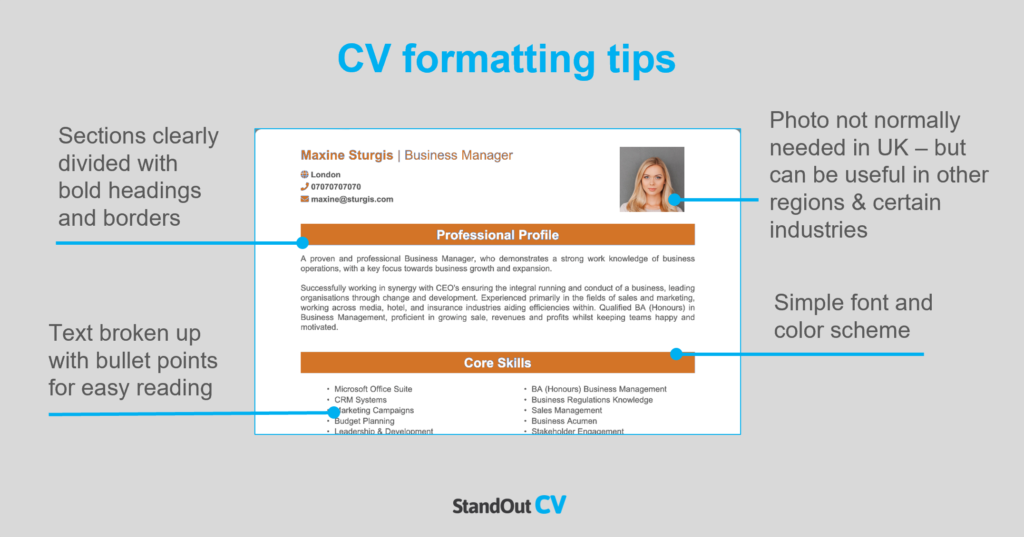 CV structure
When writing your own CV, break up your CV content into the following key sections:
Name and contact details – Place them at the top of your CV, so that employers can easily get in touch.
CV profile – A punchy sales pitch of your key experience, skills and achievements to reel readers in.
Core skills section – A bullet-pointed snapshot of your abilities.
Work experience – A well-structured list of your relevant work experience.
Education – An overview of any relevant qualifications or professional training you have.
Hobbies and interests – A short description of any relevant hobbies or interests (optional).
Now you understand the basic layout of a CV, here's what you should include in each section of yours.
Contact Details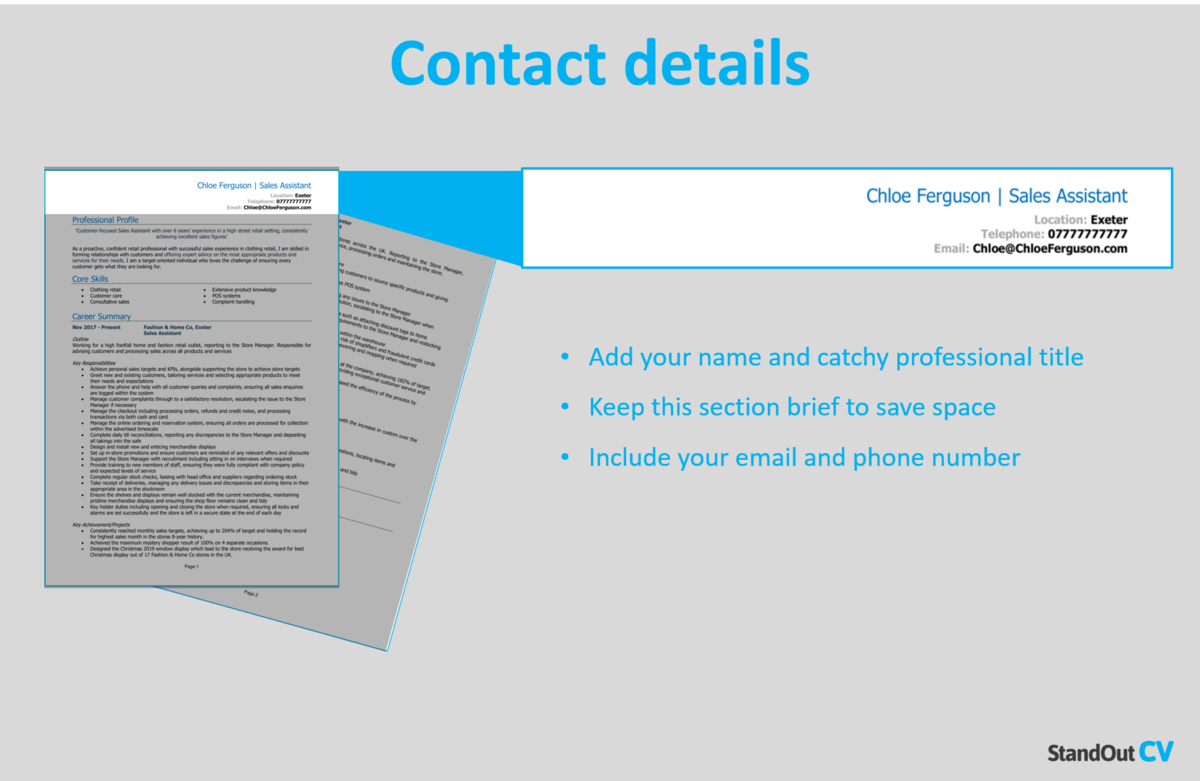 Tuck your contact details into the corner of your CV, so that they don't take up too much space.
Stick to the basic details, such as:
Mobile number
Email address – It should sound professional, such as your full name.
Location -Just write your rough location, rather than your full address.
LinkedIn profile or portfolio URL – If you include these, ensure they're sleek, professional and up-to-date.
Game Design CV Profile
To immediately capture the attention of recruiters, begin your CV with a powerful profile (or personal statement for junior applicants).
This is a brief introductory paragraph that summarises your skills, experience, and knowledge.
It should position you as the ideal candidate for the job and encourage recruiters to read on.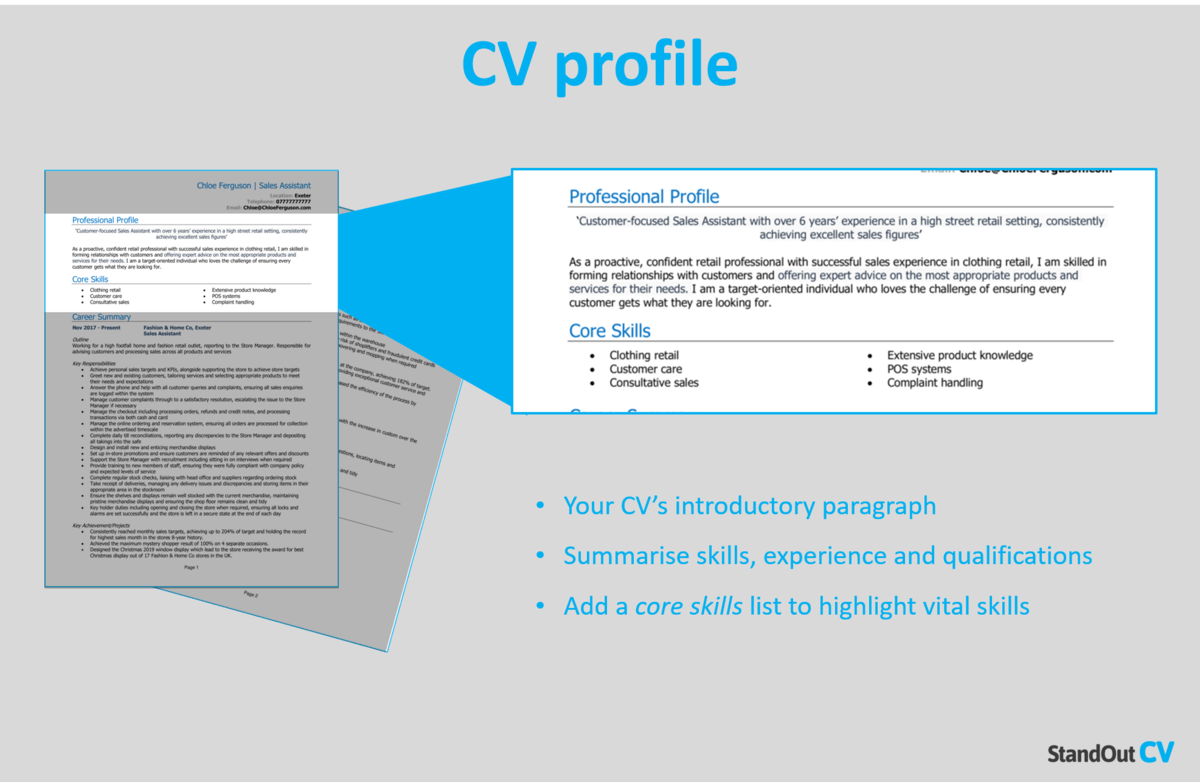 CV profile writing tips:
Make it short and sharp: Recruiters are busy, so to ensure your profile is actually read, it's best to keep it short and snappy. 3-5 punchy lines makes for the perfect profile.
Tailor it: Not tailoring your profile (and the rest of your CV) to the role you're applying for, is the worst CV mistake you could make. Before setting pen to paper, look over the job ad and make a note of the skills and experience required. Then, incorporate your findings throughout.
Don't add an objective: Avoid discussing your career goals in your CV profile – if you think they're necessary, briefly mention them in your cover letter instead.
Avoid generic phrases: Clichés like "blue-sky thinker with a go-getter attitude" might sound impressive to you, but they don't actually tell the recruiter much about you. Concentrate on highlighting hard facts and skills, as recruiters are more likely to take these on board.
Example CV profile for a role in Game Design
Innovative and meticulous Game Designer with a genuine passion for video games across multiple genres, including multiplayer, HTML 5, Arcade & Casual and HTML5. Experienced in designing and bringing concepts to life through a range of technologies such as Unity3D, Node.js, Photon, Cocos2D, PHP and MySQL. Passionate about making genre-defining games and skilled in all aspects of Game Design. Possesses a strong portfolio demonstrating high-quality work. A full portfolio can be seen at www.jeremymiller.net.
What to include in your Game Design CV profile?
Experience overview: Demonstrate your suitability for your target jobs by giving a high level summary of your previous work work experience, including the industries you have worked in, types of employer, and the type of roles you have previous experience of.
Targeted skills: Highlight your skills which are most relevant to Game Design jobs, to ensure that recruiters see your most in-demand skills as soon as they open your CV.
Key qualifications: If the job postings require specific qualifications, it is essential to incorporate them in your profile to ensure visibility to hiring managers.
Quick tip: If you are finding it difficult to write an attention-grabbing CV profile, choose from hundreds of pre-written profiles across all industries, and add one to your CV with one click in our partner's CV Builder. All profiles are written by recruitment experts and easily tailored to suit your unique skillset.
Core skills section
Create a core skills section underneath your profile to spotlight your most in-demand skills and grab the attention of readers.
This section should feature 2-3 columns of bullet points that emphasise your applicable skills for your target jobs. Before constructing this section, review the job description and compile a list of any specific skills, specialisms, or knowledge required.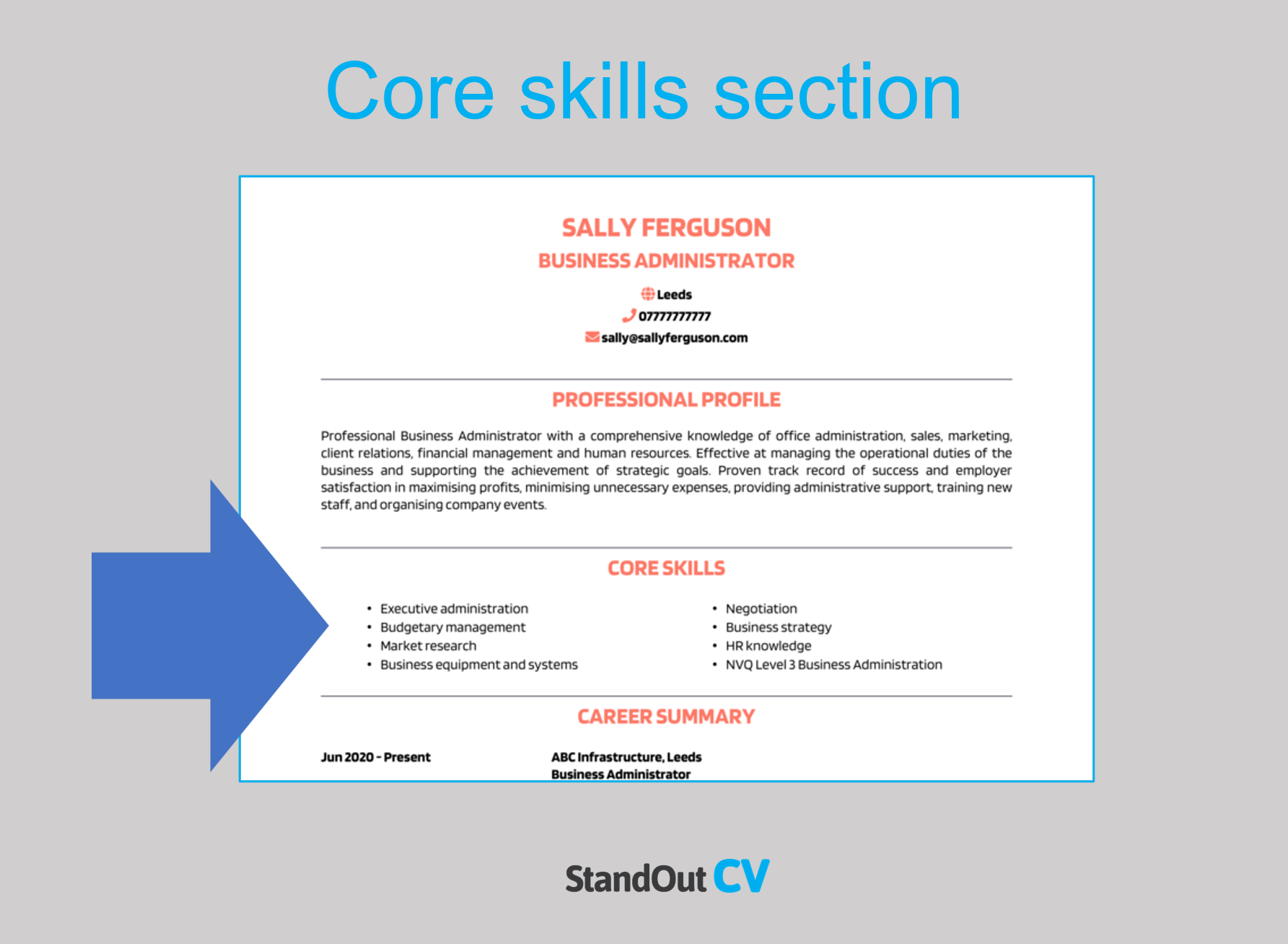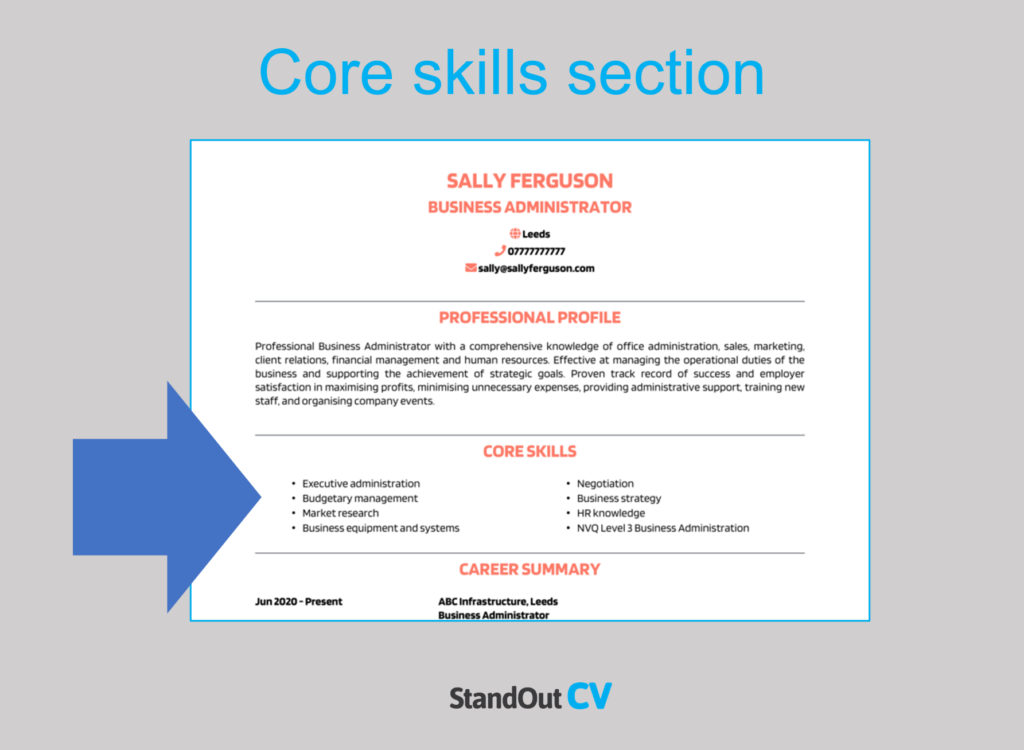 Important skills for your Game Design CV
Game engines – Utilising industry-standard game engines like Unity, Unreal, and CryEngine.
Programming – Writing clean, efficient code in languages like C++, C#, and Java.
Game mechanics – Utilising knowledge of game mechanics and experience designing, implementing, and testing them.
Artistic flair – Utilising knowledge of 3D modelling, texturing, and animation software like Maya, Blender, and Photoshop to create game assets.
Game design documentation – Creating and maintaining game design documents and communicating them clearly to team members.
User interface (UI) design – Utilising knowledge of UX/UI principles and experience designing intuitive interfaces for games.
Project management – Leading and managing game development projects from concept to launch.
Testing and debugging – Identifying and fixing bugs, performing playtesting, and ensuring overall game quality.
Quick tip: Our partner's CV Builder has thousands of in-demand skills for all industries and professions, that can be added to your CV in seconds – This will save you time and ensure you get noticed by recruiters.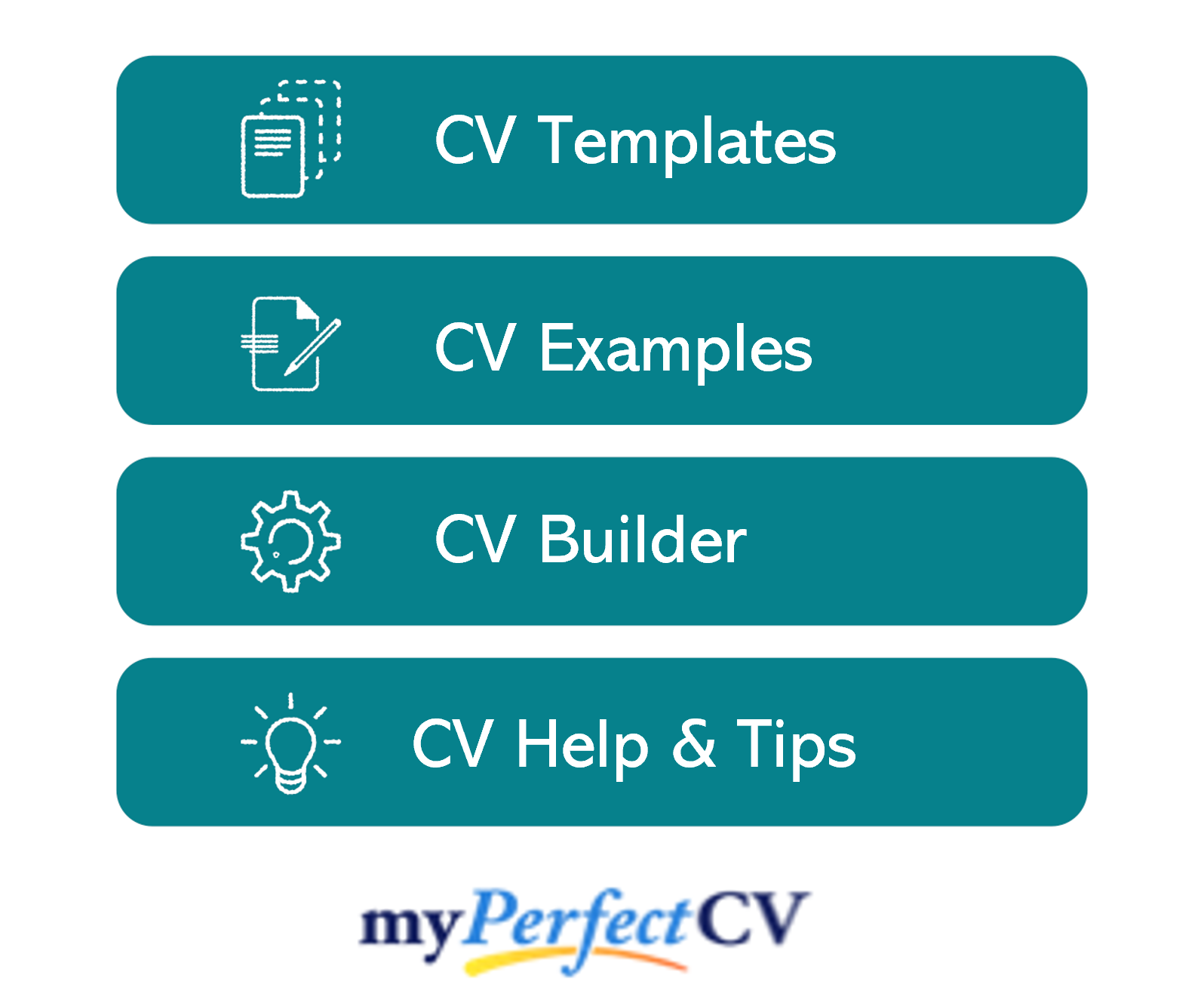 Work experience section
Recruiters will be itching to know more about your relevant experience by now.
Kick-start this section with your most recent (or current) position, and work your way backwards through your history.
You can include voluntary and freelance work, too – as long as you're honest about the nature of the work.
Structuring each job
The structure of your work experience section can seriously affect its impact.
This is generally the biggest section of a CV, and with no thought to structure, it can look bulky and important information can get lost.
Use my 3-step structure below to allow for easy navigation, so employers can find what they are looking for:
Outline
Start with a solid introduction to your role as a whole, in order to build some context.
Explain the nature of the organisation you worked for, the size of the team you were part of, who you reported to and what the overarching purpose of your job was.
Key responsibilities
Using easy-to-read bullet points, note down your day-to-day responsibilities in the role.
Make sure to showcase how you used your hard sector skills and knowledge.
Key achievements
Lastly, add impact by highlight 1-3 key achievements that you made within the role.
Struggling to think of an achievement? If it had a positive impact on your company, it counts.
For example, you might increased company profits, improved processes, or something simpler, such as going above and beyond to solve a customer's problem.
Sample job description for a Game Design CV
Outline
Working for a leading video game design company in the design team of 20 staff specialising in the development of out of the box solutions using emerging technologies. Designing and implementing core game systems and mechanics through paper-design, visual logic and in-house tools. Supporting the Combat and Level Design teams in developing and creating compelling gameplay with a strong focus on the creation of RPG, action and multiplayer games.
Key Responsibilities
Designing and implementing game logic through visual scripting systems
Aiding the development of compelling gameplay systems that are constantly evolving
Translating and developing prototypes into game systems
Utilising and modifying existing blueprints to create new game play
Quick tip: Create impressive job descriptions easily in our partner's CV Builder by adding pre-written job phrases for every industry and career stage.

Education and qualifications
At the bottom of your CV is your full education section. You can list your formal academic qualifications, such as:
As well as any specific Game Design qualifications that are essential to the jobs you are applying for. Note down the name of the qualification, the organisation at which you studied, and the date of completion.
Hobbies and interests
Although this is an optional section, it can be useful if your hobbies and interests will add further depth to your CV.
Interests which are related to the sector you are applying to, or which show transferable skills like leadership or teamwork, can worth listing.
On the other hand, generic hobbies like "going out with friends" won't add any value to your application, so are best left off your CV.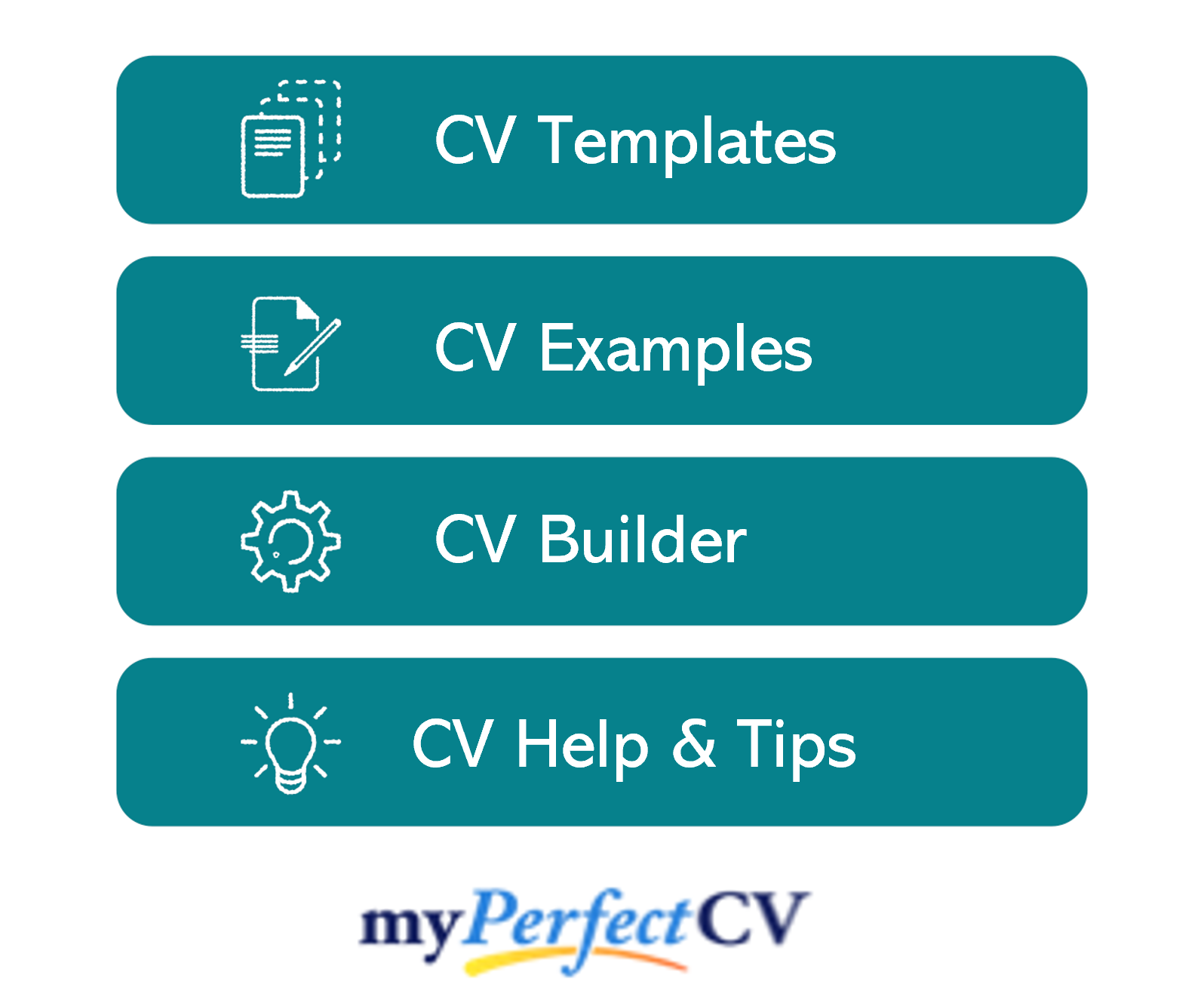 Creating a strong Game Design CV requires a blend of punchy content, considered structure and format, and heavy tailoring.
By creating a punchy profile and core skills list, you'll be able to hook recruiter's attention and ensure your CV gets read.
Remember that research and relevance is the key to a good CV, so research your target roles before you start writing and pack your CV with relevant skills.
Best of luck with your next application!