As an epidemiologist, you can make a real difference, not just to the lives of individuals, but to entire populations.
With the ability to make such an impact through your work, it seems crazy that something as simple as your CV could be holding you back.
The good news is, we can help. In the guide below, we teach you to write an interview-winning application and share an epidemiologist CV example to inspire your own.
Contents
| | |
| --- | --- |
| How to write a Epidemiologist CV | |

Epidemiologist CV example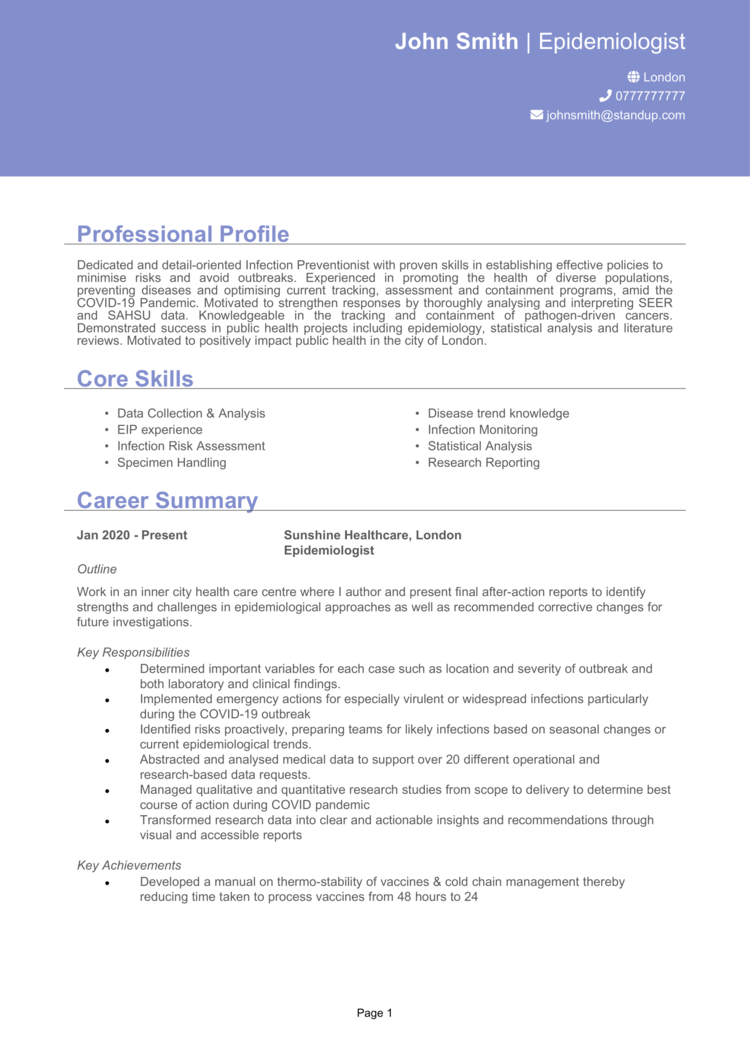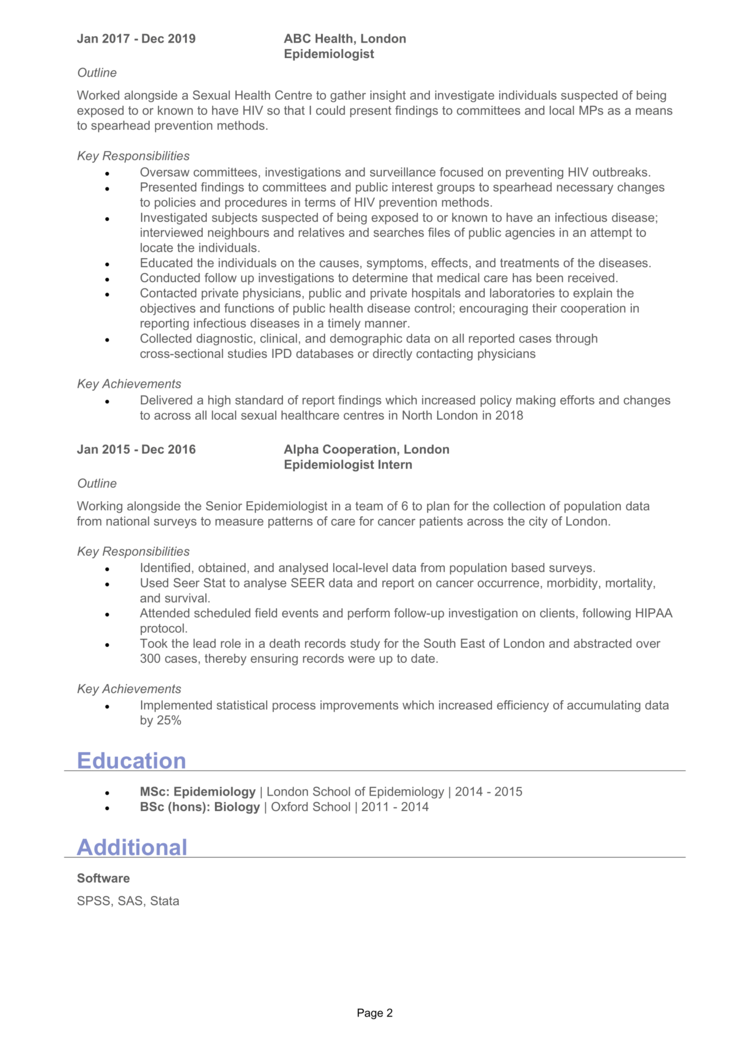 This is a good example of a Epidemiologist CV which is professionally formatted, and structured in a way that allows recruiters to easily find and understand the candidate's key selling points.
Take some time to look at this CV and refer to it throughout the writing of your own CV for best results.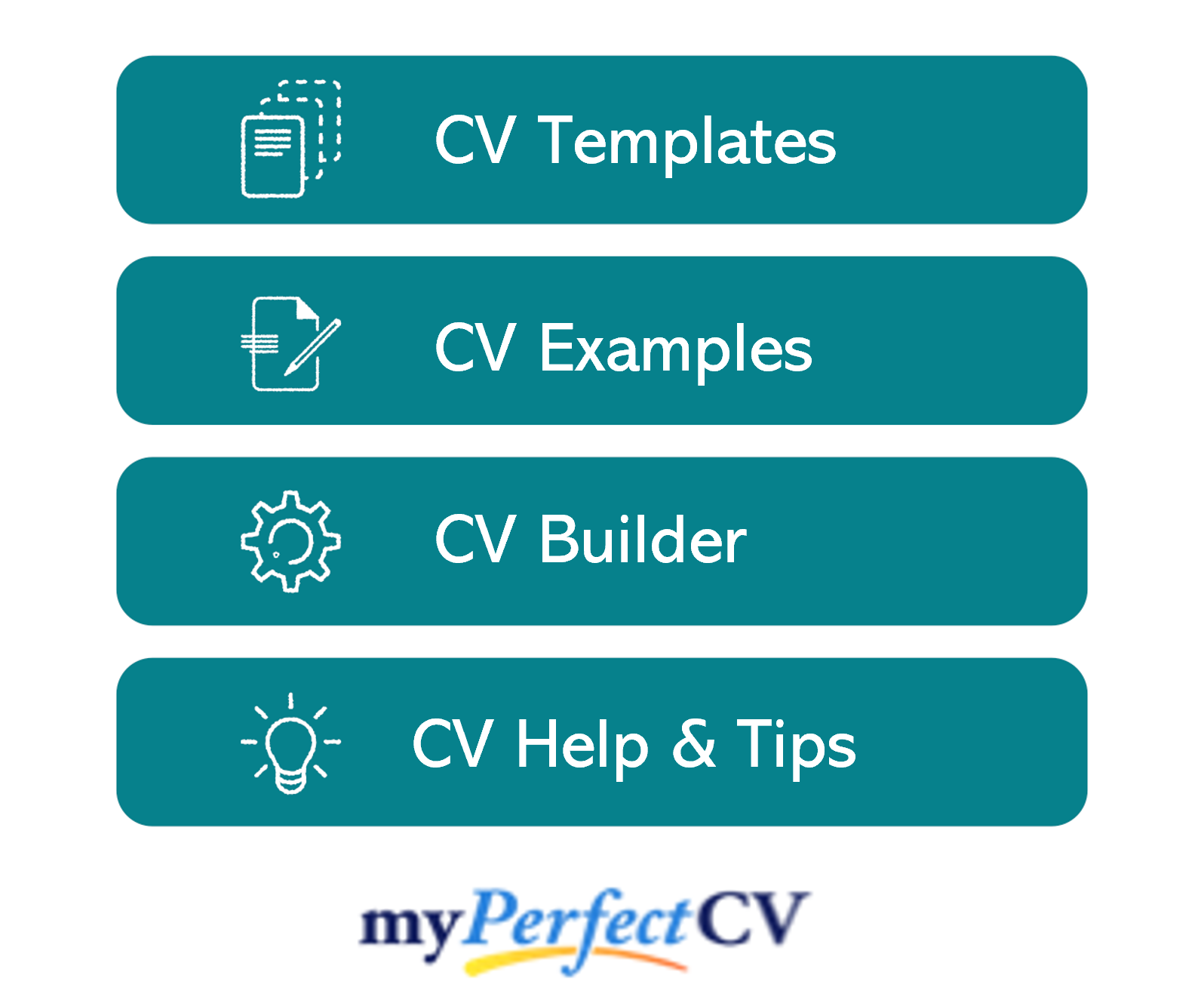 Epidemiologist CV layout and format
Recruiters and employers are busy, and if they can't find the information they're looking for in a few seconds, it could be game over for your application.
You need to format and structure your CV in a way which allows the reader to pick out your key information with ease, even if they're strapped for time.
It should be clear, easily legible, well-organised and scannable – check out some simple tips and tricks below: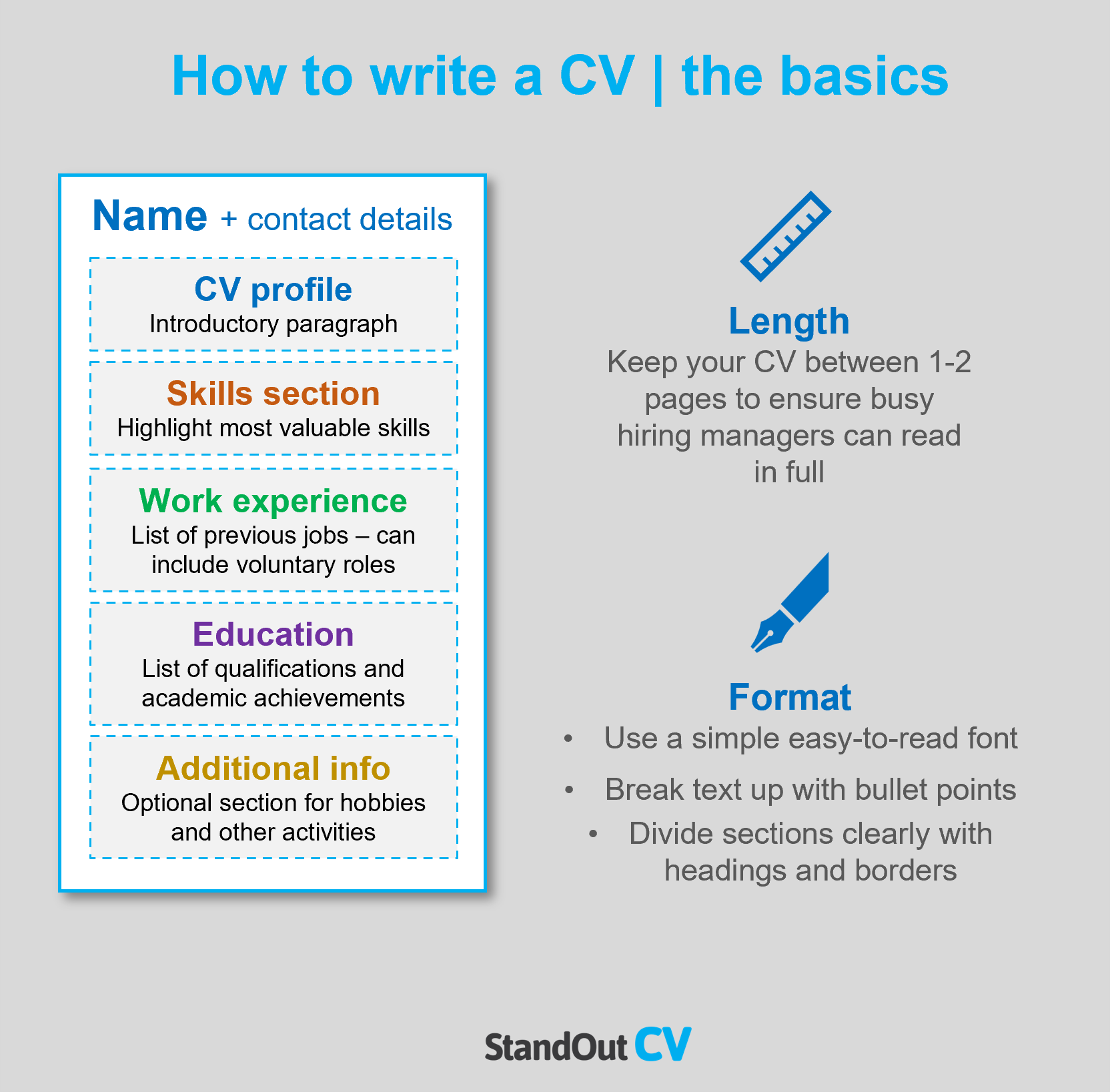 Tips for formatting your Epidemiologist CV
Length: Whether you've got one year or three decades of experience, your CV should never be more than two sides of A4. Recruiters are busy people who're often juggling numerous roles and tasks, so they don't have time to read lengthy applications. If you're a recent graduate or don't have much industry experience, one side of A4 is fine.
Readability: Columns, lists, bullet points, bold text and subtle colour can all help to aid the readability of your CV. Your overarching goal should be to make the content as easy to read and navigate as possible, whilst also aiming to make your key skills and achievements stand out.
Design: The saying 'less is more' couldn't be more applicable to CVs. Readability is key, so avoid overly complicated designs and graphics. A subtle colour palette and easy-to-read font is all you need!
Photos: Recruiters can't factor in appearance, gender or race into the recruitment process, so a profile photo is not usually needed. However, creative employers do like to see them, so you can choose to include one if you think it will add value to your CV .
Quick tip: Creating a professional CV style can be difficult and time-consuming when using Microsoft Word or Google Docs. To create a winning CV quickly, try our partner's CV Builder and use one of their eye-catching professional CV templates.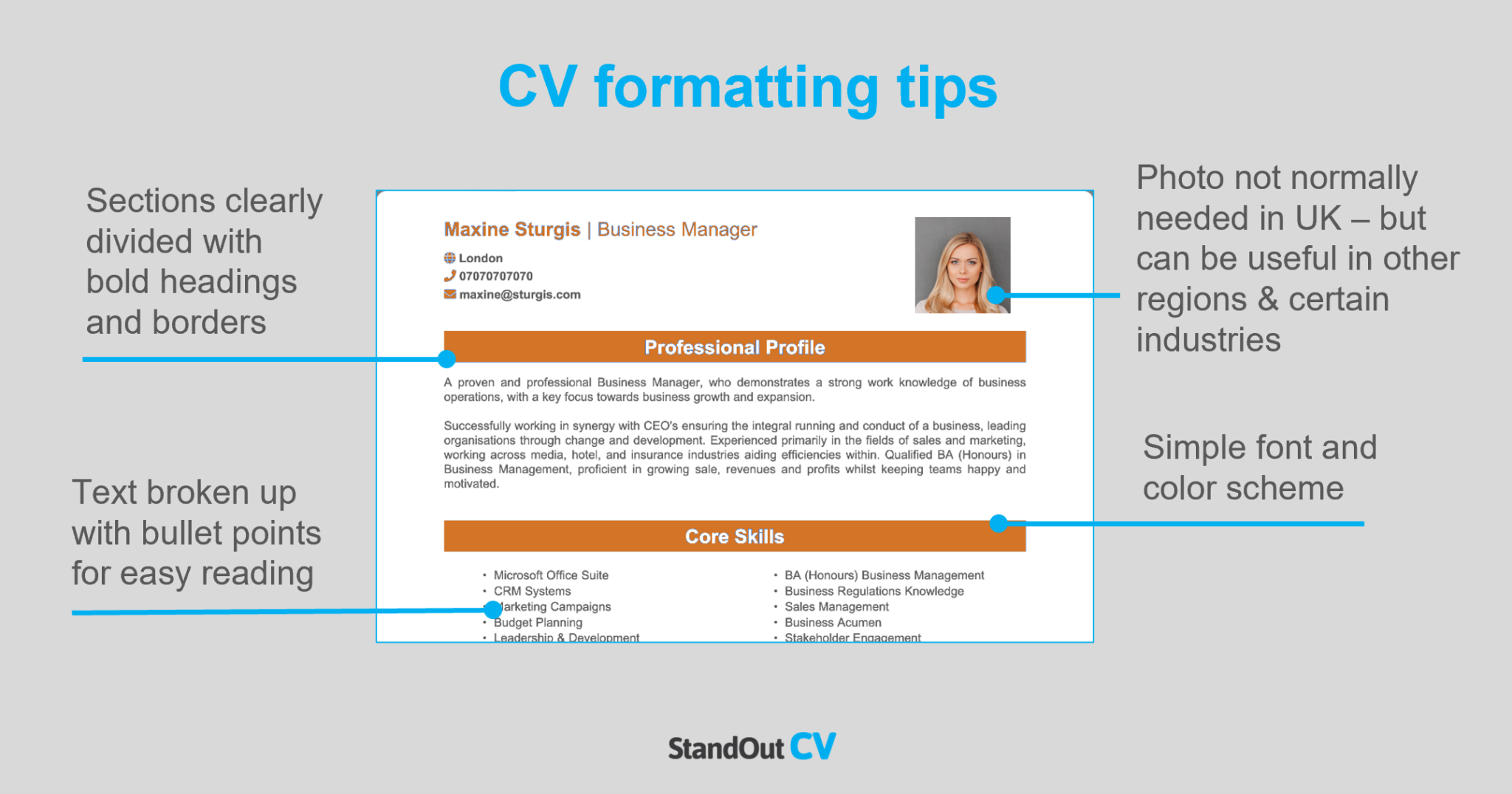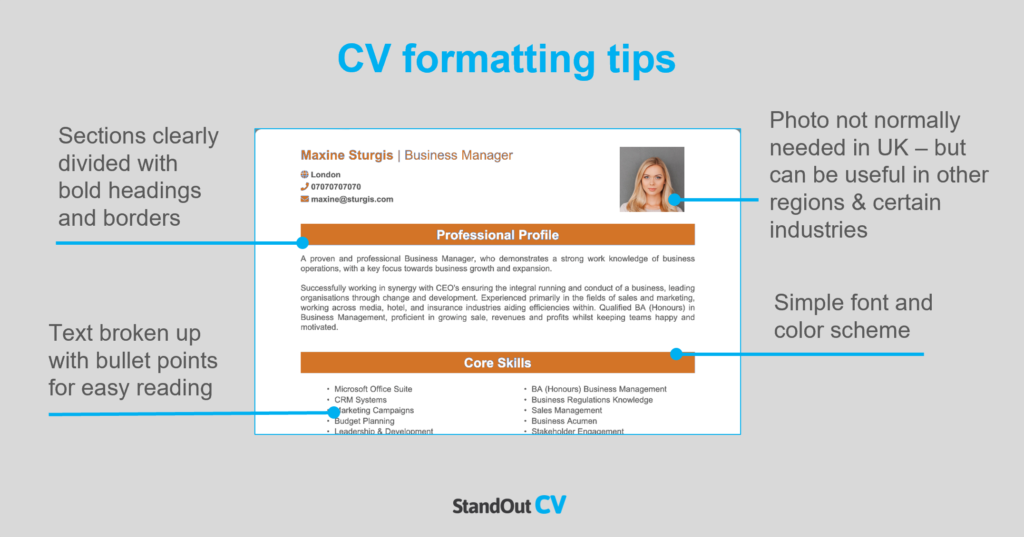 CV structure
When writing your own CV, break up your CV content into the following key sections:
Name and contact details – Place them at the top of your CV, so that employers can easily get in touch.
CV profile – A punchy sales pitch of your key experience, skills and achievements to reel readers in.
Core skills section – A bullet-pointed snapshot of your abilities.
Work experience – A well-structured list of your relevant work experience.
Education – An overview of any relevant qualifications or professional training you have.
Hobbies and interests – A short description of any relevant hobbies or interests (optional).
Now you understand the basic layout of a CV, here's what you should include in each section of yours.
Contact Details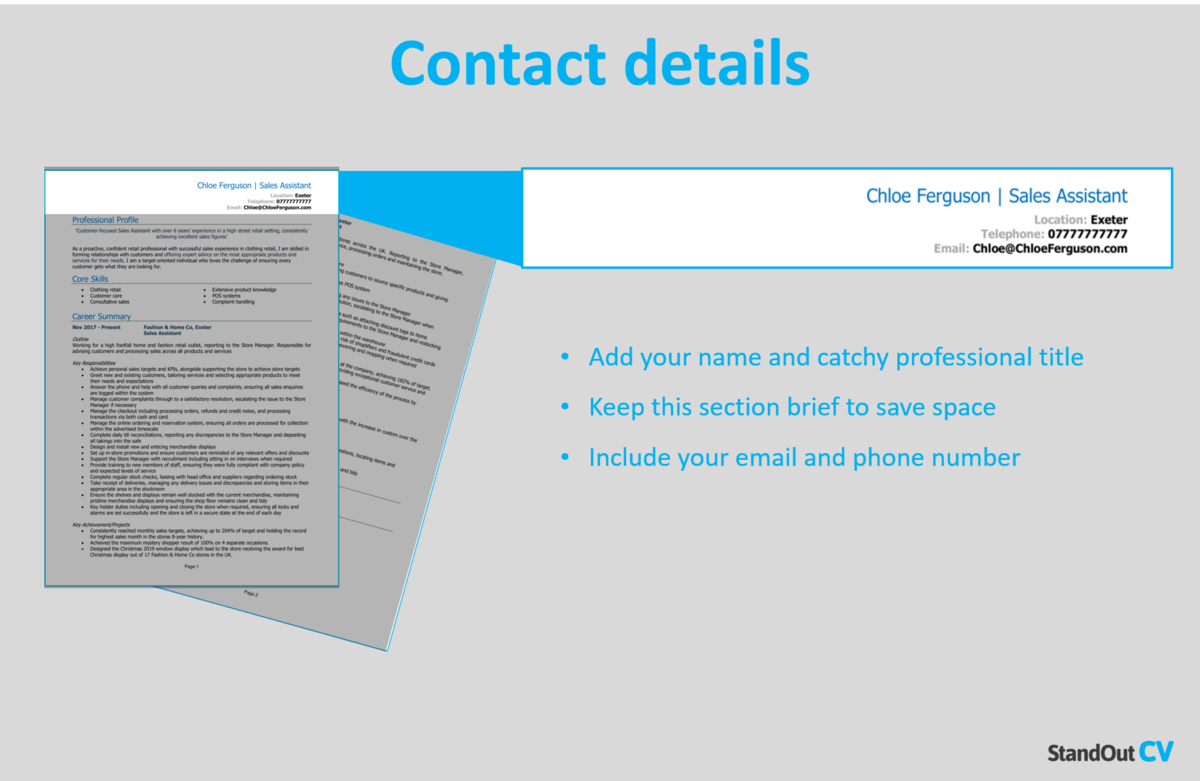 Tuck your contact details into the corner of your CV, so that they don't take up too much space.
Stick to the basic details, such as:
Mobile number
Email address – It should sound professional, such as your full name.
Location -Just write your rough location, rather than your full address.
LinkedIn profile or portfolio URL – If you include these, ensure they're sleek, professional and up-to-date.
Epidemiologist CV Profile
Make a strong first impression with recruiters by starting your CV with an impactful profile (or personal statement for junior applicants).
This short introduction paragraph should summarise your skills, experience, and knowledge, highlighting your suitability for the job.
It should be compelling enough to encourage recruiters to read through the rest of your CV.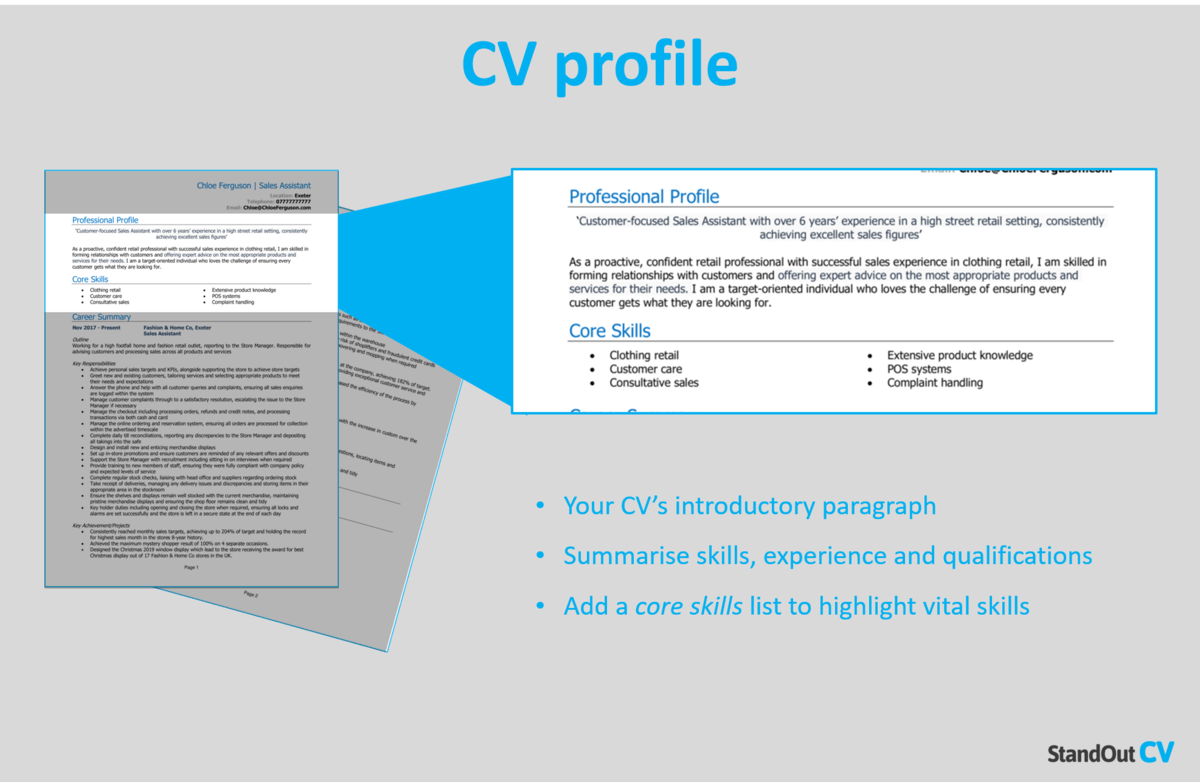 CV profile writing tips:
Make it short and sharp: When it comes to CV profile length, less is more, as recruiters are often time-strapped. Aim for around of 3-5 persuasive lines.
Tailor it: If recruiters don't see your suitability within a few seconds, they may close your CV straight away. Your CV profile should closely match the essential requirements listed in the job ad, so make sure to review them before you write it.
Don't add an objective: Want to talk about about your career goals and objectives? While the profile may seem like a good space to do so, they're actually much better suited to your cover letter.
Avoid generic phrases: "Determined team player who always gives 110%" might seem like a good way to fill up your CV profile, but generic phrases like this won't land you an interview. Recruiters hear them time and time again and have no real reason to believe them. Instead, pack your profile with your hard skills and tangible achievements.
Example CV profile for Epidemiologist
Dedicated and detail-oriented Infection Preventionist with proven skills in establishing effective policies to minimise risks and avoid outbreaks. Experienced in promoting the health of diverse populations, preventing diseases and optimising current tracking, assessment and containment programs, amid the COVID-19 Pandemic. Motivated to strengthen responses by thoroughly analysing and interpreting SEER and SAHSU data. Knowledgeable in the tracking and containment of pathogen-driven cancers. Demonstrated success in public health projects including epidemiology, statistical analysis and literature reviews. Motivated to positively impact public health in the city of London.
What to include in your Epidemiologist CV profile?
Experience overview: Showcase your aptitude for the job you are aiming for by giving a brief summary of your past work history, including the industries you have worked in, the kinds of employers you have served, and the roles you have held.
Targeted skills: Highlight your skills which are most relevant to Epidemiologist jobs, to ensure that recruiters see your most in-demand skills as soon as they open your CV.
Key qualifications: If the jobs you are applying to require candidates to have certain qualifications, then you must add them in your profile to ensure they are seen by hiring managers.
Quick tip: If you are finding it difficult to write an attention-grabbing CV profile, choose from hundreds of pre-written profiles across all industries, and add one to your CV with one click in our partner's CV Builder. All profiles are written by recruitment experts and easily tailored to suit your unique skillset.
Core skills section
Next, you should create a bullet pointed list of your core skills, formatted into 2-3 columns.
Here, you should focus on including the most important skills or knowledge listed in the job advertisement.
This will instantly prove that you're an ideal candidate, even if a recruiter only has time to briefly scan your CV.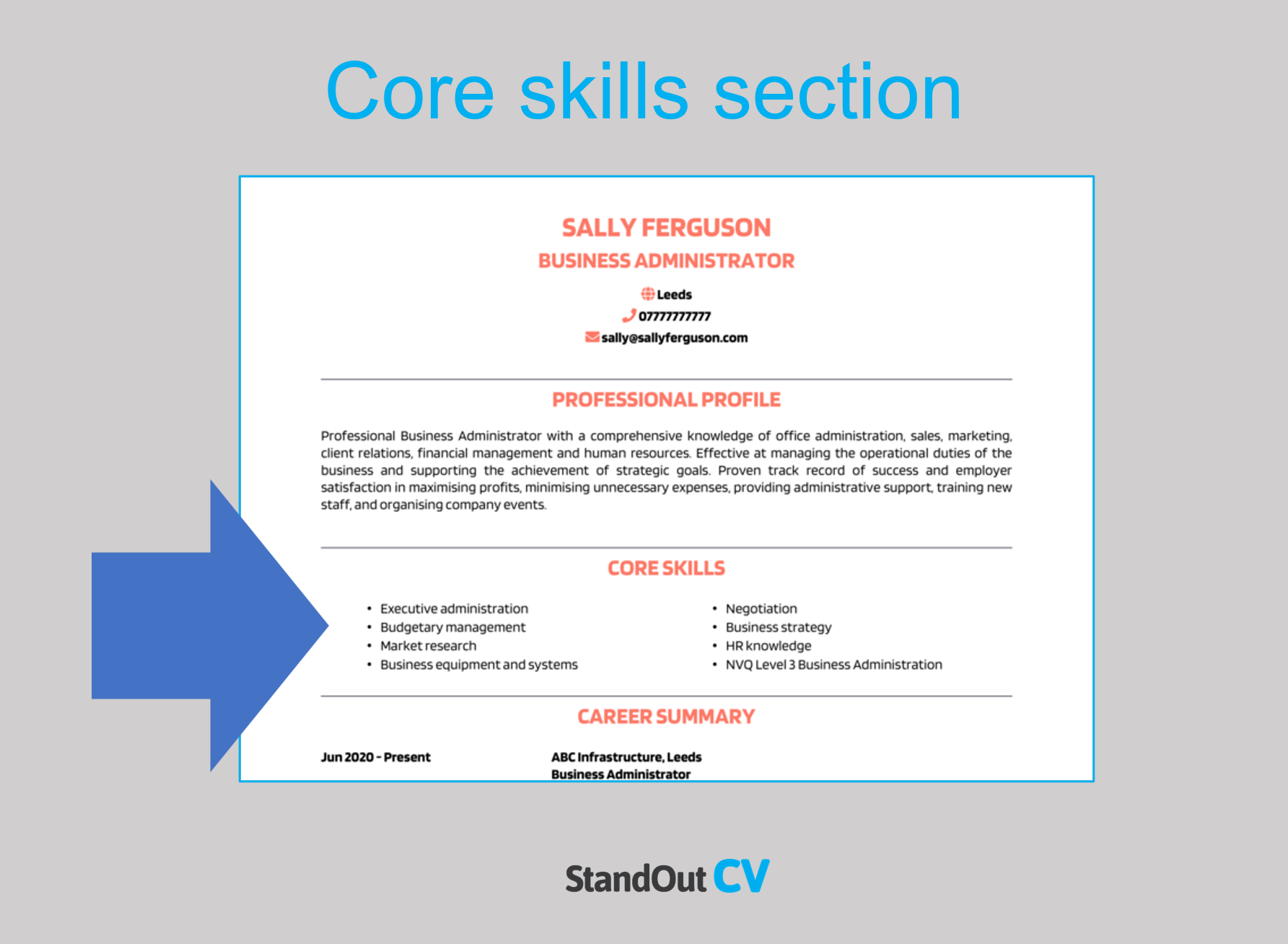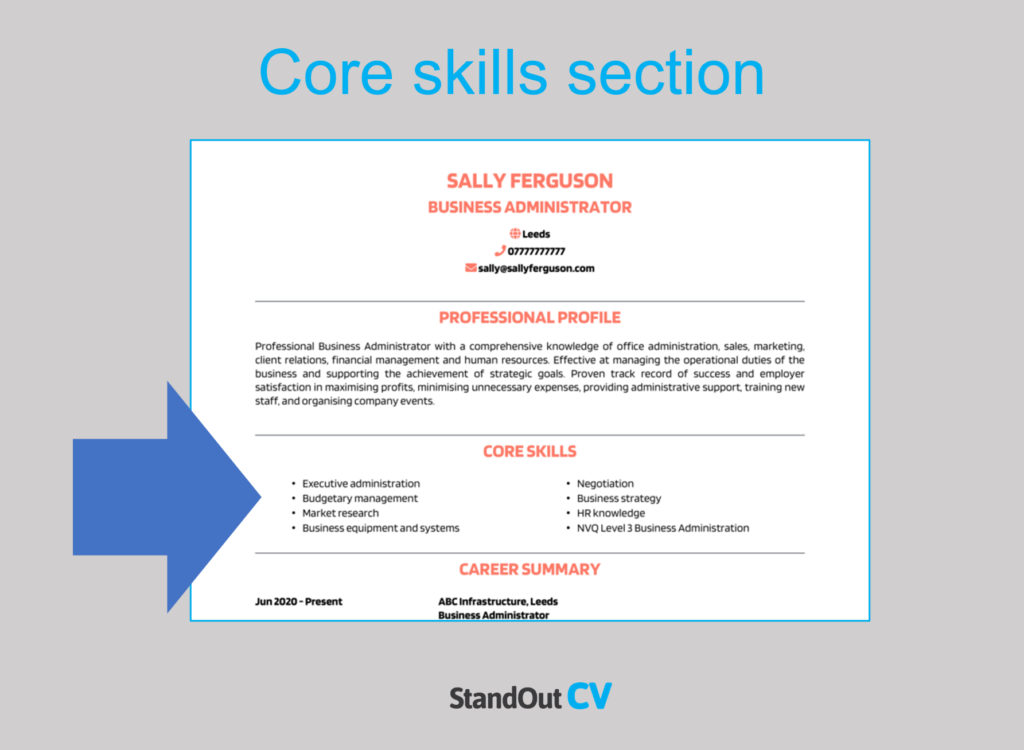 Important skills for your Epidemiologist CV
Data analysis – Analysing large and complex datasets using statistical software packages and interpreting data to draw meaningful conclusions and make evidence-based recommendations.
Research methods – Designing and executing epidemiological research studies, including cohort, case-control, and cross-sectional studies.
Disease surveillance – Utilising knowledge of how to design, implement, and evaluate surveillance systems to monitor and detect outbreaks of infectious diseases.
Public health policies – Utilising knowledge of public health policies and how they influence epidemiological research and interventions.
Risk assessment – Conducting risk assessments and evaluating the potential health risks associated with exposure to infectious agents or environmental hazards.
Health communication – Communicating complex scientific information to a range of audiences, including the public, policymakers, and healthcare professionals.
Data visualisation – Creating visual representations of epidemiological data to communicate key findings effectively.
Project management – Planning, managing, and delivering epidemiological research projects within budget and time constraints.
Cross-functional collaboration – Working collaboratively with colleagues from diverse disciplines, including laboratory scientists, clinicians, and social scientists.
Ethical considerations – Utilising knowledge of ethical considerations when conducting epidemiological research, including informed consent, data protection, and confidentiality.
Quick tip: Our partner's CV Builder has thousands of in-demand skills for all industries and professions, that can be added to your CV in seconds – This will save you time and ensure you get noticed by recruiters.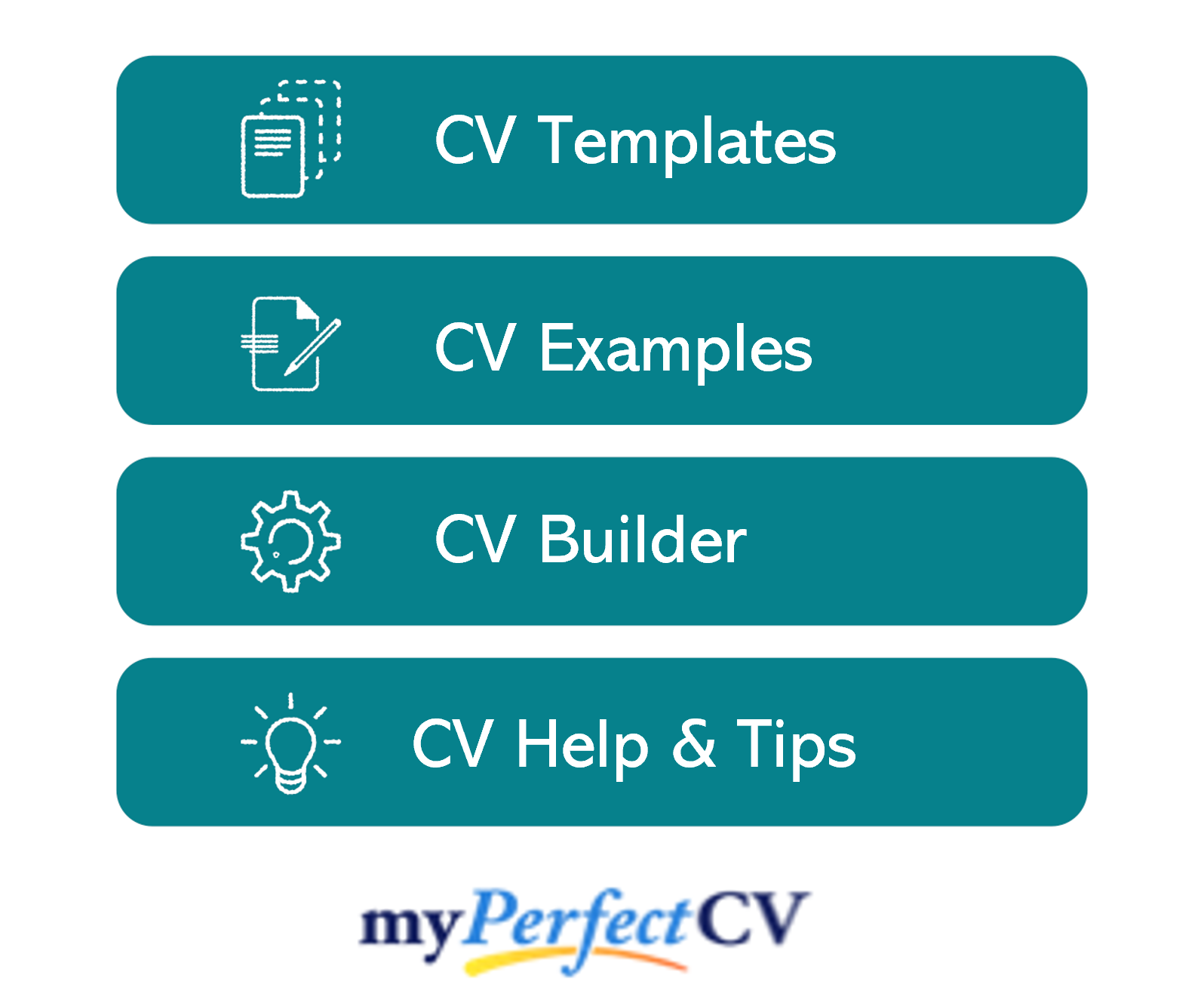 Work experience section
Next up is your work experience section, which is normally the longest part of your CV.
Start with your current (or most recent) job and work your way backwards through your experience.
Can't fit all your roles? Allow more space for your recent career history and shorten down descriptions for your older roles.
Structuring each job
Lengthy, unbroken chunks of text is a recruiters worst nightmare, but your work experience section can easily end up looking like that if you are not careful.
To avoid this, use my tried-and-tested 3-step structure, as illustrated below:
Outline
Start with a solid introduction to your role as a whole, in order to build some context.
Explain the nature of the organisation you worked for, the size of the team you were part of, who you reported to and what the overarching purpose of your job was.
Key responsibilities
Next, write up a punchy list of your daily duties and responsibilities, using bullet points.
Wherever you can, point out how you put your hard skills and knowledge to use – especially skills which are applicable to your target role.
Key achievements
Finish off by showcasing 1-3 key achievements made within the role.
This could be anything that had a positive effect on your company, clients or customers, such as saving time or money, receiving exemplary feedback or receiving an award.
Sample job description for Epidemiologist CV
Outline
Work in an inner-city health care centre where I author and present final after-action reports to identify strengths and challenges in epidemiological approaches as well as recommended corrective changes for future investigations.
Key Responsibilities
Determined important variables for each case such as location and severity of outbreak and both laboratory and clinical findings.
Implemented emergency actions for especially virulent or widespread infections particularly during the COVID-19 outbreak.
Identified risks proactively, preparing teams for likely infections based on seasonal changes or current epidemiological trends.
Abstracted and analysed medical data to support over 20 different operational and research-based data requests.
Quick tip: Create impressive job descriptions easily in our partner's CV Builder by adding pre-written job phrases for every industry and career stage.

Education and qualifications
Next up, you should list your education and qualifications.
This can include your formal qualifications (a degree, A-Levels and GCSEs), as well as sector-specific Epidemiologist qualifications and/or training.
While school leavers and recent grads should include a lot of detail here to make up for the lack of work experience, experienced candidates may benefit from a shorter education section, as your work experience section will be more important to recruiters.
Hobbies and interests
This section is entirely optional, so you'll have to use your own judgement to figure out if it's worth including.
If your hobbies and interests could make you appear more suitable for your dream job, then they are definitely worth adding.
Interests which are related to the industry, or hobbies like sports teams or volunteering, which display valuable transferable skills might be worth including.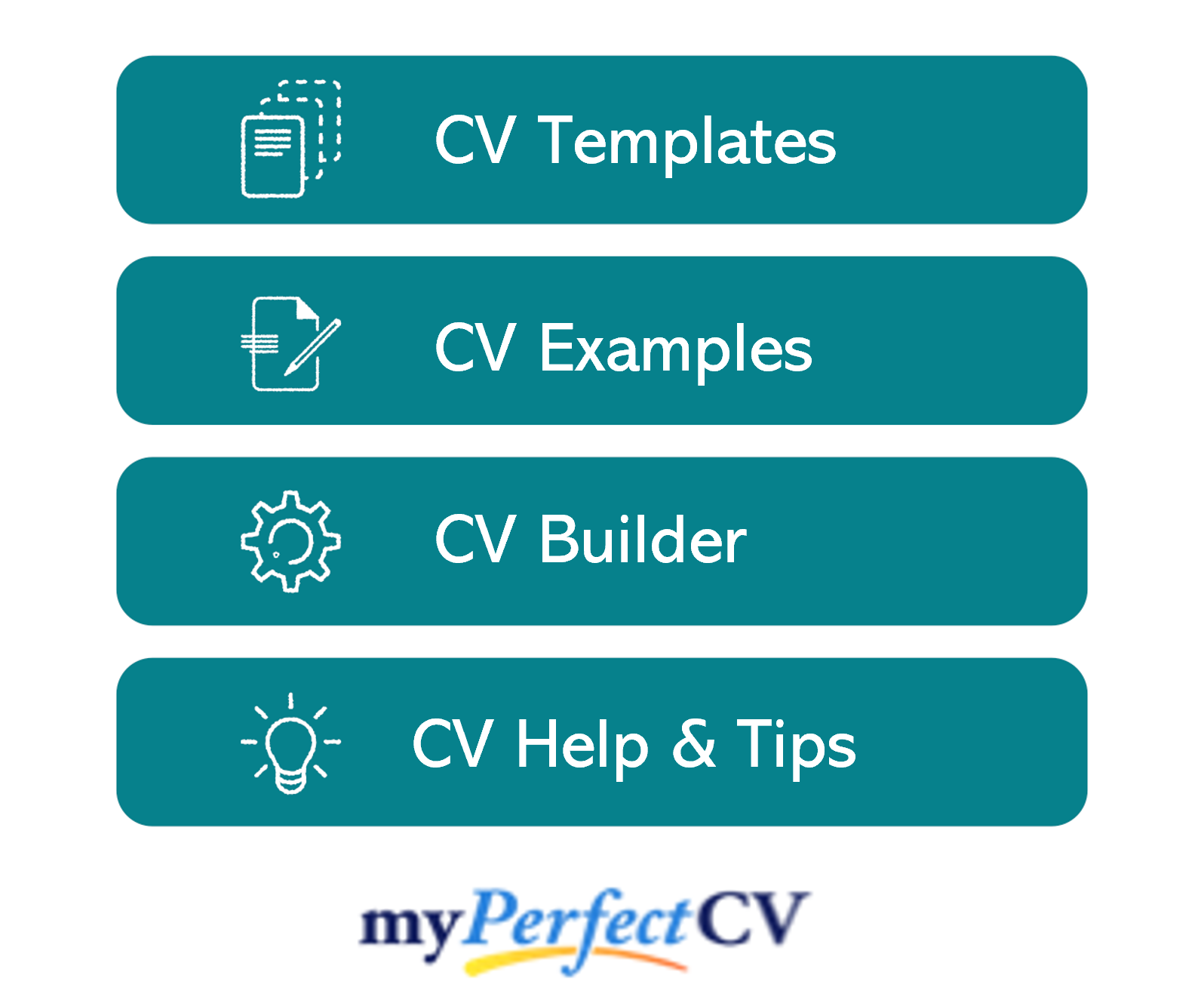 Once you've written your Epidemiologist CV, you should proofread it several times to ensure that there are no typos or grammatical errors.
With a tailored punchy profile that showcases your relevant experience and skills, paired with well-structured role descriptions, you'll be able to impress employers and land interviews.
Good luck with your next job application!