Can you imagine and create entire worlds and help to get visual projects off the ground?
Of course you can, you're a concept artist. But before you can begin work on your next project, you need to put those creative skills to good use to produce an engaging CV.
The good news is, we can help get you started with our detailed concept artist CV example and writing guide. Check them out below.
Contents
| | |
| --- | --- |
| How to write a Concept Artist CV | |

Concept Artist CV example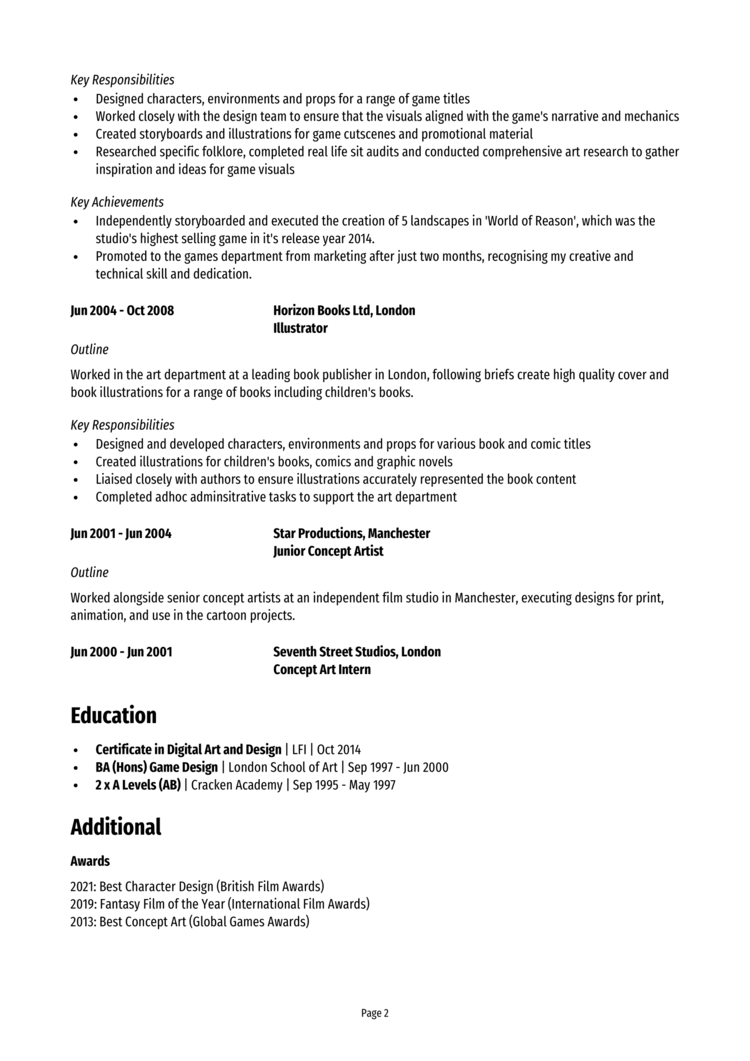 This is a good example of a Concept Artist CV which contains all of the information that a hiring manager will need to be impressed, and presents it in a well- structured, easy-to-read format.
Take some time to study and understand this CV, and refer to it throughout the writing of your own CV for best results.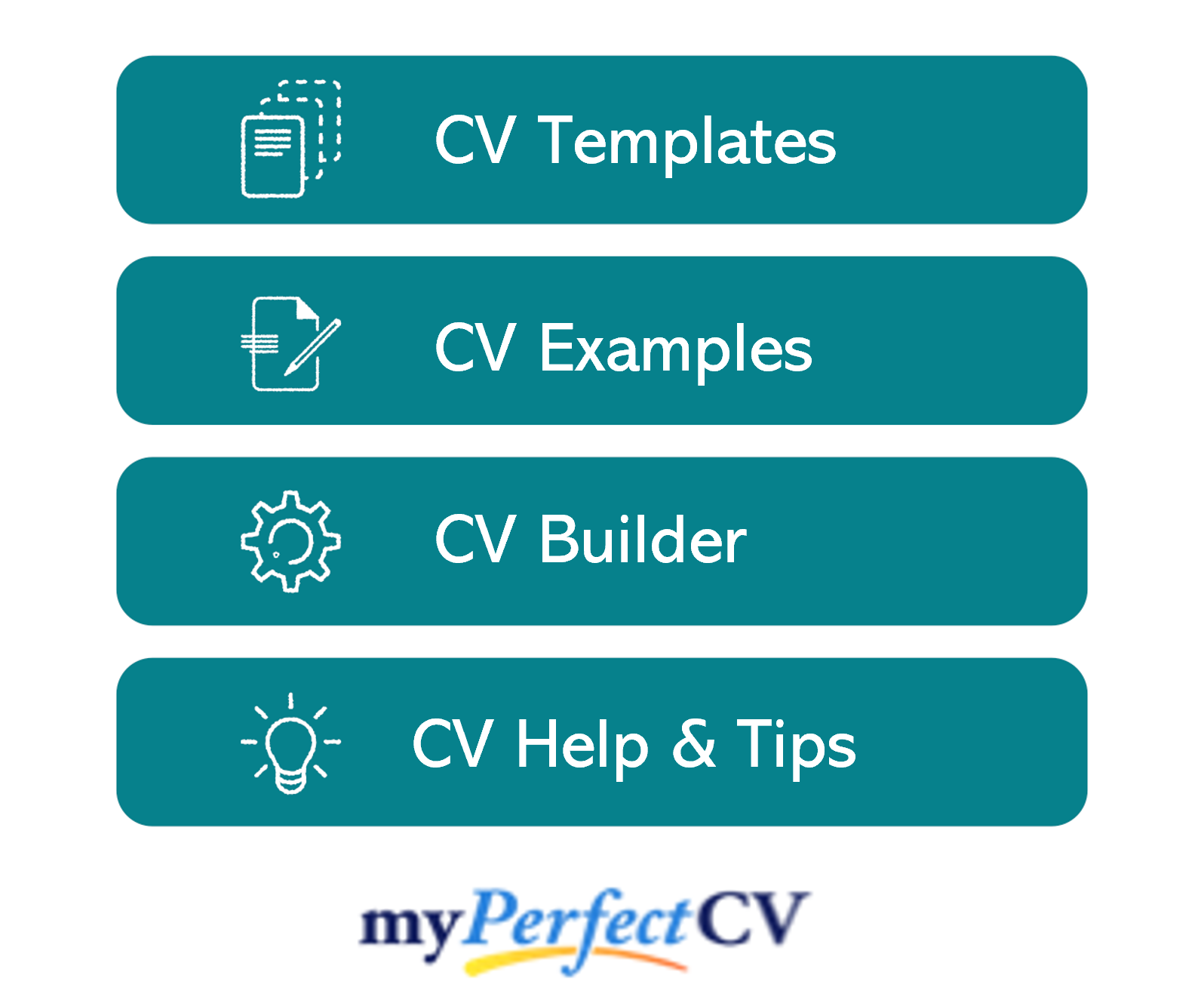 Concept Artist CV format and structure
In today's fast-paced job market, recruiters and employers are often short on time. If they can't locate the information they're searching for within a few seconds, it could result in them overlooking your application.
To avoid this happening, it's critical to structure and format your CV in a way that allows them to quickly identify your key skills and offerings, even when they're pressed for time.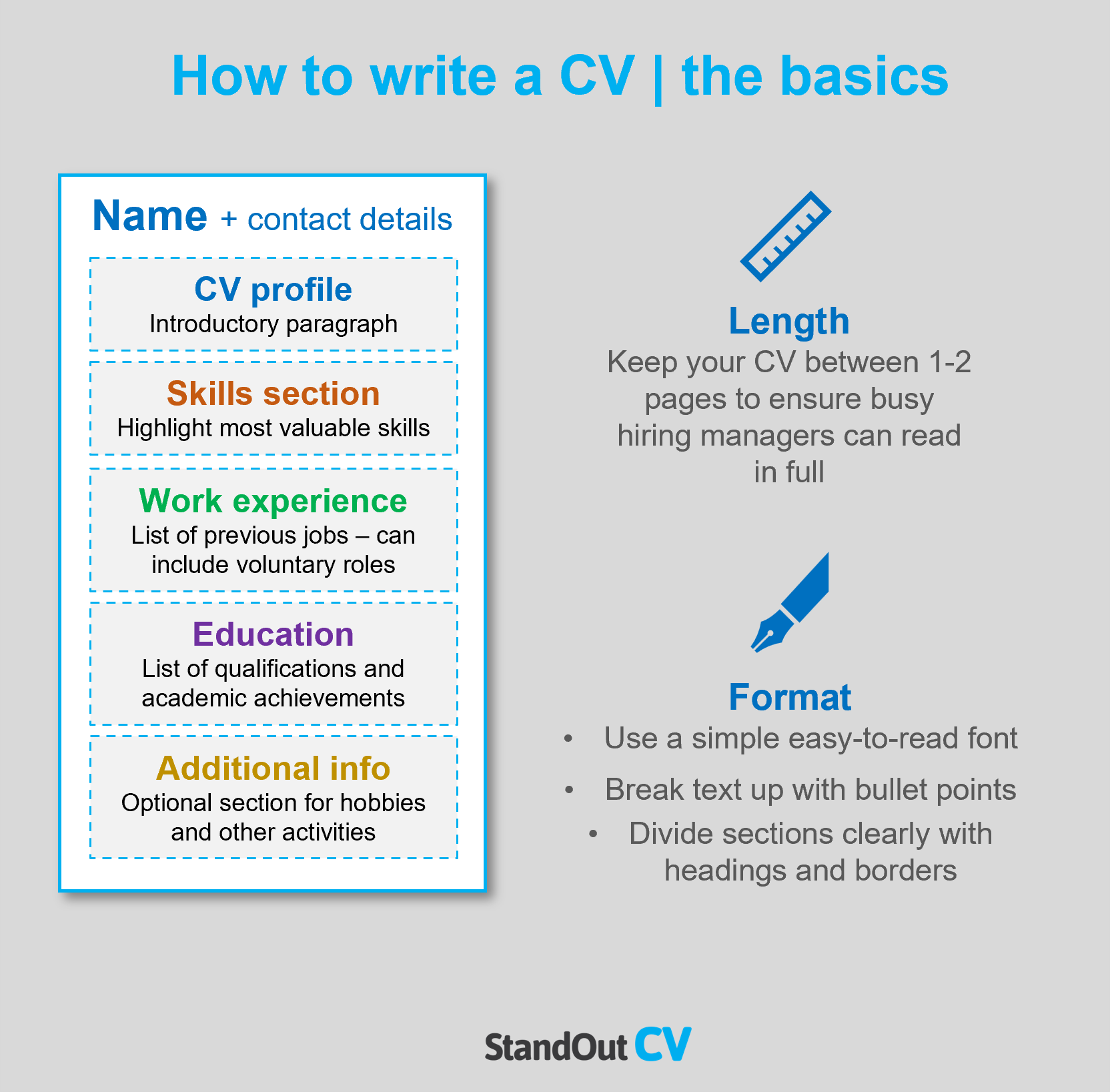 Tips for formatting your Concept Artist CV
Length: While there's no 'official' CV length rule, the majority of recruiters agree that less is more. Aim for two pages of A4 or less. This is just enough room to showcase your suitability to the role, without overwhelming recruiters with irrelevant or excessive content.
Readability: To help busy recruiters scan through your CV, make sure your section headings stand out – bold or coloured text works well. Additionally, try to use bullet points wherever you can, as they're far easier to skim through than huge paragraphs. Lastly, don't be afraid of white space on your CV – a little breathing space is great for readability.
Design & format: While it's okay to add your own spin to your CV, avoid overdoing the design. If you go for something elaborate, you might end up frustrating recruiters who, above anything, value simplicity and clarity.
Photos: You can add a profile photo to your CV, if you want to add some personality to it, but they are not a requirement the UK, so you don't have to.
Quick tip: Creating a professional CV style can be difficult and time-consuming when using Microsoft Word or Google Docs. To create a winning CV quickly, try our partner's CV Builder and use one of their eye-catching professional CV templates.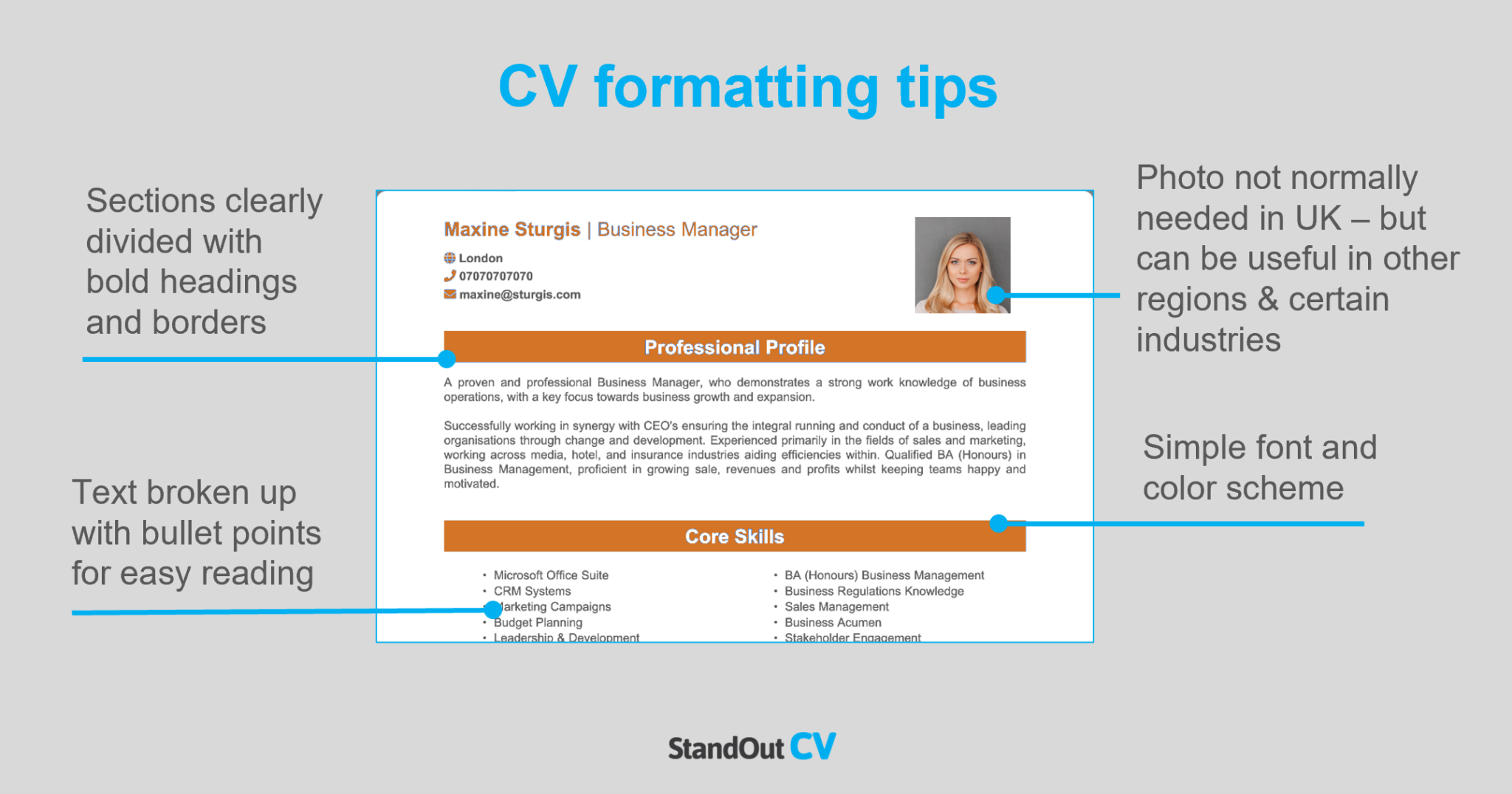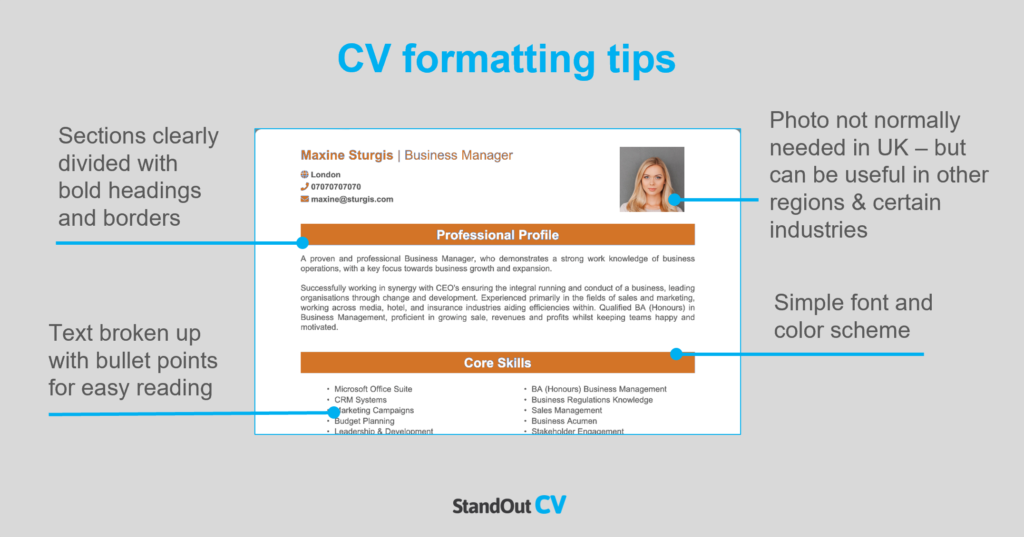 CV structure
When writing your CV, it's important to structure the content into the following key sections to ensure easy digestion by busy recruiters and hiring managers:
Contact details: List your contact details at the top of your CV to prevent them from being overlooked.
Profile: Begin with an introductory paragraph that captures recruiters' attention and summarises what you have to offer employers.
Work experience/career history: List your relevant work experience in reverse chronological order, starting with your current position.
Education: Provide a brief summary of your education and qualifications.
Interests and hobbies: An optional section to showcase any hobbies that highlight transferable skills relevant to your target jobs.
Now you understand the basic layout of a CV, here's what you should include in each section of yours.
Contact Details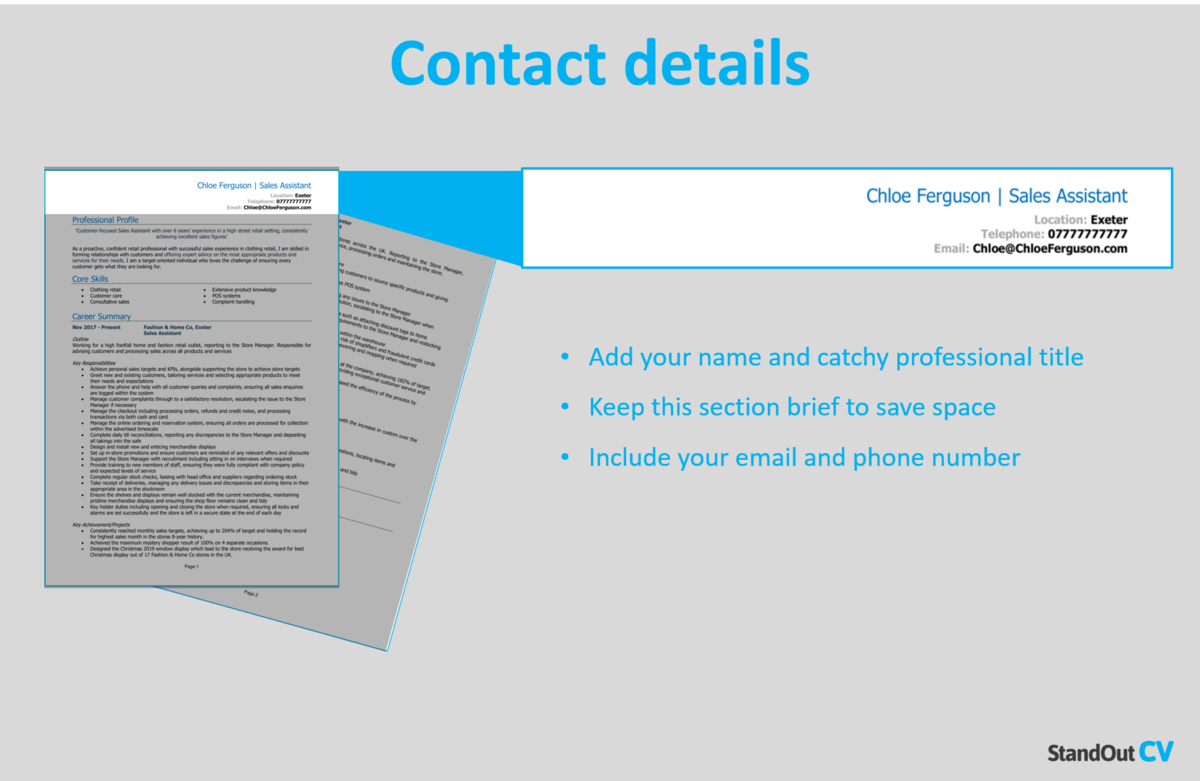 Begin by sharing your contact details, so it's easy for employers to give you a call.
Keep to the basics, such as:
Mobile number
Email address – It should sound professional, with no slang or nicknames. Make a new one for your job applications if necessary.
Location – Simply share your vague location, for example 'Manchester', rather than a full address.
LinkedIn profile or portfolio URL – Remember to update them before you send your application.
Concept Artist CV Profile
Your CV profile (or personal statement, if you're an entry-level applicant) provides a brief overview of your skills, abilities and suitability for a position.
It's ideal for busy recruiters and hiring managers, who don't want to waste time reading unsuitable applications.
Think of it as your personal sales pitch. You've got just a few lines to sell yourself and prove you're a great match for the job – make it count!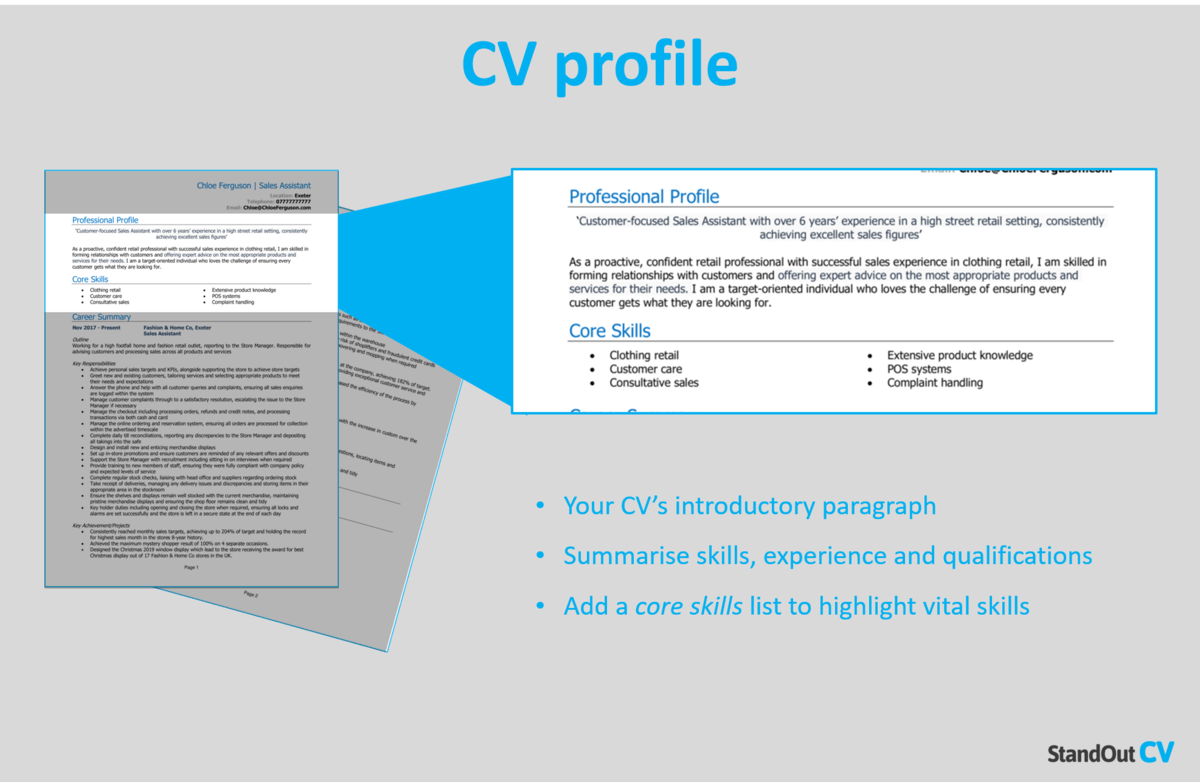 How to write a good CV profile:
Make it short and sharp: It might be tempting to submit a page-long CV profile, but recruiters won't have the time to read it. To ensure every word gets read, it's best to include high-level information only; sticking to a length of 3-5 lines.
Tailor it: Before writing your CV, make sure to do some research. Figure out exactly what your desired employers are looking for and make sure that you are making those requirements prominent in your CV profile, and throughout.
Don't add an objective: Avoid discussing your career goals in your CV profile – if you think they're necessary, briefly mention them in your cover letter instead.
Avoid generic phrases: Focus on fact, not fluff. Phrases like "Committed and enthusiastic thought-leader" and "Dynamic problem solver" might sound fancy, but they'll do nothing for your application. Not only do they sound cheesy, but they have no substance – stick to real skills and facts
Example CV profile for Concept Artist
Award-winning Concept Artist based in London with a successful 25-year career designing and creating visual concepts for features, shorts, and games at leading independent film studio Vision Studios and established mainstream entertainment companies. Recipient of the 2021 BFA Best Character Design with demonstrated success in creative storyboarding and fantasy world development. Specialist in 3D modelling and free hand illustration.
What to include in your Concept Artist CV profile?
Experience overview: Recruiters will want to know what type of companies you've worked for, industries you have knowledge of, and the type of work you've carried out in the past, so give them a summary of this in your profile.
Targeted skills: Ensure that your profile highlights your key skills that are most relevant to your Concept Artist, and tailor them to match the specific job you are applying for. To do this, refer to the job description to closely align your skills with their requirements.
Important qualifications: If the jobs you are applying to require candidates to have certain qualifications, then you must add them in your profile to ensure they are seen by hiring managers.
Quick tip: If you are finding it difficult to write an attention-grabbing CV profile, choose from hundreds of pre-written profiles across all industries, and add one to your CV with one click in our partner's CV Builder. All profiles are written by recruitment experts and easily tailored to suit your unique skillset.
Core skills section
Create a core skills section underneath your profile to spotlight your most in-demand skills and grab the attention of readers.
This section should feature 2-3 columns of bullet points that emphasise your applicable skills for your target jobs. Before constructing this section, review the job description and compile a list of any specific skills, specialisms, or knowledge required.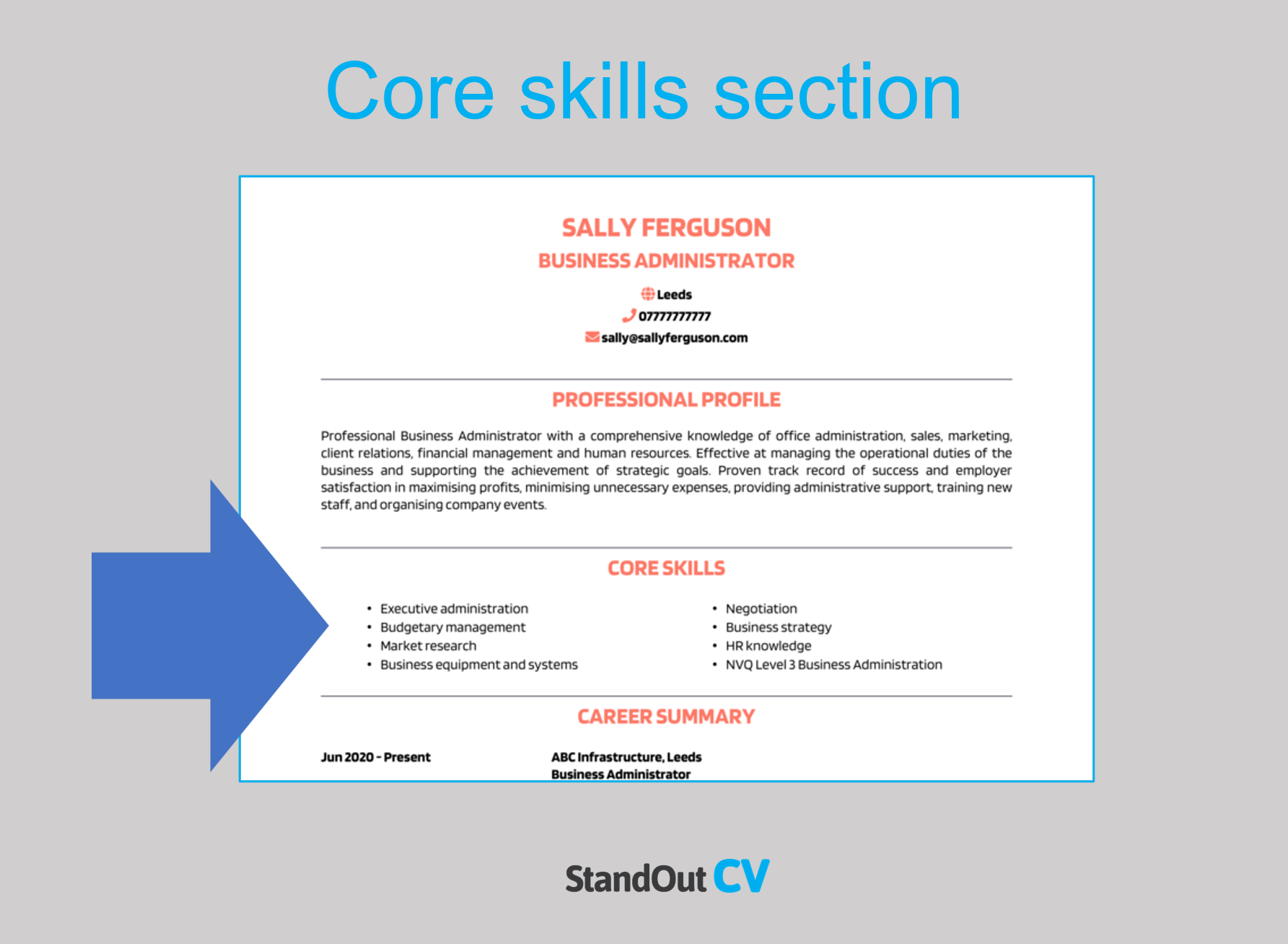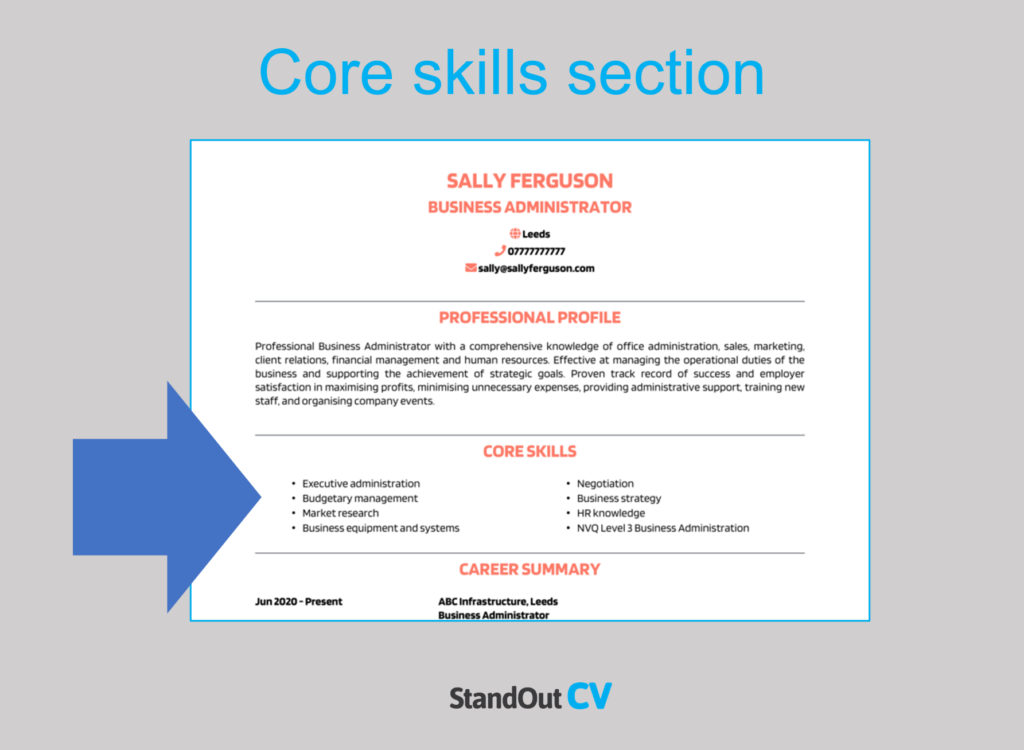 Important skills for your Concept Artist CV
Visual Artistry – Maintaining expert artistic skills, including drawing, sketching, and painting techniques.
Digital Illustration – Utilising digital art software and tools, such as Adobe Photoshop or Procreate, to create digital illustrations and concept art.
Anatomy and Form – Maintaining a deep understanding of human and animal anatomy, as well as knowledge of form, proportion, and perspective.
Colour Theory – Utilising knowledge of colour theory to create visually appealing colour palettes that evoke specific moods or atmospheres.
Design Principles – Utilising knowledge of design principles, including composition, balance, contrast, and focal points, to create visually striking and effective artwork.
Storytelling and Narrative – Conveying narratives and storytelling through visual elements, capturing the essence of characters, environments, and concepts.
Research and Reference Gathering – Conducting research and gathering visual references to inform concept designs and ensure accuracy.
Collaboration and Communication – Working closely with art directors, game designers, and other team members.
Adaptability and Creativity – Adapting to different art styles, project requirements, and client preferences, while maintaining a high level of creativity and originality.
Quick tip: Our partner's CV Builder has thousands of in-demand skills for all industries and professions, that can be added to your CV in seconds – This will save you time and ensure you get noticed by recruiters.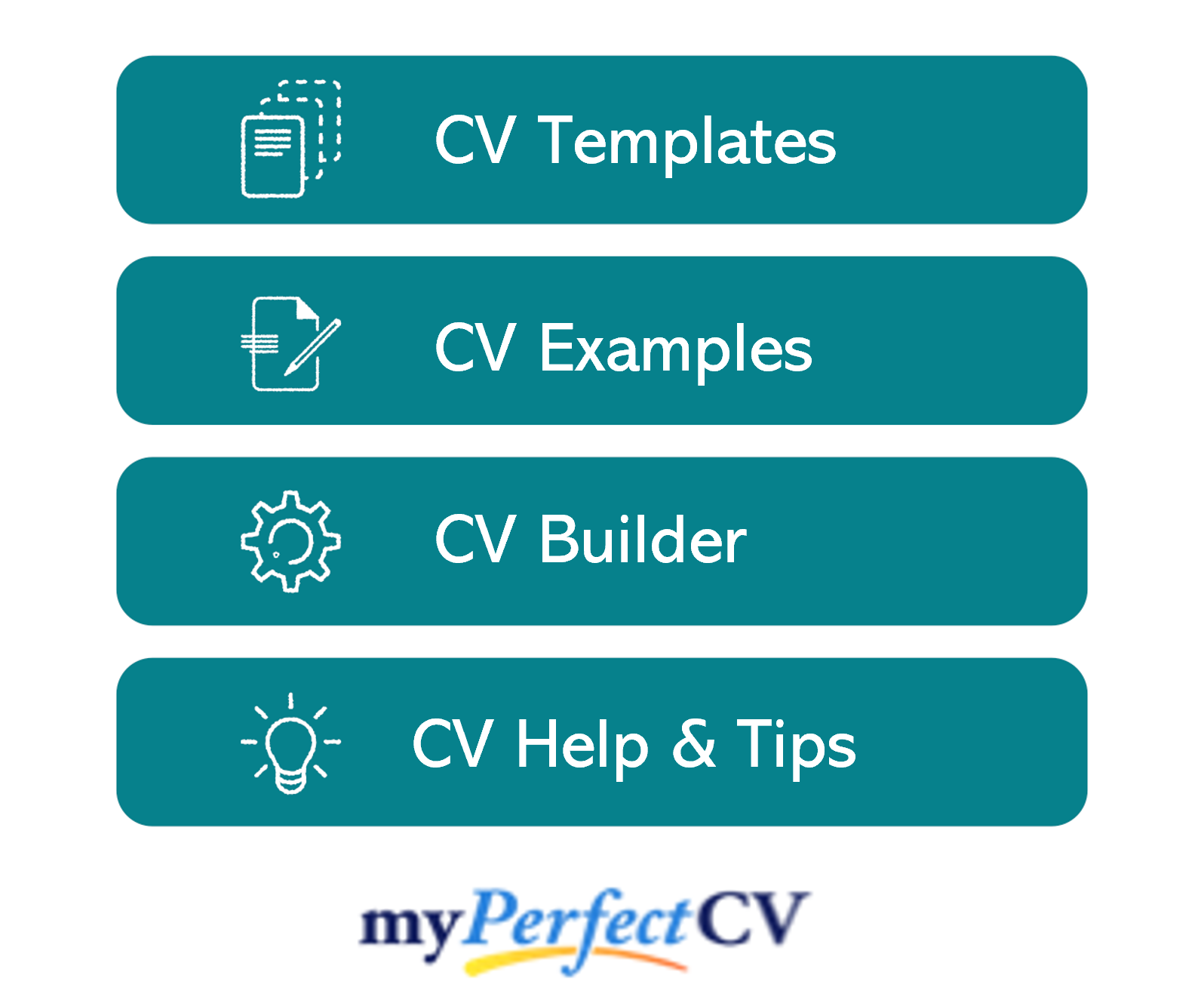 Work experience
By now, you'll have hooked the reader's attention and need to show them how you apply your skills and knowledge in the workplace, to benefit your employers.
So, starting with your most recent role and working backwards to your older roles, create a thorough summary of your career history to date.
If you've held several roles and are struggling for space, cut down the descriptions for your oldest jobs.
Structuring each job
Your work experience section will be long, so it's important to structure it in a way which helps recruiters to quickly and easily find the information they need.
Use the 3-step structure, shown in the below example, below to achieve this.
Outline
Start with a 1-2 sentence summary of your role as a whole, detailing what the goal of your position was, who you reported to or managed, and the type of organisation you worked for.
Key responsibilities
Follow with a snappy list of bullet points, detailing your daily duties and responsibilities.
Tailor it to the role you're applying for by mentioning how you put the target employer's desired hard skills and knowledge to use in this role.
Key achievements
Lastly, add impact by highlight 1-3 key achievements that you made within the role.
Struggling to think of an achievement? If it had a positive impact on your company, it counts.
For example, you might increased company profits, improved processes, or something simpler, such as going above and beyond to solve a customer's problem.
Sample job description for Concept Artist CV
Outline
Design and create visual concepts for in house productions at an independent studio in London which produces 20 shorts and 4 features per annum, working with a team of artists and visual artist to execute creative vision within a budget.
Key Responsibilities
Develop and design high-quality character and environment concepts for short and feature length films
Collaborate with the art team and other departments to ensure that the visual concepts aligned with the film's narrative and game mechanics
Research and implement social and political viewpoints for productions
Conduct art research to gather inspiration and ideas for film visuals
Quick tip: Create impressive job descriptions easily in our partner's CV Builder by adding pre-written job phrases for every industry and career stage.

Education section
Although there should be mentions of your highest and most relevant qualifications earlier on in your CV, save your exhaustive list of qualifications for the bottom.
If you're an experienced candidate, simply include the qualifications that are highly relevant to Concept Artist roles.
However, less experienced candidates can provide a more thorough list of qualifications, including A-Levels and GCSEs.
You can also dedicate more space to your degree, discussing relevant exams, assignments and modules in more detail, if your target employers consider them to be important.
Hobbies and interests
Although this is an optional section, it can be useful if your hobbies and interests will add further depth to your CV.
Interests which are related to the sector you are applying to, or which show transferable skills like leadership or teamwork, can worth listing.
On the other hand, generic hobbies like "going out with friends" won't add any value to your application, so are best left off your CV.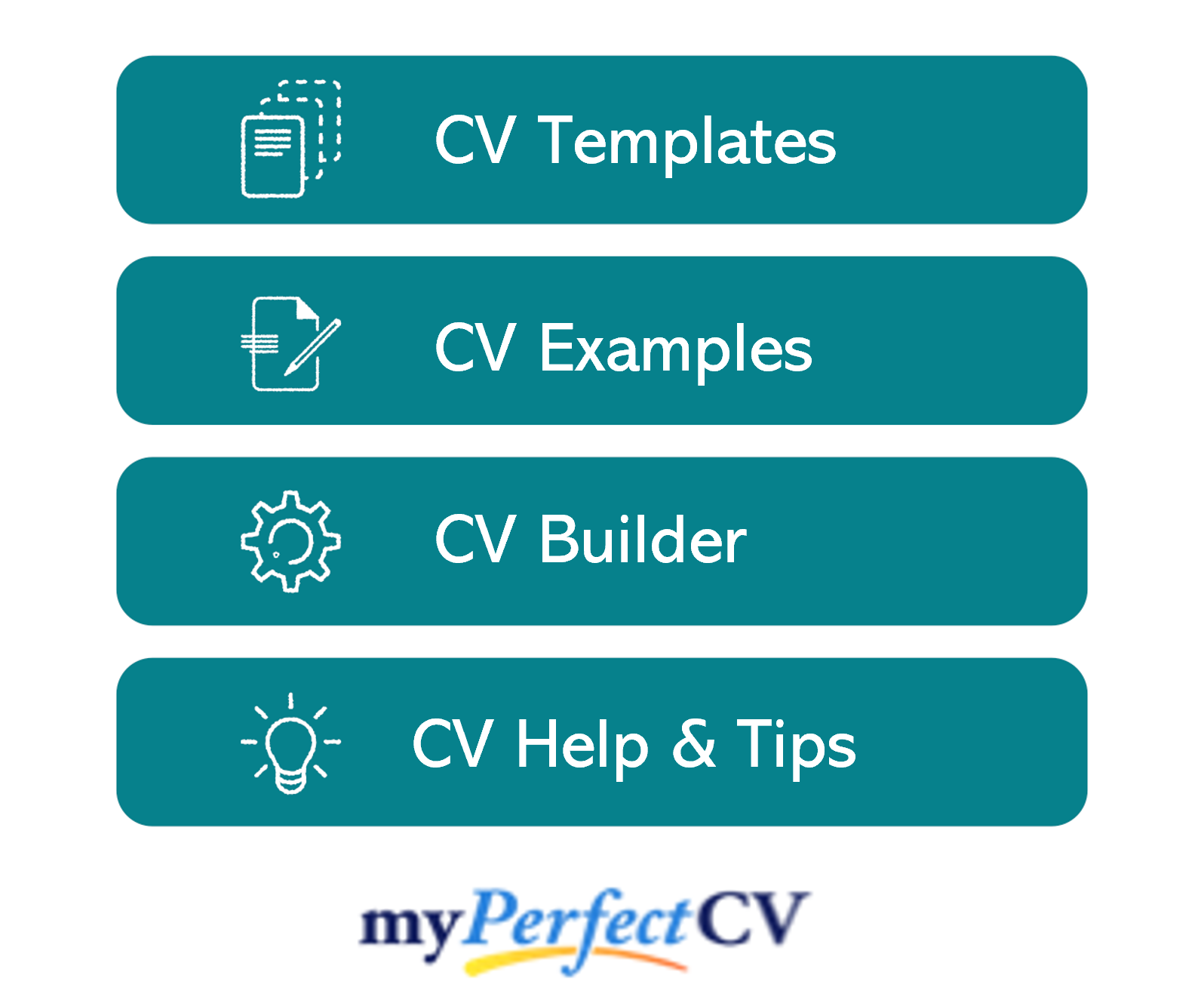 Creating a strong Concept Artist CV requires a blend of punchy content, considered structure and format, and heavy tailoring.
By creating a punchy profile and core skills list, you'll be able to hook recruiter's attention and ensure your CV gets read.
Remember that research and relevance is the key to a good CV, so research your target roles before you start writing and pack your CV with relevant skills.
Best of luck with your next application!