Are you friendly and approachable with good customer service skills? Then you've pretty much got that checkout job in the bag.
At least, you will have once you learn how to effectively showcase your skills with an attention-grabbing CV.
But if you're not sure where to begin, don't fret. In the guide below, we've put together all our top writing tips, complete with a checkout operator CV example.
Contents
| | |
| --- | --- |
| How to write a Checkout Operator CV | |

Checkout Operator CV example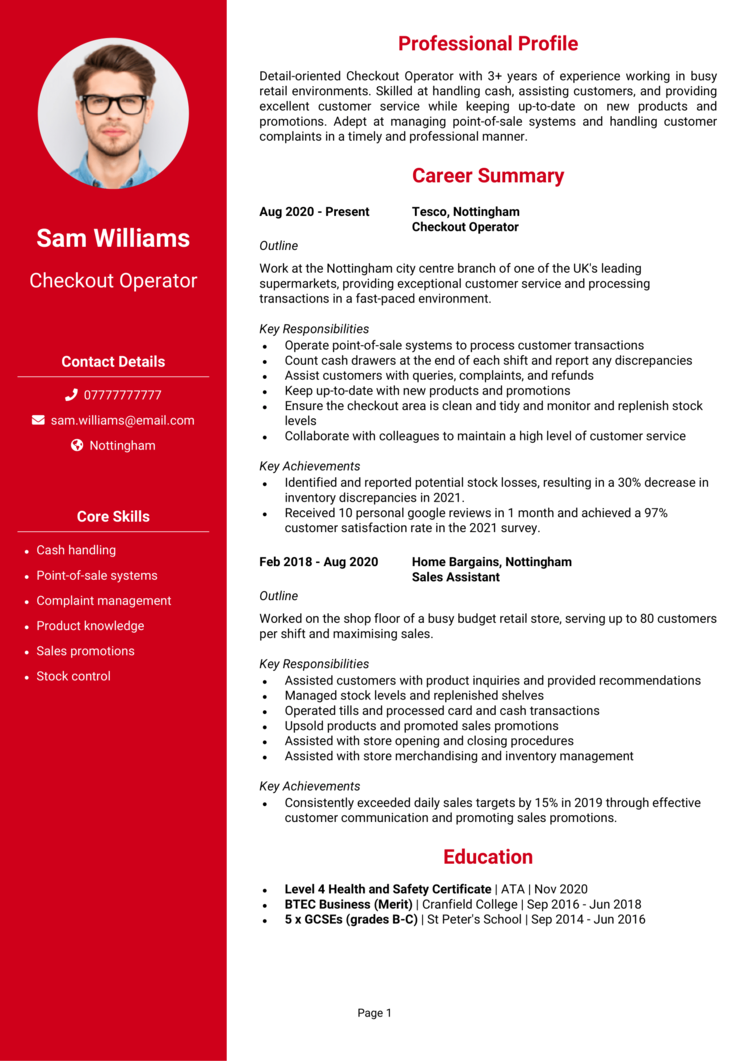 Before you start writing your CV, take a look at the example Checkout Operator CV above to give yourself a good idea of the style and format that works best in today's job market.
Also, take note of the type of content that is included to impress recruiters, and how the most relevant information is made prominent, to ensure it gets noticed.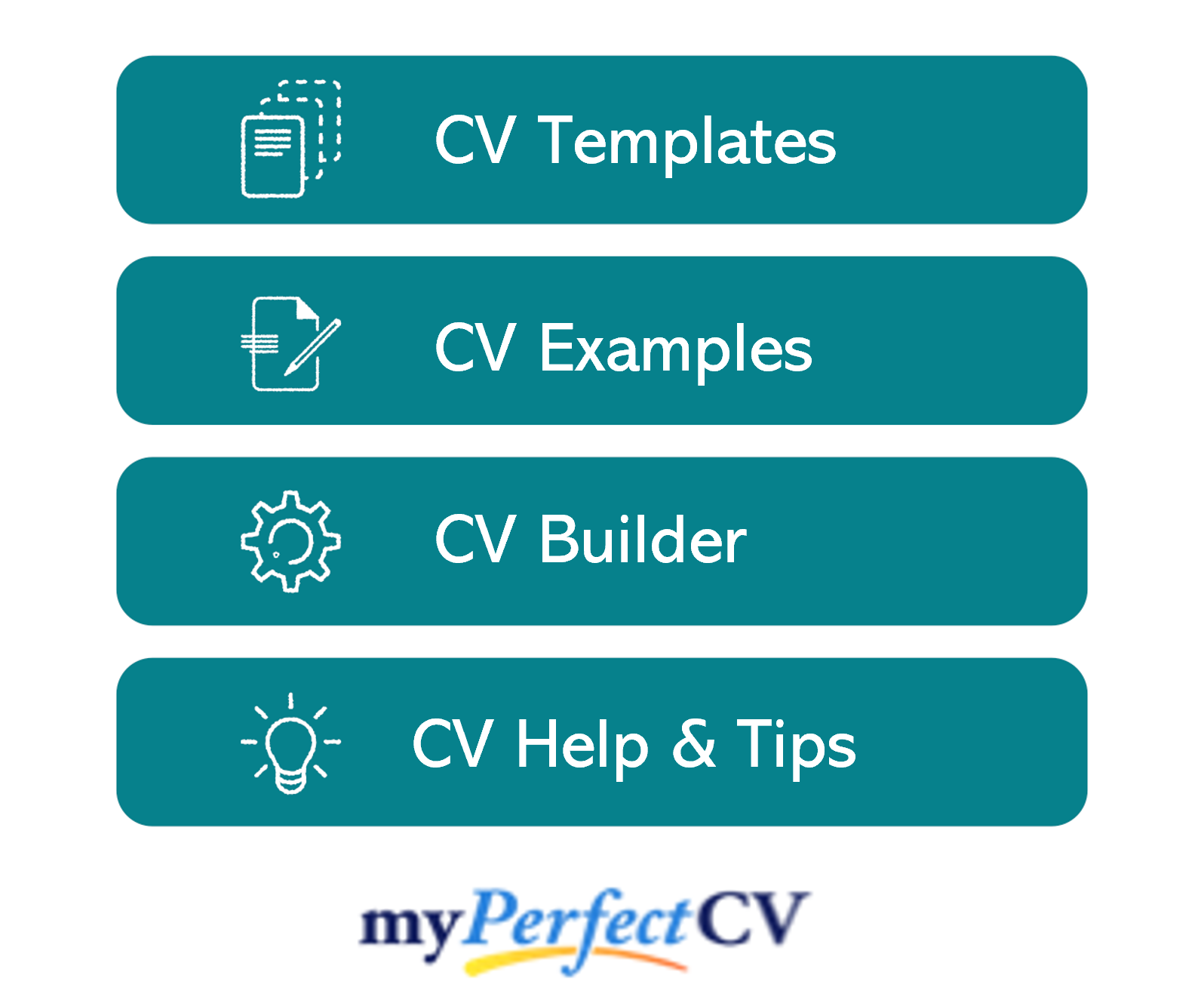 Checkout Operator CV format and structure
Your CV is the first impression you'll make on anybody who reads it.
A disorganised, cluttered and barely-readable CV could seriously decrease your chances of landing interviews, so it's essential to make sure yours is slick, professional and easy to navigate.
You can do this by using a clear structure and formatting your content with some savvy formatting techniques – check them out below: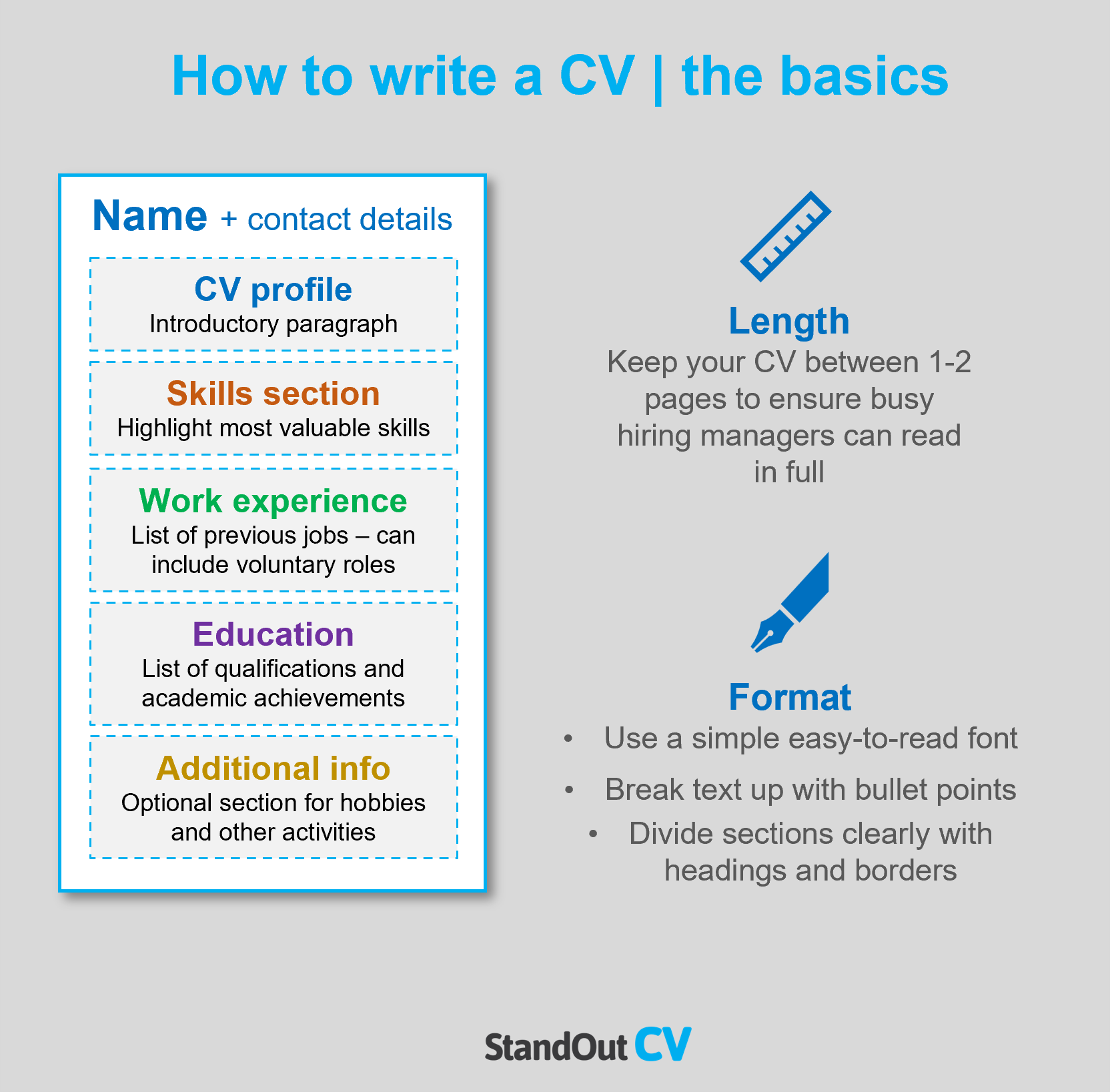 Tips for formatting your Checkout Operator CV
Length: If you want to hold the reader's attention and ensure your CV isn't yawn-worthy, it's best to stick to two sides of A4 or less. This is more than enough room to highlight why you're a good match for the role – anything more can quickly become tedious!
Readability: Recruiters appreciate CVs that they can quickly scan through without trouble. Ensure yours makes the cut by formatting your headings for attention (bold or coloured fonts should do the trick) and breaking up long paragraphs into smaller chunks or short, snappy bullet points.
Design & format: While it's okay to add your own spin to your CV, avoid overdoing the design. If you go for something elaborate, you might end up frustrating recruiters who, above anything, value simplicity and clarity.
Photos: Don't add profile photos to your CV unless you work in an industry or region which prefers to see them. Most employers in the UK will not need to see one.
Quick tip: Creating a professional CV style can be difficult and time-consuming when using Microsoft Word or Google Docs. To create a winning CV quickly, try our partner's CV Builder and use one of their eye-catching professional CV templates.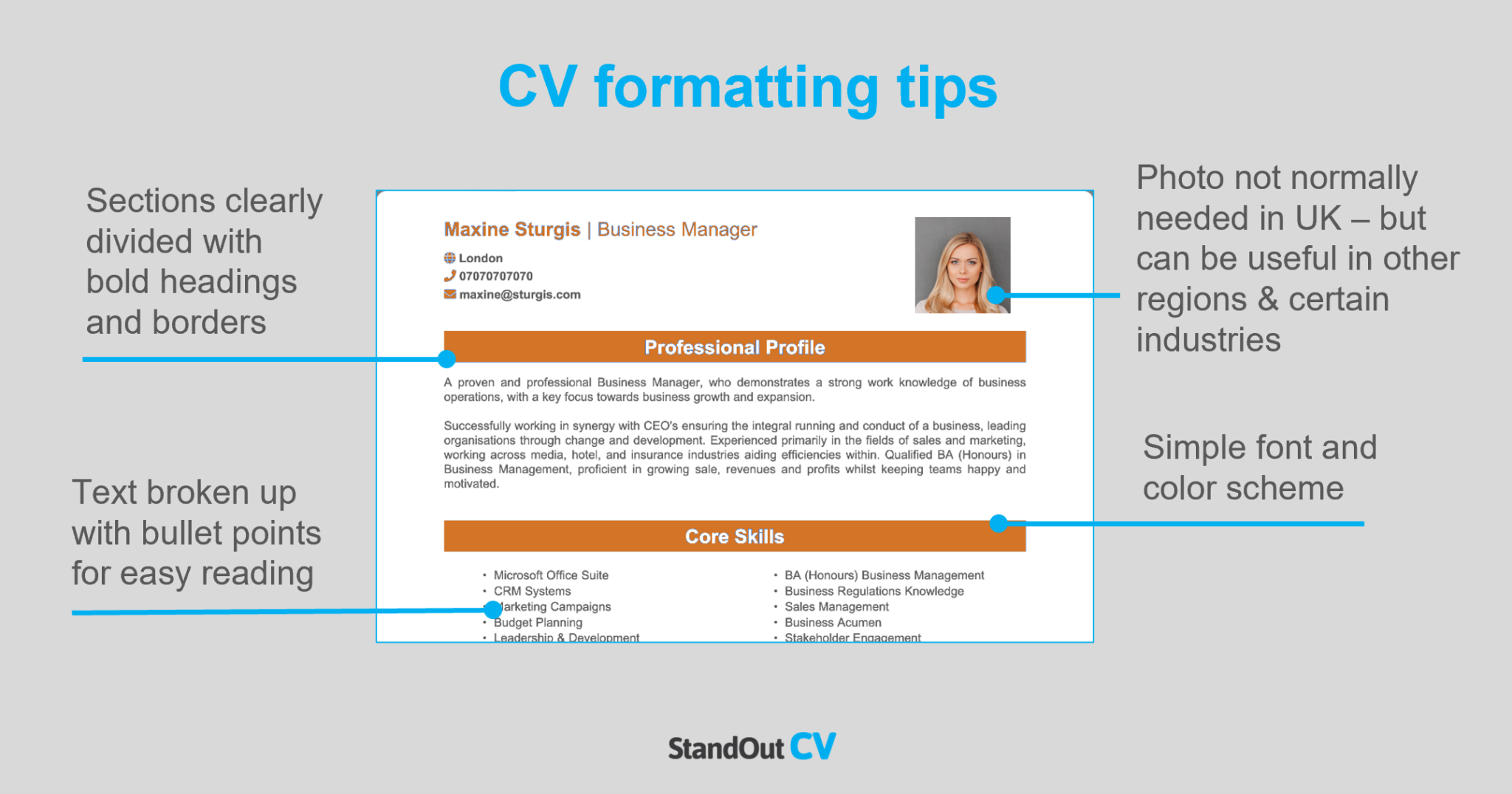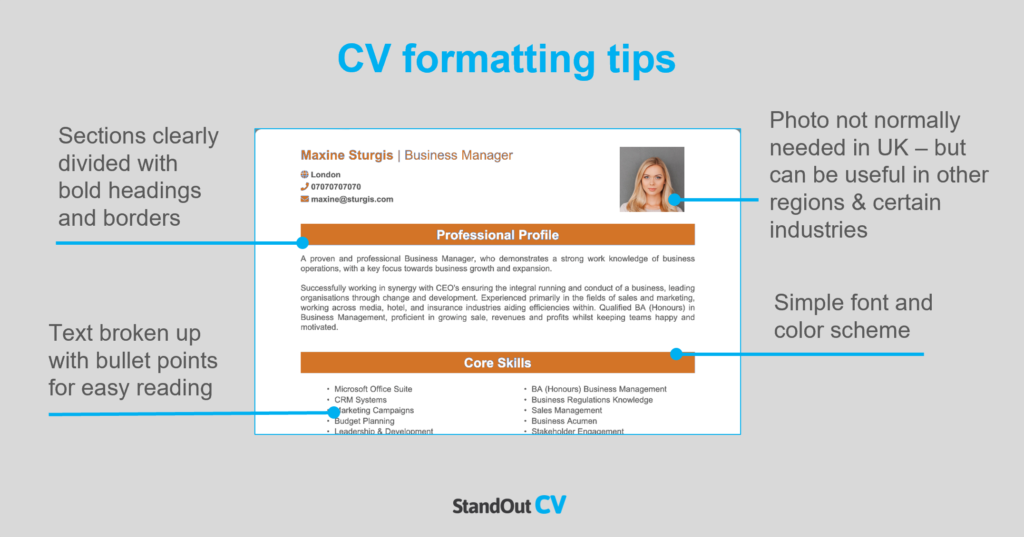 CV structure
Divide your CV into the following major sections when writing it:
Name and contact details – Head your CV with your name and contact details, to let the reader know who you are and how to contact you.
CV profile – A brief paragraph which summarises your skills and experience and highlights why you're a good match for the role.
Core skills list – A snappy, bullet-pointed list of your most relevant skills.
Work experience – A structured list of your work experience in reverse chronological order.
Education – A summary of any relevant qualifications or professional training you've completed.
Hobbies and interests – An optional section, which should only be used if your hobbies are relevant to the jobs you're applying to.
Now you understand the basic layout of a CV, here's what you should include in each section of yours.
Contact Details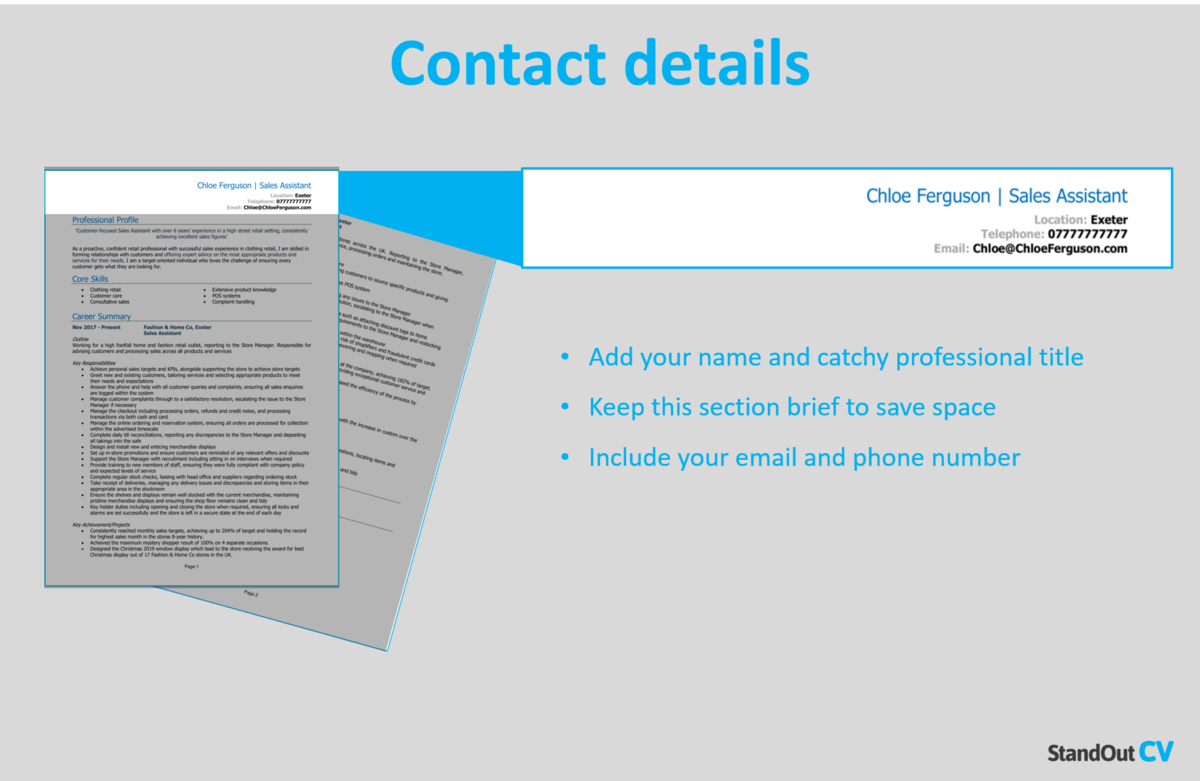 Begin by sharing your contact details, so it's easy for employers to give you a call.
Keep to the basics, such as:
Mobile number
Email address – It should sound professional, with no slang or nicknames. Make a new one for your job applications if necessary.
Location – Simply share your vague location, for example 'Manchester', rather than a full address.
LinkedIn profile or portfolio URL – Remember to update them before you send your application.
Checkout Operator CV Profile
Your CV profile is the first thing recruiters will read – so your goal is to give them a reason to read onto the end of the document!
Create a short and snappy paragraph that showcases your key skills, relevant experience and impressive accomplishments.
Ultimately, it should prove to the reader that you've got what it takes to carry out the job.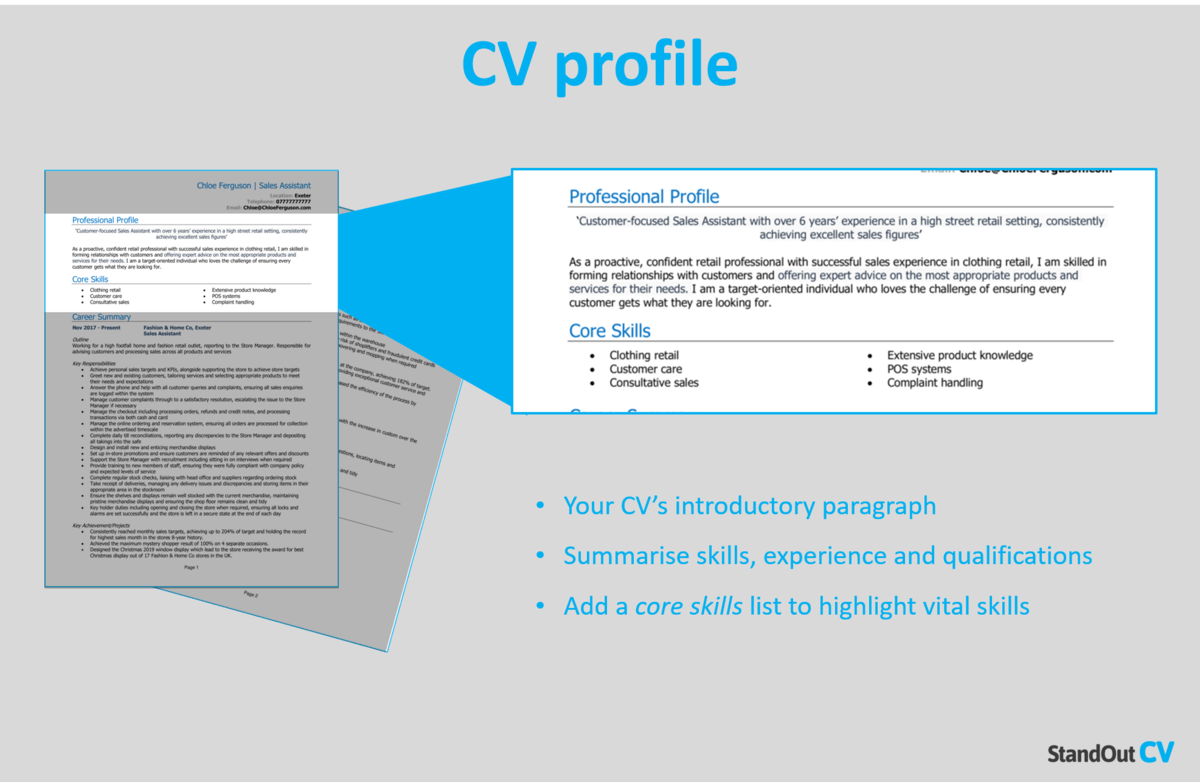 How to write a good CV profile:
Make it short and sharp: The best CV profiles are short, sharp and highly relevant to the target role. For this reason, it's best to write 3-4 lines of high-level information, as anything over might be missed.
Tailor it: No matter how much time you put into your CV profile, it won't impress if it's irrelevant to the role you're applying for. Before you start writing, make a list of the skills, knowledge and experience your target employer is looking for. Then, make sure to mention them in your CV profile and throughout the rest of your application.
Don't add an objective: You only have a small space for your CV profile, so avoid writing down your career goals or objectives. If you think these will help your application, incorporate them into your cover letter instead.
Avoid generic phrases: Cheesy clichès and generic phrases won't impress recruiters, who read the same statements several times per day. Impress them with your skill-set, experience and accomplishments instead!
Example CV profile for Checkout Operator
Detail-oriented Checkout Operator with 3+ years of experience working in busy retail environments. Skilled at handling cash, assisting customers, and providing excellent customer service while keeping up to date on new products and promotions. Adept at managing point-of-sale systems and handling customer complaints in a timely and professional manner.
What to include in your Checkout Operator CV profile?
Experience overview: Demonstrate your suitability for your target jobs by giving a high level summary of your previous work work experience, including the industries you have worked in, types of employer, and the type of roles you have previous experience of.
Targeted skills: Make your most relevant Checkout Operator key skills clear in your profile. These should be tailored to the specific role you're applying for – so make sure to check the job description first, and aim to match their requirements as closely as you can.
Important qualifications: Be sure to outline your relevant Checkout Operator qualifications, so that anyone reading the CV can instantly see you are qualified for the jobs you are applying to.
Quick tip: If you are finding it difficult to write an attention-grabbing CV profile, choose from hundreds of pre-written profiles across all industries, and add one to your CV with one click in our partner's CV Builder. All profiles are written by recruitment experts and easily tailored to suit your unique skillset.
Core skills section
To ensure that your most relevant skills catch the eye of readers, create a core skills section below your profile.
This section should be presented in 2-3 columns of bullet points highlighting your applicable skills. Before crafting this section, carefully examine the job description and create a list of any required skills, specialisms, or knowledge.
Use this list to include the necessary information in your section and present yourself as the ideal match for the position.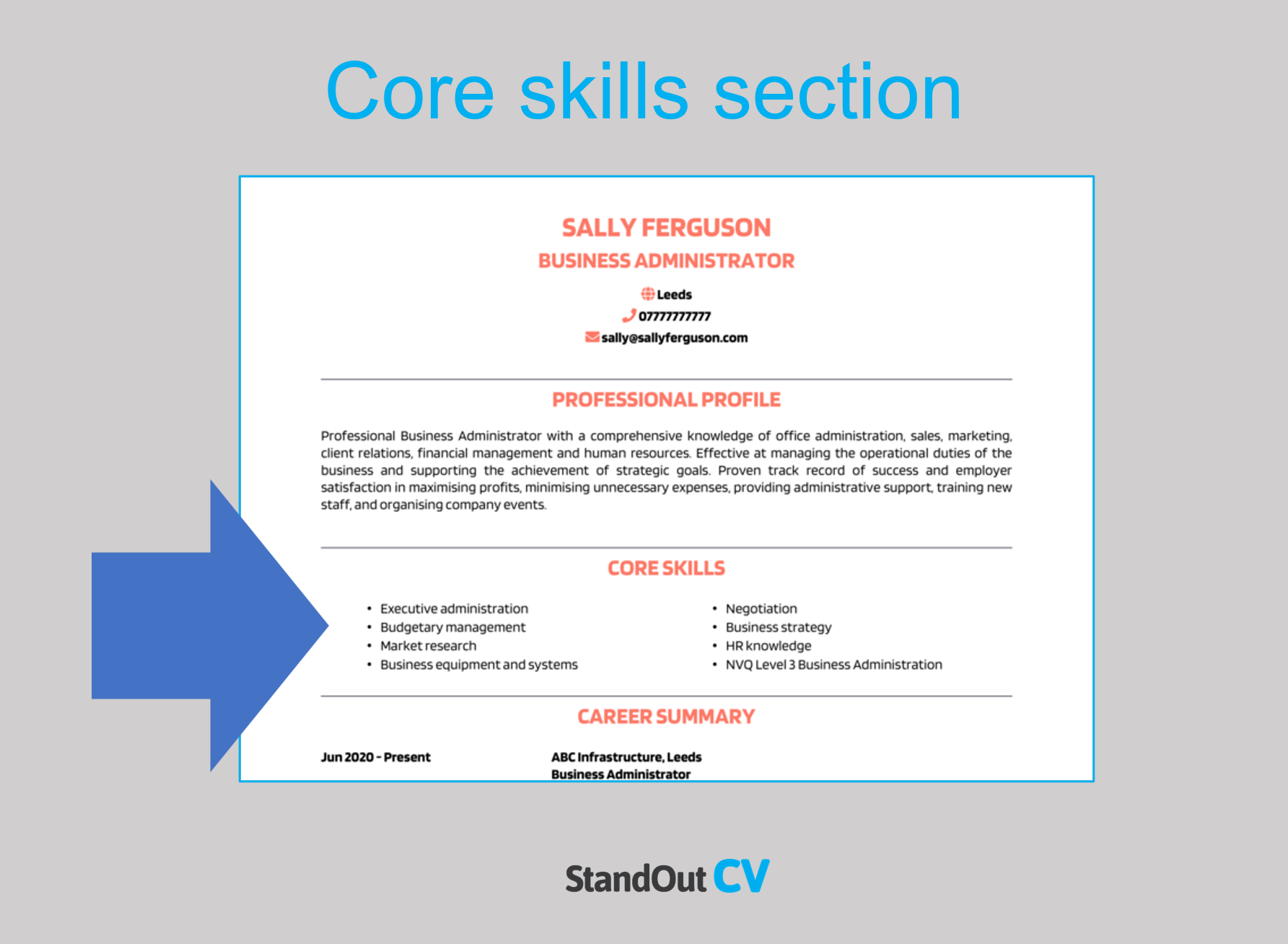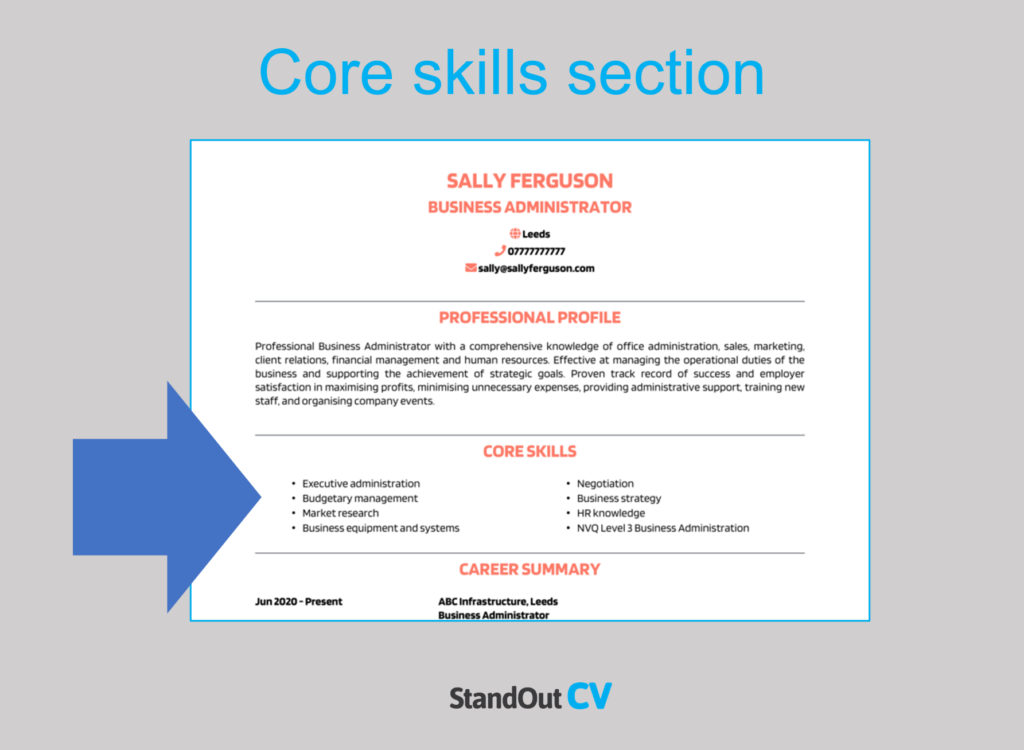 Important skills for your Checkout Operator CV
Point of Sale (POS) System Operation – Operating cash registers, barcode scanners, and other POS systems to process customer transactions accurately and efficiently.
Cash Handling – Handling cash, including counting money, providing correct change, and following cash handling procedures to ensure accuracy and prevent discrepancies.
Product Knowledge – Maintaining good knowledge of store products and their prices to assist customers with inquiries, suggest alternatives, and provide accurate information.
Customer Service – Utilising excellent customer service skills, including greeting customers, addressing their needs and concerns, and providing a positive shopping experience.
Checkout Process – Accurately scanning and inputting product information, verifying prices, and identifying any discrepancies during the checkout process.
Checkout Efficiency – Maintaining checkout lines, processing transactions efficiently, and minimising waiting times for customers.
Problem Resolution – Handling and resolving customer issues or complaints, escalating to a supervisor when necessary and finding appropriate solutions.
Sales Promotion – Maintaining an awareness of ongoing sales promotions, discounts, and loyalty programs to inform customers and encourage additional purchases.
Quick tip: Our partner's CV Builder has thousands of in-demand skills for all industries and professions, that can be added to your CV in seconds – This will save you time and ensure you get noticed by recruiters.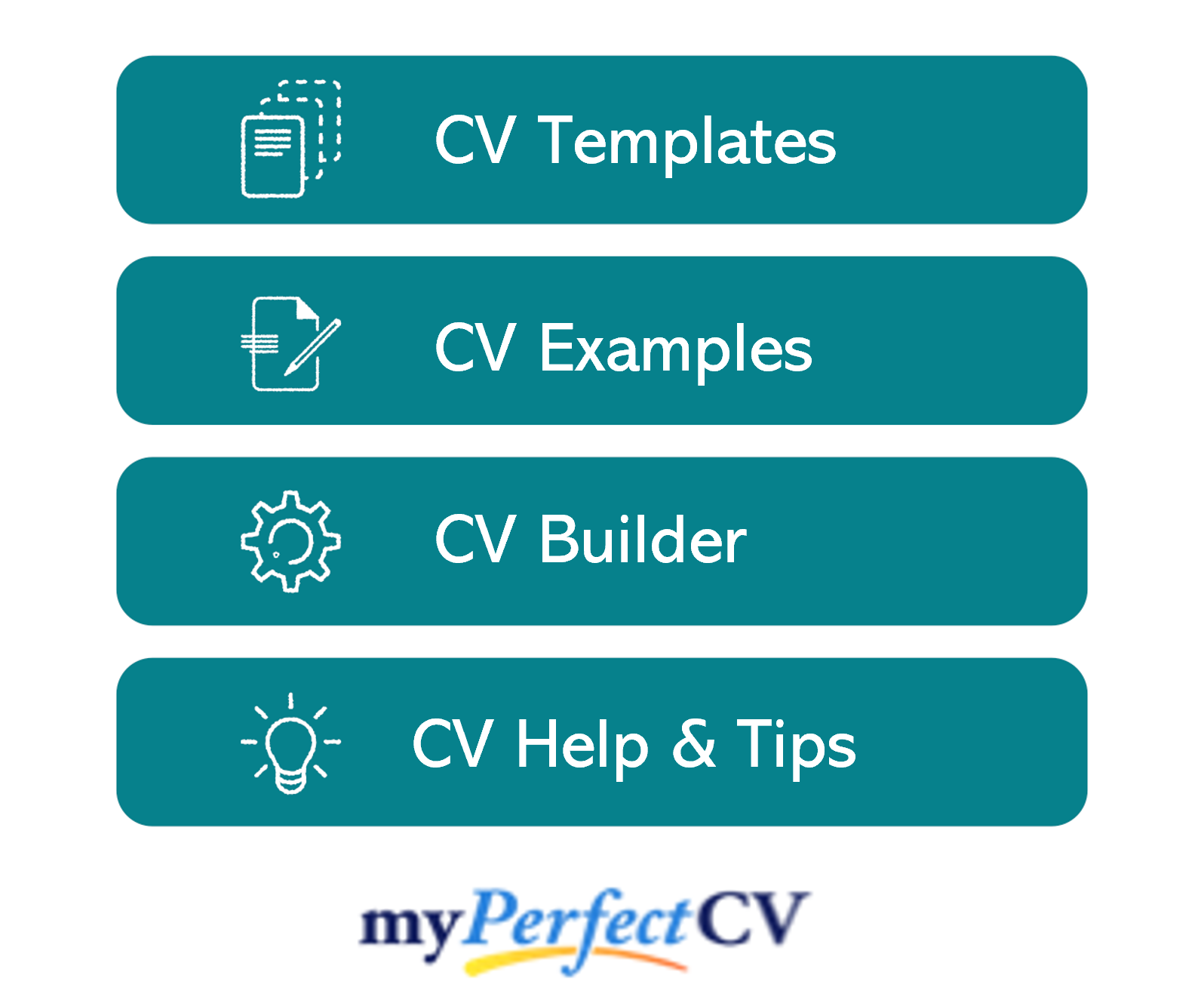 Work experience
By this point, employers will be keen to know more detail about you career history.
Starting with your most recent role and working backwards, create a snappy list of any relevant roles you've held.
This could be freelance, voluntary, part-time or temporary jobs too. Anything that's relevant to your target role is well-worth listing!
Structuring each job
Whilst writing your CV, it's essential to look at it from the eyes of a recruiter.
If they're met with giant blocks of text which are impossible to navigate, they might get frustrated and skip onto the next CV.
Instead, make use of the 3-step structure shown below, to give them a pleasant reading experience.
Outline
Start with a brief summary of your role as a whole, as well as the type of company you worked for.
Key responsibilities
Using easy-to-read bullet points, note down your day-to-day responsibilities in the role.
Make sure to showcase how you used your hard sector skills and knowledge.
Key achievements
Finish off by showcasing 1-3 key achievements made within the role.
This could be anything that had a positive effect on your company, clients or customers, such as saving time or money, receiving exemplary feedback or receiving an award.
Sample job description for Checkout Operator CV
Outline
Work at the Nottingham city centre branch of one of the UK's leading supermarkets, providing exceptional customer service, and processing transactions in a fast-paced environment.
Key Responsibilities
Operate point-of-sale systems to process customer transactions
Count cash drawers at the end of each shift and report any discrepancies
Assist customers with queries, complaints, and refunds
Keep up to date with new products and promotions
Quick tip: Create impressive job descriptions easily in our partner's CV Builder by adding pre-written job phrases for every industry and career stage.

Education section
After your work experience, your education section should provide a detailed view of your academic background.
Begin with those most relevant to Checkout Operator jobs, such as vocational training or degrees.
If you have space, you can also mention your academic qualifications, such as A-Levels and GCSEs.
Focus on the qualifications that are most relevant to the jobs you are applying for.
Hobbies and interests
The hobbies and interests CV section isn't mandatory, so don't worry if you're out of room by this point.
However, if you have an interesting hobby, or an interest that could make you seem more suitable for the role, then certainly think about adding.
Be careful what you include though… Only consider hobbies that exhibit skills that are required for roles as a Checkout Operator, or transferable workplace skills.
There is never any need to tell employers that you like to watch TV and eat out.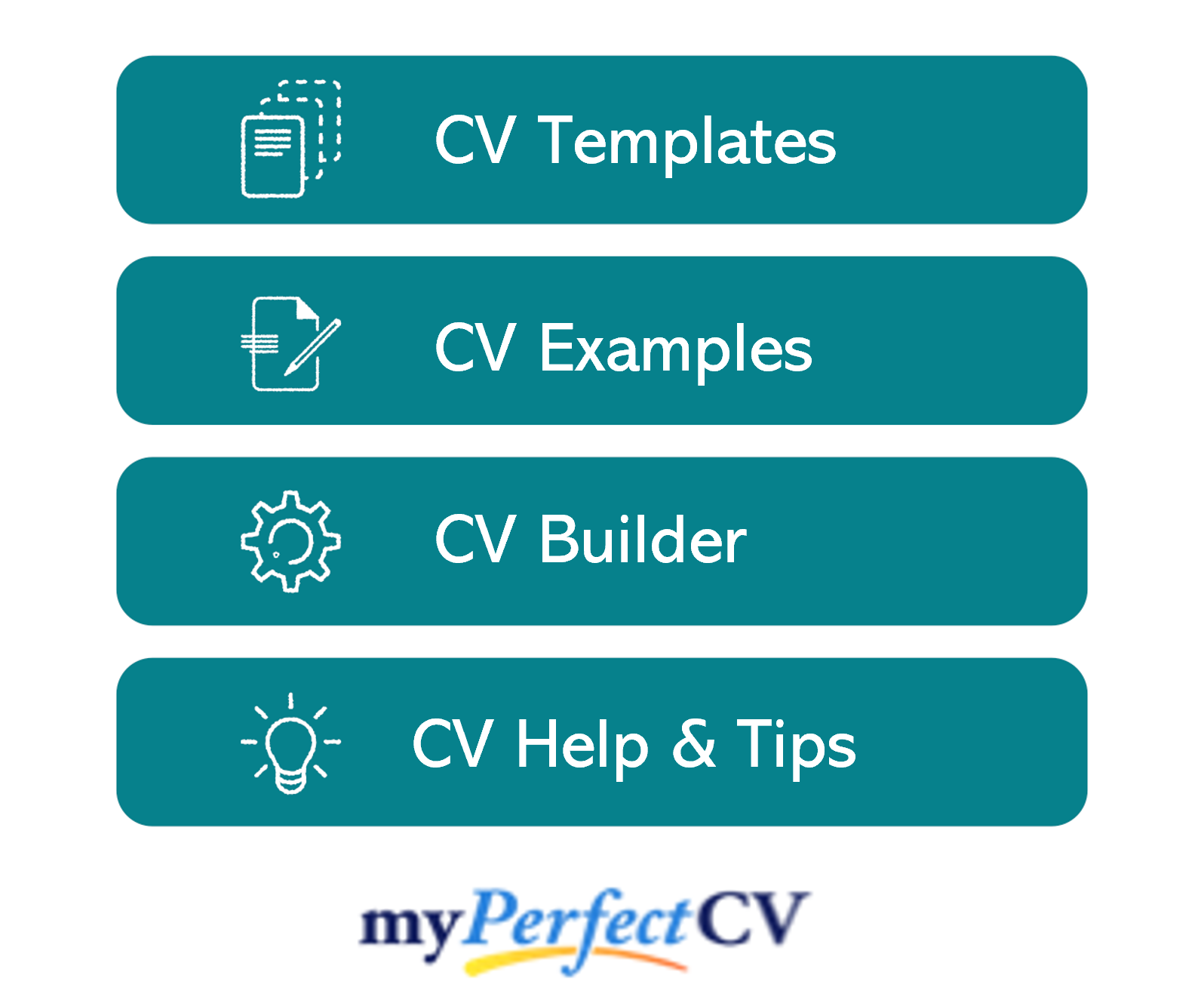 Creating a strong Checkout Operator CV requires a blend of punchy content, considered structure and format, and heavy tailoring.
By creating a punchy profile and core skills list, you'll be able to hook recruiter's attention and ensure your CV gets read.
Remember that research and relevance is the key to a good CV, so research your target roles before you start writing and pack your CV with relevant skills.
Best of luck with your next application!