Do you want to play an important role in the future and success of the organisation?
Then you need a persuasive application that showcases why you'd make a great leader and influential board member.
To help you with this, we've made a board member CV example and detailed writing guide. You can check these out below.
Contents
| | |
| --- | --- |
| How to write a Board Member CV | |

Board Member CV example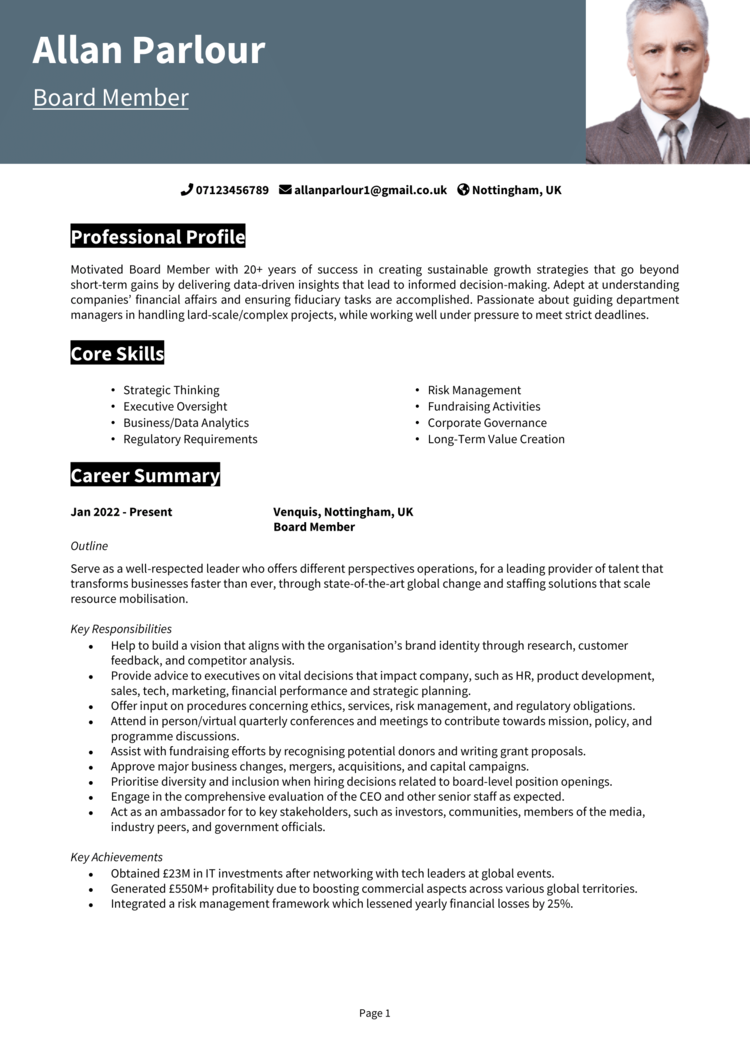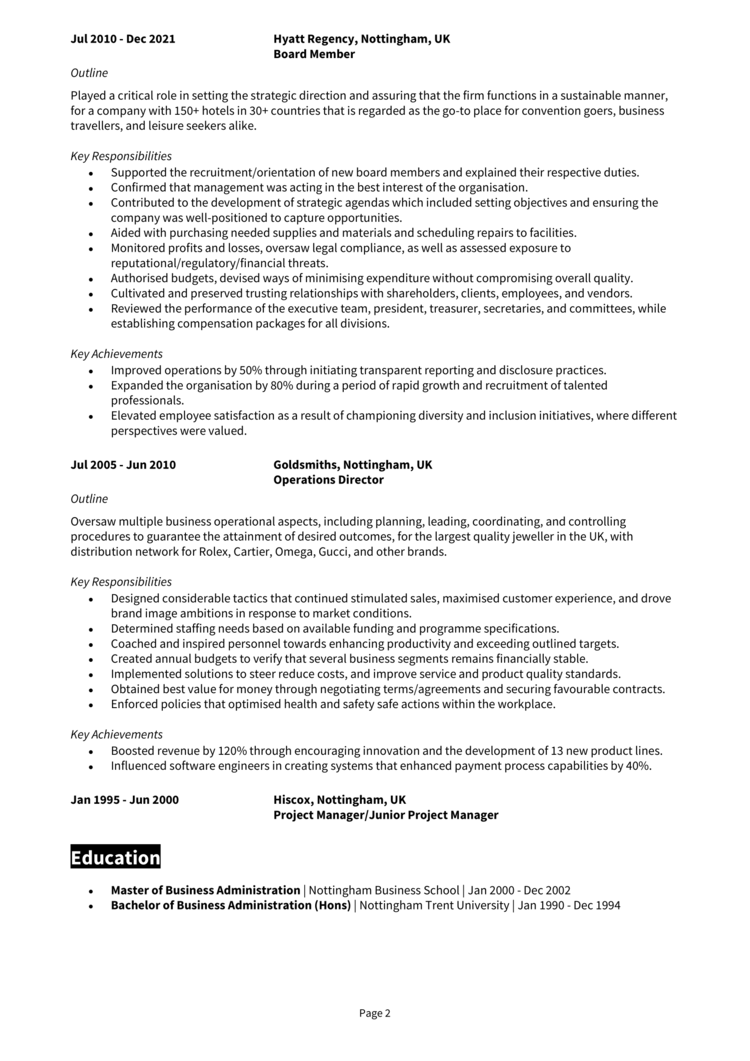 This CV example showcases the optimal structure and format for your Board Member CV, providing a pleasant reading experience for busy recruiters.
It also demonstrates the skills, experience and qualifications you should emphasize in your own CV to increase your chances of landing job interviews.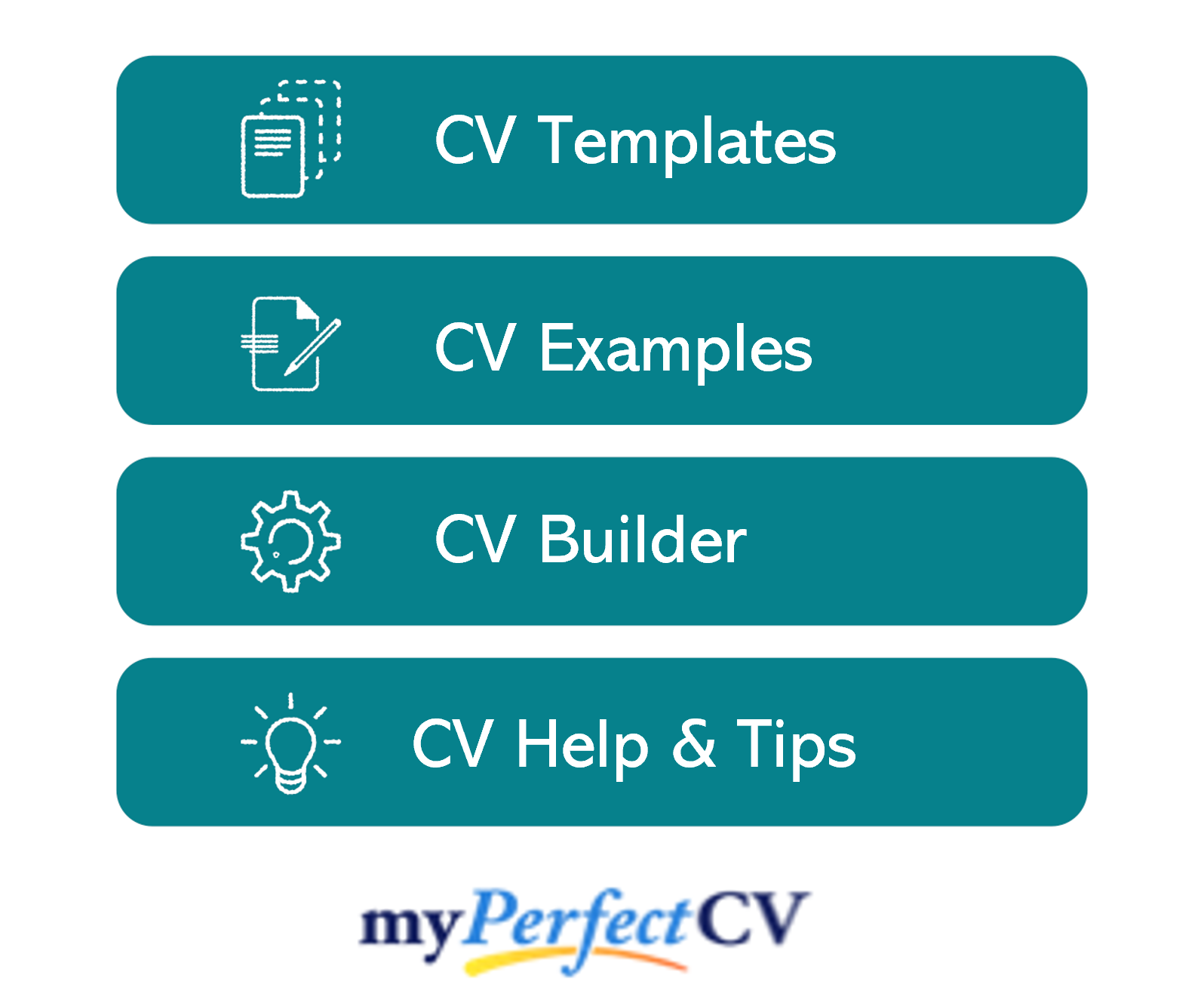 Board Member CV format and structure
Think your CV is just about the content within it? Think again.
Your CV needs to look professional and be easy for recruiters to read, meaning the structure and format of your CV are just as important as the written content within it.
Facilitate ease of reading by using a simple structure which allows anybody to easily navigate your experience.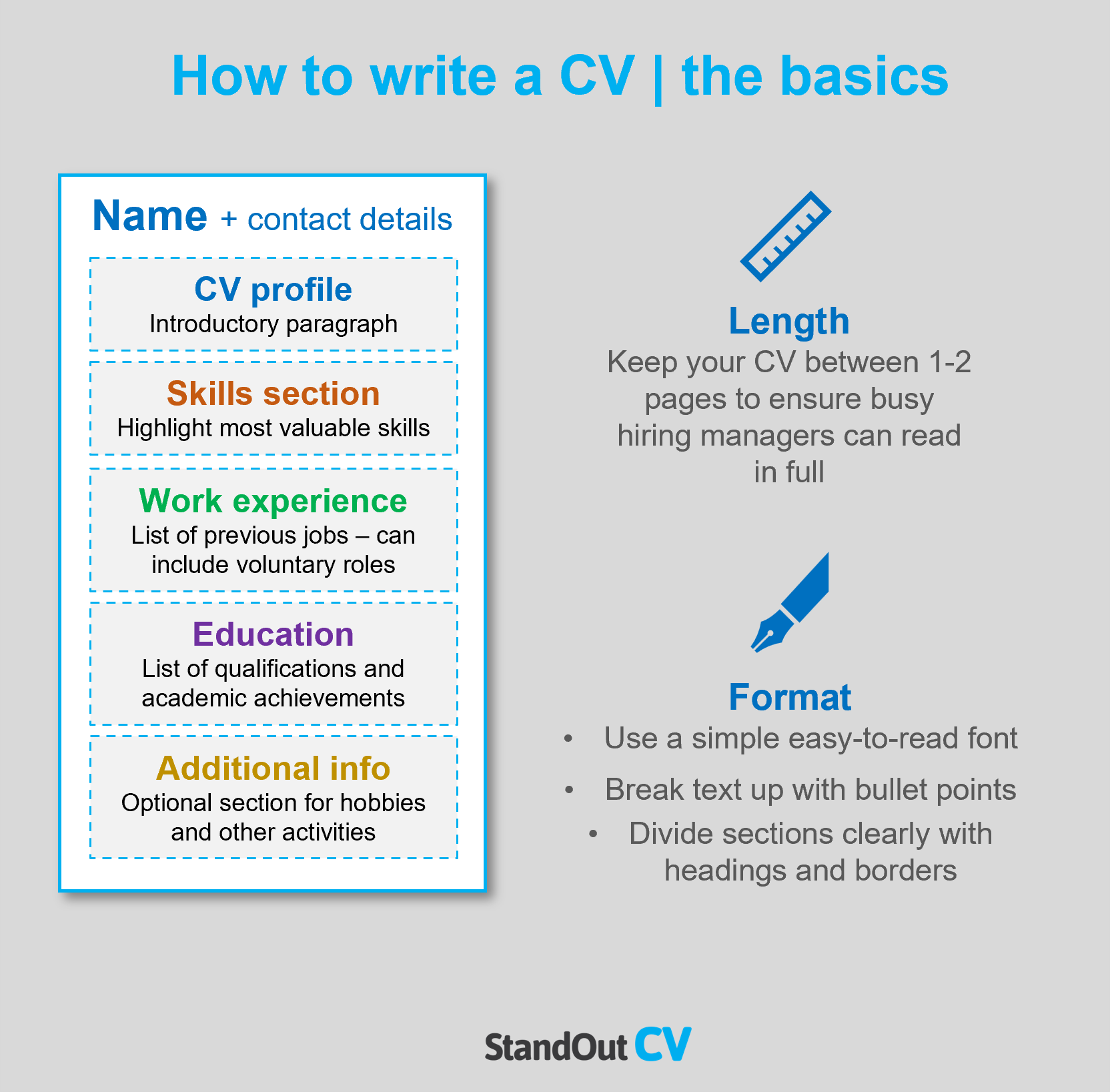 Tips for formatting your Board Member CV
Length: Even if you've got tons of experience to brag about, recruiters don't have time to read through overly lengthy CVs. Keep it short, concise and relevant – a CV length of 2 sides of A4 pages or less is perfect for the attention spans in today's job market.
Readability: Columns, lists, bullet points, bold text and subtle colour can all help to aid the readability of your CV. Your overarching goal should be to make the content as easy to read and navigate as possible, whilst also aiming to make your key skills and achievements stand out.
Design & format: Your CV needs to look professional, sleek and easy to read. A subtle colour palette, clear font and simple design are generally best for this, as fancy designs are often harder to navigate.
Photos: Profile photos or aren't a requirement for most industries, so you don't need to add one in the UK – but if you do, just make sure it looks professional
Quick tip: Creating a professional CV style can be difficult and time-consuming when using Microsoft Word or Google Docs. To create a winning CV quickly, try our partner's CV Builder and use one of their eye-catching professional CV templates.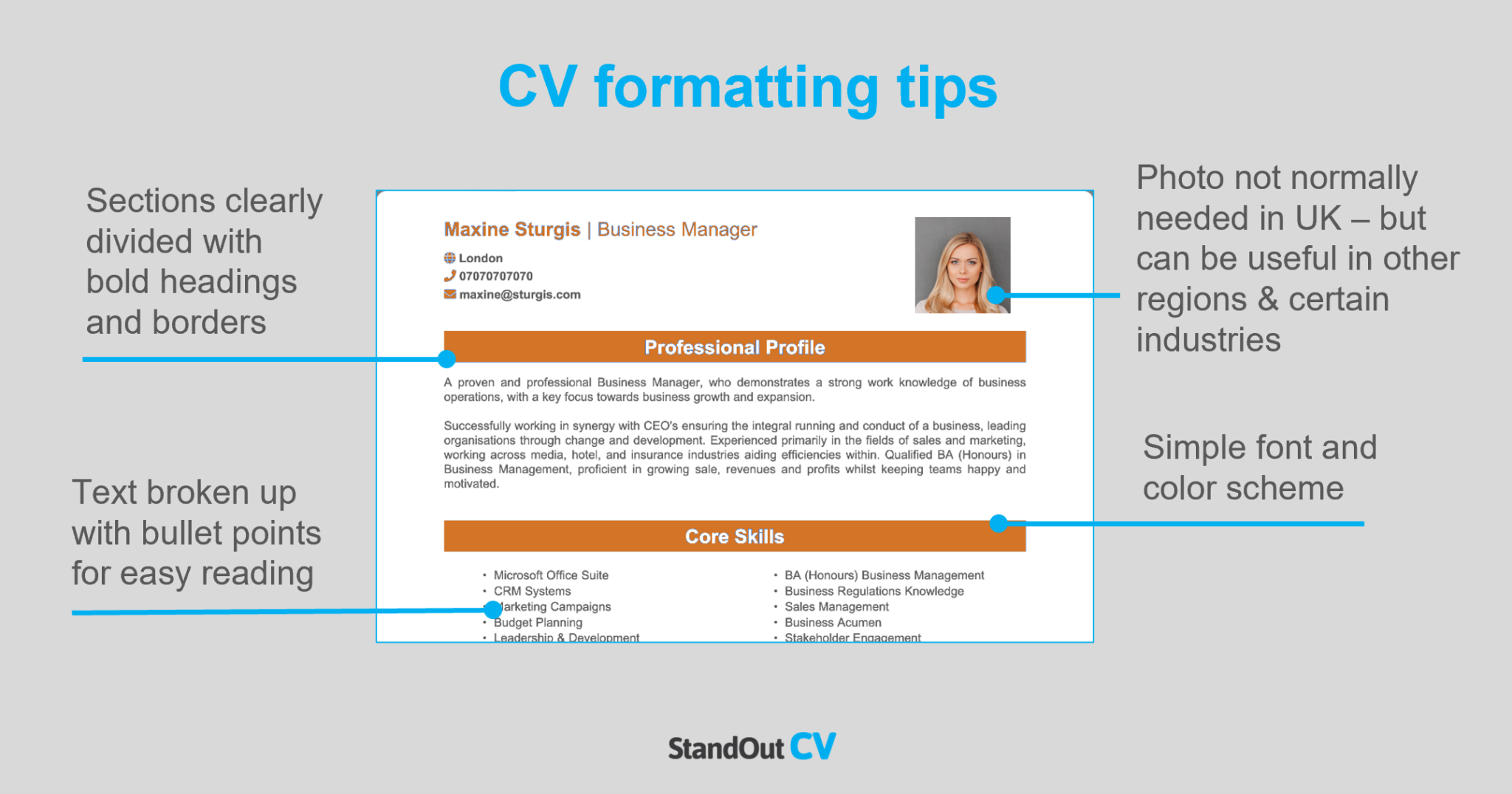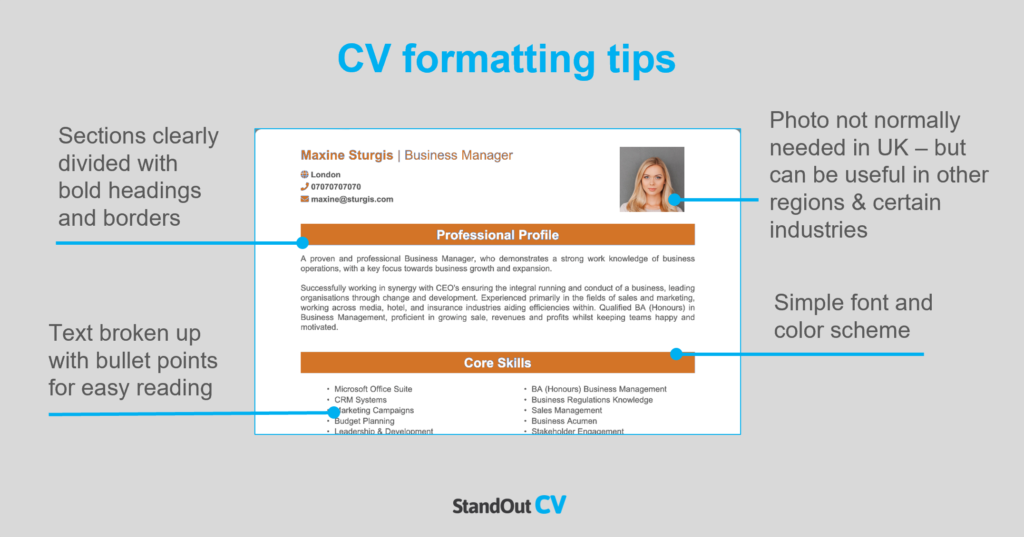 CV structure
To make it easy for busy recruiters and hiring managers to digest your CV, divide the content into several key sections when writing it:
Contact details: Always list your contact details at the very top to avoid them being missed.
Profile: Start with an introductory paragraph that catches recruiters' attention and summarises your offerings.
Work experience/career history: List your relevant work experience in reverse chronological order, starting with your current position.
Education: Provide a concise summary of your education and qualifications.
Interests and hobbies: You can include an optional section to showcase any hobbies that demonstrate transferable skills.
Now you understand the basic layout of a CV, here's what you should include in each section of yours.
Contact Details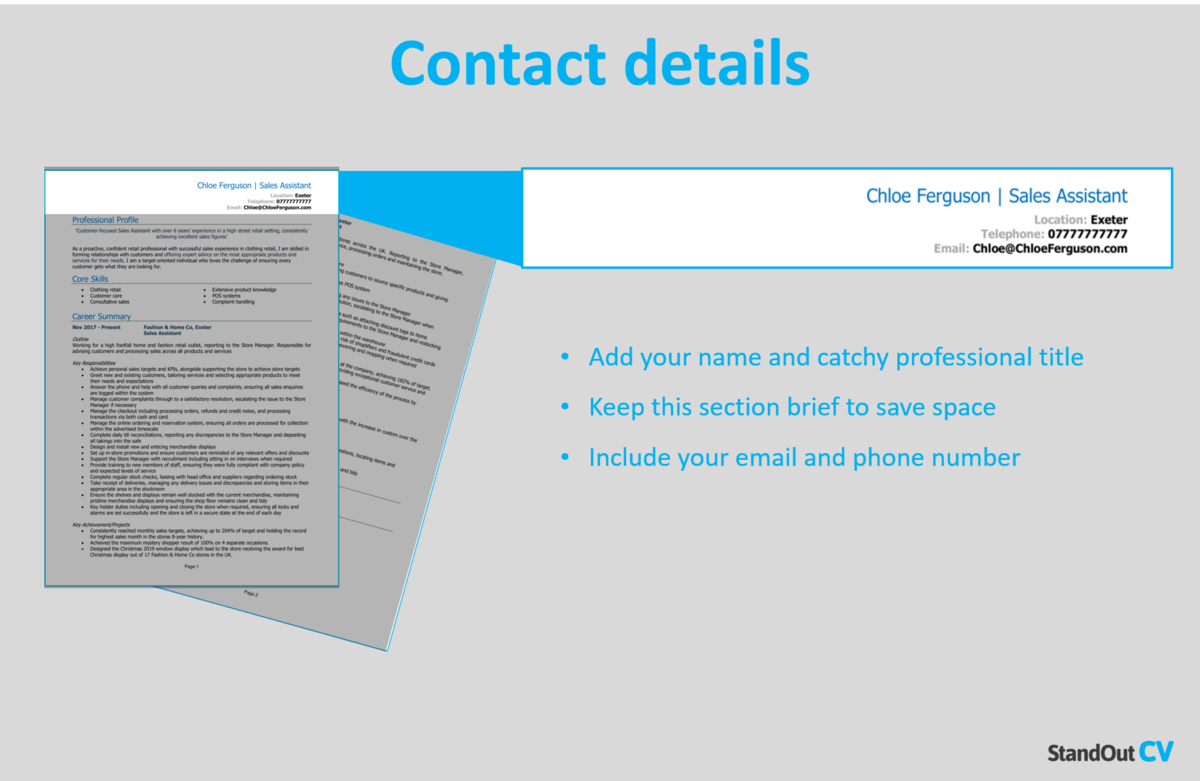 Begin by sharing your contact details, so it's easy for employers to give you a call.
Keep to the basics, such as:
Mobile number
Email address – It should sound professional, with no slang or nicknames. Make a new one for your job applications if necessary.
Location – Simply share your vague location, for example 'Manchester', rather than a full address.
LinkedIn profile or portfolio URL – Remember to update them before you send your application.
Board Member CV Profile
Make a strong first impression with recruiters by starting your CV with an impactful profile (or personal statement for junior applicants).
This short introduction paragraph should summarise your skills, experience, and knowledge, highlighting your suitability for the job.
It should be compelling enough to encourage recruiters to read through the rest of your CV.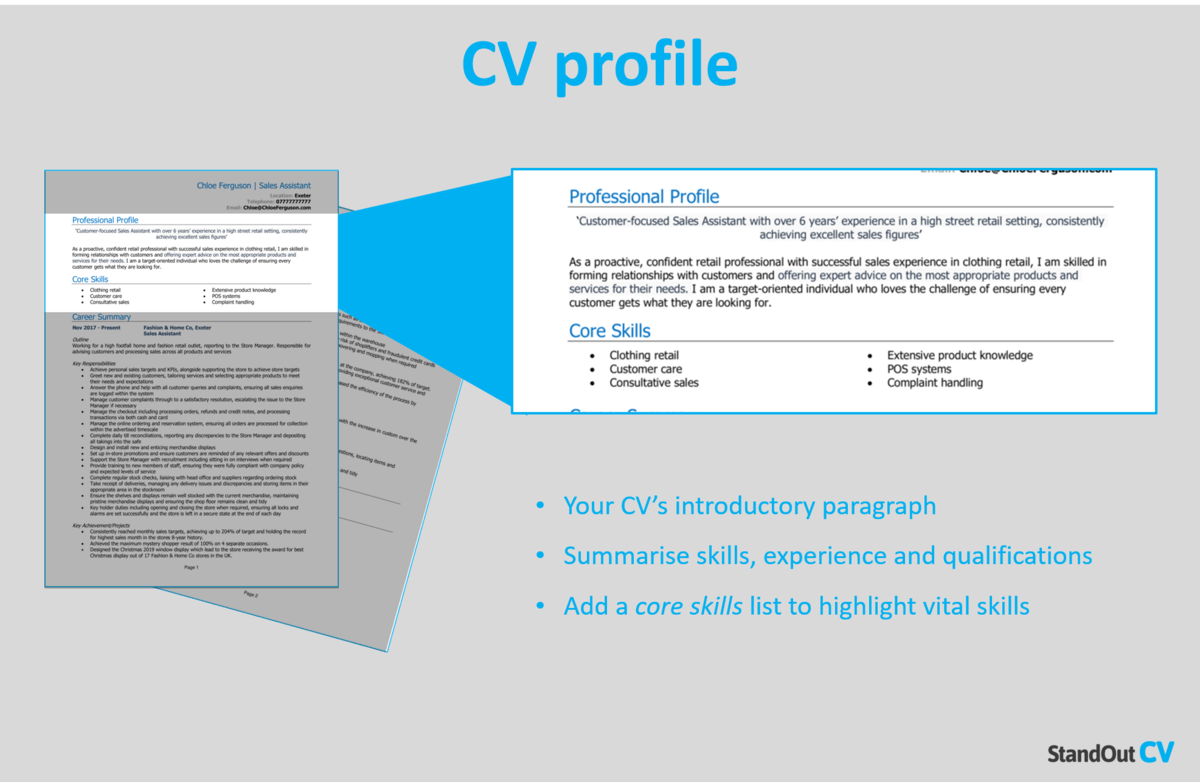 How to write a good CV profile:
Make it short and sharp: It might be tempting to submit a page-long CV profile, but recruiters won't have the time to read it. To ensure every word gets read, it's best to include high-level information only; sticking to a length of 3-5 lines.
Tailor it: Before writing your CV, make sure to do some research. Figure out exactly what your desired employers are looking for and make sure that you are making those requirements prominent in your CV profile, and throughout.
Don't add an objective: Career goals and objectives are best suited to your cover letter, so don't waste space with them in your CV profile.
Avoid generic phrases: "Determined team player who always gives 110%" might seem like a good way to fill up your CV profile, but generic phrases like this won't land you an interview. Recruiters hear them time and time again and have no real reason to believe them. Instead, pack your profile with your hard skills and tangible achievements.
Example CV profile for Board Member
Motivated Board Member with 20+ years of success in creating sustainable growth strategies that go beyond short-term gains by delivering data-driven insights that lead to informed decision-making. Adept at understanding companies' financial affairs and ensuring fiduciary tasks are accomplished. Passionate about guiding department managers in handling lard-scale/complex projects, while working well under pressure to meet strict deadlines.
What to include in your Board Member CV profile?
Experience overview: To give employers an idea of your capabilities, show them your track record by giving an overview of the types of companies you have worked for in the past and the roles you have carried out for previous employers – but keep it high level and save the details for your experience section.
Targeted skills: Ensure that your profile highlights your key skills that are most relevant to your Board Member, and tailor them to match the specific job you are applying for. To do this, refer to the job description to closely align your skills with their requirements.
Important qualifications: If the job postings require specific qualifications, it is essential to incorporate them in your profile to ensure visibility to hiring managers.
Quick tip: If you are finding it difficult to write an attention-grabbing CV profile, choose from hundreds of pre-written profiles across all industries, and add one to your CV with one click in our partner's CV Builder. All profiles are written by recruitment experts and easily tailored to suit your unique skillset.
Core skills section
In addition to your CV profile, your core skills section provides an easily digestible snapshot of your skills – perfect for grabbing the attention of busy hiring managers.
As Board Member jobs might receive a huge pile of applications, this is a great way to stand out and show off your suitability for the role.
It should be made up of 2-3 columns of bullet points and be made up of skills that are highly relevant to the jobs you are targeting.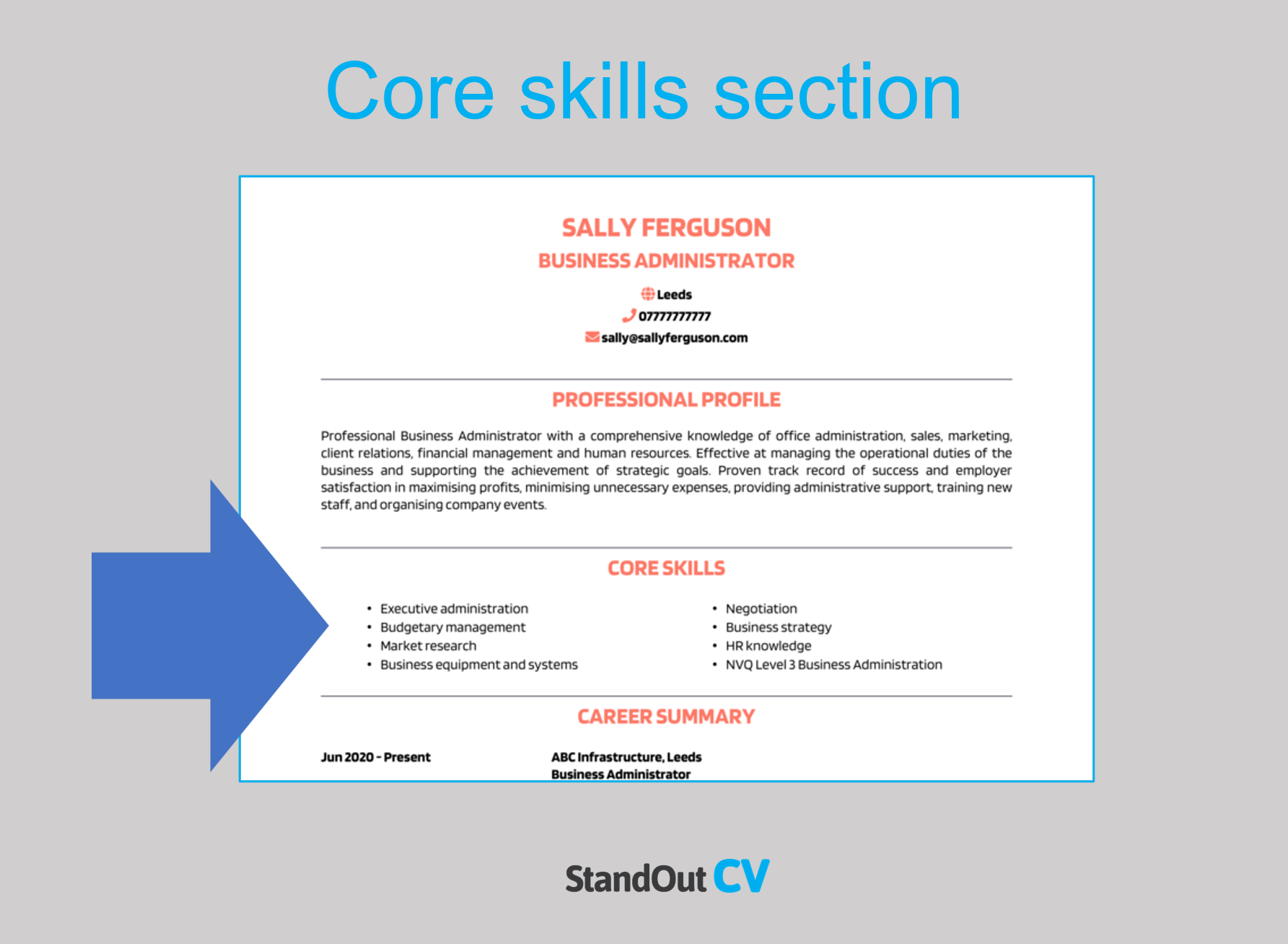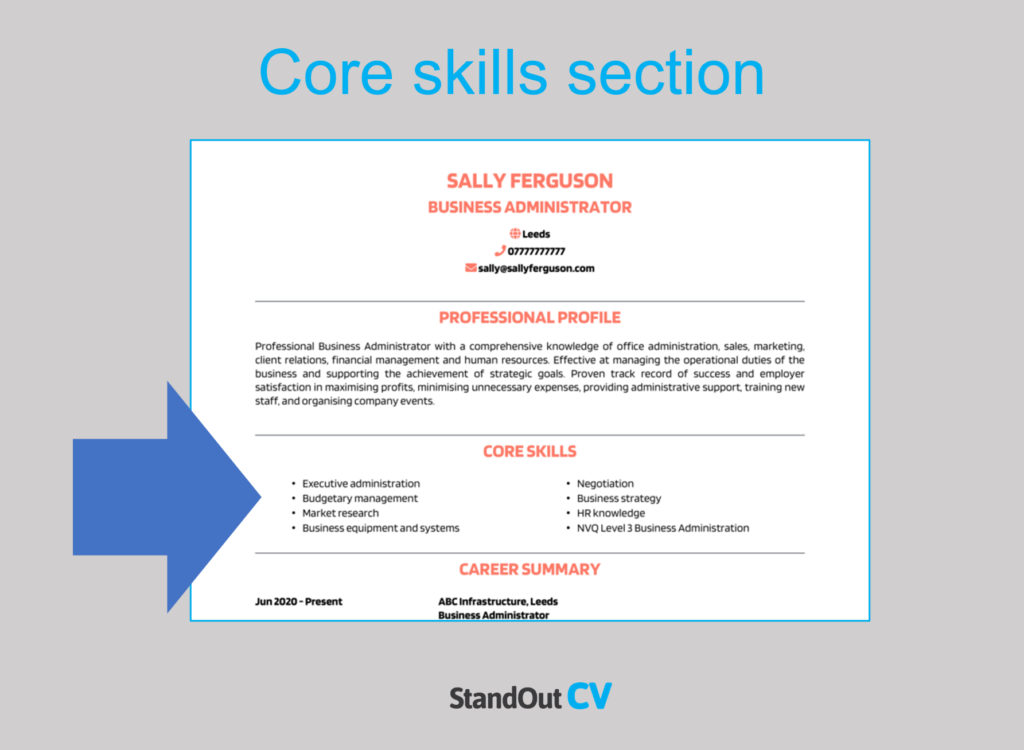 Important skills for your Board Member CV
Strategic Leadership – Providing strategic direction, setting goals, and making decisions that align with the organisation's mission and vision.
Governance and Compliance – Utilising knowledge of corporate governance principles, legal and regulatory requirements, to ensure compliance at the board level.
Financial Acumen – Utilising knowledge of financial statements, budgeting, and financial analysis to effectively monitor the organisation's financial health and make informed decisions.
Risk Management – Identifying and assessing risks, implementing risk management strategies, and monitoring risk exposure to protect the organisation.
Stakeholder Management – Effectively engaging with various stakeholders, including shareholders, employees, customers, and the community, and manage their expectations.
Industry Knowledge – Maintaining a deep understanding of the industry in which the organisation operates, including market trends, competitive landscape, and emerging opportunities or challenges.
Strategic Thinking – Thinking strategically, analysing complex problems, and developing innovative solutions to drive the organisation's growth and success.
Negotiation and Influencing – Effectively conveying ideas, negotiating, and building consensus among board members and other stakeholders.
Ethical and Legal Understanding – Utilising knowledge of ethical standards and legal obligations to uphold high standards of integrity and professionalism.
Performance Evaluation – Contributing to the development and implementation of governance frameworks that enhance board effectiveness.
Quick tip: Our partner's CV Builder has thousands of in-demand skills for all industries and professions, that can be added to your CV in seconds – This will save you time and ensure you get noticed by recruiters.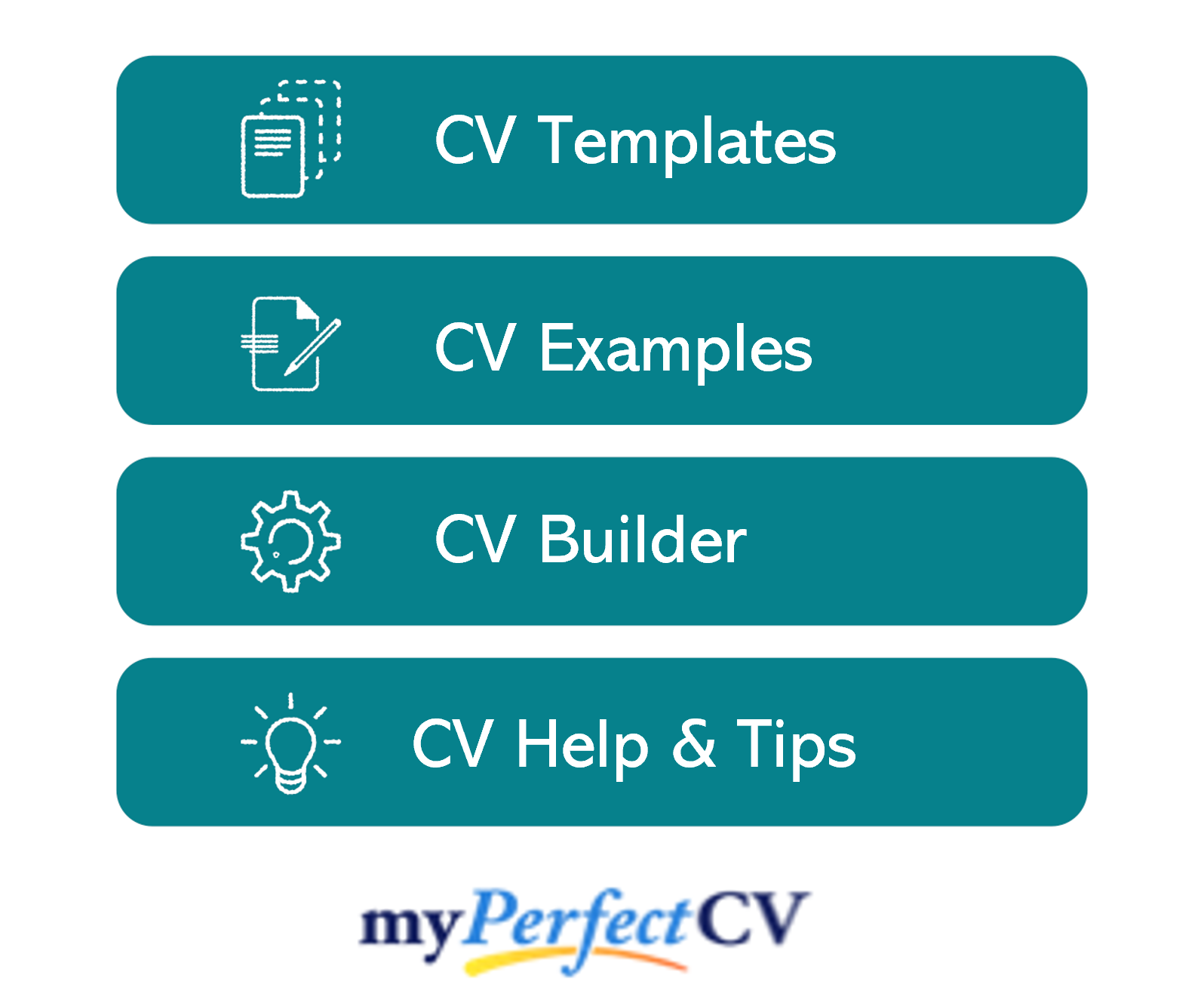 Work experience
Recruiters will be itching to know more about your relevant experience by now.
Kick-start this section with your most recent (or current) position, and work your way backwards through your history.
You can include voluntary and freelance work, too – as long as you're honest about the nature of the work.
Structuring each job
The structure of your work experience section can seriously affect its impact.
This is generally the biggest section of a CV, and with no thought to structure, it can look bulky and important information can get lost.
Use my 3-step structure below to allow for easy navigation, so employers can find what they are looking for:
Outline
Start with a brief summary of your role as a whole, as well as the type of company you worked for.
Key responsibilities
Next, write up a punchy list of your daily duties and responsibilities, using bullet points.
Wherever you can, point out how you put your hard skills and knowledge to use – especially skills which are applicable to your target role.
Key achievements
To finish off each role and prove the impact you made, list 1-3 stand out achievements, results or accomplishments.
This could be anything which had a positive outcome for the company you worked for, or perhaps a client/customer.
Where applicable, quantify your examples with facts and figures.
Sample job description for Board Member CV
Outline
Serve as a well-respected leader who offers different perspectives operations, for a leading provider of talent that transforms businesses faster than ever, through state-of-the-art global change and staffing solutions that scale resource mobilisation.
Key Responsibilities
Help to build a vision that aligns with the organisation's brand identity through research, customer feedback, and competitor analysis.
Provide advice to executives on vital decisions that impact company, such as HR, product development, sales, tech, marketing, financial performance, and strategic planning.
Offer input on procedures concerning ethics, services, risk management, and regulatory obligations.
Attend in person/virtual quarterly conferences and meetings to contribute towards mission, policy, and programme discussions.
Quick tip: Create impressive job descriptions easily in our partner's CV Builder by adding pre-written job phrases for every industry and career stage.

Education section
After your work experience, your education section should provide a detailed view of your academic background.
Begin with those most relevant to Board Member jobs, such as vocational training or degrees.
If you have space, you can also mention your academic qualifications, such as A-Levels and GCSEs.
Focus on the qualifications that are most relevant to the jobs you are applying for.
Hobbies and interests
Although this is an optional section, it can be useful if your hobbies and interests will add further depth to your CV.
Interests which are related to the sector you are applying to, or which show transferable skills like leadership or teamwork, can worth listing.
On the other hand, generic hobbies like "going out with friends" won't add any value to your application, so are best left off your CV.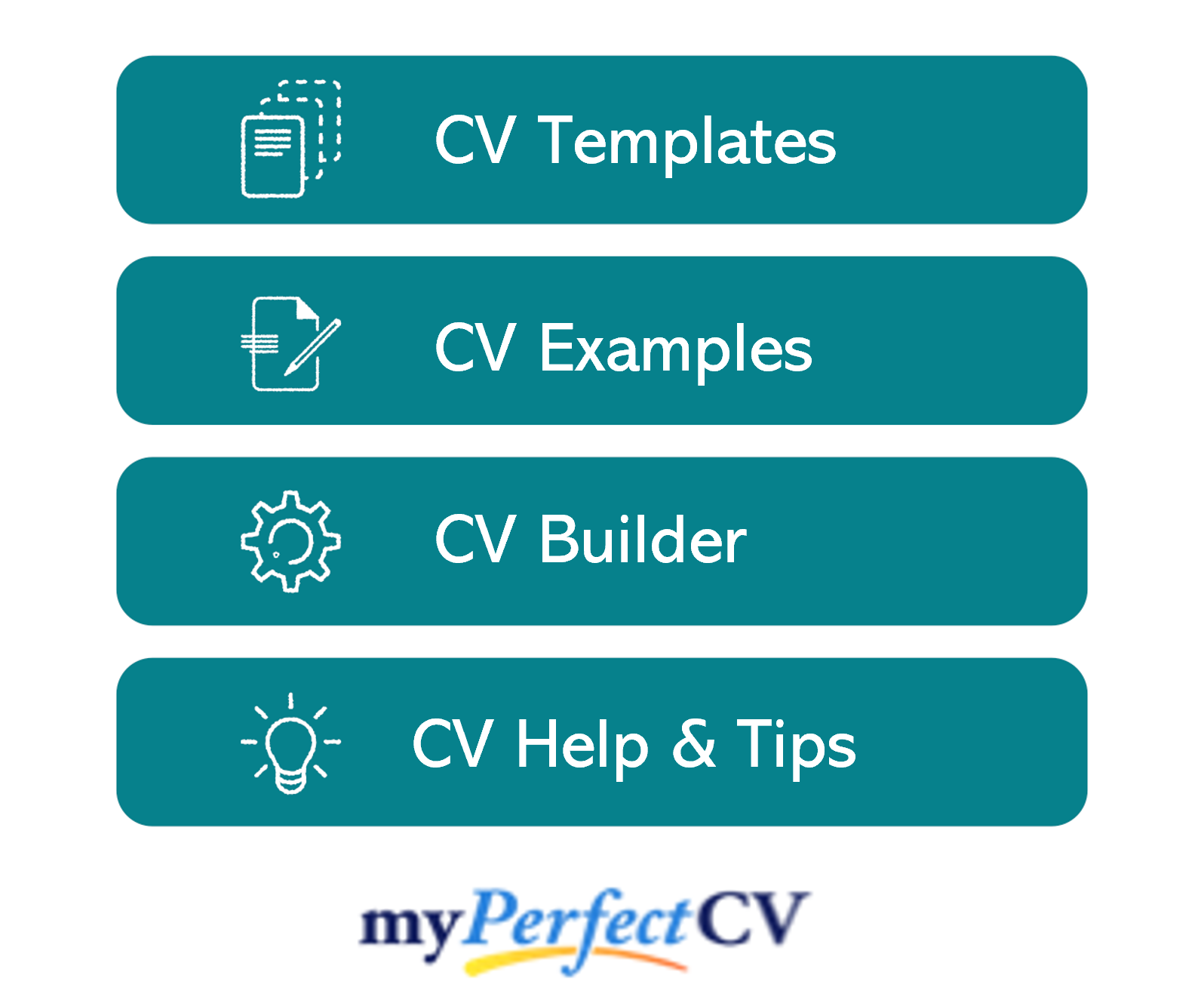 Creating a strong Board Member CV requires a blend of punchy content, considered structure and format, and heavy tailoring.
By creating a punchy profile and core skills list, you'll be able to hook recruiter's attention and ensure your CV gets read.
Remember that research and relevance is the key to a good CV, so research your target roles before you start writing and pack your CV with relevant skills.
Best of luck with your next application!