From childcare to housework, walking the dog and helping the kids with their homework, you love every part of being an au pair.
If you're ready to join a new family, you need to prove you've got what it takes to support them, and this requires a strong CV.
Find out how to write an interview-winning job application using our handy guide and au pair CV example below.
Contents
| | |
| --- | --- |
| How to write a Au Pair CV | |

Au Pair CV example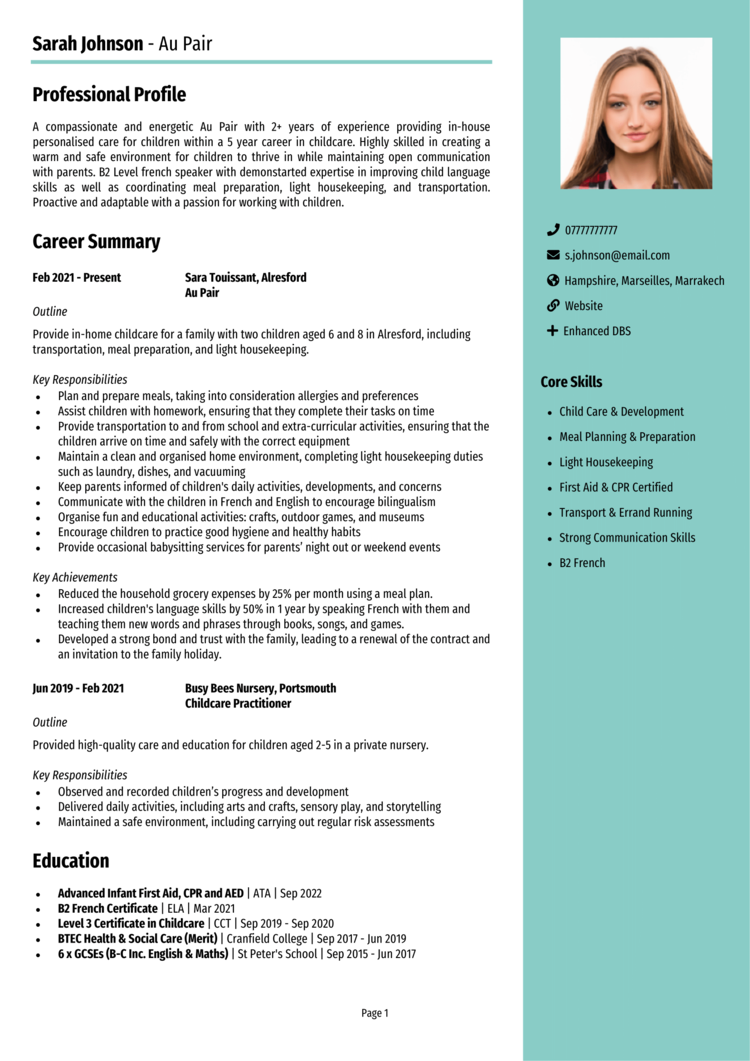 This example CV demonstrates how to structure and format your own Au Pair CV, so that it can be easily digested by busy hiring managers, and quickly prove why you are suitable for the jobs you are applying to.
It also gives you a good idea of the type of skills, experience and qualifications that you need to be highlighting in your CV.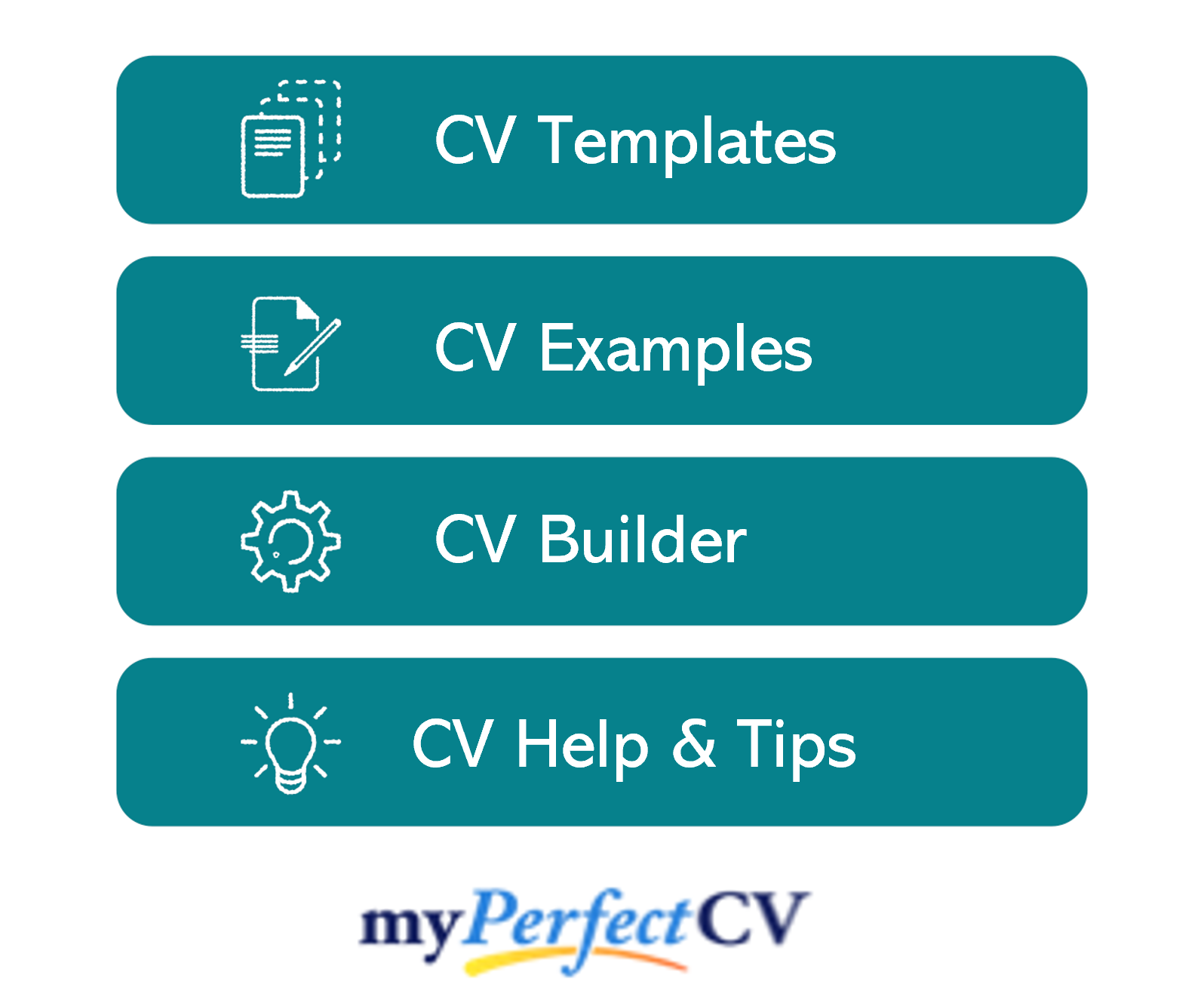 Au Pair CV format and structure
Hiring managers and recruiters are frequently overloaded with applications, and if they can't identify the relevant information in your CV within a few seconds, your application may be overlooked.
To avoid this, it's essential to format and structure your CV in a manner that makes it simple to pick out the most important information, even if the reader is in a rush.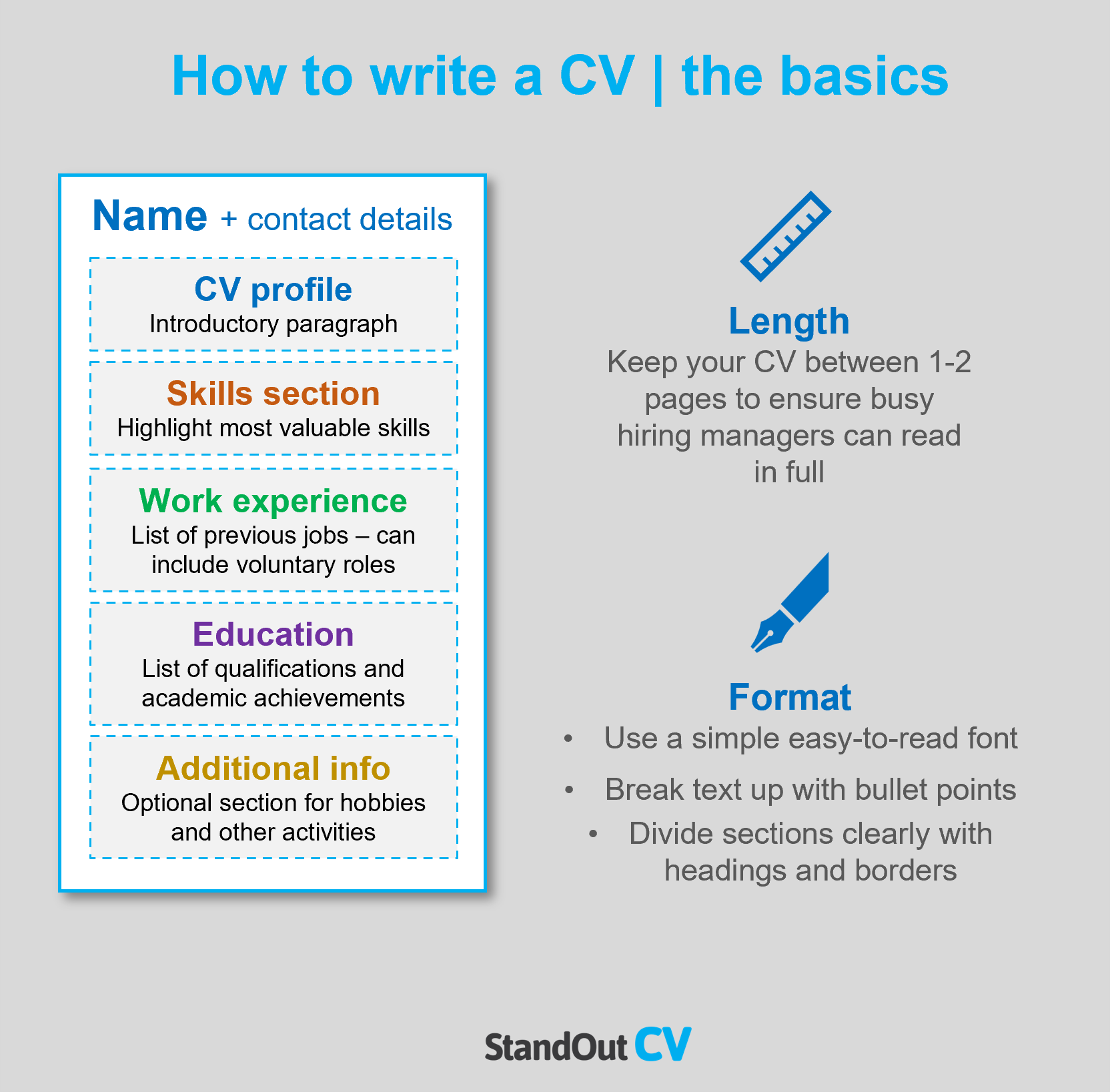 Tips for formatting your Au Pair CV
Length: Two sides of A4 makes for the the perfect CV length, though one page is okay for less experienced applicants. This forces you to make sure that every single sentence adds value to your CV and ensures you avoid unnecessary  info.
Readability: By clearly formatting your section headings (bold, or a different colour font, do the trick) and breaking up big chunks of text into snappy bullet points, time-strapped recruiters will be able to skim through your CV with ease.
Design & format: While it's okay to add your own spin to your CV, avoid overdoing the design. If you go for something elaborate, you might end up frustrating recruiters who, above anything, value simplicity and clarity.
Photos: Profile photos or aren't a requirement for most industries, so you don't need to add one in the UK – but if you do, just make sure it looks professional
Quick tip: Creating a professional CV style can be difficult and time-consuming when using Microsoft Word or Google Docs. To create a winning CV quickly, try our partner's CV Builder and use one of their eye-catching professional CV templates.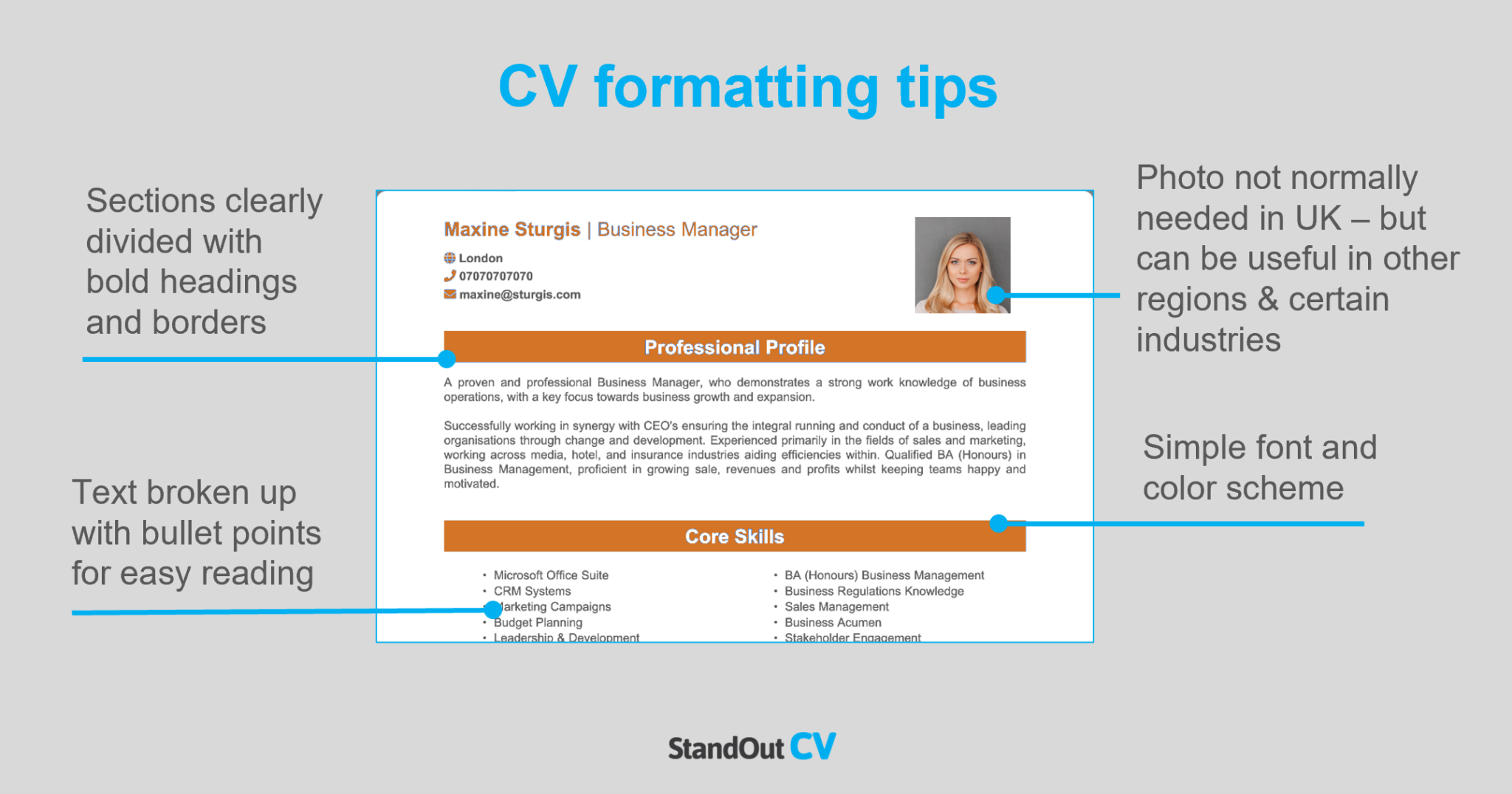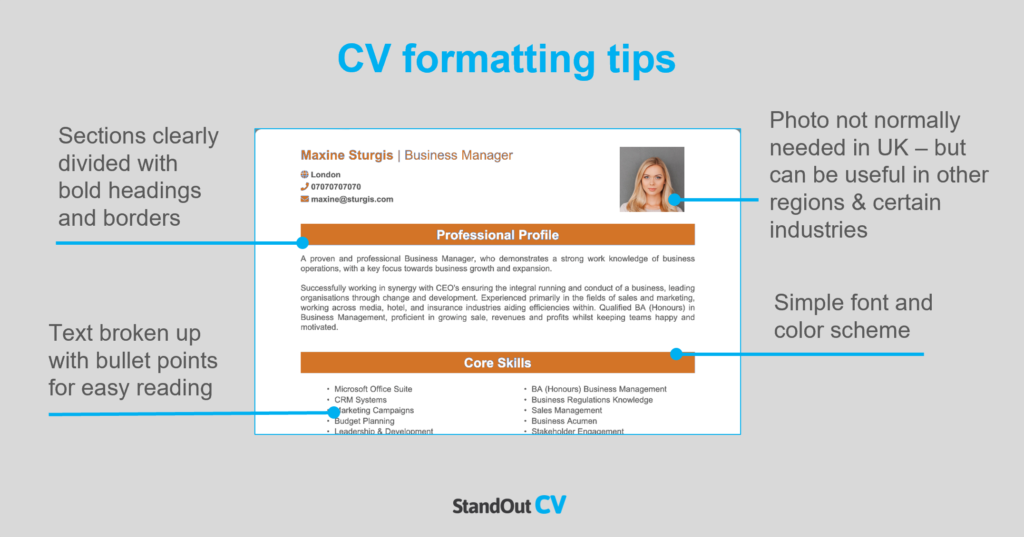 CV structure
When writing your CV, break up the content into the following key sections, to ensure it can be easily digested by busy recruiters and hiring managers:
Contact details – Always list these at the very top of your CV – you don't want them to be missed!
Profile – An introductory paragraph, intended to grab recruiters attention and summarise your offering.
Work experience / career history – Working from your current role and working backwards, list your relevant work experience.
Education – Create a snappy summary of your education and qualifications.
Interest and hobbies – An optional section to document any hobbies that demonstrate transferable skills.
Now you understand the basic layout of a CV, here's what you should include in each section of yours.
Contact Details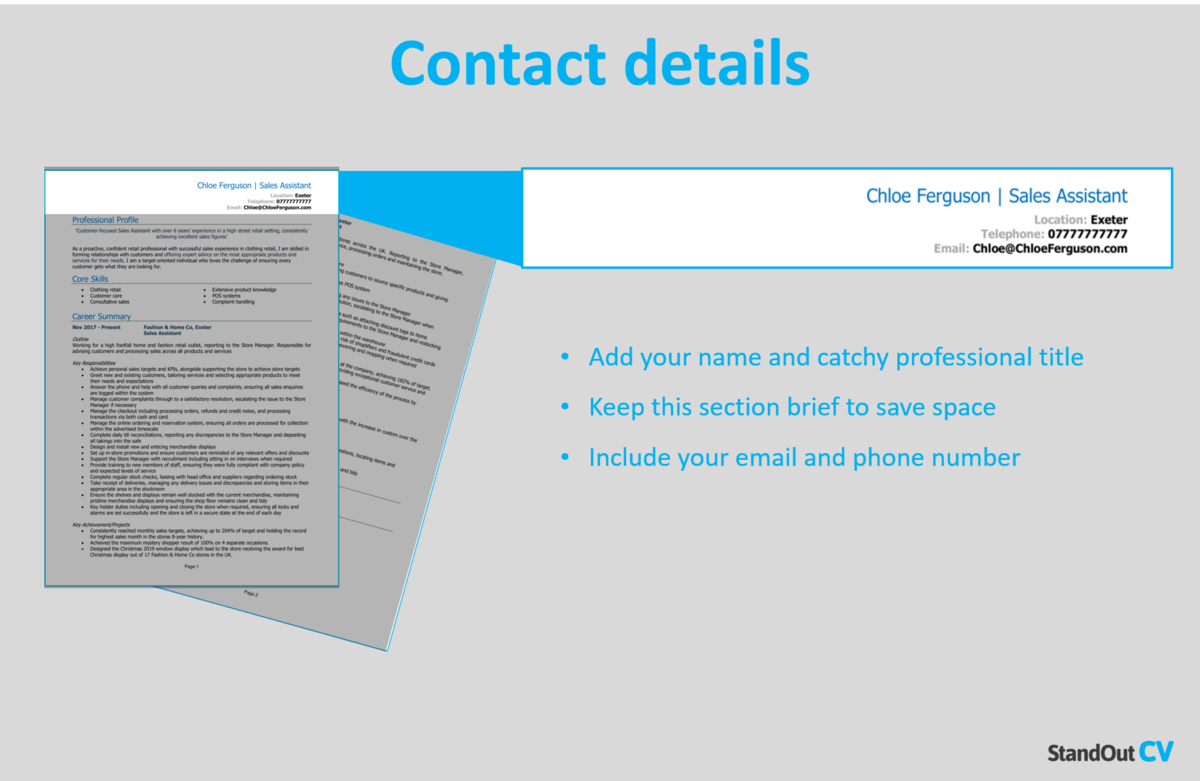 Tuck your contact details into the corner of your CV, so that they don't take up too much space.
Stick to the basic details, such as:
Mobile number
Email address – It should sound professional, such as your full name.
Location -Just write your rough location, rather than your full address.
LinkedIn profile or portfolio URL – If you include these, ensure they're sleek, professional and up-to-date.
Au Pair CV Profile
Your CV profile is the first thing recruiters will read – so your goal is to give them a reason to read onto the end of the document!
Create a short and snappy paragraph that showcases your key skills, relevant experience and impressive accomplishments.
Ultimately, it should prove to the reader that you've got what it takes to carry out the job.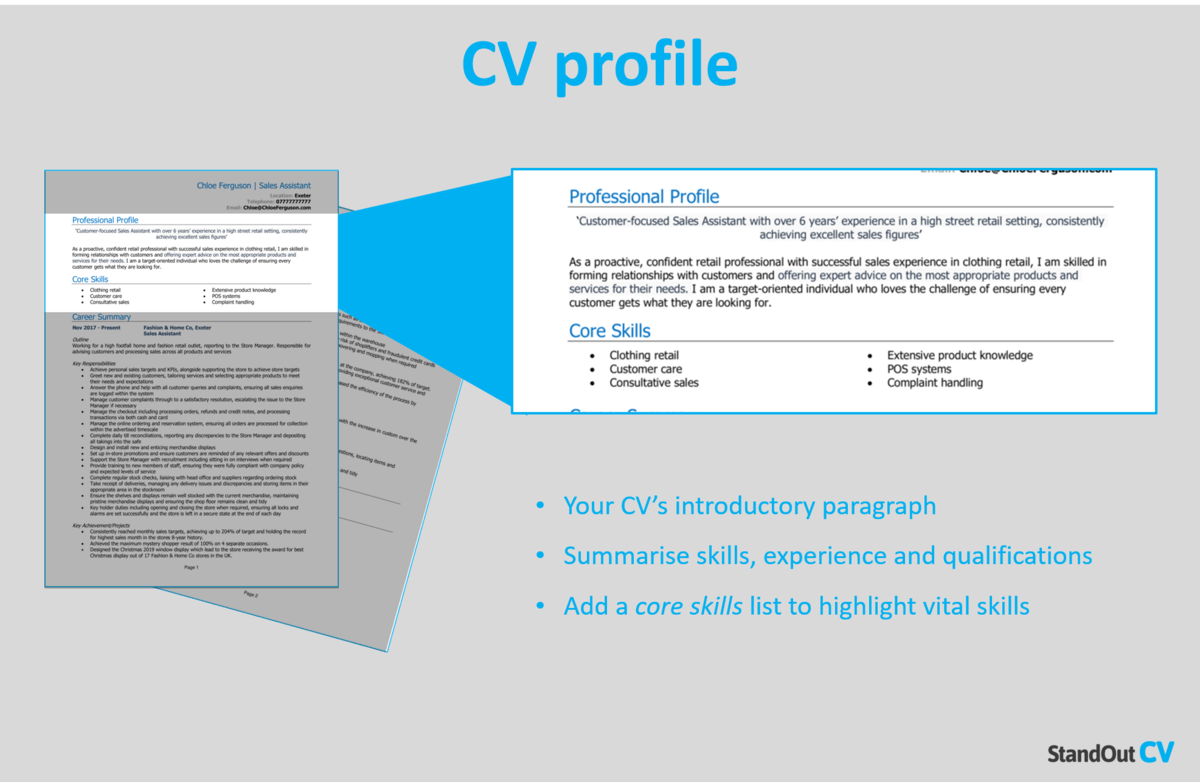 How to write a good CV profile:
Make it short and sharp: Aim for a short, snappy paragraph of 3-5 lines. This is just enough room to showcase why you'd make the perfect hire, without going into excessive detail and overwhelming busy recruiters.
Tailor it: Before writing your CV, make sure to do some research. Figure out exactly what your desired employers are looking for and make sure that you are making those requirements prominent in your CV profile, and throughout.
Don't add an objective: Avoid discussing your career goals in your CV profile – if you think they're necessary, briefly mention them in your cover letter instead.
Avoid generic phrases: Clichés like "blue-sky thinker with a go-getter attitude" might sound impressive to you, but they don't actually tell the recruiter much about you. Concentrate on highlighting hard facts and skills, as recruiters are more likely to take these on board.
Example CV profile for Au Pair
A compassionate and energetic Au Pair with 2+ years of experience providing in-house personalised care for children within a 5-year career in childcare. Highly skilled in creating a warm and safe environment for children to thrive in while maintaining open communication with parents. B2 Level French speaker with demonstrated expertise in improving child language skills as well as coordinating meal preparation, light housekeeping, and transportation. Proactive and adaptable with a passion for working with children.
What to include in your Au Pair CV profile?
Experience overview: Demonstrate your suitability for your target jobs by giving a high level summary of your previous work work experience, including the industries you have worked in, types of employer, and the type of roles you have previous experience of.
Targeted skills: Make your most relevant Au Pair key skills clear in your profile. These should be tailored to the specific role you're applying for – so make sure to check the job description first, and aim to match their requirements as closely as you can.
Important qualifications: If the jobs you are applying to require candidates to have certain qualifications, then you must add them in your profile to ensure they are seen by hiring managers.
Quick tip: If you are finding it difficult to write an attention-grabbing CV profile, choose from hundreds of pre-written profiles across all industries, and add one to your CV with one click in our partner's CV Builder. All profiles are written by recruitment experts and easily tailored to suit your unique skillset.
Core skills section
Underneath your profile, write a core skills section to make your most relevant skills jump off the page at readers.
It should be made up of 2-3 columns of bullet points of your relevant skills.
Before you do this, look over the job description and make a list of any specific skills, specialisms or knowledge required.
Then, make sure to use your findings in your list. This will paint you as the perfect match for the role.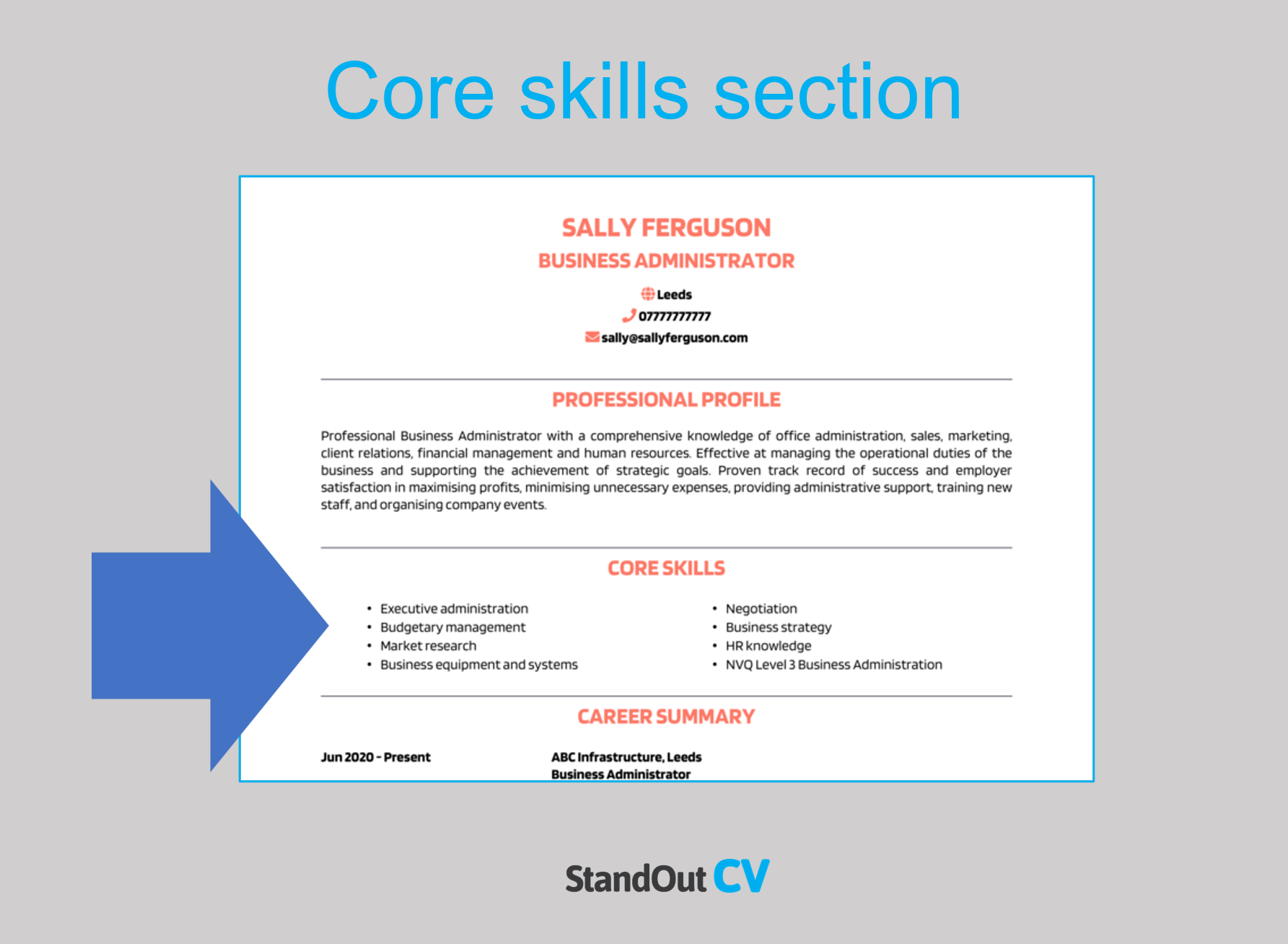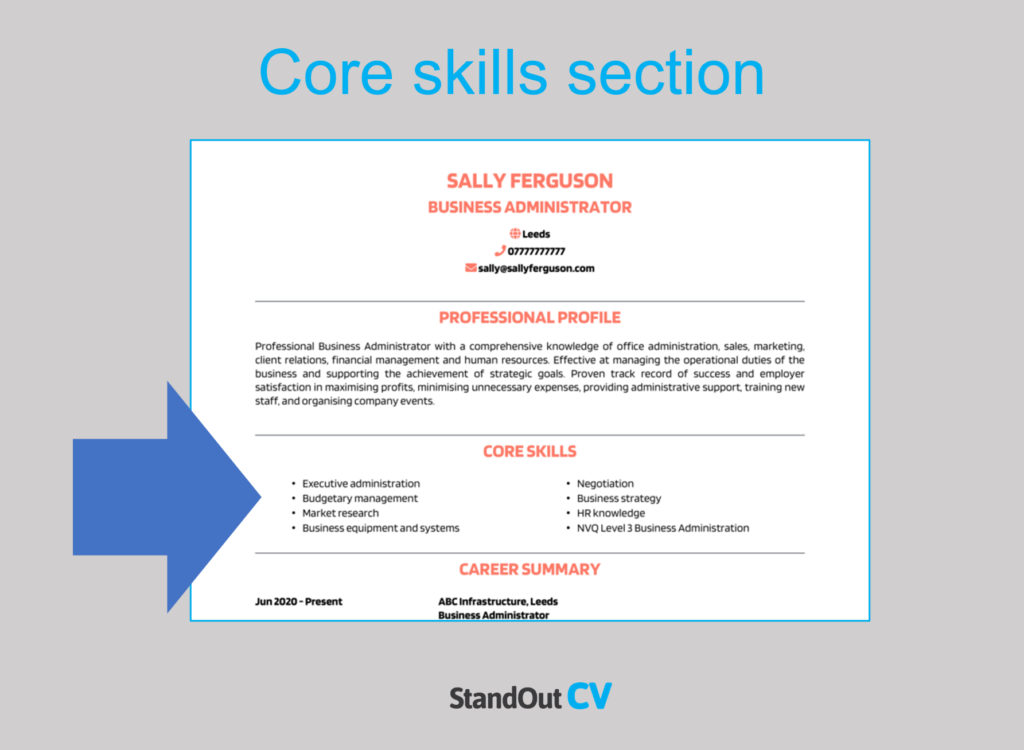 Important skills for your Au Pair CV
Childcare Expertise – Providing quality childcare services, including supervising children's activities, ensuring their safety, and meeting their physical and emotional needs.
Communication – Interacting effectively with children, parents, and other family members, including active listening and clear expression.
Scheduling and Routine Management – Organising daily schedules, coordinating activities, and ensuring punctuality in meeting children's routines and commitments.
Adaptability and Flexibility – Adapting to different family dynamics, cultural contexts, and household routines, and being flexible in accommodating changing needs and schedules.
Problem Resolution – Handling unexpected situations, conflicts, and challenges that may arise while caring for children.
Multitasking – Handling multiple responsibilities simultaneously, such as managing household tasks, assisting with homework, and engaging in recreational activities with children.
Home Organisation – Maintaining cleanliness, order, and safety in children's living and play areas, and keeping track of children's schedules and belongings.
Patience and Empathy – Understanding children's emotions, responding sensitively to their needs, and supporting their growth and development.
Cultural Awareness – Maintaining sensitivity and openness to different cultural backgrounds, customs, and traditions, promoting a diverse and inclusive environment for children.
Quick tip: Our partner's CV Builder has thousands of in-demand skills for all industries and professions, that can be added to your CV in seconds – This will save you time and ensure you get noticed by recruiters.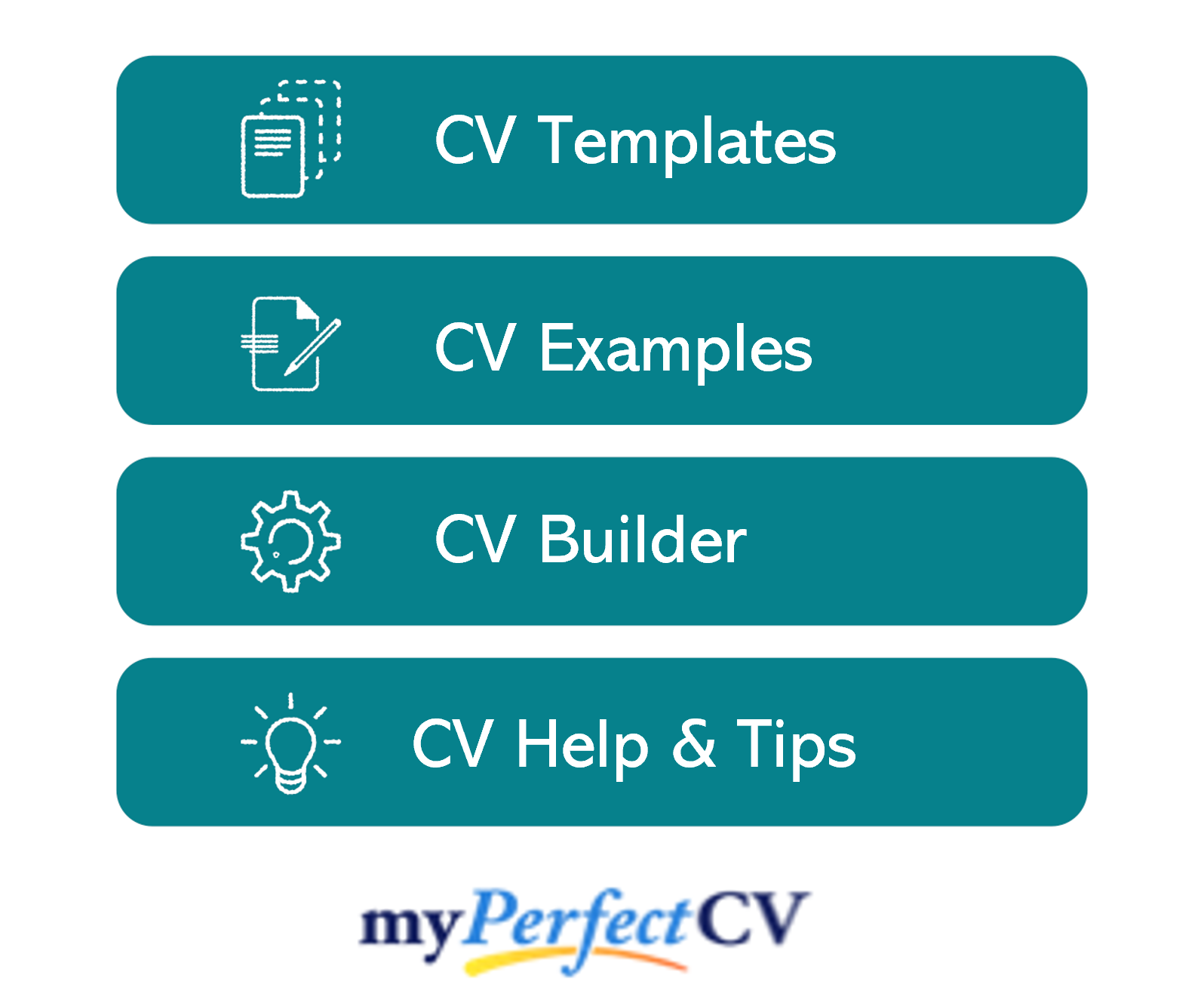 Work experience
Next up is your work experience section, which is normally the longest part of your CV.
Start with your current (or most recent) job and work your way backwards through your experience.
Can't fit all your roles? Allow more space for your recent career history and shorten down descriptions for your older roles.
Structuring each job
The structure of your work experience section can seriously affect its impact.
This is generally the biggest section of a CV, and with no thought to structure, it can look bulky and important information can get lost.
Use my 3-step structure below to allow for easy navigation, so employers can find what they are looking for:
Outline
Firstly, give the reader some context by creating a punchy summary of the job as a whole.
You should mention what the purpose or goal of your role was, what team you were part of and who you reported to.
Key responsibilities
Using easy-to-read bullet points, note down your day-to-day responsibilities in the role.
Make sure to showcase how you used your hard sector skills and knowledge.
Key achievements
Lastly, add impact by highlight 1-3 key achievements that you made within the role.
Struggling to think of an achievement? If it had a positive impact on your company, it counts.
For example, you might increased company profits, improved processes, or something simpler, such as going above and beyond to solve a customer's problem.
Sample job description for Au Pair CV
Outline
Provide in-home childcare for a family with two children aged 6 and 8 in Alresford, including transportation, meal preparation, and light housekeeping.
Key Responsibilities
Plan and prepare meals, taking into consideration allergies and preferences
Assist children with homework, ensuring that they complete their tasks on time
Provide transportation to and from school and extra-curricular activities, ensuring that the children arrive on time and safely with the correct equipment
Maintain a clean and organised home environment, completing light housekeeping duties such as laundry, dishes, and vacuuming
Quick tip: Create impressive job descriptions easily in our partner's CV Builder by adding pre-written job phrases for every industry and career stage.

Education section
Next up, you should list your education and qualifications.
This can include your formal qualifications (a degree, A-Levels and GCSEs), as well as sector-specific Au Pair qualifications and/or training.
While school leavers and recent grads should include a lot of detail here to make up for the lack of work experience, experienced candidates may benefit from a shorter education section, as your work experience section will be more important to recruiters.
Hobbies and interests
This section is entirely optional, so you'll have to use your own judgement to figure out if it's worth including.
If your hobbies and interests could make you appear more suitable for your dream job, then they are definitely worth adding.
Interests which are related to the industry, or hobbies like sports teams or volunteering, which display valuable transferable skills might be worth including.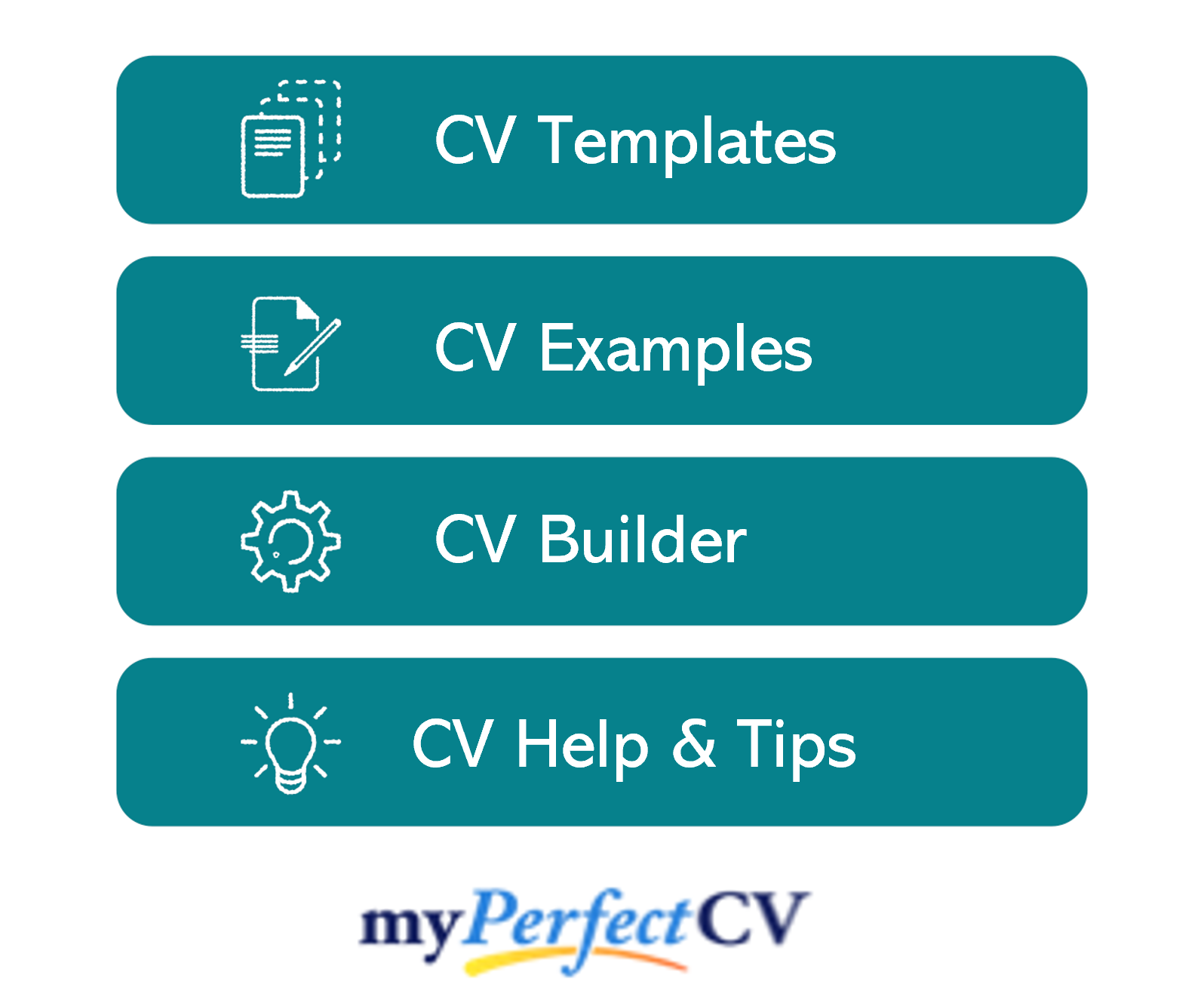 A strong, compelling CV is essential to get noticed and land interviews with the best employers.
To ensure your CV stands out from the competition, make sure to tailor it to your target role and pack it with sector-specific skills and results.
Remember to triple-check for spelling and grammar errors before hitting send.
Good luck with the job search!