Are you looking for a role as an art teacher? Then you need a CV that carefully paints a picture of who you are and your relevant qualifications and experience.
But if you're not sure where to even begin writing, you've come to the right place.
We've created this step-by-step guide, along with an art teacher CV example to help you with the application process and secure you an interview.
Contents
| | |
| --- | --- |
| How to write a Art Teacher CV | |

Art Teacher CV example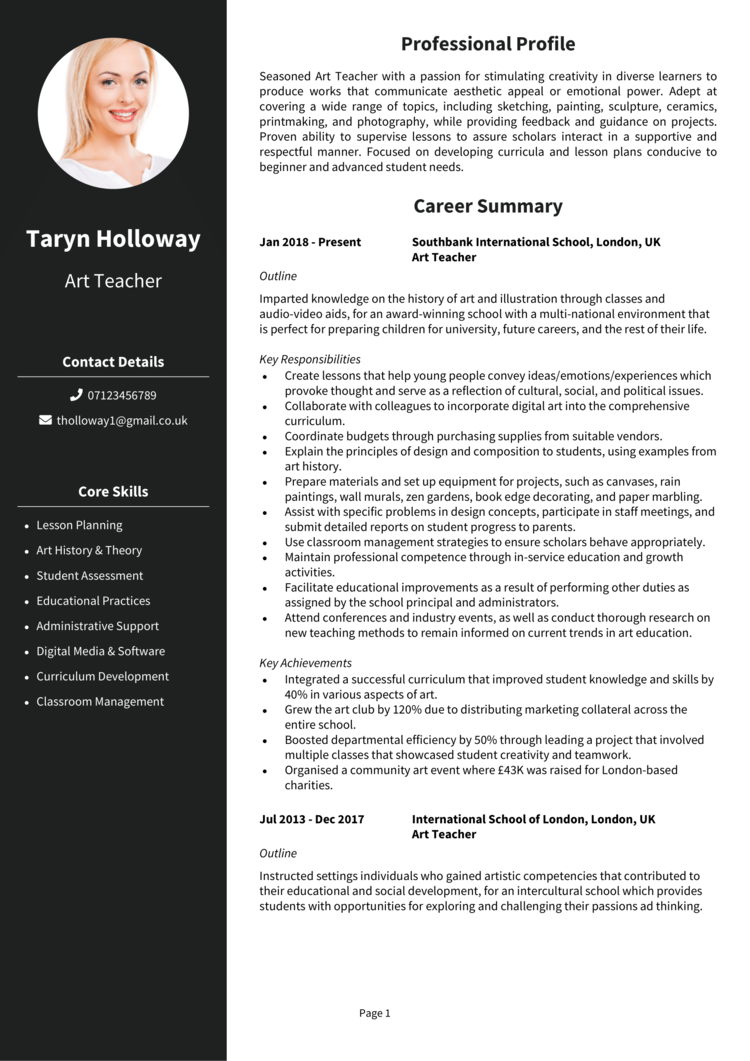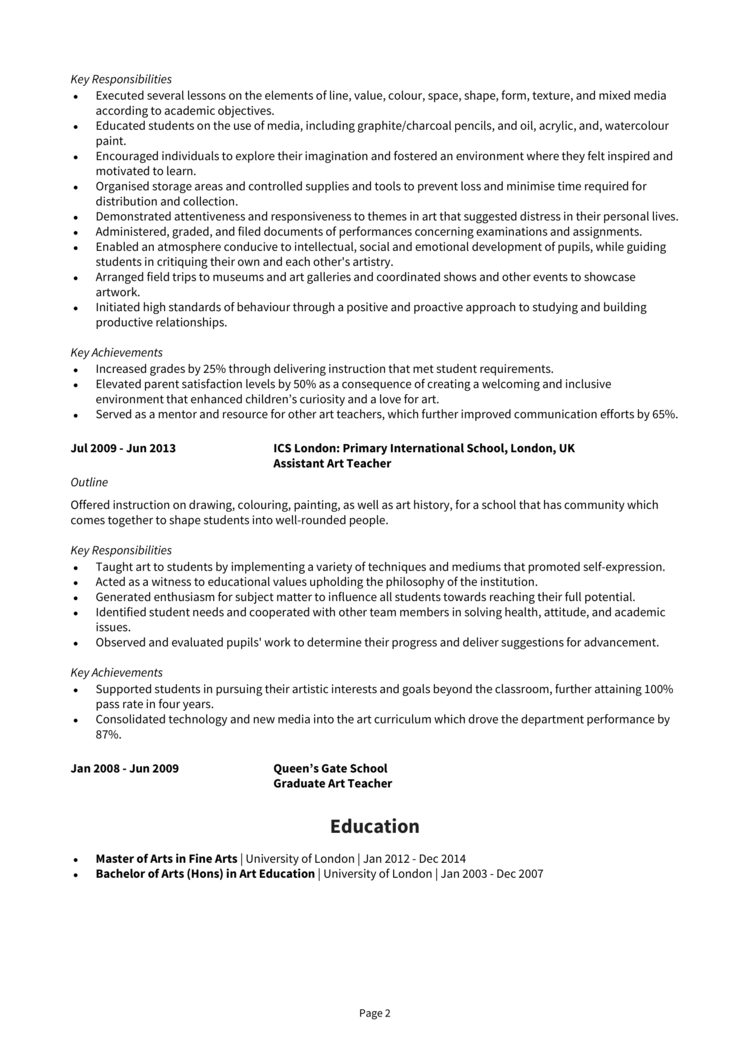 This CV example showcases the optimal structure and format for your Art Teacher CV, providing a pleasant reading experience for busy recruiters.
It also demonstrates the skills, experience and qualifications you should emphasize in your own CV to increase your chances of landing job interviews.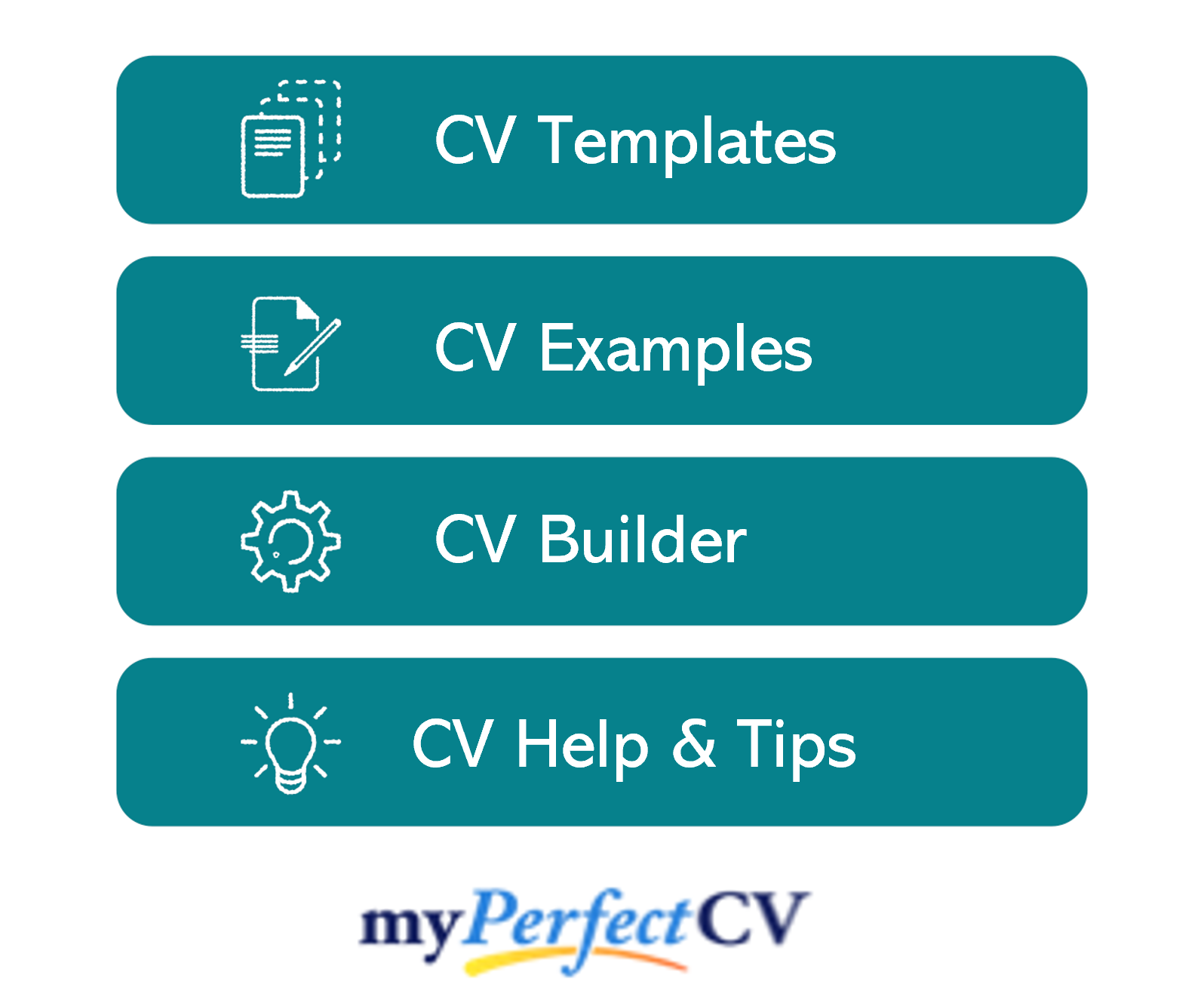 Art Teacher CV format and structure
Recruiters and employers are busy, and if they can't find the information they're looking for in a few seconds, it could be game over for your application.
You need to format and structure your CV in a way which allows the reader to pick out your key information with ease, even if they're strapped for time.
It should be clear, easily legible, well-organised and scannable – check out some simple tips and tricks below: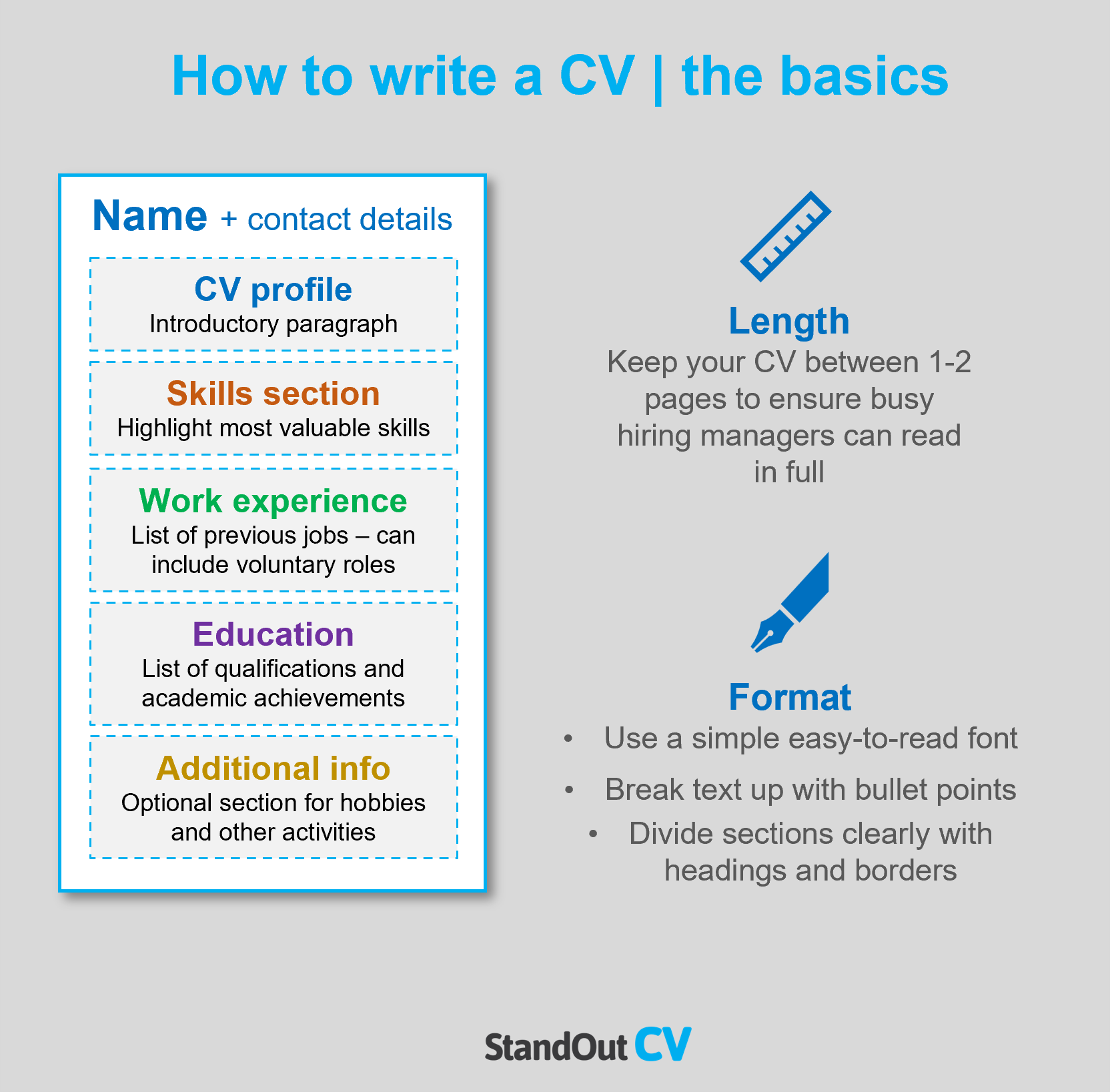 Tips for formatting your Art Teacher CV
Length: It's essential to keep your CV concise, regardless of whether you have one year or thirty years of experience. Recruiters are frequently managing multiple roles and responsibilities and do not have the luxury of reading lengthy CVs. Therefore, limit your CV to two sides of A4. If you have little industry experience, one page is sufficient.
Readability: By formatting your section headings with bold or a different colour font and using bullet points to break up large blocks of text, you can help busy recruiters quickly scan through your CV. This makes it easier for them to find important details without wasting time.
Design & format: While it's important that your CV design looks good, it also needs to be functional (which means easy for recruiters to read) Keep the design simple to achieve a good balance between looking good and reading well.
Photos: Profile photos or aren't a requirement for most industries, so you don't need to add one in the UK – but if you do, just make sure it looks professional
Quick tip: Creating a professional CV style can be difficult and time-consuming when using Microsoft Word or Google Docs. To create a winning CV quickly, try our partner's CV Builder and use one of their eye-catching professional CV templates.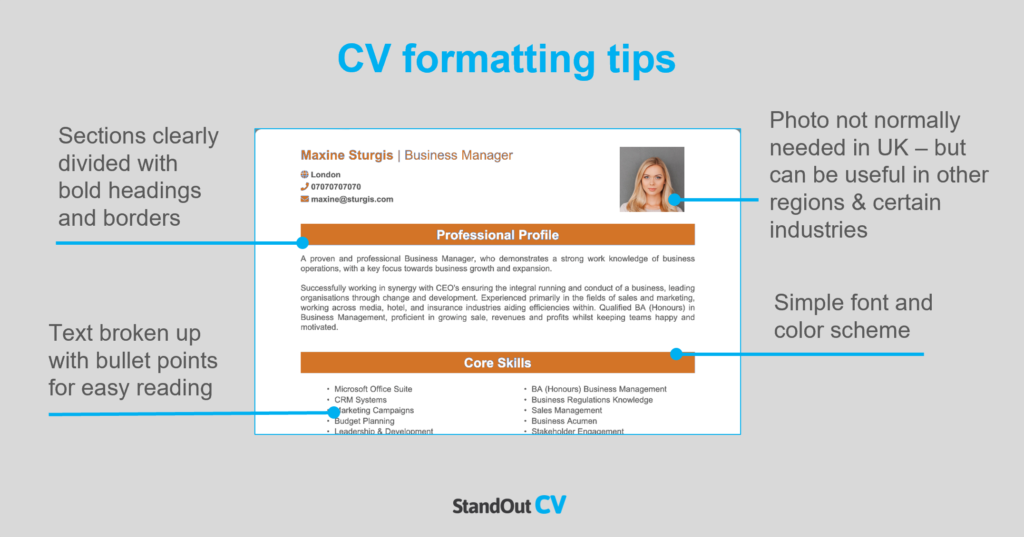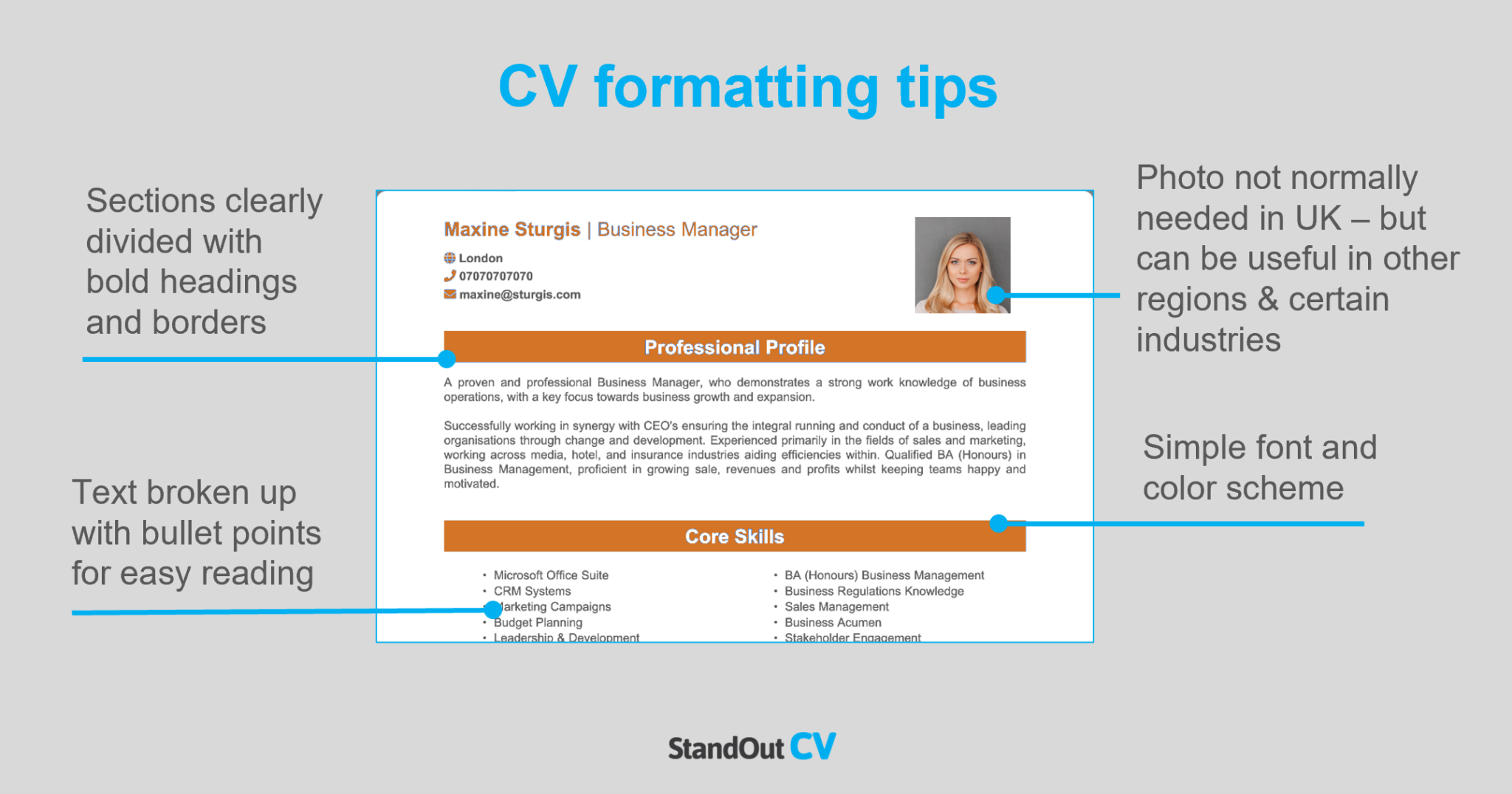 CV structure
For easy reading, write your CV to the following CV structure:
Contact details – Make it easy for recruiters to get in touch with you by listing your contact details at the top of your CV.
Profile – A short and snappy summary of your experience and skills, showcasing what makes you a good fit for the position.
Work experience / career history – Note down all your work history, with your current position first, then working backwards.
Education – A short list of your academic background and professional/vocational qualifications.
Interest and hobbies – This is an optional section, which you can use to highlight any relevant hobbies or interests.
Now you understand the basic layout of a CV, here's what you should include in each section of yours.
Contact Details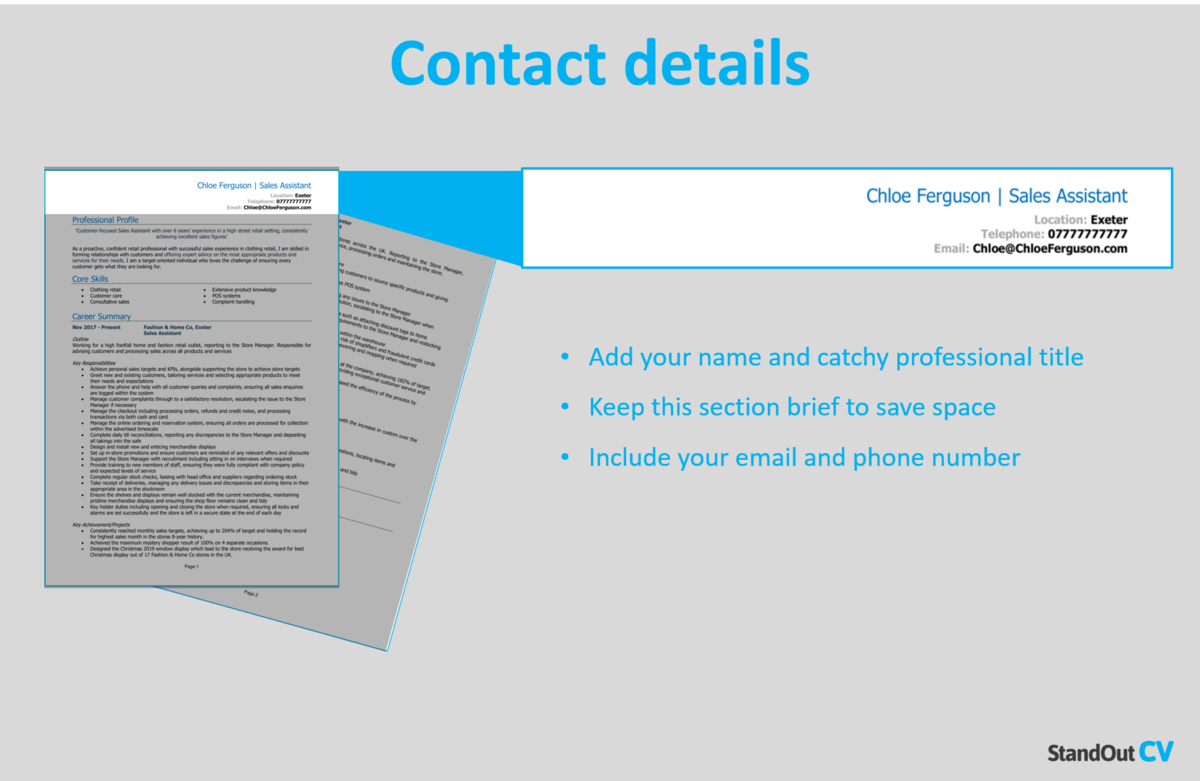 Write your contact details in the top corner of your CV, so that they're easy to find but don't take up too much space.
You only need to list your basic details, such as:
Mobile number
Email address
Location – Don't list your full address. Your town or city, such as 'Norwich' or 'Coventry' is perfect.
LinkedIn profile or portfolio URL – Remember to update these before listing them on an application.
Art Teacher CV Profile
Your CV profile is the first thing recruiters will read – so your goal is to give them a reason to read onto the end of the document!
Create a short and snappy paragraph that showcases your key skills, relevant experience and impressive accomplishments.
Ultimately, it should prove to the reader that you've got what it takes to carry out the job.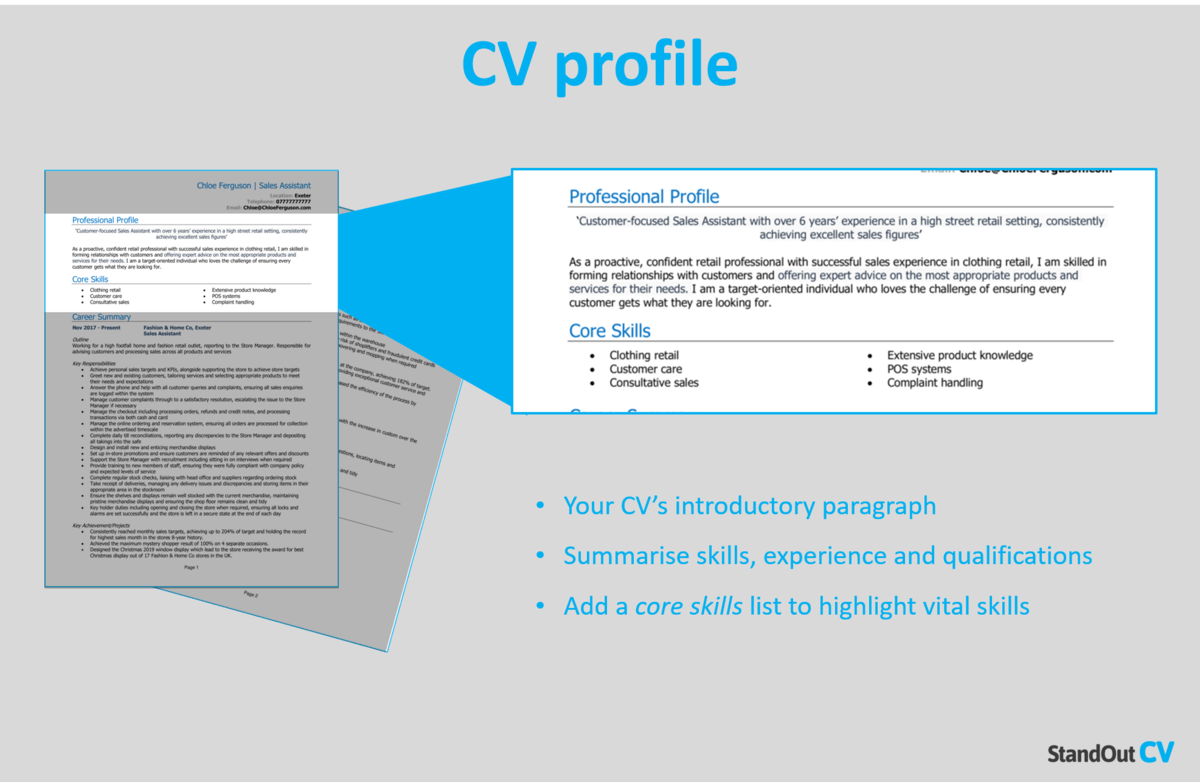 How to write a good CV profile:
Make it short and sharp: Aim for a short, snappy paragraph of 3-5 lines. This is just enough room to showcase why you'd make the perfect hire, without going into excessive detail and overwhelming busy recruiters.
Tailor it: No matter how much time you put into your CV profile, it won't impress if it's irrelevant to the role you're applying for. Before you start writing, make a list of the skills, knowledge and experience your target employer is looking for. Then, make sure to mention them in your CV profile and throughout the rest of your application.
Don't add an objective: Want to talk about about your career goals and objectives? While the profile may seem like a good space to do so, they're actually much better suited to your cover letter.
Avoid generic phrases: If there's one thing that'll annoy a recruiter, it's a clichè-packed CV. Focus on showcasing your hard skills, experience and the results you've gained in previous roles, which will impress recruiters far more.
Example CV profile for Art Teacher
Seasoned Art Teacher with a passion for stimulating creativity in diverse learners to produce works that communicate aesthetic appeal or emotional power. Adept at covering a wide range of topics, including sketching, painting, sculpture, ceramics, printmaking, and photography, while providing feedback and guidance on projects. Proven ability to supervise lessons to assure scholars interact in a supportive and respectful manner. Focused on developing curricula and lesson plans conducive to beginner and advanced student needs.
What to include in your Art Teacher CV profile?
Experience overview: Start with a brief summary of your relevant experience so far. How many years experience do you have? What type of companies have you worked for? What industries/sectors have you worked in? What are your specialisms?
Targeted skills: Ensure that your profile highlights your key skills that are most relevant to your Art Teacher, and tailor them to match the specific job you are applying for. To do this, refer to the job description to closely align your skills with their requirements.
Important qualifications: If you have any qualifications which are highly relevant to Art Teacher jobs, then highlight them in your profile so that employers do not miss them.
Quick tip: If you are finding it difficult to write an attention-grabbing CV profile, choose from hundreds of pre-written profiles across all industries, and add one to your CV with one click in our partner's CV Builder. All profiles are written by recruitment experts and easily tailored to suit your unique skillset.
Core skills section
Next, you should create a bullet pointed list of your core skills, formatted into 2-3 columns.
Here, you should focus on including the most important skills or knowledge listed in the job advertisement.
This will instantly prove that you're an ideal candidate, even if a recruiter only has time to briefly scan your CV.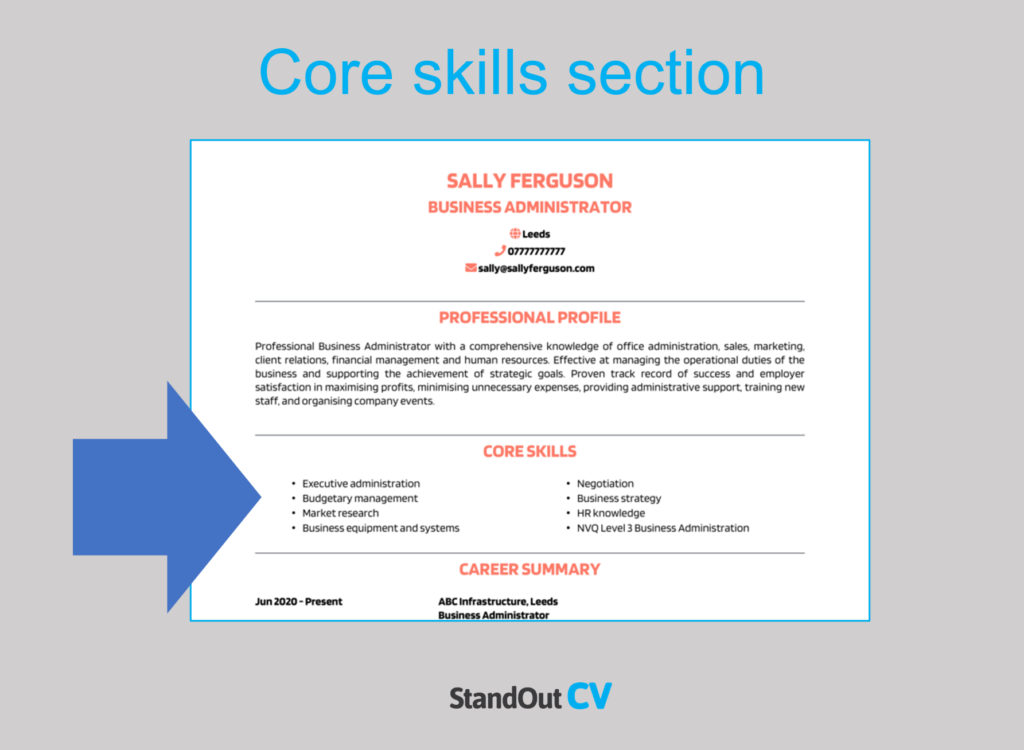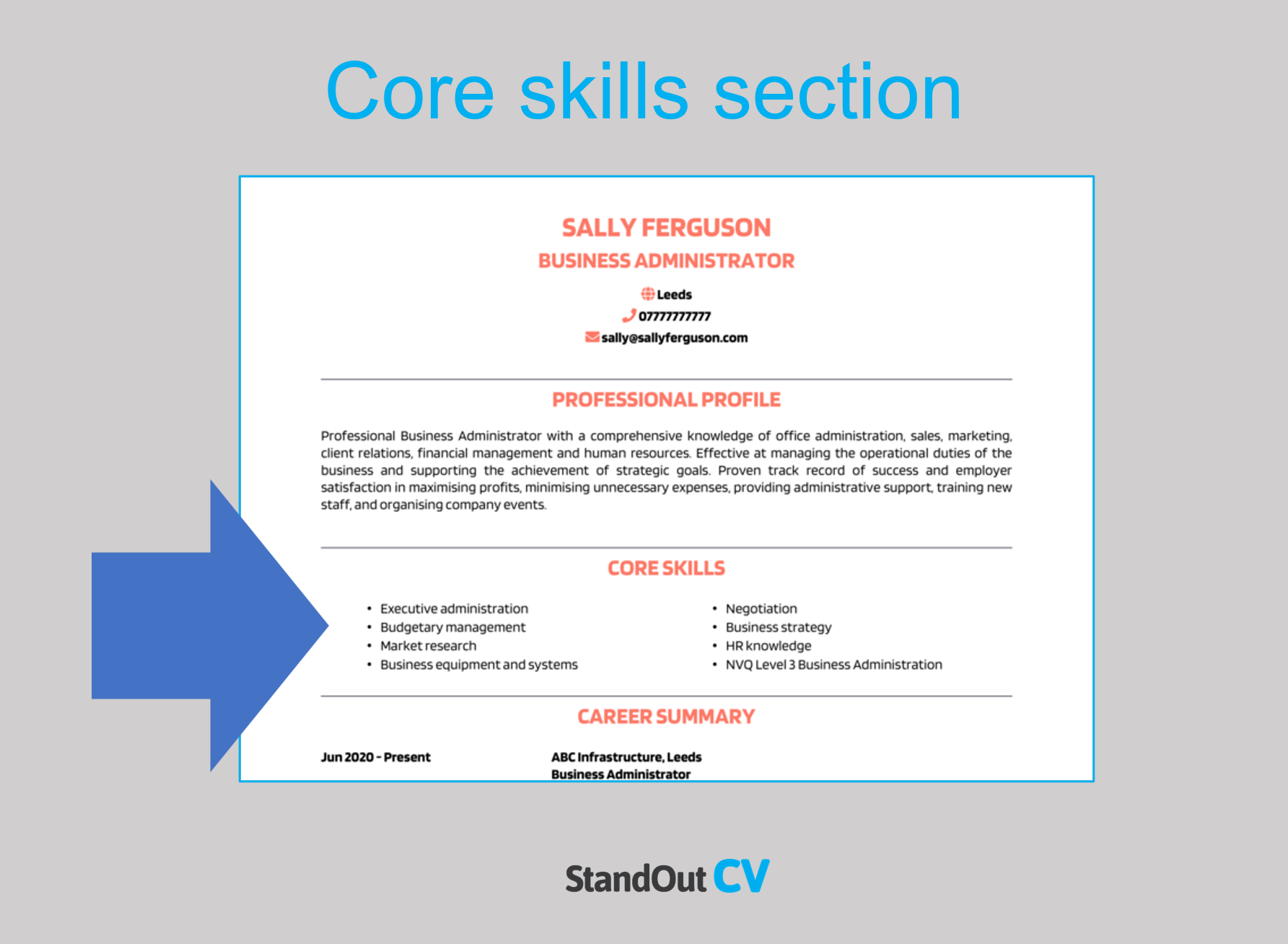 Important skills for your Art Teacher CV
Artistic Proficiency – Proficiency in various art techniques and mediums, such as drawing, painting, sculpting, and digital art, to effectively demonstrate and teach art concepts.
Curriculum Development – Designing and developing engaging art curricula that align with educational standards and cater to students' learning needs and abilities.
Instructional Strategies – Utilising knowledge of effective teaching methods and strategies to engage students, facilitate learning, and foster creativity in the art classroom.
Classroom Management – Maintaining a positive and productive learning environment, managing student behaviour, and promoting respect and inclusivity.
Differentiated Instruction – Adapting teaching approaches and materials to accommodate diverse student needs, abilities, and learning styles.
Assessment and Feedback – Assessing students' artistic growth and providing constructive feedback to support their artistic development.
Art History Knowledge – Incorporating art history including art movements, styles, and artists into art lessons, helping students develop a broader art appreciation.
Digital Technology – Utilising digital tools, software, and multimedia platforms relevant to art education to enhance instructional experiences and support students' digital creativity.
Collaboration and Communication – Collaborating with colleagues, engaging with parents/guardians, and effectively communicating with students about their artistic progress.
Reflective Practice – Engaging in ongoing professional development, reflecting on teaching practices, and continuously improving teaching methods and approaches.
Quick tip: Our partner's CV Builder has thousands of in-demand skills for all industries and professions, that can be added to your CV in seconds – This will save you time and ensure you get noticed by recruiters.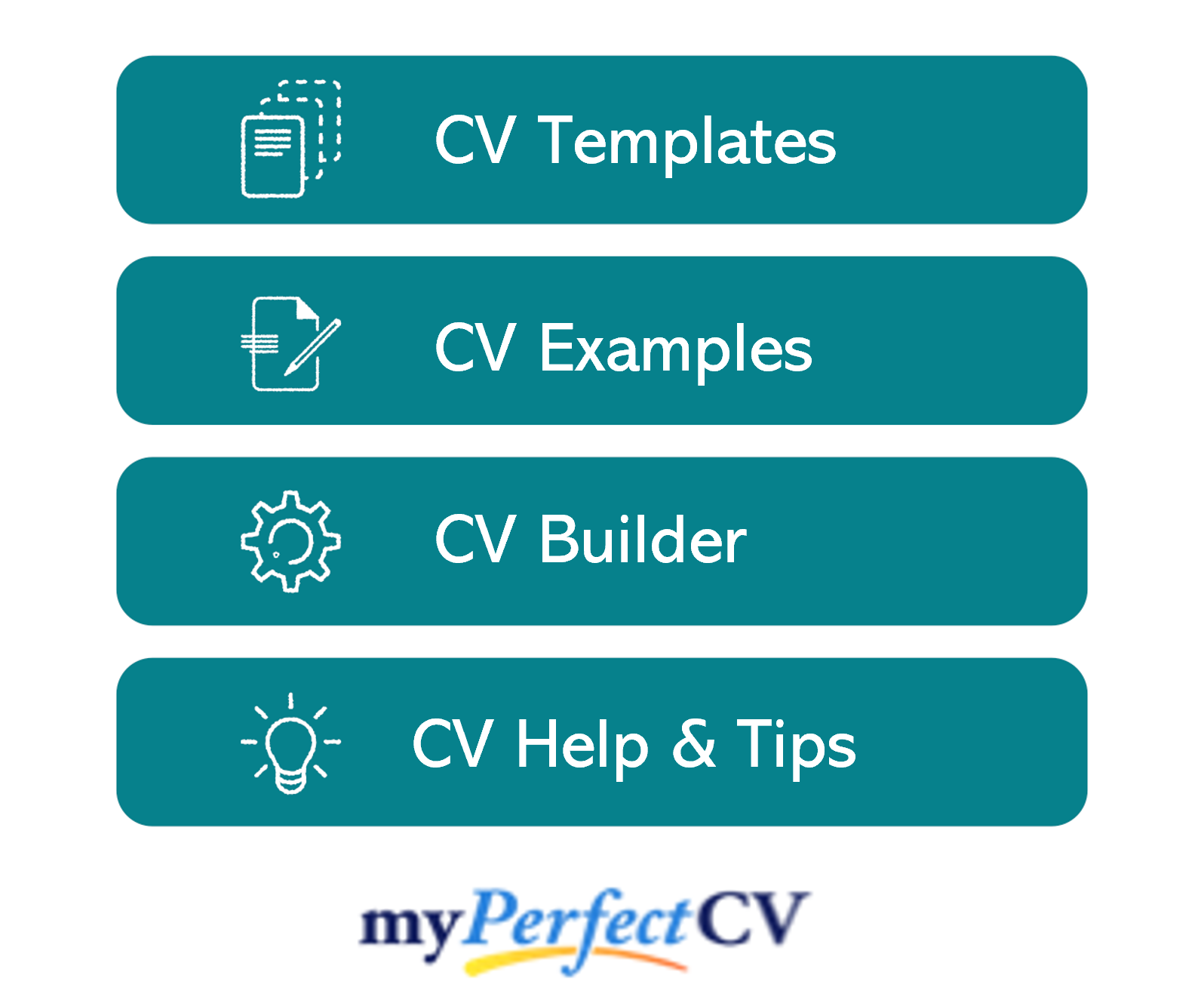 Work experience
Now that recruiters have a good overview of your skills and abilities, you need to jump into the detail of your career history.
Give them a more thorough insight into what you can do by creating a detailed list of your relevant experience.
Start with your current role, and work backwards through all the relevant positions you've held.
This could be freelance, contract or voluntary work too; as long as it's related to the role you're applying for.
Structuring each job
If you don't pay attention to the structure of your career history section, it could quickly become bulky and overwhelming.
Get in recruiters' good books by creating a pleasant reading experience, using the 3-step structure below:
Outline
Start with a 1-2 sentence summary of your role as a whole, detailing what the goal of your position was, who you reported to or managed, and the type of organisation you worked for.
Key responsibilities
Next, write up a punchy list of your daily duties and responsibilities, using bullet points.
Wherever you can, point out how you put your hard skills and knowledge to use – especially skills which are applicable to your target role.
Key achievements
Lastly, add impact by highlight 1-3 key achievements that you made within the role.
Struggling to think of an achievement? If it had a positive impact on your company, it counts.
For example, you might increased company profits, improved processes, or something simpler, such as going above and beyond to solve a customer's problem.
Sample job description for Art Teacher CV
Outline
Imparted knowledge on the history of art and illustration through classes and audio-video aids, for an award-winning school with a multi-national environment that is perfect for preparing children for university, future careers, and the rest of their life.
Key Responsibilities
Create lessons that help young people convey ideas/emotions/experiences which provoke thought and serve as a reflection of cultural, social, and political issues.
Collaborate with colleagues to incorporate digital art into the comprehensive curriculum.
Coordinate budgets through purchasing supplies from suitable vendors.
Explain the principles of design and composition to students, using examples from art history.
Quick tip: Create impressive job descriptions easily in our partner's CV Builder by adding pre-written job phrases for every industry and career stage.

Education section
Next up, you should list your education and qualifications.
This can include your formal qualifications (a degree, A-Levels and GCSEs), as well as sector-specific Art Teacher qualifications and/or training.
While school leavers and recent grads should include a lot of detail here to make up for the lack of work experience, experienced candidates may benefit from a shorter education section, as your work experience section will be more important to recruiters.
Hobbies and interests
This section is entirely optional, so you'll have to use your own judgement to figure out if it's worth including.
If your hobbies and interests could make you appear more suitable for your dream job, then they are definitely worth adding.
Interests which are related to the industry, or hobbies like sports teams or volunteering, which display valuable transferable skills might be worth including.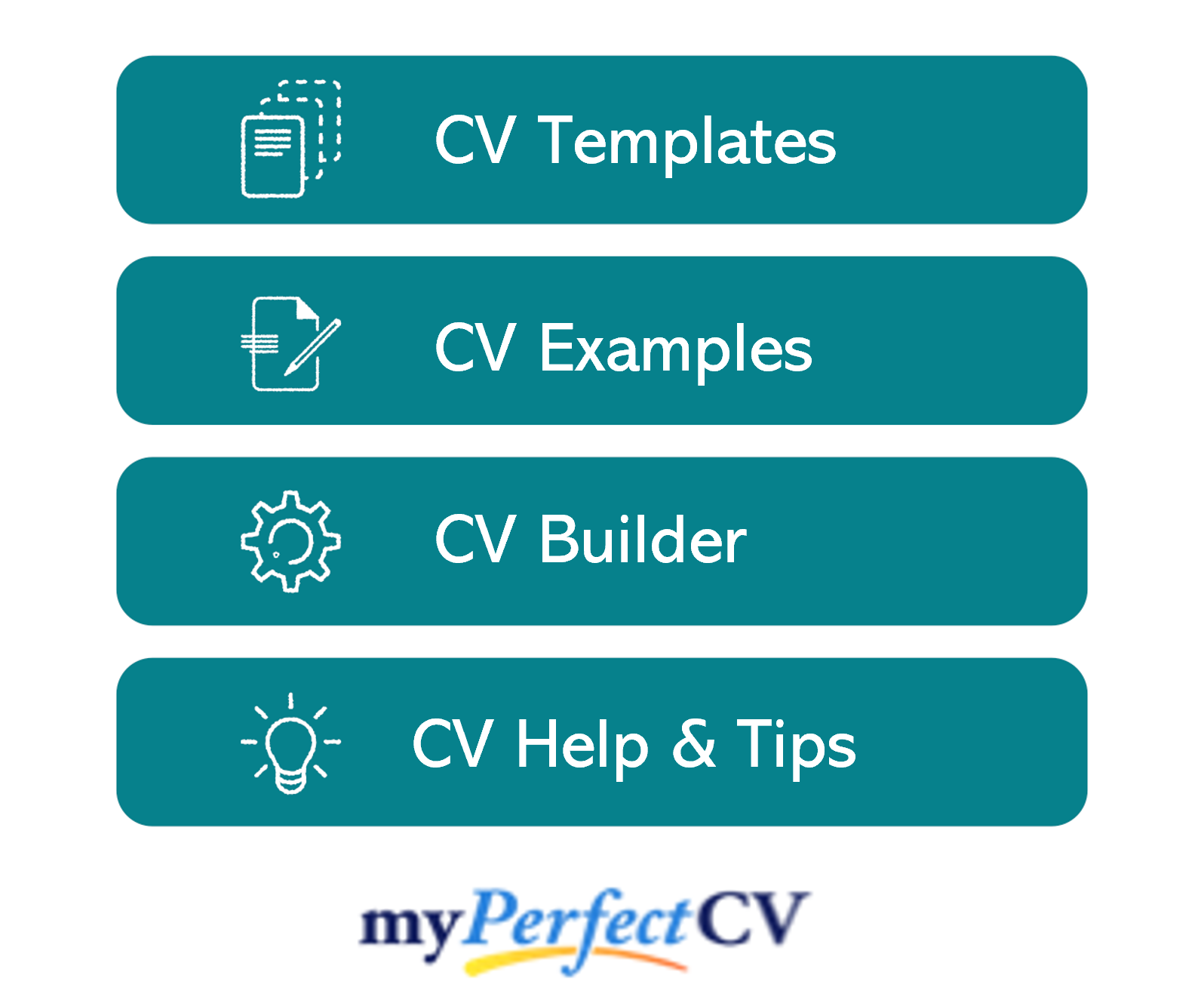 When putting together your Art Teacher CV, there are a few key points to remember
Always tailor your CV to the target role, even if it means creating several versions for different roles.
Additionally, remember that the structure and format of your CV needs just as much attention as the content.
Good luck with your job search!