AI (artificial intelligence) has seemingly endless potential and if you've got the skills to manage complex algorithms and enable real-world applications, you could be in high demand right now.
But to prove you've got what it takes, you need an engaging CV that's bursting with relevant facts and figures.
To help you pull together your data and impress the recruiters, we've created the following guide, complete with an AI engineer CV example to inspire you.
Contents
| | |
| --- | --- |
| How to write a AI Engineer CV | |

AI Engineer CV example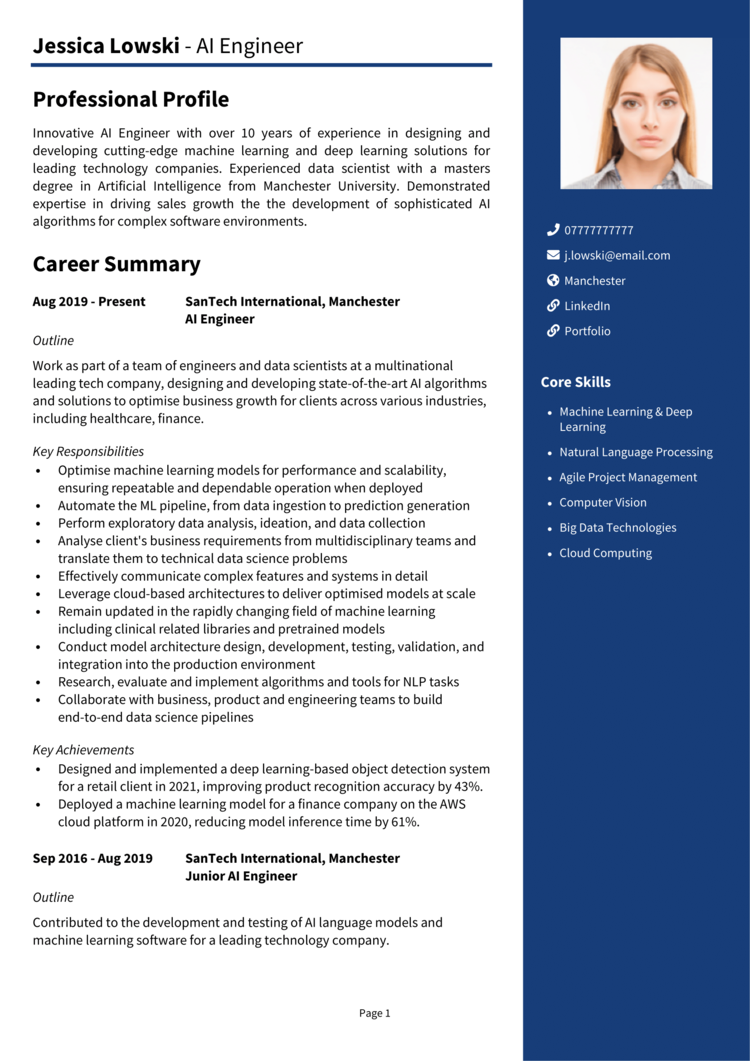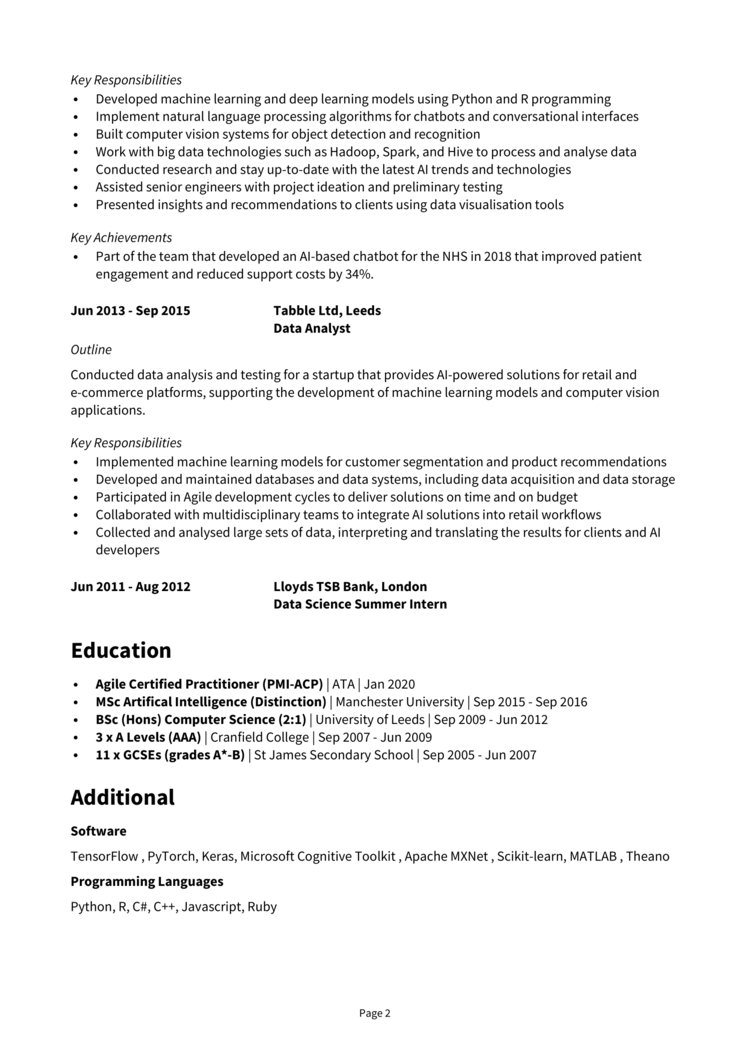 This CV example demonstrates the type of info you should be including within your AI Engineer CV, as well as how to format and layout the content in a way which looks professional and is easy for time-strapped recruiters to read.
This is the look and feel you should be aiming for, so remember to refer back to it throughout your CV writing process.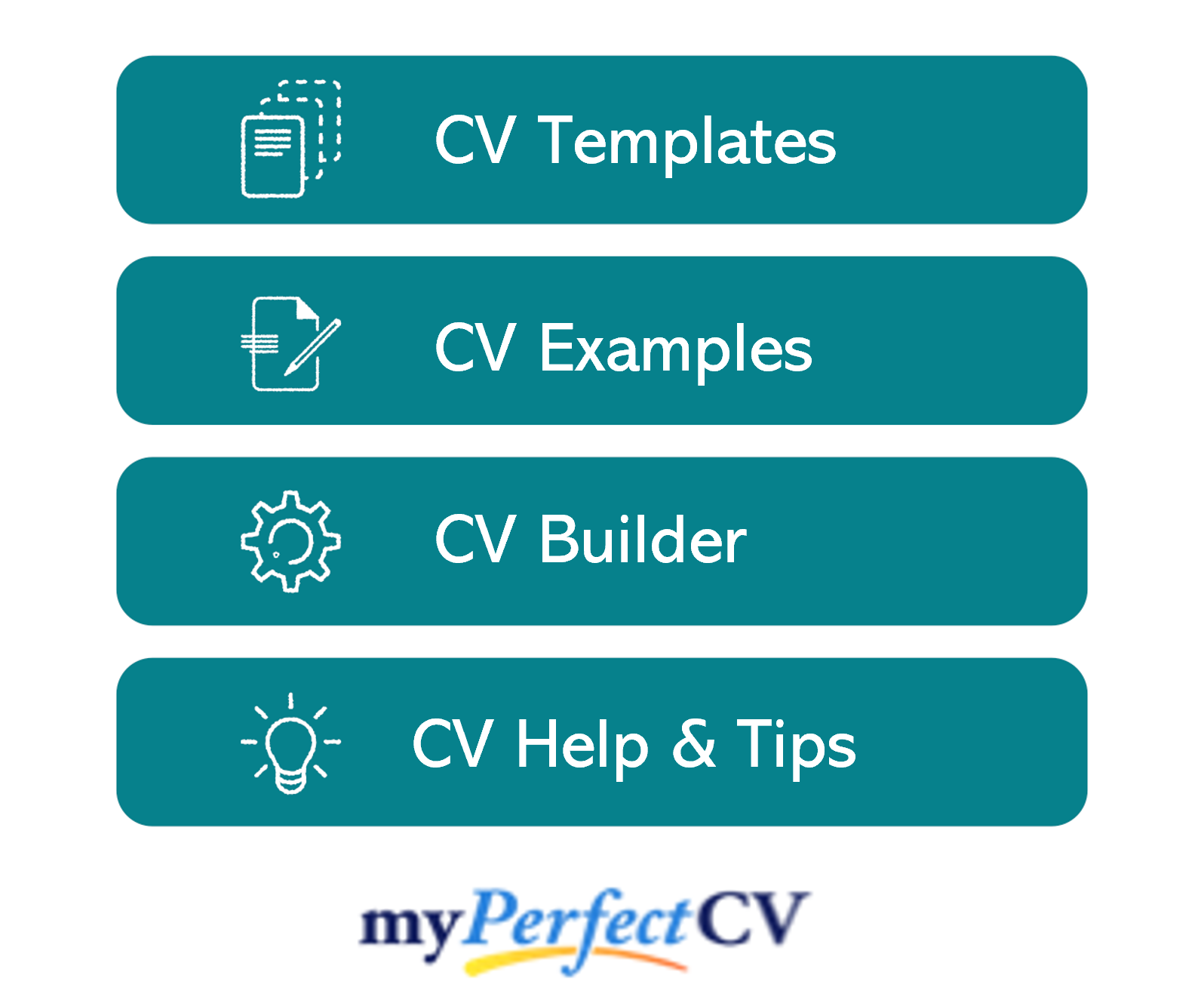 AI Engineer CV format and structure
If you focus purely on the written content of your CV but ignore the style and layout, your efforts could end up wasted.
No matter how suitable you are for the role, no recruiter wants to spend time squinting and trying to navigate a badly designed and disorganised CV.
Instead, make sure to organise your content into a simple structure and spend some time formatting it for ease of reading – it will ensure every recruiter and hiring manager can read your CV with ease.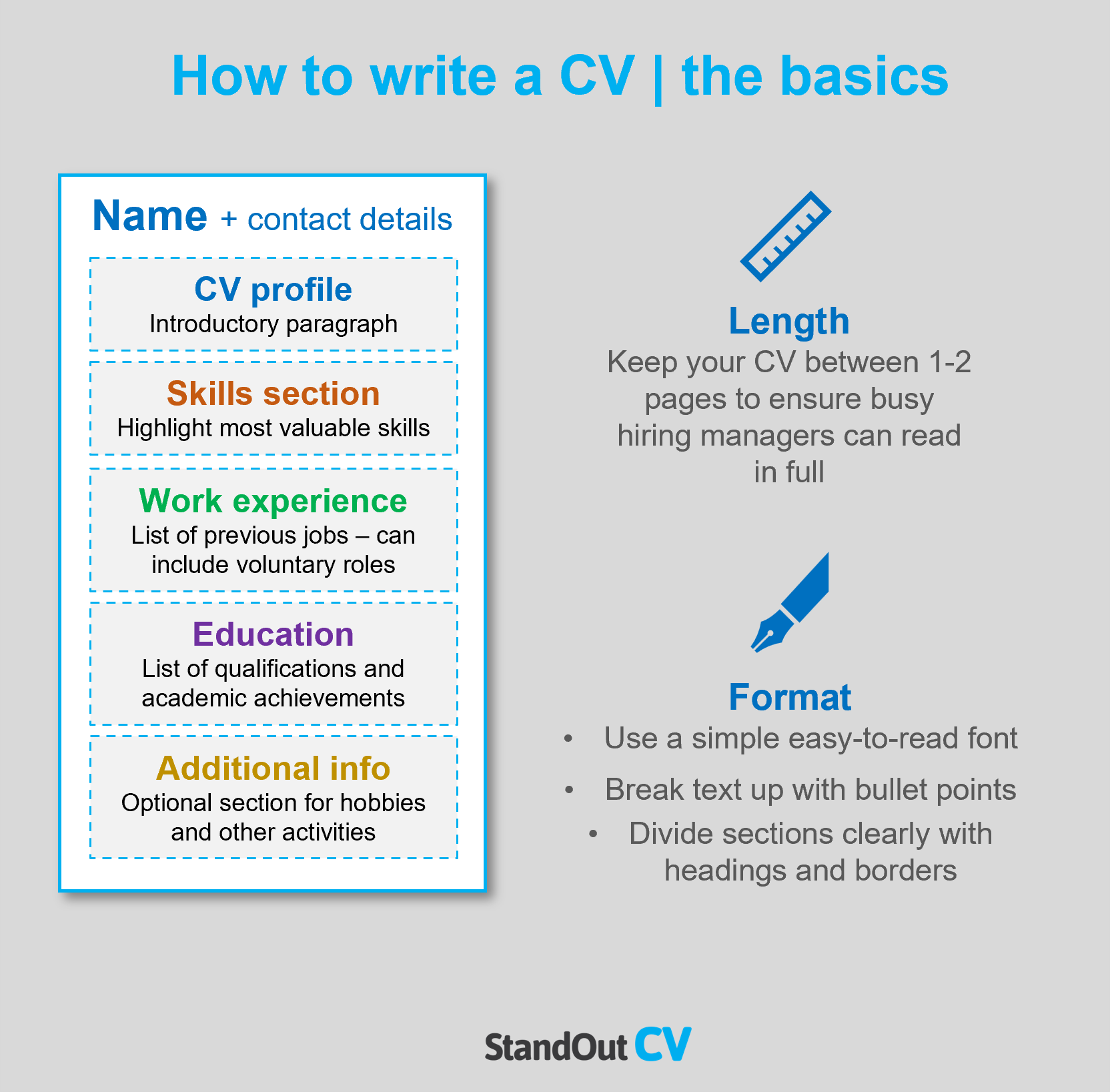 Tips for formatting your AI Engineer CV
Length: If you want to hold the reader's attention and ensure your CV isn't yawn-worthy, it's best to stick to two sides of A4 or less. This is more than enough room to highlight why you're a good match for the role – anything more can quickly become tedious!
Readability: Columns, lists, bullet points, bold text and subtle colour can all help to aid the readability of your CV. Your overarching goal should be to make the content as easy to read and navigate as possible, whilst also aiming to make your key skills and achievements stand out.
Design & format: When it comes to CV design, it's best to keep things simple and sleek. While elaborate designs certainly command attention, it's not always for the right reasons! Readability is key, so whatever you choose to do, make sure you prioritise readability above everything.
Photos: Don't add profile photos to your CV unless you work in an industry or region which prefers to see them. Most employers in the UK will not need to see one.
Quick tip: Creating a professional CV style can be difficult and time-consuming when using Microsoft Word or Google Docs. To create a winning CV quickly, try our partner's CV Builder and use one of their eye-catching professional CV templates.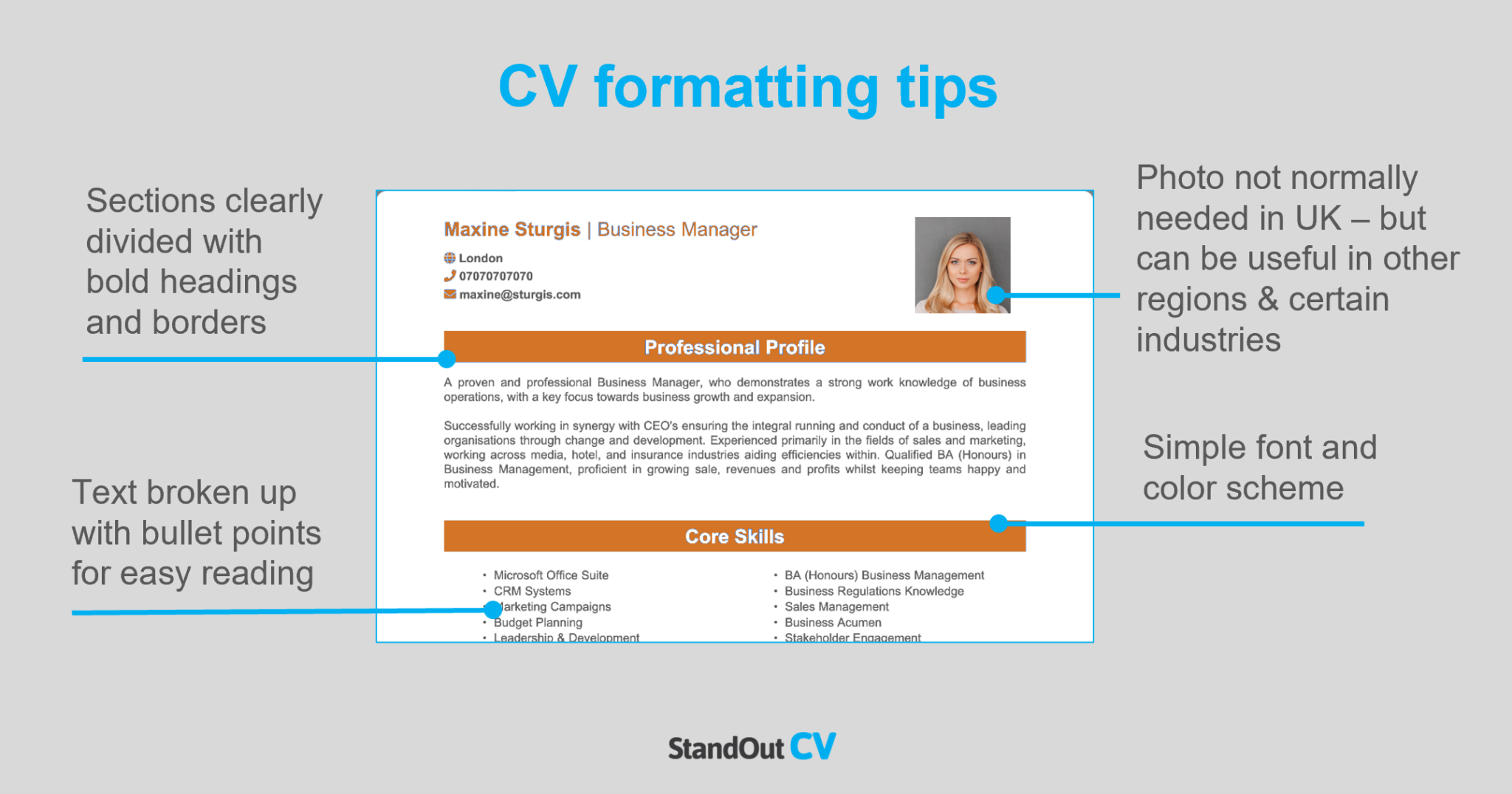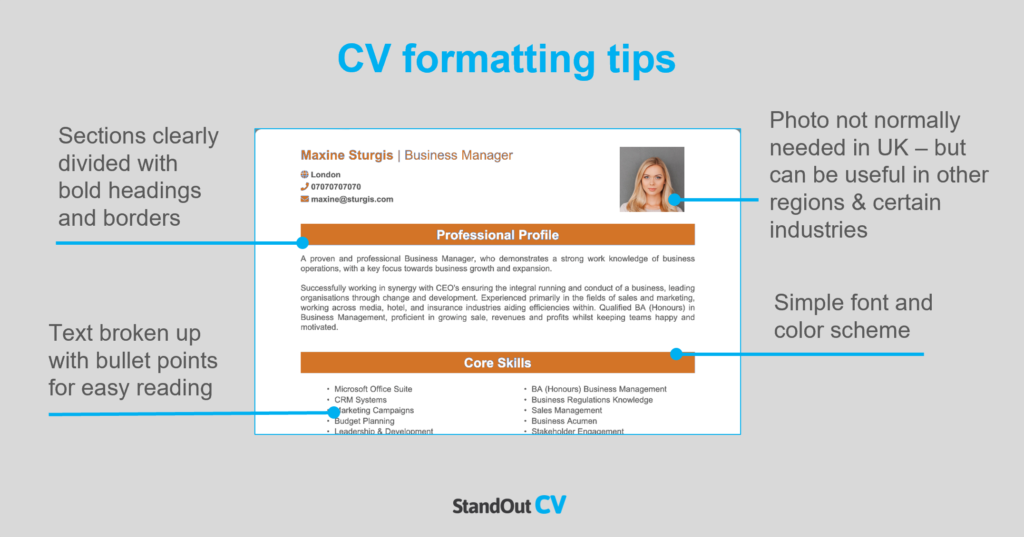 CV structure
When writing your own CV, break up your CV content into the following key sections:
Name and contact details – Place them at the top of your CV, so that employers can easily get in touch.
CV profile – A punchy sales pitch of your key experience, skills and achievements to reel readers in.
Core skills section – A bullet-pointed snapshot of your abilities.
Work experience – A well-structured list of your relevant work experience.
Education – An overview of any relevant qualifications or professional training you have.
Hobbies and interests – A short description of any relevant hobbies or interests (optional).
Now you understand the basic layout of a CV, here's what you should include in each section of yours.
Contact Details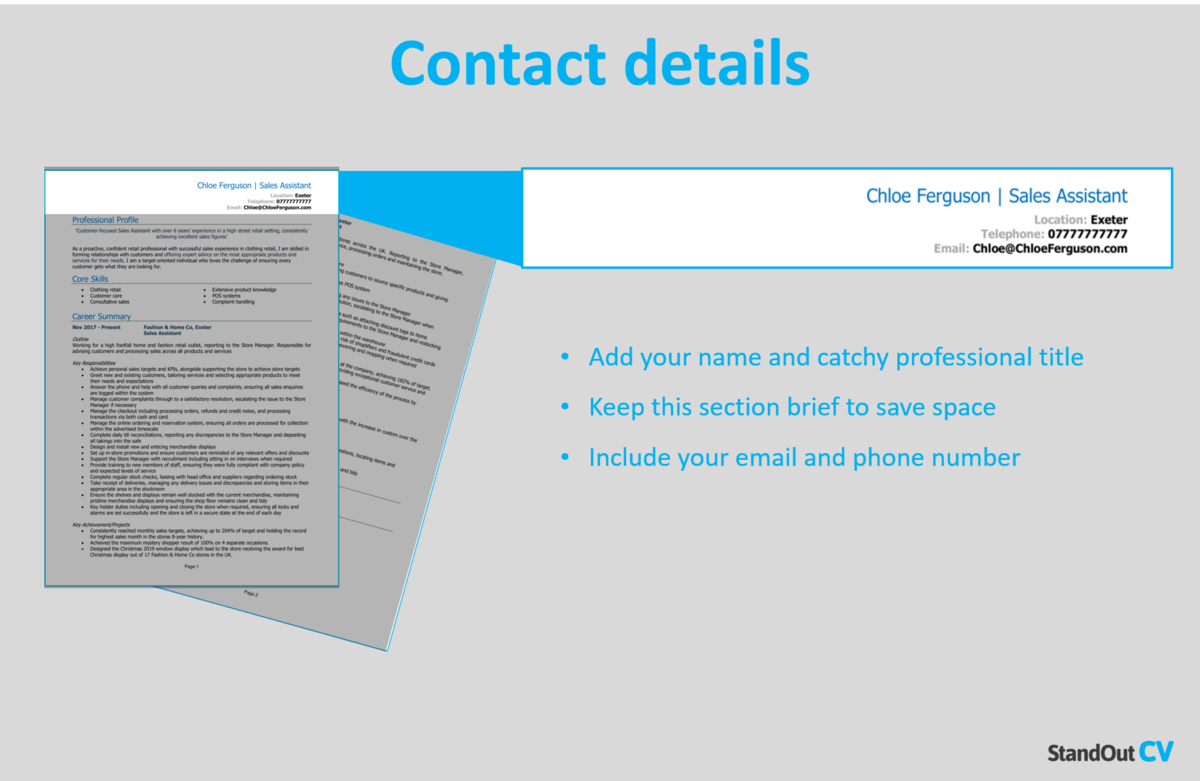 Make it easy for recruiters to get in touch, by heading your CV with your contact details.
There's no need for excessive details – just list the basics:
Mobile number
Email address – Use a professional address with no nicknames.
Location – Just write your your general location, such as 'London' or 'Cardiff' – there's no need to put your full address.
LinkedIn profile or portfolio URL
AI Engineer CV Profile
Your CV profile is basically a short introductory paragraph, which summarises your key selling points and highlights why you'd make a good hire.
So, write a well-rounded summary of what you do, what your key skills are, and what relevant experience you have.
It needs to be short, snappy and punchy and, ultimately, entice the reader to read the rest of your CV.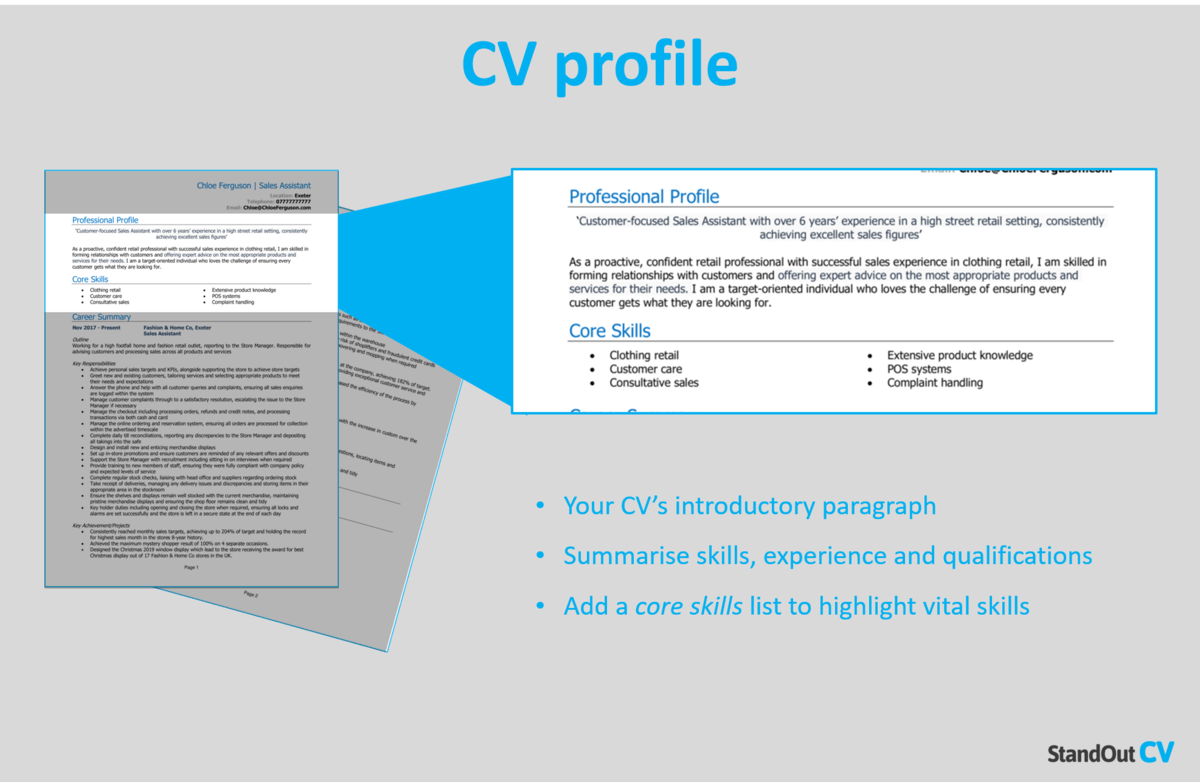 How to write a good CV profile:
Make it short and sharp: Aim for a short, snappy paragraph of 3-5 lines. This is just enough room to showcase why you'd make the perfect hire, without going into excessive detail and overwhelming busy recruiters.
Tailor it: Before writing your CV, make sure to do some research. Figure out exactly what your desired employers are looking for and make sure that you are making those requirements prominent in your CV profile, and throughout.
Don't add an objective: Career goals and objectives are best suited to your cover letter, so don't waste space with them in your CV profile.
Avoid generic phrases: Cheesy clichès and generic phrases won't impress recruiters, who read the same statements several times per day. Impress them with your skill-set, experience and accomplishments instead!
Example CV profile for AI Engineer
Innovative AI Engineer with over 10 years of experience in designing and developing cutting-edge machine learning and deep learning solutions for leading technology companies. Experienced data scientist with a master's degree in Artificial Intelligence from Manchester University. Demonstrated expertise in driving sales growth the development of sophisticated AI algorithms for complex software environments.
What to include in your AI Engineer CV profile?
Experience overview: Start with a brief summary of your relevant experience so far. How many years experience do you have? What type of companies have you worked for? What industries/sectors have you worked in? What are your specialisms?
Targeted skills: Make your most relevant Artificial Intelligence Engineer key skills clear in your profile. These should be tailored to the specific role you're applying for – so make sure to check the job description first, and aim to match their requirements as closely as you can.
Important qualifications: Be sure to outline your relevant AI Engineer qualifications, so that anyone reading the CV can instantly see you are qualified for the jobs you are applying to.
Quick tip: If you are finding it difficult to write an attention-grabbing CV profile, choose from hundreds of pre-written profiles across all industries, and add one to your CV with one click in our partner's CV Builder. All profiles are written by recruitment experts and easily tailored to suit your unique skillset.
Core skills section
Underneath your profile, write a core skills section to make your most relevant skills jump off the page at readers.
It should be made up of 2-3 columns of bullet points of your relevant skills.
Before you do this, look over the job description and make a list of any specific skills, specialisms or knowledge required.
Then, make sure to use your findings in your list. This will paint you as the perfect match for the role.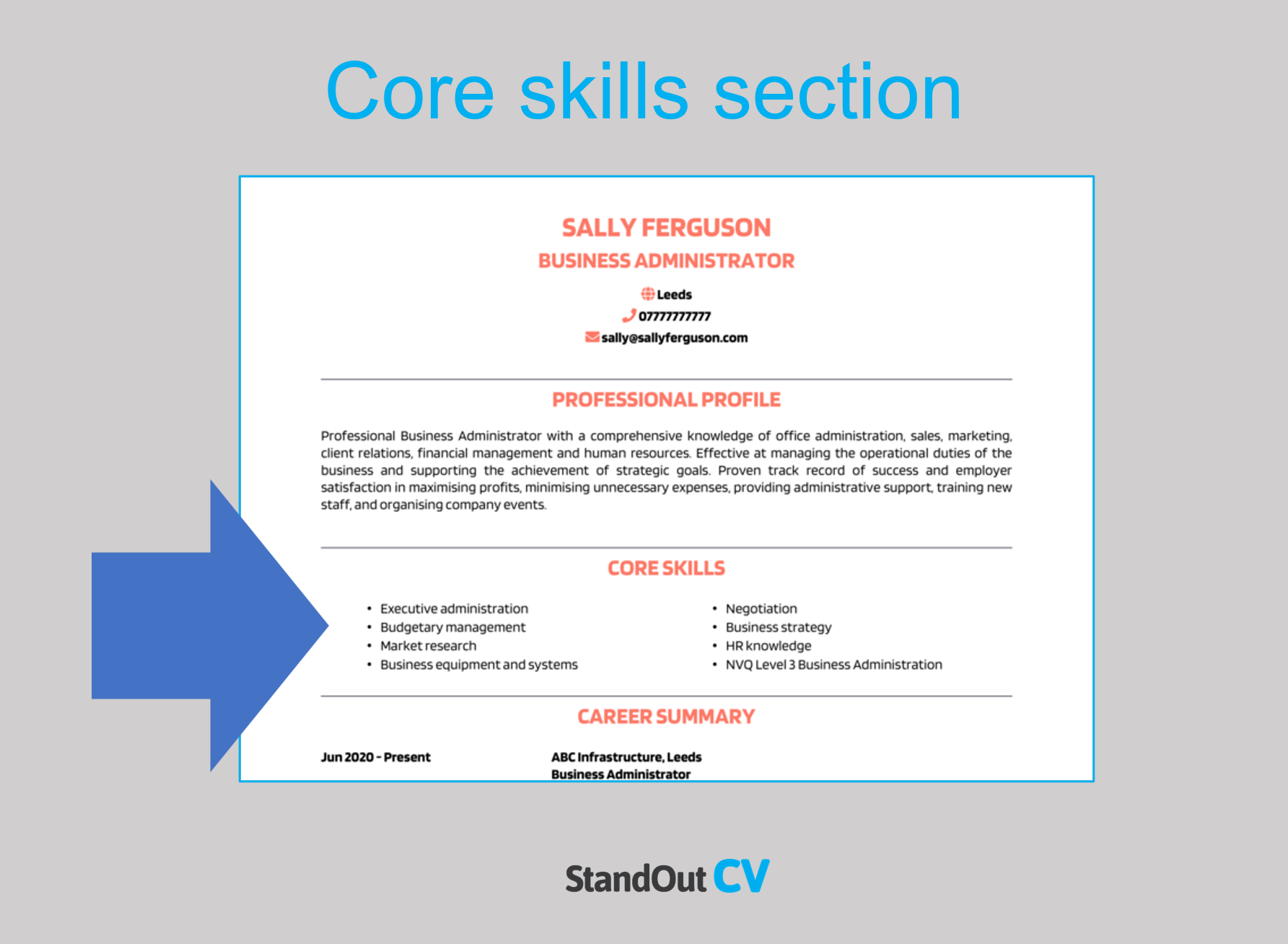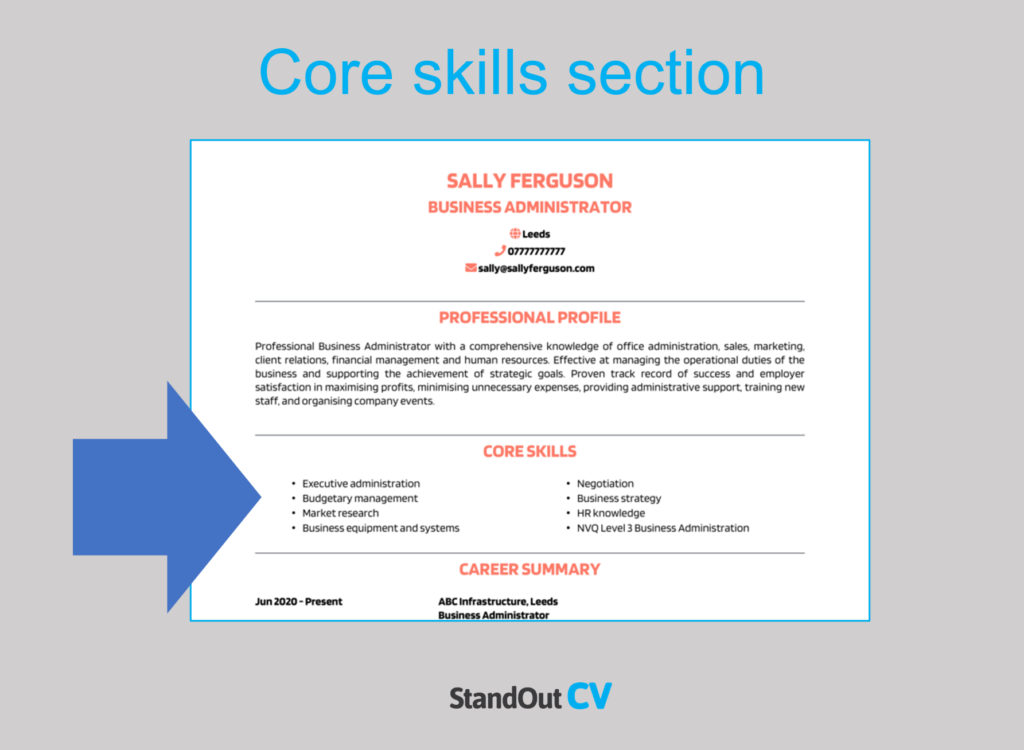 Important skills for your AI Engineer CV
Machine Learning – Designing and implementing machine learning algorithms to build intelligent systems.
Deep Learning – Working with deep neural networks and leveraging them for tasks such as image recognition and natural language processing.
Programming – Maintaining strong programming skills in languages commonly used in AI, such as Python or R, to develop and deploy AI models.
Data Manipulation – Working with large datasets, performing data pre-processing, cleansing, and feature engineering.
Statistical Analysis – Utilising statistical concepts and techniques to analyse and interpret data to make informed decisions.
Natural Language Processing (NLP) – Processing and analysing human language data, including tasks such as sentiment analysis and language translation.
Computer Vision – Utilising knowledge of computer vision principles, including image recognition, object detection, and image segmentation.
Neural Network Architectures – Utilising knowledge of neural network architectures, such as convolutional neural networks (CNNs) and recurrent neural networks (RNNs).
Algorithm Optimisation – Optimising algorithms and models for efficiency and scalability, considering factors such as computational resources and memory usage.
Problem Resolution – Identifying and addressing challenges in AI implementation, including model performance, bias, and ethical considerations.
Quick tip: Our partner's CV Builder has thousands of in-demand skills for all industries and professions, that can be added to your CV in seconds – This will save you time and ensure you get noticed by recruiters.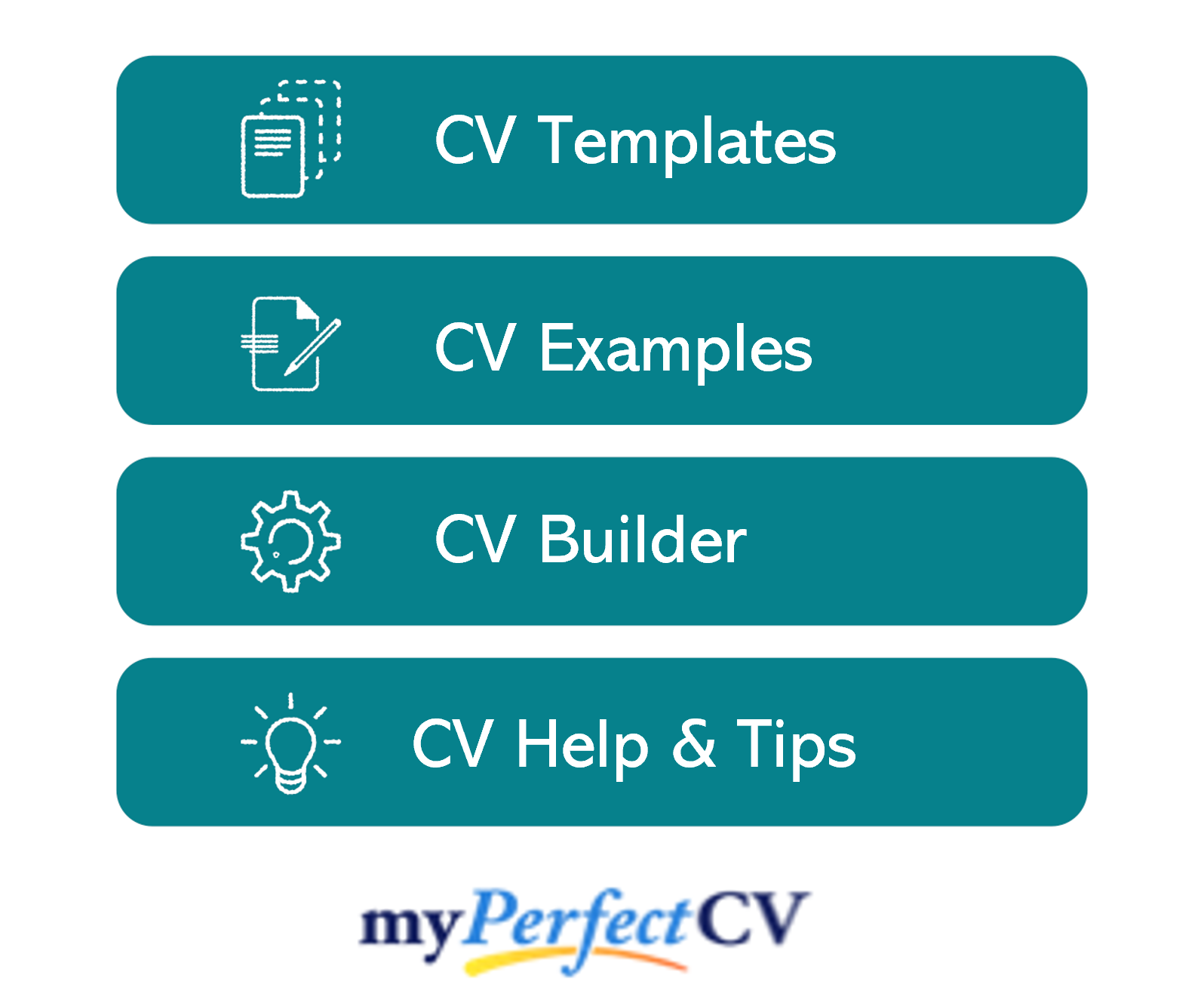 Work experience
Now it's time to get stuck into your work experience, which should make up the bulk of your CV.
Begin with your current (or most recent) job, and work your way backwards.
If you've got too much experience to fit onto two pages, prioritise space for your most recent and relevant roles.
Structuring each job
Whilst writing your CV, it's essential to look at it from the eyes of a recruiter.
If they're met with giant blocks of text which are impossible to navigate, they might get frustrated and skip onto the next CV.
Instead, make use of the 3-step structure shown below, to give them a pleasant reading experience.
Outline
Start with a 1-2 sentence summary of your role as a whole, detailing what the goal of your position was, who you reported to or managed, and the type of organisation you worked for.
Key responsibilities
Use bullet points to detail the key responsibilities of your role, highlighting hard skills, software and knowledge wherever you can.
Keep them short and sharp to make them easily digestible by readers.
Key achievements
Lastly, add impact by highlight 1-3 key achievements that you made within the role.
Struggling to think of an achievement? If it had a positive impact on your company, it counts.
For example, you might increased company profits, improved processes, or something simpler, such as going above and beyond to solve a customer's problem.
Sample job description for an AI Engineer CV
Outline
Work as part of a team of engineers and data scientists at a multinational leading tech company, designing and developing state-of-the-art AI algorithms and solutions to optimise business growth for clients across various industries, including healthcare, finance.
Key Responsibilities
Optimise machine learning models for performance and scalability, ensuring repeatable and dependable operation when deployed
Automate the ML pipeline, from data ingestion to prediction generation
Perform exploratory data analysis, ideation, and data collection
Analyse client's business requirements from multidisciplinary teams and translate them to technical data science problems
Quick tip: Create impressive job descriptions easily in our partner's CV Builder by adding pre-written job phrases for every industry and career stage.

Education section
At the bottom of your CV is your full education section. You can list your formal academic qualifications, such as:
As well as any specific AI Engineer qualifications that are essential to the jobs you are applying for. Note down the name of the qualification, the organisation at which you studied, and the date of completion.
Hobbies and interests
The hobbies and interests CV section isn't mandatory, so don't worry if you're out of room by this point.
However, if you have an interesting hobby, or an interest that could make you seem more suitable for the role, then certainly think about adding.
Be careful what you include though… Only consider hobbies that exhibit skills that are required for roles as a AI Engineer, or transferable workplace skills.
There is never any need to tell employers that you like to watch TV and eat out.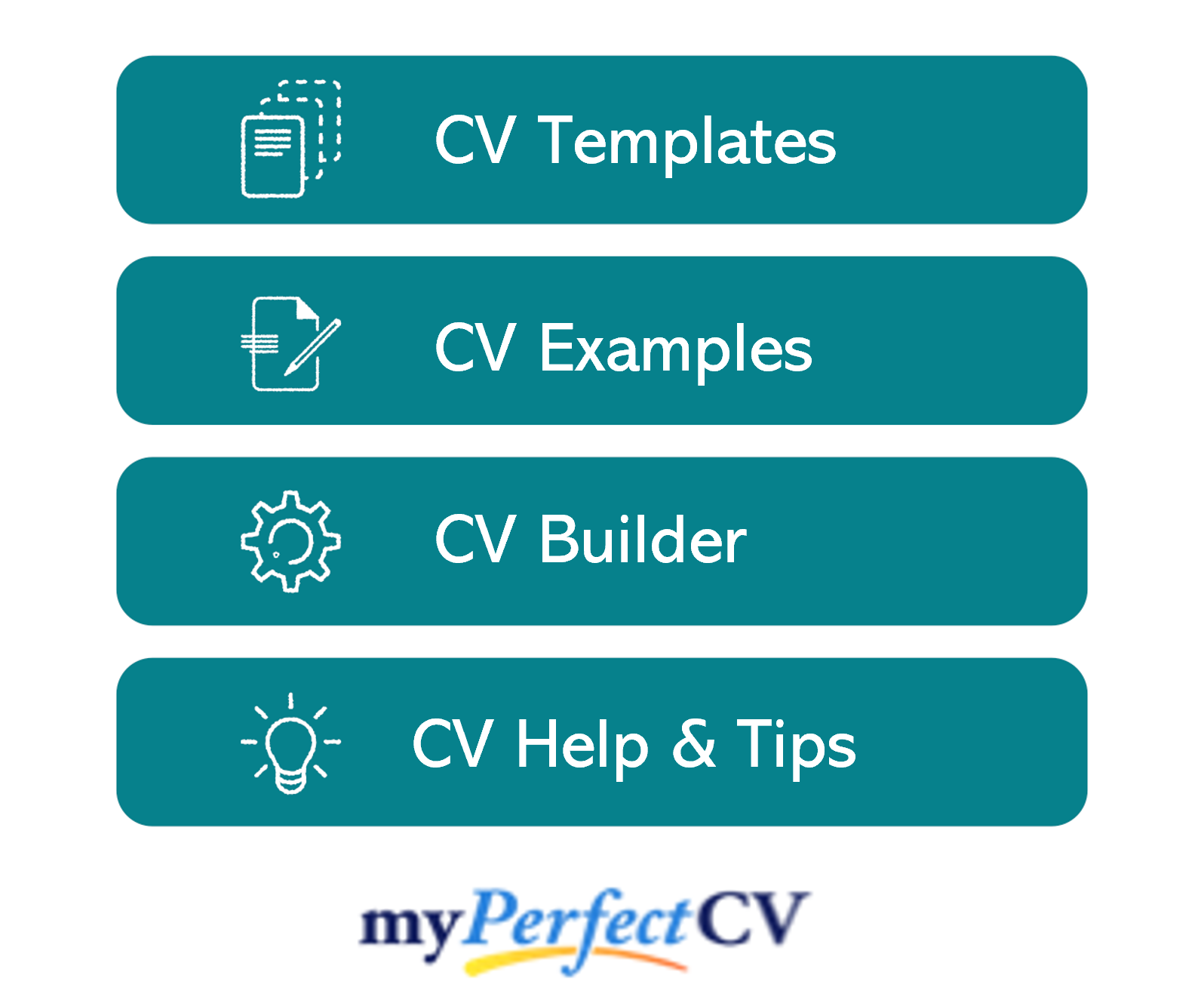 Creating a strong Artificial Intelligence Engineer CV requires a blend of punchy content, considered structure and format, and heavy tailoring.
By creating a punchy profile and core skills list, you'll be able to hook recruiter's attention and ensure your CV gets read.
Remember that research and relevance is the key to a good CV, so research your target roles before you start writing and pack your CV with relevant skills.
Best of luck with your next application!