Do you want to volunteer your time and make a difference to the lives of others?
If you've found a charity or business that you want to help, you need to submit an honest and engaging cover letter that shows your passion, and explains why you'd be a great fit for the role.
To help get you onboard as quickly as possible, we've put together all our top tips, along with some volunteer cover letter examples in the guide below to inspire your application.

Volunteer cover letter example 1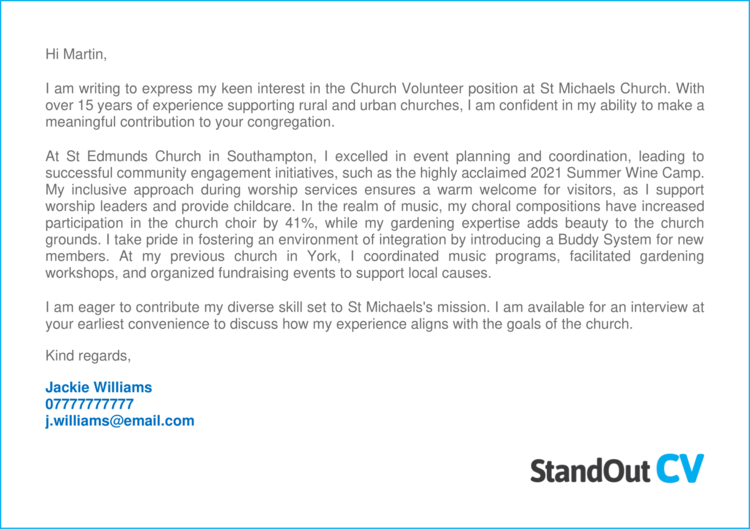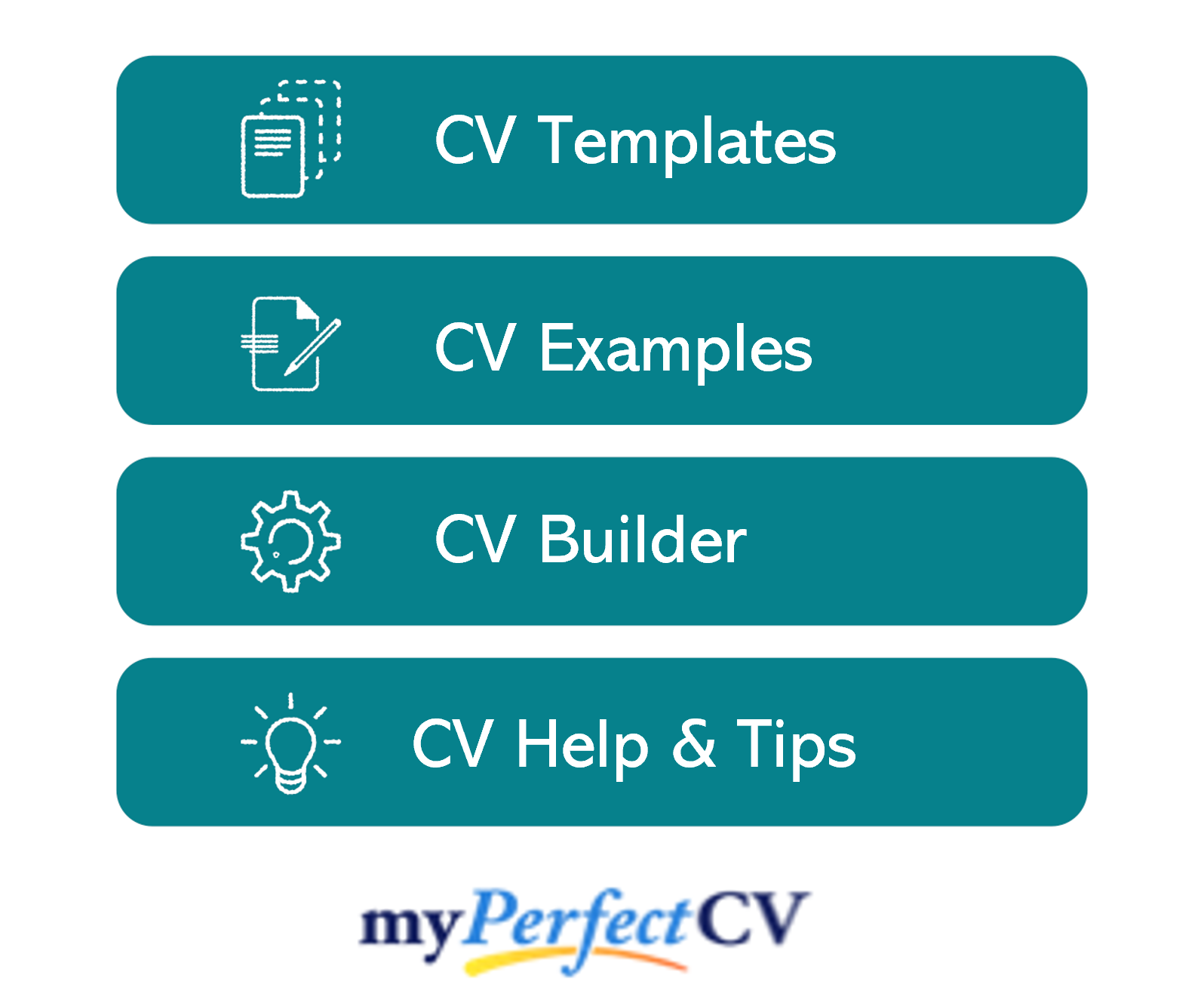 Volunteer cover letter example 2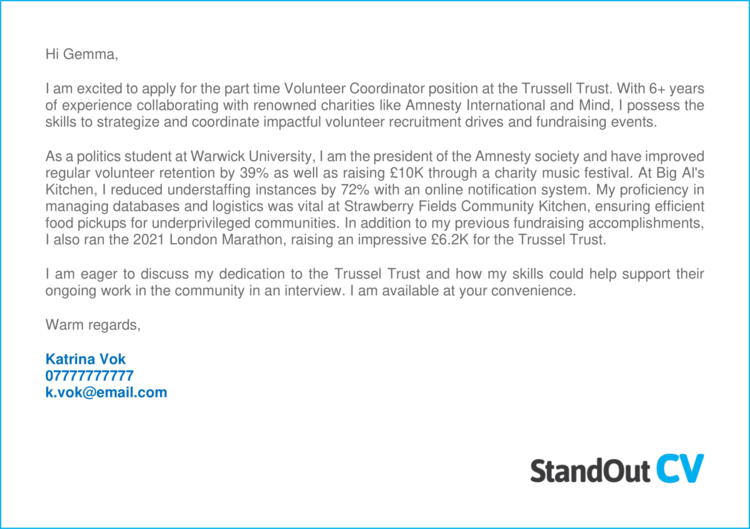 Volunteer cover letter example 3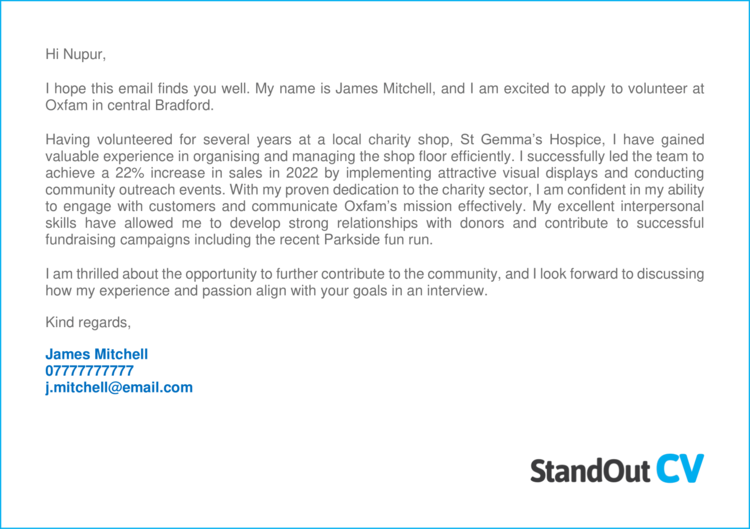 These 3 Volunteer cover letter examples will provide you with some good ideas on how to format a cover letter, along with the type of message you should be trying to put across to recruiters.
To further understand exactly how you can write a cover letter that will get you noticed, check out our further guidance.
How to write a Volunteer cover letter
Here's a simple process to write your own interview-winning cover letter.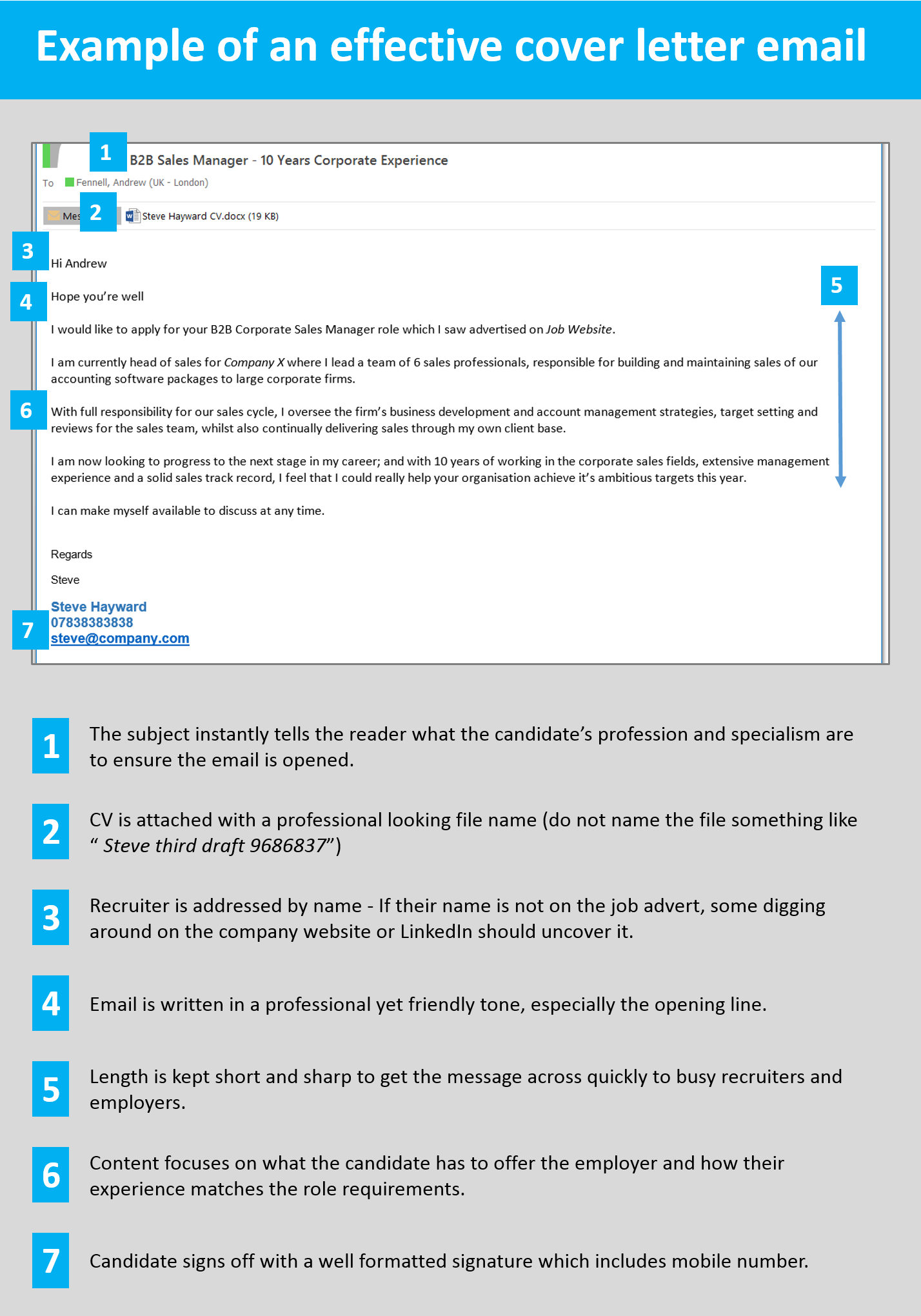 Write your cover letter in the body of an email/message
When you send a cover letter with a job application, you should always write your message into the body of your email – or the body of the messaging system if you are sending via a job website.
Why do this?
Simply because you want to get your message seen as soon as the recruiter opens your application.
If you attach the cover letter as a separate item, this means the recipient will have to open it before they can read it – slowing down the process and potentially causing frustration along the way.
So, write your cover note in the body of your email/message to ensure you make an instant connection with the reader.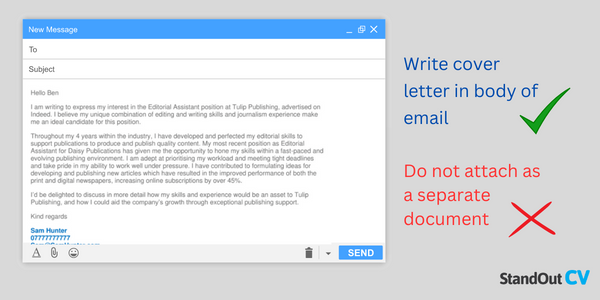 Start with a friendly greeting

To start building rapport with the recruiter or hiring manager right away, lead with a friendly greeting.
Try to strike a balance between professional and personable.
Go with something like…
Hi
Hi [insert recruiter name]
Hi [insert department/team name]
Stay away from old-fashioned greetings like "Dear sir/madam" unless applying to very formal companies – they can come across as cold and robotic.
How to find the contact's name?
Addressing the recruitment contact by name is an excellent way to start building a strong relationship. If it is not listed in the job advert, try to uncover it via these methods.
Check out the company website and look at their About page. If you see a hiring manager, HR person or internal recruiter, use their name. You could also try to figure out who would be your manager in the role and use their name.
Head to LinkedIn, search for the company and scan through the list of employees. Most professionals are on LinkedIn these days, so this is a good bet.
Identify the role you are applying for
Now that you have warmed the recruiter up with a friendly greeting, firstly you need to let them know which role you are applying for.
Sometimes a recruitment consultant will be juggling 10 or 10 vacancies, so it's important to specify which one you are applying to.
Give us much detail as possible (team/department, role title etc.) and paste in the reference number if you have one.
Here are some examples you can use.
I am interested in applying for the role of Volunteer with your company.
I would like to apply for the role of Sales assistant (Ref: 40f57393)
I would like to express my interest in the customer service vacancy within your retail department
I saw your advert for an IT project manager on Reed and would like to apply for the role.
Highlight your suitability
The main purpose of your cover letter is to excite recruiters and make them eager to open your CV. And you achieve this by quickly demonstrating your suitability to the job you are applying for.
Take a look at the job adverts you are applying for, and make note of the most important skills being asked for.
Then, when you write your cover letter, make your suitability the focal point.
Explain how you meet the candidate requirements fully, and why you are so well suited to carry out the job.
This will give recruiters all the encouragement they need to open your CV and consider your application.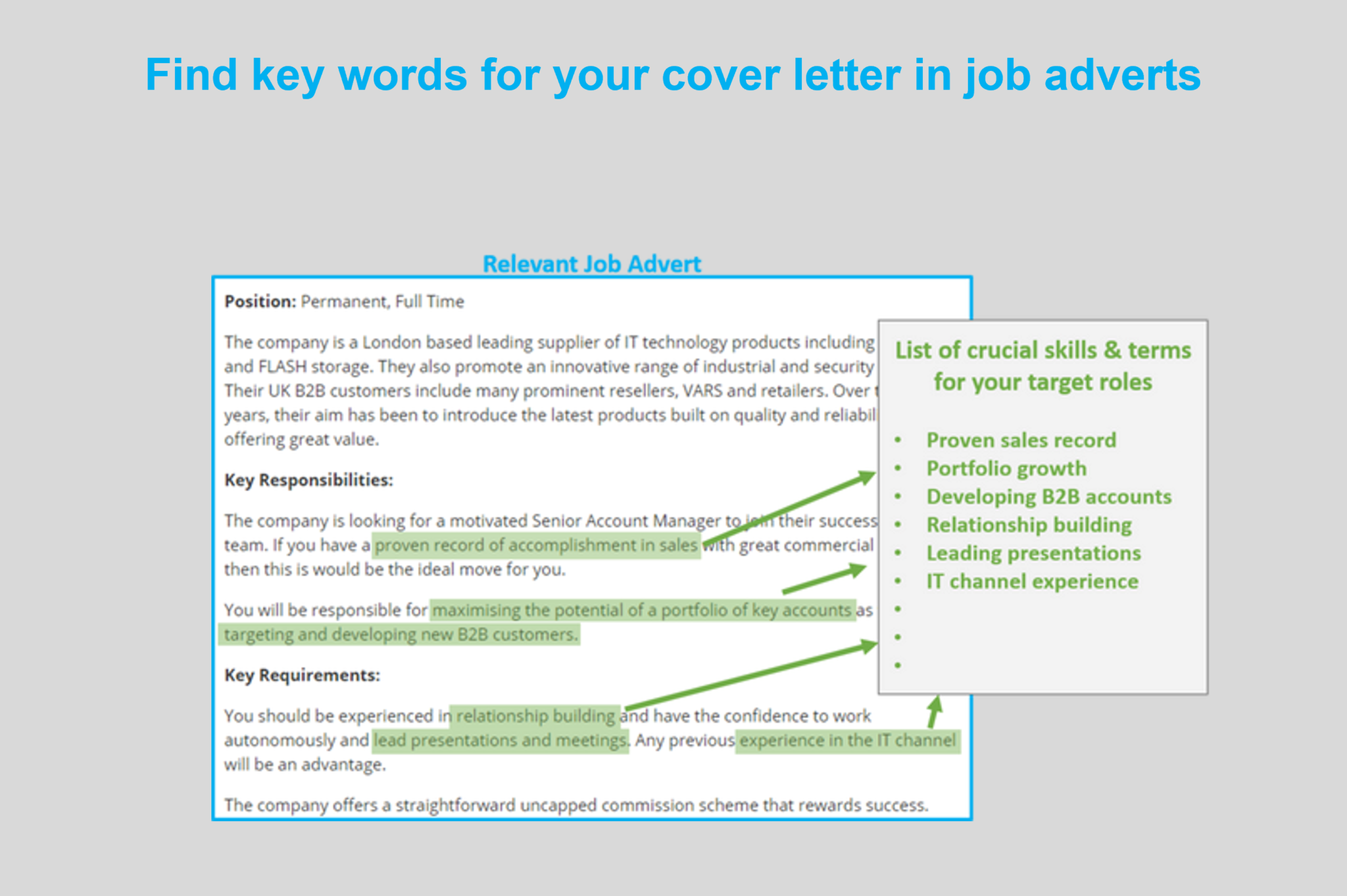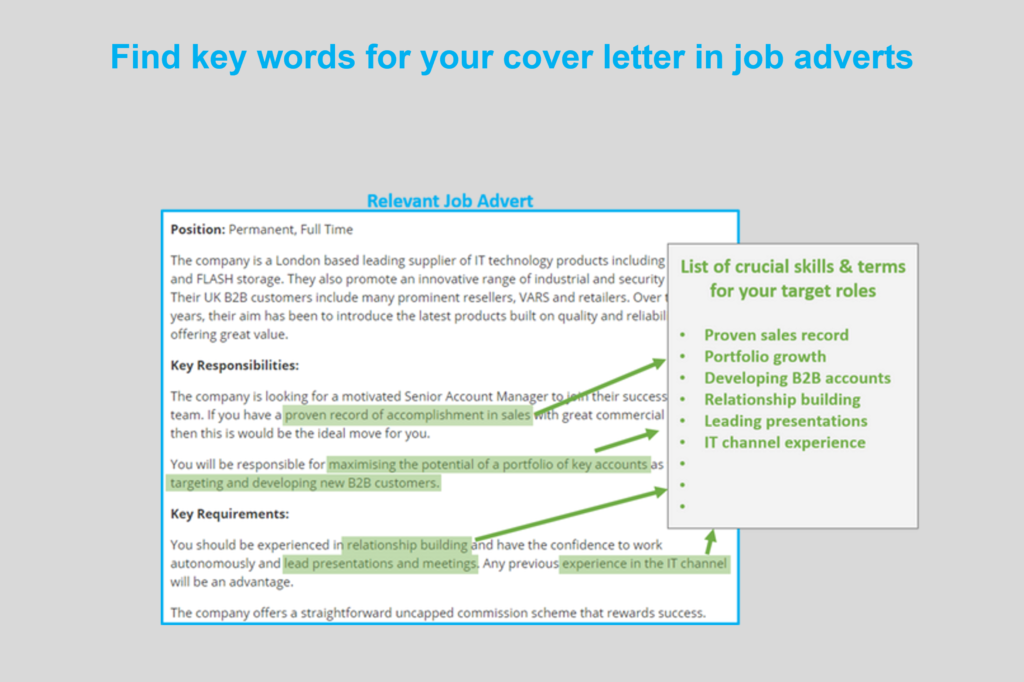 Keep it short and sharp
It is best to keep your cover letter brief if you want to ensure you hold the attention of busy recruiters and hiring managers. A lengthy cover letter will probably not get read in full, so keep yours to around 3-6 sentences and save the real detail for your CV.
Remember the purpose of your cover letter is to quickly get recruiters to notice you and encourage them to open your CV, so it only needs to include the highlights of your experience.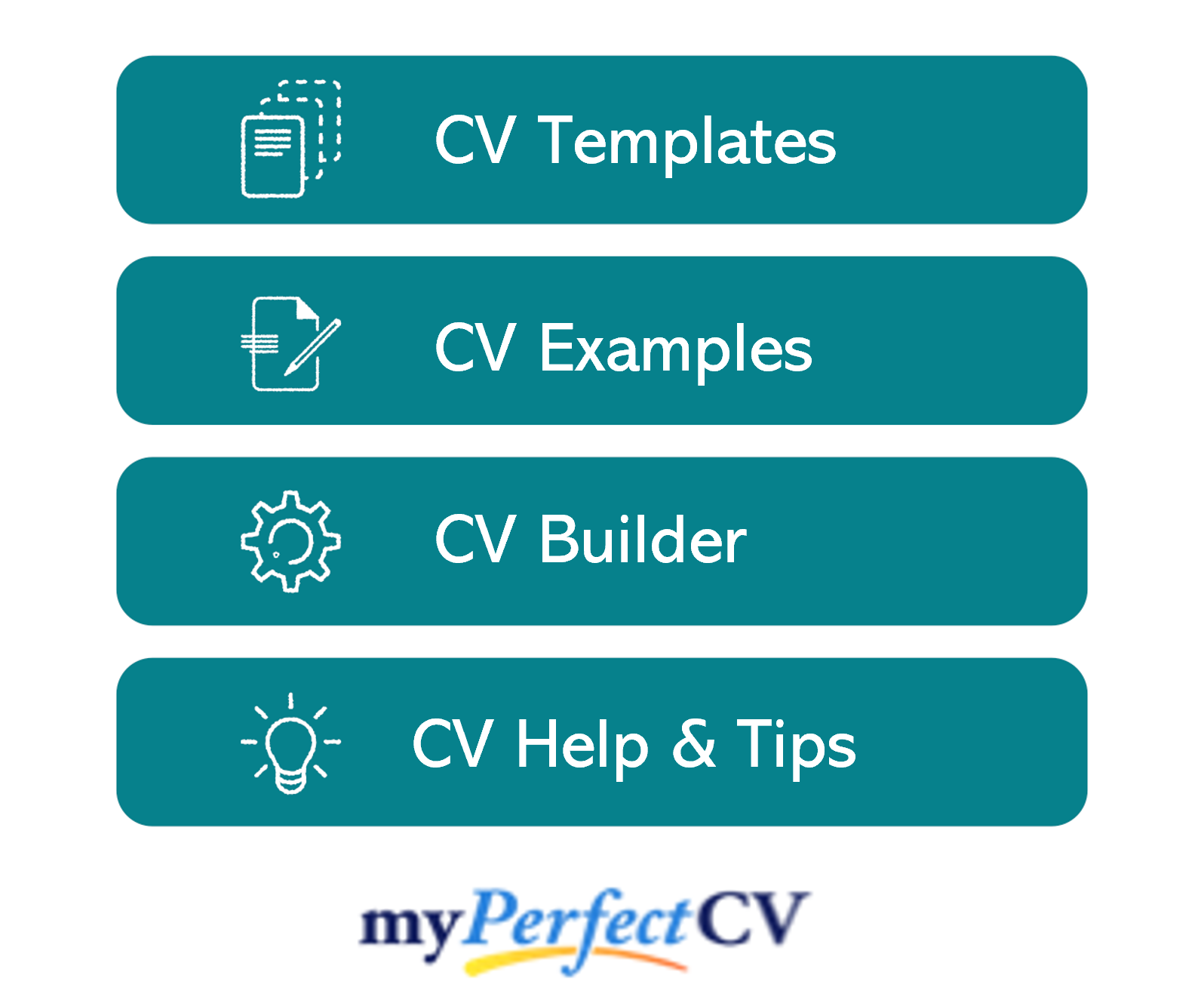 Sign off professionally
To finish off your cover note, add a professional signature to the bottom, stating your important contact details and information.
This not only provides recruiters with multiple means of contacting you, but it also adds a nice professional appearance to the cover letter, which shows that you know how to conduct yourself in the workplace.
Include the following points;
A friendly sign off – e.g. "Warm regards"
Your full name
Phone number (one you can answer quickly)
Email address
Optional
Profession title
Professional social network – e.g. LinkedIn
Here is an example signature;
Warm regards,
Aaron Smith
Customer service professional
075557437373
Aaron@smith.com
LinkedIn
Quick tip: To save yourself from having to write your signature every time you send a job application, you can save it within your email drafts, or on a separate document that you could copy in.

What to include in your Volunteer cover letter
So, what type of information should you write about in your Volunteer cover letter?
The specifics will obviously depend on your profession and the jobs you are applying to, but these are the key areas you should be covering.
Your industry experience – Tell recruiters the types of companies you have been working for and the roles you have held in the past.
Your qualifications – Highlight your most important relevant qualifications to show employers you are qualified to do the roles you are applying for.
The impact you have made – Demonstrate the positive impact you have made for employers in previous jobs. Have you saved money? Improved processes? Made customers happy?
Your reasons for moving – Employers will want to know why you are leaving your current/previous role, so provide them with a brief explanation here.
Your availability – When will you be able to start a new job? Check your current contract to find out your notice period if you are in a position already.
Volunteer cover letter templates
Copy and paste these Volunteer cover letter templates to get a head start on your own.
Template 1
Hi Martin,
I am writing to express my keen interest in the Church Volunteer position at St Michaels Church. With over 15 years of experience supporting rural and urban churches, I am confident in my ability to make a meaningful contribution to your congregation.
At St Edmunds Church in Southampton, I excelled in event planning and coordination, leading to successful community engagement initiatives, such as the highly acclaimed 2021 Summer Wine Camp. My inclusive approach during worship services ensures a warm welcome for visitors, as I support worship leaders and provide childcare. In the realm of music, my choral compositions have increased participation in the church choir by 41%, while my gardening expertise adds beauty to the church grounds. I take pride in fostering an environment of integration by introducing a Buddy System for new members. At my previous church in York, I coordinated music programs, facilitated gardening workshops, and organized fundraising events to support local causes.
I am eager to contribute my diverse skill set to St Michaels's mission. I am available for an interview at your earliest convenience to discuss how my experience aligns with the goals of the church.
Kind regards,
Jackie Williams
Template 2
Hi Gemma,
I am excited to apply for the part time Volunteer Coordinator position at the Trussell Trust. With 6+ years of experience collaborating with renowned charities like Amnesty International and Mind, I possess the skills to strategize and coordinate impactful volunteer recruitment drives and fundraising events.
As a politics student at Warwick University, I am the president of the Amnesty society and have improved regular volunteer retention by 39% as well as raising £10K through a charity music festival. At Big Al's Kitchen, I reduced understaffing instances by 72% with an online notification system. My proficiency in managing databases and logistics was vital at Strawberry Fields Community Kitchen, ensuring efficient food pickups for underprivileged communities. In addition to my previous fundraising accomplishments, I also ran the 2021 London Marathon, raising an impressive £6.2K for the Trussel Trust.
I am eager to discuss my dedication to the Trussel Trust and how my skills could help support their ongoing work in the community in an interview. I am available at your convenience.
Warm regards,
Katrina Vok
Template 3
Hi Nupur,
I hope this email finds you well. My name is James Mitchell, and I am excited to apply to volunteer at Oxfam in central Bradford.
Having volunteered for several years at a local charity shop, St Gemma's Hospice, I have gained valuable experience in organising and managing the shop floor efficiently. I successfully led the team to achieve a 22% increase in sales in 2022 by implementing attractive visual displays and conducting community outreach events. With my proven dedication to the charity sector, I am confident in my ability to engage with customers and communicate Oxfam's mission effectively. My excellent interpersonal skills have allowed me to develop strong relationships with donors and contribute to successful fundraising campaigns including the recent Parkside fun run.
I am thrilled about the opportunity to further contribute to the community, and I look forward to discussing how my experience and passion align with your goals in an interview.
Kind regards,
James Mitchell
Writing an impressive cover letter is a crucial step in landing a job as a Volunteer, so taking the time to perfect it is well worth while.
By following the tips and examples above you will be able to create an eye-catching cover letter that will wow recruiters and ensure your CV gets read – leading to more job interviews for you.
Good luck with your job search!