Can you design, develop and maintain software applications?
Sure you can, that's why you're perfect for the role of software engineer.
In order to land the position, you need to create a strong cover letter that showcases your coding and technical skills.
But if you prefer Ruby to writing and you're better with C# than cover letters, we can help. Check out our top tips and software engineer cover letter examples below.

Software Engineer cover letter example 1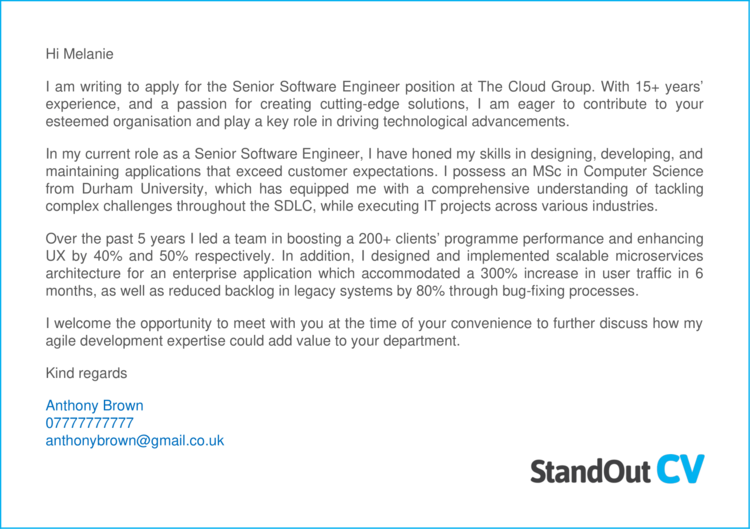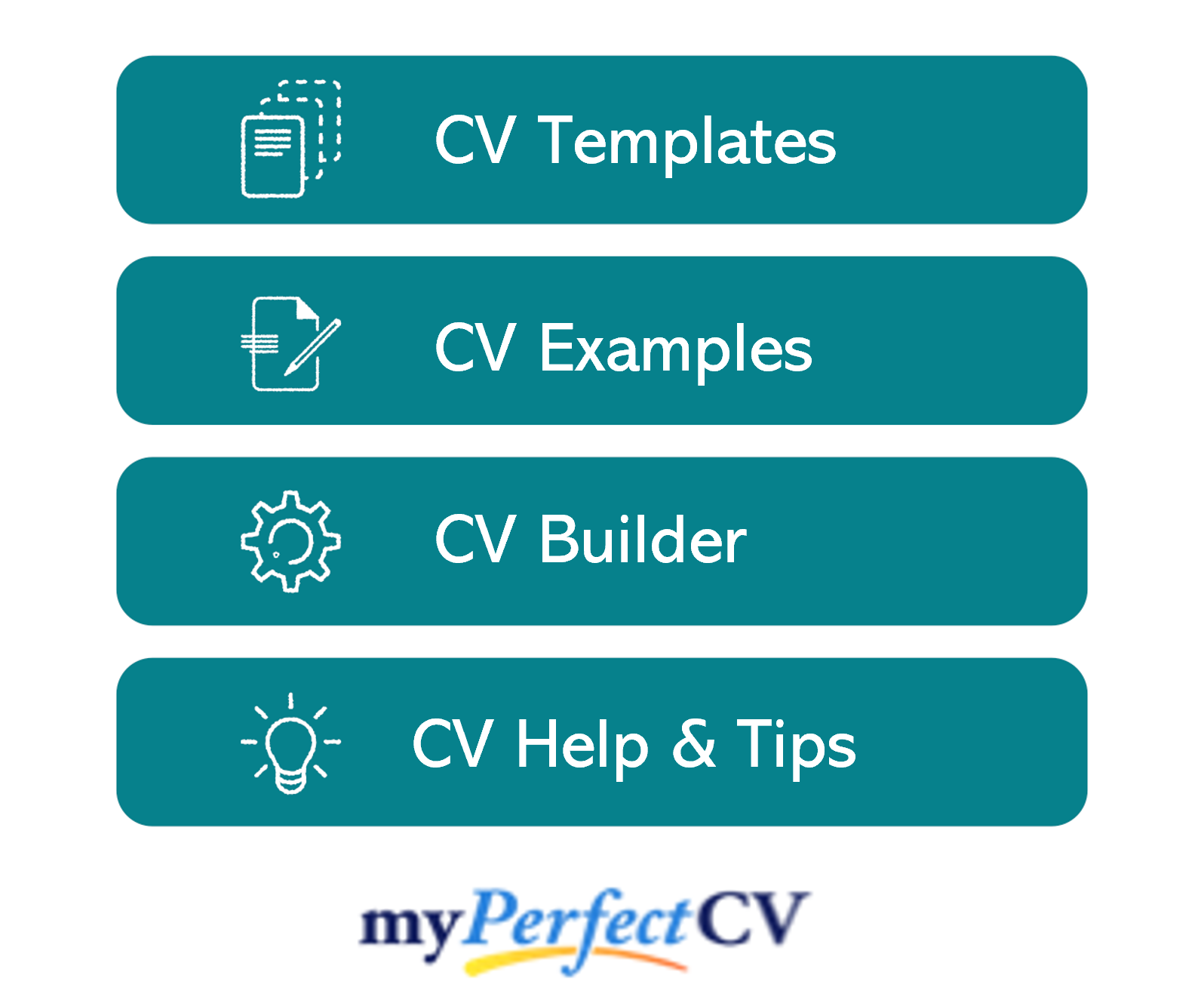 Software Engineer cover letter example 2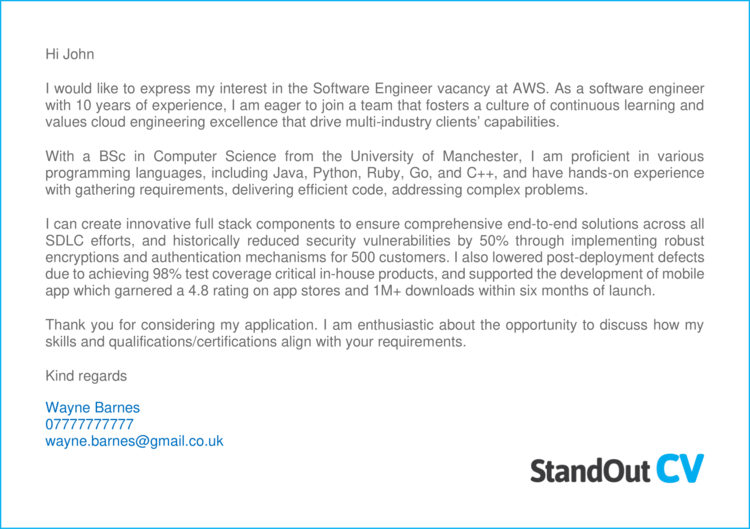 Software Engineer cover letter example 3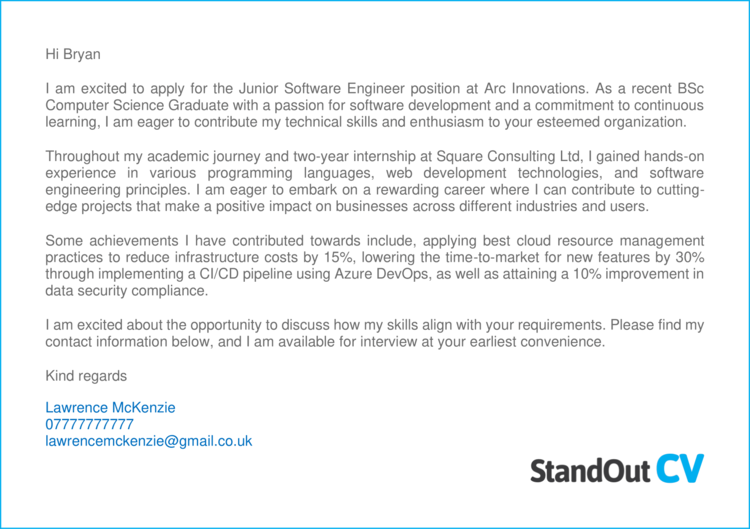 These 3 Software Engineer cover letter examples should provide you with a good steer on how to write your own cover letter, and the general structure to follow.
Our simple step-by-step guide below provides some more detailed advice on how you can craft a winning cover letter for yourself, that will ensure your CV gets opened.
How to write a Software Engineer cover letter
A simple step-by-step guide to writing your very own winning cover letter.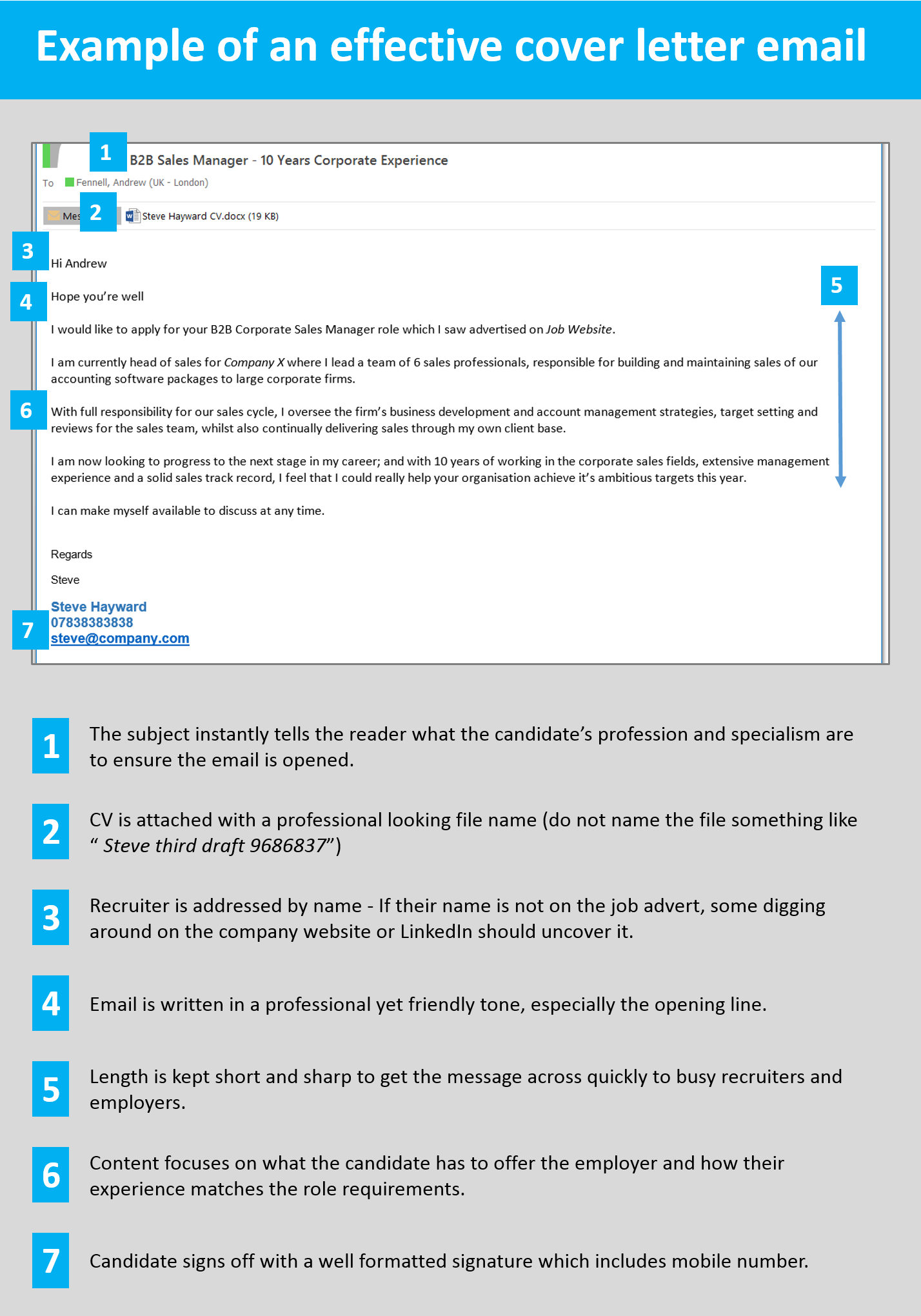 Write your cover letter in the body of an email/message
Type the content of your cover letter directly into the email you are sending, or if you are applying via a job board, directly into their messaging system.
The reason for doing this it to ensure that your cover letter gets seen instantly and you can start connecting with the recruiter as soon as they open your message.
If you attach your cover letter as a separate document, the recipient will have to open up the document, which will slow the process down, or make them less likely to even open your cover letter – which could mean your application gets skipped over.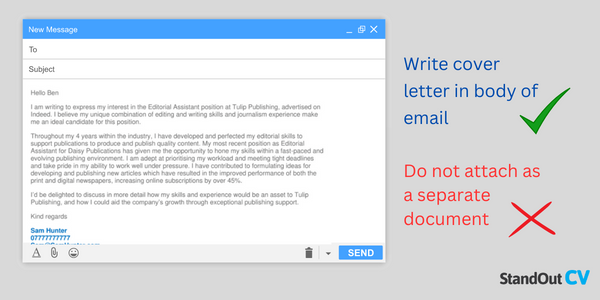 Start with a friendly greeting

To start building rapport with the recruiter or hiring manager right away, lead with a friendly greeting.
Try to strike a balance between professional and personable.
Go with something like…
Hi
Hi [insert recruiter name]
Hi [insert department/team name]
Stay away from old-fashioned greetings like "Dear sir/madam" unless applying to very formal companies – they can come across as cold and robotic.
How to find the contact's name?
Addressing the recruitment contact by name is an excellent way to start building a strong relationship. If it is not listed in the job advert, try to uncover it via these methods.
Check out the company website and look at their About page. If you see a hiring manager, HR person or internal recruiter, use their name. You could also try to figure out who would be your manager in the role and use their name.
Head to LinkedIn, search for the company and scan through the list of employees. Most professionals are on LinkedIn these days, so this is a good bet.
Identify the role you are applying for
Once you've opened up the cover letter with a warm greeting to start building a relationship, it is time to identify which role you want to apply for.
Recruiters are often managing multiple vacancies, so you need to ensure you apply to the correct one.
Be very specific and use a reference number if you can find one.
I am interested in applying for the position of Software Engineer with your company.
I would like to apply for the role of Sales assistant (Ref: 406f57393)
I would like to express my interest in the customer service vacancy within your retail department
I saw your advert for a junior project manager on Reed and would like to apply for the role.
Highlight your suitability
The bulk of your cover letter should be focused around highlighting your suitability for the job you are applying to.
Doing this will show the recruiter that you are suitable candidate and encourage them to open your CV.
The best way to do this, is by studying the job advert you are applying to, and find out what the most important skills and knowledge are.
Once you know the most important requirements, you then need to highlight your matching skills to the recruiter. In a few sentences, tell them exactly why you are a good fit for the job and what you can offer the company.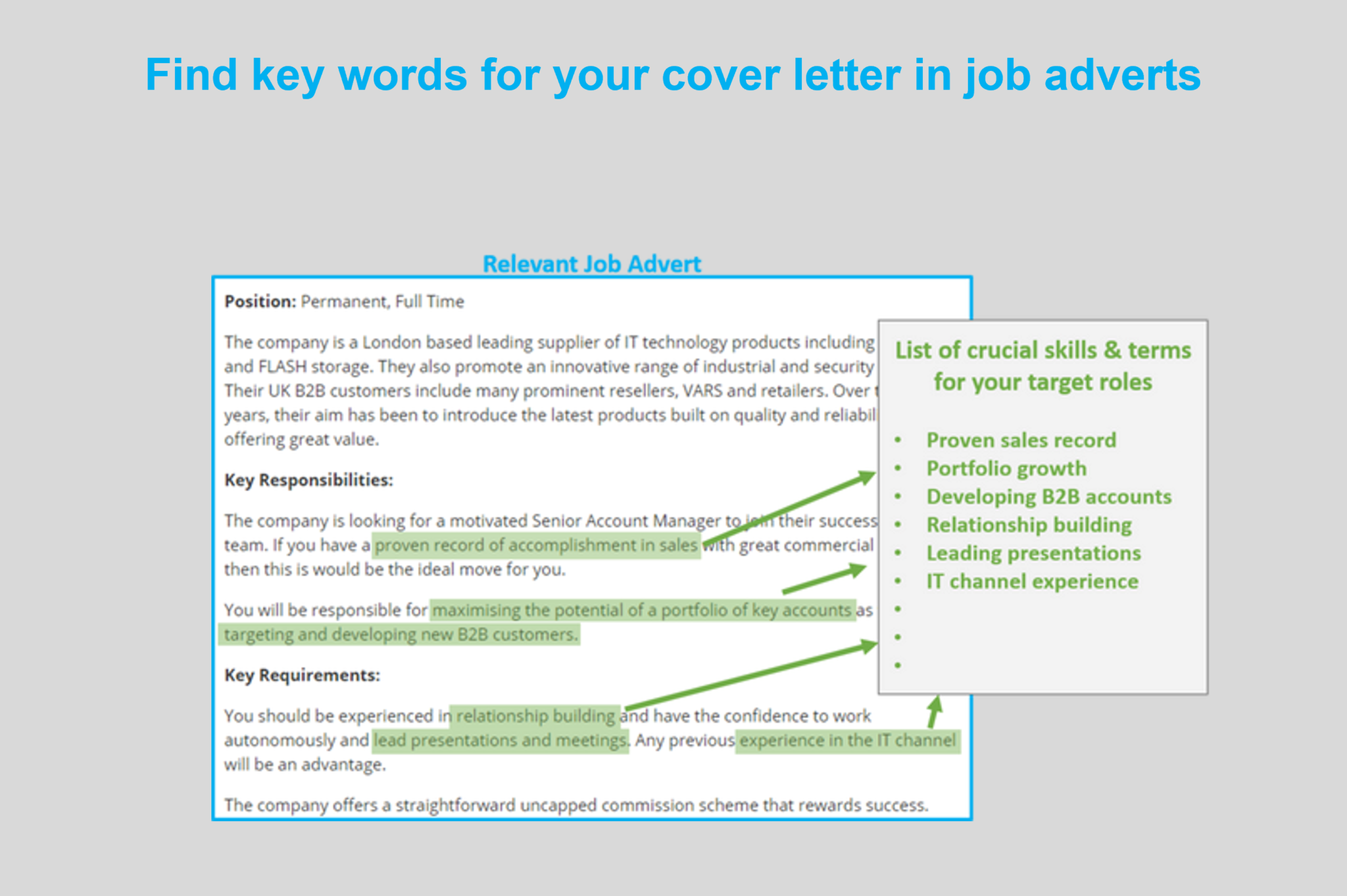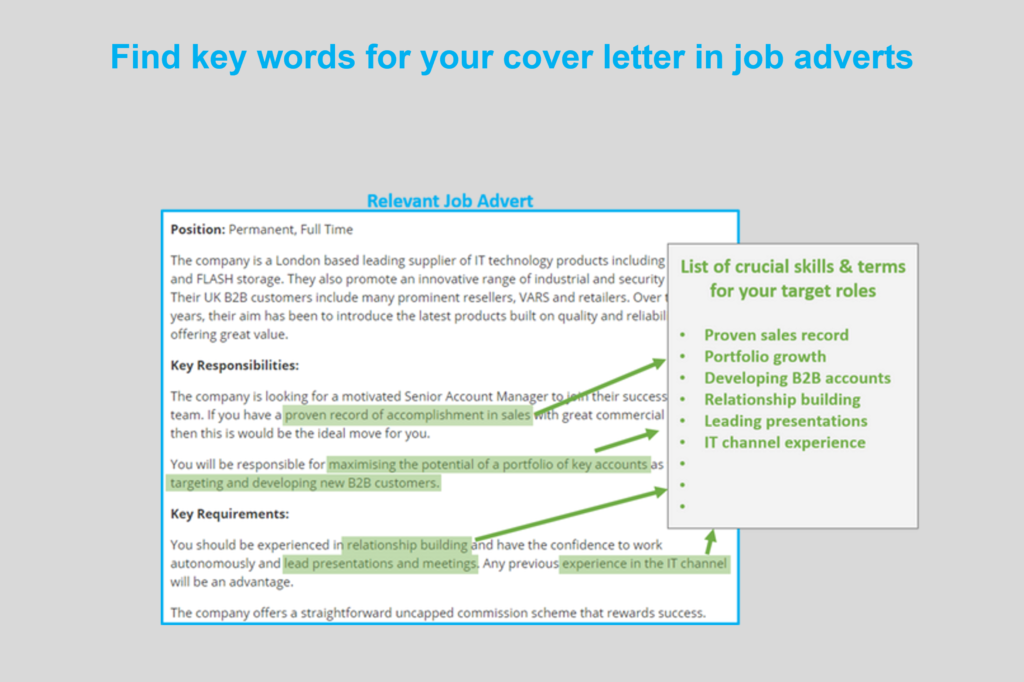 Keep it short and sharp
A good cover letter is short and sharp, getting to the point quickly with just enough information to grab the attention of recruiters.
Ideally your cover letter should be around 4-8 sentences long – anything longer will risk losing the attention of time-strapped recruiters and hiring managers.
Essentially you need to include just enough information to persuade the reader to open up your CV, where the in-depth details will sit.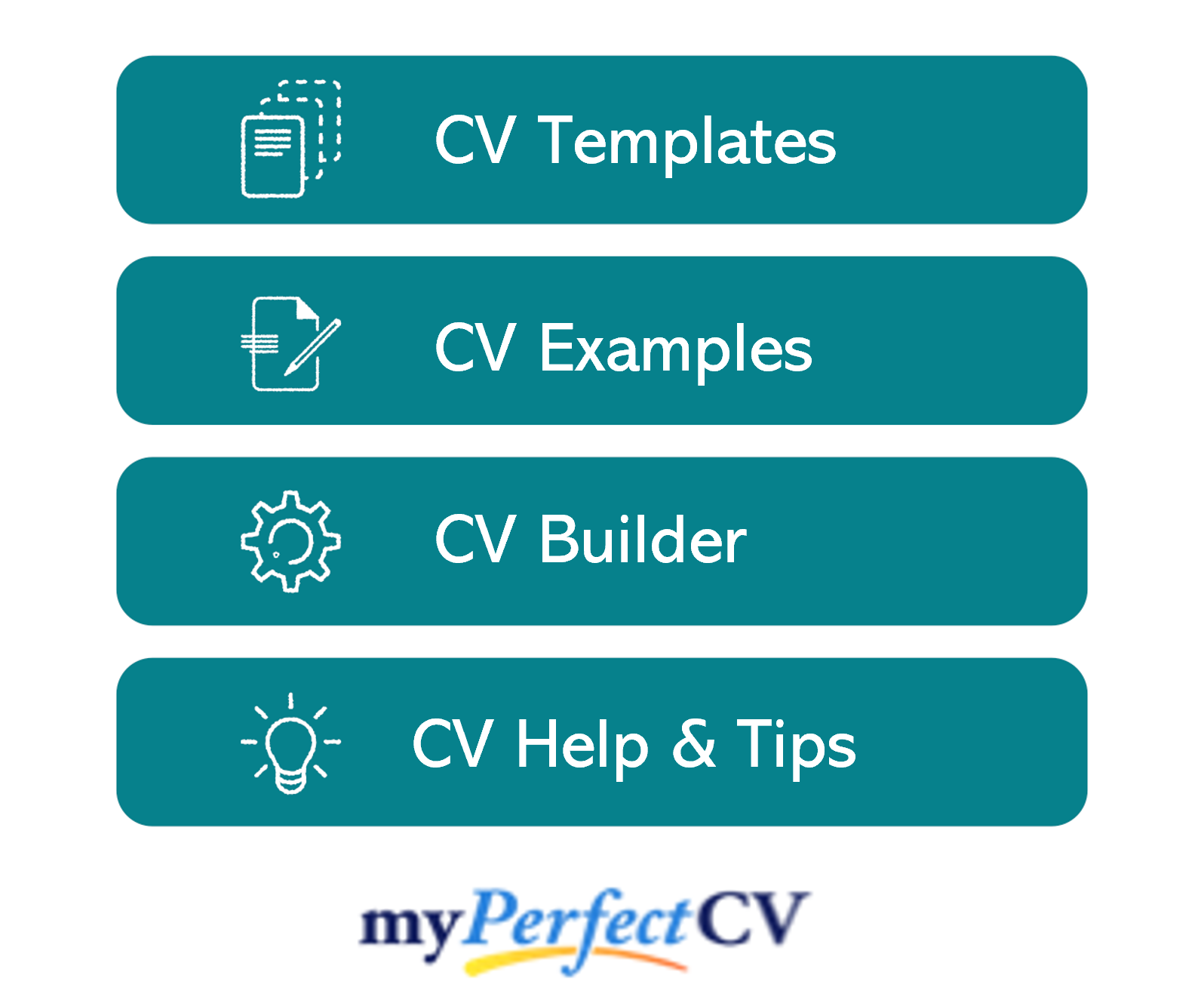 Sign off professionally
To round of your CV, you should sign off with a professional signature.
This will give your cover letter a slick appearance and also give the recruiter all of the necessary contact information they need to get in touch with you.
The information to add should include:
A friendly sign off – e.g. "Kindest regards"
Your full name
Phone number (one you can answer quickly)
Email address
Optional
Profession title
Professional social network –  e.g. LinkedIn
Here is an example signature;
Warm regards,
Jill North
IT Project Manager
078837437373
Jill@hotmail.com
LinkedIn
Quick tip: To save yourself from having to write your signature every time you send a job application, you can save it within your email drafts, or on a separate documents that you could copy in.

What to include in your Software Engineer cover letter
Your Software Engineer cover letter will be unique to your situation, but there are certain content guidelines you should stick to for best results.
To attract and entice recruiters, stick with the following key subjects in your cover letter – adapting them to fit your profession and target jobs.
Your professional experience – Employers will be keen to know if your experience is suitable for the job you are applying to, so provide a good summary of it in your cover letter.
Your qualifications and education – Highlight your most relevant and high-level of qualification, especially if they are essential to the job.
The positive impact you have made – Employers love to hear about the benefits you can bring to them, so shout about anything impressive you have done, such as saving money or improving processes.
Your reasons for leaving – Use a few words of your cover letter to explain why you are leaving your current job and ensure you avoid any negative reasons.
Your availability – Let recruiters know when you can start a new job. Are you immediately available, or do you have a month notice period?
Software Engineer cover letter templates
Copy and paste these Software Engineer cover letter templates to get a head start on your own.
Template 1
Hi Melanie
I am writing to apply for the Senior Software Engineer position at The Cloud Group. With 15+ years' experience, and a passion for creating cutting-edge solutions, I am eager to contribute to your esteemed organisation and play a key role in driving technological advancements.
In my current role as a Senior Software Engineer, I have honed my skills in designing, developing, and maintaining applications that exceed customer expectations. I possess an MSc in Computer Science from Durham University, which has equipped me with a comprehensive understanding of tackling complex challenges throughout the SDLC, while executing IT projects across various industries.
Over the past 5 years I led a team in boosting a 200+ clients' programme performance and enhancing UX by 40% and 50% respectively. In addition, I designed and implemented scalable microservices architecture for an enterprise application which accommodated a 300% increase in user traffic in 6 months, as well as reduced backlog in legacy systems by 80% through bug-fixing processes.
I welcome the opportunity to meet with you at the time of your convenience to further discuss how my agile development expertise could add value to your department.
Kind regards
Anthony Brown
Template 2
Hi John
I would like to express my interest in the Software Engineer vacancy at AWS. As a software engineer with 10 years of experience, I am eager to join a team that fosters a culture of continuous learning and values cloud engineering excellence that drive multi-industry clients' capabilities.
With a BSc in Computer Science from the University of Manchester, I am proficient in various programming languages, including Java, Python, Ruby, Go, and C++, and have hands-on experience with gathering requirements, delivering efficient code, addressing complex problems.
I can create innovative full stack components to ensure comprehensive end-to-end solutions across all SDLC efforts, and historically reduced security vulnerabilities by 50% through implementing robust encryptions and authentication mechanisms for 500 customers. I also lowered post-deployment defects due to achieving 98% test coverage critical in-house products, and supported the development of mobile app which garnered a 4.8 rating on app stores and 1M+ downloads within six months of launch.
Thank you for considering my application. I am enthusiastic about the opportunity to discuss how my skills and qualifications/certifications align with your requirements.
Kind regards
Wayne Barnes
Template 3
Hi Bryan
I am excited to apply for the Junior Software Engineer position at Arc Innovations. As a recent BSc Computer Science Graduate with a passion for software development and a commitment to continuous learning, I am eager to contribute my technical skills and enthusiasm to your esteemed organization.
Throughout my academic journey and two-year internship at Square Consulting Ltd, I gained hands-on experience in various programming languages, web development technologies, and software engineering principles. I am eager to embark on a rewarding career where I can contribute to cutting-edge projects that make a positive impact on businesses across different industries and users.
Some achievements I have contributed towards include, applying best cloud resource management practices to reduce infrastructure costs by 15%, lowering the time-to-market for new features by 30% through implementing a CI/CD pipeline using Azure DevOps, as well as attaining a 10% improvement in data security compliance.
I am excited about the opportunity to discuss how my skills align with your requirements. Please find my contact information below, and I am available for interview at your earliest convenience.
Kind regards
Lawrence McKenzie
Writing a strong attention-grabbing cover letter is a vital step in landing a good Software Engineer job.
Use the tips, strategies and examples above to get more responses from you job applications and start lining job interview up.
Good luck with your job search!