If you're applying for roles as a security officer, it's a safe bet that you're going to need a cover letter. After all, the employer needs to know that you're the best person for the job.
But if you're not sure where to begin, you've come to the right place.
Below, we share our top tips on how to write an application that will secure you an interview.
We've also put together a few security officer cover letter examples to guide you.

Security Officer cover letter example 1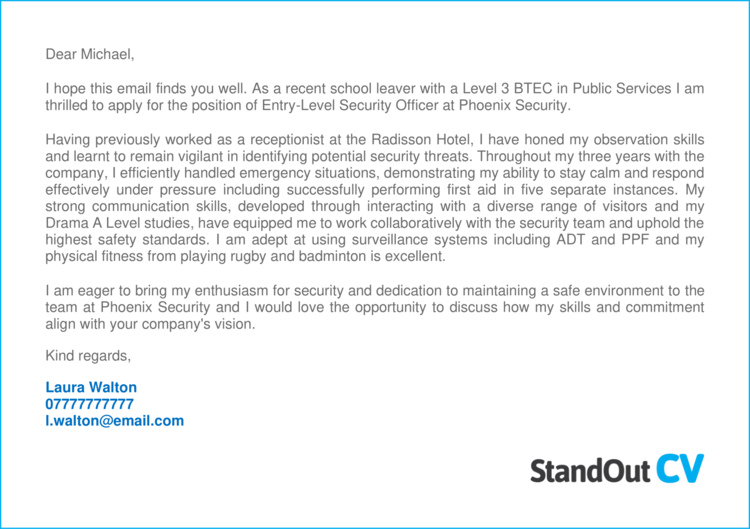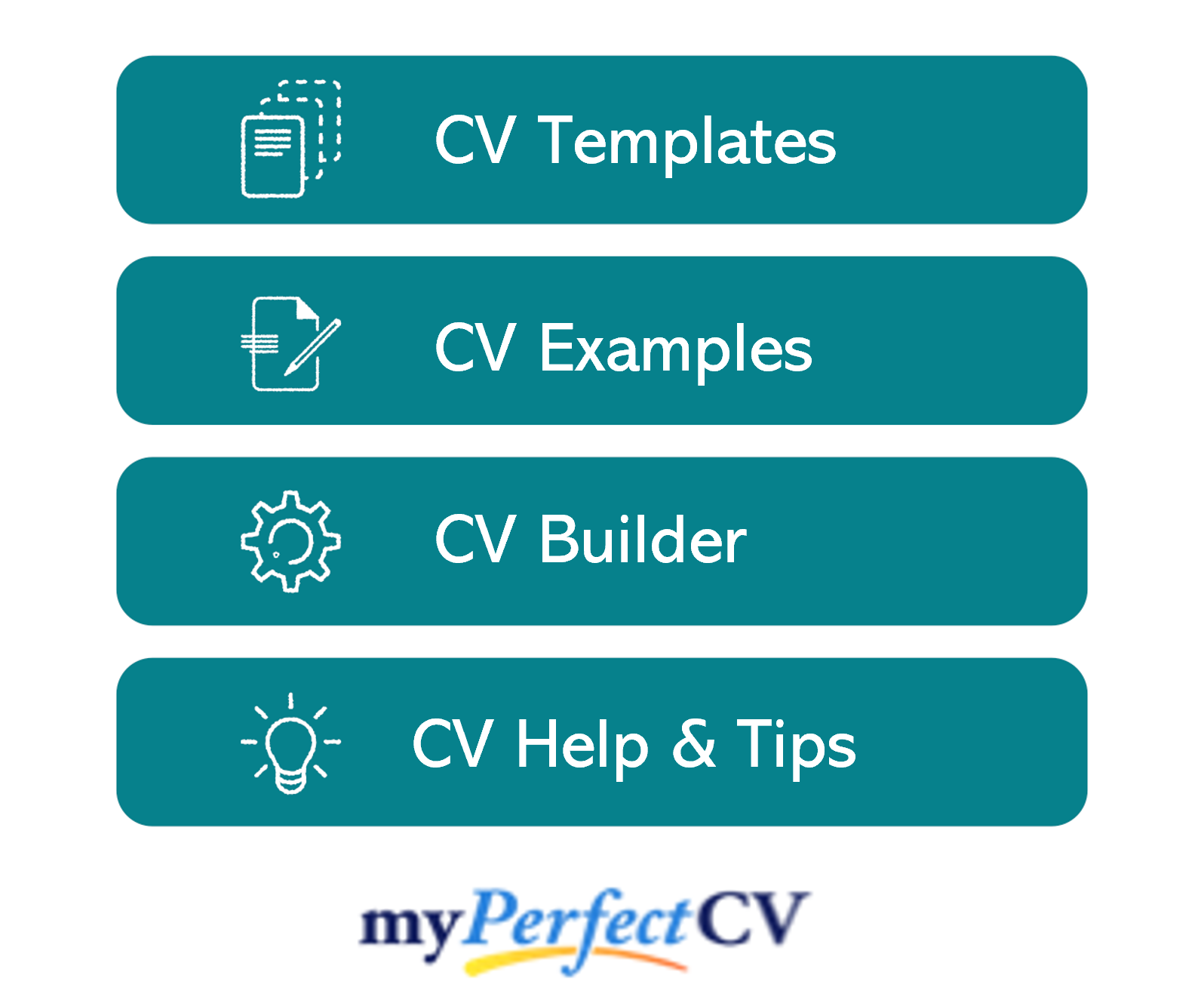 Security Officer cover letter example 2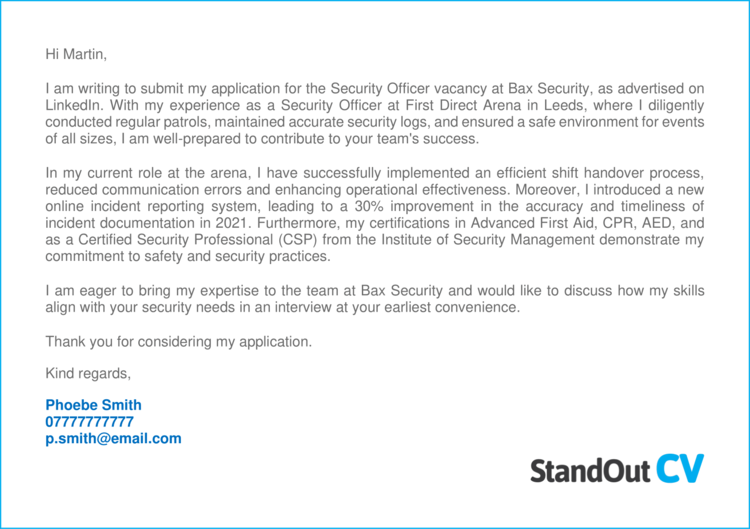 Security Officer cover letter example 3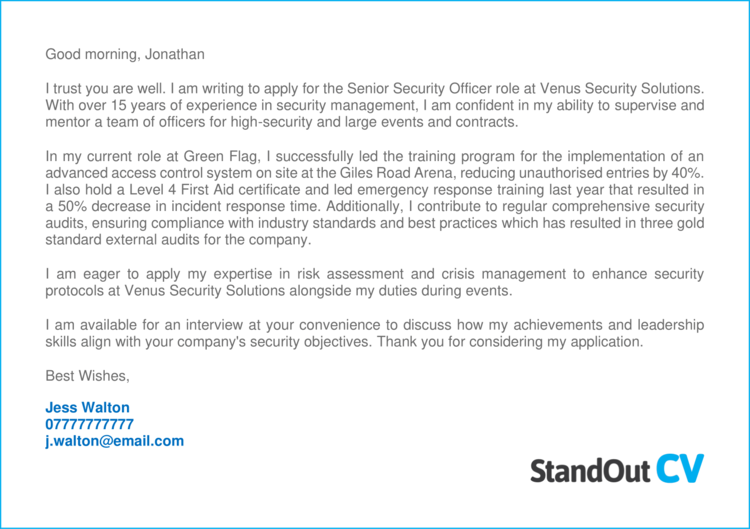 The Security Officer cover letter examples above should give you a good idea of the type of content you need to include in your own cover letter, and how it should be structured.
But if you're really looking to wow recruiters and get your CV in front of the very best employers, then check out our guidance on how to write your own effective cover letter below.
How to write a Security Officer cover letter
A simple step-by-step guide to writing your very own winning cover letter.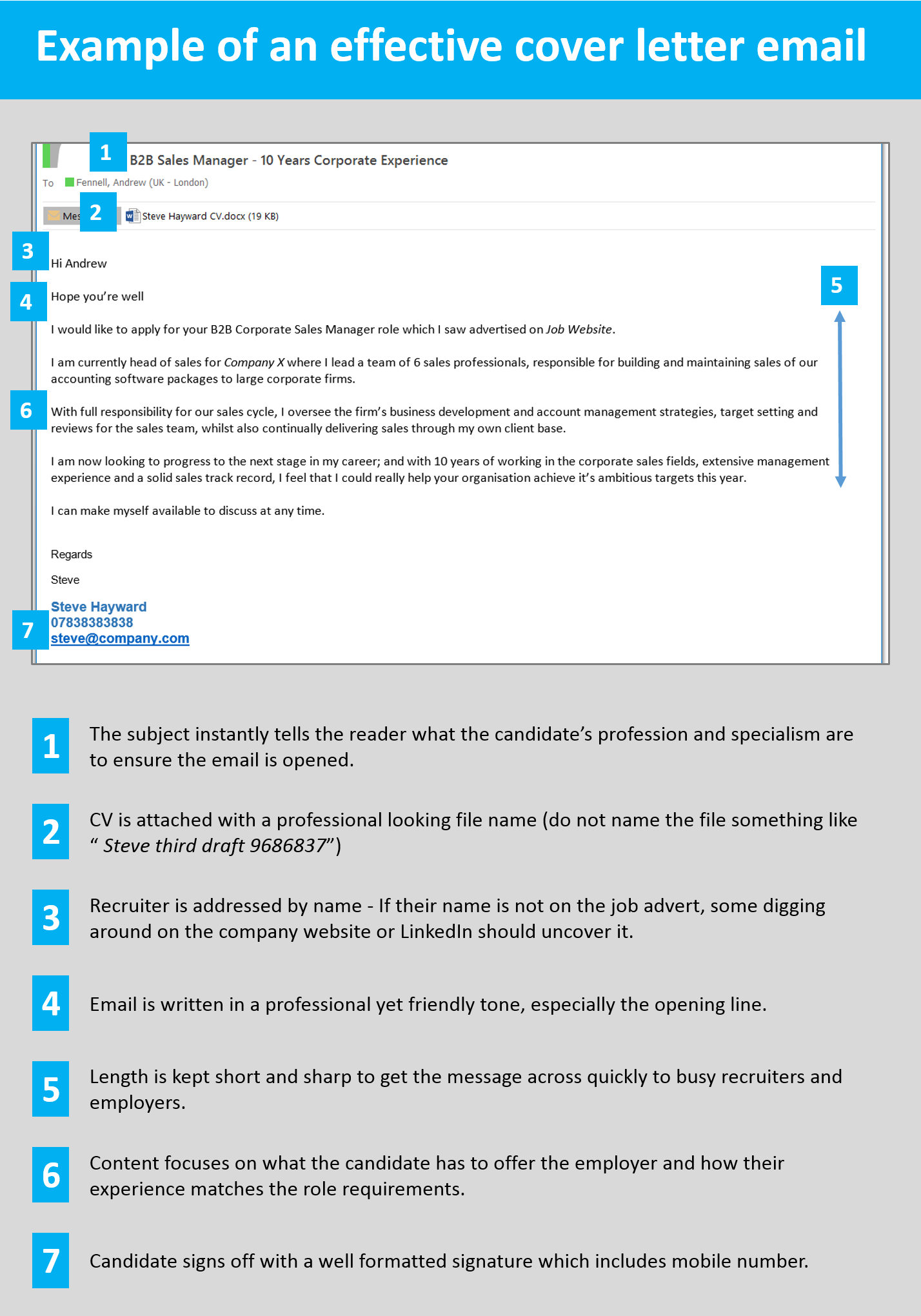 Write your cover letter in the body of an email/message
You should write your cover letter in the body of the email (or messaging system if sending via a job board) and never attach it as a document.
The reason for this?
You want your cover letter to start connecting with the recruiter from the moment they open your application.
If they have to open a document to read it, it will slow things down and they may not even bother to open it.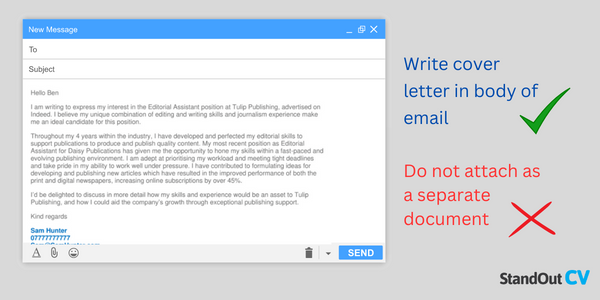 Start with a friendly greeting

Start you cover letter with a greeting that is professional but friendly.
This will build rapport with the recruiter whilst showing your professionalism.
Hi, hope you're well
Hi [insert recruiter name]
Hi [insert department/team name]
Avoid overly formal greetings like "Dear sir/madam" unless applying to very traditional companies.
How to find the contact's name?
Addressing the recruitment contact by name is an excellent way to start building a strong relationship. If it is not listed in the job advert, try these methods to find it.
Check out the company website and look at their About page. If you see a hiring manager, HR person or internal recruiter, use their name. You could also try to figure out who would be your manager in the role and use their name.
Head to LinkedIn, search for the company and scan through the list of employees. Most professionals are on LinkedIn these days, so this is a good bet.
Identify the role you are applying for
Now that you have warmed the recruiter up with a friendly greeting, firstly you need to let them know which role you are applying for.
Sometimes a recruitment consultant will be juggling 10 or 10 vacancies, so it's important to specify which one you are applying to.
Give us much detail as possible (team/department, role title etc.) and paste in the reference number if you have one.
Here are some examples you can use.
I am interested in applying for the role of Security Officer with your company.
I would like to apply for the role of Sales assistant (Ref: 40f57393)
I would like to express my interest in the customer service vacancy within your retail department
I saw your advert for an IT project manager on Reed and would like to apply for the role.
Highlight your suitability
The main purpose of your cover letter is to excite recruiters and make them eager to open your CV. And you achieve this by quickly demonstrating your suitability to the job you are applying for.
Take a look at the job adverts you are applying for, and make note of the most important skills being asked for.
Then, when you write your cover letter, make your suitability the focal point.
Explain how you meet the candidate requirements fully, and why you are so well suited to carry out the job.
This will give recruiters all the encouragement they need to open your CV and consider your application.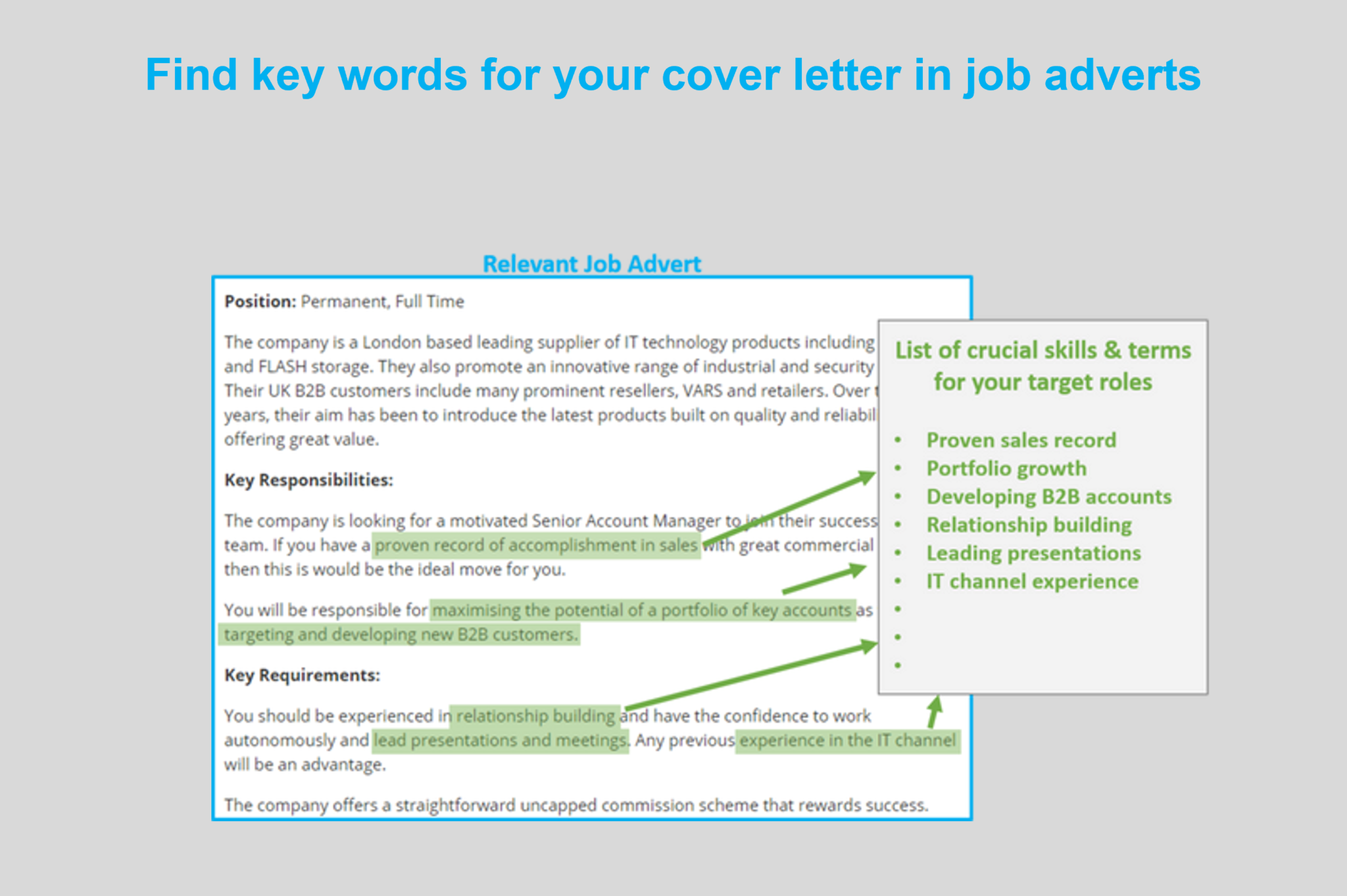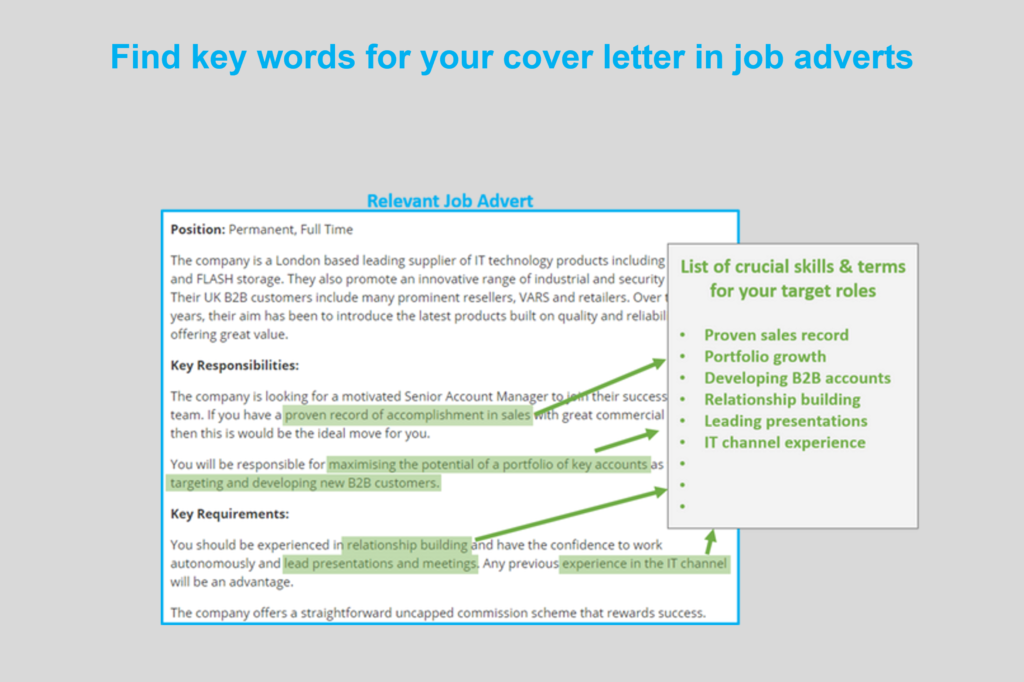 Keep it short and sharp
It is best to keep your cover letter brief if you want to ensure you hold the attention of busy recruiters and hiring managers. A lengthy cover letter will probably not get read in full, so keep yours to around 3-6 sentences and save the real detail for your CV.
Remember the purpose of your cover letter is to quickly get recruiters to notice you and encourage them to open your CV, so it only needs to include the highlights of your experience.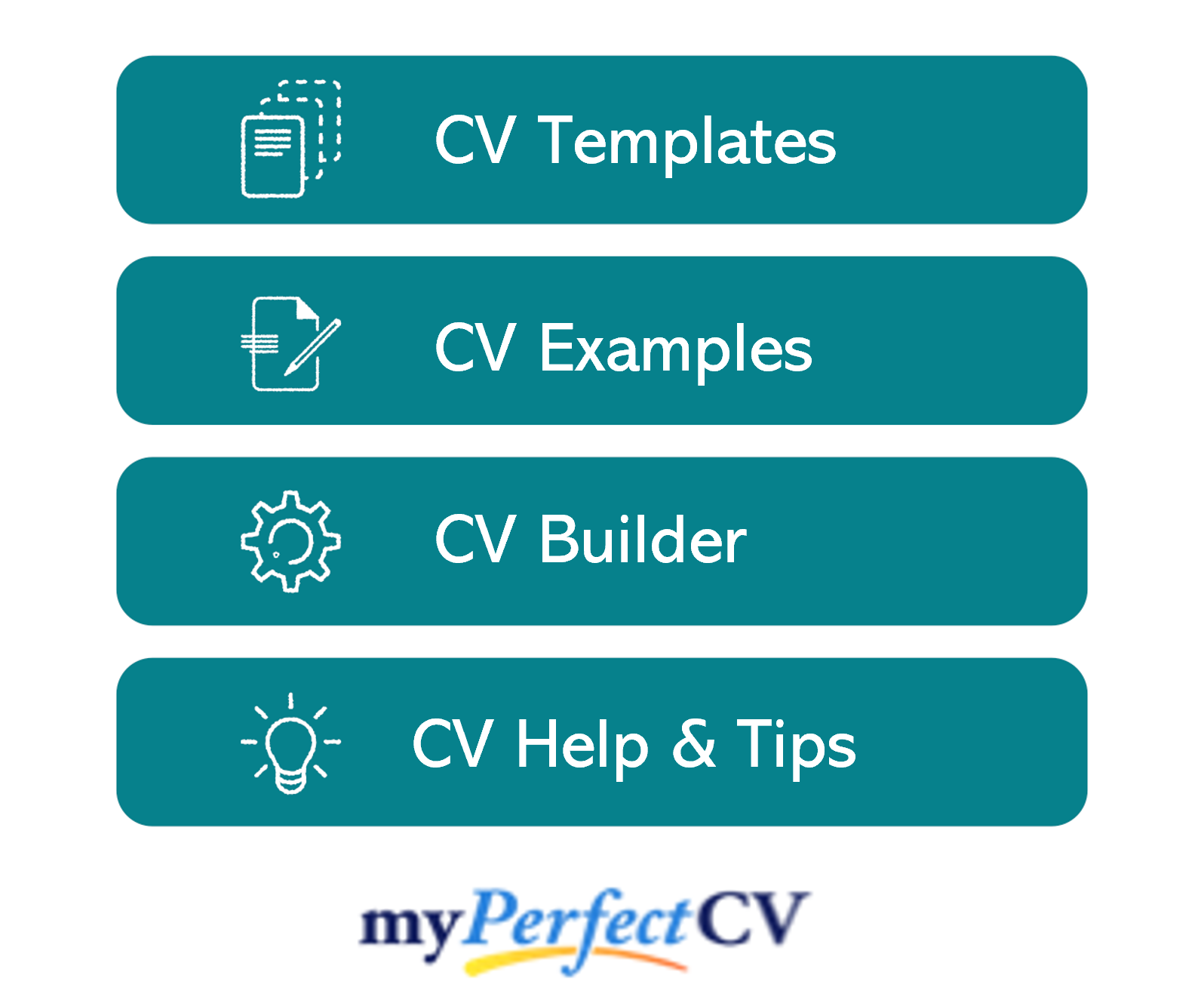 Sign off professionally
To finish off your cover note, add a professional signature to the bottom, stating your important contact details and information.
This not only provides recruiters with multiple means of contacting you, but it also adds a nice professional appearance to the cover letter, which shows that you know how to conduct yourself in the workplace.
Include the following points;
A friendly sign off – e.g. "Warm regards"
Your full name
Phone number (one you can answer quickly)
Email address
Optional
Profession title
Professional social network – e.g. LinkedIn
Here is an example signature;
Warm regards,
Aaron Smith
Customer service professional
075557437373
Aaron@smith.com
LinkedIn
Quick tip: To save yourself from having to write your signature every time you send a job application, you can save it within your email drafts, or on a separate document that you could copy in.

What to include in your Security Officer cover letter
Here's what kind of content you should include in your Security Officer cover letter…
The exact info will obviously depend on your industry and experience level, but these are the essentials.
Your relevant experience – Where have you worked and what type of jobs have you held?
Your qualifications – Let recruiters know about your highest level of qualification to show them you have the credentials for the job.
The impact you have made – Show how your actions have made a positive impact on previous employers; perhaps you've saved them money or helped them to acquire new customers?
Your reasons for moving – Hiring managers will want to know why you are leaving your current or previous role, so give them a brief explanation.
Your availability – When can you start a new job? Recruiters will want to know how soon they can get you on board.
Don't forget to tailor these points to the requirements of the job advert for best results.
Security Officer cover letter templates
Copy and paste these Security Officer cover letter templates to get a head start on your own.
Template 1
Dear Michael,
I hope this email finds you well. As a recent school leaver with a Level 3 BTEC in Public Services I am thrilled to apply for the position of Entry-Level Security Officer at Phoenix Security.
Having previously worked as a receptionist at the Radisson Hotel, I have honed my observation skills and learnt to remain vigilant in identifying potential security threats. Throughout my three years with the company, I efficiently handled emergency situations, demonstrating my ability to stay calm and respond effectively under pressure including successfully performing first aid in five separate instances. My strong communication skills, developed through interacting with a diverse range of visitors and my Drama A Level studies, have equipped me to work collaboratively with the security team and uphold the highest safety standards. I am adept at using surveillance systems including ADT and PPF and my physical fitness from playing rugby and badminton is excellent.
I am eager to bring my enthusiasm for security and dedication to maintaining a safe environment to the team at Phoenix Security and I would love the opportunity to discuss how my skills and commitment align with your company's vision.
Kind regards,
Laura Walton
Template 2
Hi Martin,
I am writing to submit my application for the Security Officer vacancy at Bax Security, as advertised on LinkedIn. With my experience as a Security Officer at First Direct Arena in Leeds, where I diligently conducted regular patrols, maintained accurate security logs, and ensured a safe environment for events of all sizes, I am well-prepared to contribute to your team's success.
In my current role at the arena, I have successfully implemented an efficient shift handover process, reduced communication errors and enhancing operational effectiveness. Moreover, I introduced a new online incident reporting system, leading to a 30% improvement in the accuracy and timeliness of incident documentation in 2021. Furthermore, my certifications in Advanced First Aid, CPR, AED, and as a Certified Security Professional (CSP) from the Institute of Security Management demonstrate my commitment to safety and security practices.
I am eager to bring my expertise to the team at Bax Security and would like to discuss how my skills align with your security needs in an interview at your earliest convenience.
Thank you for considering my application.
Kind regards,
Phoebe Smith
Template 3
Good morning, Jonathan
I trust you are well. I am writing to apply for the Senior Security Officer role at Venus Security Solutions. With over 15 years of experience in security management, I am confident in my ability to supervise and mentor a team of officers for high-security and large events and contracts.
In my current role at Green Flag, I successfully led the training program for the implementation of an advanced access control system on site at the Giles Road Arena, reducing unauthorised entries by 40%. I also hold a Level 4 First Aid certificate and led emergency response training last year that resulted in a 50% decrease in incident response time. Additionally, I contribute to regular comprehensive security audits, ensuring compliance with industry standards and best practices which has resulted in three gold standard external audits for the company.
I am eager to apply my expertise in risk assessment and crisis management to enhance security protocols at Venus Security Solutions alongside my duties during events.
I am available for an interview at your convenience to discuss how my achievements and leadership skills align with your company's security objectives. Thank you for considering my application.
Best wishes,
Jess Walton
Writing a strong attention-grabbing cover letter is a vital step in landing a good Security Officer job.
Use the tips, strategies and examples above to get more responses from you job applications and start lining job interview up.
Good luck with your job search!