Can you be there to support the primary researcher in collecting data and information?
If so, you need to prove it with an engaging and persuasive cover letter. We want to see those research skills in action as you perfect and tailor your application.
But in case you need a little guidance, we've also put together some of our top tips and research assistant cover letter examples in the guide below.

Research Assistant cover letter example 1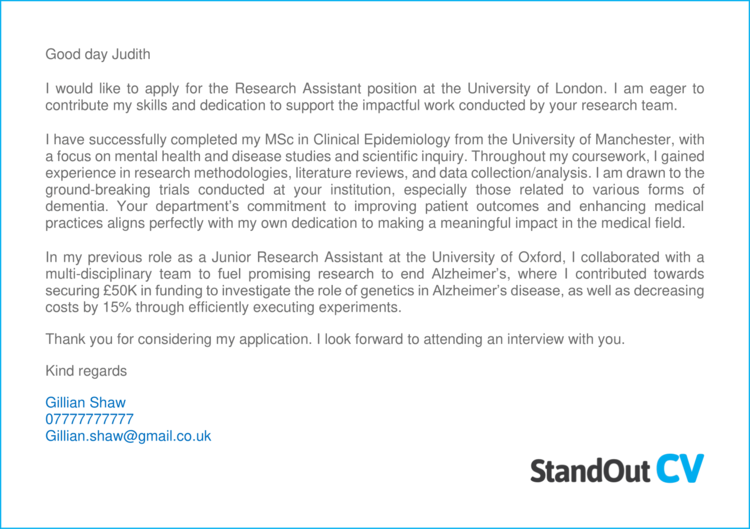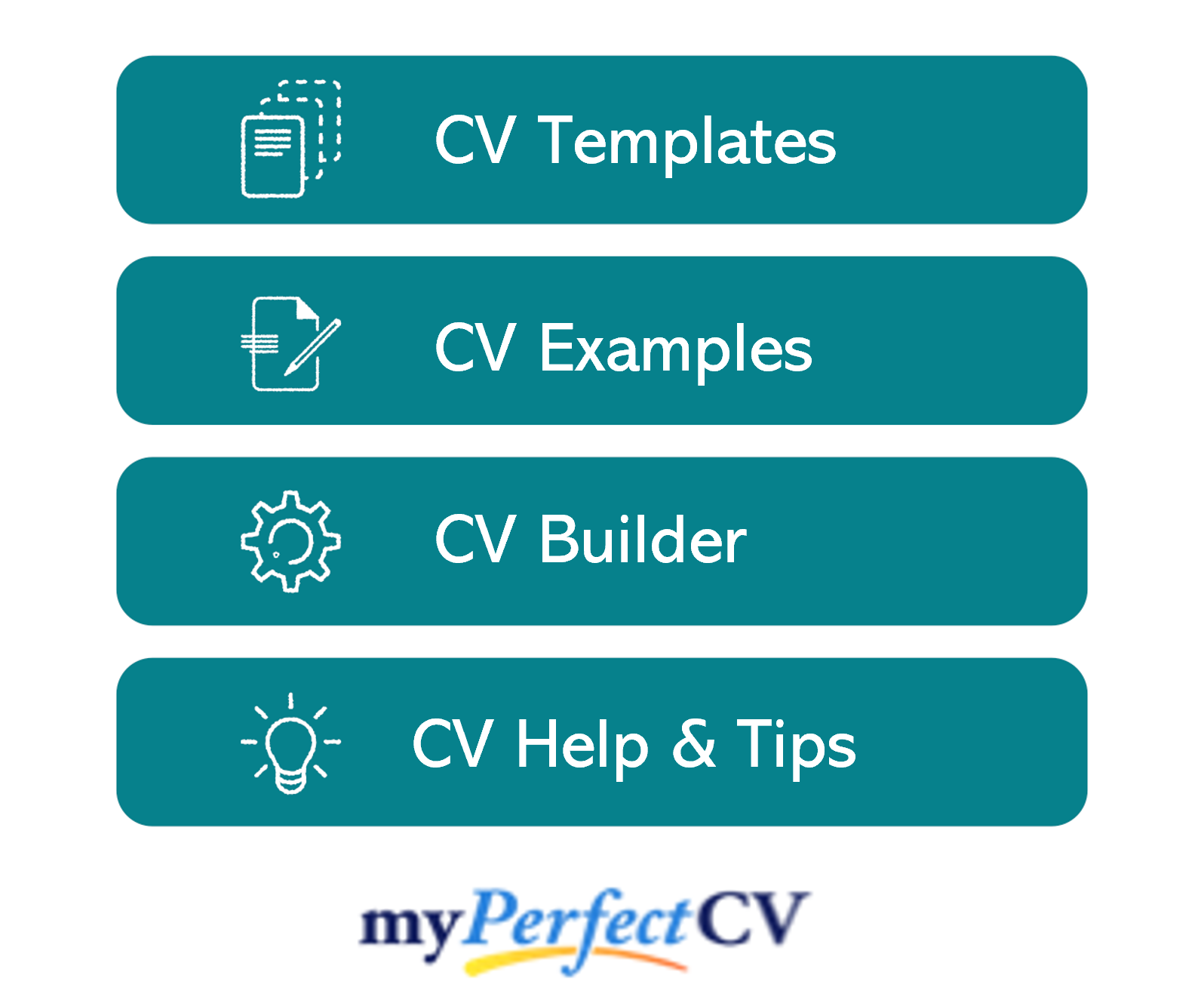 Research Assistant cover letter example 2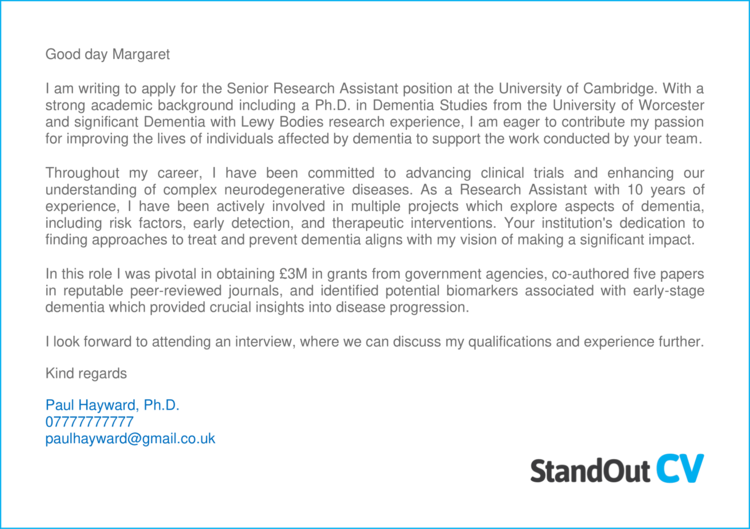 Research Assistant cover letter example 3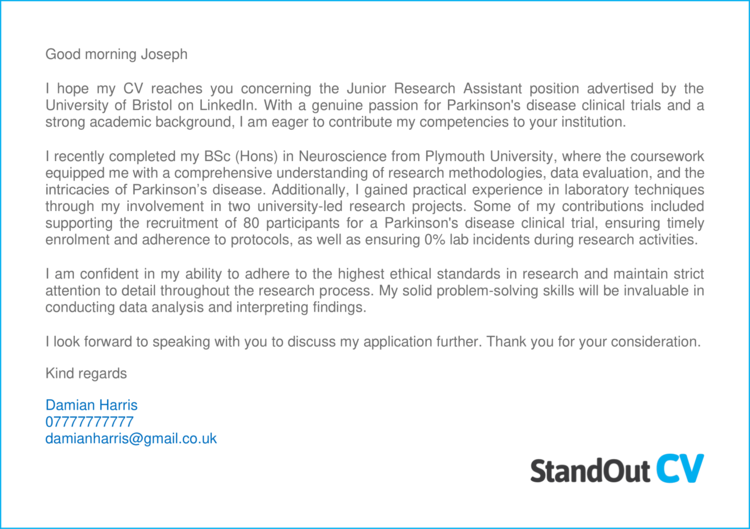 These 3 Research Assistant cover letter examples should provide you with a good steer on how to write your own cover letter, and the general structure to follow.
Our simple step-by-step guide below provides some more detailed advice on how you can craft a winning cover letter for yourself, that will ensure your CV gets opened.
How to write a Research Assistant cover letter
Here's how you can write your own eye-catching cover letter, broken down into simple steps.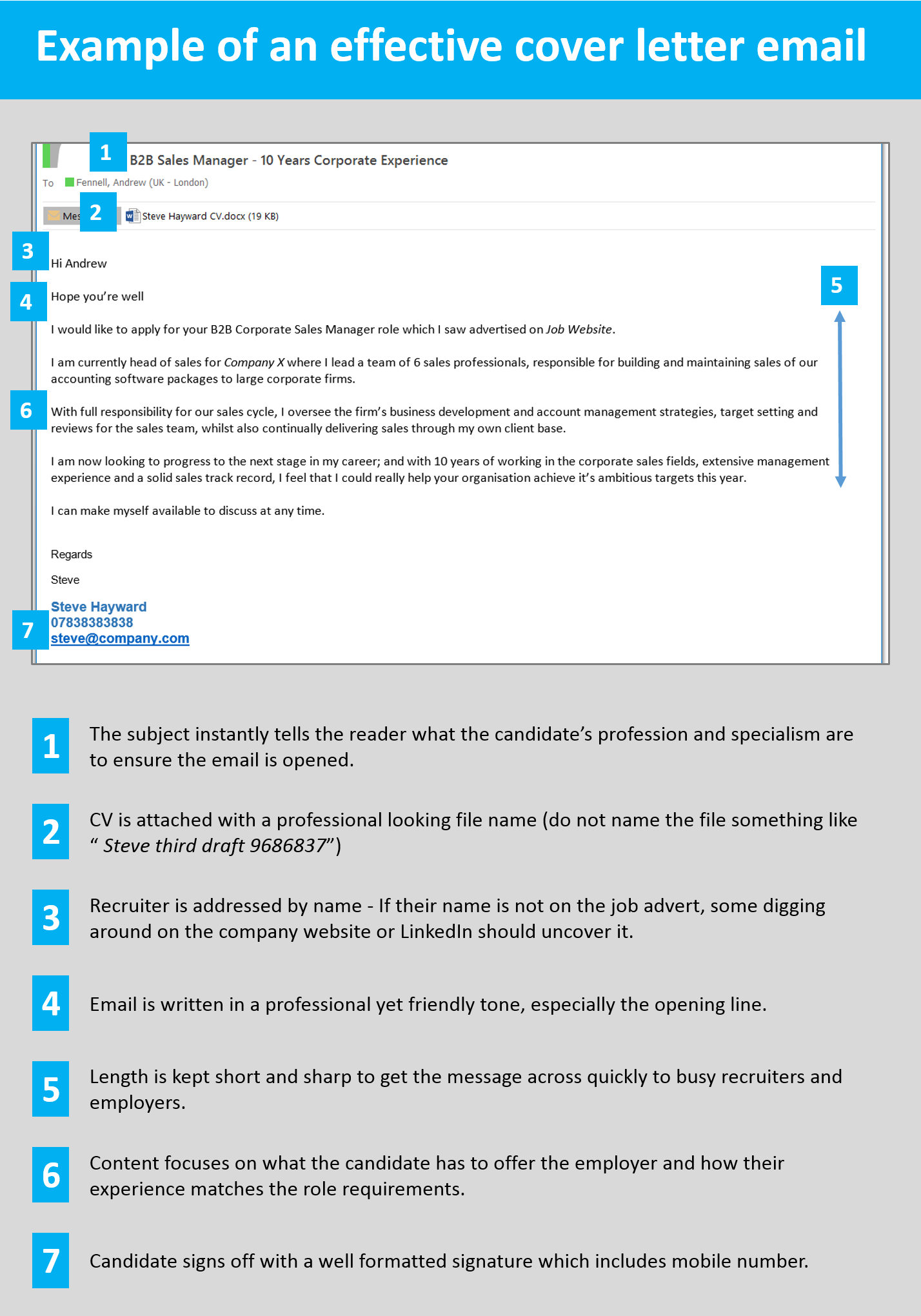 Write your cover letter in the body of an email/message
When you send a cover letter with a job application, you should always write your message into the body of your email – or the body of the messaging system if you are sending via a job website.
Why do this?
Simply because you want to get your message seen as soon as the recruiter opens your application.
If you attach the cover letter as a separate item, this means the recipient will have to open it before they can read it – slowing down the process and potentially causing frustration along the way.
So, write your cover note in the body of your email/message to ensure you make an instant connection with the reader.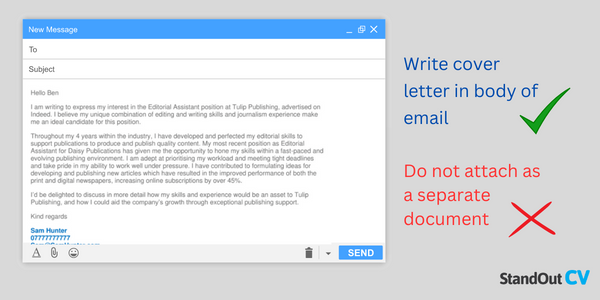 Start with a friendly greeting

Start you cover letter with a greeting that is professional but friendly.
This will build rapport with the recruiter whilst showing your professionalism.
Hi, hope you're well
Hi [insert recruiter name]
Hi [insert department/team name]
Avoid overly formal greetings like "Dear sir/madam" unless applying to very traditional companies.
How to find the contact's name?
Addressing the recruitment contact by name is an excellent way to start building a strong relationship. If it is not listed in the job advert, try these methods to find it.
Check out the company website and look at their About page. If you see a hiring manager, HR person or internal recruiter, use their name. You could also try to figure out who would be your manager in the role and use their name.
Head to LinkedIn, search for the company and scan through the list of employees. Most professionals are on LinkedIn these days, so this is a good bet.
Identify the role you are applying for
Once you've opened up the cover letter with a warm greeting to start building a relationship, it is time to identify which role you want to apply for.
Recruiters are often managing multiple vacancies, so you need to ensure you apply to the correct one.
Be very specific and use a reference number if you can find one.
I am interested in applying for the position of Research Assistant with your company.
I would like to apply for the role of Sales assistant (Ref: 406f57393)
I would like to express my interest in the customer service vacancy within your retail department
I saw your advert for a junior project manager on Reed and would like to apply for the role.
Highlight your suitability
The bulk of your cover letter should be focused around highlighting your suitability for the job you are applying to.
Doing this will show the recruiter that you are suitable candidate and encourage them to open your CV.
The best way to do this, is by studying the job advert you are applying to, and find out what the most important skills and knowledge are.
Once you know the most important requirements, you then need to highlight your matching skills to the recruiter. In a few sentences, tell them exactly why you are a good fit for the job and what you can offer the company.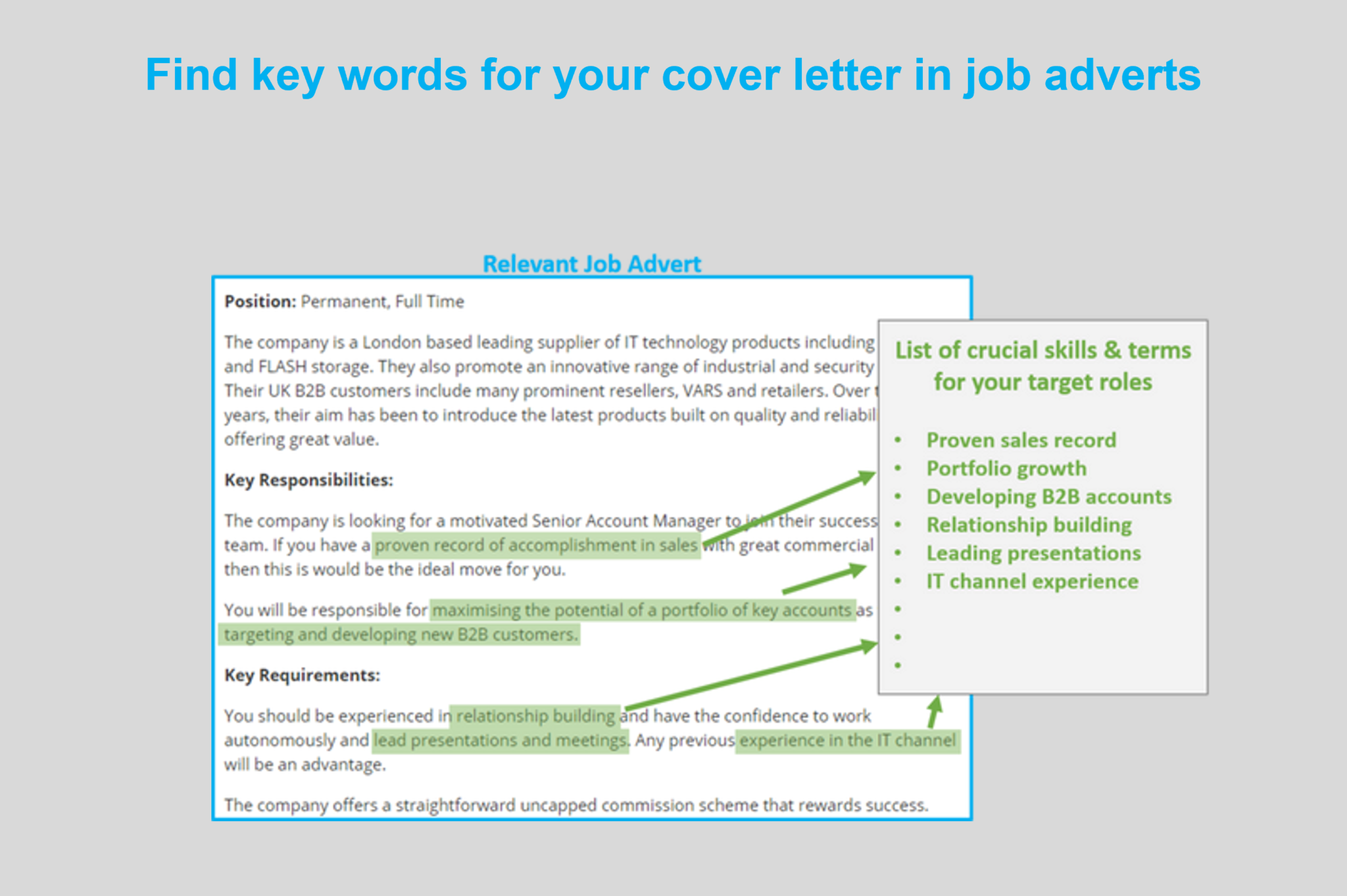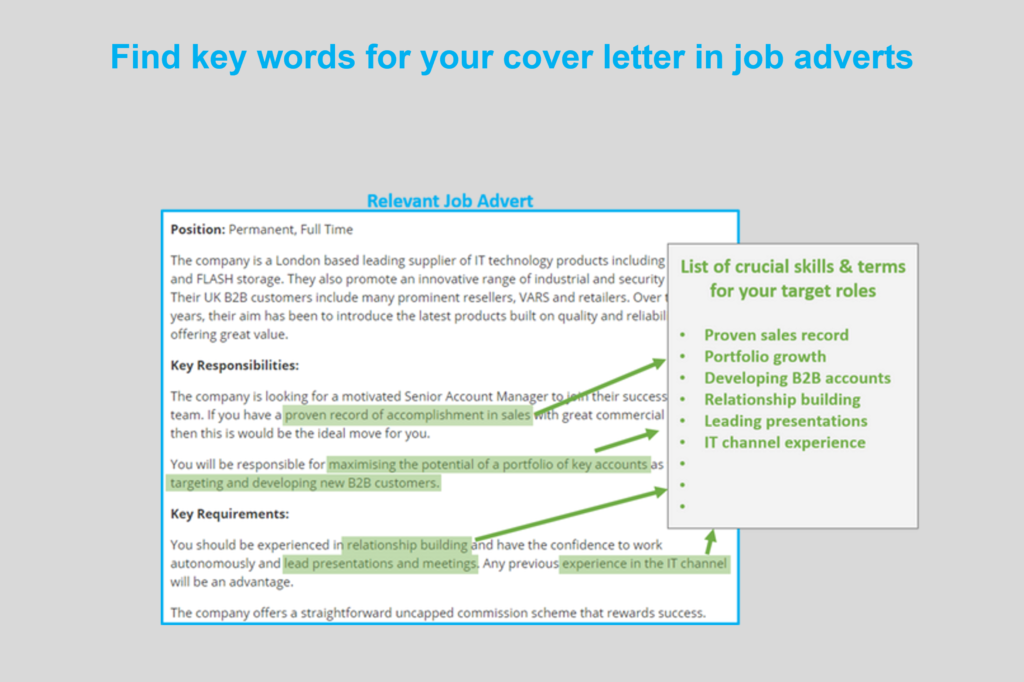 Keep it short and sharp
A good cover letter is short and sharp, getting to the point quickly with just enough information to grab the attention of recruiters.
Ideally your cover letter should be around 4-8 sentences long – anything longer will risk losing the attention of time-strapped recruiters and hiring managers.
Essentially you need to include just enough information to persuade the reader to open up your CV, where the in-depth details will sit.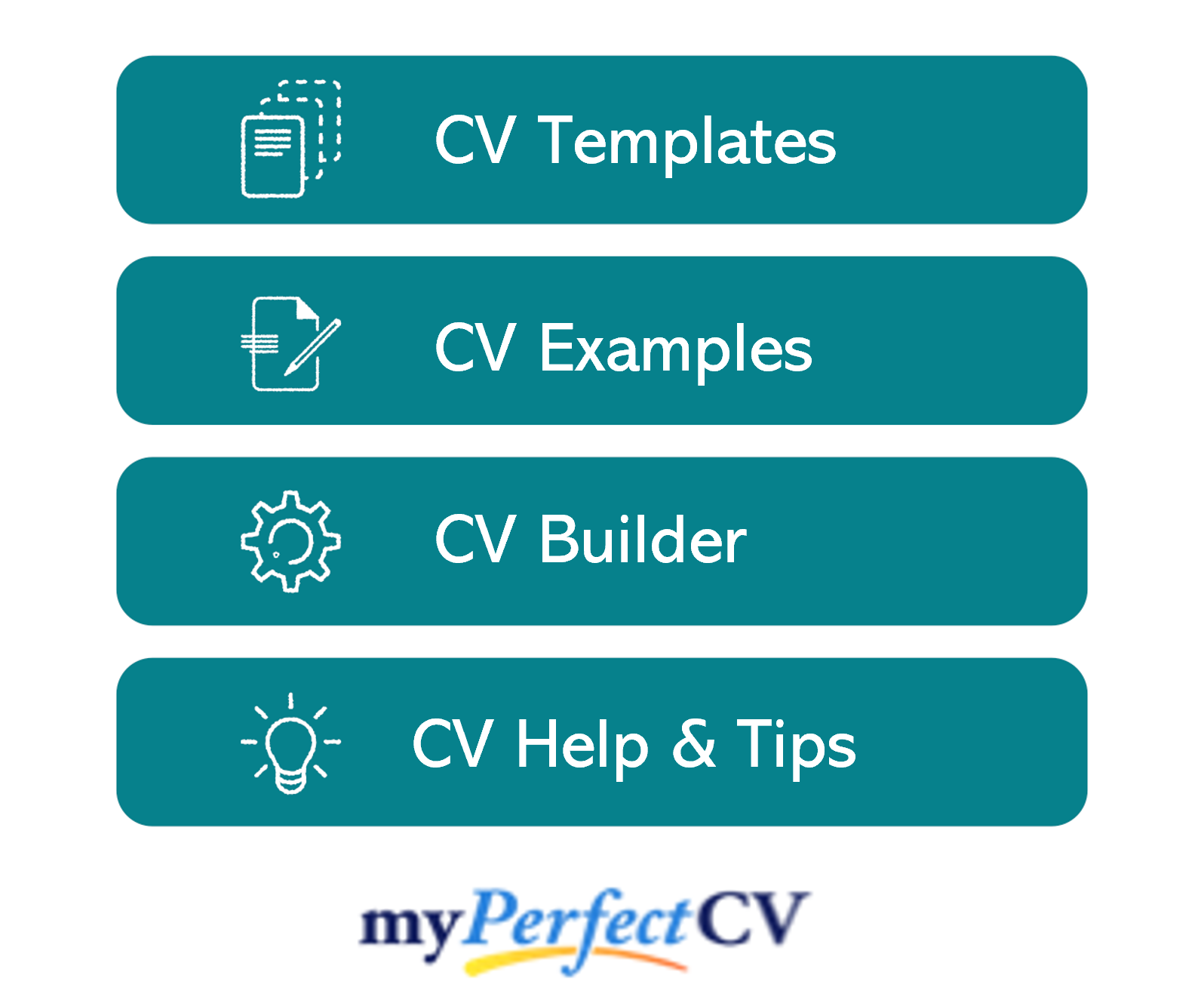 Sign off professionally
To round of your cover letter, add a professional signature to the bottom, giving recruiters your vital contact information.
This not only gives various means of contacting you, it also looks really professional and shows that you know how to communicate in the workplace.
Include the following points;
A friendly sign off – e.g. "Warm regards"
Your full name
Phone number (one you can answer quickly)
Email address
Optional
Profession title
Professional social network – e.g. LinkedIn
Here is an example signature;
Warm regards,
Gerald Baker
Senior Accountant
07887500404
Gbaker213@hotmail.com
LinkedIn
Quick tip: To save yourself from having to write your signature every time you send a job application email, you can save it within your email drafts, or on a separate document that you could copy in.

What to include in your Research Assistant cover letter
Your Research Assistant cover letter will be unique to your situation, but there are certain content guidelines you should stick to for best results.
To attract and entice recruiters, stick with the following key subjects in your cover letter – adapting them to fit your profession and target jobs.
Your professional experience – Employers will be keen to know if your experience is suitable for the job you are applying to, so provide a good summary of it in your cover letter.
Your qualifications and education – Highlight your most relevant and high-level of qualification, especially if they are essential to the job.
The positive impact you have made – Employers love to hear about the benefits you can bring to them, so shout about anything impressive you have done, such as saving money or improving processes.
Your reasons for leaving – Use a few words of your cover letter to explain why you are leaving your current job and ensure you avoid any negative reasons.
Your availability – Let recruiters know when you can start a new job. Are you immediately available, or do you have a month notice period?
Research Assistant cover letter templates
Copy and paste these Research Assistant cover letter templates to get a head start on your own.
Template 1
Good day Judith
I would like to apply for the Research Assistant position at the University of London. I am eager to contribute my skills and dedication to support the impactful work conducted by your research team.
I have successfully completed my MSc in Clinical Epidemiology from the University of Manchester, with a focus on mental health and disease studies and scientific inquiry. Throughout my coursework, I gained experience in research methodologies, literature reviews, and data collection/analysis. I am drawn to the ground-breaking trials conducted at your institution, especially those related to various forms of dementia. Your department's commitment to improving patient outcomes and enhancing medical practices aligns perfectly with my own dedication to making a meaningful impact in the medical field.
In my previous role as a Junior Research Assistant at the University of Oxford, I collaborated with a multi-disciplinary team to fuel promising research to end Alzheimer's, where I contributed towards securing £50K in funding to investigate the role of genetics in Alzheimer's disease, as well as decreasing costs by 15% through efficiently executing experiments.
Thank you for considering my application. I look forward to attending an interview with you.
Kind regards
Gillian Shaw
Template 2
Good day Margaret
I am writing to apply for the Senior Research Assistant position at the University of Cambridge. With a strong academic background including a Ph.D. in Dementia Studies from the University of Worcester and significant Dementia with Lewy Bodies research experience, I am eager to contribute my passion for improving the lives of individuals affected by dementia to support the work conducted by your team.
Throughout my career, I have been committed to advancing clinical trials and enhancing our understanding of complex neurodegenerative diseases. As a Research Assistant with 10 years of experience, I have been actively involved in multiple projects which explore aspects of dementia, including risk factors, early detection, and therapeutic interventions. Your institution's dedication to finding approaches to treat and prevent dementia aligns with my vision of making a significant impact.
In this role I was pivotal in obtaining £3M in grants from government agencies, co-authored five papers in reputable peer-reviewed journals, and identified potential biomarkers associated with early-stage dementia which provided crucial insights into disease progression.
I look forward to attending an interview, where we can discuss my qualifications and experience further.
Kind regards
Paul Hayward, Ph.D.
Template 3
Good morning, Joseph
I hope my CV reaches you concerning the Junior Research Assistant position advertised by the University of Bristol on LinkedIn. With a genuine passion for Parkinson's disease clinical trials and a strong academic background, I am eager to contribute my competencies to your institution.
I recently completed my BSc (Hons) in Neuroscience from Plymouth University, where the coursework equipped me with a comprehensive understanding of research methodologies, data evaluation, and the intricacies of Parkinson's disease. Additionally, I gained practical experience in laboratory techniques through my involvement in two university-led research projects. Some of my contributions included supporting the recruitment of 80 participants for a Parkinson's disease clinical trial, ensuring timely enrolment and adherence to protocols, as well as ensuring 0% lab incidents during research activities.
I am confident in my ability to adhere to the highest ethical standards in research and maintain strict attention to detail throughout the research process. My solid problem-solving skills will be invaluable in conducting data analysis and interpreting findings.
I look forward to speaking with you to discuss my application further. Thank you for your consideration.
Kind regards
Damian Harris
Writing a strong attention-grabbing cover letter is a vital step in landing a good Research Assistant job.
Use the tips, strategies and examples above to get more responses from you job applications and start lining job interview up.
Good luck with your job search!