You know how to use data analysis and research skills in your job, but do you know how to put these to good use when writing a cover letter?
If you're hoping to secure a position as a product manager, you need to use facts, figures and your biggest achievements to make your application stand out.
We'll teach you how to do just that, as well as share some product manager cover letter examples to inspire you. Check out our detailed writing guide below.

Product Manager cover letter example 1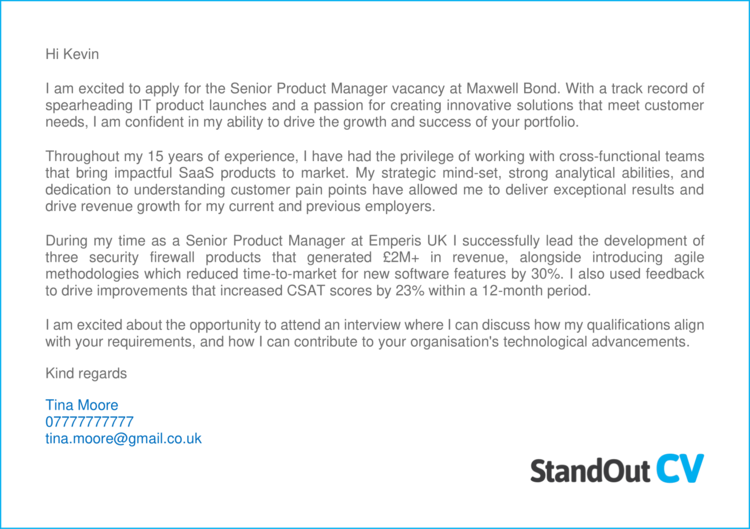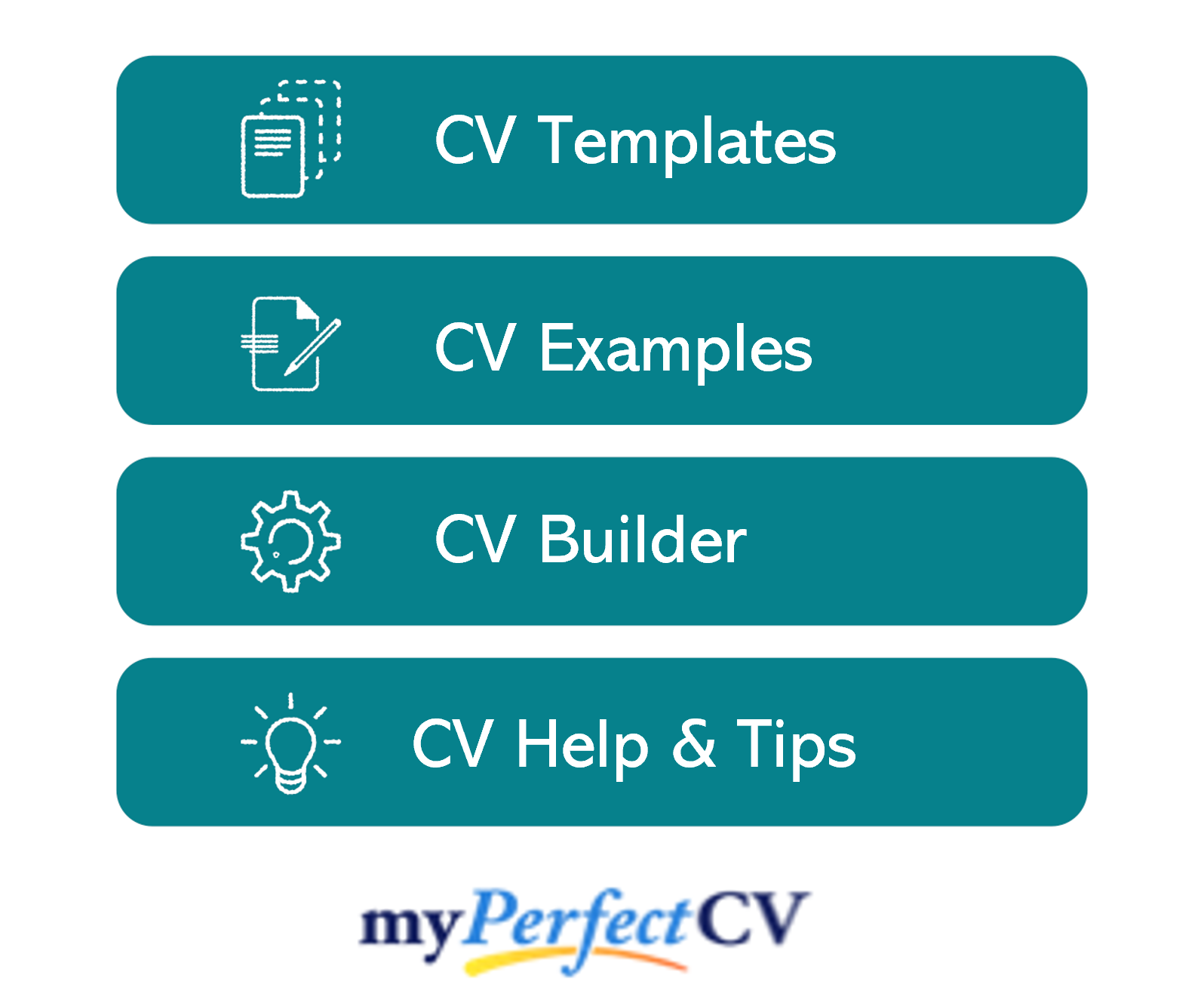 Product Manager cover letter example 2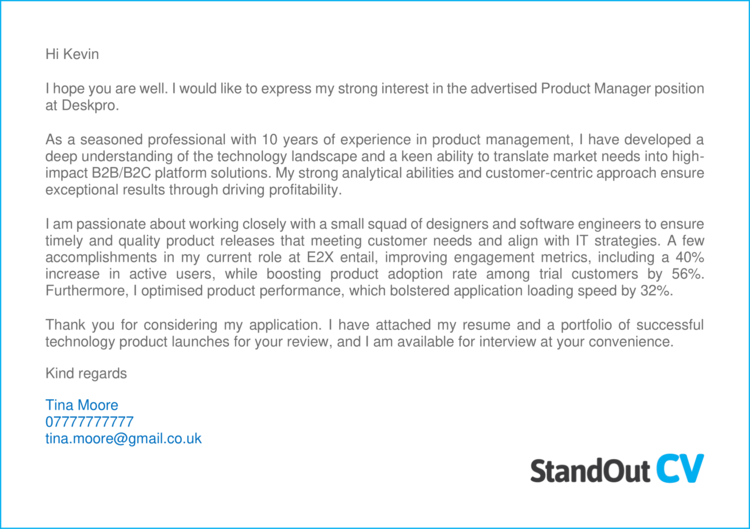 Product Manager cover letter example 3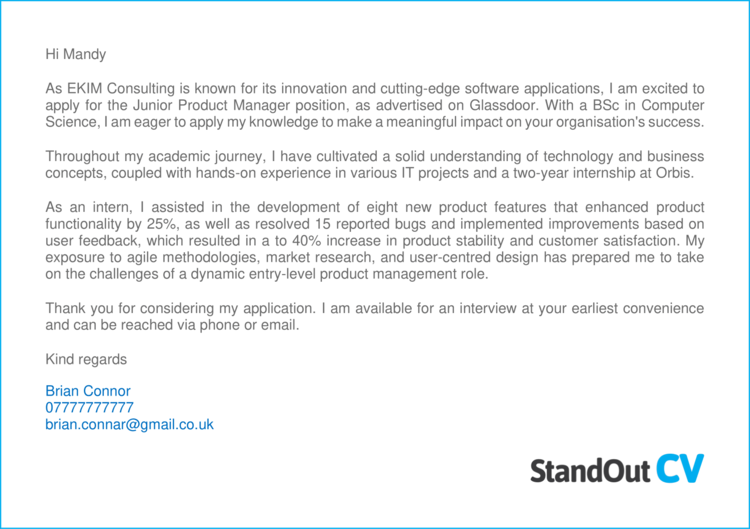 These 3 Product Manager cover letter examples should provide you with a good steer on how to write your own cover letter, and the general structure to follow.
Our simple step-by-step guide below provides some more detailed advice on how you can craft a winning cover letter for yourself, that will ensure your CV gets opened.
How to write a Product Manager cover letter
Here's how to write your own winning Product Manager cover letter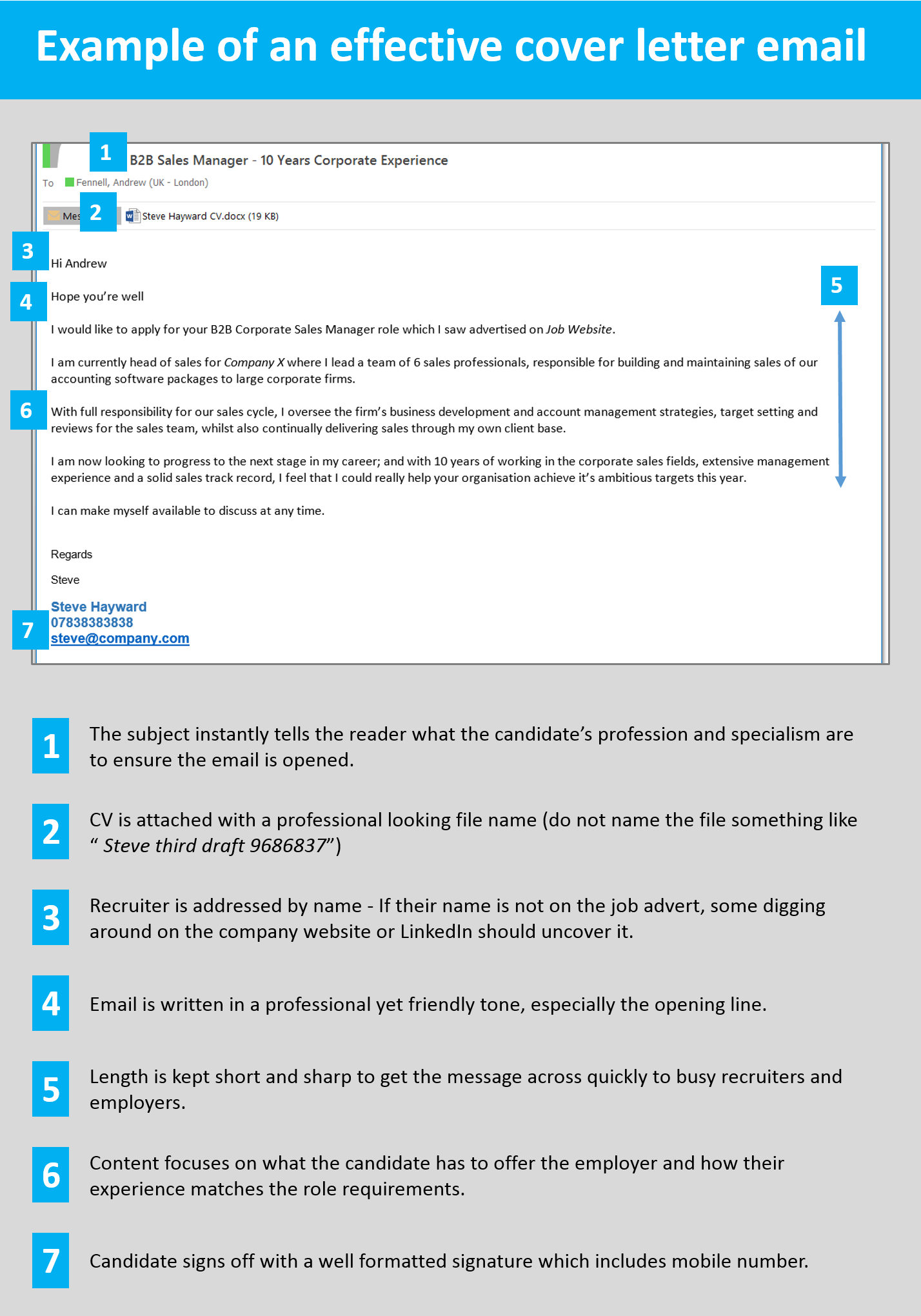 Write your cover letter in the body of an email/message
When writing your Product Manager cover letter, it's best to type the content into the body of your email (or the job site messaging system) and not to attach the cover letter as a separate document.
This ensures that your cover letter gets seen as soon as a recruiter or employer opens your message.
If you attach the cover letter as a document, you're making the reader go through an unnecessary step of opening the document before reading it.
If it's in the body of the message itself, it will be seen instantly, which hugely increases the chances of it being read.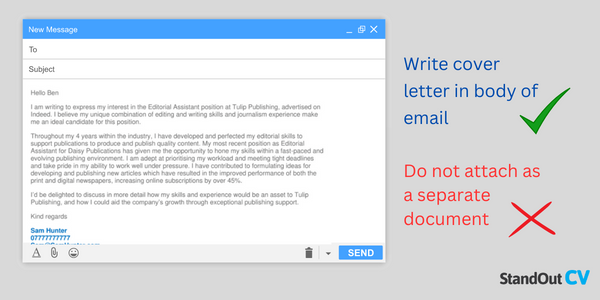 Start with a friendly greeting

Start you cover letter with a greeting that is professional but friendly.
This will build rapport with the recruiter whilst showing your professionalism.
Hi, hope you're well
Hi [insert recruiter name]
Hi [insert department/team name]
Avoid overly formal greetings like "Dear sir/madam" unless applying to very traditional companies.
How to find the contact's name?
Addressing the recruitment contact by name is an excellent way to start building a strong relationship. If it is not listed in the job advert, try these methods to find it.
Check out the company website and look at their About page. If you see a hiring manager, HR person or internal recruiter, use their name. You could also try to figure out who would be your manager in the role and use their name.
Head to LinkedIn, search for the company and scan through the list of employees. Most professionals are on LinkedIn these days, so this is a good bet.
Identify the role you are applying for
Once you've opened up the cover letter with a warm greeting to start building a relationship, it is time to identify which role you want to apply for.
Recruiters are often managing multiple vacancies, so you need to ensure you apply to the correct one.
Be very specific and use a reference number if you can find one.
I am interested in applying for the position of Product Manager with your company.
I would like to apply for the role of Sales assistant (Ref: 406f57393)
I would like to express my interest in the customer service vacancy within your retail department
I saw your advert for a junior project manager on Reed and would like to apply for the role.
Highlight your suitability
The main purpose of your cover letter is to excite recruiters and make them eager to open your CV. And you achieve this by quickly demonstrating your suitability to the job you are applying for.
Take a look at the job adverts you are applying for, and make note of the most important skills being asked for.
Then, when you write your cover letter, make your suitability the focal point.
Explain how you meet the candidate requirements fully, and why you are so well suited to carry out the job.
This will give recruiters all the encouragement they need to open your CV and consider your application.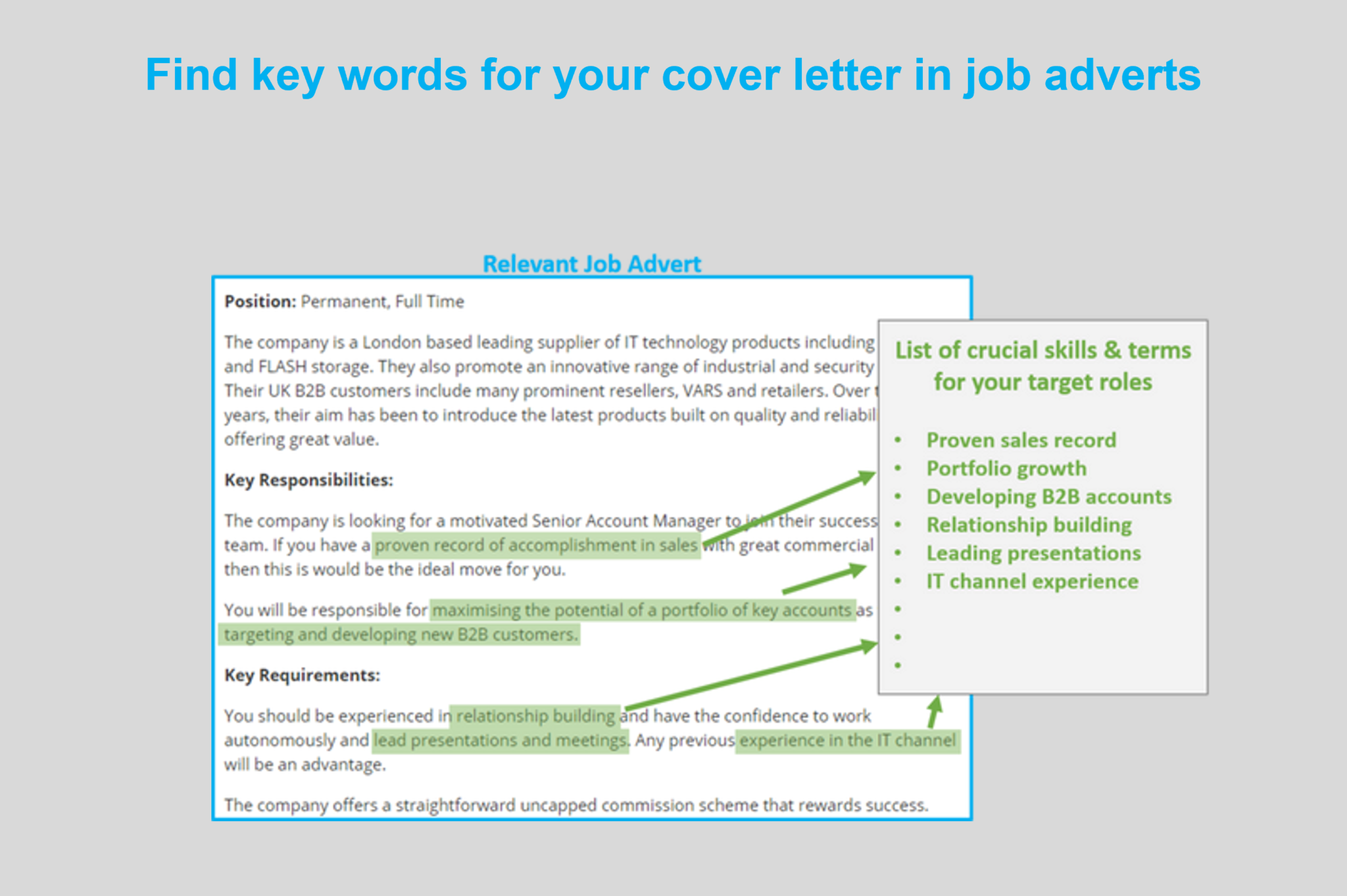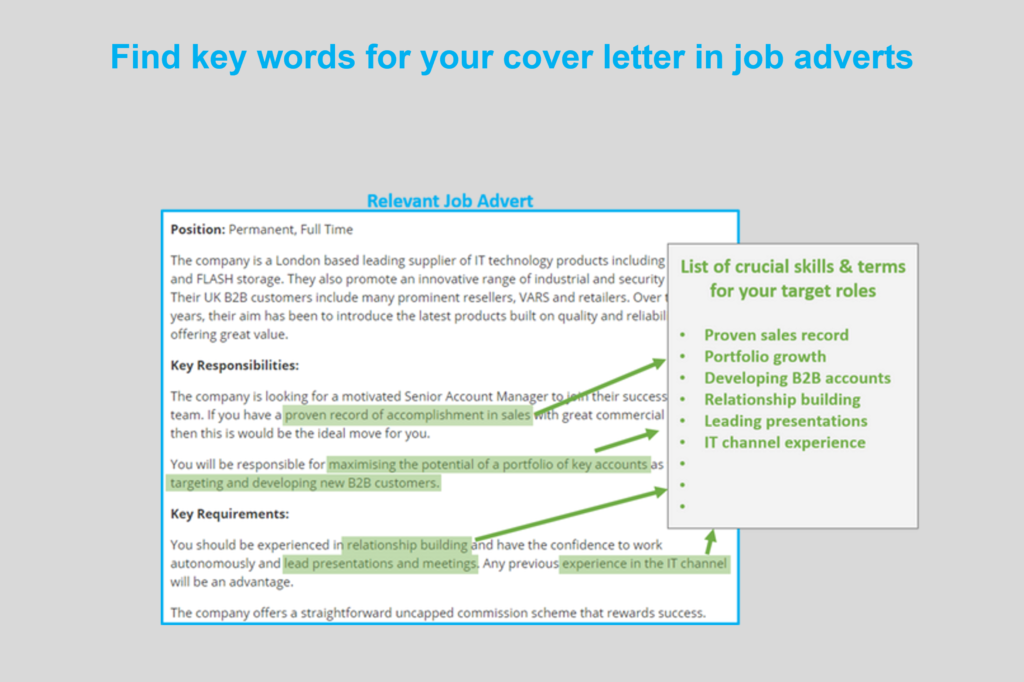 Keep it short and sharp
When sending a job application to a recruiter or hiring manager, it is important to remember that they will normally be very busy and pushed for time.
Therefore, you need to get you message across to them quickly (in a matter of seconds ideally). So, keep your cover letter short and to-the-point. A long waffling cover letter will overwhelm recruiters when they are running through hundreds of emails in there inbox, but a concise one will get their attention.
So, keep your cover letter to just a few sentences long, and save the extensive detail for your CV.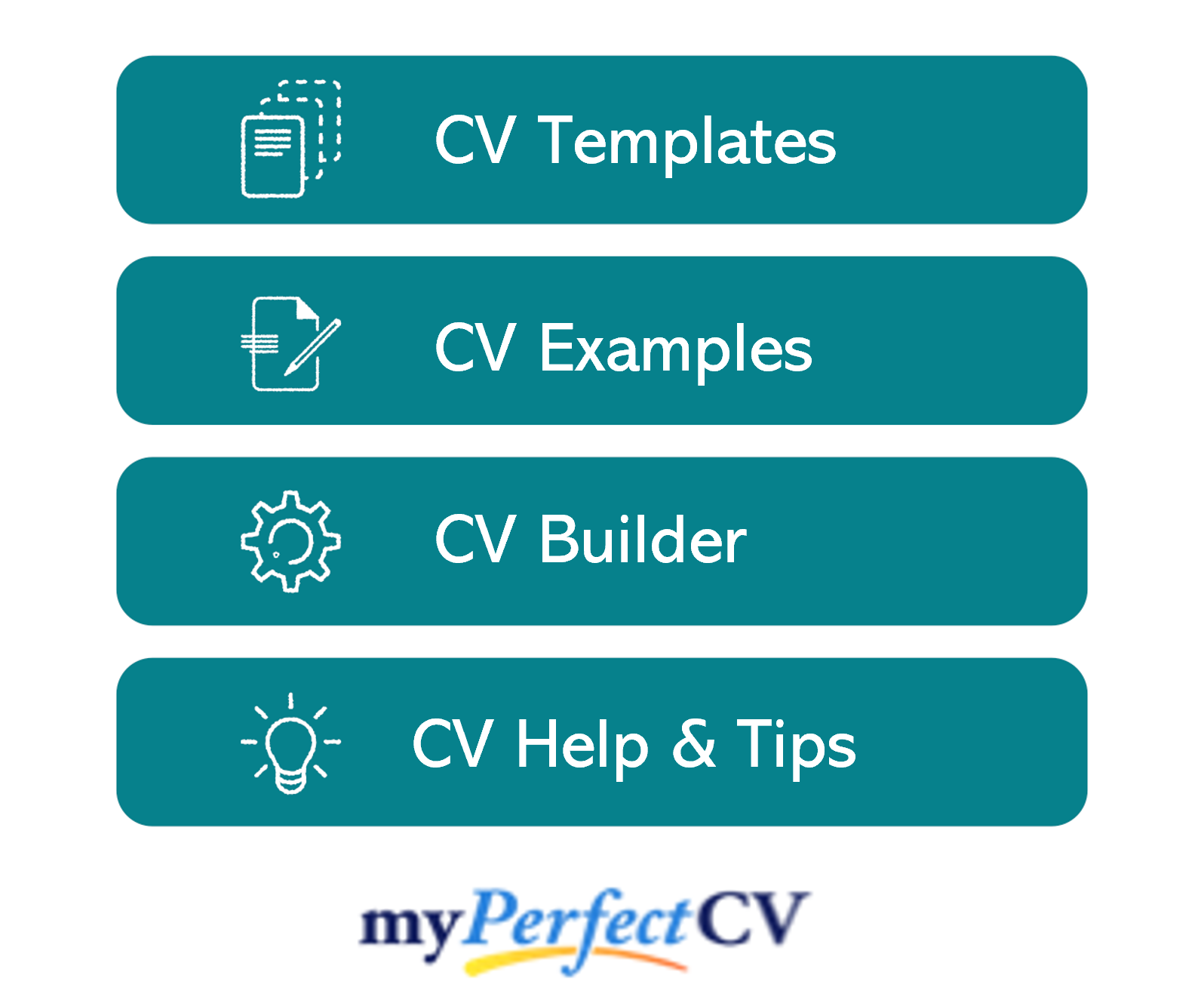 Sign off professionally
To round of your CV, you should sign off with a professional signature.
This will give your cover letter a slick appearance and also give the recruiter all of the necessary contact information they need to get in touch with you.
The information to add should include:
A friendly sign off – e.g. "Kindest regards"
Your full name
Phone number (one you can answer quickly)
Email address
Optional
Profession title
Professional social network –  e.g. LinkedIn
Here is an example signature;
Warm regards,
Jill North
IT Project Manager
078837437373
Jill@hotmail.com
LinkedIn
Quick tip: To save yourself from having to write your signature every time you send a job application, you can save it within your email drafts, or on a separate documents that you could copy in.

What to include in your Product Manager cover letter
Your Product Manager cover letter will be unique to your situation, but there are certain content guidelines you should stick to for best results.
To attract and entice recruiters, stick with the following key subjects in your cover letter – adapting them to fit your profession and target jobs.
Your professional experience – Employers will be keen to know if your experience is suitable for the job you are applying to, so provide a good summary of it in your cover letter.
Your qualifications and education – Highlight your most relevant and high-level of qualification, especially if they are essential to the job.
The positive impact you have made – Employers love to hear about the benefits you can bring to them, so shout about anything impressive you have done, such as saving money or improving processes.
Your reasons for leaving – Use a few words of your cover letter to explain why you are leaving your current job and ensure you avoid any negative reasons.
Your availability – Let recruiters know when you can start a new job. Are you immediately available, or do you have a month notice period?
Product Manager cover letter templates
Copy and paste these Product Manager cover letter templates to get a head start on your own.
Template 1
Hi Kevin
I am excited to apply for the Senior Product Manager vacancy at Maxwell Bond. With a track record of spearheading IT product launches and a passion for creating innovative solutions that meet customer needs, I am confident in my ability to drive the growth and success of your portfolio.
Throughout my 15 years of experience, I have had the privilege of working with cross-functional teams that bring impactful SaaS products to market. My strategic mind-set, strong analytical abilities, and dedication to understanding customer pain points have allowed me to deliver exceptional results and drive revenue growth for my current and previous employers.
During my time as a Senior Product Manager at Emperis UK I successfully lead the development of three security firewall products that generated £2M+ in revenue, alongside introducing agile methodologies which reduced time-to-market for new software features by 30%. I also used feedback to drive improvements that increased CSAT scores by 23% within a 12-month period.
I am excited about the opportunity to attend an interview where I can discuss how my qualifications align with your requirements, and how I can contribute to your organisation's technological advancements.
Kind regards
Tina Moore
Template 2
Hi Kevin
I hope you are well. I would like to express my strong interest in the advertised Product Manager position at Deskpro.
As a seasoned professional with 10 years of experience in product management, I have developed a deep understanding of the technology landscape and a keen ability to translate market needs into high-impact B2B/B2C platform solutions. My strong analytical abilities and customer-centric approach ensure exceptional results through driving profitability.
I am passionate about working closely with a small squad of designers and software engineers to ensure timely and quality product releases that meeting customer needs and align with IT strategies. A few accomplishments in my current role at E2X entail, improving engagement metrics, including a 40% increase in active users, while boosting product adoption rate among trial customers by 56%. Furthermore, I optimised product performance, which bolstered application loading speed by 32%.
Thank you for considering my application. I have attached my resume and a portfolio of successful technology product launches for your review, and I am available for interview at your convenience.
Kind regards
Tina Moore
Template 3
Hi Mandy
As EKIM Consulting is known for its innovation and cutting-edge software applications, I am excited to apply for the Junior Product Manager position, as advertised on Glassdoor. With a BSc in Computer Science, I am eager to apply my knowledge to make a meaningful impact on your organisation's success.
Throughout my academic journey, I have cultivated a solid understanding of technology and business concepts, coupled with hands-on experience in various IT projects and a two-year internship at Orbis.
As an intern, I assisted in the development of eight new product features that enhanced product functionality by 25%, as well as resolved 15 reported bugs and implemented improvements based on user feedback, which resulted in a to 40% increase in product stability and customer satisfaction. My exposure to agile methodologies, market research, and user-centred design has prepared me to take on the challenges of a dynamic entry-level product management role.
Thank you for considering my application. I am available for an interview at your earliest convenience and can be reached via phone or email.
Kind regards
Brian Connor
Writing a strong attention-grabbing cover letter is a vital step in landing a good Product Manager job.
Use the tips, strategies and examples above to get more responses from you job applications and start lining job interview up.
Good luck with your job search!