If you're hoping to secure your next pharmacist role, but you're struggling with the application process, let us dispense some helpful advice.
You need to tailor your application and highlight your relevant skills, and experience.
Find out how to do just that using our pharmacist cover letter examples and top tips in the detailed guide below.

Pharmacist cover letter example 1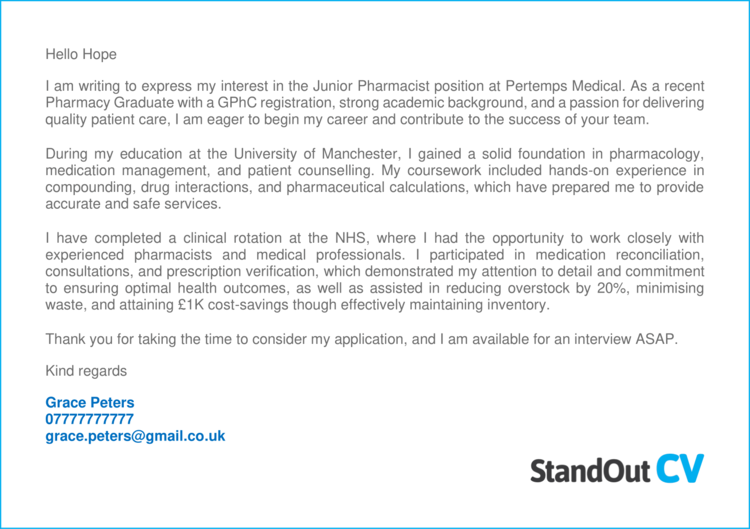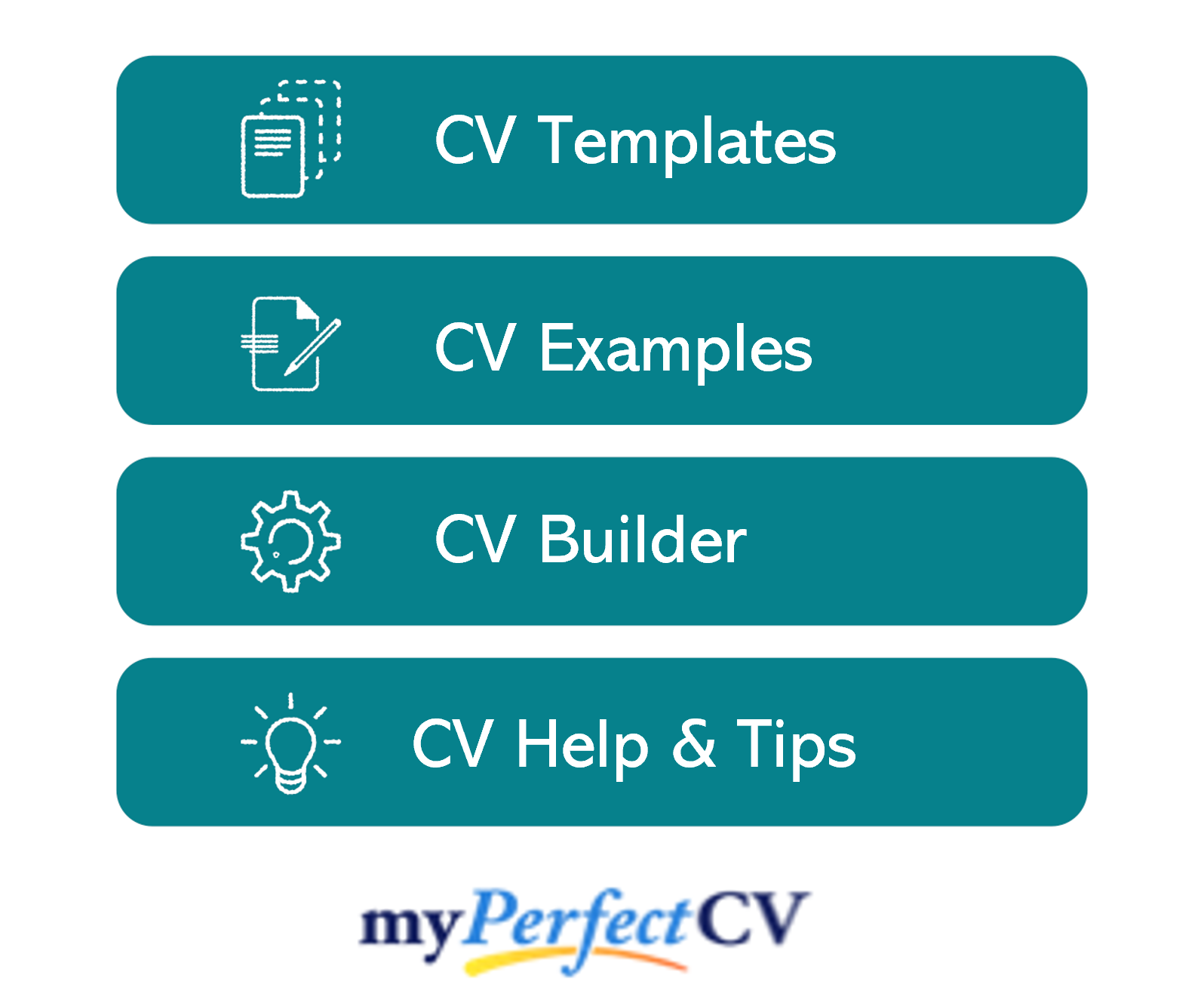 Pharmacist cover letter example 2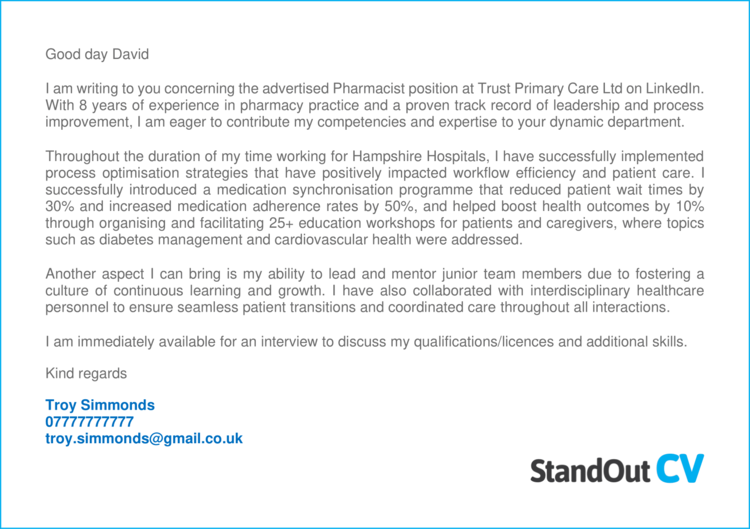 Pharmacist cover letter example 3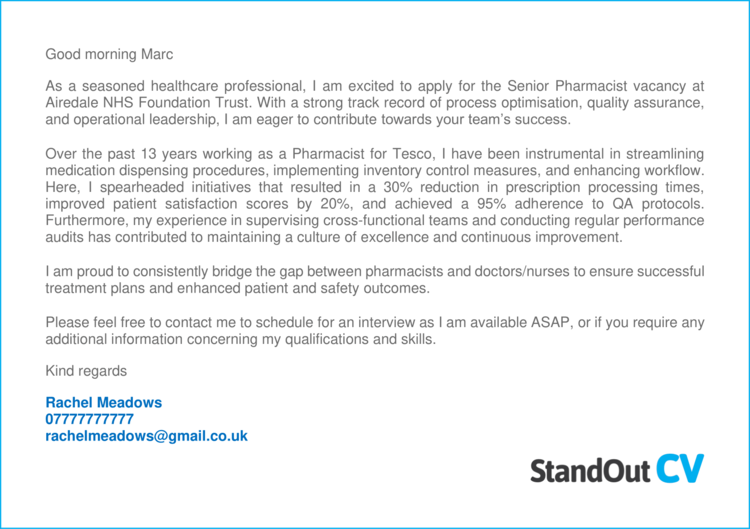 The Pharmacist cover letter examples above should give you a good idea of the type of content you need to include in your own cover letter, and how it should be structured.
But if you're really looking to wow recruiters and get your CV in front of the very best employers, then check out our guidance on how to write your own effective cover letter below.
How to write a Pharmacist cover letter
Here's how to write your own winning Pharmacist cover letter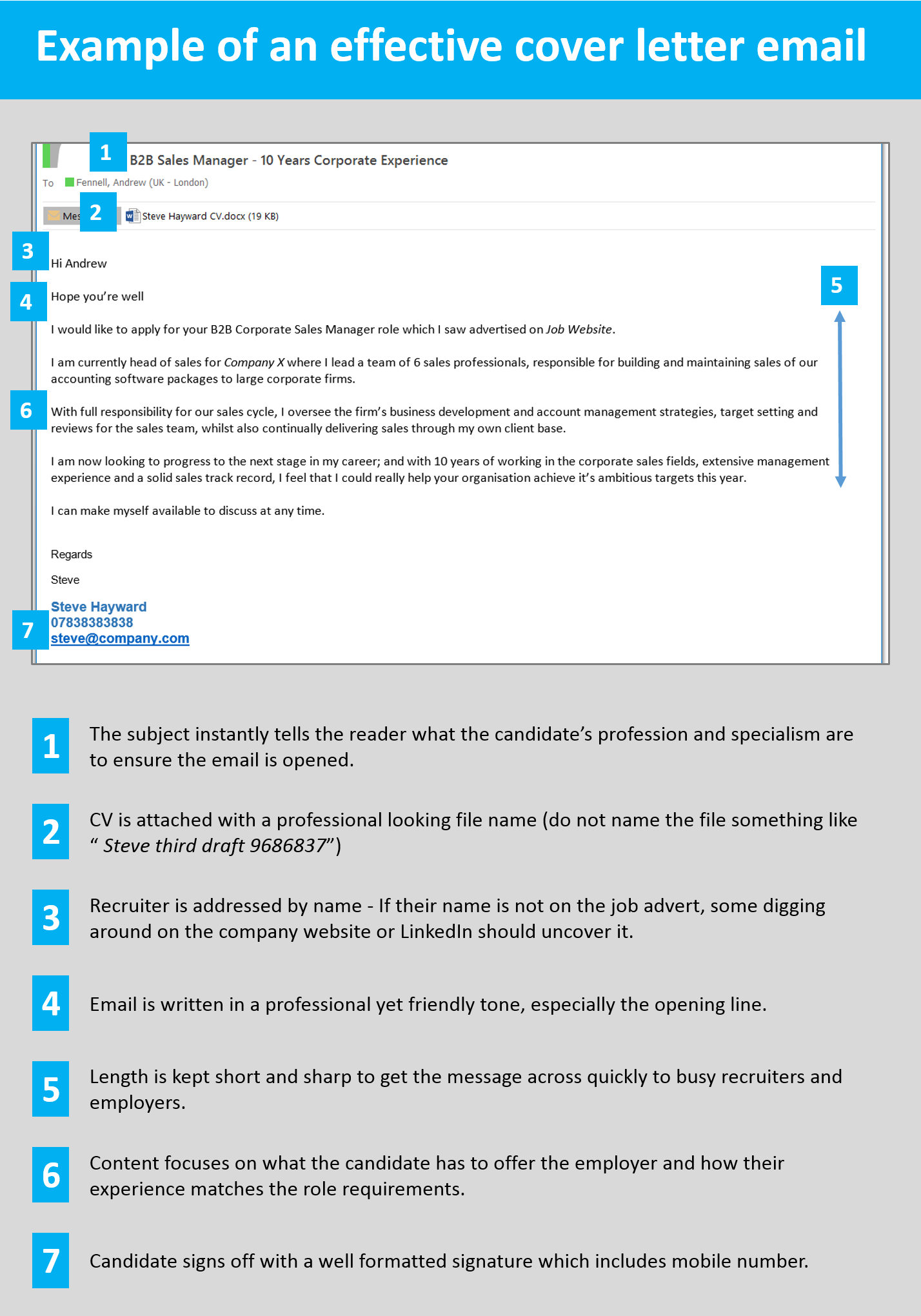 Write your cover letter in the body of an email/message
When writing your Pharmacist cover letter, it's best to type the content into the body of your email (or the job site messaging system) and not to attach the cover letter as a separate document.
This ensures that your cover letter gets seen as soon as a recruiter or employer opens your message.
If you attach the cover letter as a document, you're making the reader go through an unnecessary step of opening the document before reading it.
If it's in the body of the message itself, it will be seen instantly, which hugely increases the chances of it being read.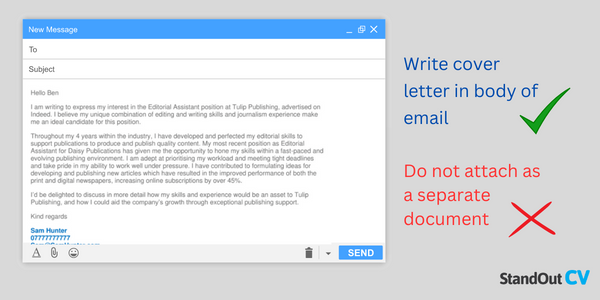 Start with a friendly greeting

Start you cover letter with a greeting that is professional but friendly.
This will build rapport with the recruiter whilst showing your professionalism.
Hi, hope you're well
Hi [insert recruiter name]
Hi [insert department/team name]
Avoid overly formal greetings like "Dear sir/madam" unless applying to very traditional companies.
How to find the contact's name?
Addressing the recruitment contact by name is an excellent way to start building a strong relationship. If it is not listed in the job advert, try these methods to find it.
Check out the company website and look at their About page. If you see a hiring manager, HR person or internal recruiter, use their name. You could also try to figure out who would be your manager in the role and use their name.
Head to LinkedIn, search for the company and scan through the list of employees. Most professionals are on LinkedIn these days, so this is a good bet.
Identify the role you are applying for
Now that you have warmed the recruiter up with a friendly greeting, firstly you need to let them know which role you are applying for.
Sometimes a recruitment consultant will be juggling 10 or 10 vacancies, so it's important to specify which one you are applying to.
Give us much detail as possible (team/department, role title etc.) and paste in the reference number if you have one.
Here are some examples you can use.
I am interested in applying for the role of Pharmacist with your company.
I would like to apply for the role of Sales assistant (Ref: 40f57393)
I would like to express my interest in the customer service vacancy within your retail department
I saw your advert for an IT project manager on Reed and would like to apply for the role.
Highlight your suitability
The sole objective of your cover letter is to motivate recruiters into to opening your CV. And you achieve this by quickly explaining your suitability to the roles you are applying for.
Take a look at the job descriptions you are applying to, and make note of the most important skills and qualifications being asked for.
Then, when crafting your cover letter, make your suitability the central focus.
Explain why you are the best qualified candidate, and why you are so well suited to carry out the job.
This will give recruiters all the encouragement they need to open your CV and consider you for the job.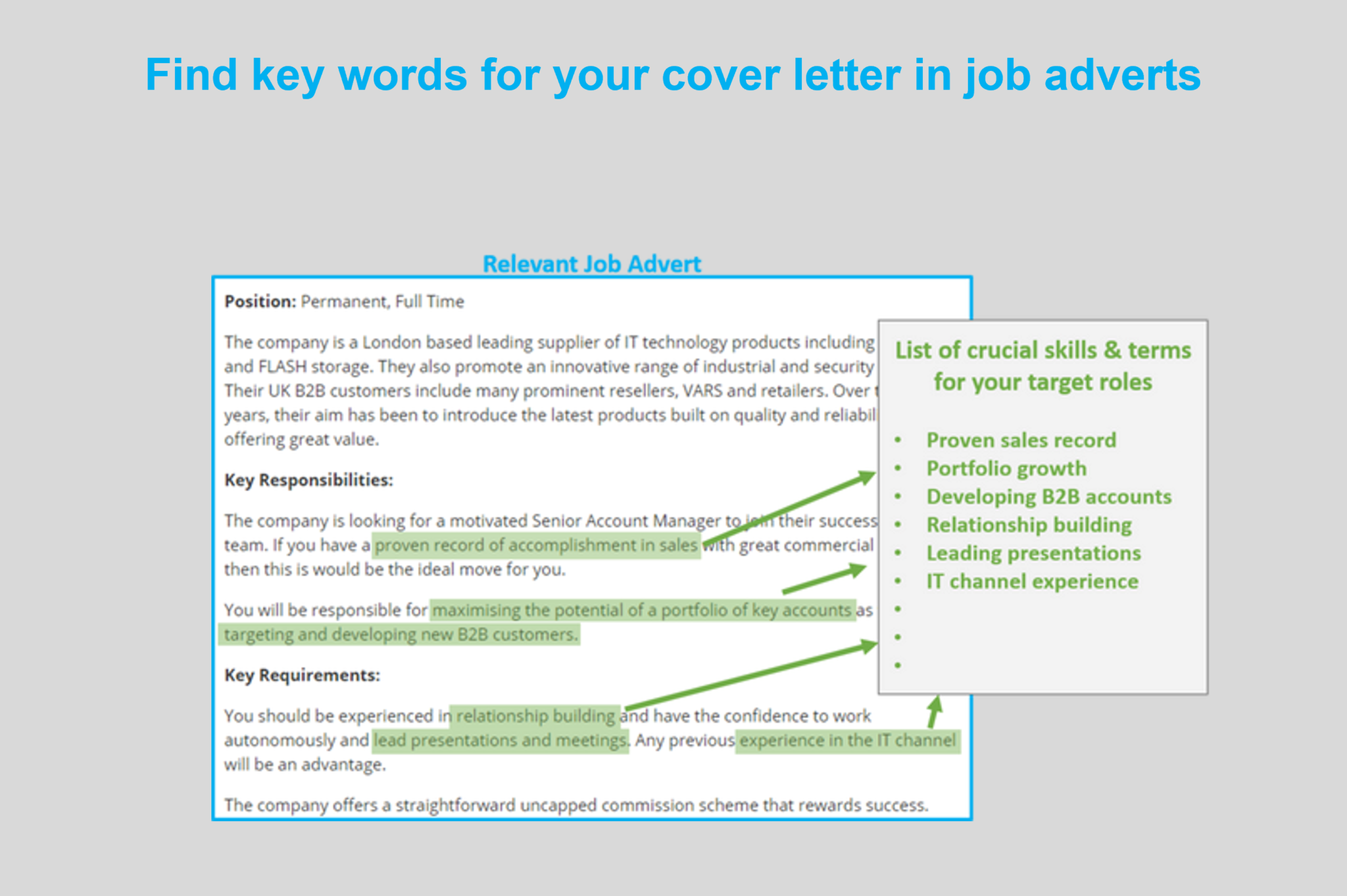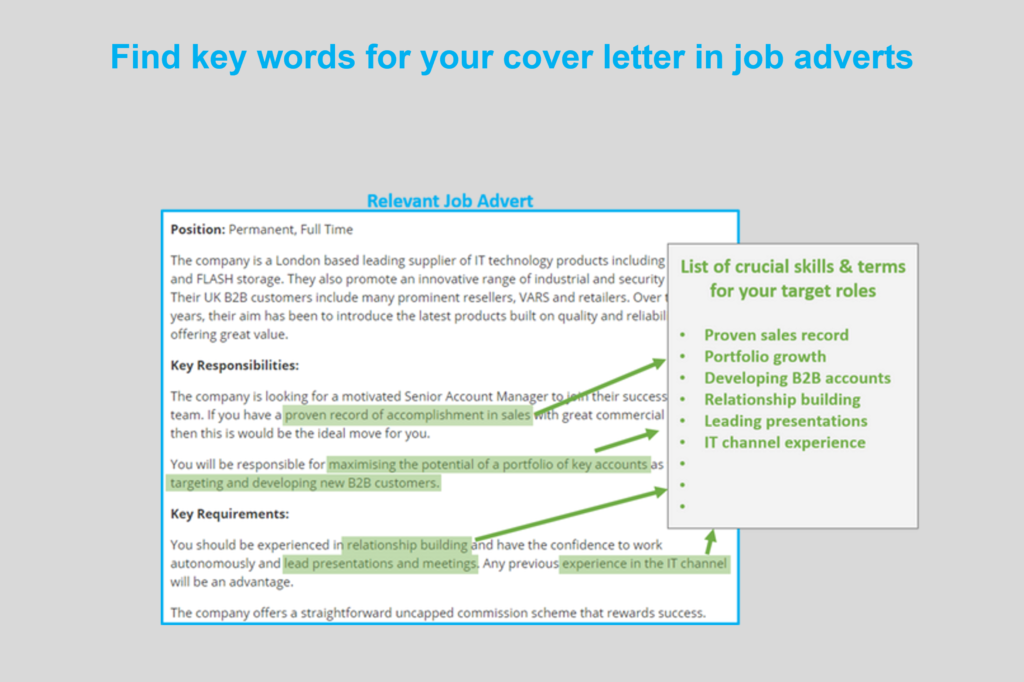 Keep it short and sharp
When sending a job application to a recruiter or hiring manager, it is important to remember that they will normally be very busy and pushed for time.
Therefore, you need to get you message across to them quickly (in a matter of seconds ideally). So, keep your cover letter short and to-the-point. A long waffling cover letter will overwhelm recruiters when they are running through hundreds of emails in there inbox, but a concise one will get their attention.
So, keep your cover letter to just a few sentences long, and save the extensive detail for your CV.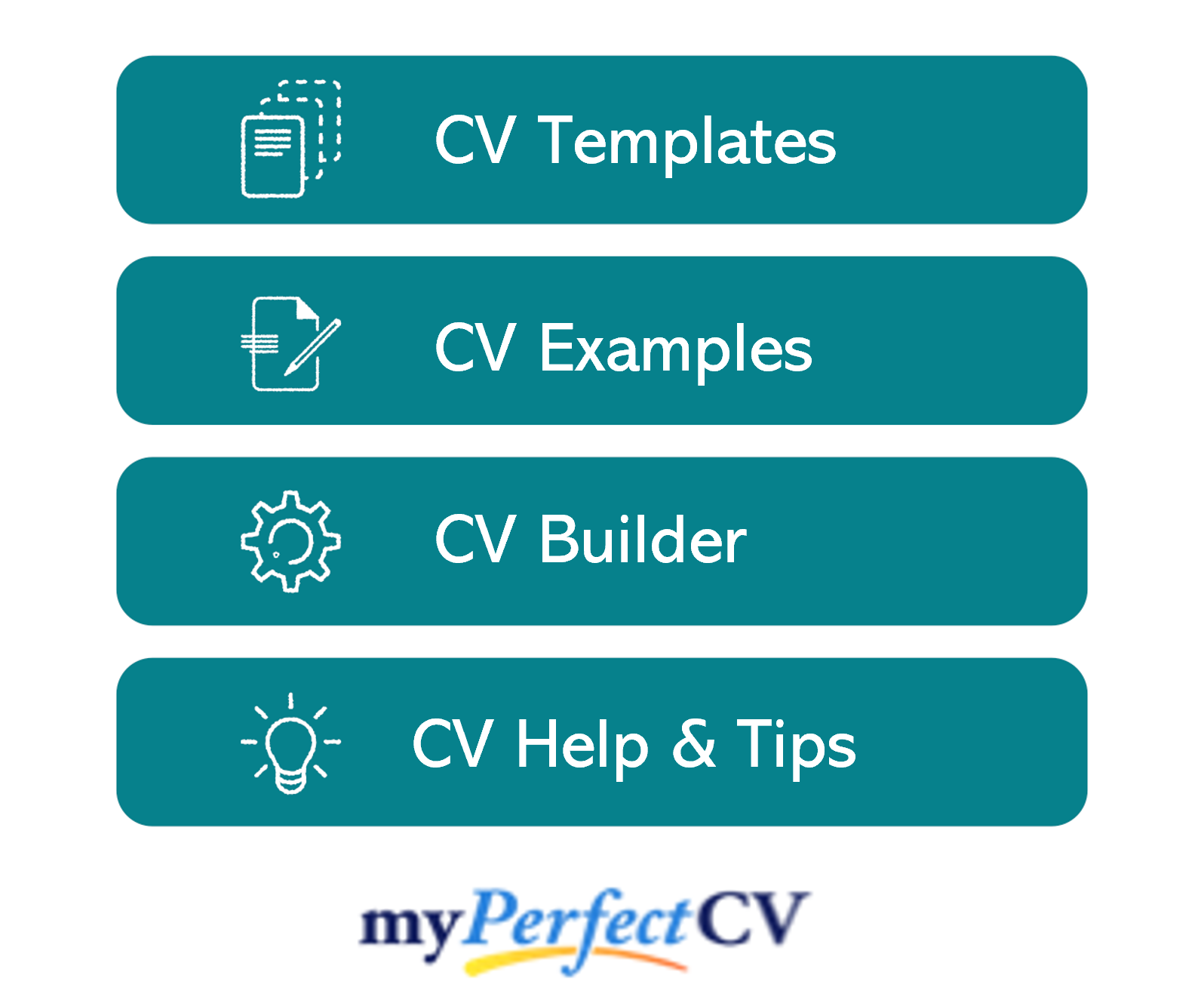 Sign off professionally
To round of your cover letter, add a professional signature to the bottom, giving recruiters your vital contact information.
This not only gives various means of contacting you, it also looks really professional and shows that you know how to communicate in the workplace.
Include the following points;
A friendly sign off – e.g. "Warm regards"
Your full name
Phone number (one you can answer quickly)
Email address
Optional
Profession title
Professional social network – e.g. LinkedIn
Here is an example signature;
Warm regards,
Gerald Baker
Senior Accountant
07887500404
Gbaker213@hotmail.com
LinkedIn
Quick tip: To save yourself from having to write your signature every time you send a job application email, you can save it within your email drafts, or on a separate document that you could copy in.

What to include in your Pharmacist cover letter
So, what type of information should you write about in your Pharmacist cover letter?
The specifics will obviously depend on your profession and the jobs you are applying to, but these are the key areas you should be covering.
Your industry experience – Tell recruiters the types of companies you have been working for and the roles you have held in the past.
Your qualifications – Highlight your most important relevant qualifications to show employers you are qualified to do the roles you are applying for.
The impact you have made – Demonstrate the positive impact you have made for employers in previous jobs. Have you saved money? Improved processes? Made customers happy?
Your reasons for moving – Employers will want to know why you are leaving your current/previous role, so provide them with a brief explanation here.
Your availability – When will you be able to start a new job? Check your current contract to find out your notice period if you are in a position already.
Pharmacist cover letter templates
Copy and paste these Pharmacist cover letter templates to get a head start on your own.
Template 1
Hello Hope
I am writing to express my interest in the Junior Pharmacist position at Pertemps Medical. As a recent Pharmacy Graduate with a GPhC registration, strong academic background, and a passion for delivering quality patient care, I am eager to begin my career and contribute to the success of your team.
During my education at the University of Manchester, I gained a solid foundation in pharmacology, medication management, and patient counselling. My coursework included hands-on experience in compounding, drug interactions, and pharmaceutical calculations, which have prepared me to provide accurate and safe services.
I have completed a clinical rotation at the NHS, where I had the opportunity to work closely with experienced pharmacists and medical professionals. I participated in medication reconciliation, consultations, and prescription verification, which demonstrated my attention to detail and commitment to ensuring optimal health outcomes, as well as assisted in reducing overstock by 20%, minimising waste, and attaining £1K cost-savings though effectively maintaining inventory.
Thank you for taking the time to consider my application, and I am available for an interview ASAP.
Kind regards
Grace Peters
Template 2
Good day David
I am writing to you concerning the advertised Pharmacist position at Trust Primary Care Ltd on LinkedIn. With 8 years of experience in pharmacy practice and a proven track record of leadership and process improvement, I am eager to contribute my competencies and expertise to your dynamic department.
Throughout the duration of my time working for Hampshire Hospitals, I have successfully implemented process optimisation strategies that have positively impacted workflow efficiency and patient care. I successfully introduced a medication synchronisation programme that reduced patient wait times by 30% and increased medication adherence rates by 50% and helped boost health outcomes by 10% through organising and facilitating 25+ education workshops for patients and caregivers, where topics such as diabetes management and cardiovascular health were addressed.
Another aspect I can bring is my ability to lead and mentor junior team members due to fostering a culture of continuous learning and growth. I have also collaborated with interdisciplinary healthcare personnel to ensure seamless patient transitions and coordinated care throughout all interactions.
I am immediately available for an interview to discuss my qualifications/licences and additional skills.
Kind regards
Troy Simmonds
Template 3
Good morning, Marc
As a seasoned healthcare professional, I am excited to apply for the Senior Pharmacist vacancy at Airedale NHS Foundation Trust. With a strong track record of process optimisation, quality assurance, and operational leadership, I am eager to contribute towards your team's success.
Over the past 13 years working as a Pharmacist for Tesco, I have been instrumental in streamlining medication dispensing procedures, implementing inventory control measures, and enhancing workflow. Here, I spearheaded initiatives that resulted in a 30% reduction in prescription processing times, improved patient satisfaction scores by 20%, and achieved a 95% adherence to QA protocols. Furthermore, my experience in supervising cross-functional teams and conducting regular performance audits has contributed to maintaining a culture of excellence and continuous improvement.
I am proud to consistently bridge the gap between pharmacists and doctors/nurses to ensure successful treatment plans and enhanced patient and safety outcomes.
Please feel free to contact me to schedule for an interview as I am available ASAP, or if you require any additional information concerning my qualifications and skills.
Kind regards
Rachel Meadows
Writing an impressive cover letter is a crucial step in landing a Pharmacist job, so taking the time to perfect it is well worth while.
By following the tips and examples above you will be able to create an eye-catching cover letter that will wow recruiters and ensure your CV gets read – leading to more job interviews for you.
Good luck with your job search!