You're physically fit, your squat game is impressive and you know how to motivate even the most resistant clients. But when it comes to showcasing this in a cover letter, that's where you fall down.
So why not let us do the heavy lifting when it comes to your application?
Check out all our top tips and writing advice below, along with our personal trainer cover letter examples to guide you.

Personal Trainer cover letter example 1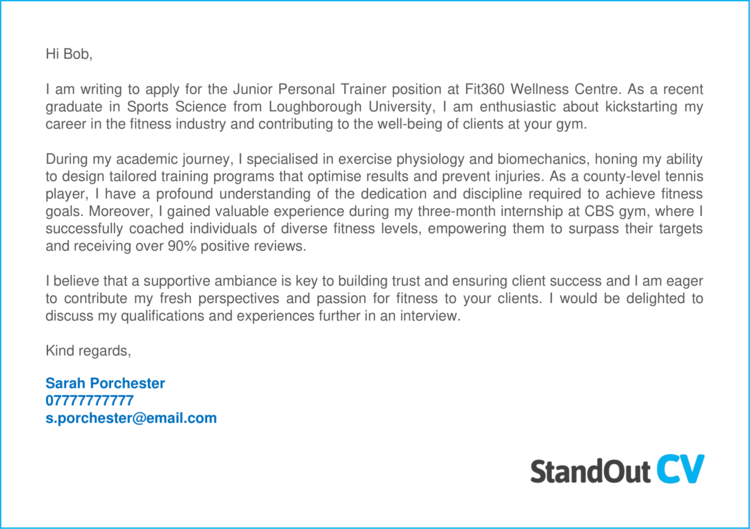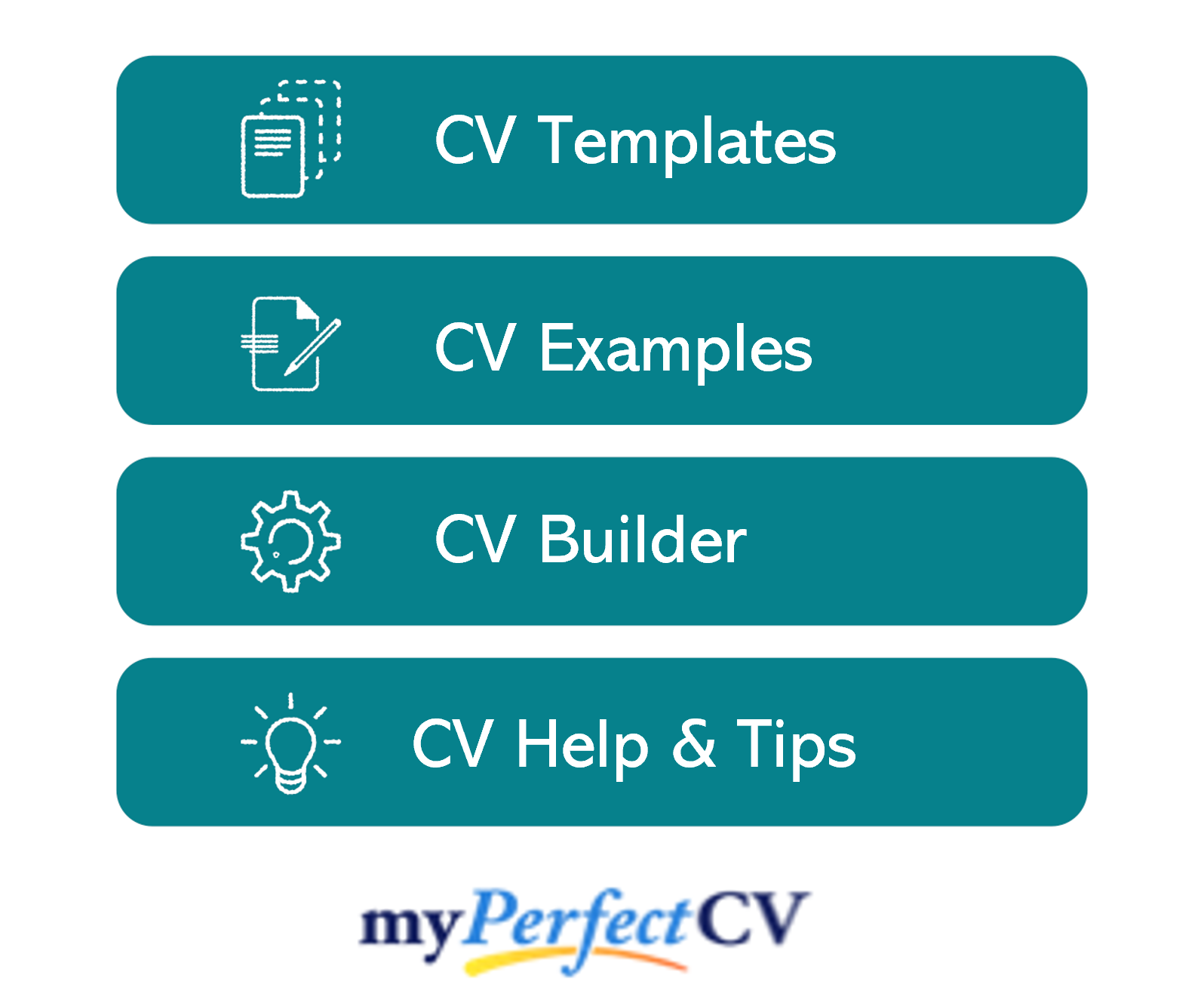 Personal Trainer cover letter example 2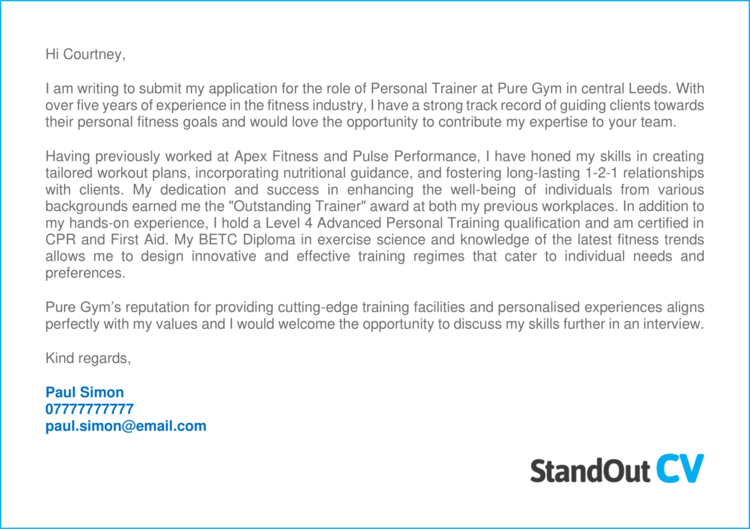 Personal Trainer cover letter example 3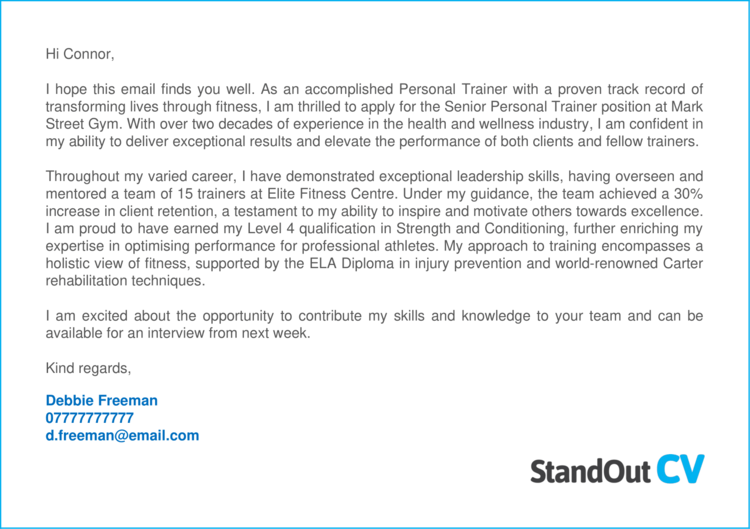 The Personal Trainer cover letter examples above should give you a good idea of the type of content you need to include in your own cover letter, and how it should be structured.
But if you're really looking to wow recruiters and get your CV in front of the very best employers, then check out our guidance on how to write your own effective cover letter below.
How to write a Personal Trainer cover letter
Here's a simple process to write your own interview-winning cover letter.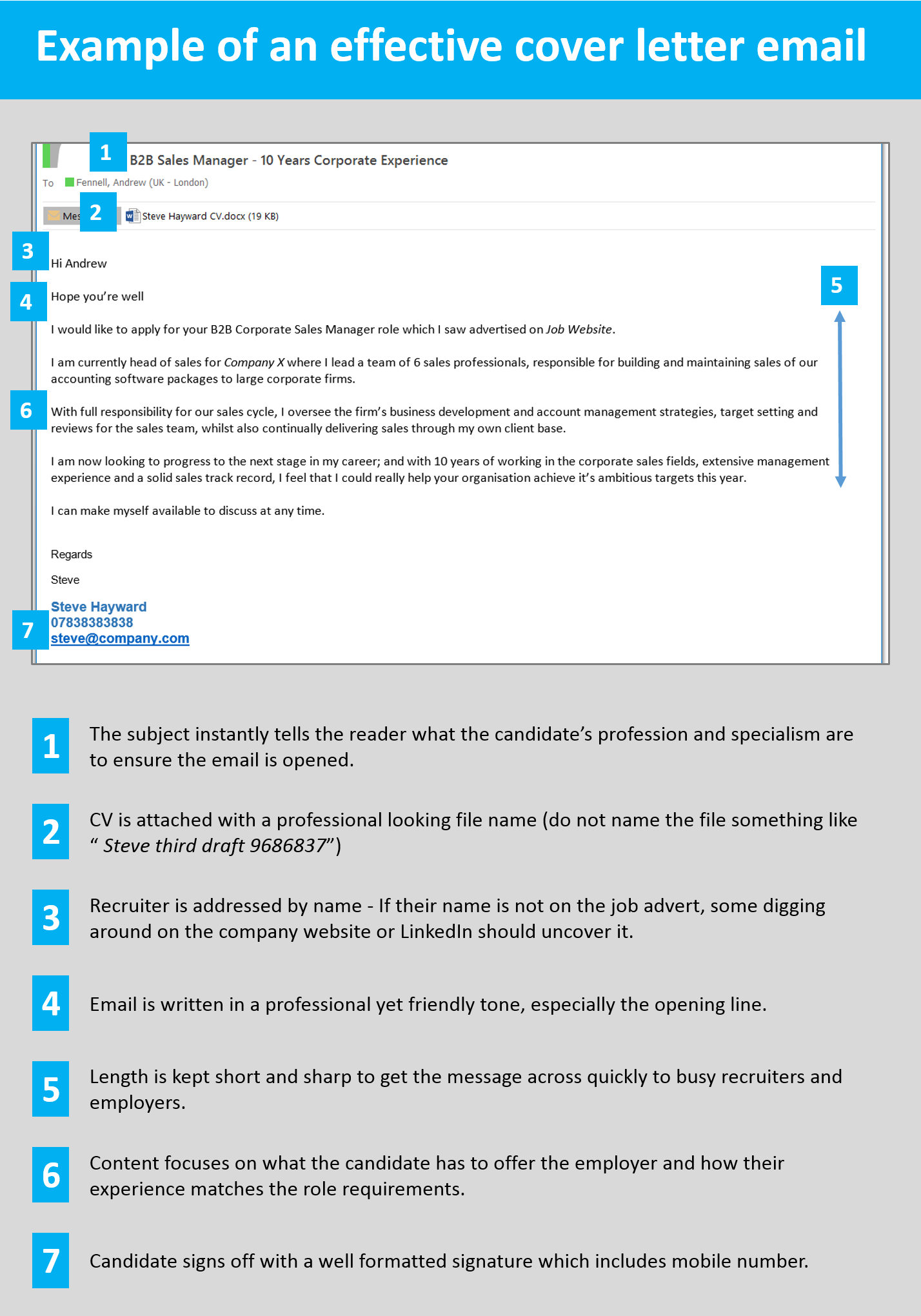 Write your cover letter in the body of an email/message
When you send a cover letter with a job application, you should always write your message into the body of your email – or the body of the messaging system if you are sending via a job website.
Why do this?
Simply because you want to get your message seen as soon as the recruiter opens your application.
If you attach the cover letter as a separate item, this means the recipient will have to open it before they can read it – slowing down the process and potentially causing frustration along the way.
So, write your cover note in the body of your email/message to ensure you make an instant connection with the reader.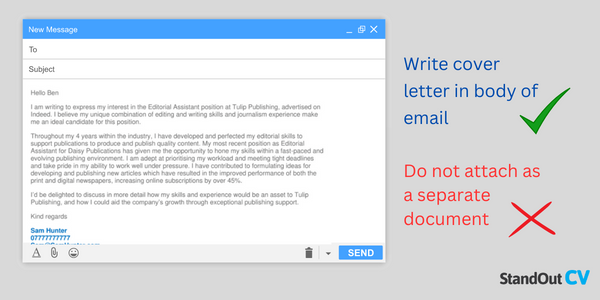 Start with a friendly greeting

To kick your cover letter off, start with a friendly greeting to build rapport with the recruiter instantly.
Your greeting should be personable but professional. Not too casual, but not too formal either
Go with something like…
Hi
Hi [insert recruiter name]
Hi [insert department/team name]
Avoid old-fashioned greetings like "Dear sir/madam" unless applying to very formal companies.
How to find the contact's name?
Addressing the recruitment contact by name is an excellent way to start building a strong relationship. If it is not listed in the job advert, try these methods to find it.
Check out the company website and look at their About page. If you see a hiring manager, HR person or internal recruiter, use their name. You could also try to figure out who would be your manager in the role and use their name.
Head to LinkedIn, search for the company and scan through the list of employees. Most professionals are on LinkedIn these days, so this is a good bet.
Identify the role you are applying for
After you have greeted the recruiter, it's important to state the job you are applying to.
Recruiters are often managing multiple vacancies, so they need to know exactly which job you are referring to.
Be as specific as possible and use a reference number if you can find one.
Here are some examples you can use;
I am interested in applying for the role of admin assistant with your organisation.
I would like to apply for the role of Sales assistant (Ref: 4057393)
I would like to express my interest in the customer service vacancy within your retail department
I saw your advertisement for a trainee project manager on Reed and would like to apply for the role.
Highlight your suitability
The bulk of your cover letter should be focused around highlighting your suitability for the job you are applying to.
Doing this will show the recruiter that you are suitable candidate and encourage them to open your CV.
The best way to do this, is by studying the job advert you are applying to, and find out what the most important skills and knowledge are.
Once you know the most important requirements, you then need to highlight your matching skills to the recruiter. In a few sentences, tell them exactly why you are a good fit for the job and what you can offer the company.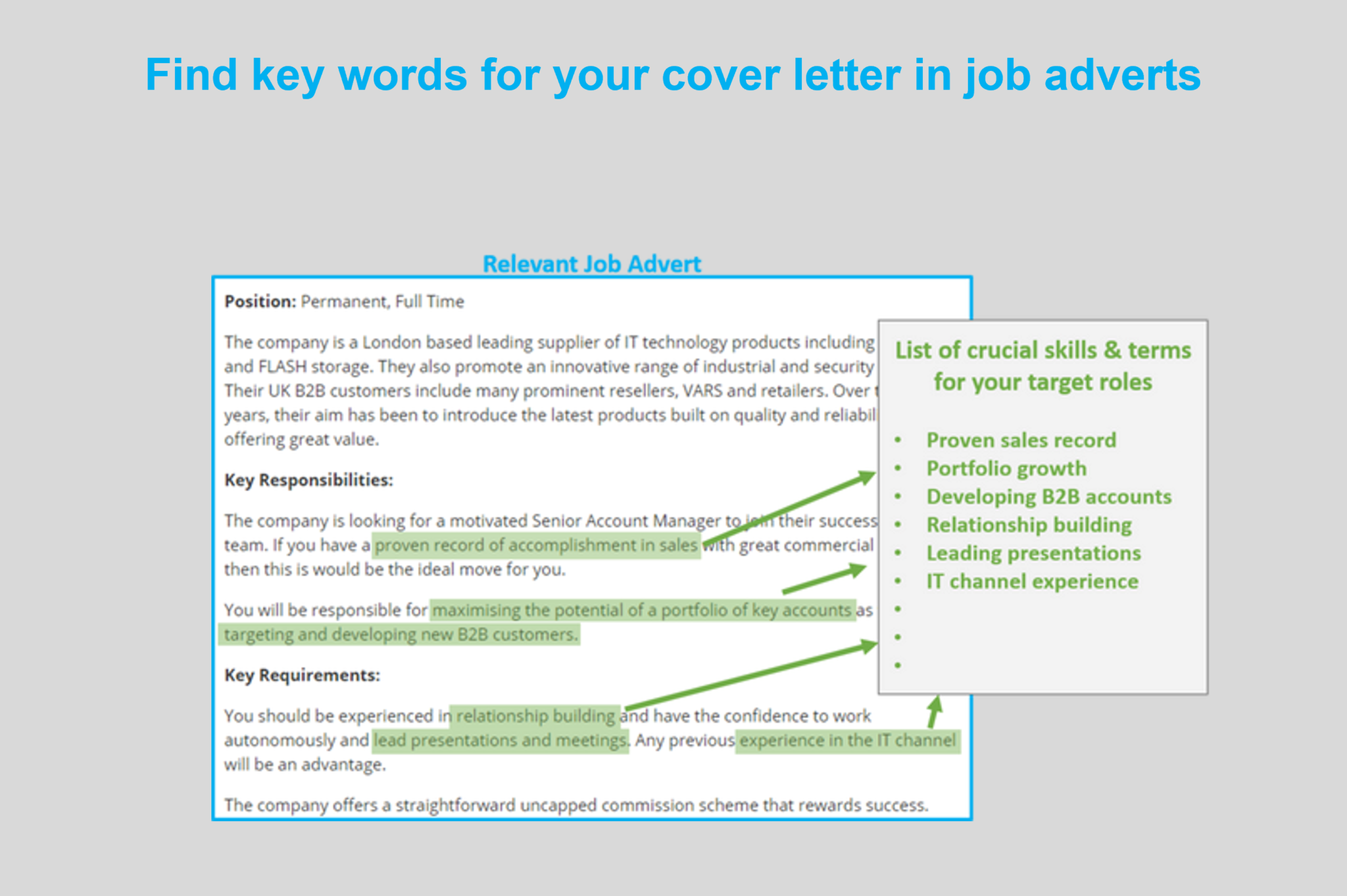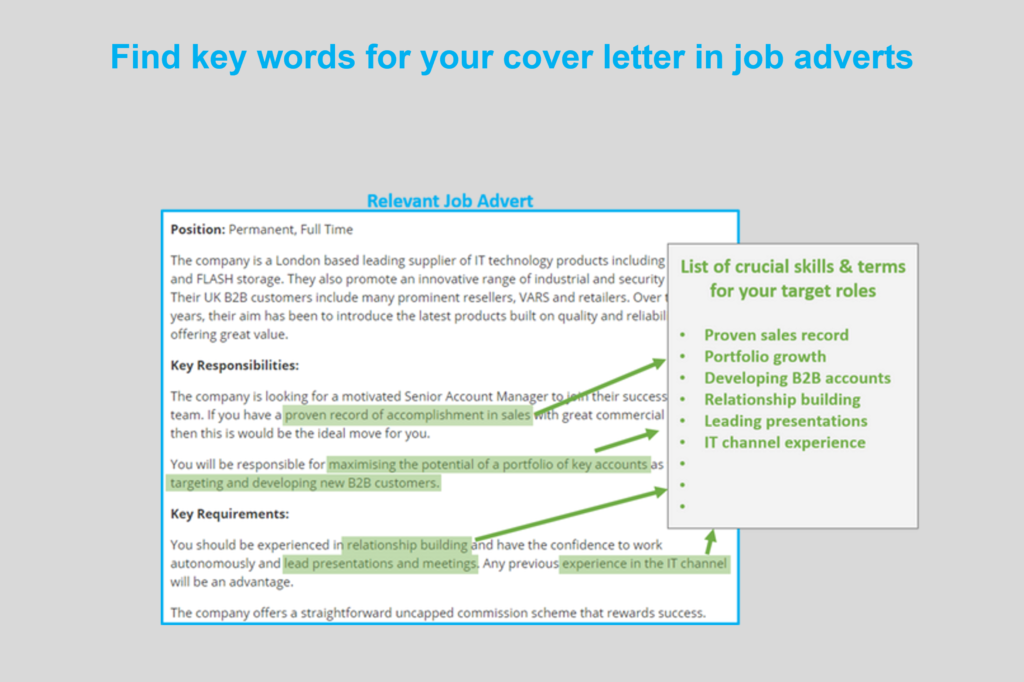 Keep it short and sharp
A good cover letter is short and sharp, getting to the point quickly with just enough information to grab the attention of recruiters.
Ideally your cover letter should be around 4-8 sentences long – anything longer will risk losing the attention of time-strapped recruiters and hiring managers.
Essentially you need to include just enough information to persuade the reader to open up your CV, where the in-depth details will sit.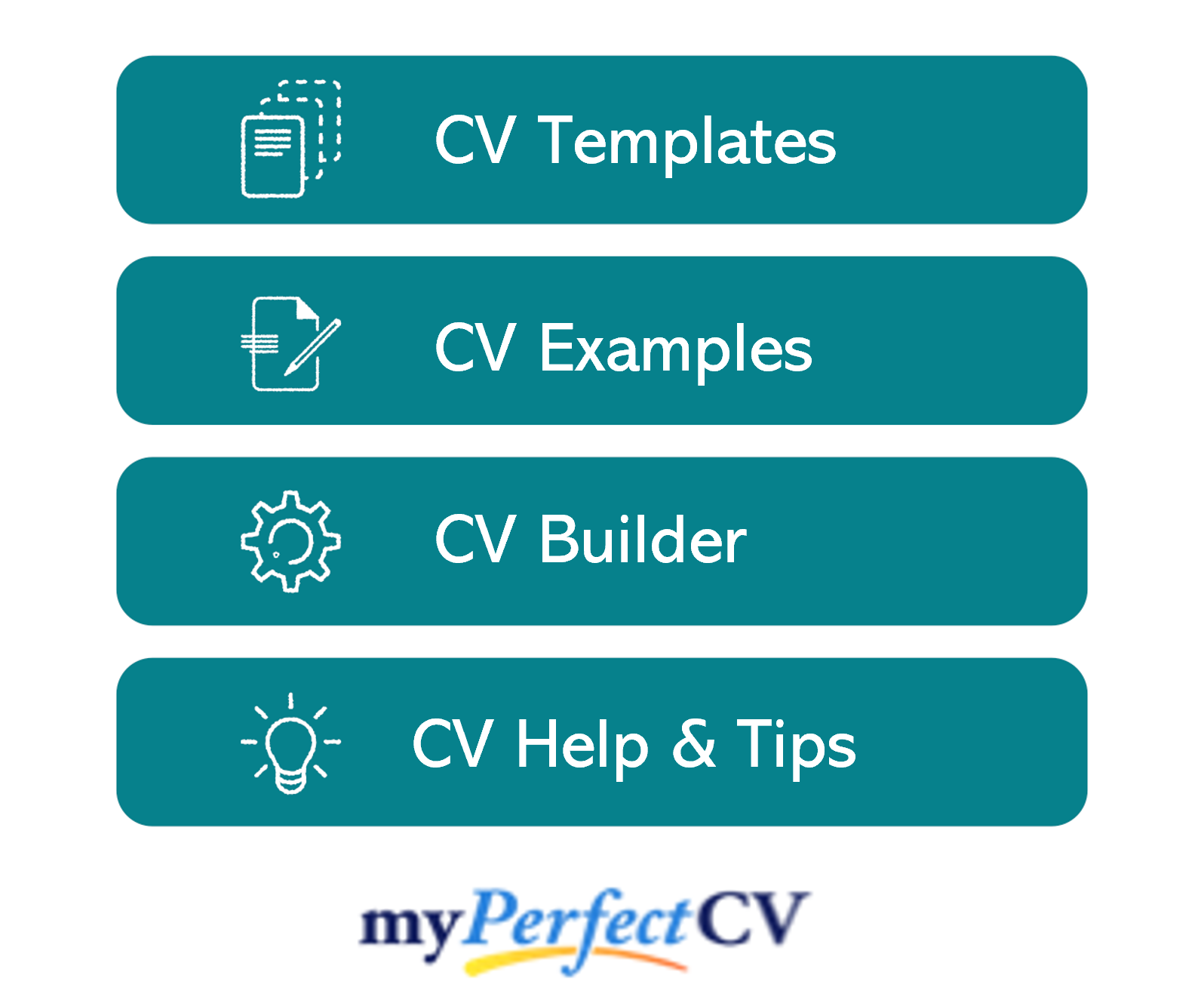 Sign off professionally
To finish off your cover note, add a professional signature to the bottom, stating your important contact details and information.
This not only provides recruiters with multiple means of contacting you, but it also adds a nice professional appearance to the cover letter, which shows that you know how to conduct yourself in the workplace.
Include the following points;
A friendly sign off – e.g. "Warm regards"
Your full name
Phone number (one you can answer quickly)
Email address
Optional
Profession title
Professional social network – e.g. LinkedIn
Here is an example signature;
Warm regards,
Aaron Smith
Customer service professional
075557437373
Aaron@smith.com
LinkedIn
Quick tip: To save yourself from having to write your signature every time you send a job application, you can save it within your email drafts, or on a separate document that you could copy in.

What to include in your Personal Trainer cover letter
So, what type of information should you write about in your Personal Trainer cover letter?
The specifics will obviously depend on your profession and the jobs you are applying to, but these are the key areas you should be covering.
Your industry experience – Tell recruiters the types of companies you have been working for and the roles you have held in the past.
Your qualifications – Highlight your most important relevant qualifications to show employers you are qualified to do the roles you are applying for.
The impact you have made – Demonstrate the positive impact you have made for employers in previous jobs. Have you saved money? Improved processes? Made customers happy?
Your reasons for moving – Employers will want to know why you are leaving your current/previous role, so provide them with a brief explanation here.
Your availability – When will you be able to start a new job? Check your current contract to find out your notice period if you are in a position already.
Personal Trainer cover letter templates
Copy and paste these Personal Trainer cover letter templates to get a head start on your own.
Template 1
Hi Bob,
I am writing to apply for the Junior Personal Trainer position at Fit360 Wellness Centre. As a recent graduate in Sports Science from Loughborough University, I am enthusiastic about kickstarting my career in the fitness industry and contributing to the well-being of clients at your gym.
During my academic journey, I specialised in exercise physiology and biomechanics, honing my ability to design tailored training programs that optimise results and prevent injuries. As a county-level tennis player, I have a profound understanding of the dedication and discipline required to achieve fitness goals. Moreover, I gained valuable experience during my three-month internship at CBS gym, where I successfully coached individuals of diverse fitness levels, empowering them to surpass their targets and receiving over 90% positive reviews.
I believe that a supportive ambiance is key to building trust and ensuring client success and I am eager to contribute my fresh perspectives and passion for fitness to your clients. I would be delighted to discuss my qualifications and experiences further in an interview.
Kind regards,
Sarah Porchester
Template 2
Hi Courtney,
I am writing to submit my application for the role of Personal Trainer at Pure Gym in central Leeds. With over five years of experience in the fitness industry, I have a strong track record of guiding clients towards their personal fitness goals and would love the opportunity to contribute my expertise to your team.
Having previously worked at Apex Fitness and Pulse Performance, I have honed my skills in creating tailored workout plans, incorporating nutritional guidance, and fostering long-lasting 1-2-1 relationships with clients. My dedication and success in enhancing the well-being of individuals from various backgrounds earned me the "Outstanding Trainer" award at both my previous workplaces. In addition to my hands-on experience, I hold a Level 4 Advanced Personal Training qualification and am certified in CPR and First Aid. My BETC Diploma in exercise science and knowledge of the latest fitness trends allows me to design innovative and effective training regimes that cater to individual needs and preferences.
Pure Gym's reputation for providing cutting-edge training facilities and personalised experiences aligns perfectly with my values and I would welcome the opportunity to discuss my skills further in an interview.
Kind regards,
Paul Simon
Template 3
Hi Connor,
I hope this email finds you well. As an accomplished Personal Trainer with a proven track record of transforming lives through fitness, I am thrilled to apply for the Senior Personal Trainer position at Mark Street Gym. With over two decades of experience in the health and wellness industry, I am confident in my ability to deliver exceptional results and elevate the performance of both clients and fellow trainers.
Throughout my varied career, I have demonstrated exceptional leadership skills, having overseen and mentored a team of 15 trainers at Elite Fitness Centre. Under my guidance, the team achieved a 30% increase in client retention, a testament to my ability to inspire and motivate others towards excellence.
I am proud to have earned my Level 4 qualification in Strength and Conditioning, further enriching my expertise in optimising performance for professional athletes. My approach to training encompasses a holistic view of fitness, supported by the ELA Diploma in injury prevention and world-renowned Carter rehabilitation techniques.
I am excited about the opportunity to contribute my skills and knowledge to your team and can be available for an interview from next week.
Kind regards,
Debbie Freeman
Writing an impressive cover letter is a crucial step in landing a Personal Trainer job, so taking the time to perfect it is well worth while.
By following the tips and examples above you will be able to create an eye-catching cover letter that will wow recruiters and ensure your CV gets read – leading to more job interviews for you.
Good luck with your job search!