Are you looking for the perfect part-time position?
Then you need to give yourself a competitive edge with an impressive cover letter.
If you've been guilty of ignoring these in the past, now's the time to fix that. Find out how to write an interview-winning application with our part-time cover letter examples below.

Part Time cover letter example 1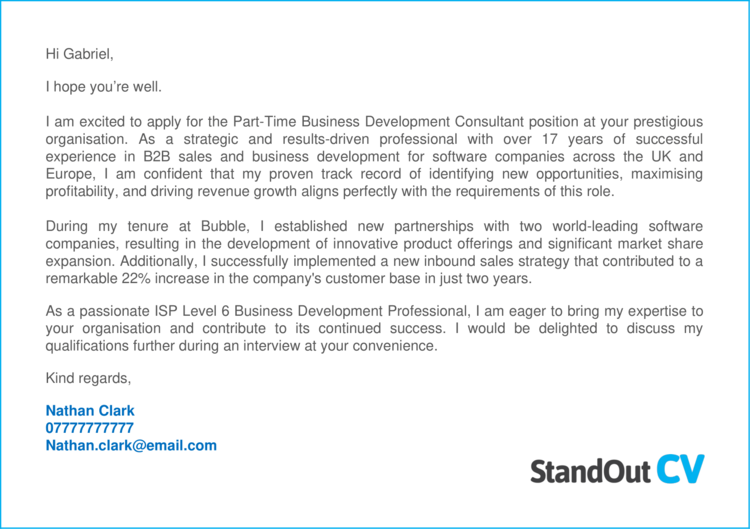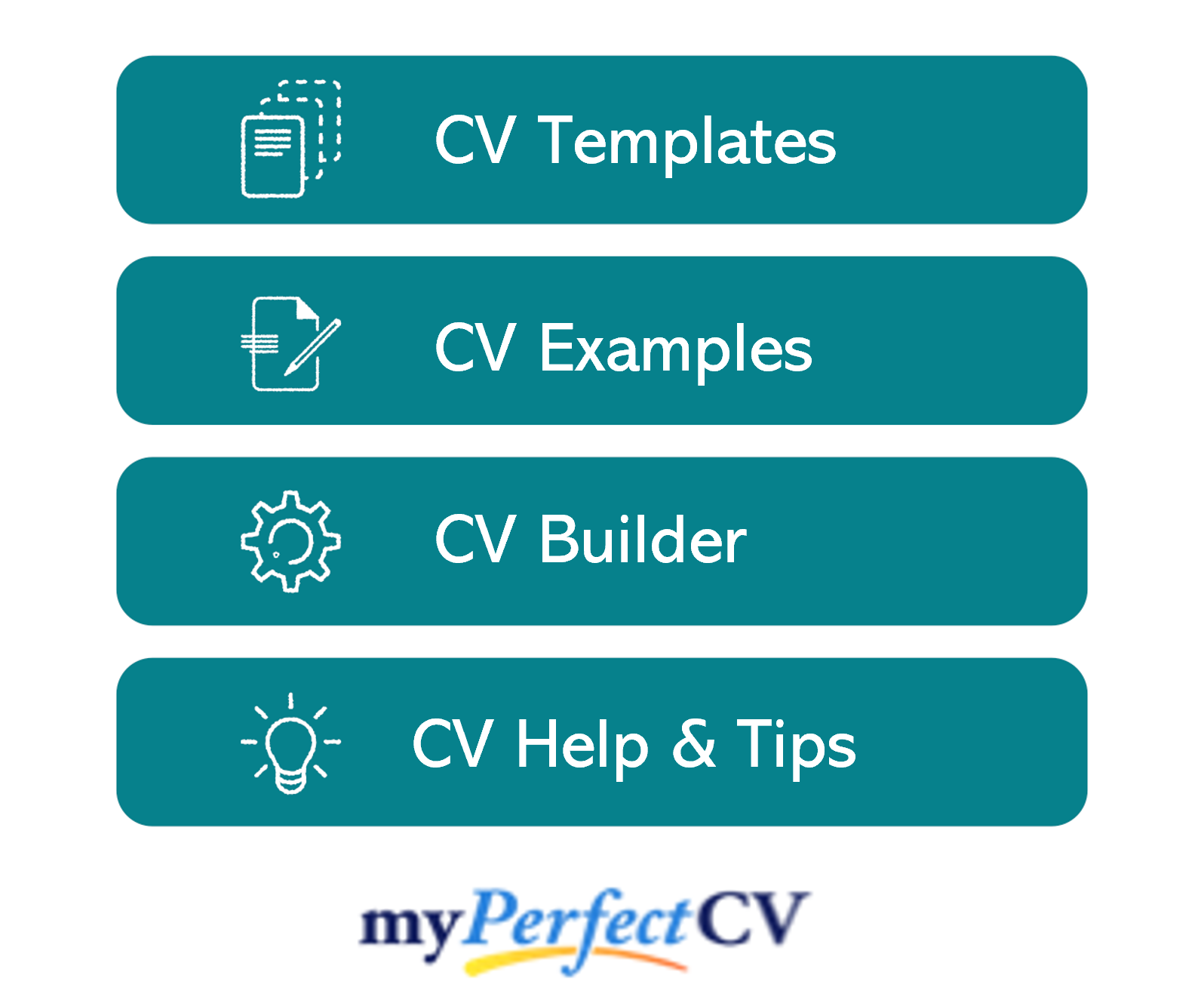 Part Time cover letter example 2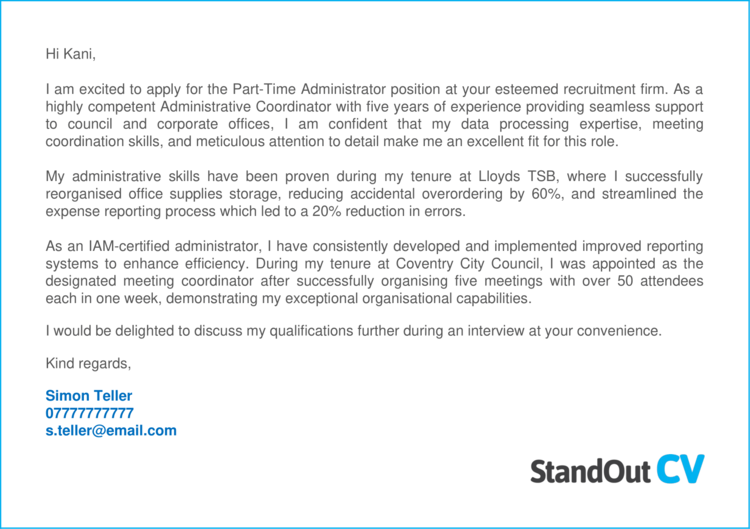 Part Time cover letter example 3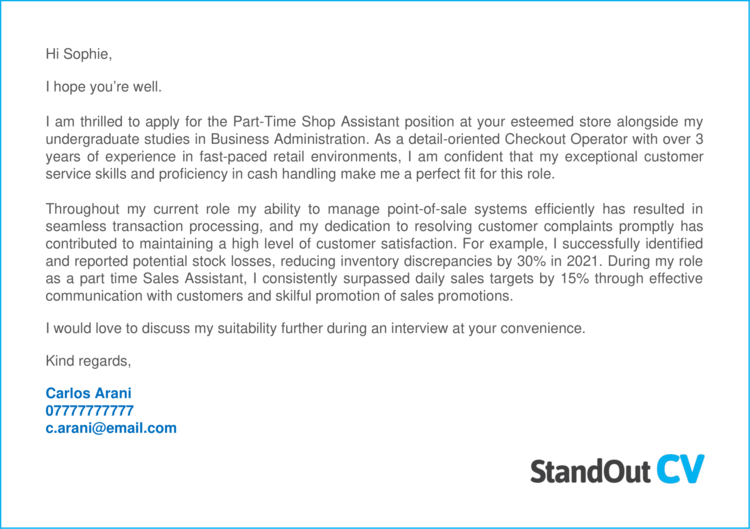 These Part Time cover letter examples provide you with some guidance and inspiration for writing a cover letter that gets noticed and ensures your CV will get opened.
But if you really want to master the art of writing a winning cover letter, then follow our step-by-step cove letter writing guide below.
How to write a Part Time cover letter
A simple step-by-step guide to writing your very own winning cover letter.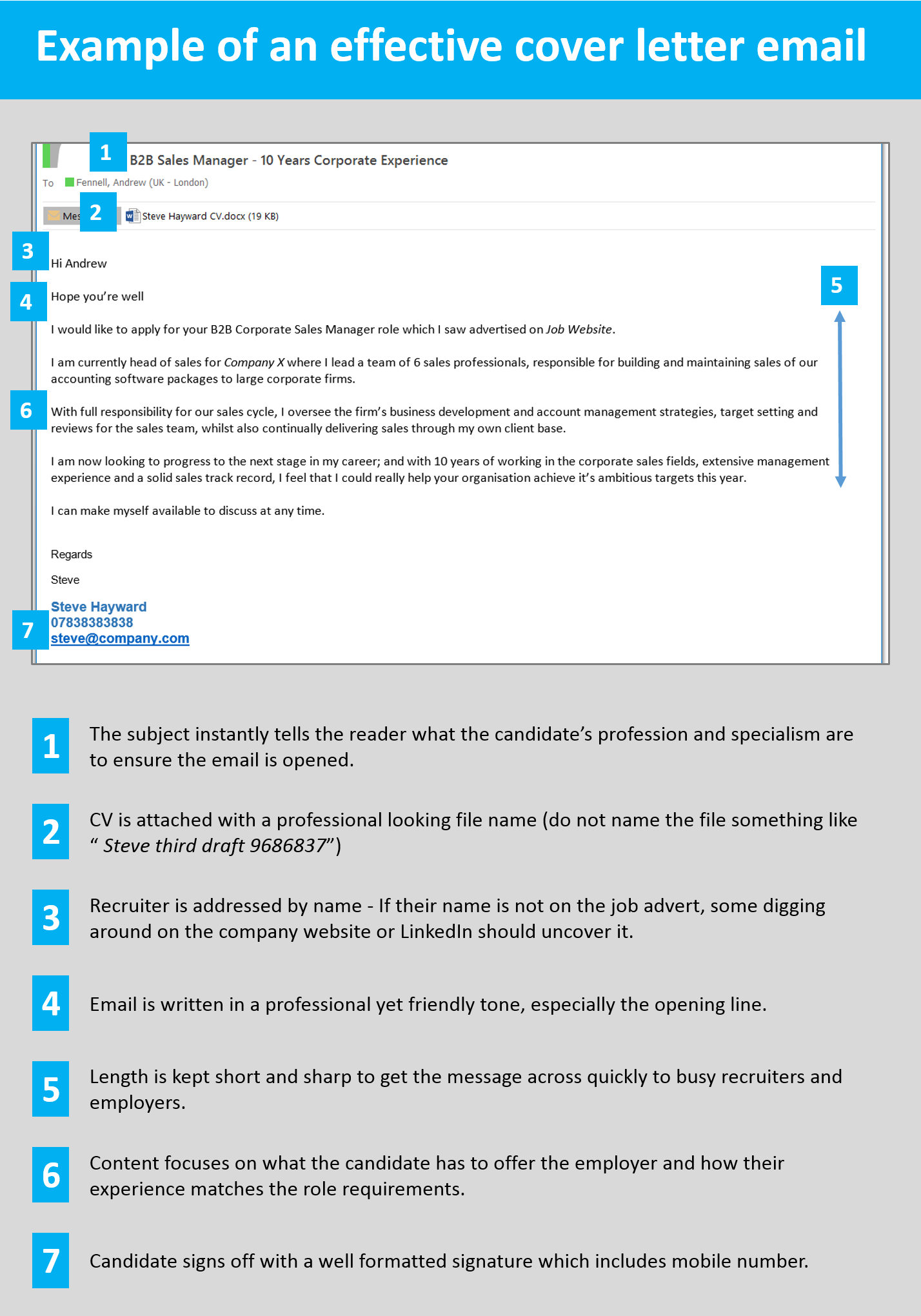 Write your cover letter in the body of an email/message
When you send a cover letter with a job application, you should always write your message into the body of your email – or the body of the messaging system if you are sending via a job website.
Why do this?
Simply because you want to get your message seen as soon as the recruiter opens your application.
If you attach the cover letter as a separate item, this means the recipient will have to open it before they can read it – slowing down the process and potentially causing frustration along the way.
So, write your cover note in the body of your email/message to ensure you make an instant connection with the reader.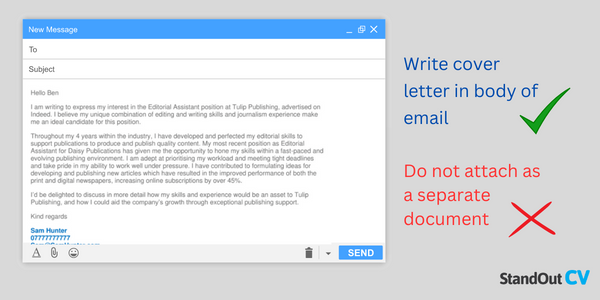 Start with a friendly greeting

To start building rapport with the recruiter or hiring manager right away, lead with a friendly greeting.
Try to strike a balance between professional and personable.
Go with something like…
Hi
Hi [insert recruiter name]
Hi [insert department/team name]
Stay away from old-fashioned greetings like "Dear sir/madam" unless applying to very formal companies – they can come across as cold and robotic.
How to find the contact's name?
Addressing the recruitment contact by name is an excellent way to start building a strong relationship. If it is not listed in the job advert, try to uncover it via these methods.
Check out the company website and look at their About page. If you see a hiring manager, HR person or internal recruiter, use their name. You could also try to figure out who would be your manager in the role and use their name.
Head to LinkedIn, search for the company and scan through the list of employees. Most professionals are on LinkedIn these days, so this is a good bet.
Identify the role you are applying for
After you have greeted the recruiter, it's important to state the job you are applying to.
Recruiters are often managing multiple vacancies, so they need to know exactly which job you are referring to.
Be as specific as possible and use a reference number if you can find one.
Here are some examples you can use;
I am interested in applying for the role of admin assistant with your organisation.
I would like to apply for the role of Sales assistant (Ref: 4057393)
I would like to express my interest in the customer service vacancy within your retail department
I saw your advertisement for a trainee project manager on Reed and would like to apply for the role.
Highlight your suitability
The bulk of your cover letter should be focused around highlighting your suitability for the job you are applying to.
Doing this will show the recruiter that you are suitable candidate and encourage them to open your CV.
The best way to do this, is by studying the job advert you are applying to, and find out what the most important skills and knowledge are.
Once you know the most important requirements, you then need to highlight your matching skills to the recruiter. In a few sentences, tell them exactly why you are a good fit for the job and what you can offer the company.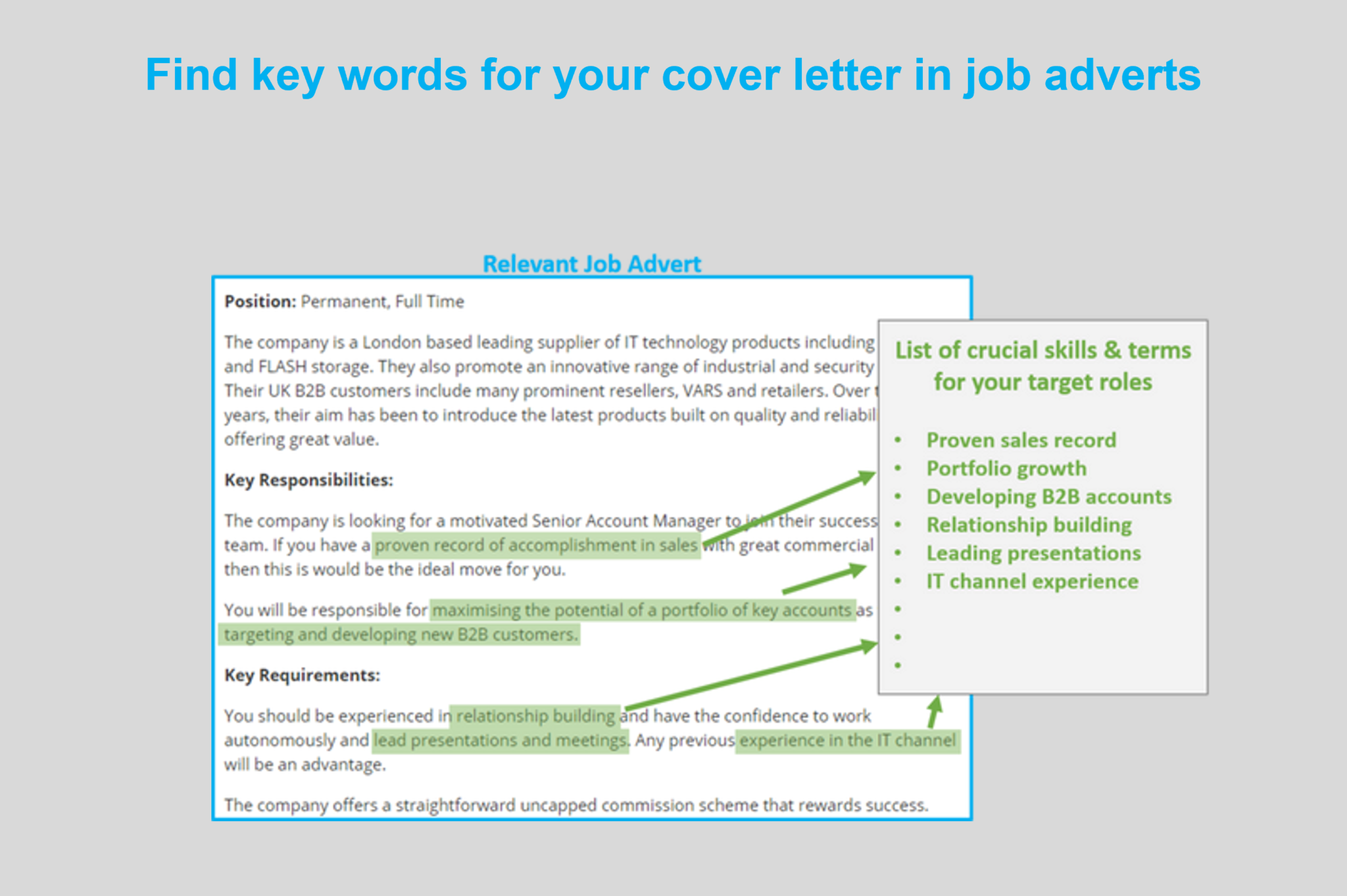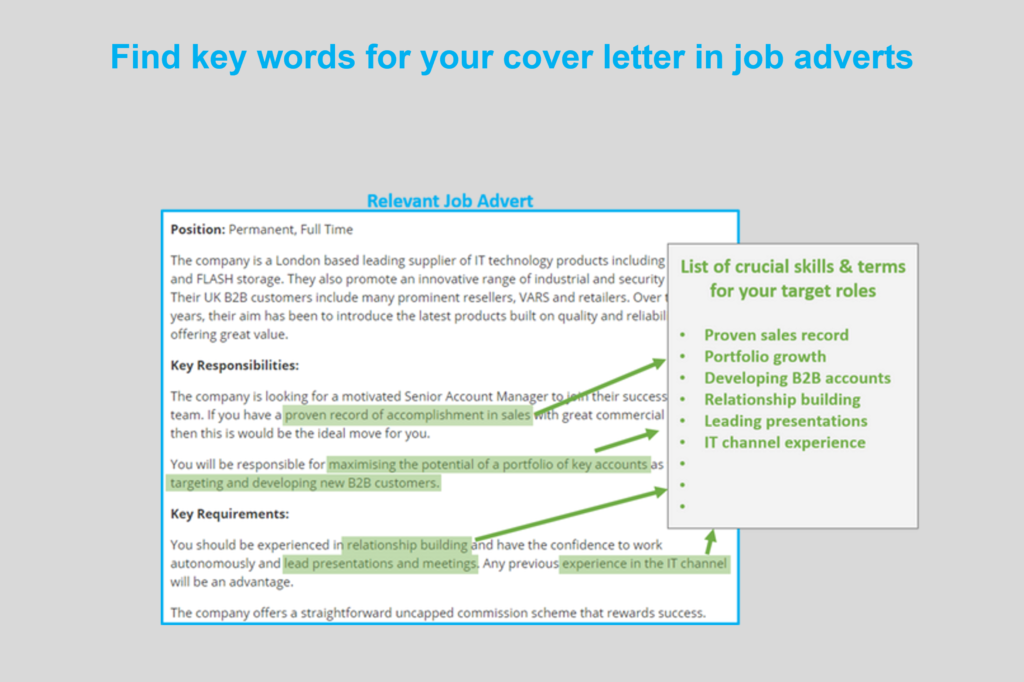 Keep it short and sharp
A good cover letter is short and sharp, getting to the point quickly with just enough information to grab the attention of recruiters.
Ideally your cover letter should be around 4-8 sentences long – anything longer will risk losing the attention of time-strapped recruiters and hiring managers.
Essentially you need to include just enough information to persuade the reader to open up your CV, where the in-depth details will sit.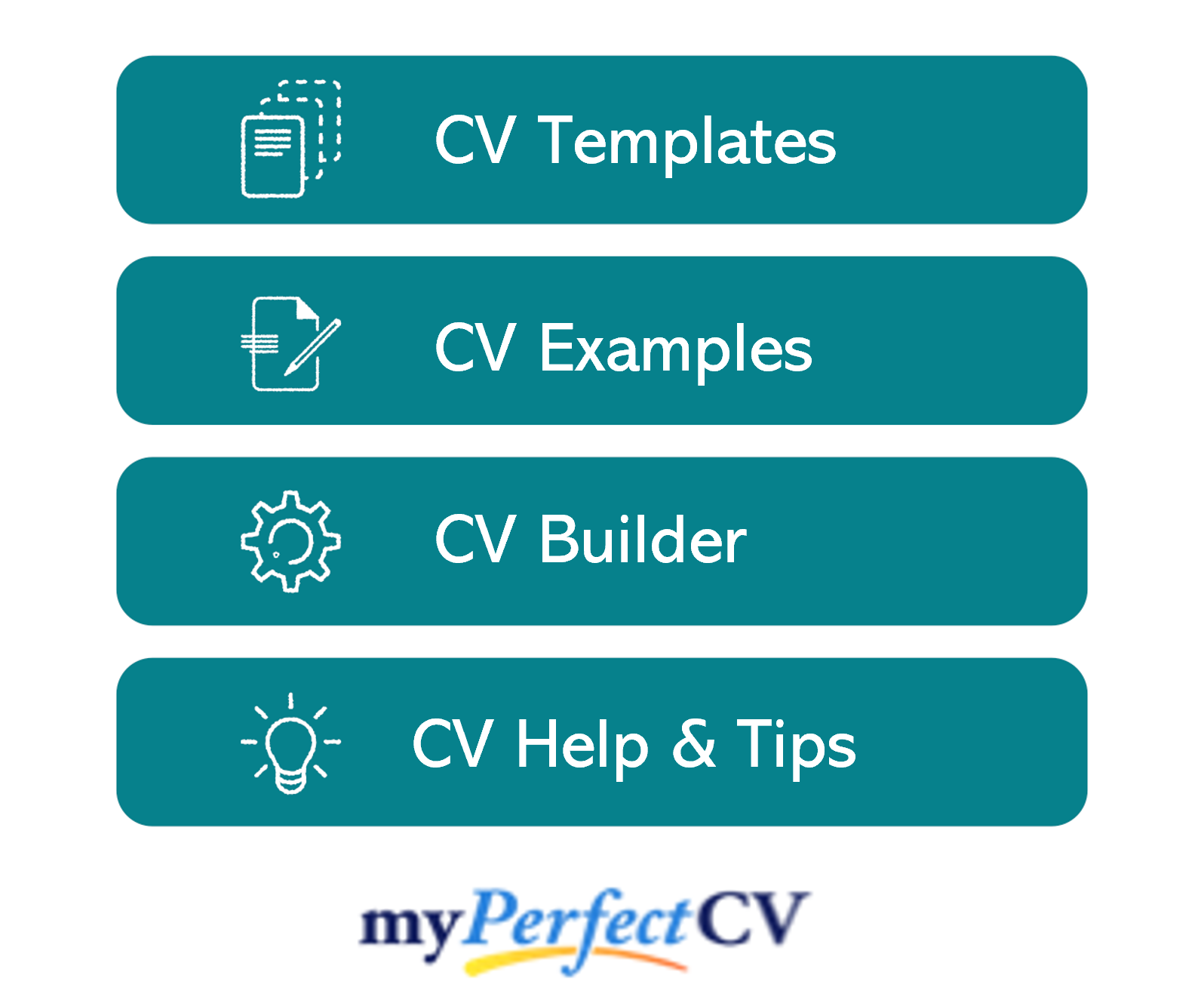 Sign off professionally
To round of your cover letter, add a professional signature to the bottom, giving recruiters your vital contact information.
This not only gives various means of contacting you, it also looks really professional and shows that you know how to communicate in the workplace.
Include the following points;
A friendly sign off – e.g. "Warm regards"
Your full name
Phone number (one you can answer quickly)
Email address
Optional
Profession title
Professional social network – e.g. LinkedIn
Here is an example signature;
Warm regards,
Gerald Baker
Senior Accountant
07887500404
Gbaker213@hotmail.com
LinkedIn
Quick tip: To save yourself from having to write your signature every time you send a job application email, you can save it within your email drafts, or on a separate document that you could copy in.

What to include in your Part Time cover letter
Here's what kind of content you should include in your Part Time cover letter…
The exact info will obviously depend on your industry and experience level, but these are the essentials.
Your relevant experience – Where have you worked and what type of jobs have you held?
Your qualifications – Let recruiters know about your highest level of qualification to show them you have the credentials for the job.
The impact you have made – Show how your actions have made a positive impact on previous employers; perhaps you've saved them money or helped them to acquire new customers?
Your reasons for moving – Hiring managers will want to know why you are leaving your current or previous role, so give them a brief explanation.
Your availability – When can you start a new job? Recruiters will want to know how soon they can get you on board.
Don't forget to tailor these points to the requirements of the job advert for best results.
Part Time cover letter templates
Copy and paste these Part Time cover letter templates to get a head start on your own.
Template 1
Hi Gabriel,
I hope you're well.
I am excited to apply for the Part-Time Business Development Consultant position at your prestigious organisation. As a strategic and results-driven professional with over 17 years of successful experience in B2B sales and business development for software companies across the UK and Europe, I am confident that my proven track record of identifying new opportunities, maximising profitability, and driving revenue growth aligns perfectly with the requirements of this role.
During my tenure at Bubble, I established new partnerships with two world-leading software companies, resulting in the development of innovative product offerings and significant market share expansion. Additionally, I successfully implemented a new inbound sales strategy that contributed to a remarkable 22% increase in the company's customer base in just two years.
As a passionate ISP Level 6 Business Development Professional, I am eager to bring my expertise to your organisation and contribute to its continued success. I would be delighted to discuss my qualifications further during an interview at your convenience.
Kind regards,
Nathan Clark
Template 2
Hi Kani,
I am excited to apply for the Part-Time Administrator position at your esteemed recruitment firm. As a highly competent Administrative Coordinator with five years of experience providing seamless support to council and corporate offices, I am confident that my data processing expertise, meeting coordination skills, and meticulous attention to detail make me an excellent fit for this role.
My administrative skills have been proven during my tenure at Lloyds TSB, where I successfully reorganised office supplies storage, reducing accidental overordering by 60%, and streamlined the expense reporting process which led to a 20% reduction in errors.
As an IAM-certified administrator, I have consistently developed and implemented improved reporting systems to enhance efficiency. During my tenure at Coventry City Council, I was appointed as the designated meeting coordinator after successfully organising five meetings with over 50 attendees each in one week, demonstrating my exceptional organisational capabilities.
I would be delighted to discuss my qualifications further during an interview at your convenience.
Kind regards,
Simon Teller
Template 3
Hi Sophie,
I hope you're well.
I am thrilled to apply for the Part-Time Shop Assistant position at your esteemed store alongside my undergraduate studies in Business Administration. As a detail-oriented Checkout Operator with over 3 years of experience in fast-paced retail environments, I am confident that my exceptional customer service skills and proficiency in cash handling make me a perfect fit for this role.
Throughout my current role my ability to manage point-of-sale systems efficiently has resulted in seamless transaction processing, and my dedication to resolving customer complaints promptly has contributed to maintaining a high level of customer satisfaction. For example, I successfully identified and reported potential stock losses, reducing inventory discrepancies by 30% in 2021. During my role as a part time Sales Assistant, I consistently surpassed daily sales targets by 15% through effective communication with customers and skilful promotion of sales promotions.
I would love to discuss my suitability further during an interview at your convenience.
Kind regards,
Carlos Arani
Writing a strong attention-grabbing cover letter is a vital step in landing a good Part Time job.
Use the tips, strategies and examples above to get more responses from you job applications and start lining job interview up.
Good luck with your job search!