You've put in the work, studied hard and now you're on the hunt for an interesting paralegal position.
But in order to secure the role, you first need to make your case. You need to prove to the recruiter you are organised, professional and able to multi-task.
If you're not sure where to start, we won't judge. Just check out our guide below for our expert tips and some paralegal cover letter examples.

Paralegal cover letter example 1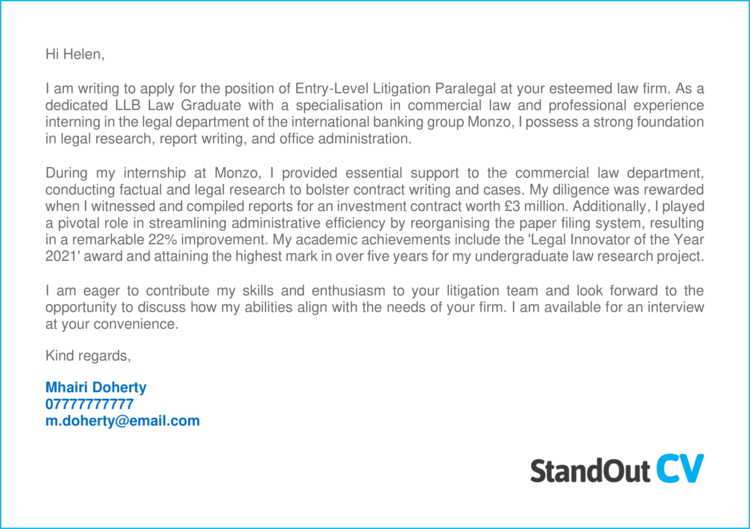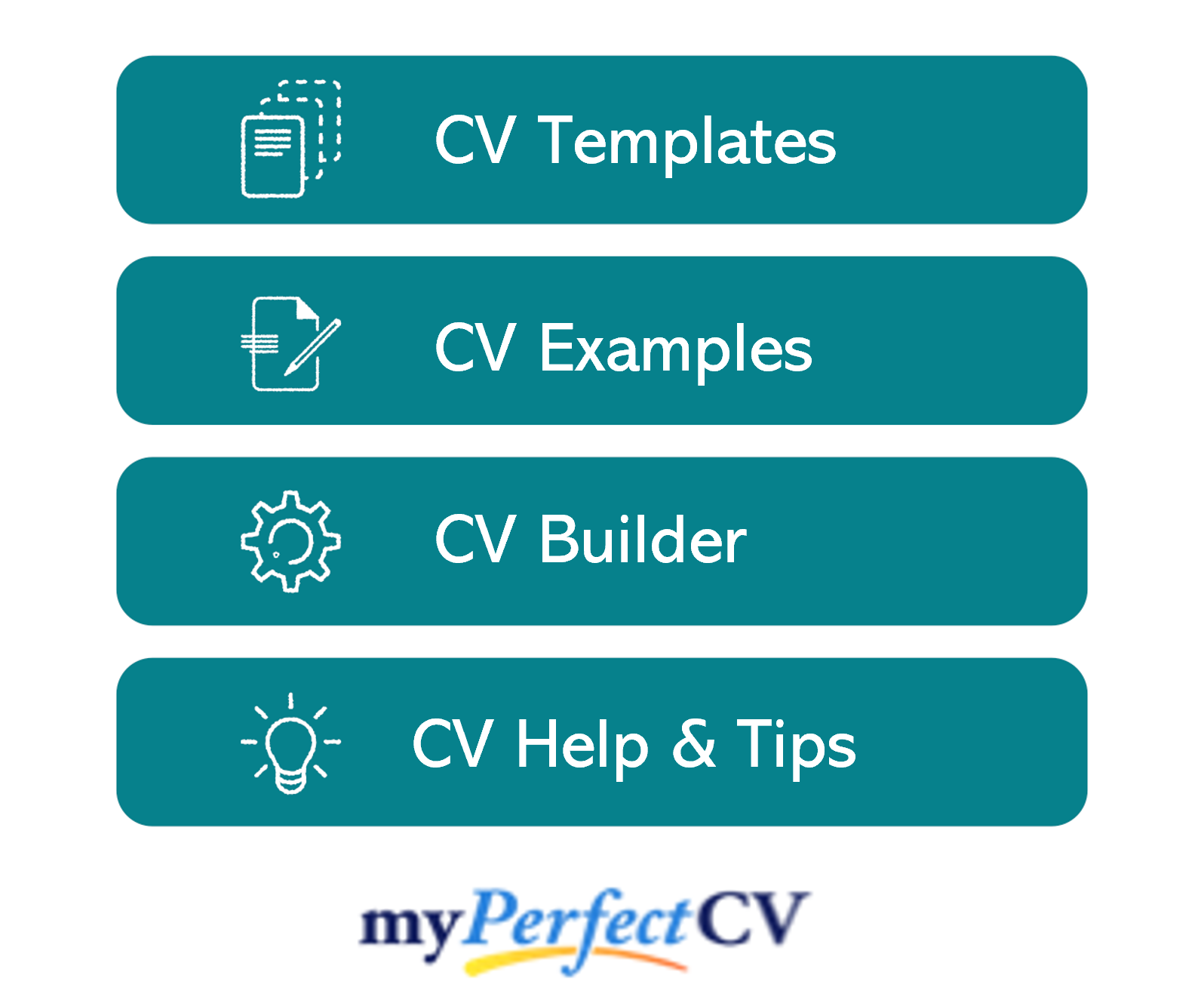 Paralegal cover letter example 2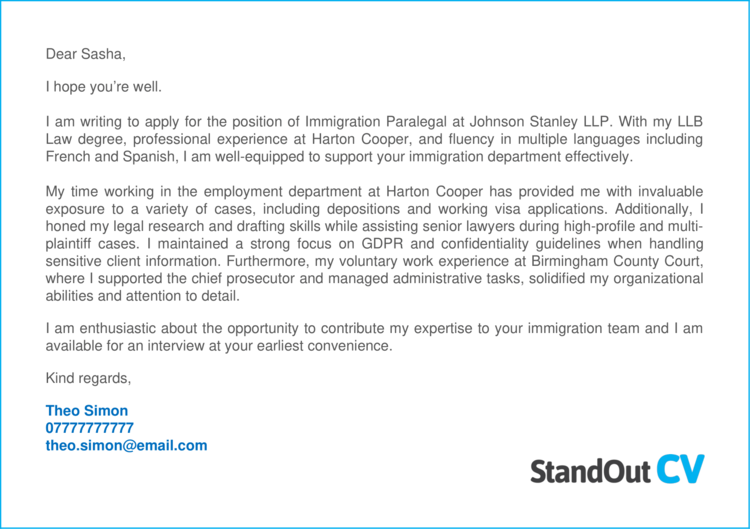 Paralegal cover letter example 3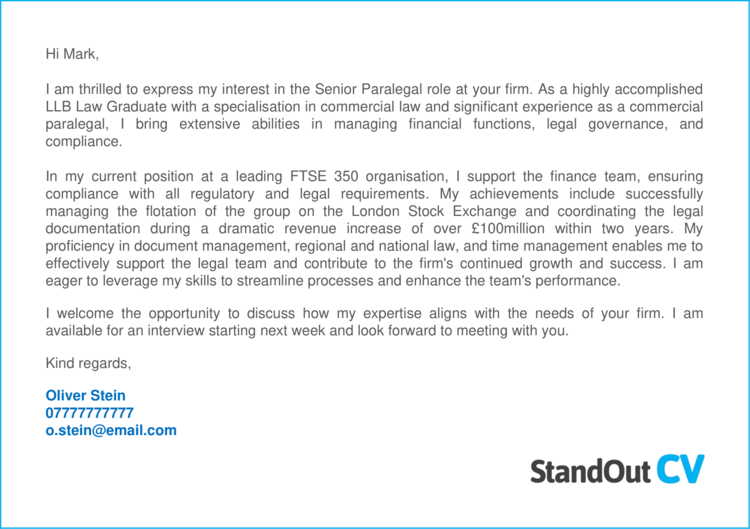 The Paralegal cover letter examples above should give you a good idea of the type of content you need to include in your own cover letter, and how it should be structured.
But if you're really looking to wow recruiters and get your CV in front of the very best employers, then check out our guidance on how to write your own effective cover letter below.
How to write a Paralegal cover letter
Here's how to write your own winning Paralegal cover letter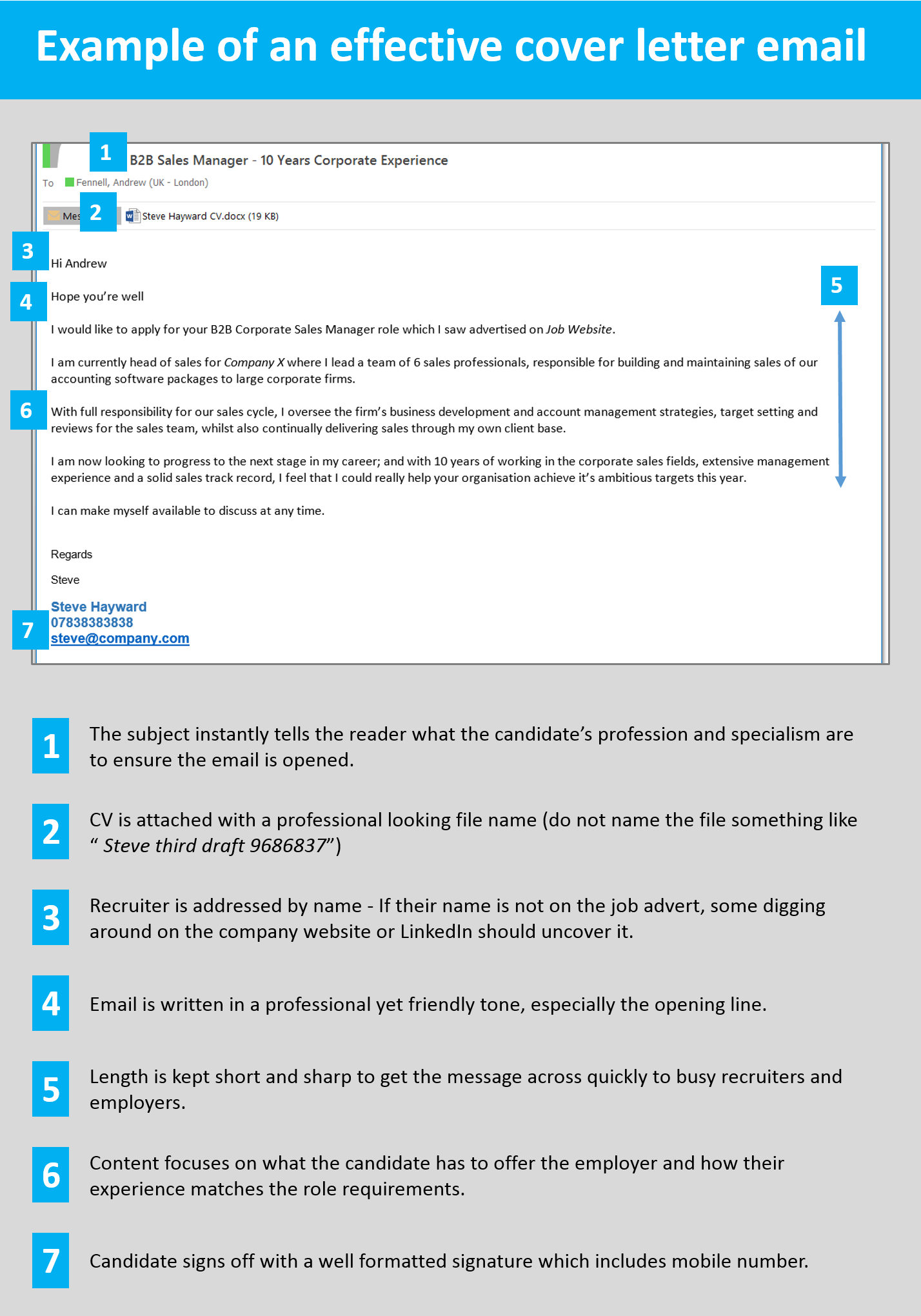 Write your cover letter in the body of an email/message
When writing your Paralegal cover letter, it's best to type the content into the body of your email (or the job site messaging system) and not to attach the cover letter as a separate document.
This ensures that your cover letter gets seen as soon as a recruiter or employer opens your message.
If you attach the cover letter as a document, you're making the reader go through an unnecessary step of opening the document before reading it.
If it's in the body of the message itself, it will be seen instantly, which hugely increases the chances of it being read.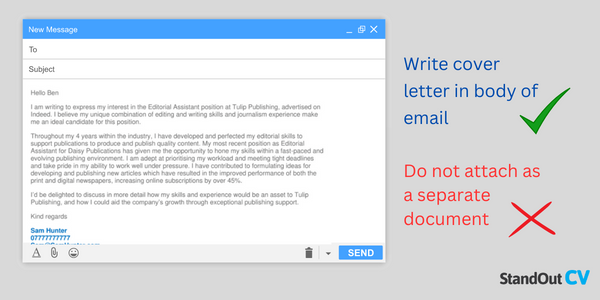 Start with a friendly greeting

Start you cover letter with a greeting that is professional but friendly.
This will build rapport with the recruiter whilst showing your professionalism.
Hi, hope you're well
Hi [insert recruiter name]
Hi [insert department/team name]
Avoid overly formal greetings like "Dear sir/madam" unless applying to very traditional companies.
How to find the contact's name?
Addressing the recruitment contact by name is an excellent way to start building a strong relationship. If it is not listed in the job advert, try these methods to find it.
Check out the company website and look at their About page. If you see a hiring manager, HR person or internal recruiter, use their name. You could also try to figure out who would be your manager in the role and use their name.
Head to LinkedIn, search for the company and scan through the list of employees. Most professionals are on LinkedIn these days, so this is a good bet.
Identify the role you are applying for
Now that you have warmed the recruiter up with a friendly greeting, firstly you need to let them know which role you are applying for.
Sometimes a recruitment consultant will be juggling 10 or 10 vacancies, so it's important to specify which one you are applying to.
Give us much detail as possible (team/department, role title etc.) and paste in the reference number if you have one.
Here are some examples you can use.
I am interested in applying for the role of Paralegal with your company.
I would like to apply for the role of Sales assistant (Ref: 40f57393)
I would like to express my interest in the customer service vacancy within your retail department
I saw your advert for an IT project manager on Reed and would like to apply for the role.
Highlight your suitability
The bulk of your cover letter should be focused around highlighting your suitability for the job you are applying to.
Doing this will show the recruiter that you are suitable candidate and encourage them to open your CV.
The best way to do this, is by studying the job advert you are applying to, and find out what the most important skills and knowledge are.
Once you know the most important requirements, you then need to highlight your matching skills to the recruiter. In a few sentences, tell them exactly why you are a good fit for the job and what you can offer the company.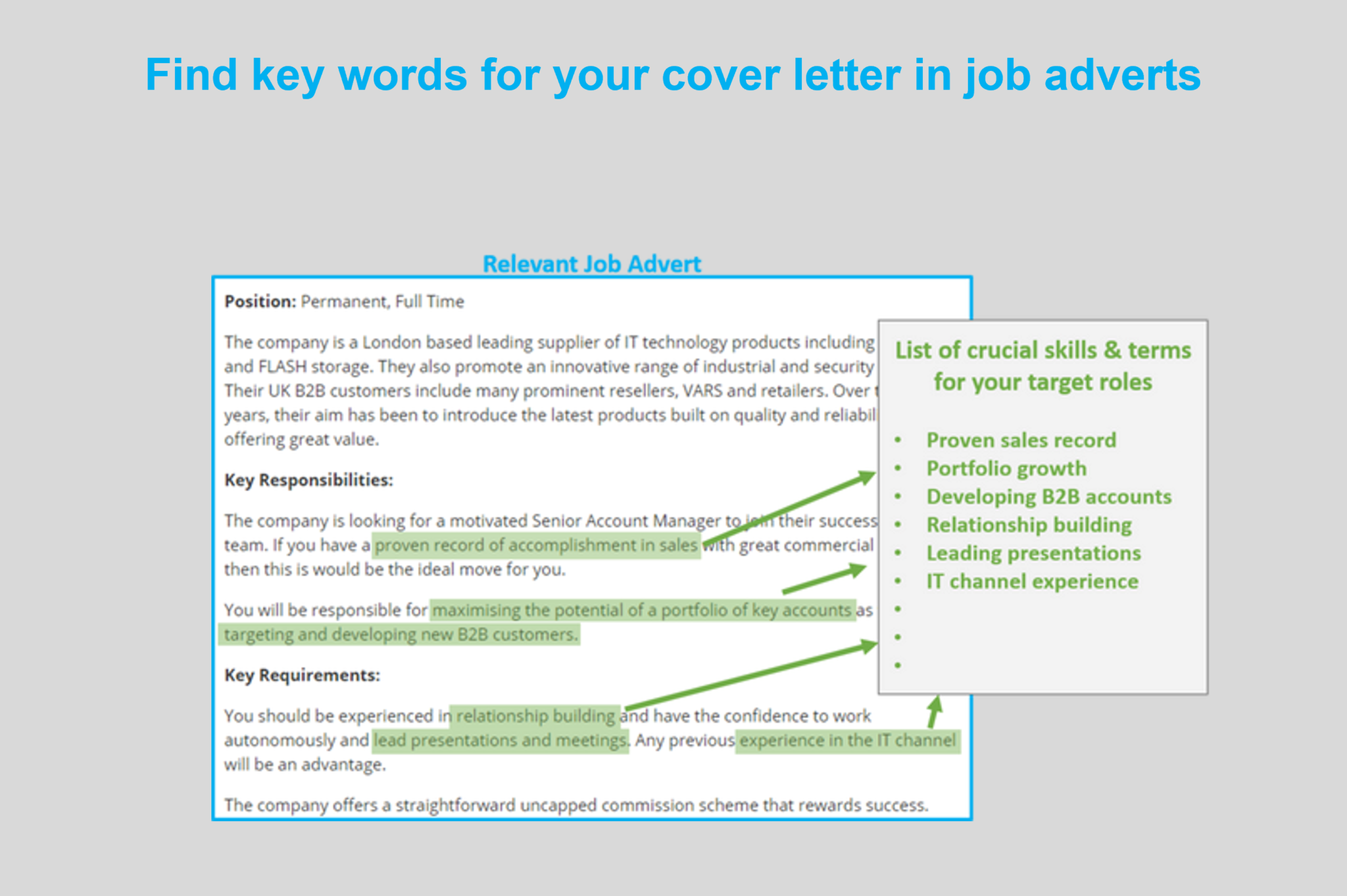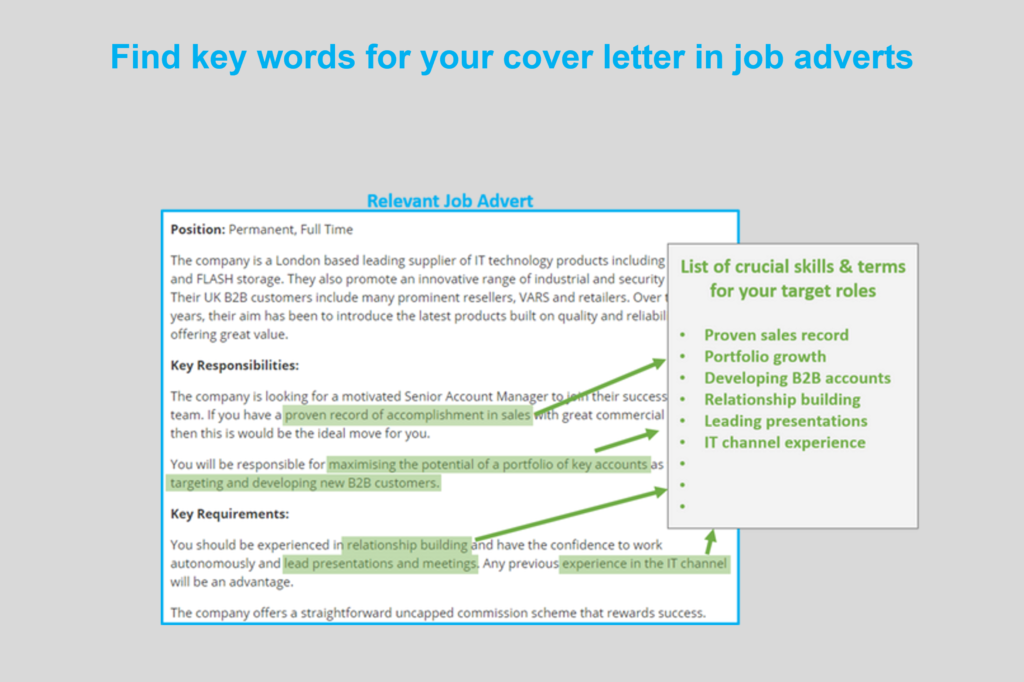 Keep it short and sharp
When sending a job application to a recruiter or hiring manager, it is important to remember that they will normally be very busy and pushed for time.
Therefore, you need to get you message across to them quickly (in a matter of seconds ideally). So, keep your cover letter short and to-the-point. A long waffling cover letter will overwhelm recruiters when they are running through hundreds of emails in there inbox, but a concise one will get their attention.
So, keep your cover letter to just a few sentences long, and save the extensive detail for your CV.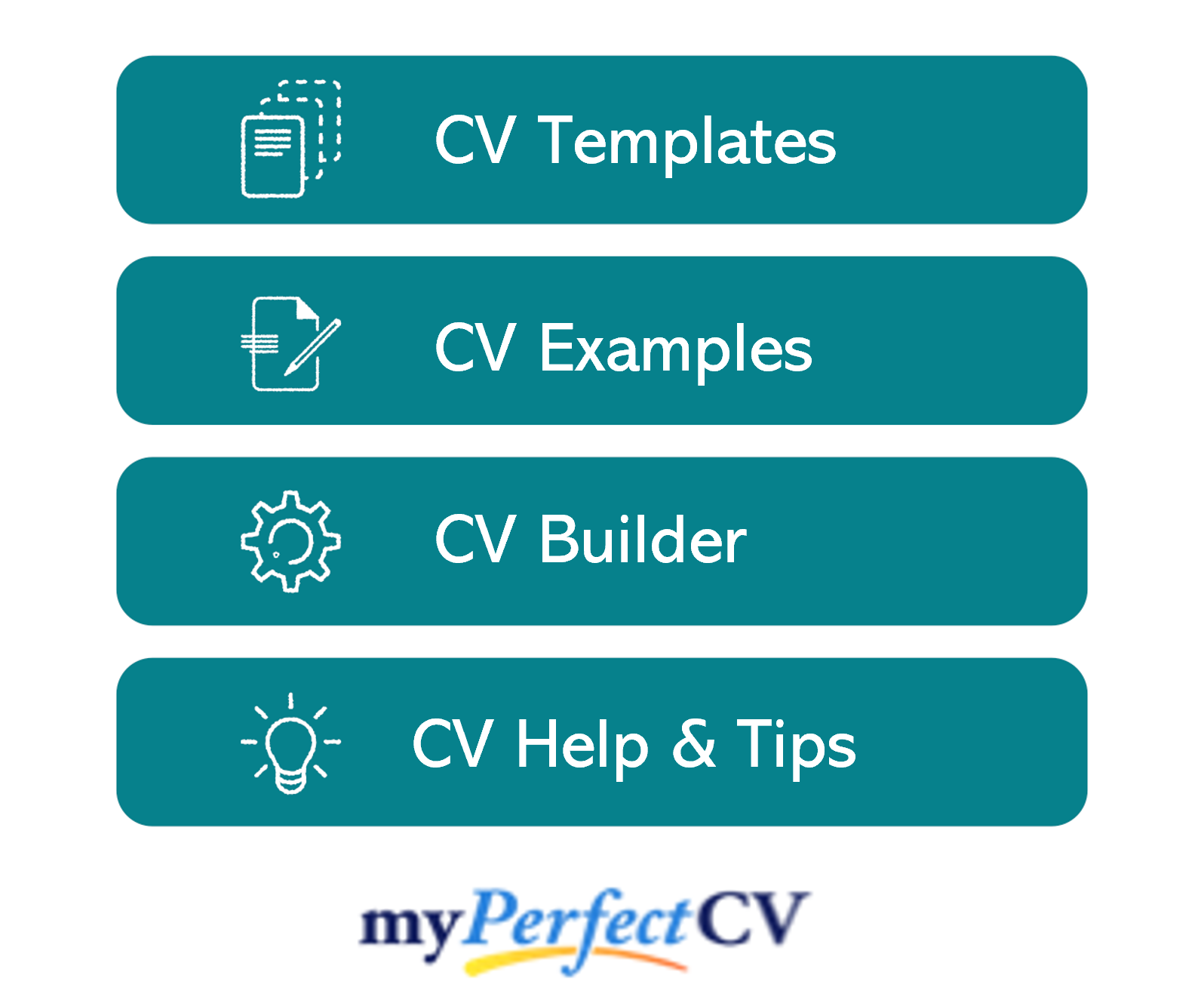 Sign off professionally
To round of your cover letter, add a professional signature to the bottom, giving recruiters your vital contact information.
This not only gives various means of contacting you, it also looks really professional and shows that you know how to communicate in the workplace.
Include the following points;
A friendly sign off – e.g. "Warm regards"
Your full name
Phone number (one you can answer quickly)
Email address
Optional
Profession title
Professional social network – e.g. LinkedIn
Here is an example signature;
Warm regards,
Gerald Baker
Senior Accountant
07887500404
Gbaker213@hotmail.com
LinkedIn
Quick tip: To save yourself from having to write your signature every time you send a job application email, you can save it within your email drafts, or on a separate document that you could copy in.

What to include in your Paralegal cover letter
Here's what kind of content you should include in your Paralegal cover letter…
The exact info will obviously depend on your industry and experience level, but these are the essentials.
Your relevant experience – Where have you worked and what type of jobs have you held?
Your qualifications – Let recruiters know about your highest level of qualification to show them you have the credentials for the job.
The impact you have made – Show how your actions have made a positive impact on previous employers; perhaps you've saved them money or helped them to acquire new customers?
Your reasons for moving – Hiring managers will want to know why you are leaving your current or previous role, so give them a brief explanation.
Your availability – When can you start a new job? Recruiters will want to know how soon they can get you on board.
Don't forget to tailor these points to the requirements of the job advert for best results.
Paralegal cover letter templates
Copy and paste these Paralegal cover letter templates to get a head start on your own.
Template 1
Hi Helen,
I am writing to apply for the position of Entry-Level Litigation Paralegal at your esteemed law firm. As a dedicated LLB Law Graduate with a specialisation in commercial law and professional experience interning in the legal department of the international banking group Monzo, I possess a strong foundation in legal research, report writing, and office administration.
During my internship at Monzo, I provided essential support to the commercial law department, conducting factual and legal research to bolster contract writing and cases. My diligence was rewarded when I witnessed and compiled reports for an investment contract worth £3 million. Additionally, I played a pivotal role in streamlining administrative efficiency by reorganising the paper filing system, resulting in a remarkable 22% improvement. My academic achievements include the 'Legal Innovator of the Year 2021' award and attaining the highest mark in over five years for my undergraduate law research project.
I am eager to contribute my skills and enthusiasm to your litigation team and look forward to the opportunity to discuss how my abilities align with the needs of your firm. I am available for an interview at your convenience.
Kind regards,
Mhairi Doherty
Template 2
Dear Sasha,
I hope you're well.
I am writing to apply for the position of Immigration Paralegal at Johnson Stanley LLP. With my LLB Law degree, professional experience at Harton Cooper, and fluency in multiple languages including French and Spanish, I am well-equipped to support your immigration department effectively.
My time working in the employment department at Harton Cooper has provided me with invaluable exposure to a variety of cases, including depositions and working visa applications. Additionally, I honed my legal research and drafting skills while assisting senior lawyers during high-profile and multiplaintiff cases. I maintained a strong focus on GDPR and confidentiality guidelines when handling sensitive client information. Furthermore, my voluntary work experience at Birmingham County Court, where I supported the chief prosecutor and managed administrative tasks, solidified my organizational abilities and attention to detail.
I am enthusiastic about the opportunity to contribute my expertise to your immigration team, and I am available for an interview at your earliest convenience.
Kind regards,
Theo Simon
Template 3
Hi Mark,
I am thrilled to express my interest in the Senior Paralegal role at your firm. As a highly accomplished LLB Law Graduate with a specialisation in commercial law and significant experience as a commercial paralegal, I bring extensive abilities in managing financial functions, legal governance, and compliance.
In my current position at a leading FTSE 350 organisation, I support the finance team, ensuring compliance with all regulatory and legal requirements. My achievements include successfully managing the flotation of the group on the London Stock Exchange and coordinating the legal documentation during a dramatic revenue increase of over £100million within two years. My proficiency in document management, regional and national law, and time management enables me to effectively support the legal team and contribute to the firm's continued growth and success. I am eager to leverage my skills to streamline processes and enhance the team's performance.
I welcome the opportunity to discuss how my expertise aligns with the needs of your firm. I am available for an interview starting next week and look forward to meeting with you.
Kind regards,
Oliver Stein
Writing a strong attention-grabbing cover letter is a vital step in landing a good Paralegal job.
Use the tips, strategies and examples above to get more responses from you job applications and start lining job interview up.
Good luck with your job search!