Have you got what it takes to improve vital policies and procedures across the business?
Sure you do. But in such an important position, you need to leave the recruiter with no doubts about your skills and experience.
And a strong cover letter is the best way to do this.
Find out how to write an interview-winning application using our top tips and operation manager cover letter examples in the guide below.

Operations Manager cover letter example 1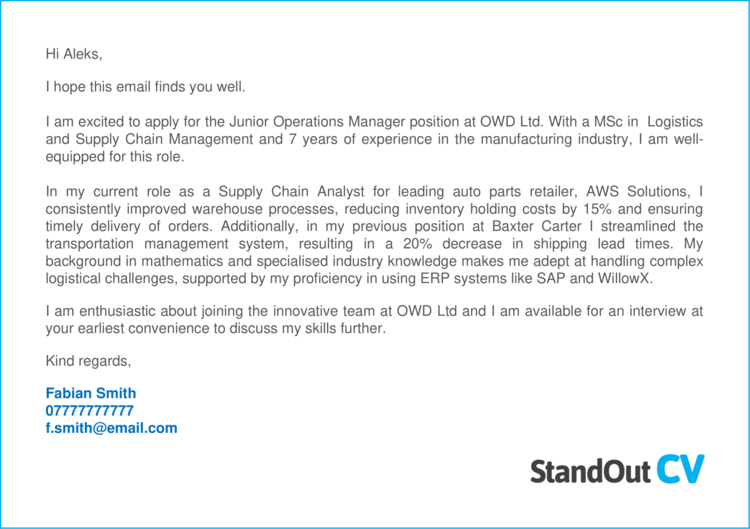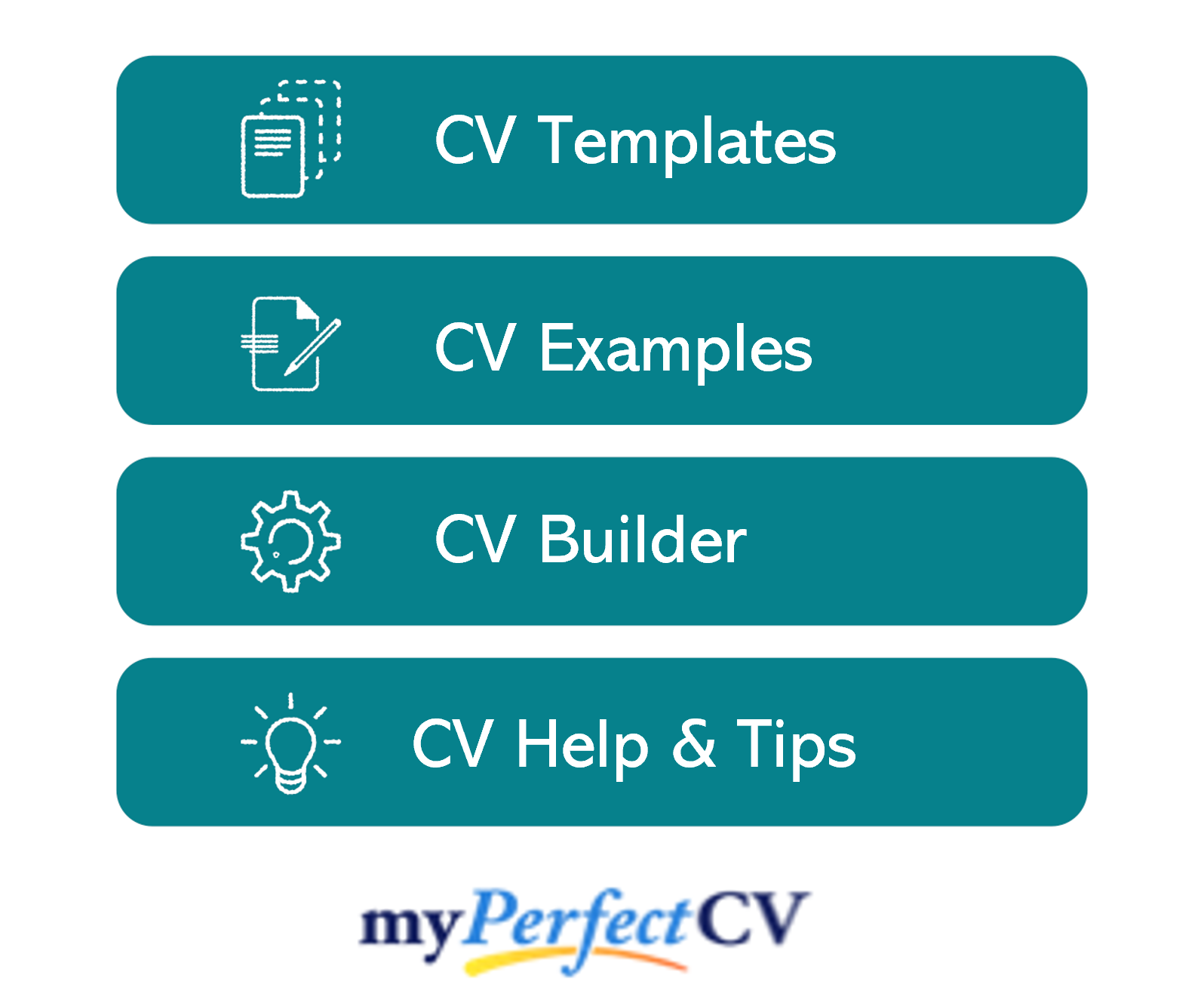 Operations Manager cover letter example 2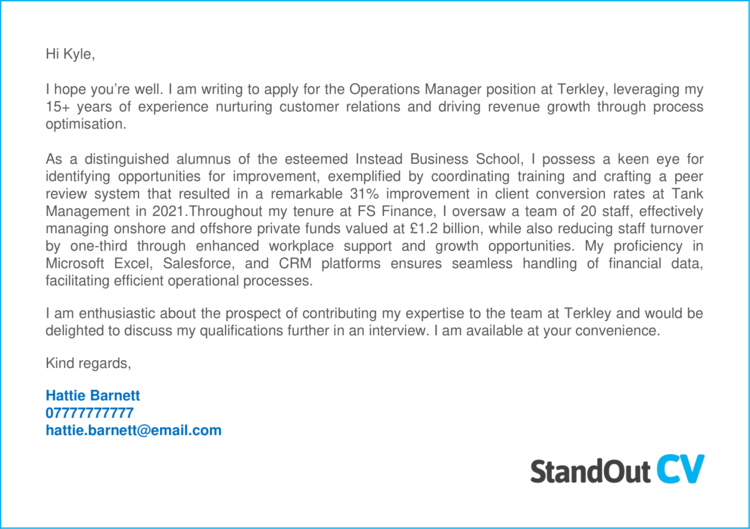 Operations Manager cover letter example 3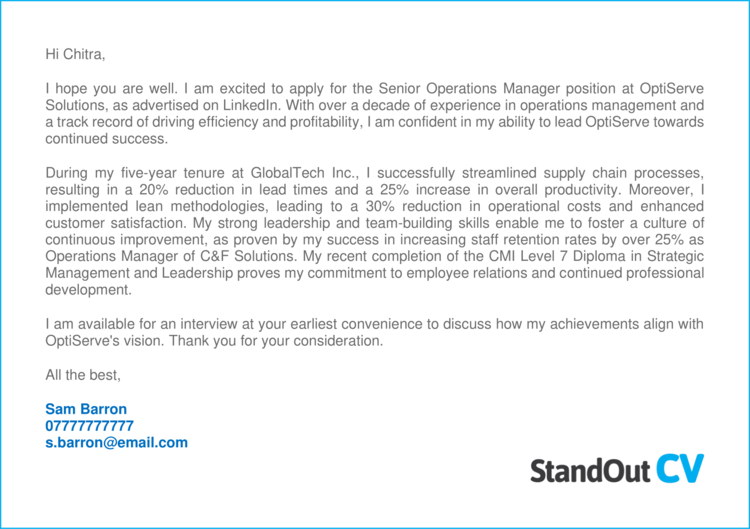 These 3 Operations Manager cover letter examples should provide you with a good steer on how to write your own cover letter, and the general structure to follow.
Our simple step-by-step guide below provides some more detailed advice on how you can craft a winning cover letter for yourself, that will ensure your CV gets opened.
How to write a Operations Manager cover letter
Here's a simple process to write your own interview-winning cover letter.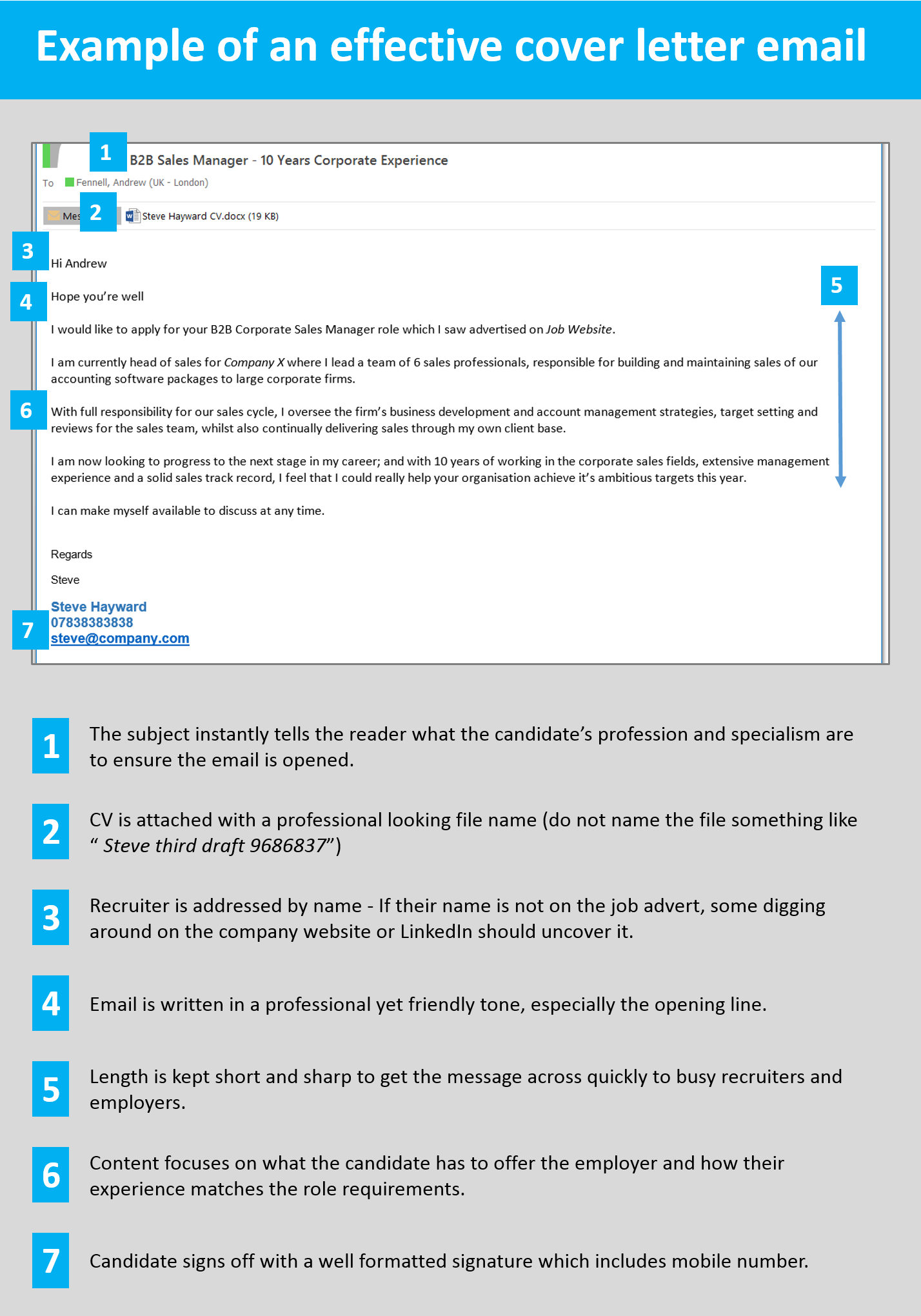 Write your cover letter in the body of an email/message
You should write your cover letter in the body of the email (or messaging system if sending via a job board) and never attach it as a document.
The reason for this?
You want your cover letter to start connecting with the recruiter from the moment they open your application.
If they have to open a document to read it, it will slow things down and they may not even bother to open it.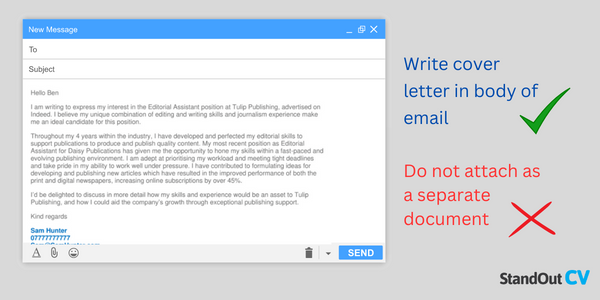 Start with a friendly greeting

To kick your cover letter off, start with a friendly greeting to build rapport with the recruiter instantly.
Your greeting should be personable but professional. Not too casual, but not too formal either
Go with something like…
Hi
Hi [insert recruiter name]
Hi [insert department/team name]
Avoid old-fashioned greetings like "Dear sir/madam" unless applying to very formal companies.
How to find the contact's name?
Addressing the recruitment contact by name is an excellent way to start building a strong relationship. If it is not listed in the job advert, try these methods to find it.
Check out the company website and look at their About page. If you see a hiring manager, HR person or internal recruiter, use their name. You could also try to figure out who would be your manager in the role and use their name.
Head to LinkedIn, search for the company and scan through the list of employees. Most professionals are on LinkedIn these days, so this is a good bet.
Identify the role you are applying for
Now that you have warmed the recruiter up with a friendly greeting, firstly you need to let them know which role you are applying for.
Sometimes a recruitment consultant will be juggling 10 or 10 vacancies, so it's important to specify which one you are applying to.
Give us much detail as possible (team/department, role title etc.) and paste in the reference number if you have one.
Here are some examples you can use.
I am interested in applying for the role of Operations Manager with your company.
I would like to apply for the role of Sales assistant (Ref: 40f57393)
I would like to express my interest in the customer service vacancy within your retail department
I saw your advert for an IT project manager on Reed and would like to apply for the role.
Highlight your suitability
The main purpose of your cover letter is to excite recruiters and make them eager to open your CV. And you achieve this by quickly demonstrating your suitability to the job you are applying for.
Take a look at the job adverts you are applying for, and make note of the most important skills being asked for.
Then, when you write your cover letter, make your suitability the focal point.
Explain how you meet the candidate requirements fully, and why you are so well suited to carry out the job.
This will give recruiters all the encouragement they need to open your CV and consider your application.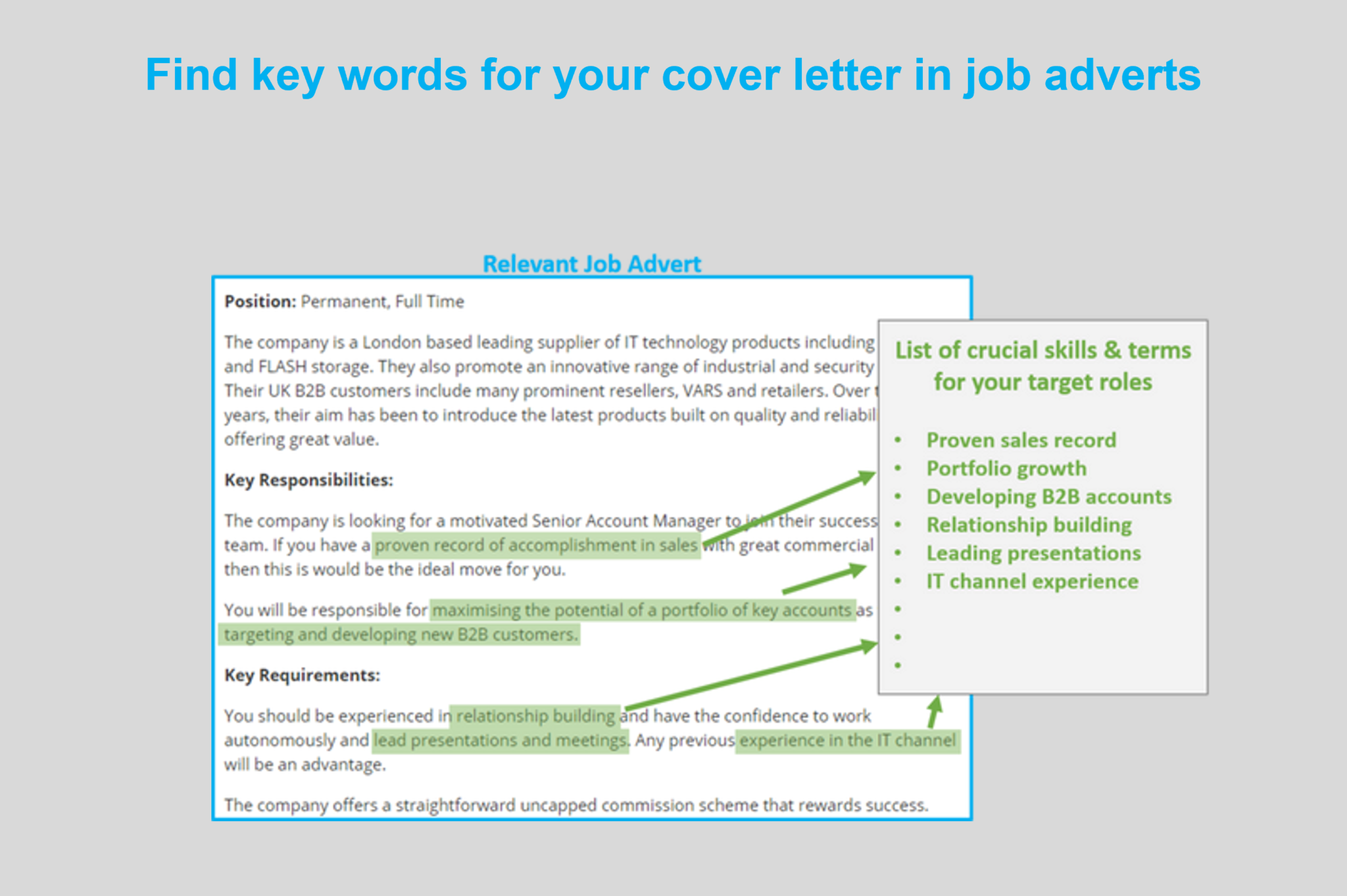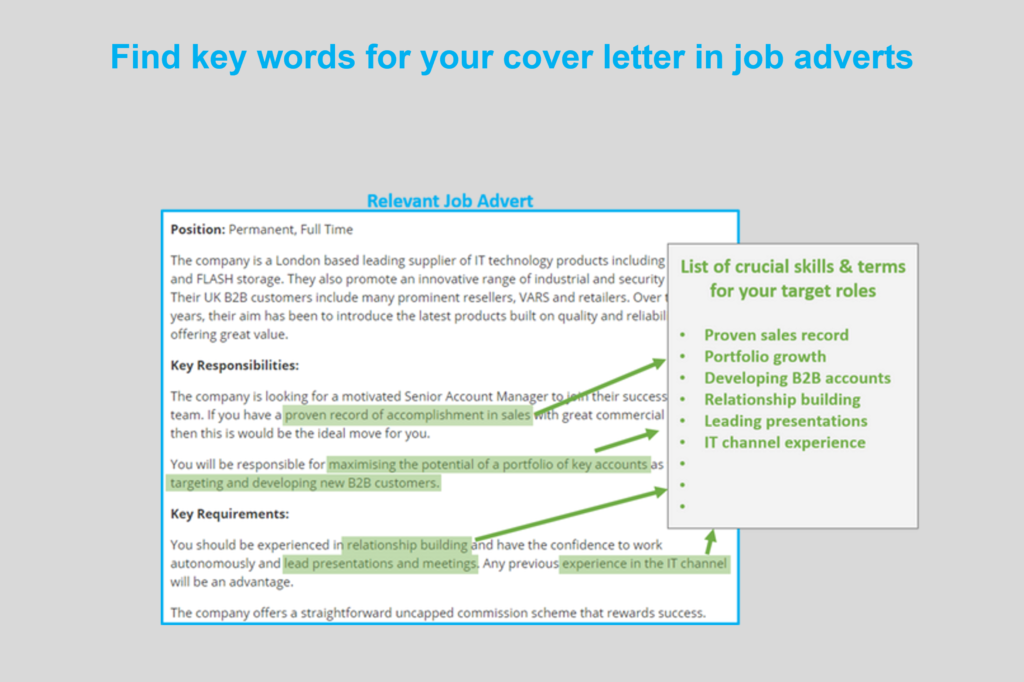 Keep it short and sharp
It is best to keep your cover letter brief if you want to ensure you hold the attention of busy recruiters and hiring managers. A lengthy cover letter will probably not get read in full, so keep yours to around 3-6 sentences and save the real detail for your CV.
Remember the purpose of your cover letter is to quickly get recruiters to notice you and encourage them to open your CV, so it only needs to include the highlights of your experience.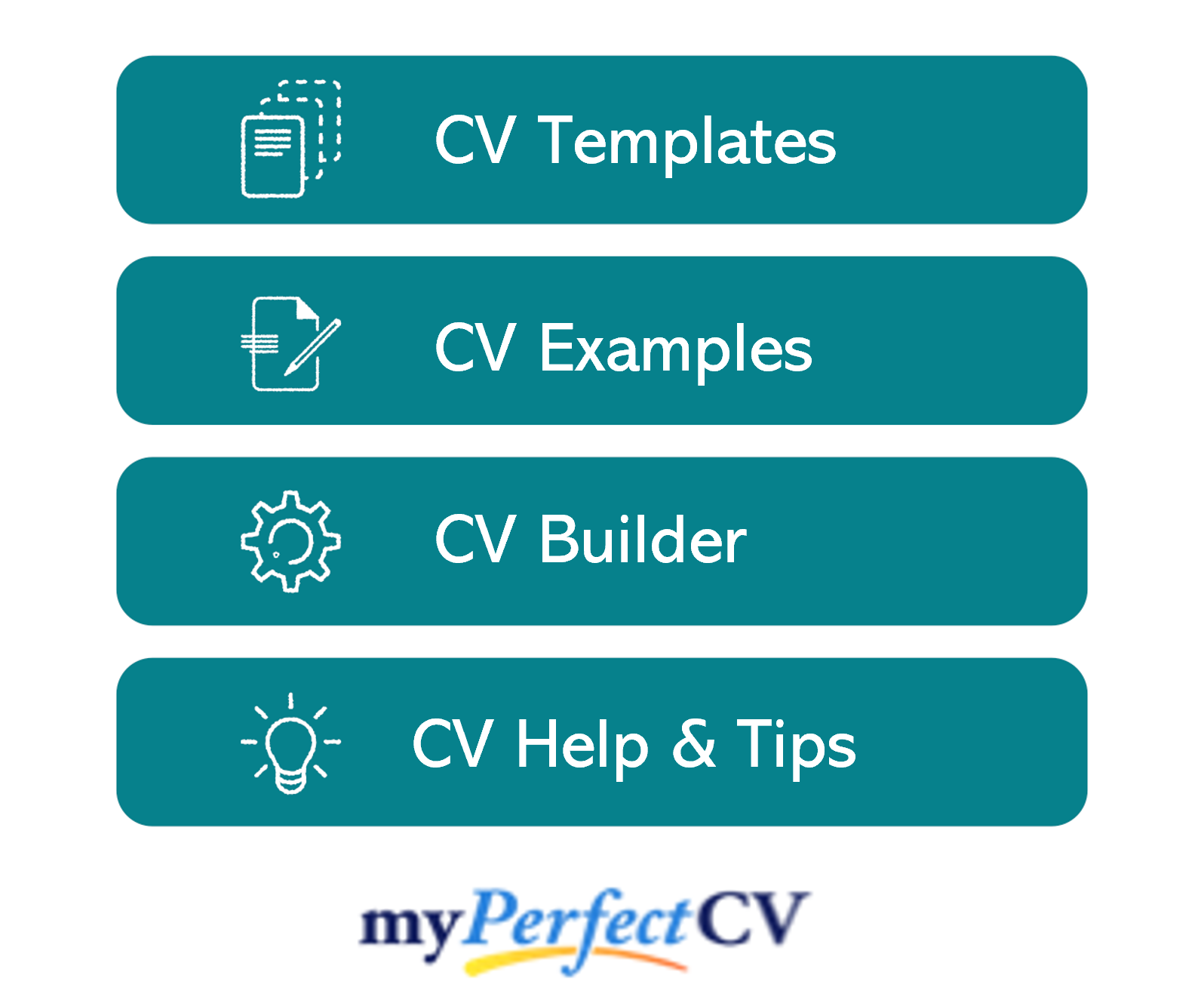 Sign off professionally
To round of your cover letter, add a professional signature to the bottom, giving recruiters your vital contact information.
This not only gives various means of contacting you, it also looks really professional and shows that you know how to communicate in the workplace.
Include the following points;
A friendly sign off – e.g. "Warm regards"
Your full name
Phone number (one you can answer quickly)
Email address
Optional
Profession title
Professional social network – e.g. LinkedIn
Here is an example signature;
Warm regards,
Gerald Baker
Senior Accountant
07887500404
Gbaker213@hotmail.com
LinkedIn
Quick tip: To save yourself from having to write your signature every time you send a job application email, you can save it within your email drafts, or on a separate document that you could copy in.

What to include in your Operations Manager cover letter
Your Operations Manager cover letter will be unique to your situation, but there are certain content guidelines you should stick to for best results.
To attract and entice recruiters, stick with the following key subjects in your cover letter – adapting them to fit your profession and target jobs.
Your professional experience – Employers will be keen to know if your experience is suitable for the job you are applying to, so provide a good summary of it in your cover letter.
Your qualifications and education – Highlight your most relevant and high-level of qualification, especially if they are essential to the job.
The positive impact you have made – Employers love to hear about the benefits you can bring to them, so shout about anything impressive you have done, such as saving money or improving processes.
Your reasons for leaving – Use a few words of your cover letter to explain why you are leaving your current job and ensure you avoid any negative reasons.
Your availability – Let recruiters know when you can start a new job. Are you immediately available, or do you have a month notice period?
Operations Manager cover letter templates
Copy and paste these Operations Manager cover letter templates to get a head start on your own.
Template 1
Hi Aleks,
I hope this email finds you well.
I am excited to apply for the Junior Operations Manager position at OWD Ltd. With a MSc in Logistics and Supply Chain Management and 7 years of experience in the manufacturing industry, I am well equipped for this role.
In my current role as a Supply Chain Analyst for leading auto parts retailer, AWS Solutions, I consistently improved warehouse processes, reducing inventory holding costs by 15% and ensuring timely delivery of orders. Additionally, in my previous position at Baxter Carter I streamlined the transportation management system, resulting in a 20% decrease in shipping lead times. My background in mathematics and specialised industry knowledge makes me adept at handling complex logistical challenges, supported by my proficiency in using ERP systems like SAP and WillowX.
I am enthusiastic about joining the innovative team at OWD Ltd and I am available for an interview at your earliest convenience to discuss my skills further.
Kind regards,
Fabian Smith
Template 2
Hi Kyle
I hope you're well. I am writing to apply for the Operations Manager position at Terkley, leveraging my 15+ years of experience nurturing customer relations and driving revenue growth through process optimisation.
As a distinguished alumnus of the esteemed Instead Business School, I possess a keen eye for identifying opportunities for improvement, exemplified by coordinating training and crafting a peer review system that resulted in a remarkable 31% improvement in client conversion rates at Tank Management in 2021.Throughout my tenure at FS Finance, I oversaw a team of 20 staff, effectively managing onshore and offshore private funds valued at £1.2 billion, while also reducing staff turnover by one-third through enhanced workplace support and growth opportunities. My proficiency in Microsoft Excel, Salesforce, and CRM platforms ensures seamless handling of financial data, facilitating efficient operational processes.
I am enthusiastic about the prospect of contributing my expertise to the team at Terkley and would be delighted to discuss my qualifications further in an interview. I am available at your convenience.
Kind regards,
Hattie Barnett
Template 3
Hi Chitra,
I hope you are well. I am excited to apply for the Senior Operations Manager position at OptiServe Solutions, as advertised on LinkedIn. With over a decade of experience in operations management and a track record of driving efficiency and profitability, I am confident in my ability to lead OptiServe towards continued success.
During my five-year tenure at GlobalTech Inc., I successfully streamlined supply chain processes, resulting in a 20% reduction in lead times and a 25% increase in overall productivity. Moreover, I implemented lean methodologies, leading to a 30% reduction in operational costs and enhanced customer satisfaction. My strong leadership and team-building skills enable me to foster a culture of continuous improvement, as proven by my success in increasing staff retention rates by over 25% as Operations Manager of C&F Solutions. My recent completion of the CMI Level 7 Diploma in Strategic Management and Leadership proves my commitment to employee relations and continued professional development.
I am available for an interview at your earliest convenience to discuss how my achievements align with OptiServe's vision. Thank you for your consideration.
All the best,
Sam Barron
Writing an impressive cover letter is a crucial step in landing a Operations Manager job, so taking the time to perfect it is well worth while.
By following the tips and examples above you will be able to create an eye-catching cover letter that will wow recruiters and ensure your CV gets read – leading to more job interviews for you.
Good luck with your job search!