Can you oversee multiple areas of the business to keep everything in the office running smoothly?
Of course you can, that's why you're perfect for the office manager role. Now you just need to prove it to the recruiter with a detailed application, bursting with your most relevant skills and experience.
But if you're not sure how to fit this all into just a few paragraphs, check out our top tips and office manager cover letter examples in the guide below.

Office Manager cover letter example 1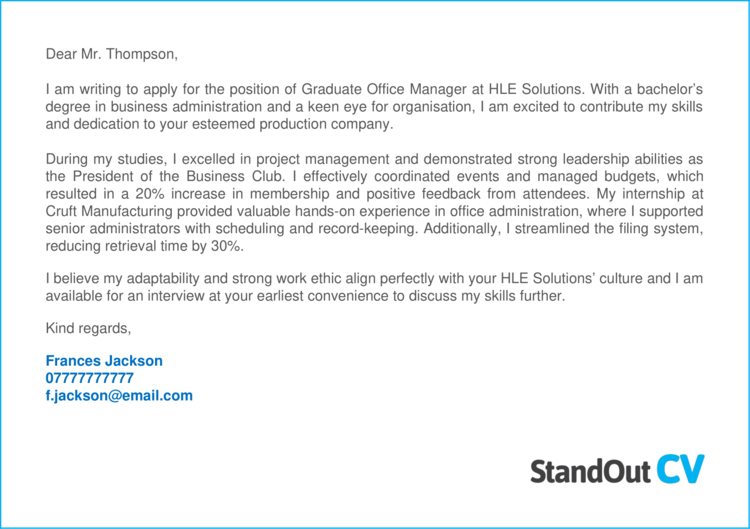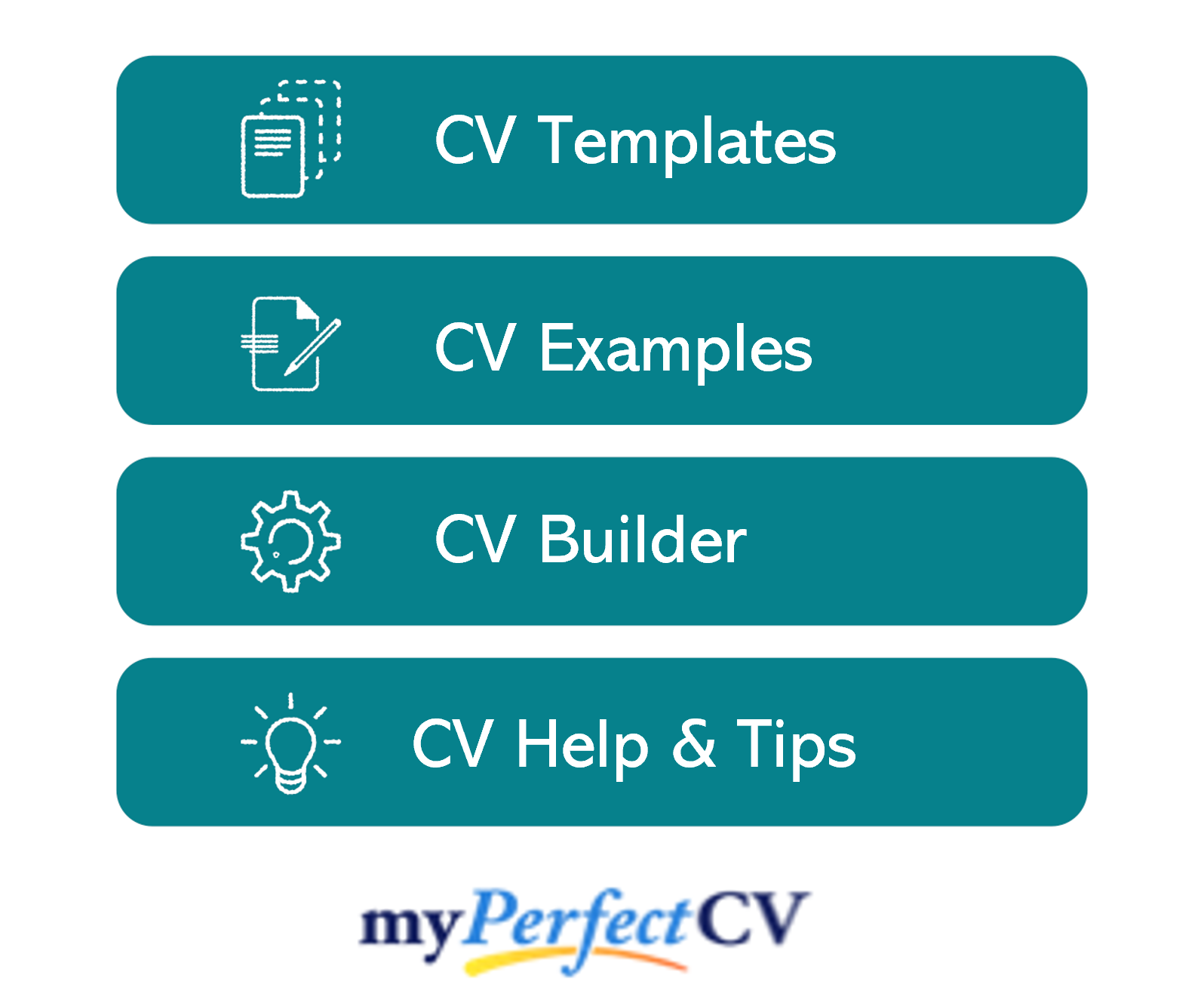 Office Manager cover letter example 2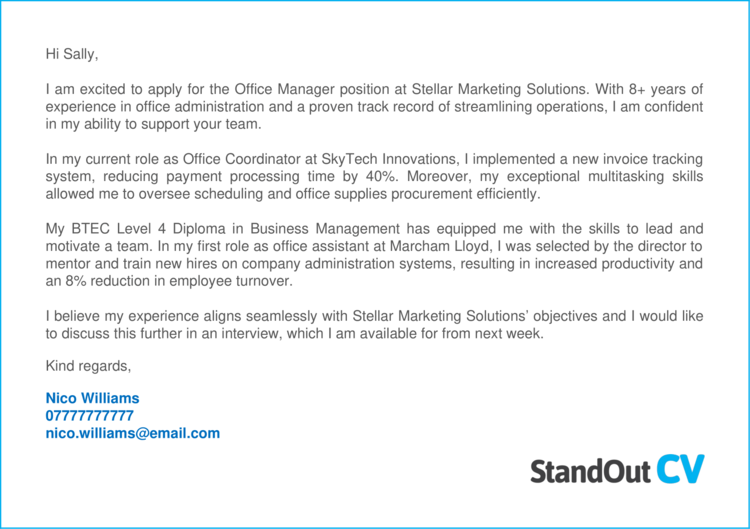 Office Manager cover letter example 3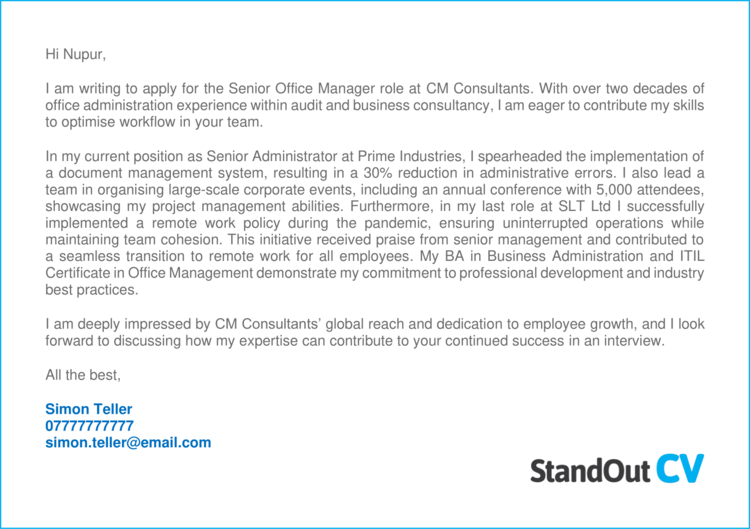 These 3 Office Manager cover letter examples should provide you with a good steer on how to write your own cover letter, and the general structure to follow.
Our simple step-by-step guide below provides some more detailed advice on how you can craft a winning cover letter for yourself, that will ensure your CV gets opened.
How to write a Office Manager cover letter
A simple step-by-step guide to writing your very own winning cover letter.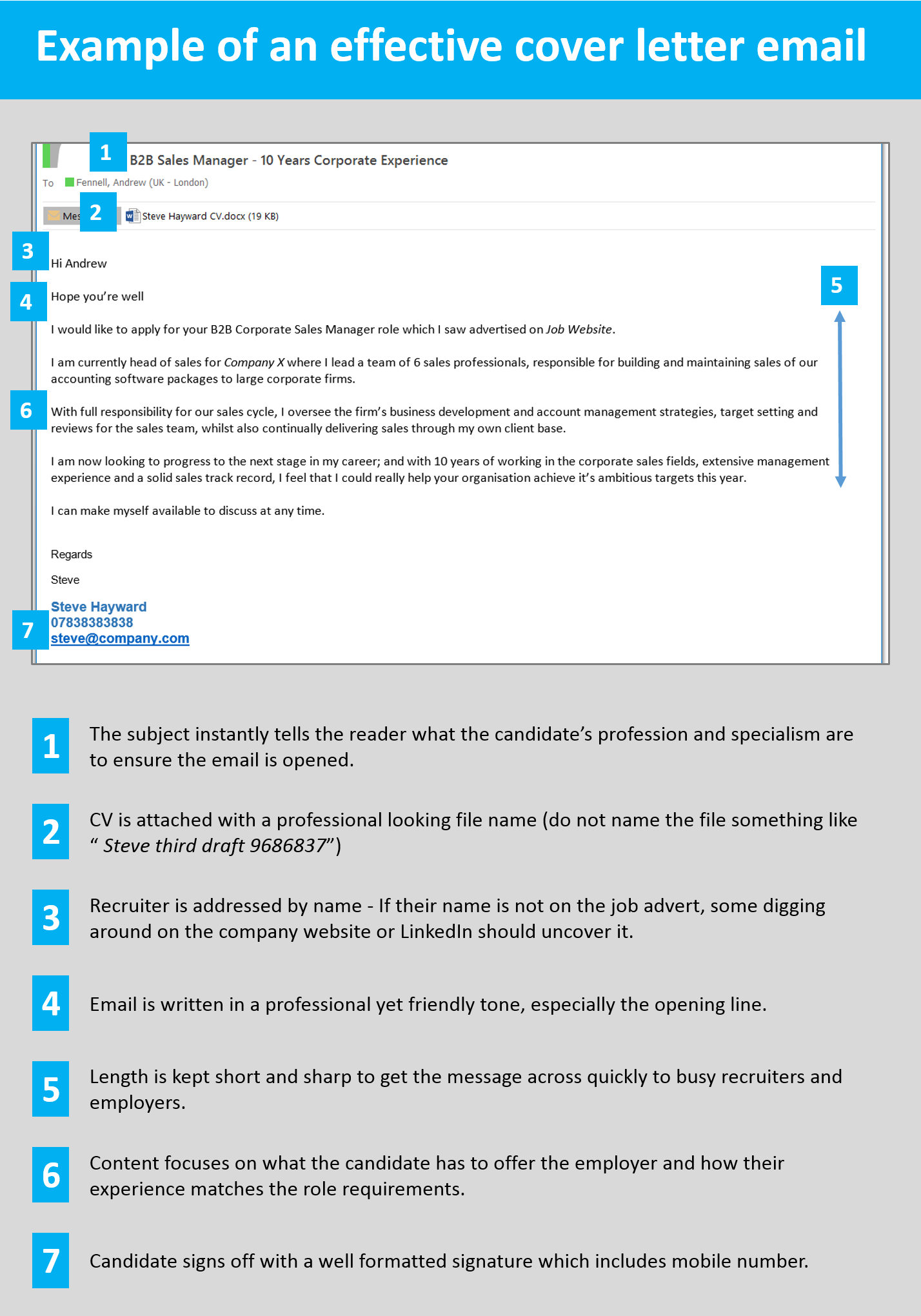 Write your cover letter in the body of an email/message
Type the content of your cover letter directly into the email you are sending, or if you are applying via a job board, directly into their messaging system.
The reason for doing this it to ensure that your cover letter gets seen instantly and you can start connecting with the recruiter as soon as they open your message.
If you attach your cover letter as a separate document, the recipient will have to open up the document, which will slow the process down, or make them less likely to even open your cover letter – which could mean your application gets skipped over.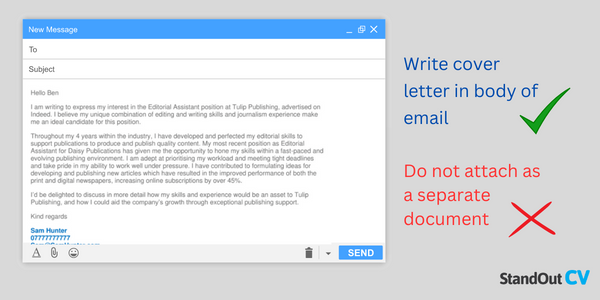 Start with a friendly greeting

To start building rapport with the recruiter or hiring manager right away, lead with a friendly greeting.
Try to strike a balance between professional and personable.
Go with something like…
Hi
Hi [insert recruiter name]
Hi [insert department/team name]
Stay away from old-fashioned greetings like "Dear sir/madam" unless applying to very formal companies – they can come across as cold and robotic.
How to find the contact's name?
Addressing the recruitment contact by name is an excellent way to start building a strong relationship. If it is not listed in the job advert, try to uncover it via these methods.
Check out the company website and look at their About page. If you see a hiring manager, HR person or internal recruiter, use their name. You could also try to figure out who would be your manager in the role and use their name.
Head to LinkedIn, search for the company and scan through the list of employees. Most professionals are on LinkedIn these days, so this is a good bet.
Identify the role you are applying for
Once you've opened up the cover letter with a warm greeting to start building a relationship, it is time to identify which role you want to apply for.
Recruiters are often managing multiple vacancies, so you need to ensure you apply to the correct one.
Be very specific and use a reference number if you can find one.
I am interested in applying for the position of Office Manager with your company.
I would like to apply for the role of Sales assistant (Ref: 406f57393)
I would like to express my interest in the customer service vacancy within your retail department
I saw your advert for a junior project manager on Reed and would like to apply for the role.
Highlight your suitability
The main purpose of your cover letter is to excite recruiters and make them eager to open your CV. And you achieve this by quickly demonstrating your suitability to the job you are applying for.
Take a look at the job adverts you are applying for, and make note of the most important skills being asked for.
Then, when you write your cover letter, make your suitability the focal point.
Explain how you meet the candidate requirements fully, and why you are so well suited to carry out the job.
This will give recruiters all the encouragement they need to open your CV and consider your application.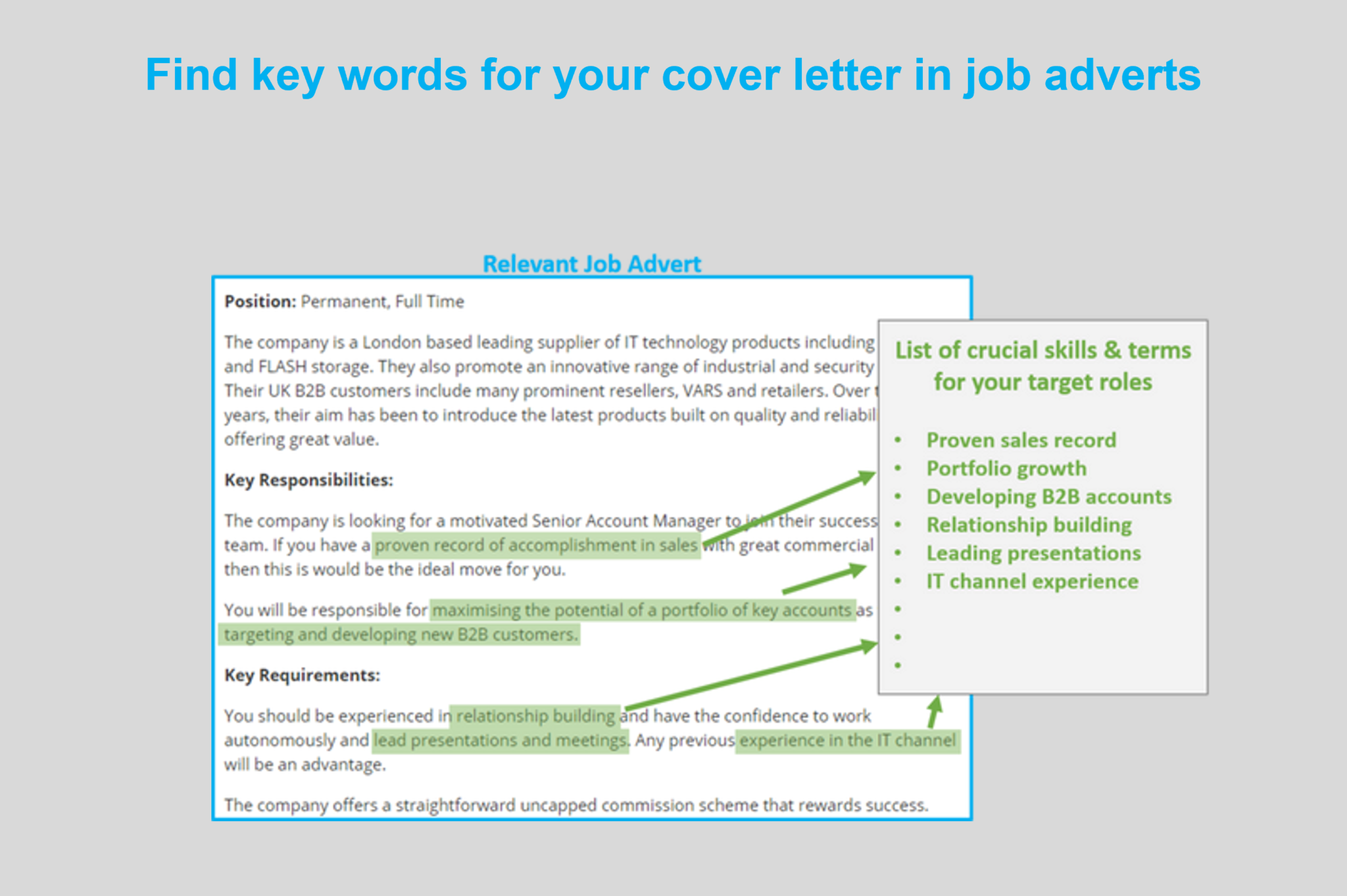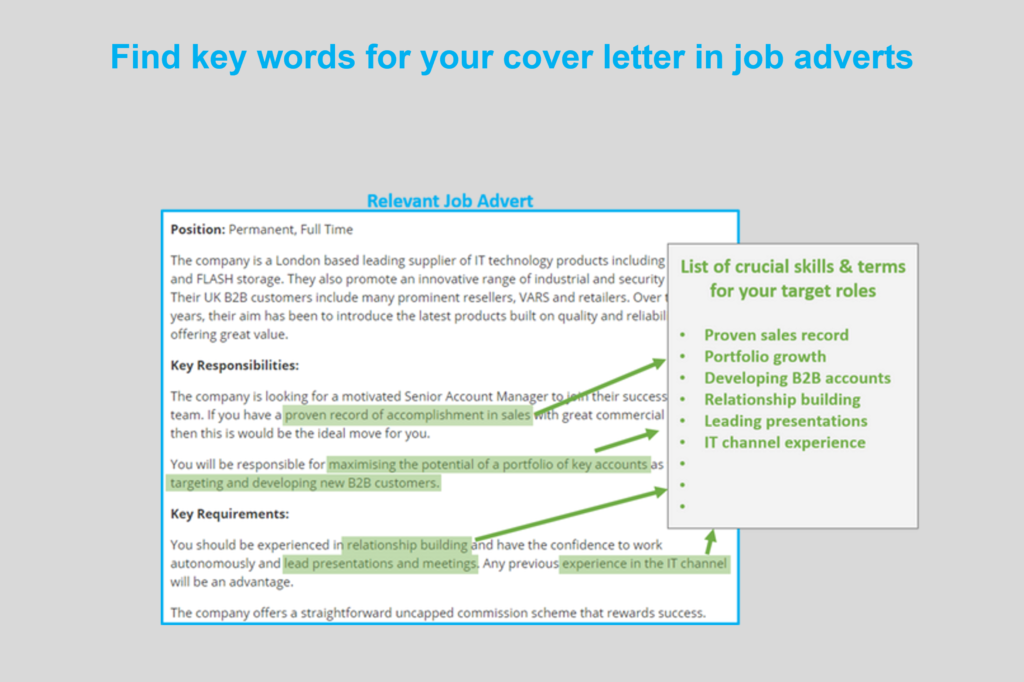 Keep it short and sharp
It is best to keep your cover letter brief if you want to ensure you hold the attention of busy recruiters and hiring managers. A lengthy cover letter will probably not get read in full, so keep yours to around 3-6 sentences and save the real detail for your CV.
Remember the purpose of your cover letter is to quickly get recruiters to notice you and encourage them to open your CV, so it only needs to include the highlights of your experience.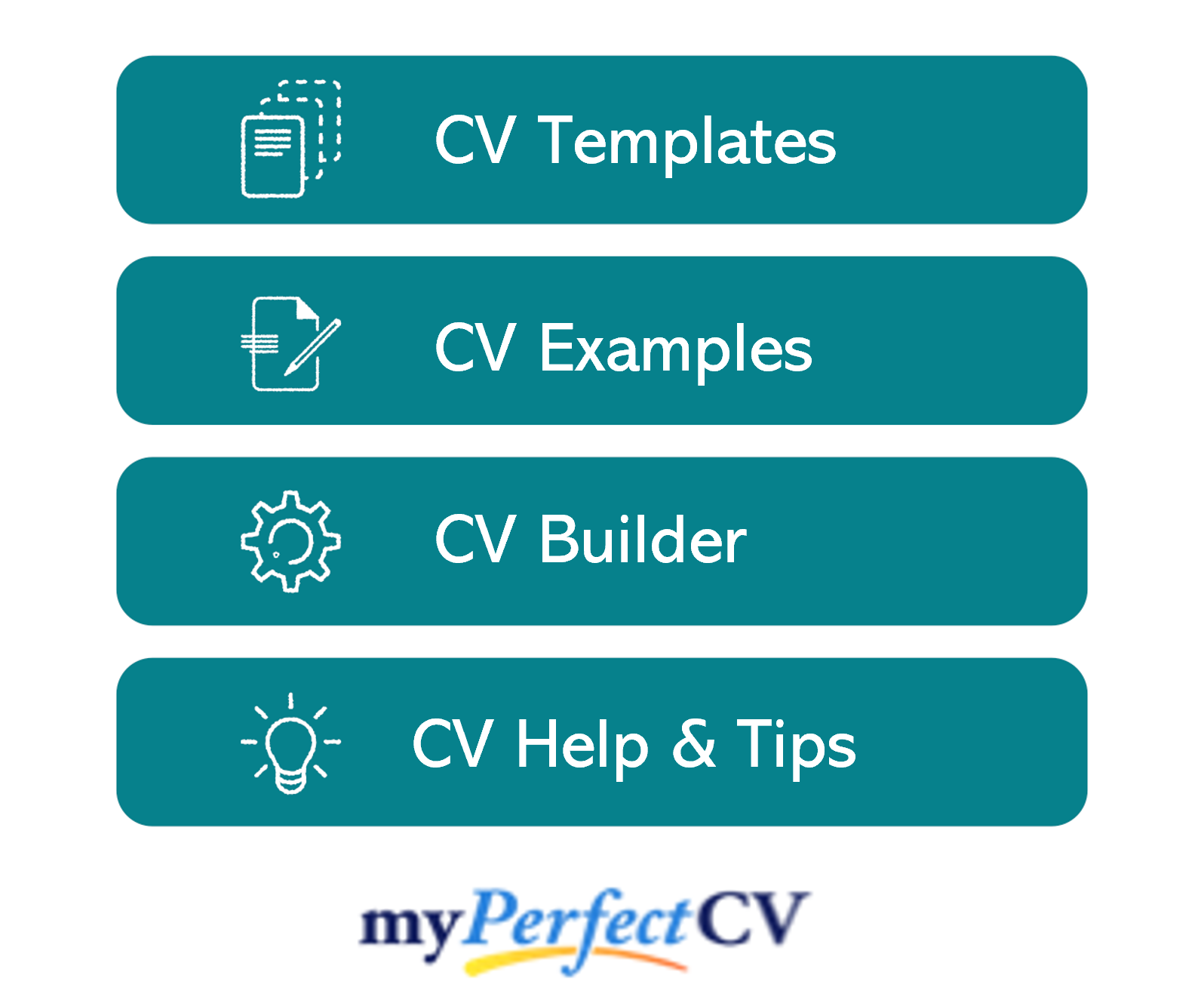 Sign off professionally
To finish off your cover note, add a professional signature to the bottom, stating your important contact details and information.
This not only provides recruiters with multiple means of contacting you, but it also adds a nice professional appearance to the cover letter, which shows that you know how to conduct yourself in the workplace.
Include the following points;
A friendly sign off – e.g. "Warm regards"
Your full name
Phone number (one you can answer quickly)
Email address
Optional
Profession title
Professional social network – e.g. LinkedIn
Here is an example signature;
Warm regards,
Aaron Smith
Customer service professional
075557437373
Aaron@smith.com
LinkedIn
Quick tip: To save yourself from having to write your signature every time you send a job application, you can save it within your email drafts, or on a separate document that you could copy in.

What to include in your Office Manager cover letter
Your Office Manager cover letter will be unique to your situation, but there are certain content guidelines you should stick to for best results.
To attract and entice recruiters, stick with the following key subjects in your cover letter – adapting them to fit your profession and target jobs.
Your professional experience – Employers will be keen to know if your experience is suitable for the job you are applying to, so provide a good summary of it in your cover letter.
Your qualifications and education – Highlight your most relevant and high-level of qualification, especially if they are essential to the job.
The positive impact you have made – Employers love to hear about the benefits you can bring to them, so shout about anything impressive you have done, such as saving money or improving processes.
Your reasons for leaving – Use a few words of your cover letter to explain why you are leaving your current job and ensure you avoid any negative reasons.
Your availability – Let recruiters know when you can start a new job. Are you immediately available, or do you have a month notice period?
Office Manager cover letter templates
Copy and paste these Office Manager cover letter templates to get a head start on your own.
Template 1
Dear Mr. Thompson,
I am writing to apply for the position of Graduate Office Manager at HLE Solutions. With a bachelor's degree in business administration and a keen eye for organisation, I am excited to contribute my skills and dedication to your esteemed production company.
During my studies, I excelled in project management and demonstrated strong leadership abilities as the President of the Business Club. I effectively coordinated events and managed budgets, which resulted in a 20% increase in membership and positive feedback from attendees. My internship at Cruft Manufacturing provided valuable hands-on experience in office administration, where I supported senior administrators with scheduling and record-keeping. Additionally, I streamlined the filing system, reducing retrieval time by 30%.
I believe my adaptability and strong work ethic align perfectly with your HLE Solutions' culture and I am available for an interview at your earliest convenience to discuss my skills further.
Kind regards,
Frances Jackson
Template 2
Hi Sally,
I am excited to apply for the Office Manager position at Stellar Marketing Solutions. With 8+ years of experience in office administration and a proven track record of streamlining operations, I am confident in my ability to support your team.
In my current role as Office Coordinator at SkyTech Innovations, I implemented a new invoice tracking system, reducing payment processing time by 40%. Moreover, my exceptional multitasking skills allowed me to oversee scheduling and office supplies procurement efficiently.
My BTEC Level 4 Diploma in Business Management has equipped me with the skills to lead and motivate a team. In my first role as office assistant at Marcham Lloyd, I was selected by the director to mentor and train new hires on company administration systems, resulting in increased productivity and an 8% reduction in employee turnover.
I believe my experience aligns seamlessly with Stellar Marketing Solutions' objectives and I would like to discuss this further in an interview, which I am available for from next week.
Kind regards,
Nico Williams
Template 3
Hi Nupur,
I am writing to apply for the Senior Office Manager role at CM Consultants. With over two decades of office administration experience within audit and business consultancy, I am eager to contribute my skills to optimise workflow in your team.
In my current position as Senior Administrator at Prime Industries, I spearheaded the implementation of a document management system, resulting in a 30% reduction in administrative errors. I also lead a team in organising large-scale corporate events, including an annual conference with 5,000 attendees, showcasing my project management abilities. Furthermore, in my last role at SLT Ltd I successfully implemented a remote work policy during the pandemic, ensuring uninterrupted operations while maintaining team cohesion. This initiative received praise from senior management and contributed to a seamless transition to remote work for all employees. My BA in Business Administration and ITIL Certificate in Office Management demonstrate my commitment to professional development and industry best practices.
I am deeply impressed by CM Consultants' global reach and dedication to employee growth, and I look forward to discussing how my expertise can contribute to your continued success in an interview.
All the best,
Simon Teller
Writing an impressive cover letter is a crucial step in landing a Office Manager job, so taking the time to perfect it is well worth while.
By following the tips and examples above you will be able to create an eye-catching cover letter that will wow recruiters and ensure your CV gets read – leading to more job interviews for you.
Good luck with your job search!