You've got an impressive array of administrative and transferable skills that make you the ideal candidate for an office assistant.
Now you've got to put your communication skills to the test and write an engaging and persuasive cover letter that will grab the recruiter's attention.
Below, we've put together our expert advice to guide you through the writing process, complete with some office assistant cover letter examples.

Office Assistant cover letter example 1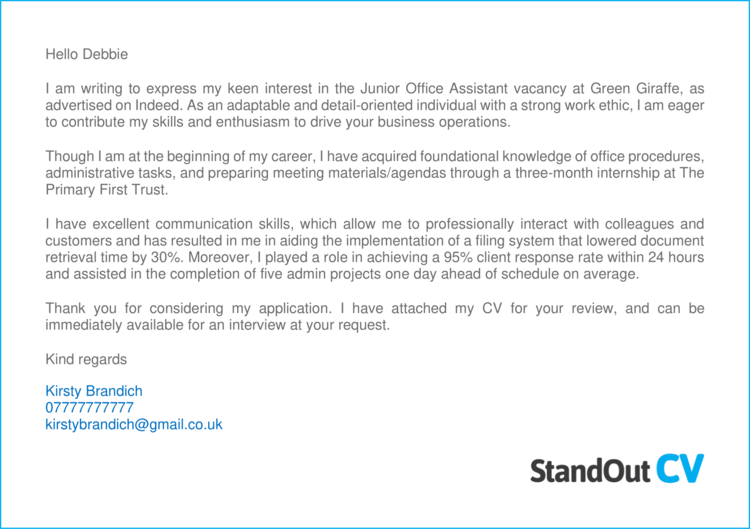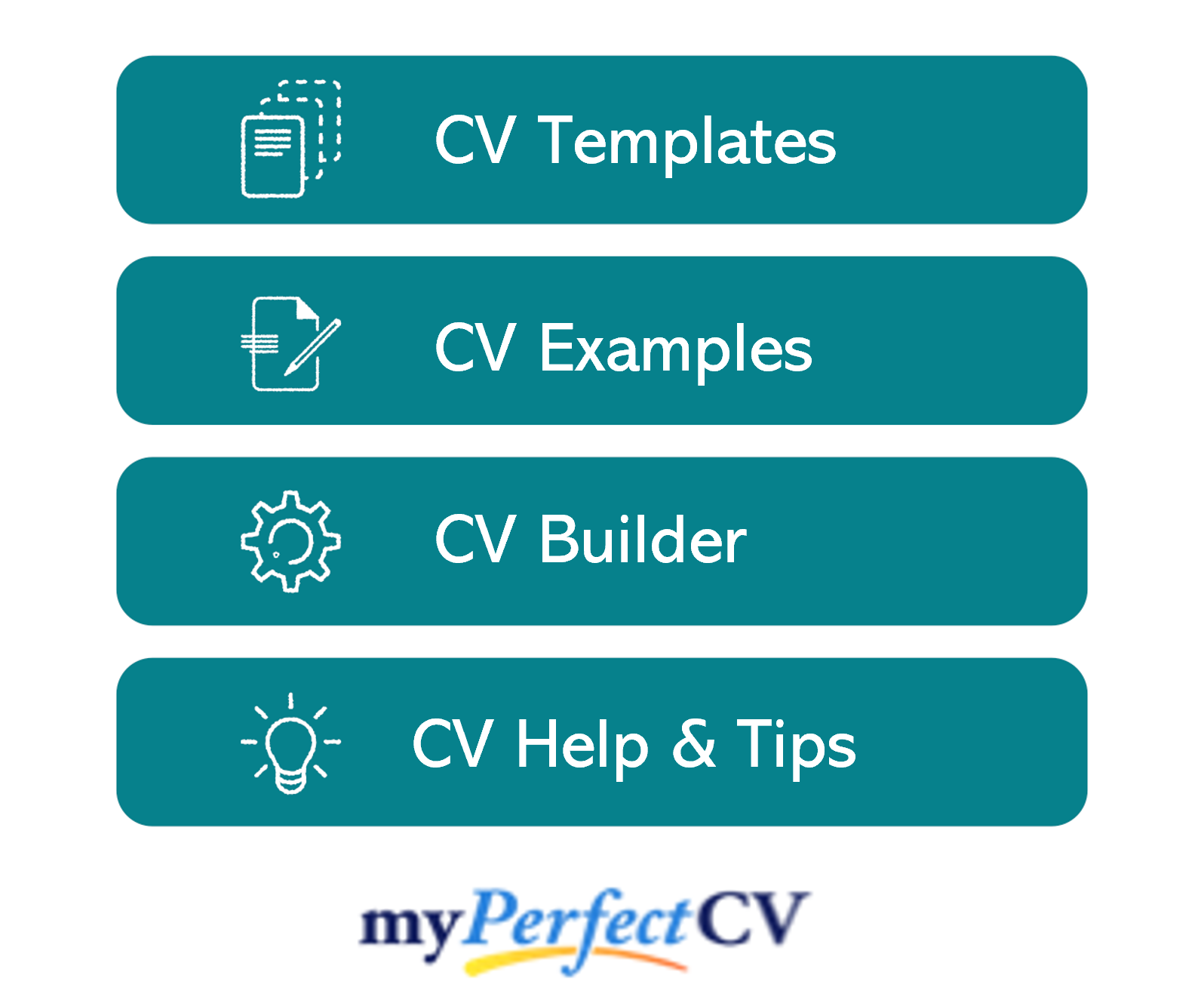 Office Assistant cover letter example 2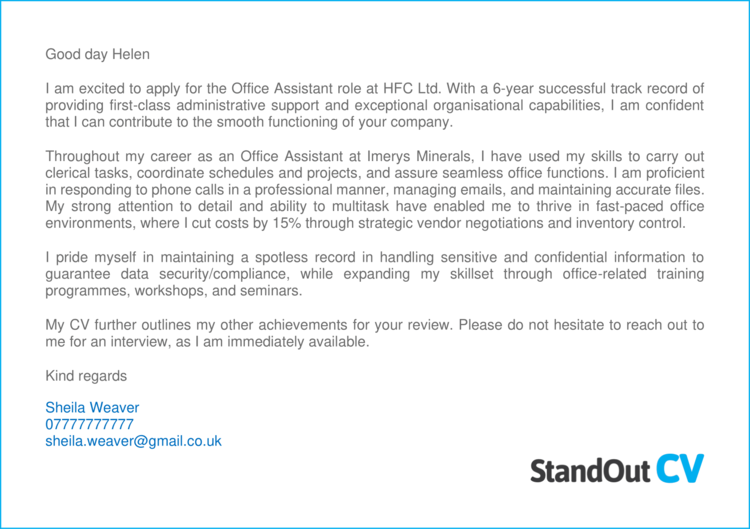 Office Assistant cover letter example 3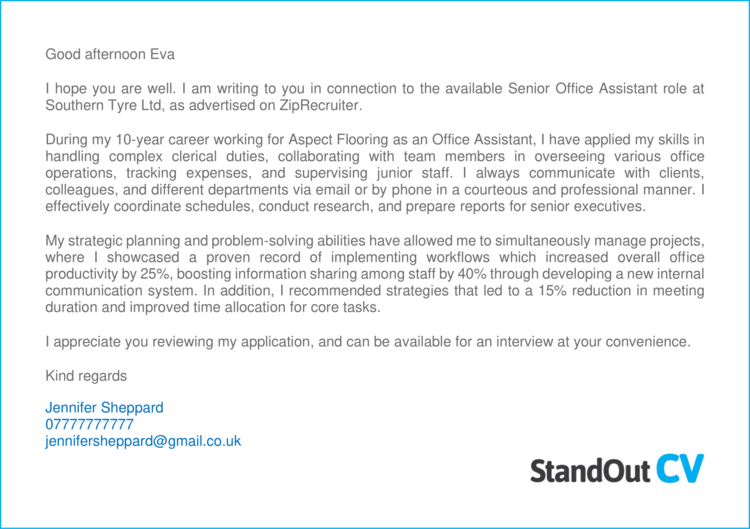 The example cover letters here should give you a good general idea on how your Office Assistant cover letter should be formatted and written.
The rest of this guide gives more specific guidance on how to create your own cover letter in this format, and even includes some templates you can copy and paste.
How to write a Office Assistant cover letter
Here's how to write your own winning Office Assistant cover letter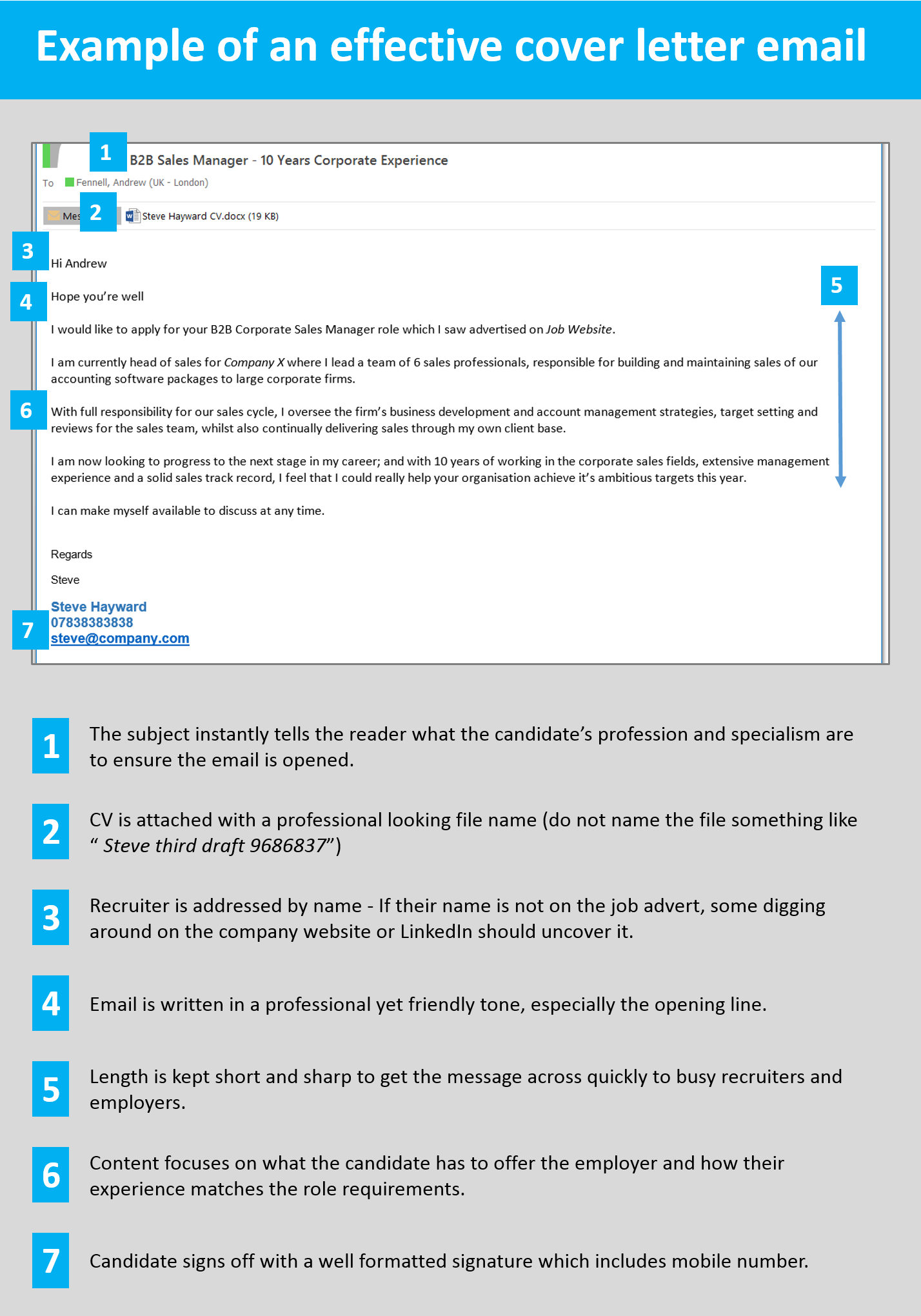 Write your cover letter in the body of an email/message
When writing your Office Assistant cover letter, it's best to type the content into the body of your email (or the job site messaging system) and not to attach the cover letter as a separate document.
This ensures that your cover letter gets seen as soon as a recruiter or employer opens your message.
If you attach the cover letter as a document, you're making the reader go through an unnecessary step of opening the document before reading it.
If it's in the body of the message itself, it will be seen instantly, which hugely increases the chances of it being read.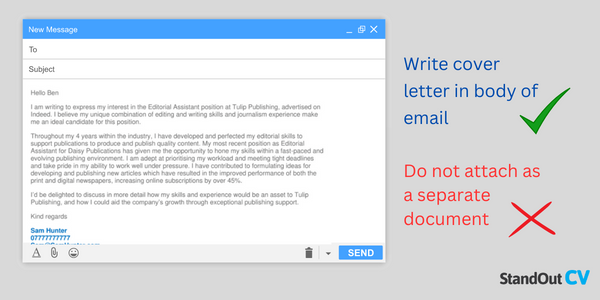 Start with a friendly greeting

To kick your cover letter off, start with a friendly greeting to build rapport with the recruiter instantly.
Your greeting should be personable but professional. Not too casual, but not too formal either
Go with something like…
Hi
Hi [insert recruiter name]
Hi [insert department/team name]
Avoid old-fashioned greetings like "Dear sir/madam" unless applying to very formal companies.
How to find the contact's name?
Addressing the recruitment contact by name is an excellent way to start building a strong relationship. If it is not listed in the job advert, try these methods to find it.
Check out the company website and look at their About page. If you see a hiring manager, HR person or internal recruiter, use their name. You could also try to figure out who would be your manager in the role and use their name.
Head to LinkedIn, search for the company and scan through the list of employees. Most professionals are on LinkedIn these days, so this is a good bet.
Identify the role you are applying for
Now that you have warmed the recruiter up with a friendly greeting, firstly you need to let them know which role you are applying for.
Sometimes a recruitment consultant will be juggling 10 or 10 vacancies, so it's important to specify which one you are applying to.
Give us much detail as possible (team/department, role title etc.) and paste in the reference number if you have one.
Here are some examples you can use.
I am interested in applying for the role of Office Assistant with your company.
I would like to apply for the role of Sales assistant (Ref: 40f57393)
I would like to express my interest in the customer service vacancy within your retail department
I saw your advert for an IT project manager on Reed and would like to apply for the role.
Highlight your suitability
The sole objective of your cover letter is to motivate recruiters into to opening your CV. And you achieve this by quickly explaining your suitability to the roles you are applying for.
Take a look at the job descriptions you are applying to, and make note of the most important skills and qualifications being asked for.
Then, when crafting your cover letter, make your suitability the central focus.
Explain why you are the best qualified candidate, and why you are so well suited to carry out the job.
This will give recruiters all the encouragement they need to open your CV and consider you for the job.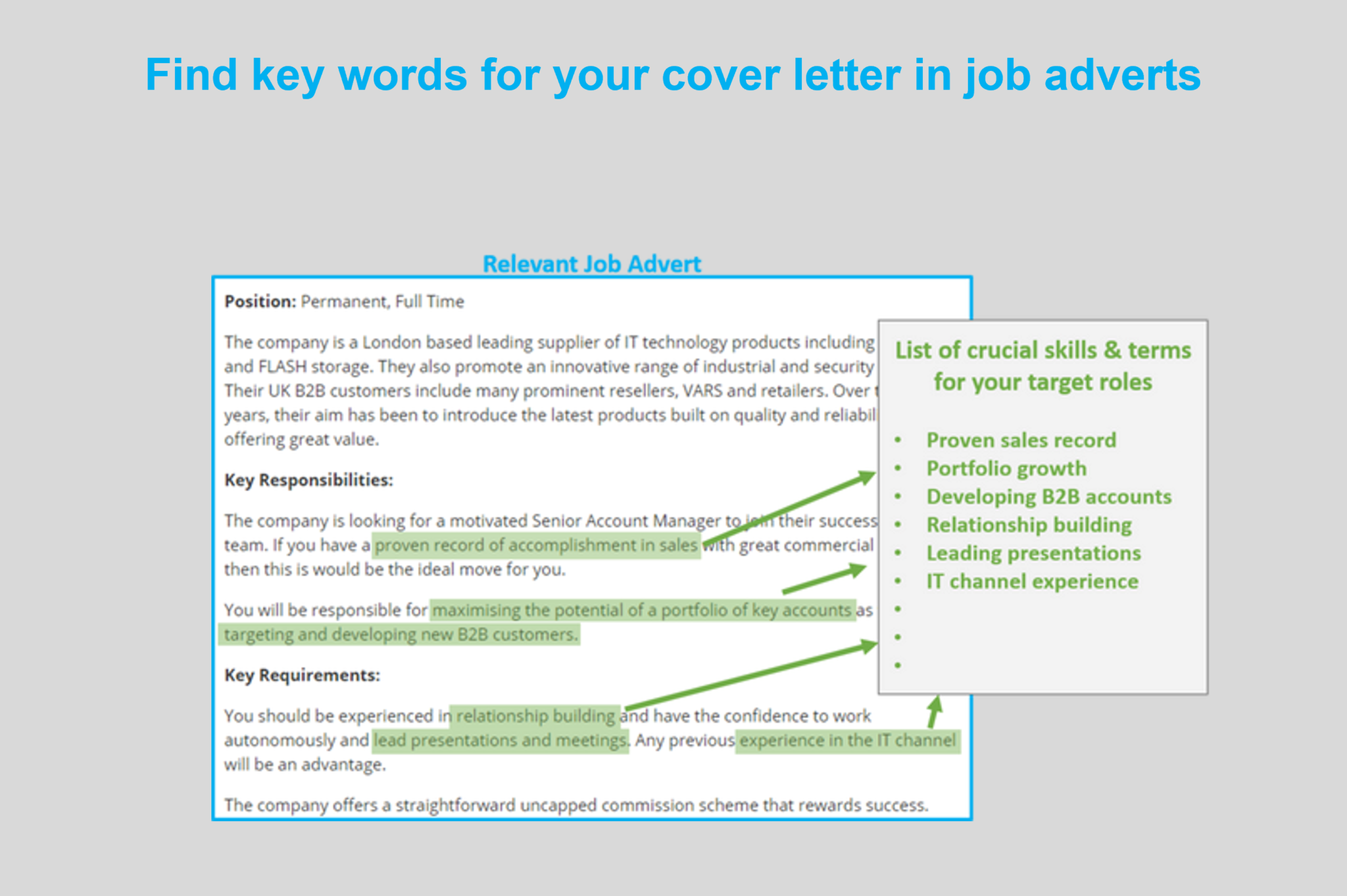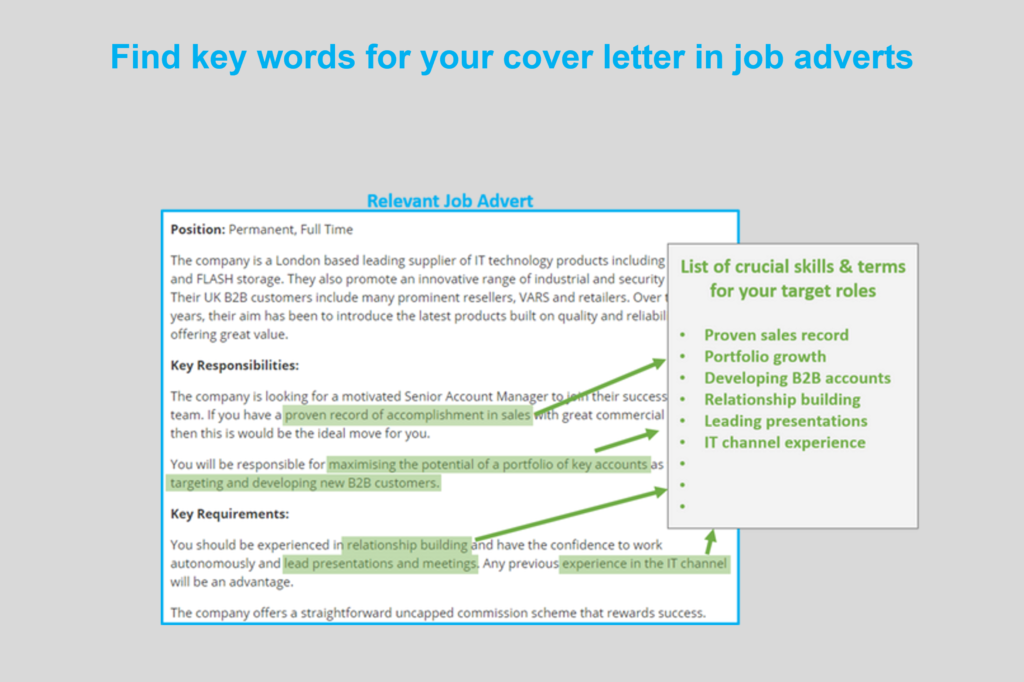 Keep it short and sharp
It is best to keep your cover letter brief if you want to ensure you hold the attention of busy recruiters and hiring managers. A lengthy cover letter will probably not get read in full, so keep yours to around 3-6 sentences and save the real detail for your CV.
Remember the purpose of your cover letter is to quickly get recruiters to notice you and encourage them to open your CV, so it only needs to include the highlights of your experience.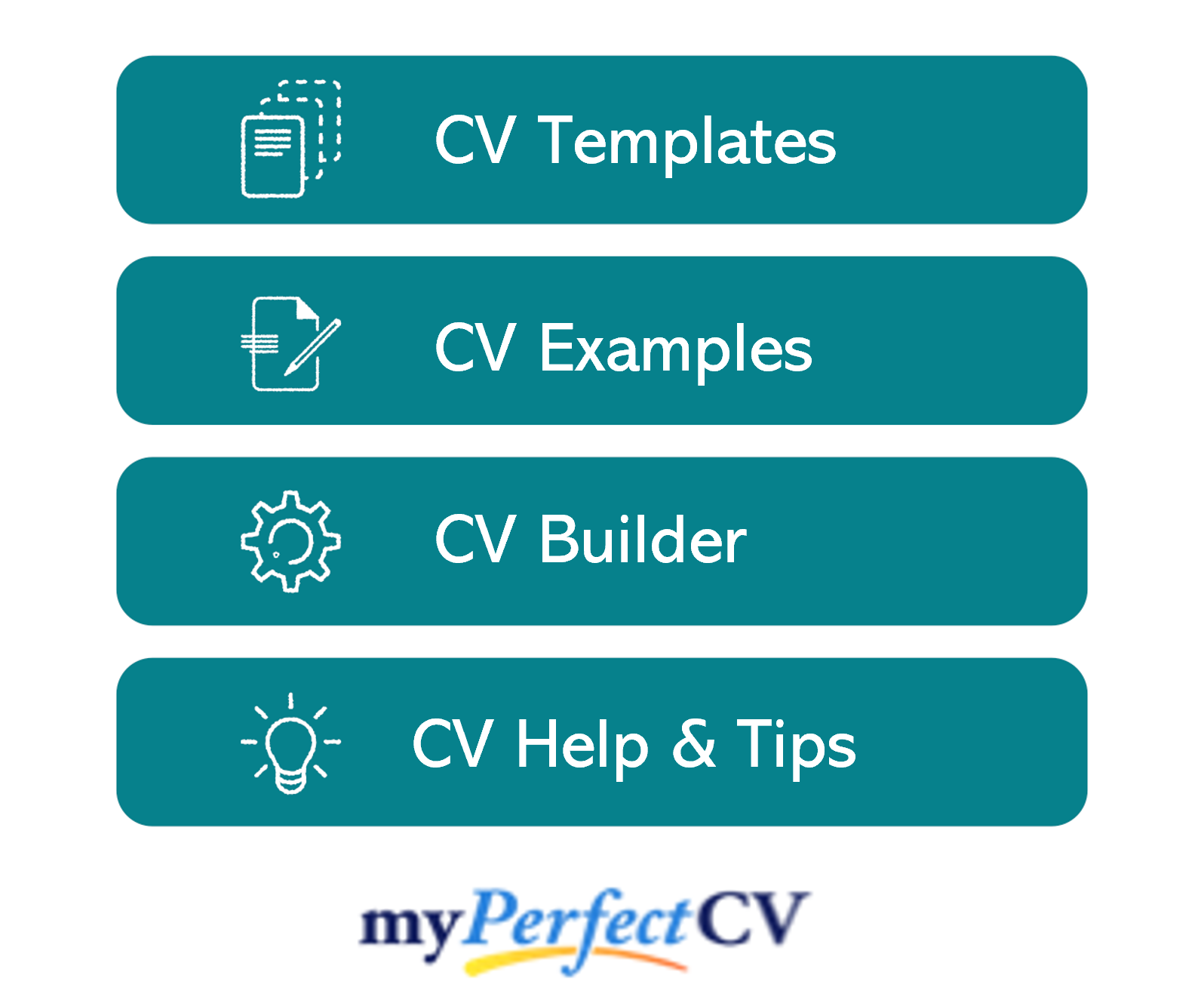 Sign off professionally
To round of your cover letter, add a professional signature to the bottom, giving recruiters your vital contact information.
This not only gives various means of contacting you, it also looks really professional and shows that you know how to communicate in the workplace.
Include the following points;
A friendly sign off – e.g. "Warm regards"
Your full name
Phone number (one you can answer quickly)
Email address
Optional
Profession title
Professional social network – e.g. LinkedIn
Here is an example signature;
Warm regards,
Gerald Baker
Senior Accountant
07887500404
Gbaker213@hotmail.com
LinkedIn
Quick tip: To save yourself from having to write your signature every time you send a job application email, you can save it within your email drafts, or on a separate document that you could copy in.

What to include in your Office Assistant cover letter
Your Office Assistant cover letter will be unique to your situation, but there are certain content guidelines you should stick to for best results.
To attract and entice recruiters, stick with the following key subjects in your cover letter – adapting them to fit your profession and target jobs.
Your professional experience – Employers will be keen to know if your experience is suitable for the job you are applying to, so provide a good summary of it in your cover letter.
Your qualifications and education – Highlight your most relevant and high-level of qualification, especially if they are essential to the job.
The positive impact you have made – Employers love to hear about the benefits you can bring to them, so shout about anything impressive you have done, such as saving money or improving processes.
Your reasons for leaving – Use a few words of your cover letter to explain why you are leaving your current job and ensure you avoid any negative reasons.
Your availability – Let recruiters know when you can start a new job. Are you immediately available, or do you have a month notice period?
Office Assistant cover letter templates
Copy and paste these Office Assistant cover letter templates to get a head start on your own.
Template 1
Hello Debbie
I am writing to express my keen interest in the Junior Office Assistant vacancy at Green Giraffe, as advertised on Indeed. As an adaptable and detail-oriented individual with a strong work ethic, I am eager to contribute my skills and enthusiasm to drive your business operations.
Though I am at the beginning of my career, I have acquired foundational knowledge of office procedures, administrative tasks, and preparing meeting materials/agendas through a three-month internship at The Primary First Trust.
I have excellent communication skills, which allow me to professionally interact with colleagues and customers and has resulted in me in aiding the implementation of a filing system that lowered document retrieval time by 30%. Moreover, I played a role in achieving a 95% client response rate within 24 hours and assisted in the completion of five admin projects one day ahead of schedule on average.
Thank you for considering my application. I have attached my CV for your review and can be immediately available for an interview at your request.
Kind regards
Kirsty Brandich
Template 2
Good day Helen
I am excited to apply for the Office Assistant role at HFC Ltd. With a 6-year successful track record of providing first-class administrative support and exceptional organisational capabilities, I am confident that I can contribute to the smooth functioning of your company.
Throughout my career as an Office Assistant at Imerys Minerals, I have used my skills to carry out clerical tasks, coordinate schedules and projects, and assure seamless office functions. I am proficient in responding to phone calls in a professional manner, managing emails, and maintaining accurate files. My strong attention to detail and ability to multitask have enabled me to thrive in fast-paced office environments, where I cut costs by 15% through strategic vendor negotiations and inventory control.
I pride myself in maintaining a spotless record in handling sensitive and confidential information to guarantee data security/compliance, while expanding my skillset through office-related training programmes, workshops, and seminars.
My CV further outlines my other achievements for your review. Please do not hesitate to reach out to me for an interview, as I am immediately available.
Kind regards
Sheila Weaver
Template 3
Good afternoon, Eva
I hope you are well. I am writing to you in connection to the available Senior Office Assistant role at Southern Tyre Ltd, as advertised on ZipRecruiter.
During my 10-year career working for Aspect Flooring as an Office Assistant, I have applied my skills in handling complex clerical duties, collaborating with team members in overseeing various office operations, tracking expenses, and supervising junior staff. I always communicate with clients, colleagues, and different departments via email or by phone in a courteous and professional manner. I effectively coordinate schedules, conduct research, and prepare reports for senior executives.
My strategic planning and problem-solving abilities have allowed me to simultaneously manage projects, where I showcased a proven record of implementing workflows which increased overall office productivity by 25%, boosting information sharing among staff by 40% through developing a new internal communication system. In addition, I recommended strategies that led to a 15% reduction in meeting duration and improved time allocation for core tasks.
I appreciate you reviewing my application and can be available for an interview at your convenience.
Kind regards
Jennifer Sheppard
Writing a strong attention-grabbing cover letter is a vital step in landing a good Office Assistant job.
Use the tips, strategies and examples above to get more responses from you job applications and start lining job interview up.
Good luck with your job search!