It doesn't matter whether you are trying to get your foot in the hospital door or you're an experienced medical receptionist, this is a very important role in the healthcare industry.
So in order to land the job, you need to prove to the recruiter you've got the necessary administration skills, and that requires an impressive cover letter.
For top tips and writing advice, we prescribe our detailed guide and medical receptionist cover letter examples below.

Medical Receptionist cover letter example 1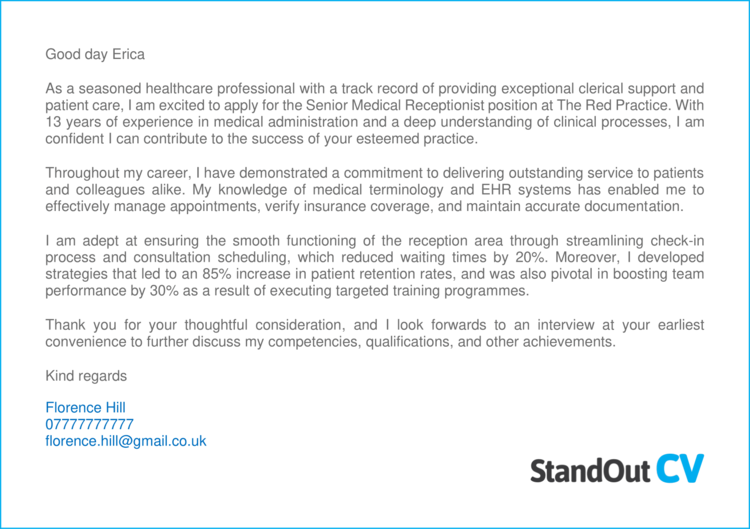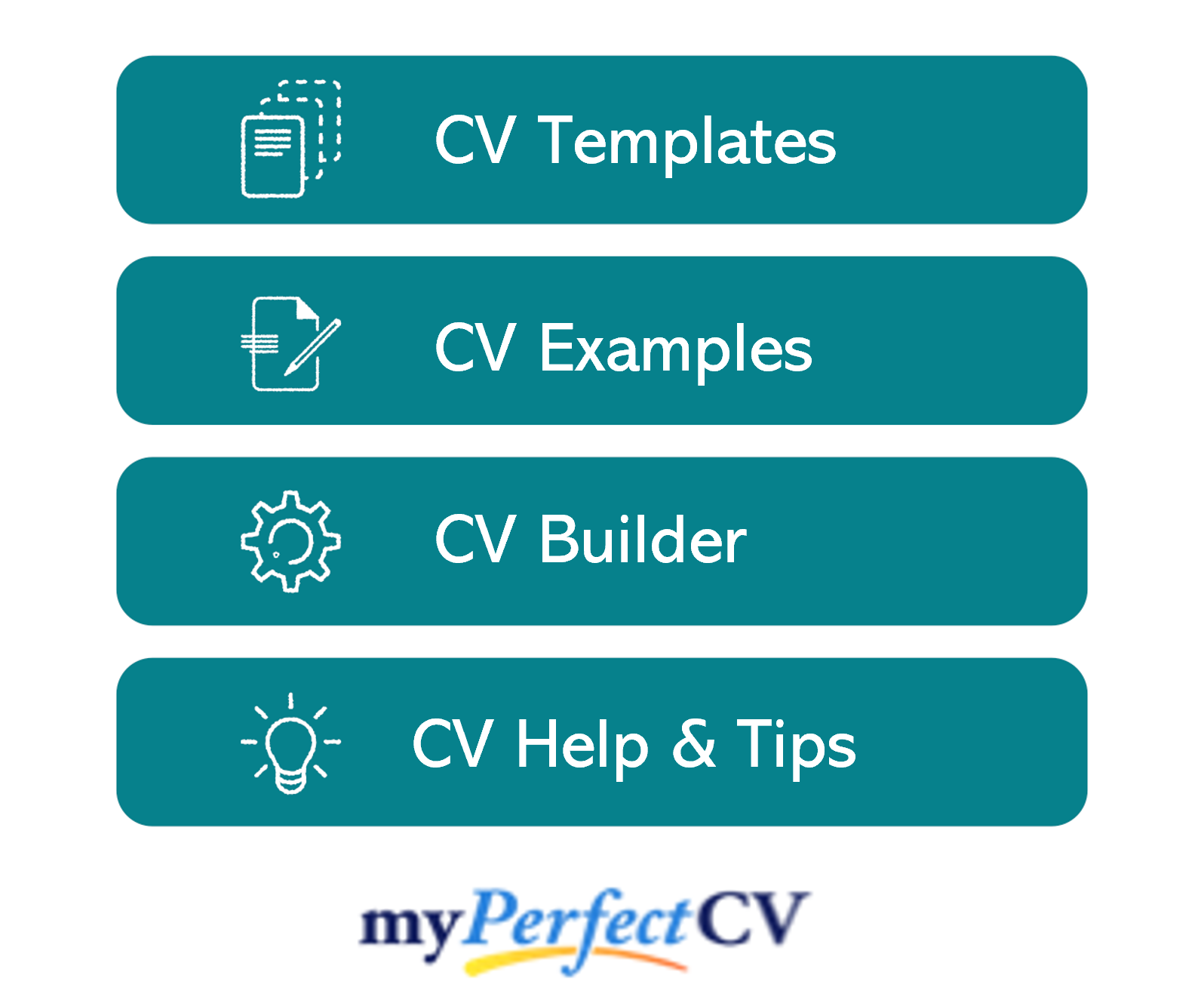 Medical Receptionist cover letter example 2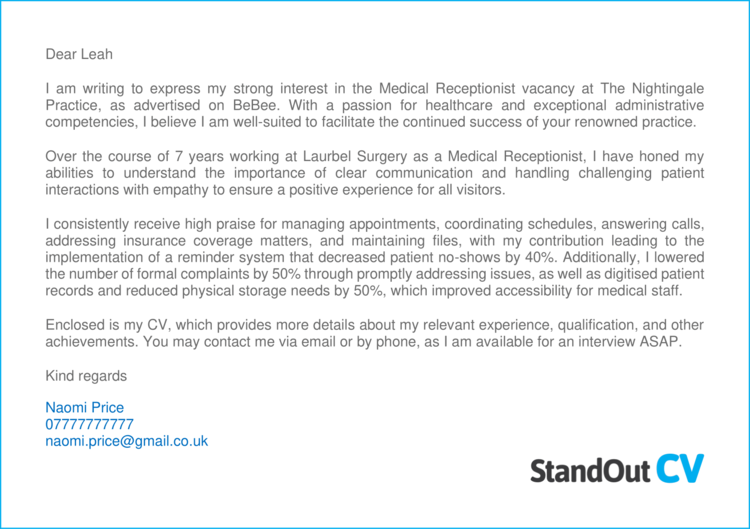 Medical Receptionist cover letter example 3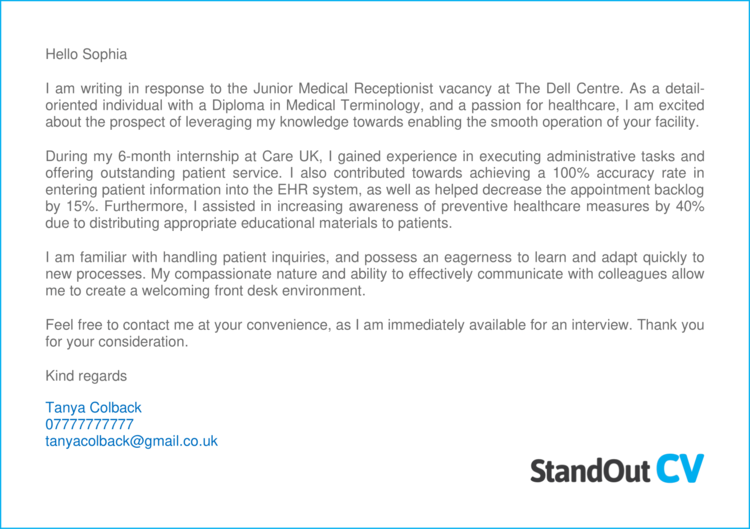 The Medical Receptionist cover letter examples above should give you a good idea of the type of content you need to include in your own cover letter, and how it should be structured.
But if you're really looking to wow recruiters and get your CV in front of the very best employers, then check out our guidance on how to write your own effective cover letter below.
How to write a Medical Receptionist cover letter
Here's how you can write your own eye-catching cover letter, broken down into simple steps.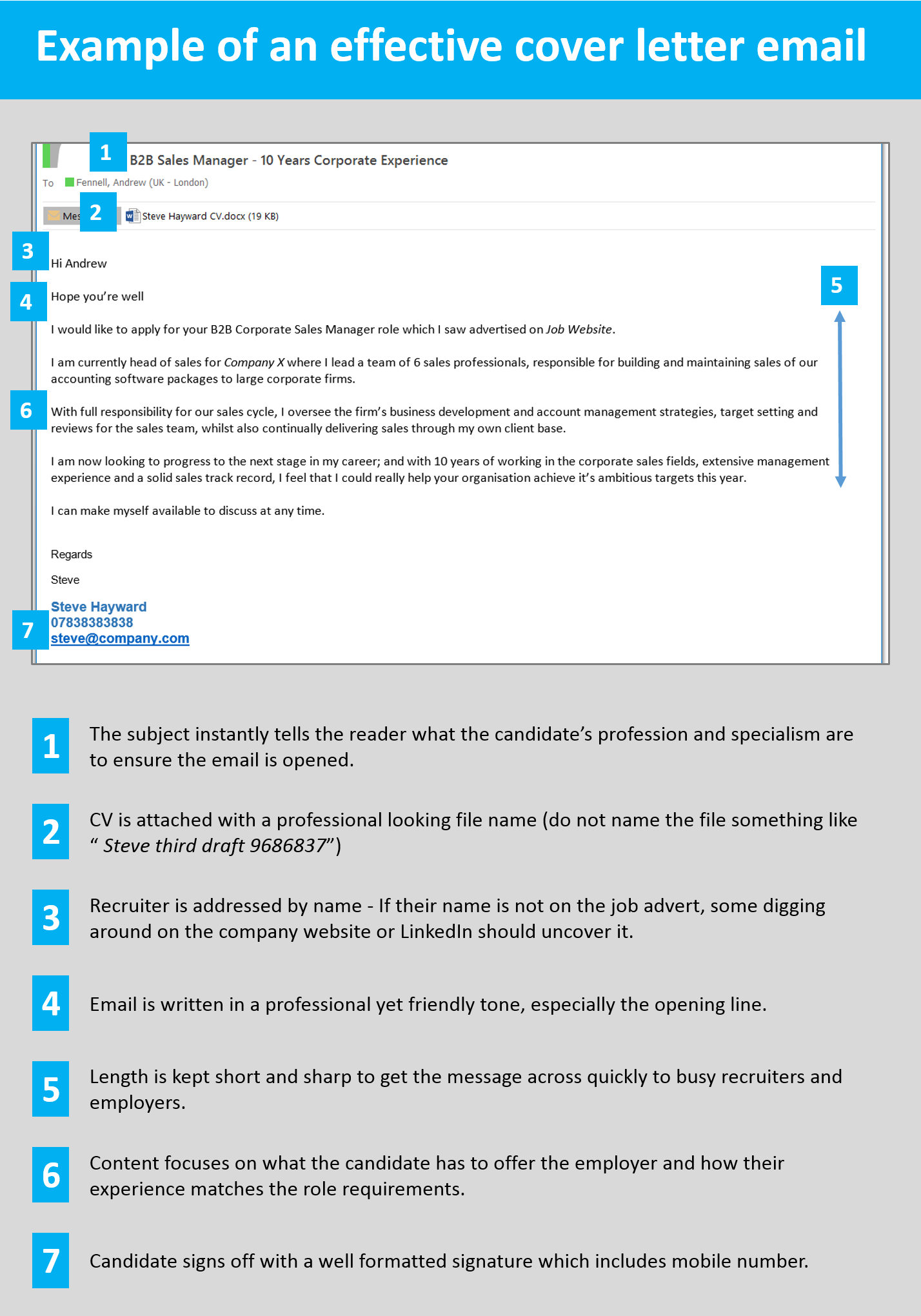 Write your cover letter in the body of an email/message
Type the content of your cover letter directly into the email you are sending, or if you are applying via a job board, directly into their messaging system.
The reason for doing this it to ensure that your cover letter gets seen instantly and you can start connecting with the recruiter as soon as they open your message.
If you attach your cover letter as a separate document, the recipient will have to open up the document, which will slow the process down, or make them less likely to even open your cover letter – which could mean your application gets skipped over.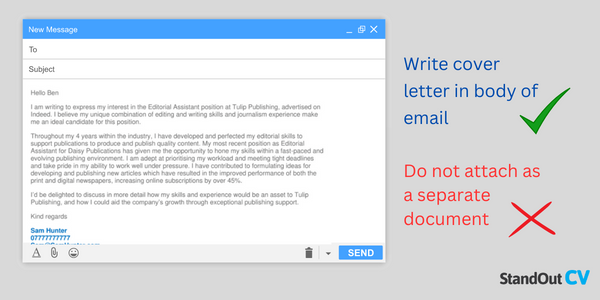 Start with a friendly greeting

Start you cover letter with a greeting that is professional but friendly.
This will build rapport with the recruiter whilst showing your professionalism.
Hi, hope you're well
Hi [insert recruiter name]
Hi [insert department/team name]
Avoid overly formal greetings like "Dear sir/madam" unless applying to very traditional companies.
How to find the contact's name?
Addressing the recruitment contact by name is an excellent way to start building a strong relationship. If it is not listed in the job advert, try these methods to find it.
Check out the company website and look at their About page. If you see a hiring manager, HR person or internal recruiter, use their name. You could also try to figure out who would be your manager in the role and use their name.
Head to LinkedIn, search for the company and scan through the list of employees. Most professionals are on LinkedIn these days, so this is a good bet.
Identify the role you are applying for
Now that you have warmed the recruiter up with a friendly greeting, firstly you need to let them know which role you are applying for.
Sometimes a recruitment consultant will be juggling 10 or 10 vacancies, so it's important to specify which one you are applying to.
Give us much detail as possible (team/department, role title etc.) and paste in the reference number if you have one.
Here are some examples you can use.
I am interested in applying for the role of Medical Receptionist with your company.
I would like to apply for the role of Sales assistant (Ref: 40f57393)
I would like to express my interest in the customer service vacancy within your retail department
I saw your advert for an IT project manager on Reed and would like to apply for the role.
Highlight your suitability
The bulk of your cover letter should be focused around highlighting your suitability for the job you are applying to.
Doing this will show the recruiter that you are suitable candidate and encourage them to open your CV.
The best way to do this, is by studying the job advert you are applying to, and find out what the most important skills and knowledge are.
Once you know the most important requirements, you then need to highlight your matching skills to the recruiter. In a few sentences, tell them exactly why you are a good fit for the job and what you can offer the company.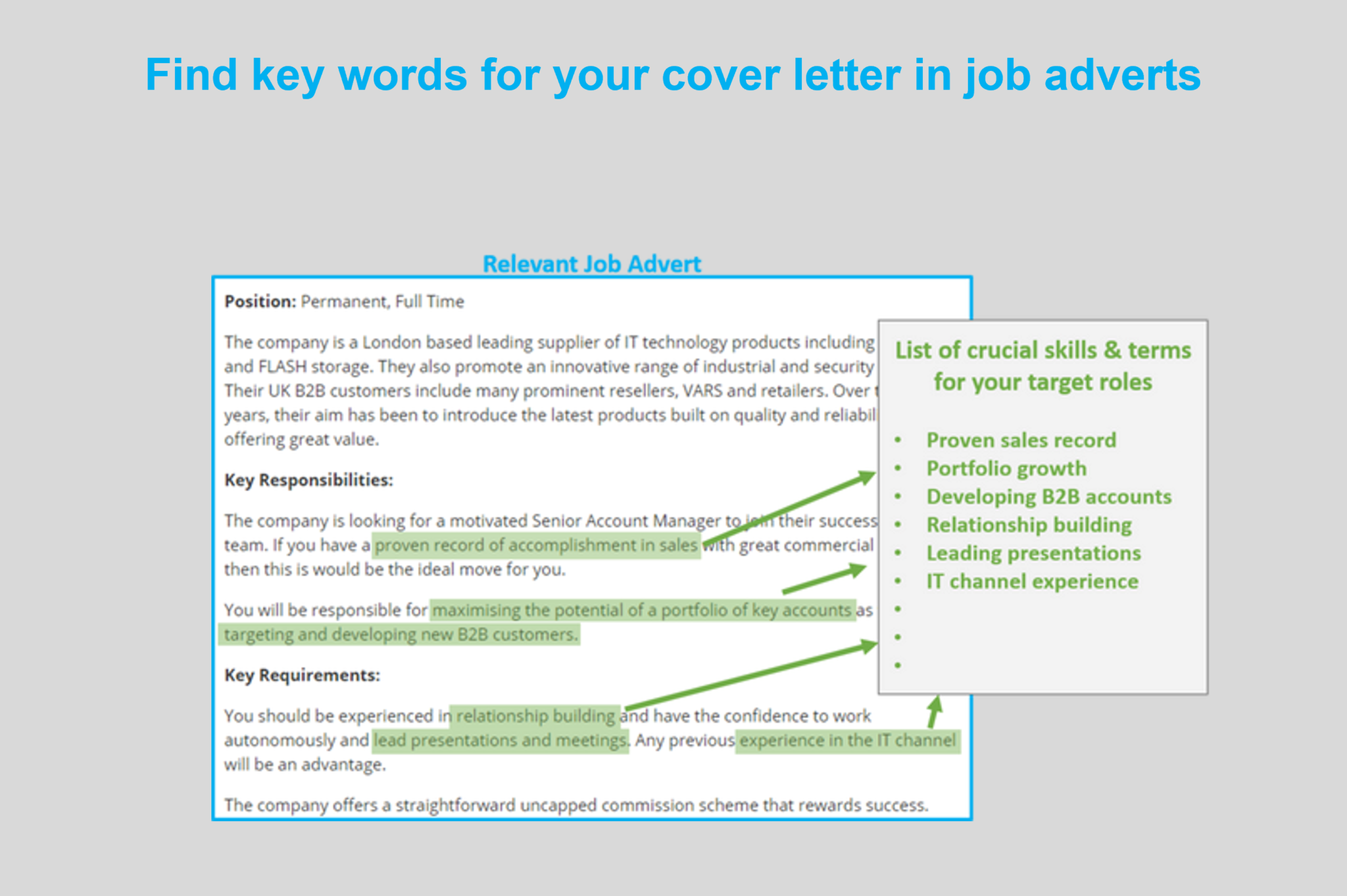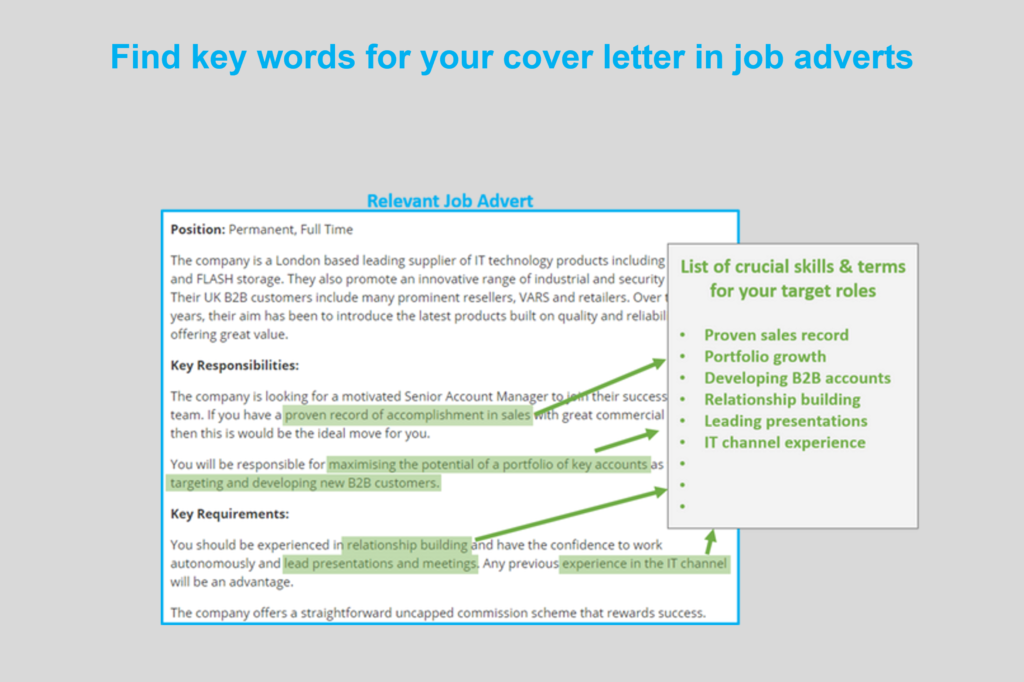 Keep it short and sharp
A good cover letter is short and sharp, getting to the point quickly with just enough information to grab the attention of recruiters.
Ideally your cover letter should be around 4-8 sentences long – anything longer will risk losing the attention of time-strapped recruiters and hiring managers.
Essentially you need to include just enough information to persuade the reader to open up your CV, where the in-depth details will sit.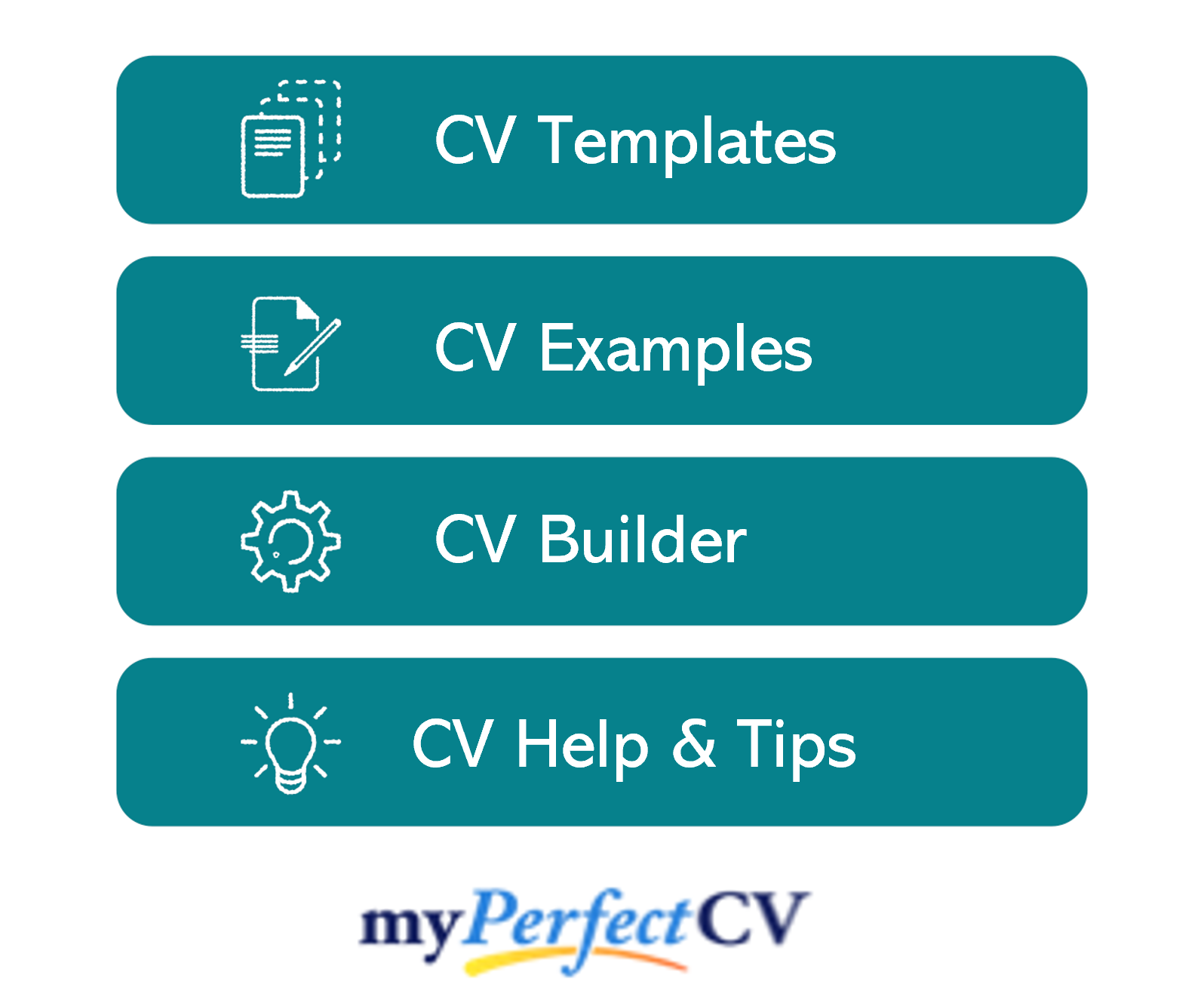 Sign off professionally
To round of your cover letter, add a professional signature to the bottom, giving recruiters your vital contact information.
This not only gives various means of contacting you, it also looks really professional and shows that you know how to communicate in the workplace.
Include the following points;
A friendly sign off – e.g. "Warm regards"
Your full name
Phone number (one you can answer quickly)
Email address
Optional
Profession title
Professional social network – e.g. LinkedIn
Here is an example signature;
Warm regards,
Gerald Baker
Senior Accountant
07887500404
Gbaker213@hotmail.com
LinkedIn
Quick tip: To save yourself from having to write your signature every time you send a job application email, you can save it within your email drafts, or on a separate document that you could copy in.

What to include in your Medical Receptionist cover letter
Your Medical Receptionist cover letter will be unique to your situation, but there are certain content guidelines you should stick to for best results.
To attract and entice recruiters, stick with the following key subjects in your cover letter – adapting them to fit your profession and target jobs.
Your professional experience – Employers will be keen to know if your experience is suitable for the job you are applying to, so provide a good summary of it in your cover letter.
Your qualifications and education – Highlight your most relevant and high-level of qualification, especially if they are essential to the job.
The positive impact you have made – Employers love to hear about the benefits you can bring to them, so shout about anything impressive you have done, such as saving money or improving processes.
Your reasons for leaving – Use a few words of your cover letter to explain why you are leaving your current job and ensure you avoid any negative reasons.
Your availability – Let recruiters know when you can start a new job. Are you immediately available, or do you have a month notice period?
Medical Receptionist cover letter templates
Copy and paste these Medical Receptionist cover letter templates to get a head start on your own.
Template 1
Good day Erica
As a seasoned healthcare professional with a track record of providing exceptional clerical support and patient care, I am excited to apply for the Senior Medical Receptionist position at The Red Practice. With 13 years of experience in medical administration and a deep understanding of clinical processes, I am confident I can contribute to the success of your esteemed practice.
Throughout my career, I have demonstrated a commitment to delivering outstanding service to patients and colleagues alike. My knowledge of medical terminology and EHR systems has enabled me to effectively manage appointments, verify insurance coverage, and maintain accurate documentation.
I am adept at ensuring the smooth functioning of the reception area through streamlining check-in process and consultation scheduling, which reduced waiting times by 20%. Moreover, I developed strategies that led to an 85% increase in patient retention rates and was also pivotal in boosting team performance by 30% as a result of executing targeted training programmes.
Thank you for your thoughtful consideration, and I look forwards to an interview at your earliest convenience to further discuss my competencies, qualifications, and other achievements.
Kind regards
Florence Hill
Template 2
Dear Leah
I am writing to express my strong interest in the Medical Receptionist vacancy at The Nightingale Practice, as advertised on BeBee. With a passion for healthcare and exceptional administrative competencies, I believe I am well-suited to facilitate the continued success of your renowned practice.
Over the course of 7 years working at Laurbel Surgery as a Medical Receptionist, I have honed my abilities to understand the importance of clear communication and handling challenging patient interactions with empathy to ensure a positive experience for all visitors.
I consistently receive high praise for managing appointments, coordinating schedules, answering calls, addressing insurance coverage matters, and maintaining files, with my contribution leading to the implementation of a reminder system that decreased patient no-shows by 40%. Additionally, I lowered the number of formal complaints by 50% through promptly addressing issues, as well as digitised patient records and reduced physical storage needs by 50%, which improved accessibility for medical staff.
Enclosed is my CV, which provides more details about my relevant experience, qualification, and other achievements. You may contact me via email or by phone, as I am available for an interview ASAP.
Kind regards
Naomi Price
Template 3
Hello Sophia
I am writing in response to the Junior Medical Receptionist vacancy at The Dell Centre. As a detail-oriented individual with a Diploma in Medical Terminology, and a passion for healthcare, I am excited about the prospect of leveraging my knowledge towards enabling the smooth operation of your facility.
During my 6-month internship at Care UK, I gained experience in executing administrative tasks and offering outstanding patient service. I also contributed towards achieving a 100% accuracy rate in entering patient information into the EHR system, as well as helped decrease the appointment backlog by 15%. Furthermore, I assisted in increasing awareness of preventive healthcare measures by 40% due to distributing appropriate educational materials to patients.
I am familiar with handling patient inquiries and possess an eagerness to learn and adapt quickly to new processes. My compassionate nature and ability to effectively communicate with colleagues allow me to create a welcoming front desk environment.
Feel free to contact me at your convenience, as I am immediately available for an interview. Thank you for your consideration.
Kind regards
Tanya Colback
Writing a strong attention-grabbing cover letter is a vital step in landing a good Medical Receptionist job.
Use the tips, strategies and examples above to get more responses from you job applications and start lining job interview up.
Good luck with your job search!