Did you know that McKinsey receives 200,000 applications a year from professionals who want to join the business?
That's some pretty big competition.
So if you want to stand out and make it through to the interview stage, your application needs to be pretty spectacular.
Find out how to make an impression using our detailed guide and McKinsey cover letter examples below.

McKinsey cover letter example 1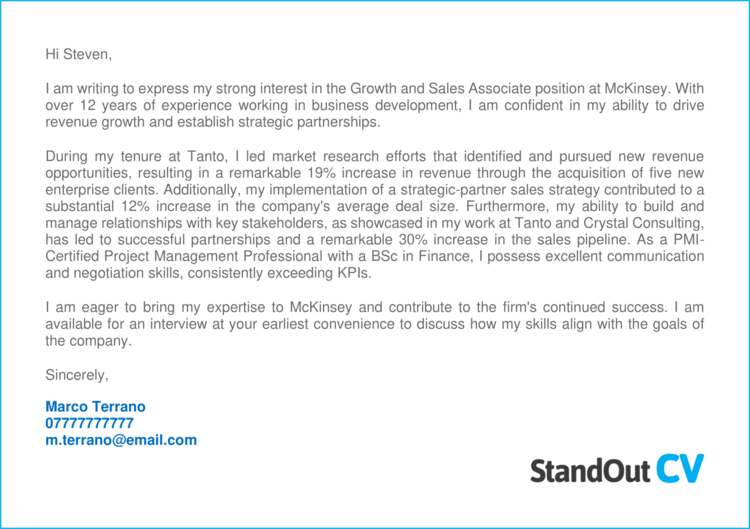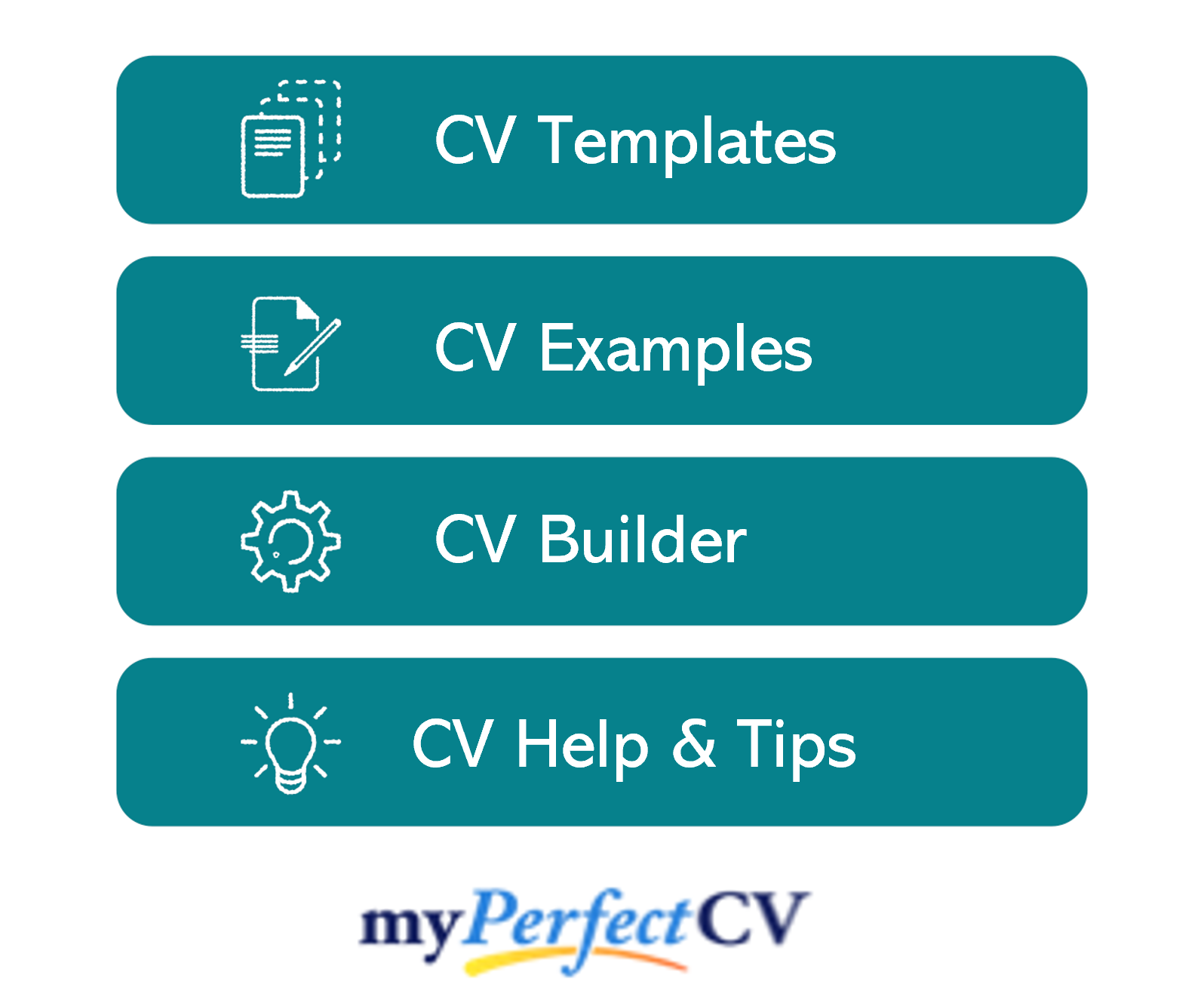 McKinsey cover letter example 2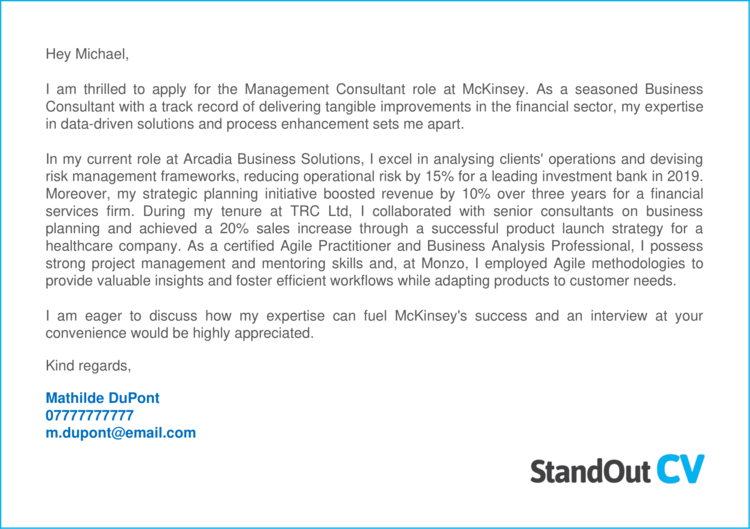 McKinsey cover letter example 3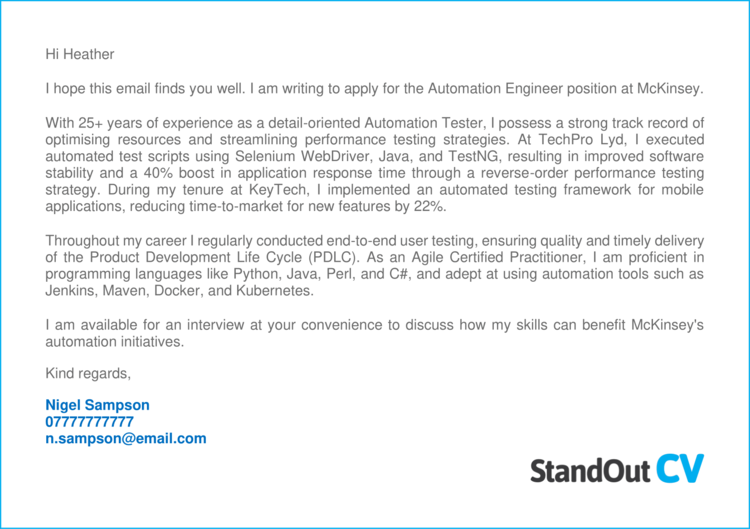 The example cover letters here should give you a good general idea on how your McKinsey cover letter should be formatted and written.
The rest of this guide gives more specific guidance on how to create your own cover letter in this format, and even includes some templates you can copy and paste.
How to write a McKinsey cover letter
Here's a simple process to write your own interview-winning cover letter.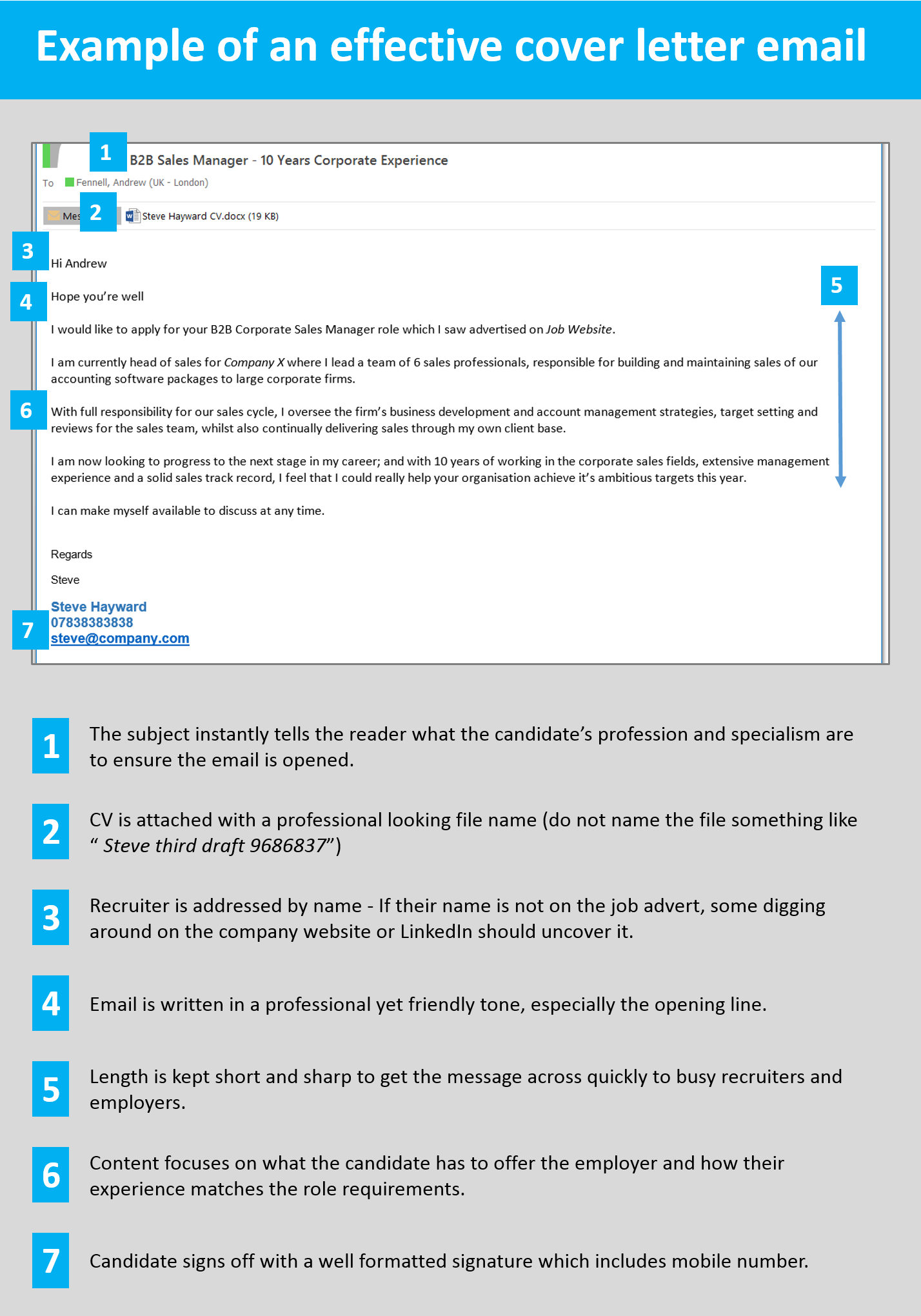 Write your cover letter in the body of an email/message
When writing your McKinsey cover letter, it's best to type the content into the body of your email (or the job site messaging system) and not to attach the cover letter as a separate document.
This ensures that your cover letter gets seen as soon as a recruiter or employer opens your message.
If you attach the cover letter as a document, you're making the reader go through an unnecessary step of opening the document before reading it.
If it's in the body of the message itself, it will be seen instantly, which hugely increases the chances of it being read.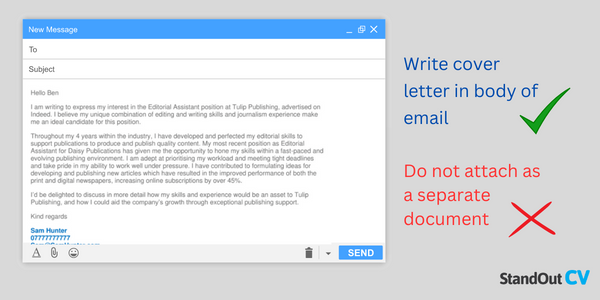 Start with a friendly greeting

Start you cover letter with a greeting that is professional but friendly.
This will build rapport with the recruiter whilst showing your professionalism.
Hi, hope you're well
Hi [insert recruiter name]
Hi [insert department/team name]
Avoid overly formal greetings like "Dear sir/madam" unless applying to very traditional companies.
How to find the contact's name?
Addressing the recruitment contact by name is an excellent way to start building a strong relationship. If it is not listed in the job advert, try these methods to find it.
Check out the company website and look at their About page. If you see a hiring manager, HR person or internal recruiter, use their name. You could also try to figure out who would be your manager in the role and use their name.
Head to LinkedIn, search for the company and scan through the list of employees. Most professionals are on LinkedIn these days, so this is a good bet.
Identify the role you are applying for
After you have greeted the recruiter, it's important to state the job you are applying to.
Recruiters are often managing multiple vacancies, so they need to know exactly which job you are referring to.
Be as specific as possible and use a reference number if you can find one.
Here are some examples you can use;
I am interested in applying for the role of admin assistant with your organisation.
I would like to apply for the role of Sales assistant (Ref: 4057393)
I would like to express my interest in the customer service vacancy within your retail department
I saw your advertisement for a trainee project manager on Reed and would like to apply for the role.
Highlight your suitability
The bulk of your cover letter should be focused around highlighting your suitability for the job you are applying to.
Doing this will show the recruiter that you are suitable candidate and encourage them to open your CV.
The best way to do this, is by studying the job advert you are applying to, and find out what the most important skills and knowledge are.
Once you know the most important requirements, you then need to highlight your matching skills to the recruiter. In a few sentences, tell them exactly why you are a good fit for the job and what you can offer the company.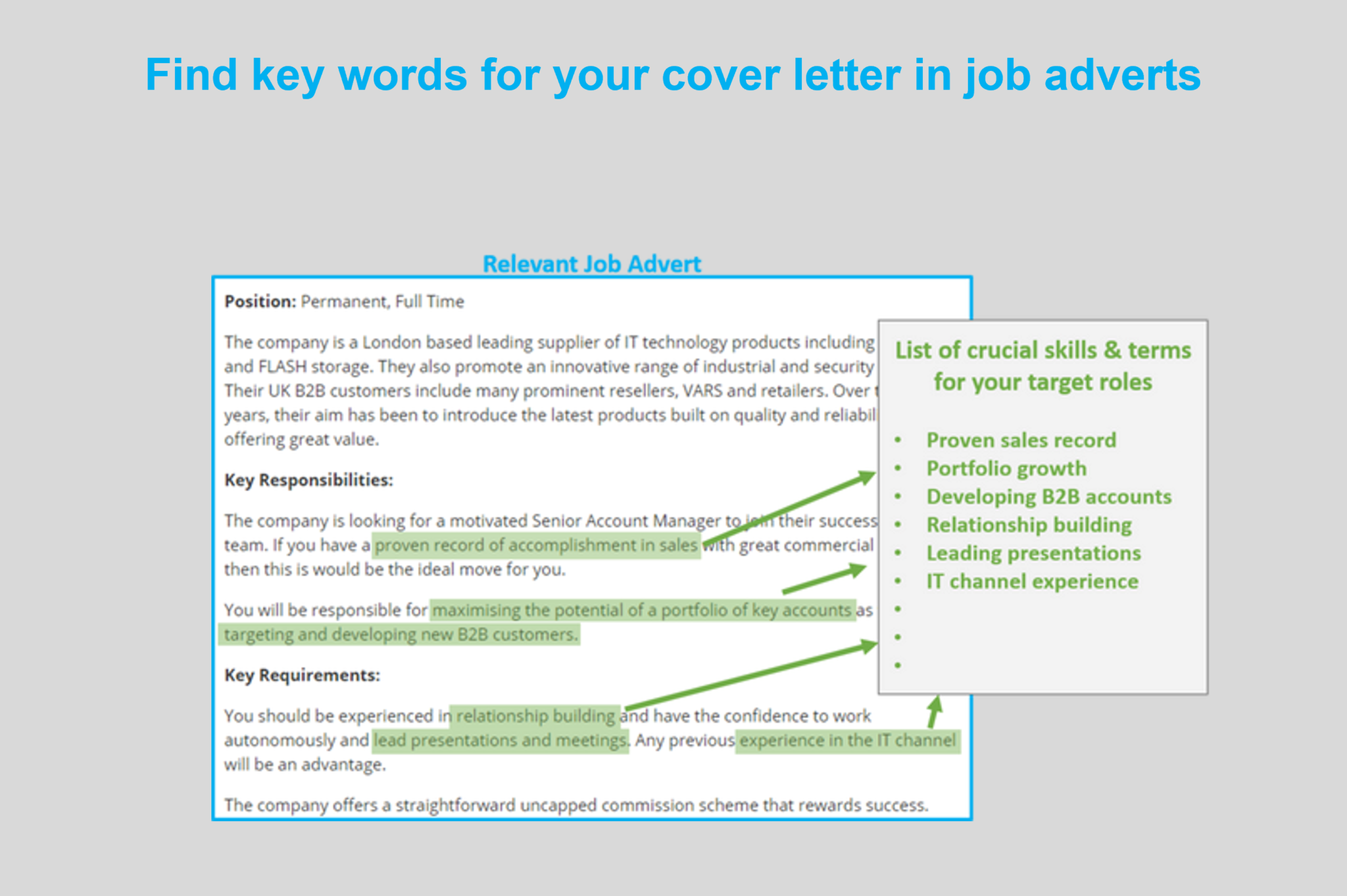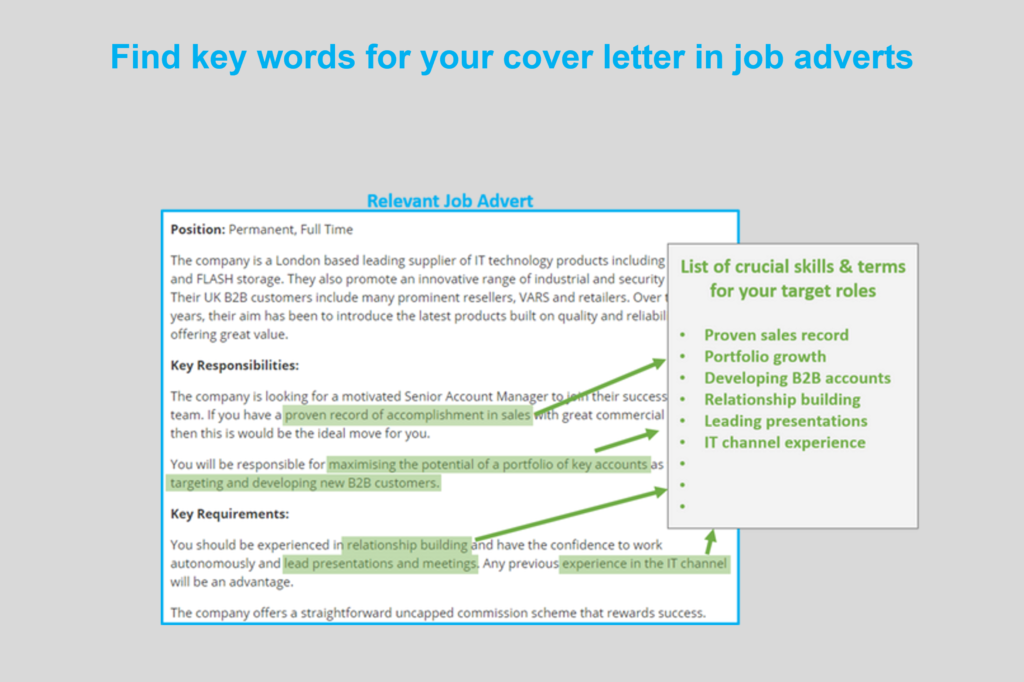 Keep it short and sharp
When sending a job application to a recruiter or hiring manager, it is important to remember that they will normally be very busy and pushed for time.
Therefore, you need to get you message across to them quickly (in a matter of seconds ideally). So, keep your cover letter short and to-the-point. A long waffling cover letter will overwhelm recruiters when they are running through hundreds of emails in there inbox, but a concise one will get their attention.
So, keep your cover letter to just a few sentences long, and save the extensive detail for your CV.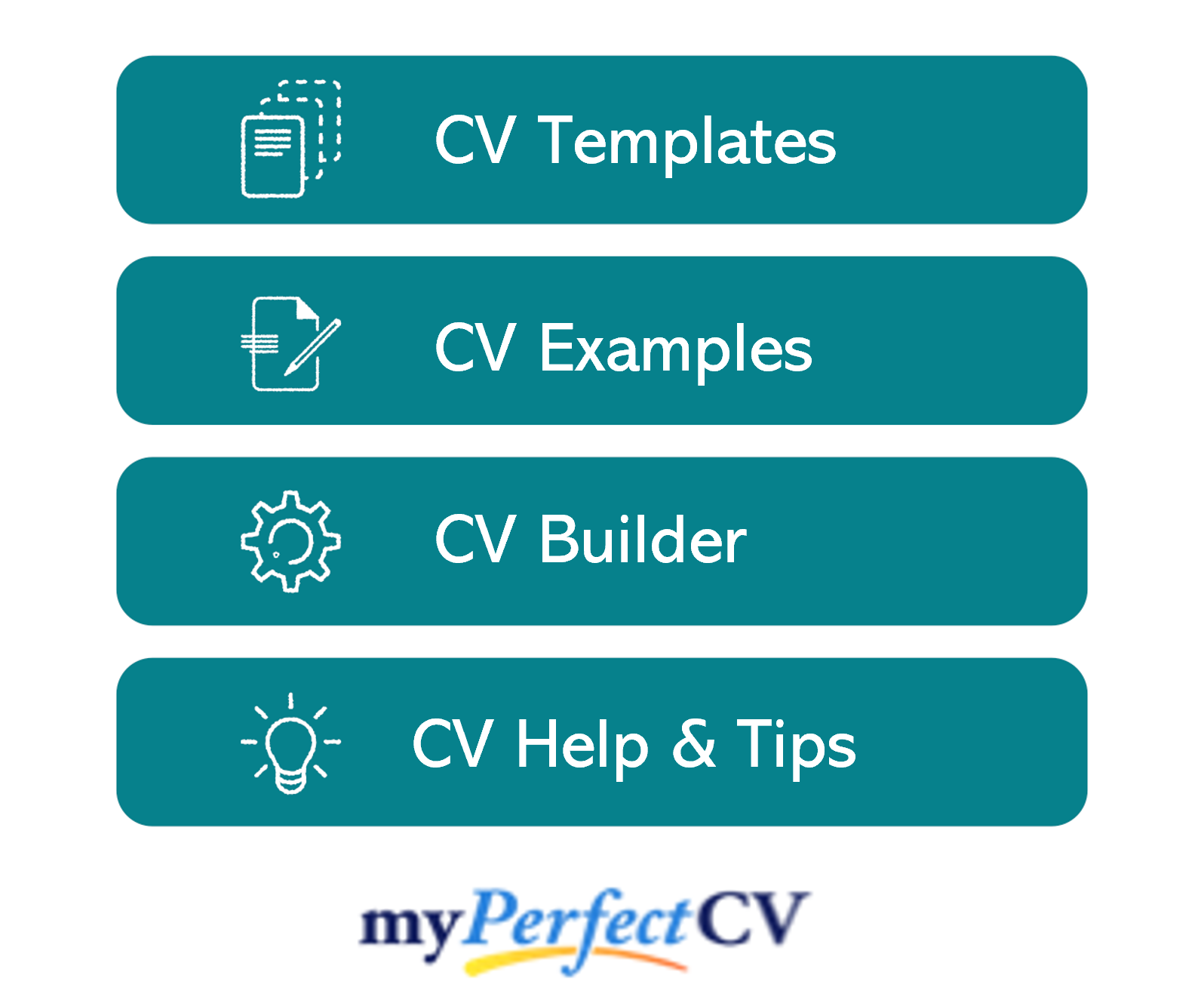 Sign off professionally
To round of your cover letter, add a professional signature to the bottom, giving recruiters your vital contact information.
This not only gives various means of contacting you, it also looks really professional and shows that you know how to communicate in the workplace.
Include the following points;
A friendly sign off – e.g. "Warm regards"
Your full name
Phone number (one you can answer quickly)
Email address
Optional
Profession title
Professional social network – e.g. LinkedIn
Here is an example signature;
Warm regards,
Gerald Baker
Senior Accountant
07887500404
Gbaker213@hotmail.com
LinkedIn
Quick tip: To save yourself from having to write your signature every time you send a job application email, you can save it within your email drafts, or on a separate document that you could copy in.

What to include in your McKinsey cover letter
Your McKinsey cover letter will be unique to your situation, but there are certain content guidelines you should stick to for best results.
To attract and entice recruiters, stick with the following key subjects in your cover letter – adapting them to fit your profession and target jobs.
Your professional experience – Employers will be keen to know if your experience is suitable for the job you are applying to, so provide a good summary of it in your cover letter.
Your qualifications and education – Highlight your most relevant and high-level of qualification, especially if they are essential to the job.
The positive impact you have made – Employers love to hear about the benefits you can bring to them, so shout about anything impressive you have done, such as saving money or improving processes.
Your reasons for leaving – Use a few words of your cover letter to explain why you are leaving your current job and ensure you avoid any negative reasons.
Your availability – Let recruiters know when you can start a new job. Are you immediately available, or do you have a month notice period?
McKinsey cover letter templates
Copy and paste these McKinsey cover letter templates to get a head start on your own.
Template 1
Hi Steven,
I am writing to express my strong interest in the Growth and Sales Associate position at McKinsey. With over 12 years of experience working in business development, I am confident in my ability to drive revenue growth and establish strategic partnerships.
During my tenure at Tanto, I led market research efforts that identified and pursued new revenue opportunities, resulting in a remarkable 19% increase in revenue through the acquisition of five new enterprise clients. Additionally, my implementation of a strategic-partner sales strategy contributed to a substantial 12% increase in the company's average deal size. Furthermore, my ability to build and manage relationships with key stakeholders, as showcased in my work at Tanto and Crystal Consulting, has led to successful partnerships and a remarkable 30% increase in the sales pipeline. As a PMI-Certified Project Management Professional with a BSc in Finance, I possess excellent communication and negotiation skills, consistently exceeding KPIs.
I am eager to bring my expertise to McKinsey and contribute to the firm's continued success. I am available for an interview at your earliest convenience to discuss how my skills align with the goals of the company.
Sincerely,
Marco Terrano
Template 2
Hey Michael,
I am thrilled to apply for the Management Consultant role at McKinsey. As a seasoned Business Consultant with a track record of delivering tangible improvements in the financial sector, my expertise in data-driven solutions and process enhancement sets me apart.
In my current role at Arcadia Business Solutions, I excel in analysing clients' operations and devising risk management frameworks, reducing operational risk by 15% for a leading investment bank in 2019. Moreover, my strategic planning initiative boosted revenue by 10% over three years for a financial services firm. During my tenure at TRC Ltd, I collaborated with senior consultants on business planning and achieved a 20% sales increase through a successful product launch strategy for a healthcare company. As a certified Agile Practitioner and Business Analysis Professional, I possess strong project management and mentoring skills and, at Monzo, I employed Agile methodologies to provide valuable insights and foster efficient workflows while adapting products to customer needs.
I am eager to discuss how my expertise can fuel McKinsey's success and an interview at your convenience would be highly appreciated.
Kind regards,
Mathilde DuPont
Template 3
Hi Heather
I hope this email finds you well. I am writing to apply for the Automation Engineer position at McKinsey.
With 25+ years of experience as a detail-oriented Automation Tester, I possess a strong track record of optimising resources and streamlining performance testing strategies. At TechPro Lyd, I executed automated test scripts using Selenium WebDriver, Java, and TestNG, resulting in improved software stability and a 40% boost in application response time through a reverse-order performance testing strategy. During my tenure at KeyTech, I implemented an automated testing framework for mobile applications, reducing time-to-market for new features by 22%.
Throughout my career I regularly conducted end-to-end user testing, ensuring quality and timely delivery of the Product Development Life Cycle (PDLC). As an Agile Certified Practitioner, I am proficient in programming languages like Python, Java, Perl, and C#, and adept at using automation tools such as Jenkins, Maven, Docker, and Kubernetes.
I am available for an interview at your convenience to discuss how my skills can benefit McKinsey's automation initiatives.
Kind regards,
Nigel Sampson
Writing an impressive cover letter is a crucial step in landing a job at McKinsey, so taking the time to perfect it is well worth while.
By following the tips and examples above you will be able to create an eye-catching cover letter that will wow recruiters and ensure your CV gets read – leading to more job interviews for you.
Good luck with your job search!