Marketing internships are a great way to gain valuable experience in the industry, provided you can beat out the competition, that is.
But if you're not sure how to illustrate your enthusiasm and relevant skills effectively, this guide is for you.
Below, we'll share all our top writing tips, along with some marketing intern cover letter examples to shape your own.

Marketing Intern cover letter example 1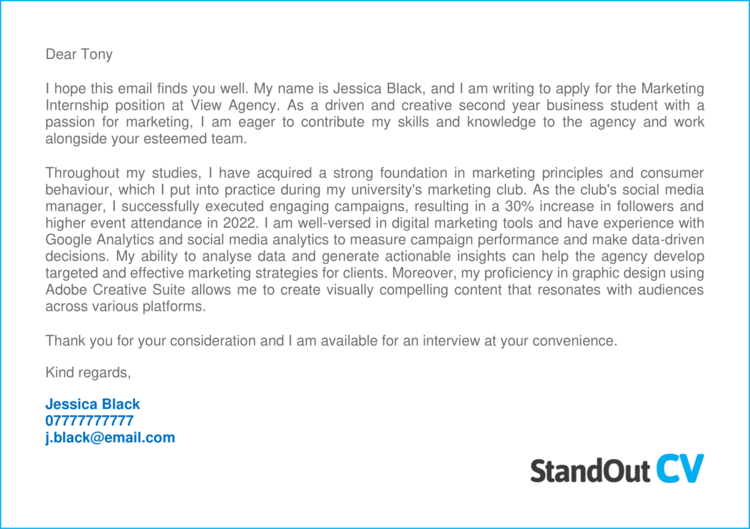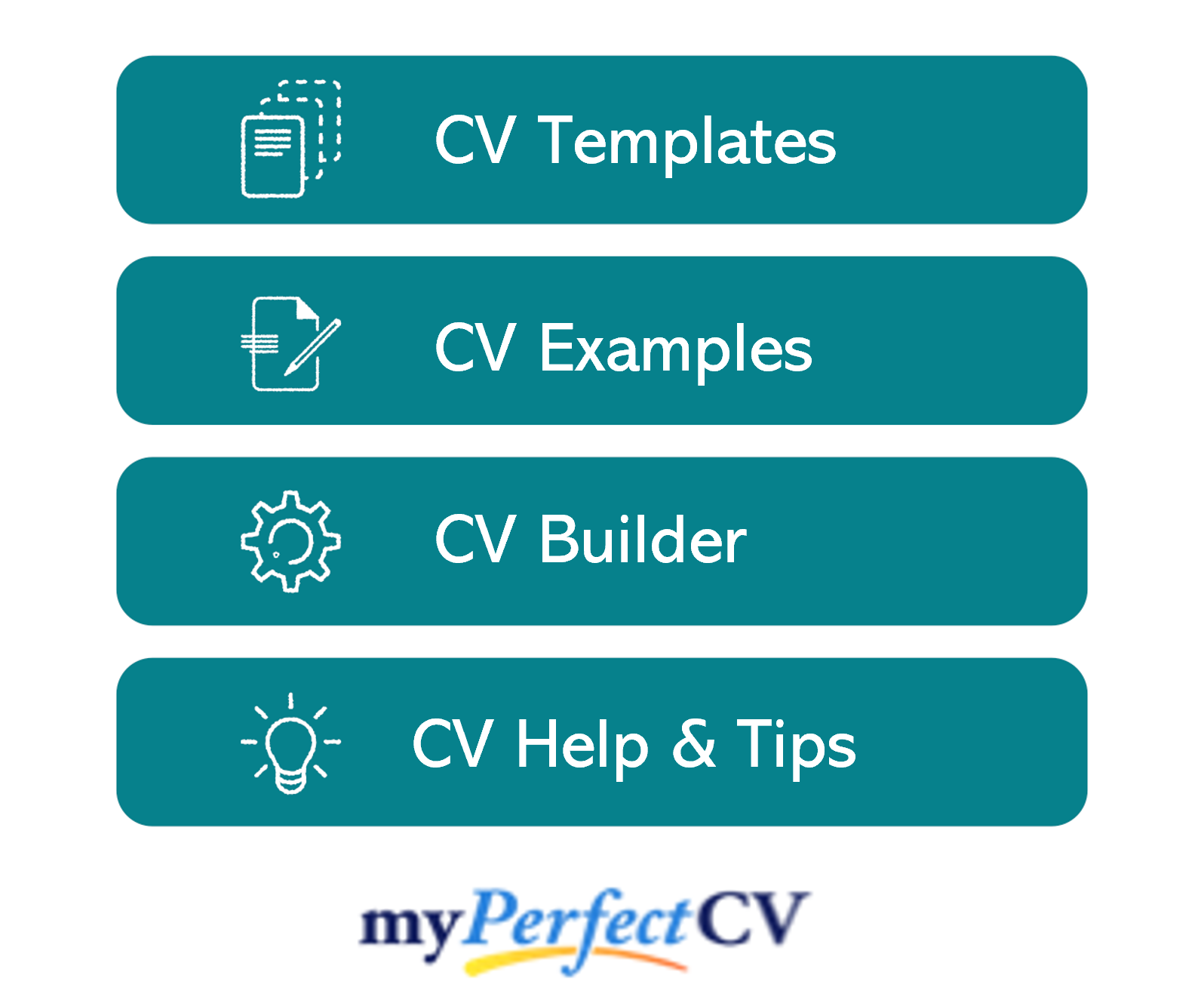 Marketing Intern cover letter example 2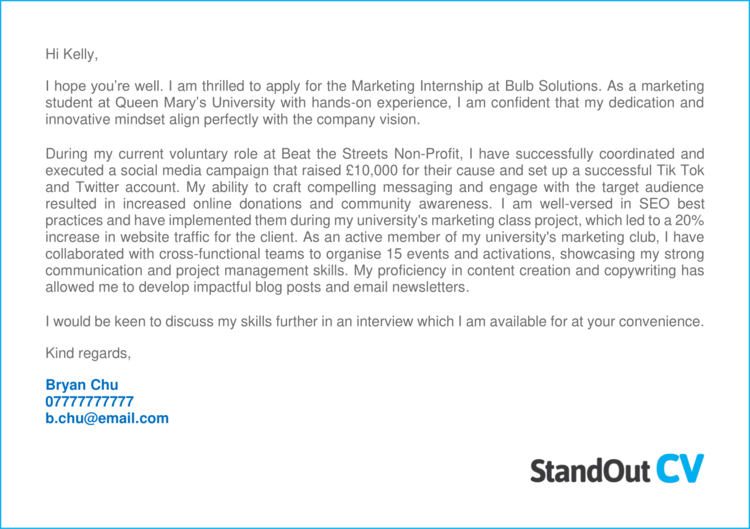 Marketing Intern cover letter example 3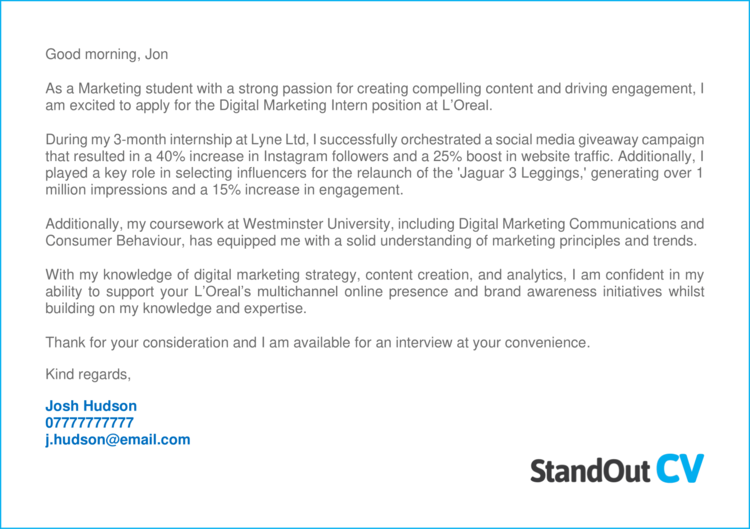 The Marketing Intern cover letter examples above should give you a good idea of the type of content you need to include in your own cover letter, and how it should be structured.
But if you're really looking to wow recruiters and get your CV in front of the very best employers, then check out our guidance on how to write your own effective cover letter below.
How to write a Marketing Intern cover letter
Here's how you can write your own eye-catching cover letter, broken down into simple steps.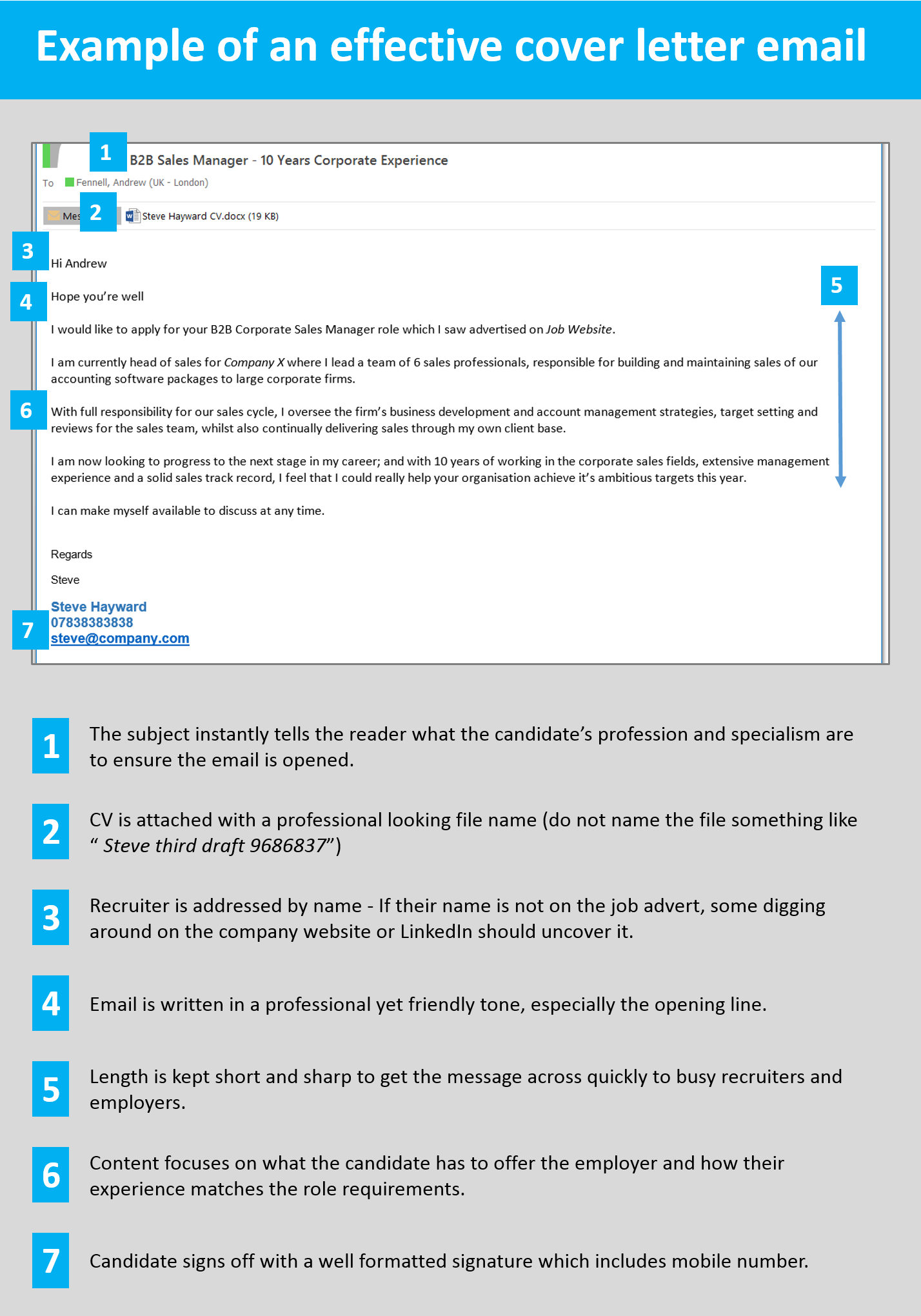 Write your cover letter in the body of an email/message
When writing your Marketing Intern cover letter, it's best to type the content into the body of your email (or the job site messaging system) and not to attach the cover letter as a separate document.
This ensures that your cover letter gets seen as soon as a recruiter or employer opens your message.
If you attach the cover letter as a document, you're making the reader go through an unnecessary step of opening the document before reading it.
If it's in the body of the message itself, it will be seen instantly, which hugely increases the chances of it being read.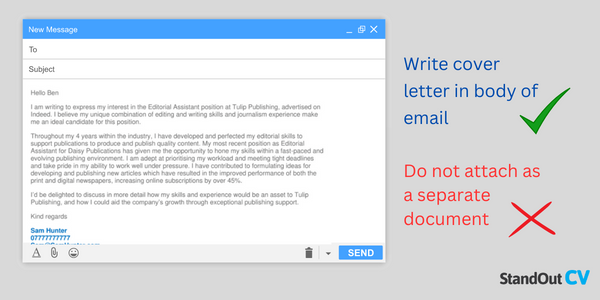 Start with a friendly greeting

To start building rapport with the recruiter or hiring manager right away, lead with a friendly greeting.
Try to strike a balance between professional and personable.
Go with something like…
Hi
Hi [insert recruiter name]
Hi [insert department/team name]
Stay away from old-fashioned greetings like "Dear sir/madam" unless applying to very formal companies – they can come across as cold and robotic.
How to find the contact's name?
Addressing the recruitment contact by name is an excellent way to start building a strong relationship. If it is not listed in the job advert, try to uncover it via these methods.
Check out the company website and look at their About page. If you see a hiring manager, HR person or internal recruiter, use their name. You could also try to figure out who would be your manager in the role and use their name.
Head to LinkedIn, search for the company and scan through the list of employees. Most professionals are on LinkedIn these days, so this is a good bet.
Identify the role you are applying for
Once you've opened up the cover letter with a warm greeting to start building a relationship, it is time to identify which role you want to apply for.
Recruiters are often managing multiple vacancies, so you need to ensure you apply to the correct one.
Be very specific and use a reference number if you can find one.
I am interested in applying for the position of Marketing Intern with your company.
I would like to apply for the role of Sales assistant (Ref: 406f57393)
I would like to express my interest in the customer service vacancy within your retail department
I saw your advert for a junior project manager on Reed and would like to apply for the role.
Highlight your suitability
The sole objective of your cover letter is to motivate recruiters into to opening your CV. And you achieve this by quickly explaining your suitability to the roles you are applying for.
Take a look at the job descriptions you are applying to, and make note of the most important skills and qualifications being asked for.
Then, when crafting your cover letter, make your suitability the central focus.
Explain why you are the best qualified candidate, and why you are so well suited to carry out the job.
This will give recruiters all the encouragement they need to open your CV and consider you for the job.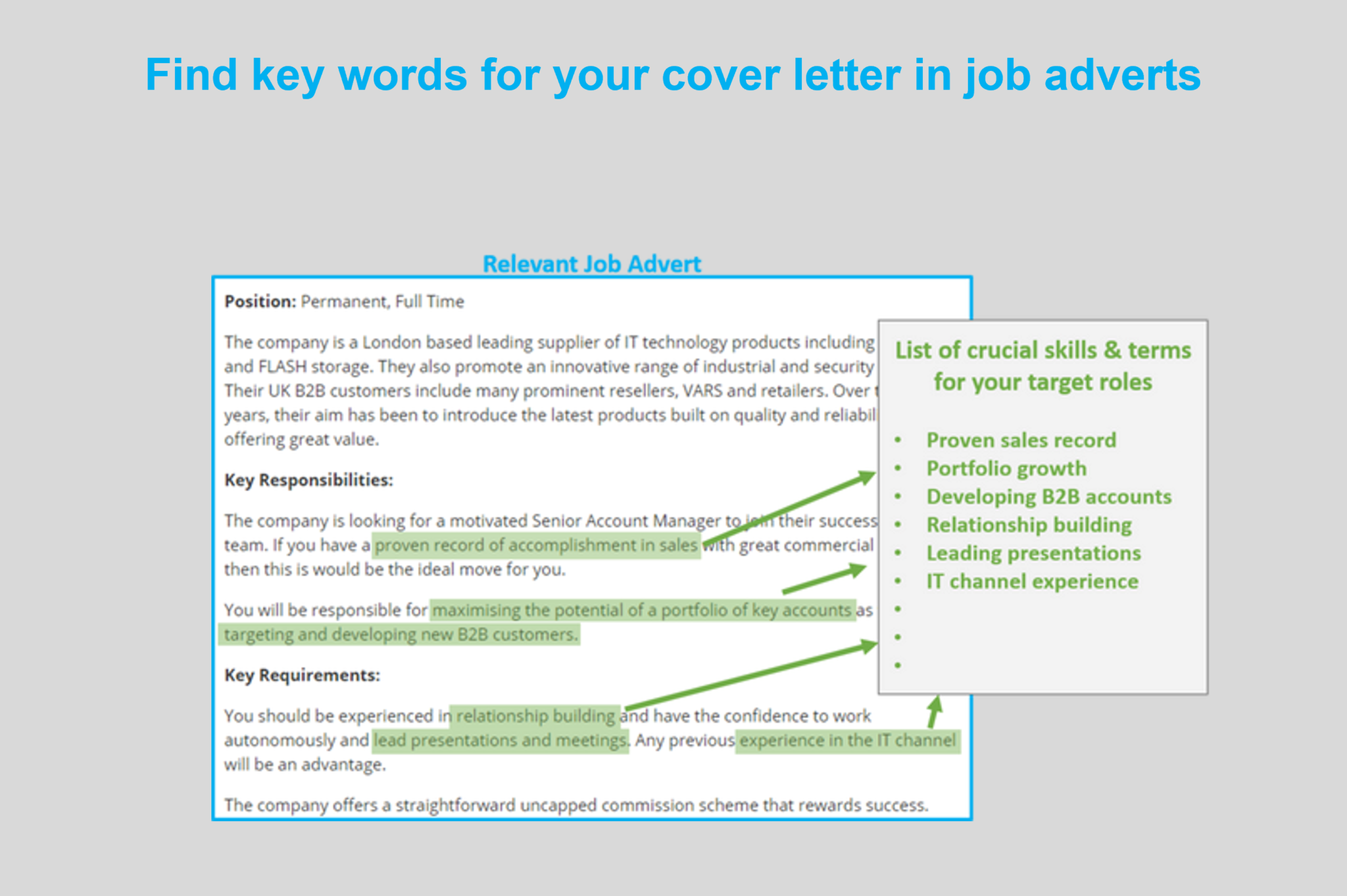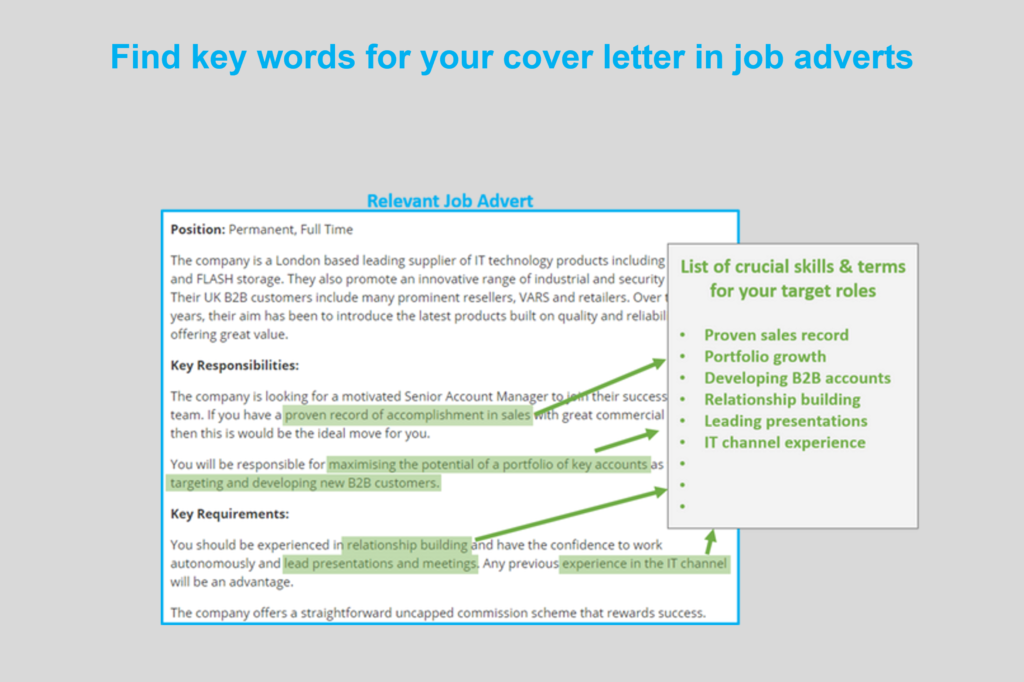 Keep it short and sharp
It is best to keep your cover letter brief if you want to ensure you hold the attention of busy recruiters and hiring managers. A lengthy cover letter will probably not get read in full, so keep yours to around 3-6 sentences and save the real detail for your CV.
Remember the purpose of your cover letter is to quickly get recruiters to notice you and encourage them to open your CV, so it only needs to include the highlights of your experience.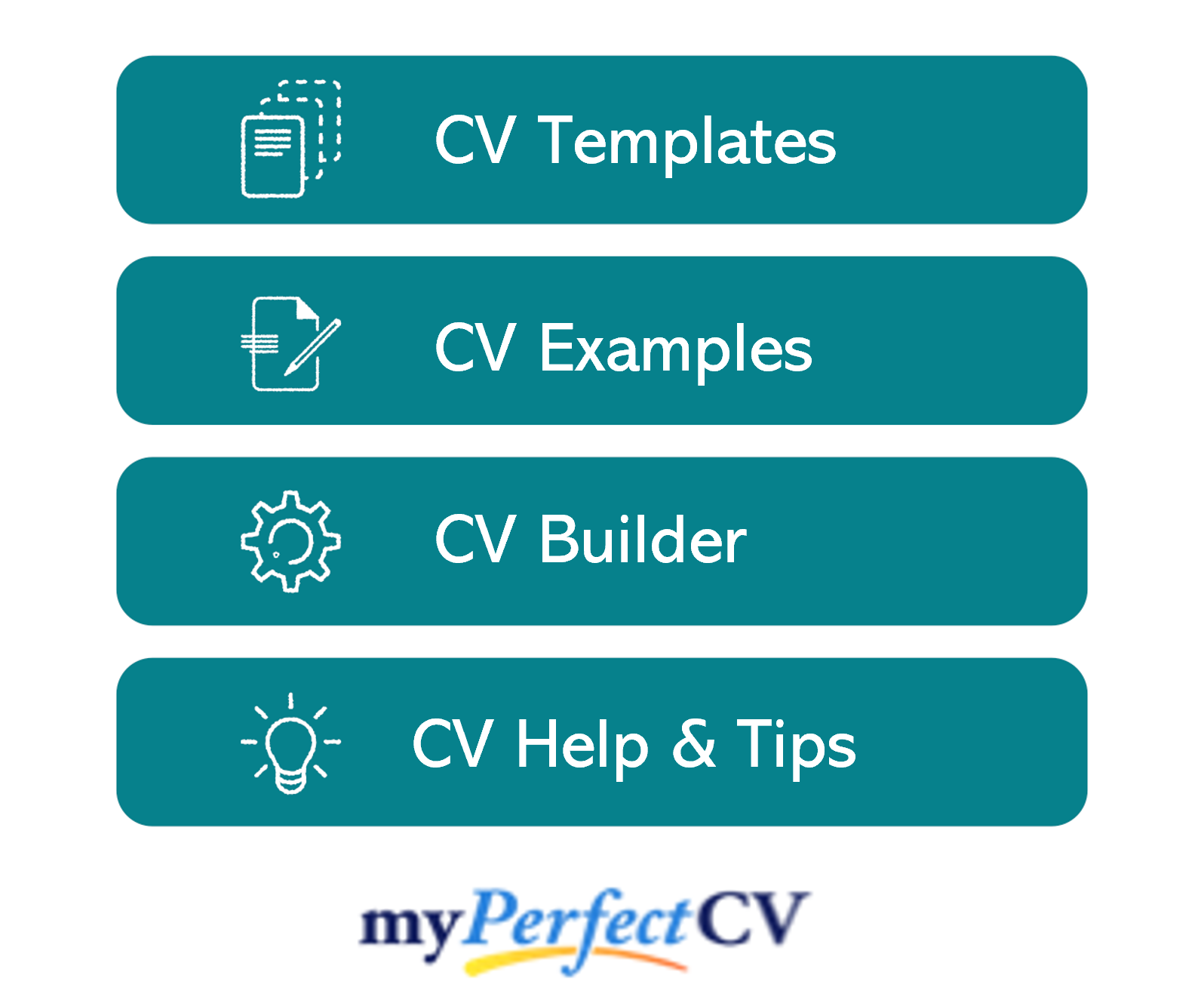 Sign off professionally
To round of your cover letter, add a professional signature to the bottom, giving recruiters your vital contact information.
This not only gives various means of contacting you, it also looks really professional and shows that you know how to communicate in the workplace.
Include the following points;
A friendly sign off – e.g. "Warm regards"
Your full name
Phone number (one you can answer quickly)
Email address
Optional
Profession title
Professional social network – e.g. LinkedIn
Here is an example signature;
Warm regards,
Gerald Baker
Senior Accountant
07887500404
Gbaker213@hotmail.com
LinkedIn
Quick tip: To save yourself from having to write your signature every time you send a job application email, you can save it within your email drafts, or on a separate document that you could copy in.

What to include in your Marketing Intern cover letter
Here's what kind of content you should include in your Marketing Intern cover letter…
The exact info will obviously depend on your industry and experience level, but these are the essentials.
Your relevant experience – Where have you worked and what type of jobs have you held?
Your qualifications – Let recruiters know about your highest level of qualification to show them you have the credentials for the job.
The impact you have made – Show how your actions have made a positive impact on previous employers; perhaps you've saved them money or helped them to acquire new customers?
Your reasons for moving – Hiring managers will want to know why you are leaving your current or previous role, so give them a brief explanation.
Your availability – When can you start a new job? Recruiters will want to know how soon they can get you on board.
Don't forget to tailor these points to the requirements of the job advert for best results.
Marketing Intern cover letter templates
Copy and paste these Marketing Intern cover letter templates to get a head start on your own.
Template 1
Dear Tony
I hope this email finds you well. My name is Jessica Black, and I am writing to apply for the Marketing Internship position at View Agency. As a driven and creative second year business student with a passion for marketing, I am eager to contribute my skills and knowledge to the agency and work alongside your esteemed team.
Throughout my studies, I have acquired a strong foundation in marketing principles and consumer behaviour, which I put into practice during my university's marketing club. As the club's social media manager, I successfully executed engaging campaigns, resulting in a 30% increase in followers and higher event attendance in 2022. I am well-versed in digital marketing tools and have experience with Google Analytics and social media analytics to measure campaign performance and make data-driven decisions. My ability to analyse data and generate actionable insights can help the agency develop targeted and effective marketing strategies for clients. Moreover, my proficiency in graphic design using Adobe Creative Suite allows me to create visually compelling content that resonates with audiences across various platforms.
Thank you for your consideration and I am available for an interview at your convenience.
Kind regards,
Jessica Black
Template 2
Hi Kelly,
I hope you're well. I am thrilled to apply for the Marketing Internship at Bulb Solutions. As a marketing student at Queen Mary's University with hands-on experience, I am confident that my dedication and innovative mindset align perfectly with the company vision.
During my current voluntary role at Beat the Streets Non-Profit, I have successfully coordinated and executed a social media campaign that raised £10,000 for their cause and set up a successful Tik Tok and Twitter account. My ability to craft compelling messaging and engage with the target audience resulted in increased online donations and community awareness. I am well-versed in SEO best practices and have implemented them during my university's marketing class project, which led to a 20% increase in website traffic for the client. As an active member of my university's marketing club, I have collaborated with cross-functional teams to organise 15 events and activations, showcasing my strong communication and project management skills. My proficiency in content creation and copywriting has allowed me to develop impactful blog posts and email newsletters.
I would be keen to discuss my skills further in an interview which I am available for at your convenience.
Kind regards,
Bryan Chu
Template 3
Good morning, Jon
As a Marketing student with a strong passion for creating compelling content and driving engagement, I am excited to apply for the Digital Marketing Intern position at L'Oreal.
During my 3-month internship at Lyne Ltd, I successfully orchestrated a social media giveaway campaign that resulted in a 40% increase in Instagram followers and a 25% boost in website traffic. Additionally, I played a key role in selecting influencers for the relaunch of the 'Jaguar 3 Leggings,' generating over 1 million impressions and a 15% increase in engagement.
Additionally, my coursework at Westminster University, including Digital Marketing Communications and Consumer Behaviour, has equipped me with a solid understanding of marketing principles and trends.
With my knowledge of digital marketing strategy, content creation, and analytics, I am confident in my ability to support your L'Oreal's multichannel online presence and brand awareness initiatives whilst building on my knowledge and expertise.
Thank for your consideration and I am available for an interview at your convenience.
Kind regards,
Josh Hudson
Writing a strong attention-grabbing cover letter is a vital step in landing a good Marketing Internship.
Use the tips, strategies and examples above to get more responses from you job applications and start lining job interview up.
Good luck with your job search!