As a legal assistant, you're there to support lawyers with trial proceedings, evidence and tracking cases. Those are some pretty big shoes to fill.
So if you hope to secure the role, you need to prove you've got the skills and qualifications to manage these important responsibilities.
To help you showcase your abilities in just a few short paragraphs, we've put together our top writing advice, complete with legal assistant cover letter examples to guide you.

Legal Assistant cover letter example 1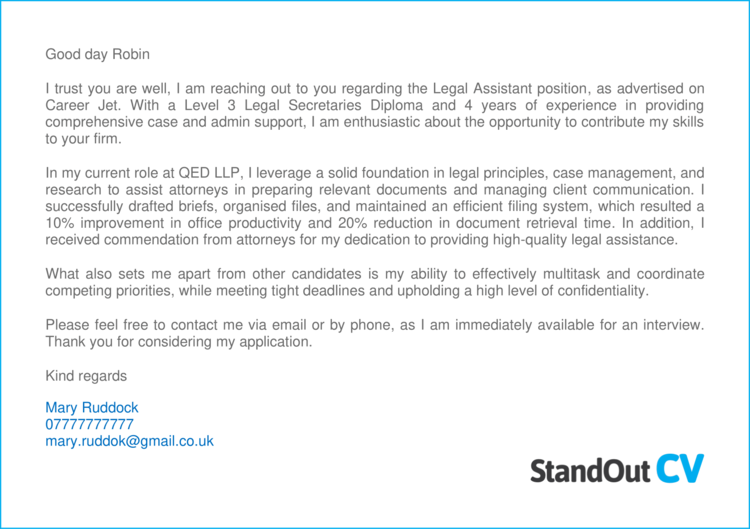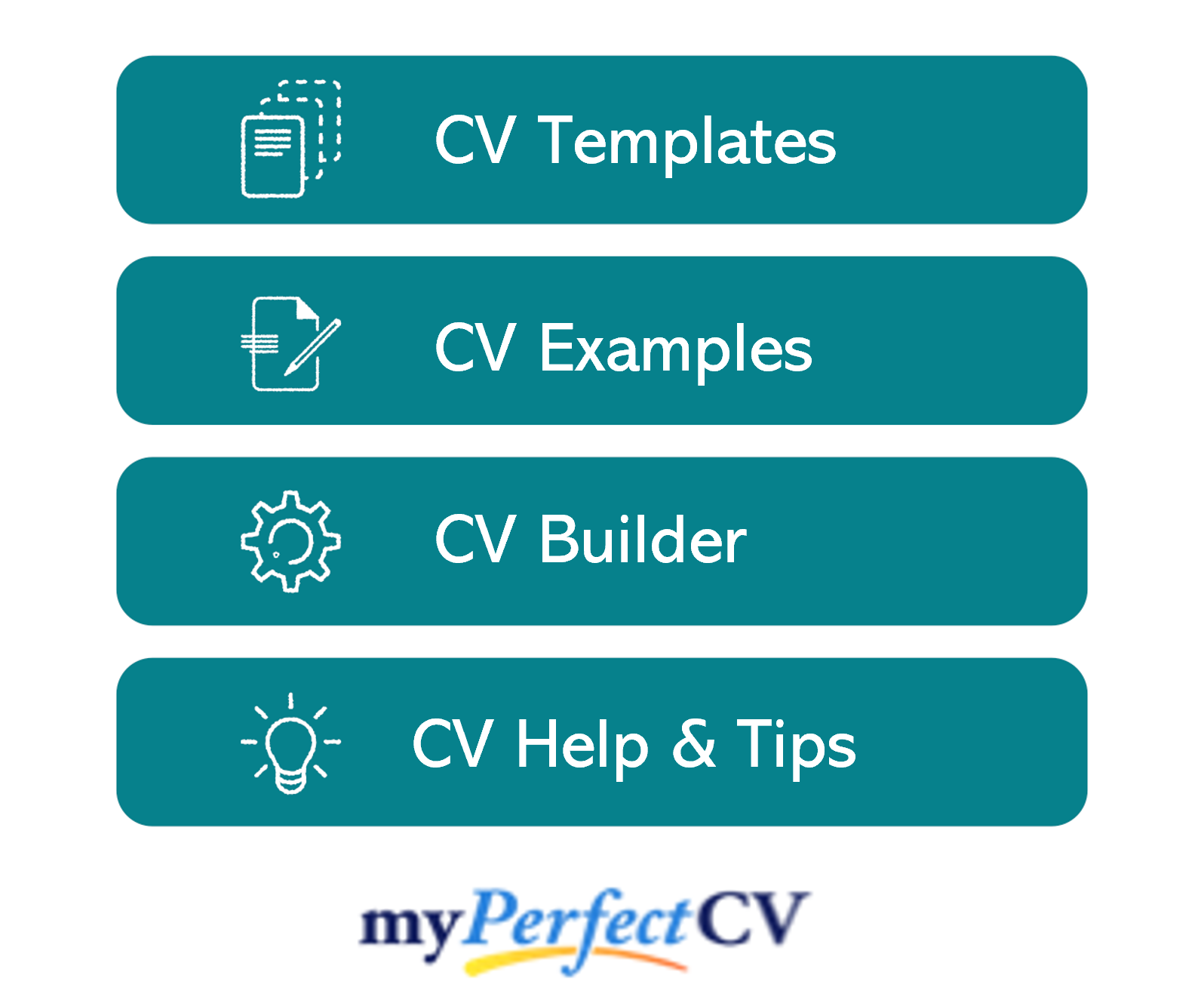 Legal Assistant cover letter example 2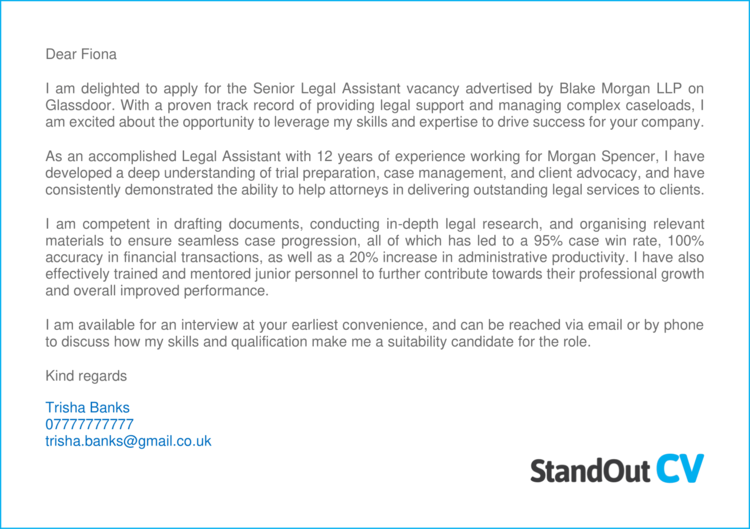 Legal Assistant cover letter example 3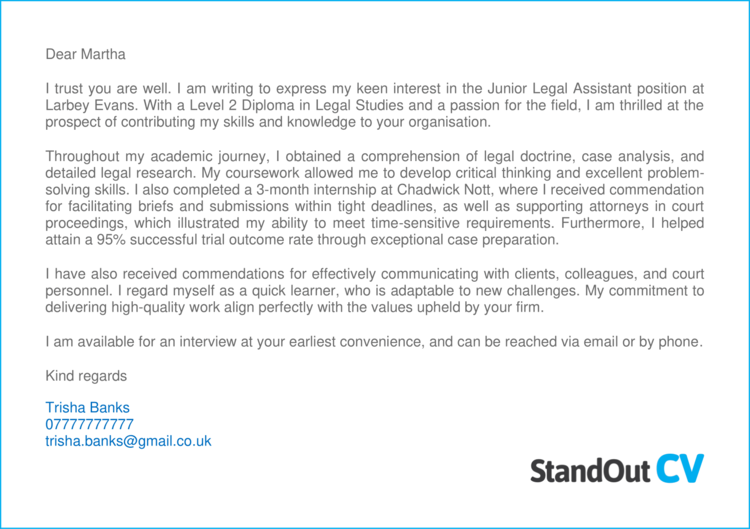 The example cover letters here should give you a good general idea on how your Legal Assistant cover letter should be formatted and written.
The rest of this guide gives more specific guidance on how to create your own cover letter in this format, and even includes some templates you can copy and paste.
How to write a Legal Assistant cover letter
Here's how you can write your own eye-catching cover letter, broken down into simple steps.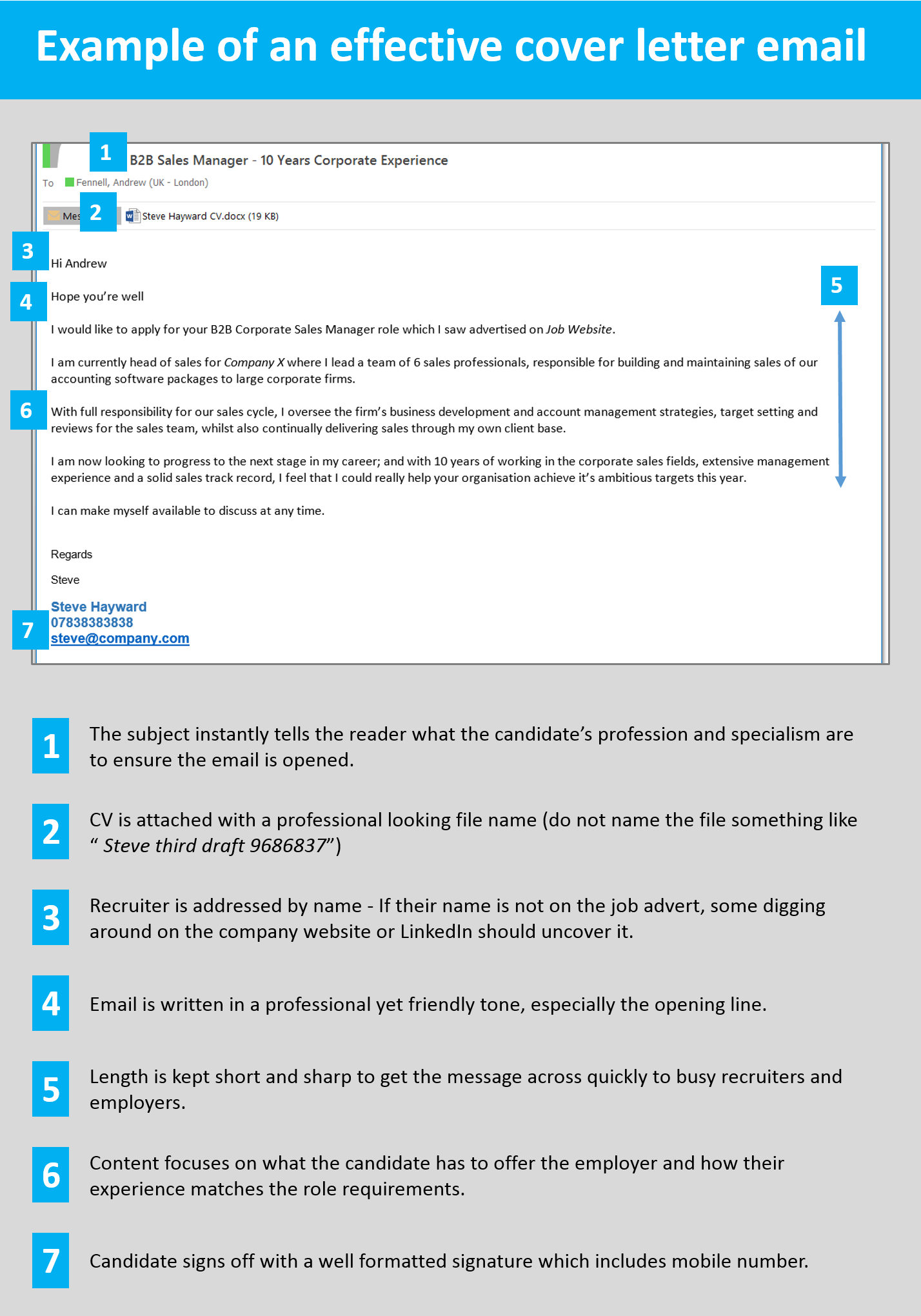 Write your cover letter in the body of an email/message
When writing your Legal Assistant cover letter, it's best to type the content into the body of your email (or the job site messaging system) and not to attach the cover letter as a separate document.
This ensures that your cover letter gets seen as soon as a recruiter or employer opens your message.
If you attach the cover letter as a document, you're making the reader go through an unnecessary step of opening the document before reading it.
If it's in the body of the message itself, it will be seen instantly, which hugely increases the chances of it being read.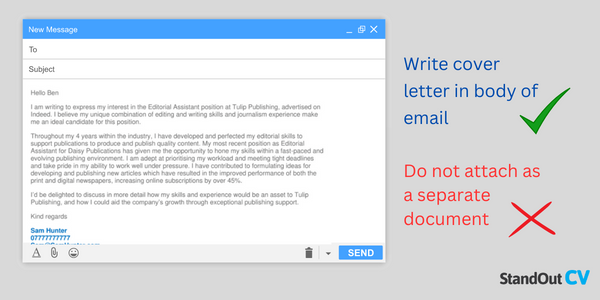 Start with a friendly greeting

To kick your cover letter off, start with a friendly greeting to build rapport with the recruiter instantly.
Your greeting should be personable but professional. Not too casual, but not too formal either
Go with something like…
Hi
Hi [insert recruiter name]
Hi [insert department/team name]
Avoid old-fashioned greetings like "Dear sir/madam" unless applying to very formal companies.
How to find the contact's name?
Addressing the recruitment contact by name is an excellent way to start building a strong relationship. If it is not listed in the job advert, try these methods to find it.
Check out the company website and look at their About page. If you see a hiring manager, HR person or internal recruiter, use their name. You could also try to figure out who would be your manager in the role and use their name.
Head to LinkedIn, search for the company and scan through the list of employees. Most professionals are on LinkedIn these days, so this is a good bet.
Identify the role you are applying for
After you have greeted the recruiter, it's important to state the job you are applying to.
Recruiters are often managing multiple vacancies, so they need to know exactly which job you are referring to.
Be as specific as possible and use a reference number if you can find one.
Here are some examples you can use;
I am interested in applying for the role of admin assistant with your organisation.
I would like to apply for the role of Sales assistant (Ref: 4057393)
I would like to express my interest in the customer service vacancy within your retail department
I saw your advertisement for a trainee project manager on Reed and would like to apply for the role.
Highlight your suitability
The sole objective of your cover letter is to motivate recruiters into to opening your CV. And you achieve this by quickly explaining your suitability to the roles you are applying for.
Take a look at the job descriptions you are applying to, and make note of the most important skills and qualifications being asked for.
Then, when crafting your cover letter, make your suitability the central focus.
Explain why you are the best qualified candidate, and why you are so well suited to carry out the job.
This will give recruiters all the encouragement they need to open your CV and consider you for the job.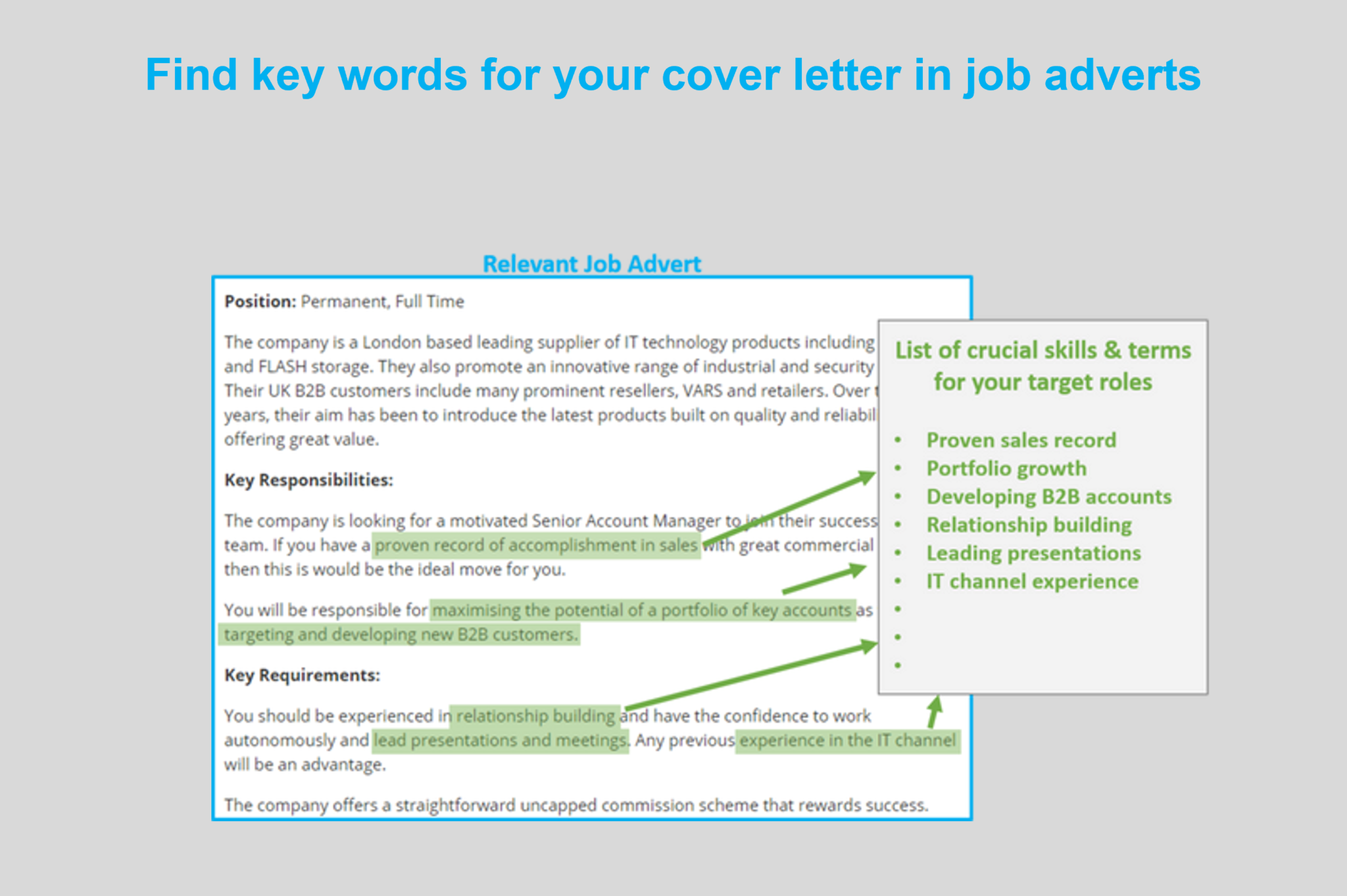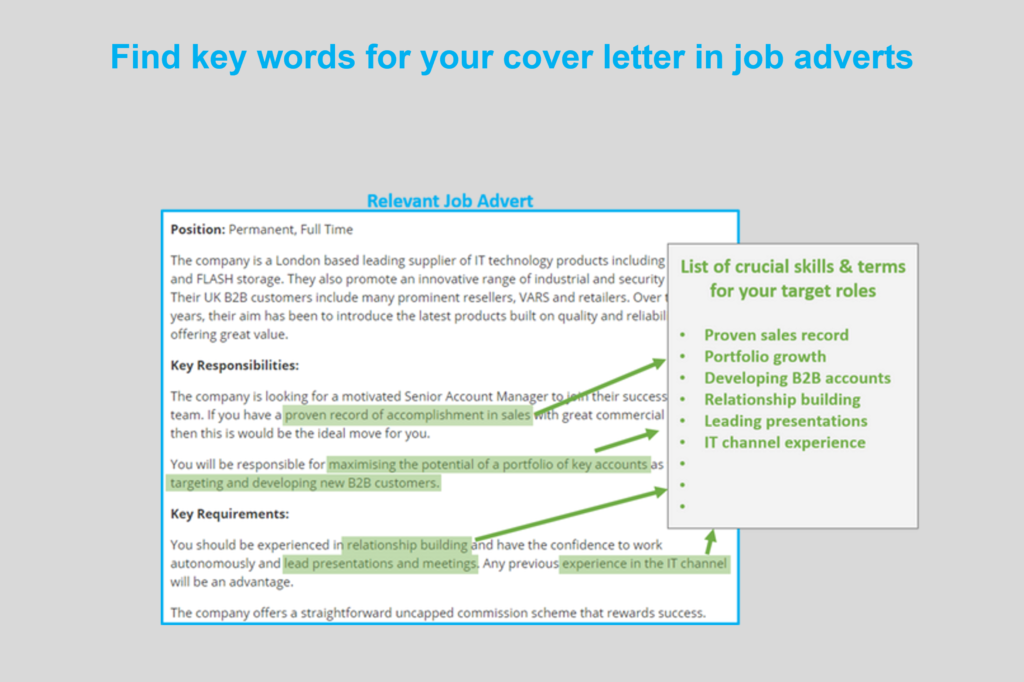 Keep it short and sharp
It is best to keep your cover letter brief if you want to ensure you hold the attention of busy recruiters and hiring managers. A lengthy cover letter will probably not get read in full, so keep yours to around 3-6 sentences and save the real detail for your CV.
Remember the purpose of your cover letter is to quickly get recruiters to notice you and encourage them to open your CV, so it only needs to include the highlights of your experience.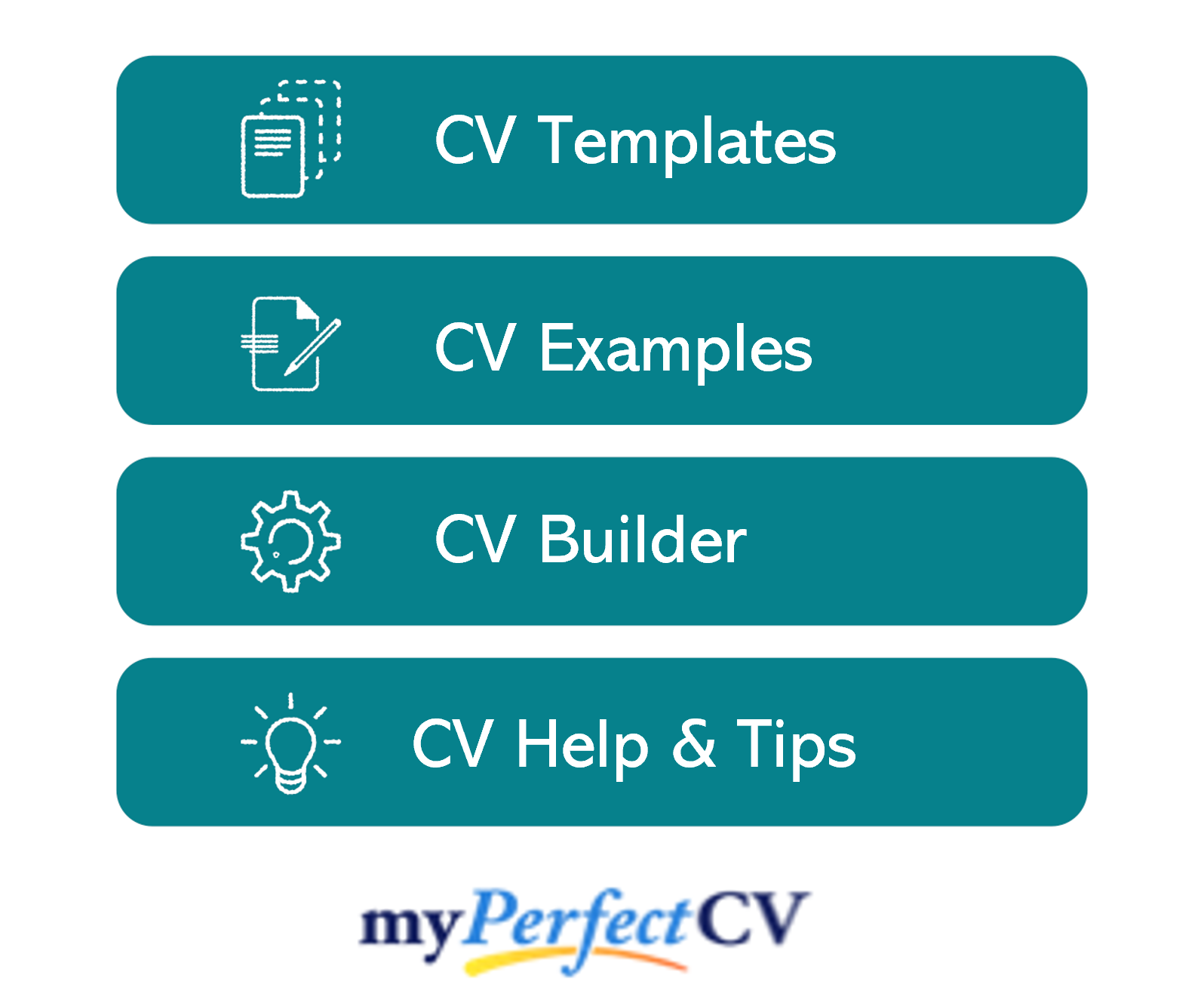 Sign off professionally
To round of your CV, you should sign off with a professional signature.
This will give your cover letter a slick appearance and also give the recruiter all of the necessary contact information they need to get in touch with you.
The information to add should include:
A friendly sign off – e.g. "Kindest regards"
Your full name
Phone number (one you can answer quickly)
Email address
Optional
Profession title
Professional social network –  e.g. LinkedIn
Here is an example signature;
Warm regards,
Jill North
IT Project Manager
078837437373
Jill@hotmail.com
LinkedIn
Quick tip: To save yourself from having to write your signature every time you send a job application, you can save it within your email drafts, or on a separate documents that you could copy in.

What to include in your Legal Assistant cover letter
Your Legal Assistant cover letter will be unique to your situation, but there are certain content guidelines you should stick to for best results.
To attract and entice recruiters, stick with the following key subjects in your cover letter – adapting them to fit your profession and target jobs.
Your professional experience – Employers will be keen to know if your experience is suitable for the job you are applying to, so provide a good summary of it in your cover letter.
Your qualifications and education – Highlight your most relevant and high-level of qualification, especially if they are essential to the job.
The positive impact you have made – Employers love to hear about the benefits you can bring to them, so shout about anything impressive you have done, such as saving money or improving processes.
Your reasons for leaving – Use a few words of your cover letter to explain why you are leaving your current job and ensure you avoid any negative reasons.
Your availability – Let recruiters know when you can start a new job. Are you immediately available, or do you have a month notice period?
Legal Assistant cover letter templates
Copy and paste these Legal Assistant cover letter templates to get a head start on your own.
Template 1
Good day Robin
I trust you are well, I am reaching out to you regarding the Legal Assistant position, as advertised on Career Jet. With a Level 3 Legal Secretaries Diploma and 4 years of experience in providing comprehensive case and admin support, I am enthusiastic about the opportunity to contribute my skills to your firm.
In my current role at QED LLP, I leverage a solid foundation in legal principles, case management, and research to assist attorneys in preparing relevant documents and managing client communication. I successfully drafted briefs, organised files, and maintained an efficient filing system, which resulted a 10% improvement in office productivity and 20% reduction in document retrieval time. In addition, I received commendation from attorneys for my dedication to providing high-quality legal assistance.
What also sets me apart from other candidates is my ability to effectively multitask and coordinate competing priorities, while meeting tight deadlines and upholding a high level of confidentiality.
Please feel free to contact me via email or by phone, as I am immediately available for an interview. Thank you for considering my application.
Kind regards
Mary Ruddock
Template 2
Dear Fiona
I am delighted to apply for the Senior Legal Assistant vacancy advertised by Blake Morgan LLP on Glassdoor. With a proven track record of providing legal support and managing complex caseloads, I am excited about the opportunity to leverage my skills and expertise to drive success for your company.
As an accomplished Legal Assistant with 12 years of experience working for Morgan Spencer, I have developed a deep understanding of trial preparation, case management, and client advocacy, and have consistently demonstrated the ability to help attorneys in delivering outstanding legal services to clients.
I am competent in drafting documents, conducting in-depth legal research, and organising relevant materials to ensure seamless case progression, all of which has led to a 95% case win rate, 100% accuracy in financial transactions, as well as a 20% increase in administrative productivity. I have also effectively trained and mentored junior personnel to further contribute towards their professional growth and overall improved performance.
I am available for an interview at your earliest convenience and can be reached via email or by phone to discuss how my skills and qualification make me a suitability candidate for the role.
Kind regards
Trisha Banks
Template 3
Dear Martha
I trust you are well. I am writing to express my keen interest in the Junior Legal Assistant position at Larbey Evans. With a Level 2 Diploma in Legal Studies and a passion for the field, I am thrilled at the prospect of contributing my skills and knowledge to your organisation.
Throughout my academic journey, I obtained a comprehension of legal doctrine, case analysis, and detailed legal research. My coursework allowed me to develop critical thinking and excellent problem-solving skills. I also completed a 3-month internship at Chadwick Nott, where I received commendation for facilitating briefs and submissions within tight deadlines, as well as supporting attorneys in court proceedings, which illustrated my ability to meet time-sensitive requirements. Furthermore, I helped attain a 95% successful trial outcome rate through exceptional case preparation.
I have also received commendations for effectively communicating with clients, colleagues, and court personnel. I regard myself as a quick learner, who is adaptable to new challenges. My commitment to delivering high-quality work align perfectly with the values upheld by your firm.
I am available for an interview at your earliest convenience and can be reached via email or by phone.
Kind regards
Trisha Banks
Writing a strong attention-grabbing cover letter is a vital step in landing a good Legal Assistant job.
Use the tips, strategies and examples above to get more responses from you job applications and start lining job interview up.
Good luck with your job search!