Are you looking for your next role as an investment manager?
Then you need to show the recruiter why they should invest in you with an engaging cover letter that highlights your most impressive experience in the field.
In this detailed guide, we'll share our expert advice on how to write an impressive application, along with some investment manager cover letter examples.

Investment Manager cover letter example 1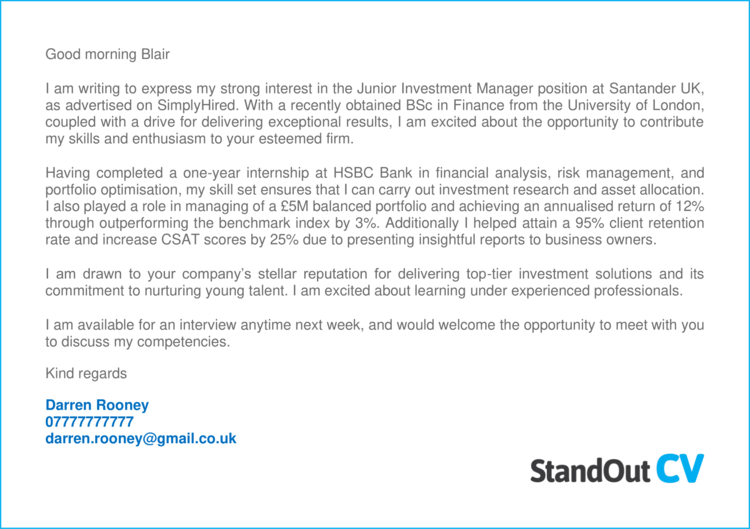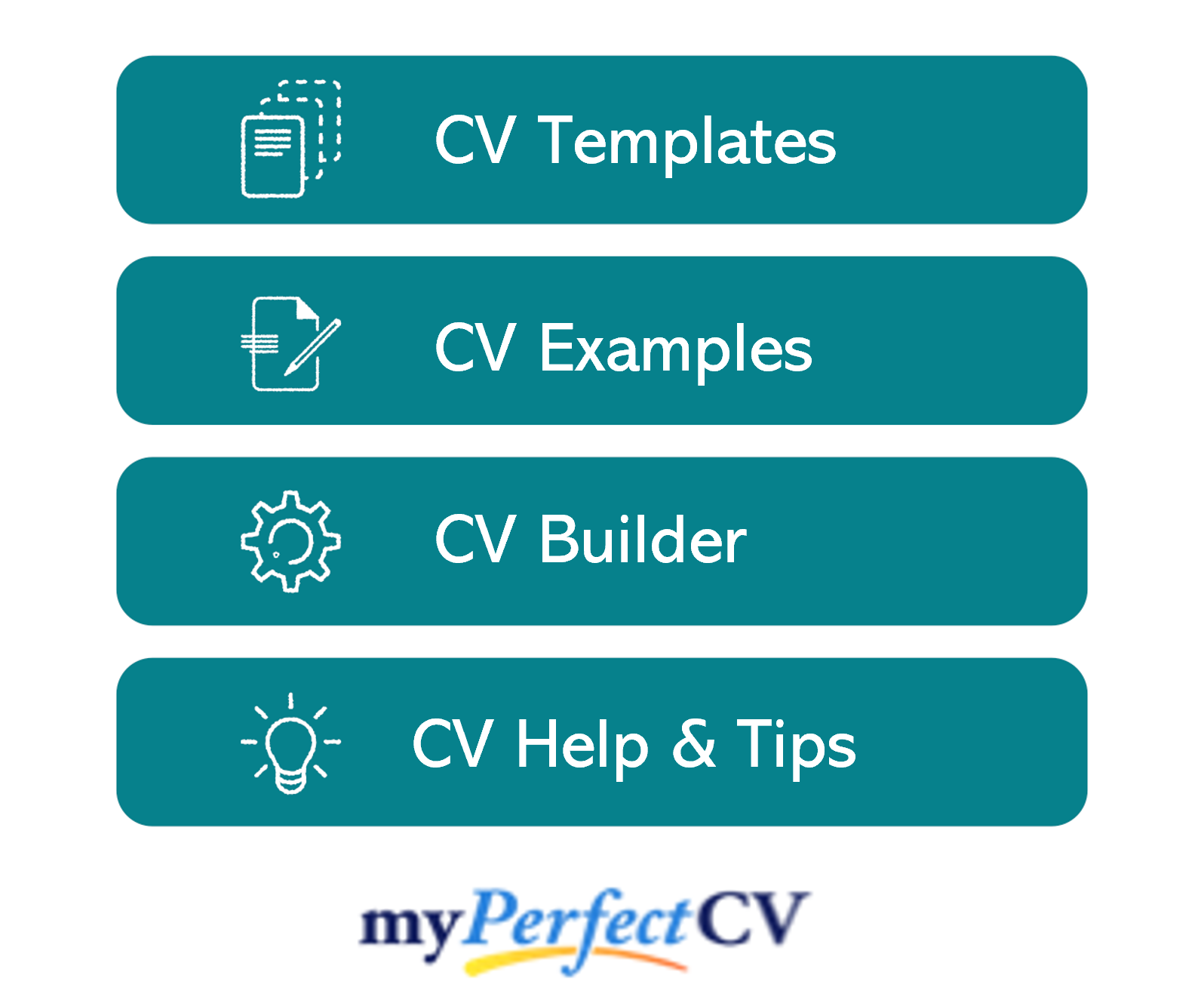 Investment Manager cover letter example 2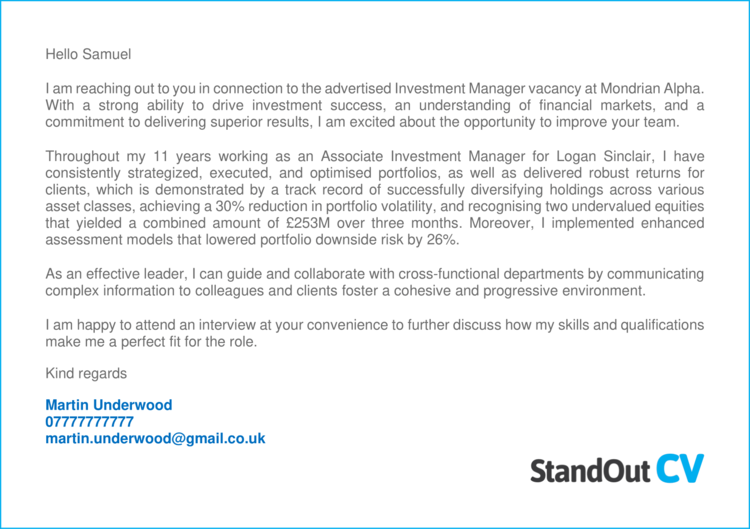 Investment Manager cover letter example 3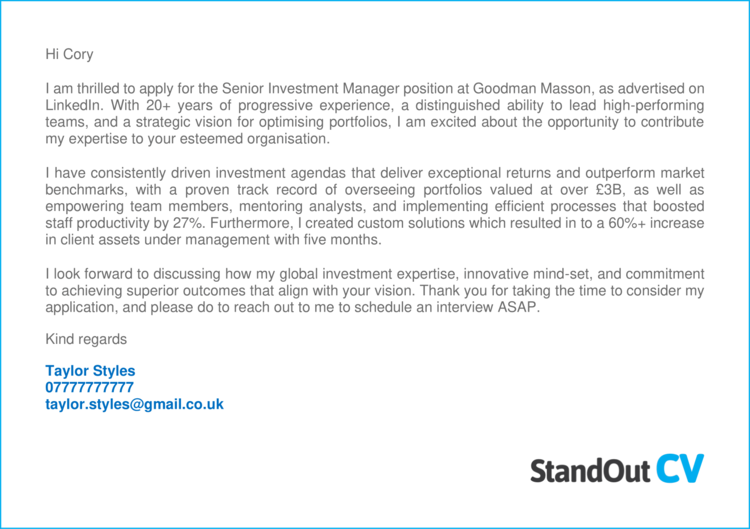 These 3 Investment Manager cover letter examples should provide you with a good steer on how to write your own cover letter, and the general structure to follow.
Our simple step-by-step guide below provides some more detailed advice on how you can craft a winning cover letter for yourself, that will ensure your CV gets opened.
How to write an Investment Manager cover letter
Here's a simple process to write your own interview-winning cover letter.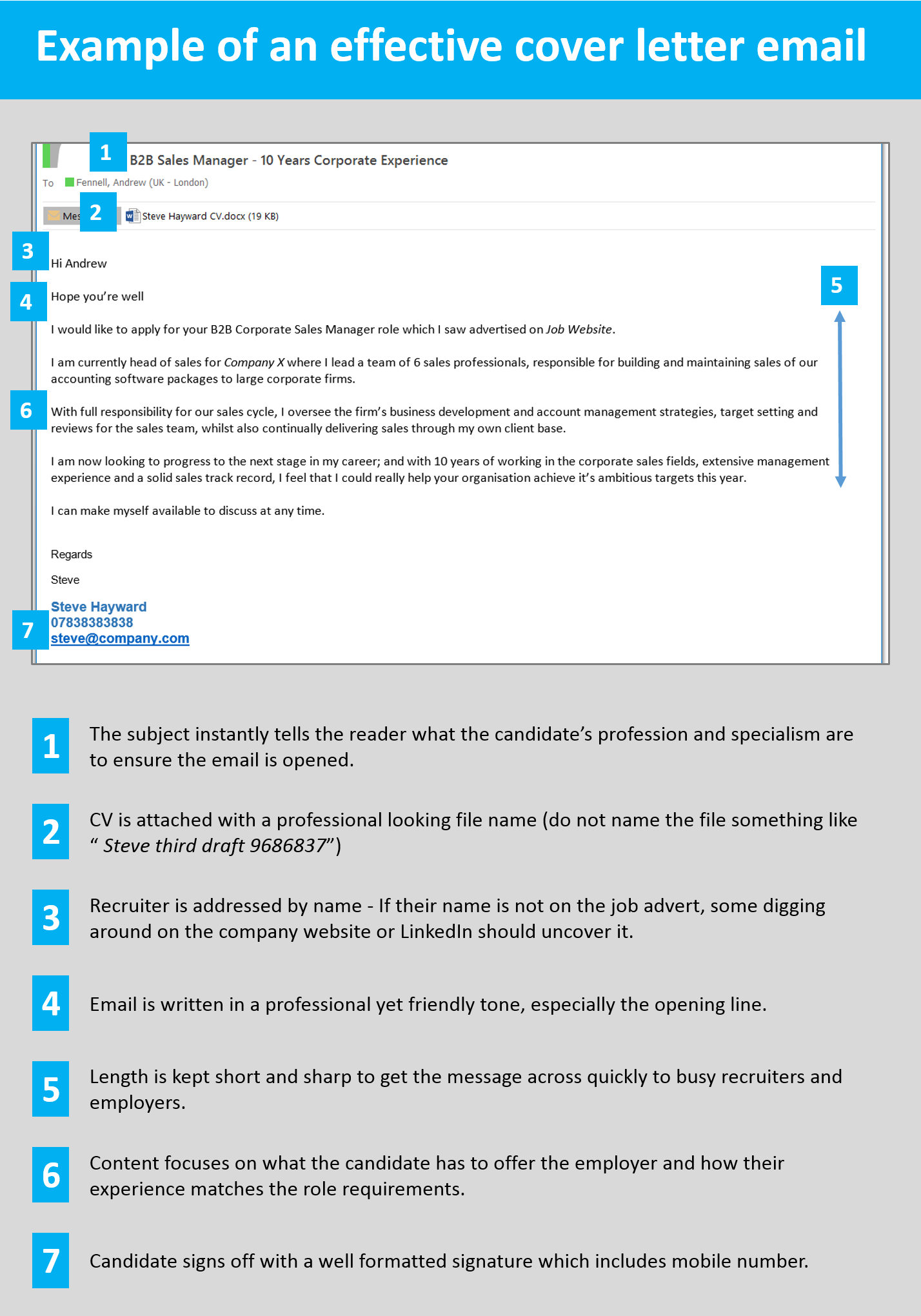 Write your cover letter in the body of an email/message
When writing your Investment Manager cover letter, it's best to type the content into the body of your email (or the job site messaging system) and not to attach the cover letter as a separate document.
This ensures that your cover letter gets seen as soon as a recruiter or employer opens your message.
If you attach the cover letter as a document, you're making the reader go through an unnecessary step of opening the document before reading it.
If it's in the body of the message itself, it will be seen instantly, which hugely increases the chances of it being read.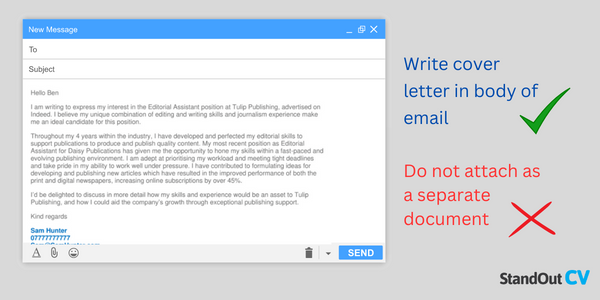 Start with a friendly greeting

Start you cover letter with a greeting that is professional but friendly.
This will build rapport with the recruiter whilst showing your professionalism.
Hi, hope you're well
Hi [insert recruiter name]
Hi [insert department/team name]
Avoid overly formal greetings like "Dear sir/madam" unless applying to very traditional companies.
How to find the contact's name?
Addressing the recruitment contact by name is an excellent way to start building a strong relationship. If it is not listed in the job advert, try these methods to find it.
Check out the company website and look at their About page. If you see a hiring manager, HR person or internal recruiter, use their name. You could also try to figure out who would be your manager in the role and use their name.
Head to LinkedIn, search for the company and scan through the list of employees. Most professionals are on LinkedIn these days, so this is a good bet.
Identify the role you are applying for
Once you have opened the cover letter with a warm greeting, you need to explain which role you are interested in.
Sometimes a recruitment consultant could be managing over 10 vacancies, so it's crucial to pinpoint exactly which one you are interested in.
Highlight the department/area if possible and look for any reference numbers you can quote.
These are some examples you can add..
I am interested in applying for the role of Investment Manager with your company.
I would like to apply for the role of Sales assistant (Ref: 40f57393)
I would like to express my interest in the customer service vacancy within your retail department
I saw your advert for an IT project manager on Reed and would like to apply for the role.
Highlight your suitability
The bulk of your cover letter should be focused around highlighting your suitability for the job you are applying to.
Doing this will show the recruiter that you are suitable candidate and encourage them to open your CV.
The best way to do this, is by studying the job advert you are applying to, and find out what the most important skills and knowledge are.
Once you know the most important requirements, you then need to highlight your matching skills to the recruiter. In a few sentences, tell them exactly why you are a good fit for the job and what you can offer the company.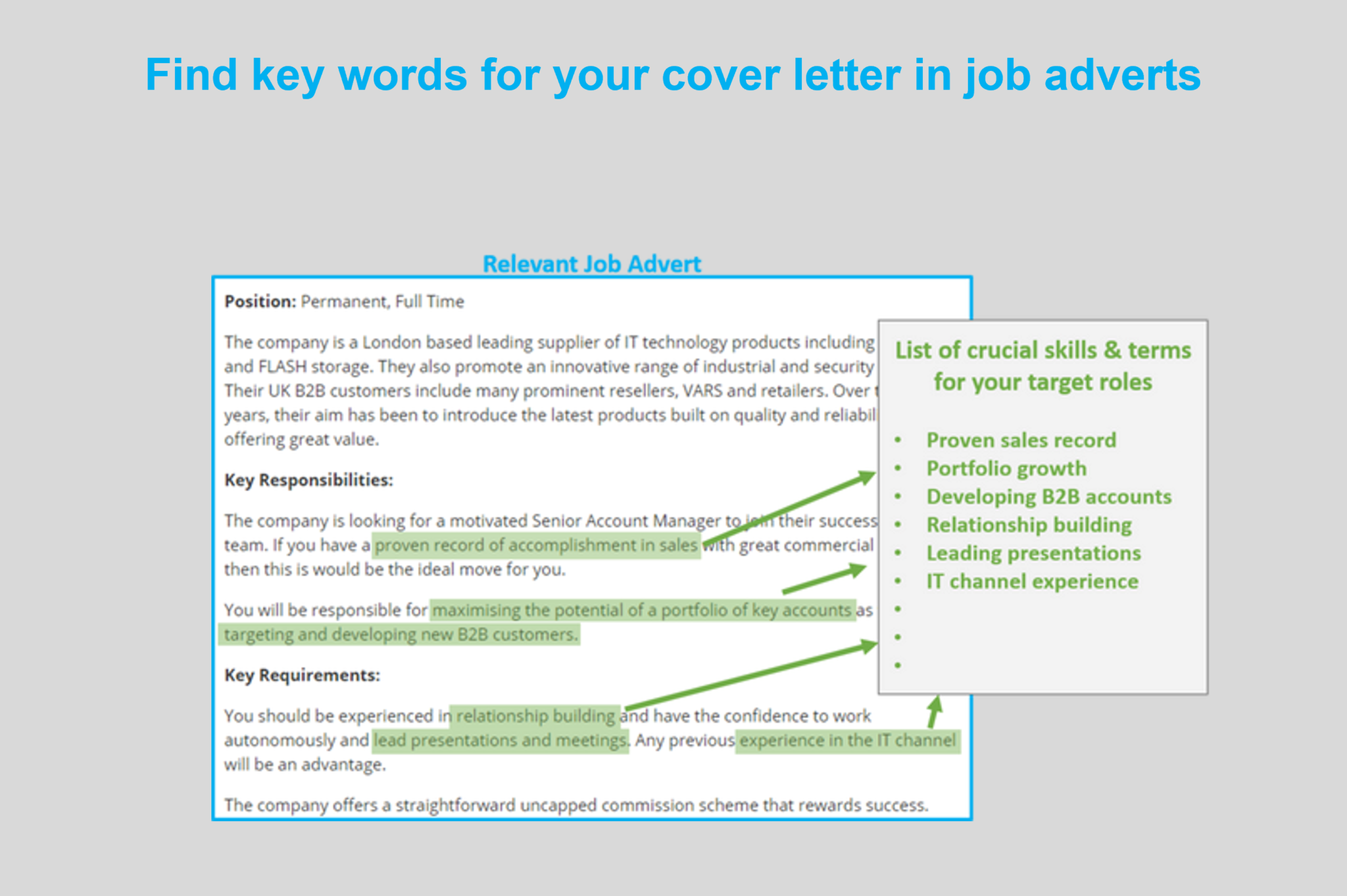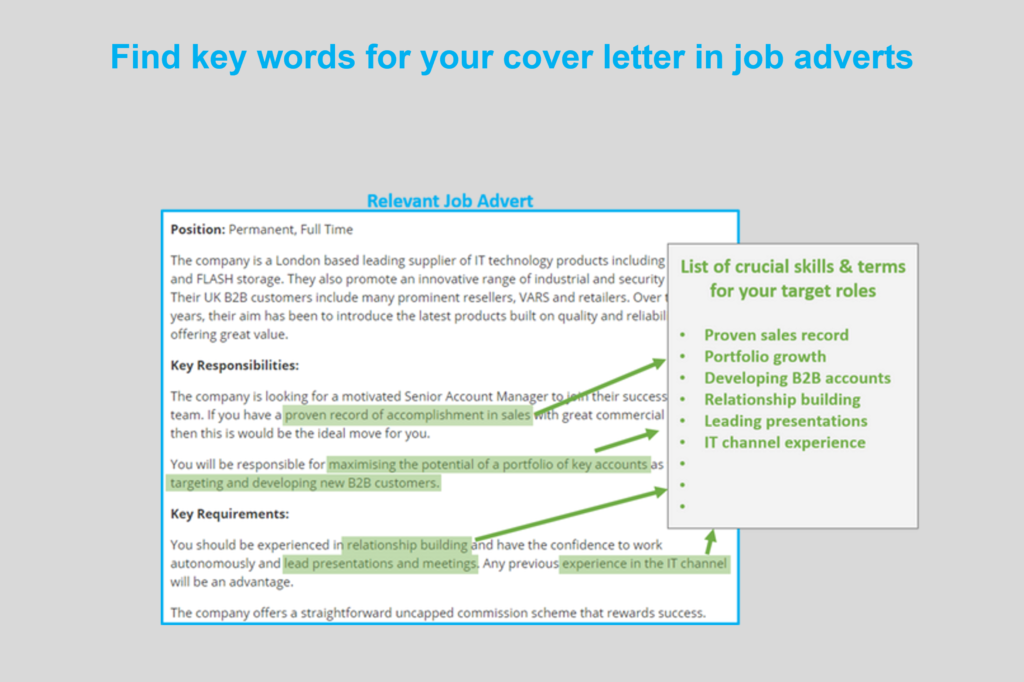 Keep it short and sharp
When sending a job application to a recruiter or hiring manager, it is important to remember that they will normally be very busy and pushed for time.
Therefore, you need to get you message across to them quickly (in a matter of seconds ideally). So, keep your cover letter short and to-the-point. A long waffling cover letter will overwhelm recruiters when they are running through hundreds of emails in there inbox, but a concise one will get their attention.
So, keep your cover letter to just a few sentences long, and save the extensive detail for your CV.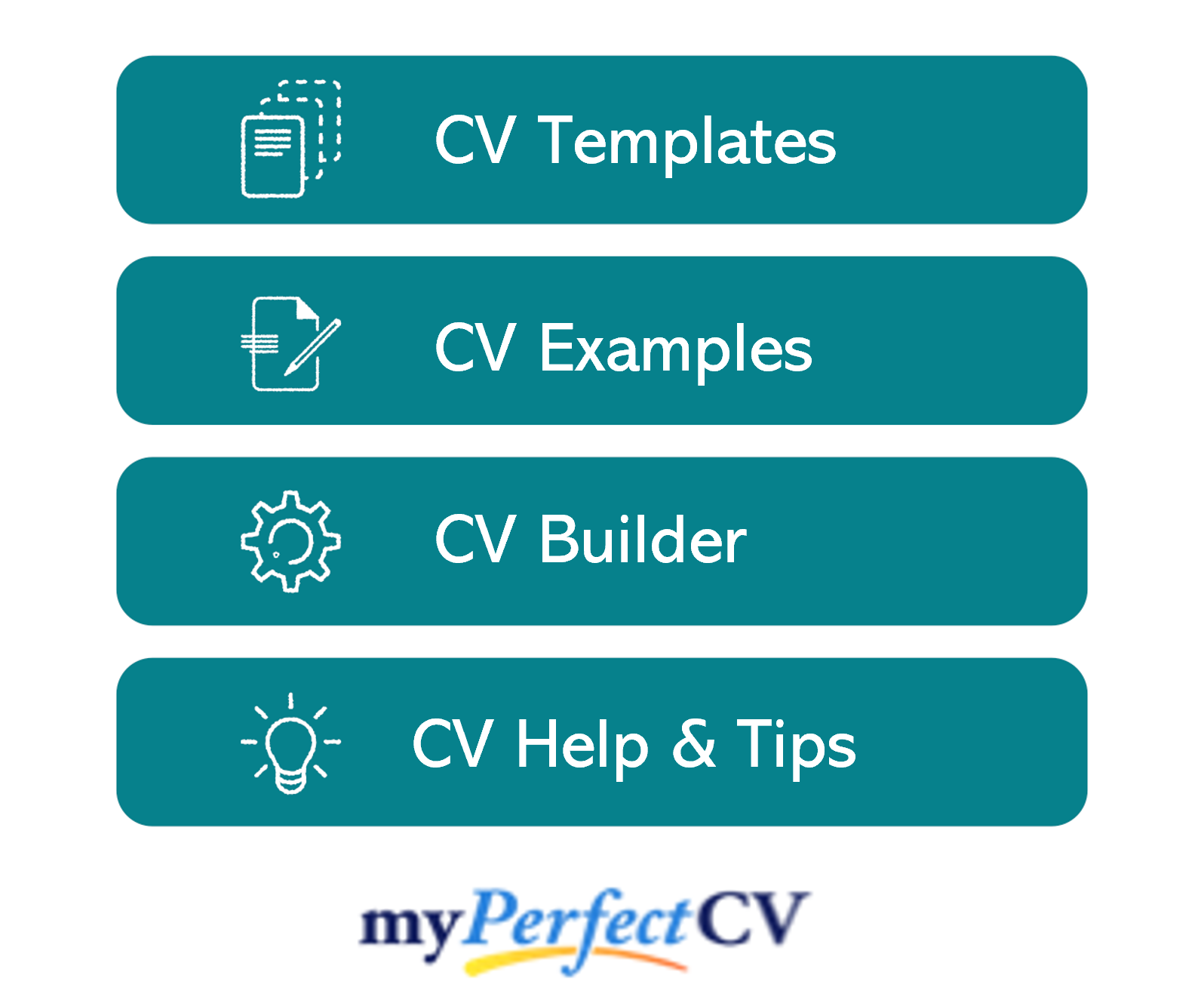 Sign off professionally
To round of your cover letter, add a professional signature to the bottom, giving recruiters your vital contact information.
This not only gives various means of contacting you, it also looks really professional and shows that you know how to communicate in the workplace.
Include the following points;
A friendly sign off – e.g. "Warm regards"
Your full name
Phone number (one you can answer quickly)
Email address
Optional
Profession title
Professional social network – e.g. LinkedIn
Here is an example signature;
Warm regards,
Gerald Baker
Senior Accountant
07887500404
Gbaker213@hotmail.com
LinkedIn
Quick tip: To save yourself from having to write your signature every time you send a job application email, you can save it within your email drafts, or on a separate document that you could copy in.

What to include in your Investment Manager cover letter
Your Investment Manager cover letter will be unique to your situation, but there are certain content guidelines you should stick to for best results.
To attract and entice recruiters, stick with the following key subjects in your cover letter – adapting them to fit your profession and target jobs.
Your professional experience – Employers will be keen to know if your experience is suitable for the job you are applying to, so provide a good summary of it in your cover letter.
Your qualifications and education – Highlight your most relevant and high-level of qualification, especially if they are essential to the job.
The positive impact you have made – Employers love to hear about the benefits you can bring to them, so shout about anything impressive you have done, such as saving money or improving processes.
Your reasons for leaving – Use a few words of your cover letter to explain why you are leaving your current job and ensure you avoid any negative reasons.
Your availability – Let recruiters know when you can start a new job. Are you immediately available, or do you have a month notice period?
Investment Manager cover letter templates
Copy and paste these Investment Manager cover letter templates to get a head start on your own.
Template 1
Good morning, Blair
I am writing to express my strong interest in the Junior Investment Manager position at Santander UK, as advertised on SimplyHired. With a recently obtained BSc in Finance from the University of London, coupled with a drive for delivering exceptional results, I am excited about the opportunity to contribute my skills and enthusiasm to your esteemed firm.
Having completed a one-year internship at HSBC Bank in financial analysis, risk management, and portfolio optimisation, my skill set ensures that I can carry out investment research and asset allocation. I also played a role in managing of a £5M balanced portfolio and achieving an annualised return of 12% through outperforming the benchmark index by 3%. Additionally, I helped attain a 95% client retention rate and increase CSAT scores by 25% due to presenting insightful reports to business owners.
I am drawn to your company's stellar reputation for delivering top-tier investment solutions and its commitment to nurturing young talent. I am excited about learning under experienced professionals.
I am available for an interview anytime next week and would welcome the opportunity to meet with you to discuss my competencies.
Kind regards
Darren Rooney
Template 2
Hello Samuel
I am reaching out to you in connection to the advertised Investment Manager vacancy at Mondrian Alpha. With a strong ability to drive investment success, an understanding of financial markets, and a commitment to delivering superior results, I am excited about the opportunity to improve your team.
Throughout my 11 years working as an Associate Investment Manager for Logan Sinclair, I have consistently strategized, executed, and optimised portfolios, as well as delivered robust returns for clients, which is demonstrated by a track record of successfully diversifying holdings across various asset classes, achieving a 30% reduction in portfolio volatility, and recognising two undervalued equities that yielded a combined amount of £253M over three months. Moreover, I implemented enhanced assessment models that lowered portfolio downside risk by 26%.
As an effective leader, I can guide and collaborate with cross-functional departments by communicating complex information to colleagues and clients foster a cohesive and progressive environment.
I am happy to attend an interview at your convenience to further discuss how my skills and qualifications make me a perfect fit for the role.
Kind regards
Martin Underwood
Template 3
Hi Cory
I am thrilled to apply for the Senior Investment Manager position at Goodman Masson, as advertised on LinkedIn. With 20+ years of progressive experience, a distinguished ability to lead high-performing teams, and a strategic vision for optimising portfolios, I am excited about the opportunity to contribute my expertise to your esteemed organisation.
I have consistently driven investment agendas that deliver exceptional returns and outperform market benchmarks, with a proven track record of overseeing portfolios valued at over £3B, as well as empowering team members, mentoring analysts, and implementing efficient processes that boosted staff productivity by 27%. Furthermore, I created custom solutions which resulted into a 60%+ increase in client assets under management with five months.
I look forward to discussing how my global investment expertise, innovative mind-set, and commitment to achieving superior outcomes that align with your vision. Thank you for taking the time to consider my application, and please do to reach out to me to schedule an interview ASAP.
Kind regards
Taylor Styles
Writing an impressive cover letter is a crucial step in landing a Investment Manager job, so taking the time to perfect it is well worth while.
By following the tips and examples above you will be able to create an eye-catching cover letter that will wow recruiters and ensure your CV gets read – leading to more job interviews for you.
Good luck with your job search!