An internship is a great way to expand your skills, apply your knowledge in the real world and gain some valuable experience.
The trouble is, with so much to gain, these roles are very competitive. So if you want to stand out from other applicants, you need to go one step further.
You need an impressive cover letter, and we can help you to create just that with our step-by-step guide and internship cover letter examples below.

Internship cover letter example 1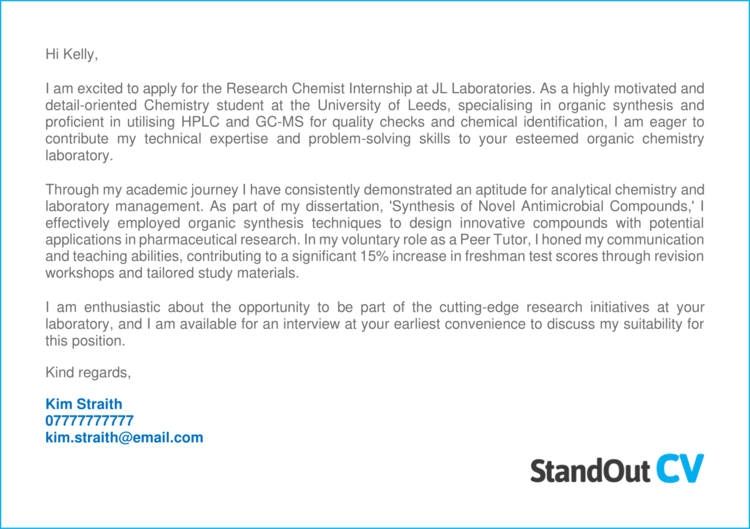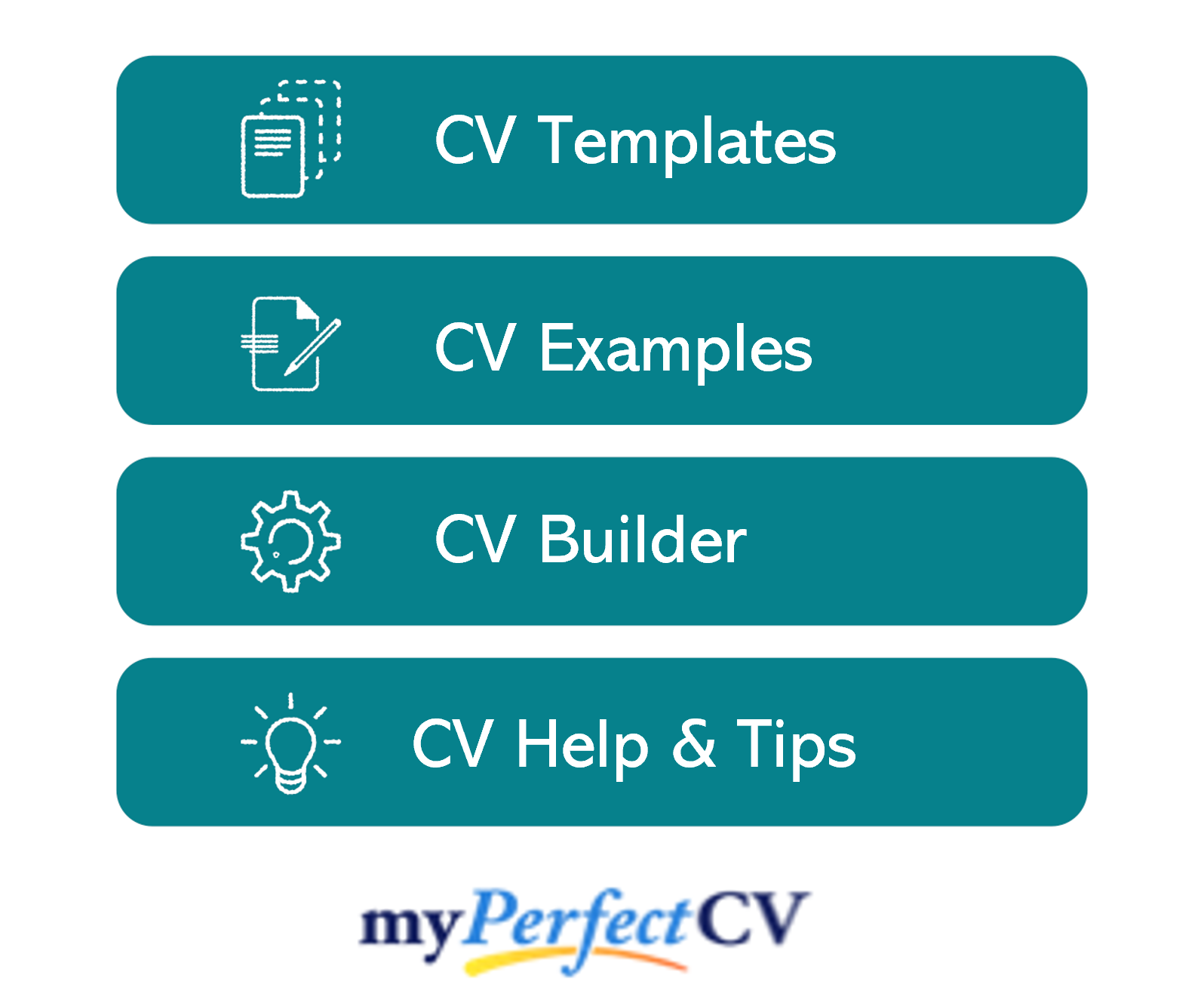 Internship cover letter example 2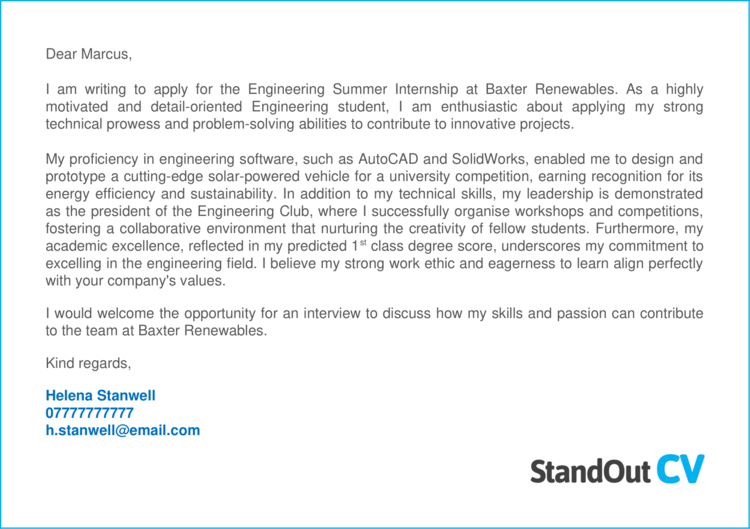 Internship cover letter example 3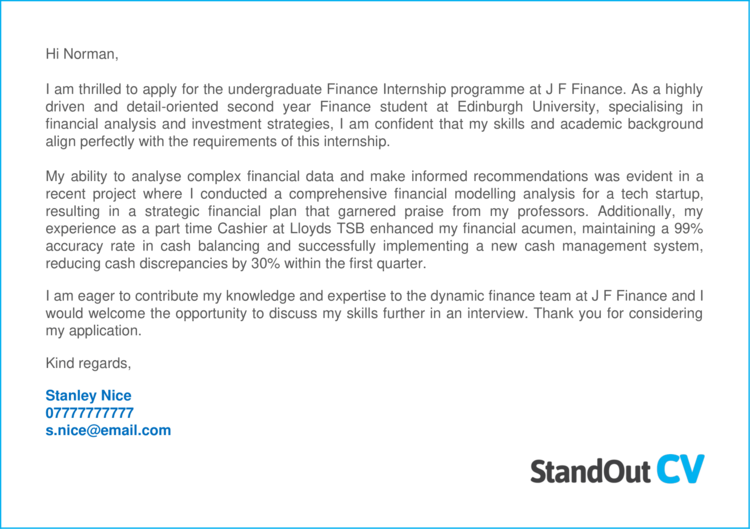 These Internship cover letter examples provide you with some guidance and inspiration for writing a cover letter that gets noticed and ensures your CV will get opened.
But if you really want to master the art of writing a winning cover letter, then follow our step-by-step cove letter writing guide below.
How to write an Internship cover letter
Here's how you can write your own eye-catching cover letter, broken down into simple steps.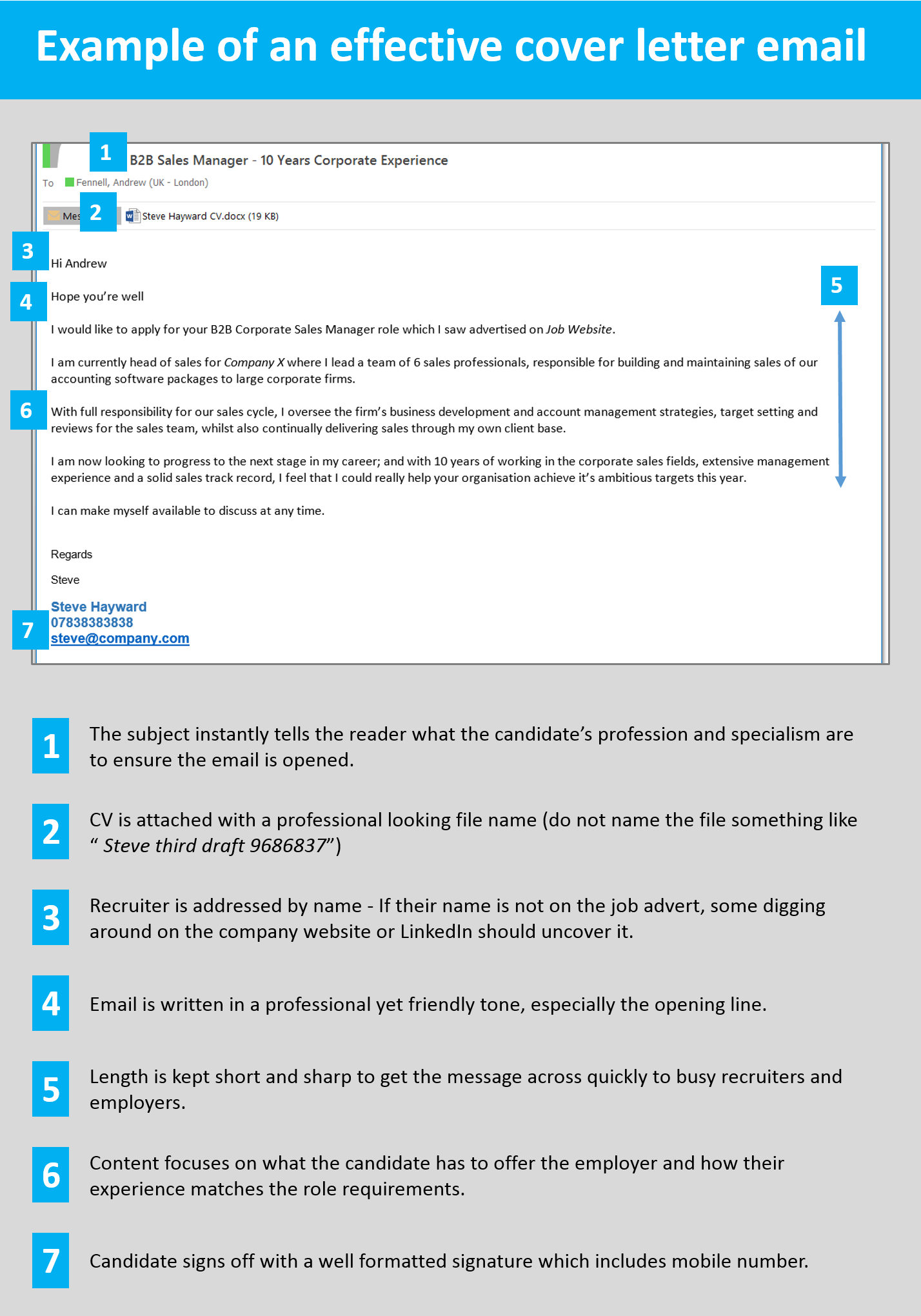 Write your cover letter in the body of an email/message
When writing your Internship cover letter, it's best to type the content into the body of your email (or the job site messaging system) and not to attach the cover letter as a separate document.
This ensures that your cover letter gets seen as soon as a recruiter or employer opens your message.
If you attach the cover letter as a document, you're making the reader go through an unnecessary step of opening the document before reading it.
If it's in the body of the message itself, it will be seen instantly, which hugely increases the chances of it being read.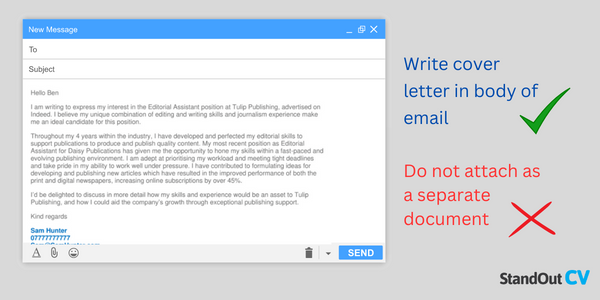 Start with a friendly greeting

To start building rapport with the recruiter or hiring manager right away, lead with a friendly greeting.
Try to strike a balance between professional and personable.
Go with something like…
Hi
Hi [insert recruiter name]
Hi [insert department/team name]
Stay away from old-fashioned greetings like "Dear sir/madam" unless applying to very formal companies – they can come across as cold and robotic.
How to find the contact's name?
Addressing the recruitment contact by name is an excellent way to start building a strong relationship. If it is not listed in the job advert, try to uncover it via these methods.
Check out the company website and look at their About page. If you see a hiring manager, HR person or internal recruiter, use their name. You could also try to figure out who would be your manager in the role and use their name.
Head to LinkedIn, search for the company and scan through the list of employees. Most professionals are on LinkedIn these days, so this is a good bet.
Identify the role you are applying for
Now that you have warmed the recruiter up with a friendly greeting, firstly you need to let them know which role you are applying for.
Sometimes a recruitment consultant will be juggling 10 or 10 vacancies, so it's important to specify which one you are applying to.
Give us much detail as possible (team/department, role title etc.) and paste in the reference number if you have one.
Here are some examples you can use.
I am interested in applying for the role of *Internship position* with your company.
I would like to apply for the role of Sales assistant (Ref: 40f57393)
I would like to express my interest in the customer service vacancy within your retail department
I saw your advert for an IT project manager on Reed and would like to apply for the role.
Highlight your suitability
The main purpose of your cover letter is to excite recruiters and make them eager to open your CV. And you achieve this by quickly demonstrating your suitability to the job you are applying for.
Take a look at the job adverts you are applying for, and make note of the most important skills being asked for.
Then, when you write your cover letter, make your suitability the focal point.
Explain how you meet the candidate requirements fully, and why you are so well suited to carry out the job.
This will give recruiters all the encouragement they need to open your CV and consider your application.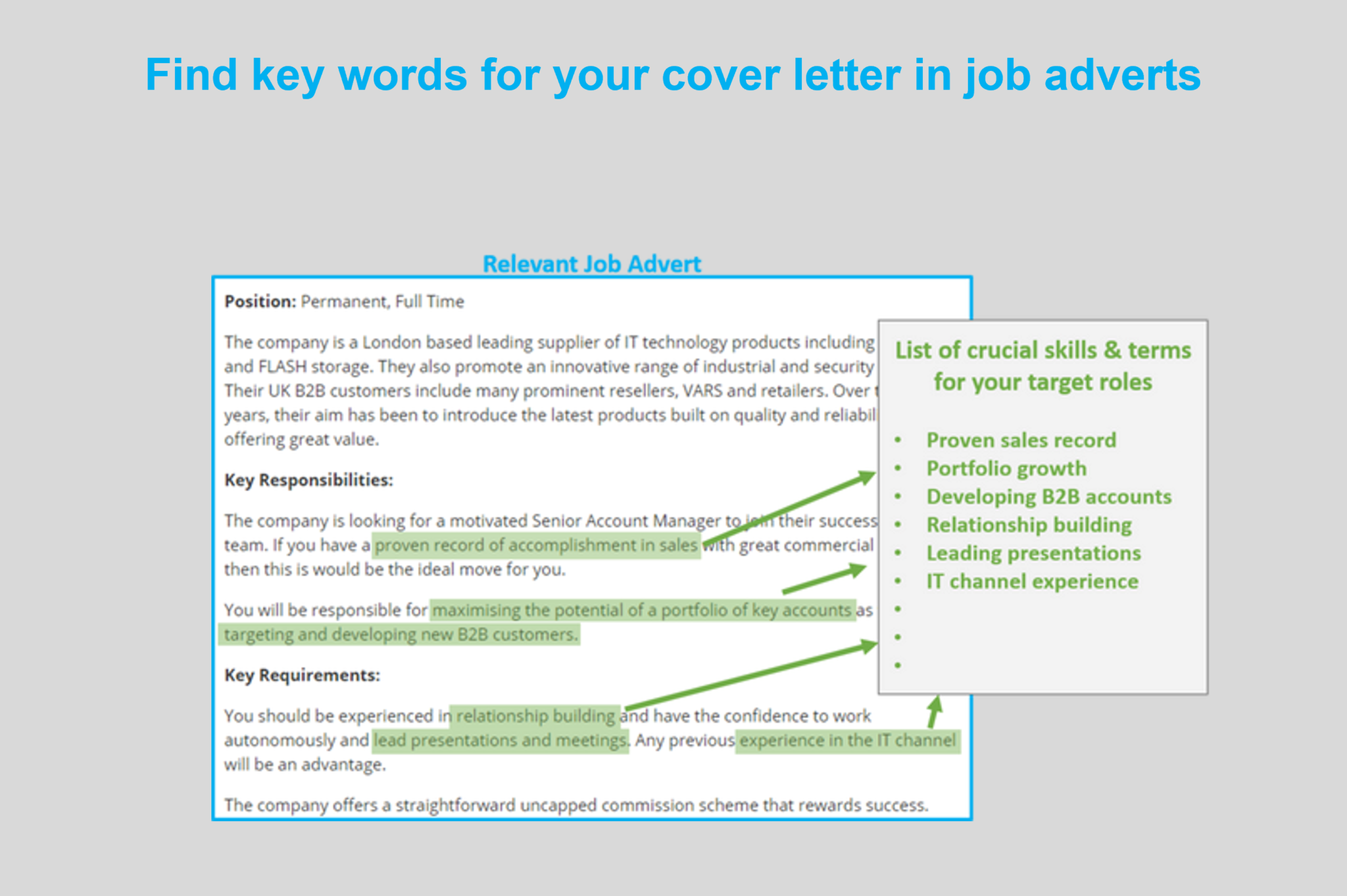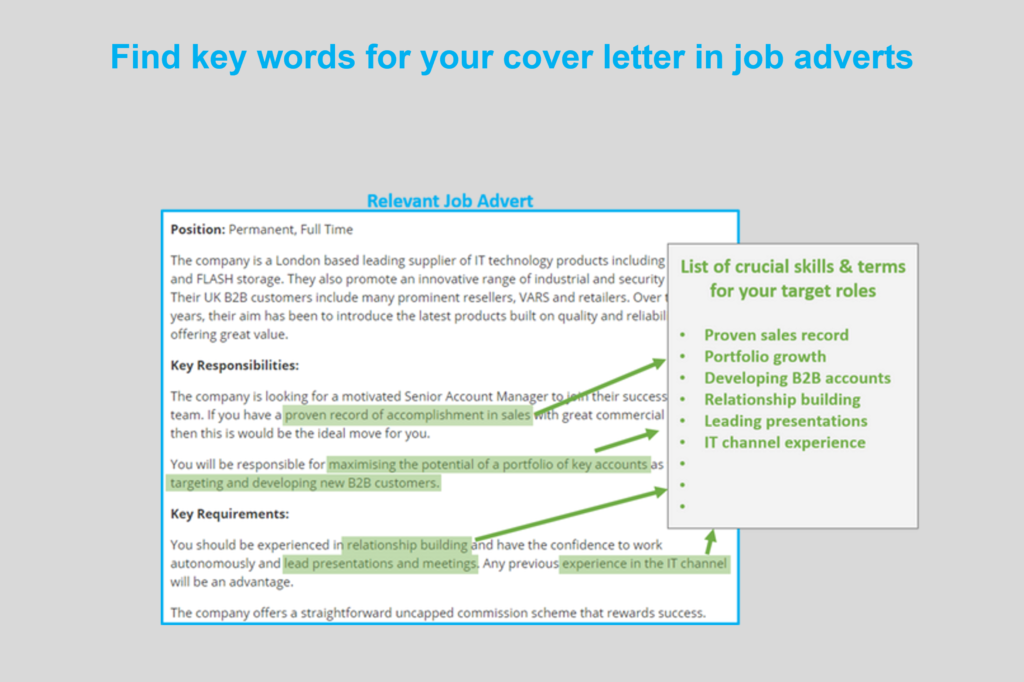 Keep it short and sharp
It is best to keep your cover letter brief if you want to ensure you hold the attention of busy recruiters and hiring managers. A lengthy cover letter will probably not get read in full, so keep yours to around 3-6 sentences and save the real detail for your CV.
Remember the purpose of your cover letter is to quickly get recruiters to notice you and encourage them to open your CV, so it only needs to include the highlights of your experience.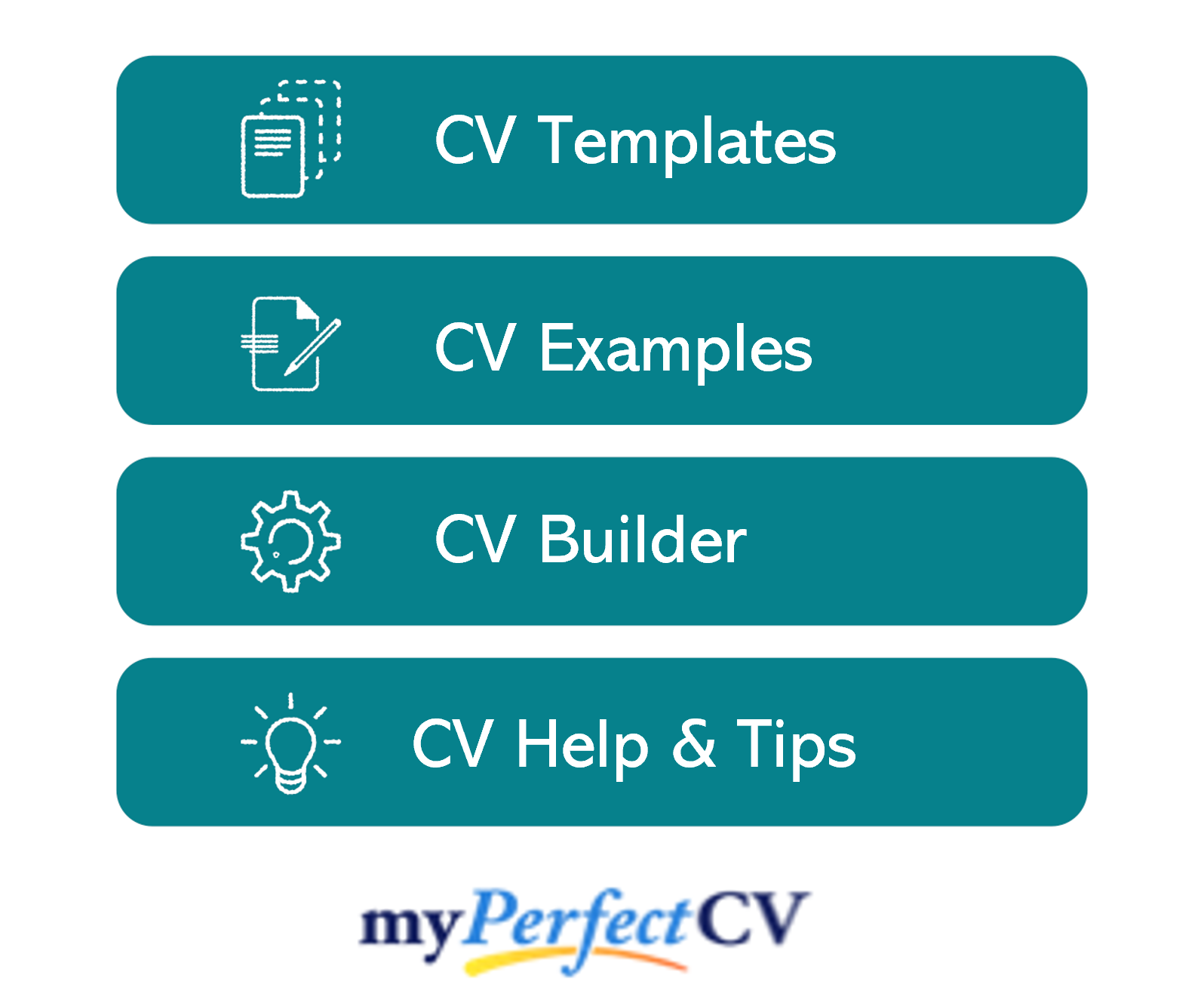 Sign off professionally
To round of your cover letter, add a professional signature to the bottom, giving recruiters your vital contact information.
This not only gives various means of contacting you, it also looks really professional and shows that you know how to communicate in the workplace.
Include the following points;
A friendly sign off – e.g. "Warm regards"
Your full name
Phone number (one you can answer quickly)
Email address
Optional
Profession title
Professional social network – e.g. LinkedIn
Here is an example signature;
Warm regards,
Gerald Baker
Senior Accountant
07887500404
Gbaker213@hotmail.com
LinkedIn
Quick tip: To save yourself from having to write your signature every time you send a job application email, you can save it within your email drafts, or on a separate document that you could copy in.

What to include in your Internship cover letter
Here's what kind of content you should include in your Internship cover letter…
The exact info will obviously depend on your industry and experience level, but these are the essentials.
Your relevant experience – Where have you worked and what type of jobs have you held?
Your qualifications – Let recruiters know about your highest level of qualification to show them you have the credentials for the job.
The impact you have made – Show how your actions have made a positive impact on previous employers; perhaps you've saved them money or helped them to acquire new customers?
Your reasons for moving – Hiring managers will want to know why you are leaving your current or previous role, so give them a brief explanation.
Your availability – When can you start a new job? Recruiters will want to know how soon they can get you on board.
Don't forget to tailor these points to the requirements of the job advert for best results.
Internship cover letter templates
Copy and paste these Internship cover letter templates to get a head start on your own.
Template 1
Hi Kelly,
I am excited to apply for the Research Chemist Internship at JL Laboratories. As a highly motivated and detail-oriented Chemistry student at the University of Leeds, specialising in organic synthesis and proficient in utilising HPLC and GC-MS for quality checks and chemical identification, I am eager to contribute my technical expertise and problem-solving skills to your esteemed organic chemistry laboratory.
Through my academic journey I have consistently demonstrated an aptitude for analytical chemistry and laboratory management. As part of my dissertation, 'Synthesis of Novel Antimicrobial Compounds,' I effectively employed organic synthesis techniques to design innovative compounds with potential applications in pharmaceutical research. In my voluntary role as a Peer Tutor, I honed my communication and teaching abilities, contributing to a significant 15% increase in freshman test scores through revision workshops and tailored study materials.
I am enthusiastic about the opportunity to be part of the cutting-edge research initiatives at your laboratory, and I am available for an interview at your earliest convenience to discuss my suitability for this position.
Kind regards,
Kim Straith
Template 2
Dear Marcus,
I am writing to apply for the Engineering Summer Internship at Baxter Renewables. As a highly motivated and detail-oriented Engineering student, I am enthusiastic about applying my strong technical prowess and problem-solving abilities to contribute to innovative projects.
My proficiency in engineering software, such as AutoCAD and SolidWorks, enabled me to design and prototype a cutting-edge solar-powered vehicle for a university competition, earning recognition for its energy efficiency and sustainability. In addition to my technical skills, my leadership is demonstrated as the president of the Engineering Club, where I successfully organise workshops and competitions, fostering a collaborative environment that nurturing the creativity of fellow students. Furthermore, my academic excellence, reflected in my predicted 1st class degree score, underscores my commitment to excelling in the engineering field. I believe my strong work ethic and eagerness to learn align perfectly with your company's values.
I would welcome the opportunity for an interview to discuss how my skills and passion can contribute to the team at Baxter Renewables.
Kind regards,
Helena Stanwell
Template 3
Hi Norman,
I am thrilled to apply for the undergraduate Finance Internship programme at J F Finance. As a highly driven and detail-oriented second year Finance student at Edinburgh University, specialising in financial analysis and investment strategies, I am confident that my skills and academic background align perfectly with the requirements of this internship.
My ability to analyse complex financial data and make informed recommendations was evident in a recent project where I conducted a comprehensive financial modelling analysis for a tech startup, resulting in a strategic financial plan that garnered praise from my professors. Additionally, my experience as a part time Cashier at Lloyds TSB enhanced my financial acumen, maintaining a 99% accuracy rate in cash balancing and successfully implementing a new cash management system, reducing cash discrepancies by 30% within the first quarter.
I am eager to contribute my knowledge and expertise to the dynamic finance team at J F Finance and I would welcome the opportunity to discuss my skills further in an interview. Thank you for considering my application.
Kind regards,
Stanley Nice
Writing a strong attention-grabbing cover letter is a vital step in landing a good Internship.
Use the tips, strategies and examples above to get more responses from you job applications and start lining job interview up.
Good luck with your job search!