You understand the importance of creativity and making the most of the space, but do you know how to utilise what precious space you have on your cover letter?
If you need some help highlighting your most relevant and impressive skills and experience, you've come to the right place.
In the guide below, we'll share our top tips, along with some interior design cover letter examples to help with your application.

Interior Designer cover letter example 1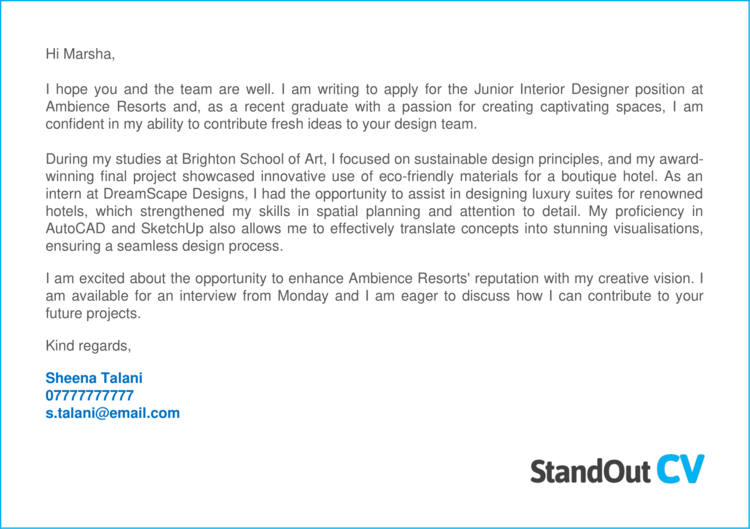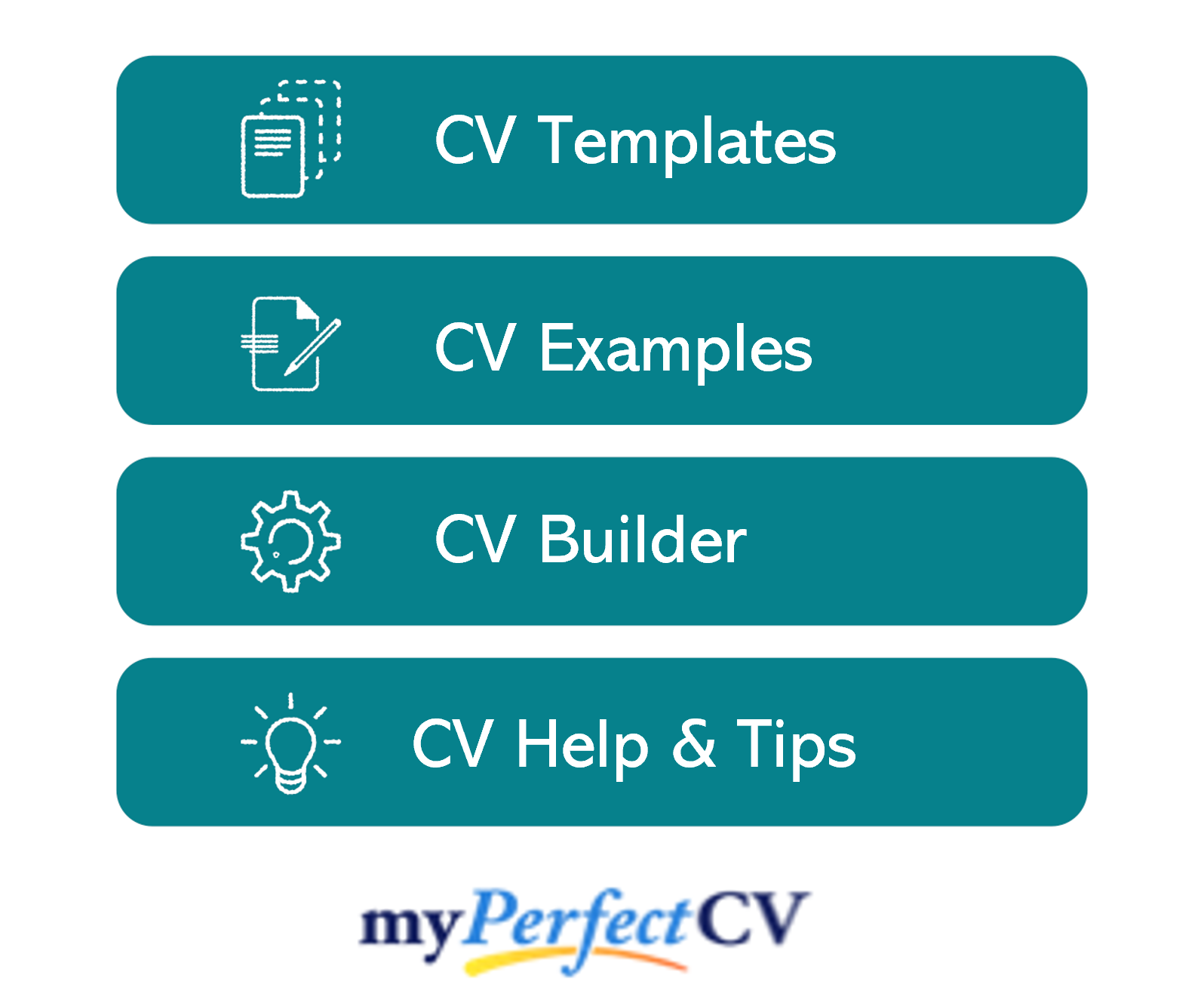 Interior Designer cover letter example 2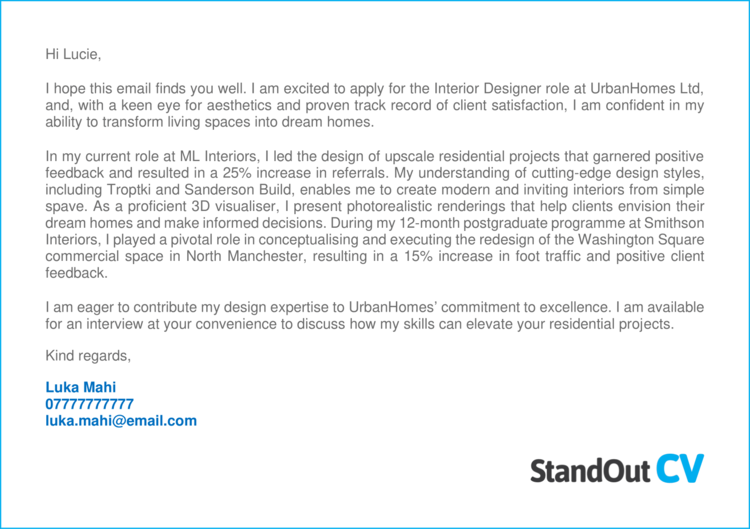 Interior Designer cover letter example 3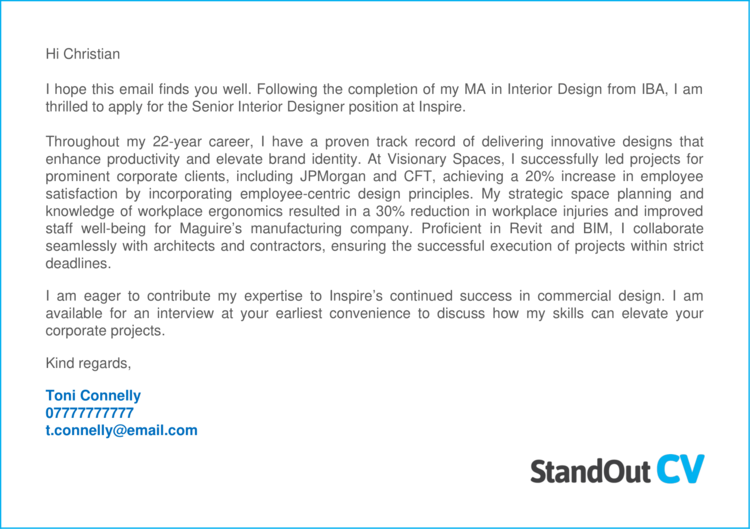 These Interior Designer cover letter examples provide you with some guidance and inspiration for writing a cover letter that gets noticed and ensures your CV will get opened.
But if you really want to master the art of writing a winning cover letter, then follow our step-by-step cove letter writing guide below.
How to write a Interior Designer cover letter
Here's how you can write your own eye-catching cover letter, broken down into simple steps.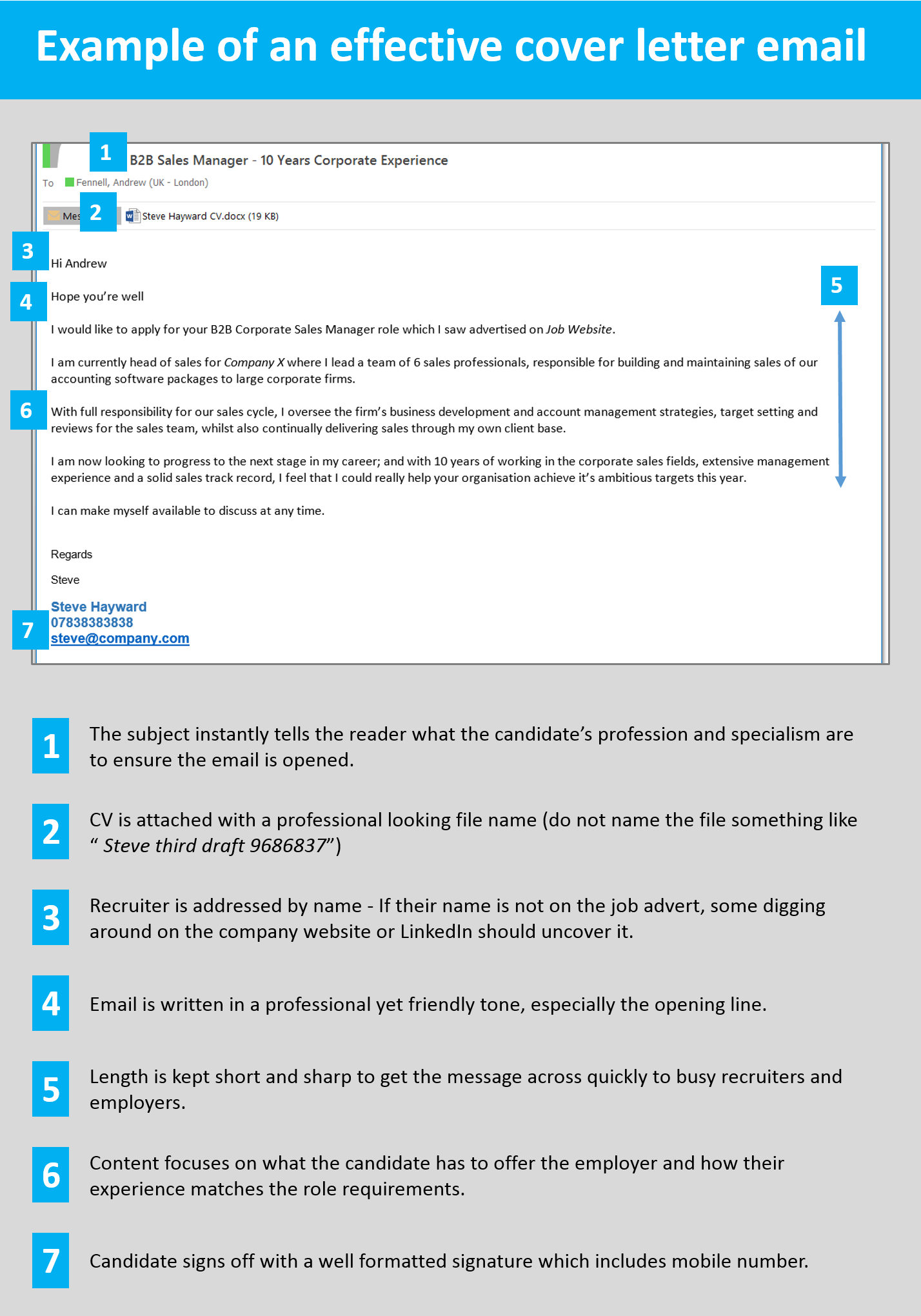 Write your cover letter in the body of an email/message
You should write your cover letter in the body of the email (or messaging system if sending via a job board) and never attach it as a document.
The reason for this?
You want your cover letter to start connecting with the recruiter from the moment they open your application.
If they have to open a document to read it, it will slow things down and they may not even bother to open it.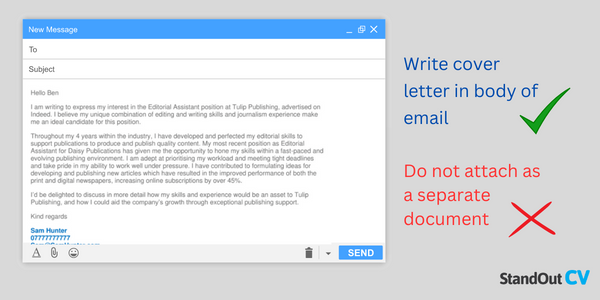 Start with a friendly greeting

To start building rapport with the recruiter or hiring manager right away, lead with a friendly greeting.
Try to strike a balance between professional and personable.
Go with something like…
Hi
Hi [insert recruiter name]
Hi [insert department/team name]
Stay away from old-fashioned greetings like "Dear sir/madam" unless applying to very formal companies – they can come across as cold and robotic.
How to find the contact's name?
Addressing the recruitment contact by name is an excellent way to start building a strong relationship. If it is not listed in the job advert, try to uncover it via these methods.
Check out the company website and look at their About page. If you see a hiring manager, HR person or internal recruiter, use their name. You could also try to figure out who would be your manager in the role and use their name.
Head to LinkedIn, search for the company and scan through the list of employees. Most professionals are on LinkedIn these days, so this is a good bet.
Identify the role you are applying for
Now that you have warmed the recruiter up with a friendly greeting, firstly you need to let them know which role you are applying for.
Sometimes a recruitment consultant will be juggling 10 or 10 vacancies, so it's important to specify which one you are applying to.
Give us much detail as possible (team/department, role title etc.) and paste in the reference number if you have one.
Here are some examples you can use.
I am interested in applying for the role of Interior Designer with your company.
I would like to apply for the role of Sales assistant (Ref: 40f57393)
I would like to express my interest in the customer service vacancy within your retail department
I saw your advert for an IT project manager on Reed and would like to apply for the role.
Highlight your suitability
The main purpose of your cover letter is to excite recruiters and make them eager to open your CV. And you achieve this by quickly demonstrating your suitability to the job you are applying for.
Take a look at the job adverts you are applying for, and make note of the most important skills being asked for.
Then, when you write your cover letter, make your suitability the focal point.
Explain how you meet the candidate requirements fully, and why you are so well suited to carry out the job.
This will give recruiters all the encouragement they need to open your CV and consider your application.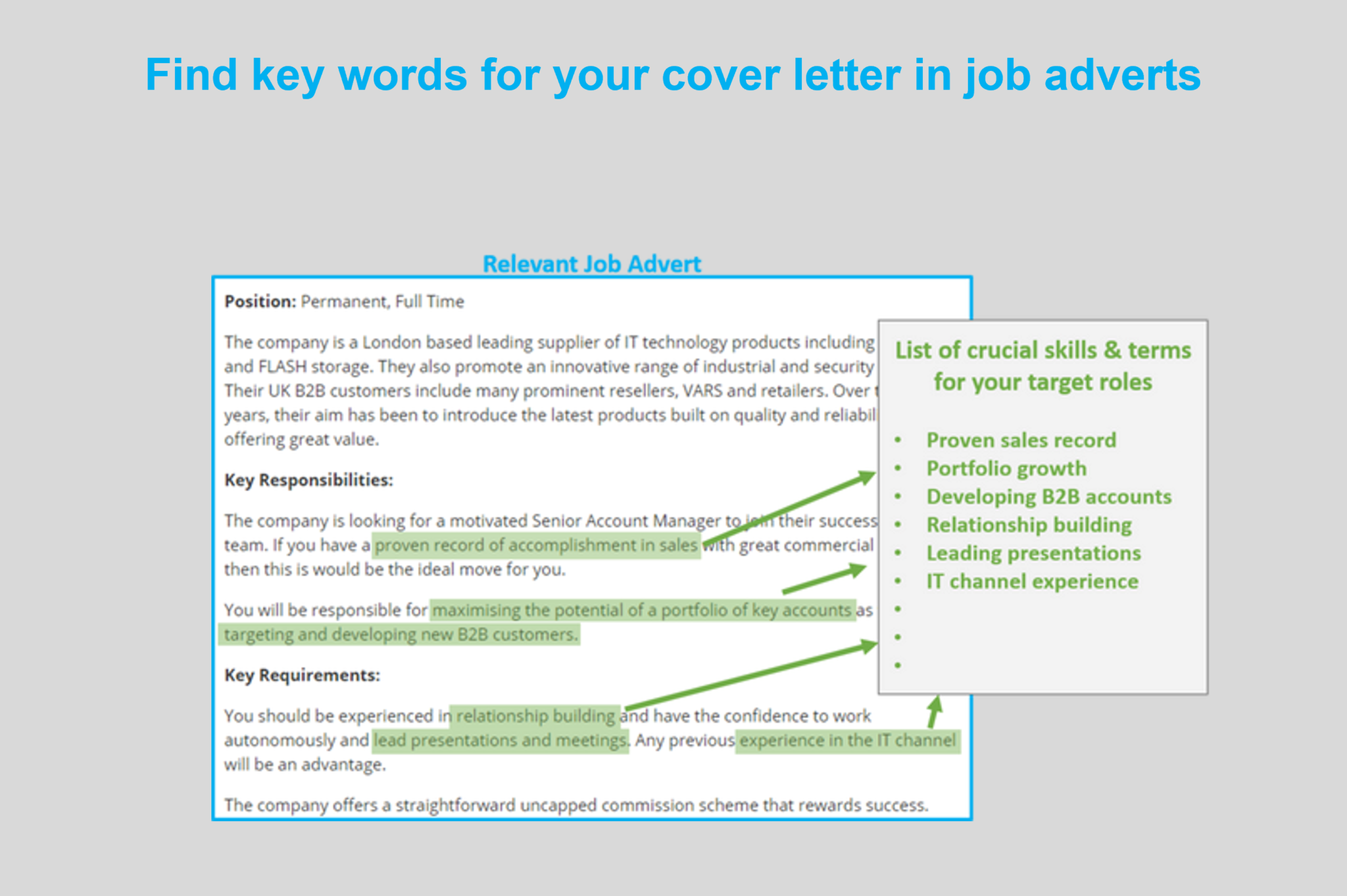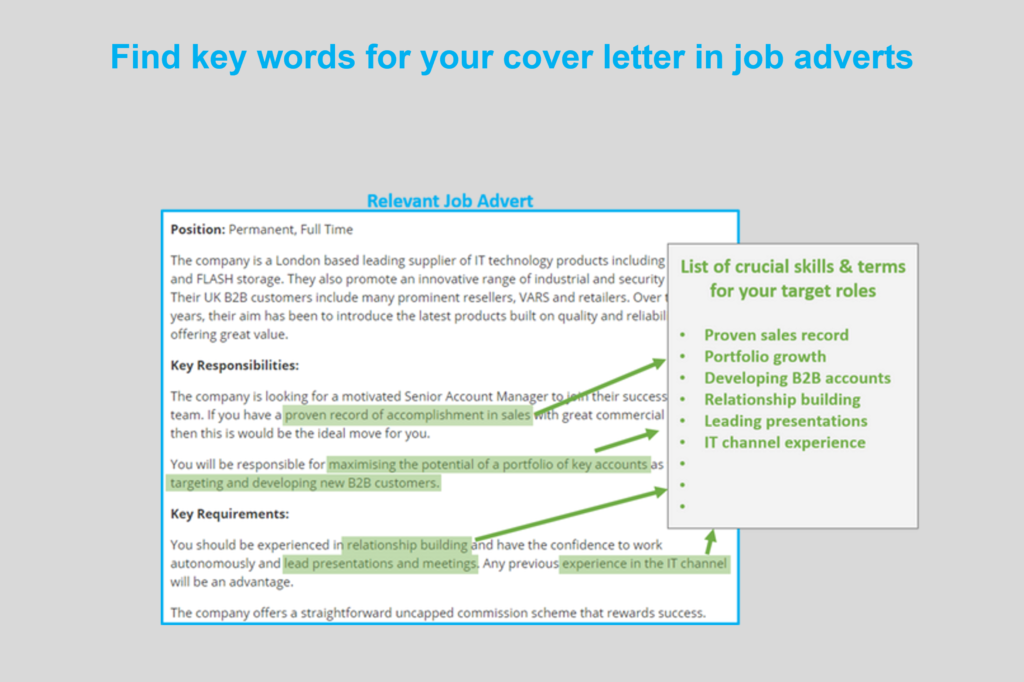 Keep it short and sharp
It is best to keep your cover letter brief if you want to ensure you hold the attention of busy recruiters and hiring managers. A lengthy cover letter will probably not get read in full, so keep yours to around 3-6 sentences and save the real detail for your CV.
Remember the purpose of your cover letter is to quickly get recruiters to notice you and encourage them to open your CV, so it only needs to include the highlights of your experience.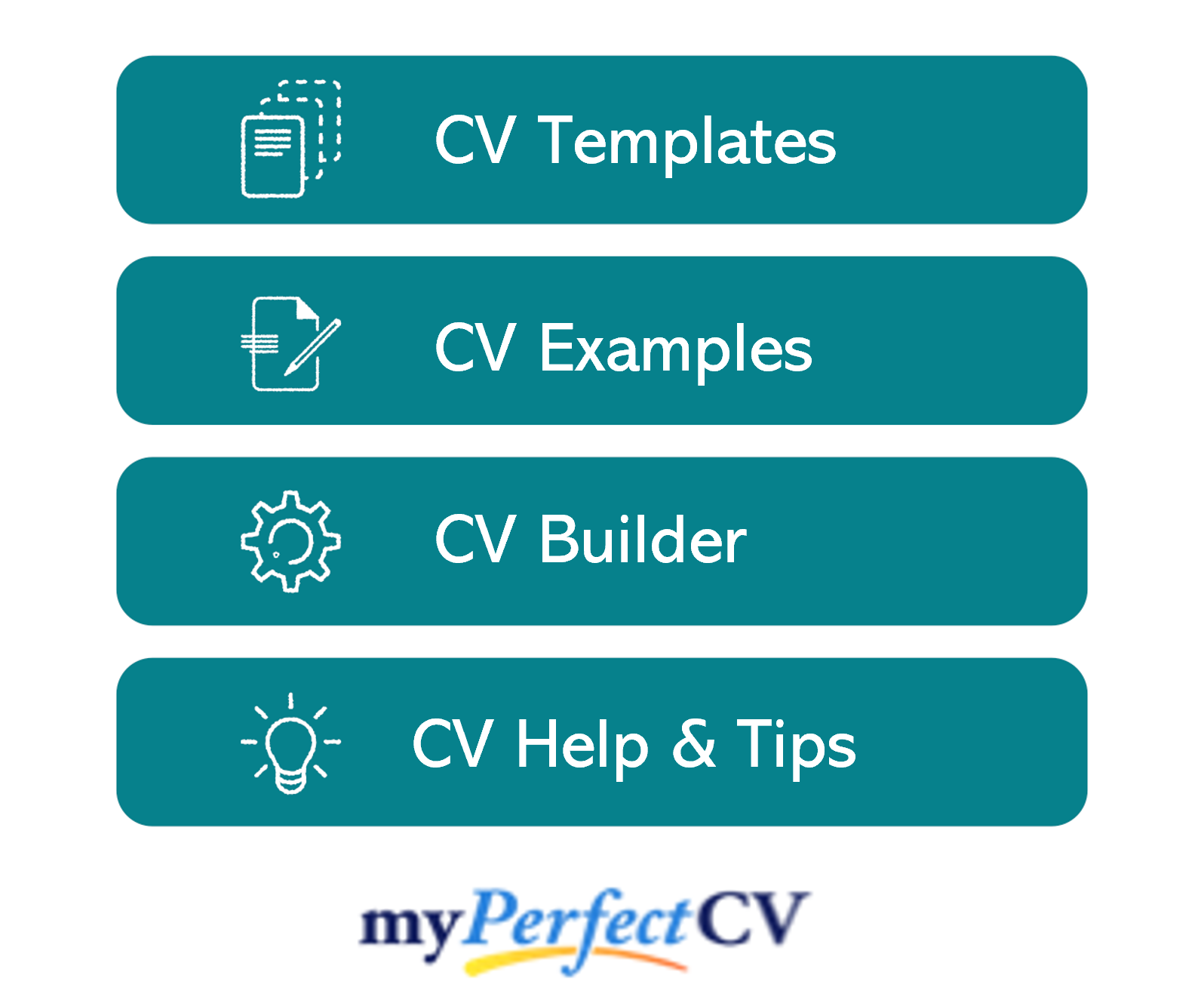 Sign off professionally
To finish off your cover note, add a professional signature to the bottom, stating your important contact details and information.
This not only provides recruiters with multiple means of contacting you, but it also adds a nice professional appearance to the cover letter, which shows that you know how to conduct yourself in the workplace.
Include the following points;
A friendly sign off – e.g. "Warm regards"
Your full name
Phone number (one you can answer quickly)
Email address
Optional
Profession title
Professional social network – e.g. LinkedIn
Here is an example signature;
Warm regards,
Aaron Smith
Customer service professional
075557437373
Aaron@smith.com
LinkedIn
Quick tip: To save yourself from having to write your signature every time you send a job application, you can save it within your email drafts, or on a separate document that you could copy in.

What to include in your Interior Designer cover letter
Here's what kind of content you should include in your Interior Designer cover letter…
The exact info will obviously depend on your industry and experience level, but these are the essentials.
Your relevant experience – Where have you worked and what type of jobs have you held?
Your qualifications – Let recruiters know about your highest level of qualification to show them you have the credentials for the job.
The impact you have made – Show how your actions have made a positive impact on previous employers; perhaps you've saved them money or helped them to acquire new customers?
Your reasons for moving – Hiring managers will want to know why you are leaving your current or previous role, so give them a brief explanation.
Your availability – When can you start a new job? Recruiters will want to know how soon they can get you on board.
Don't forget to tailor these points to the requirements of the job advert for best results.
Interior Designer cover letter templates
Copy and paste these Interior Designer cover letter templates to get a head start on your own.
Template 1
Hi Marsha,
I hope you and the team are well. I am writing to apply for the Junior Interior Designer position at Ambience Resorts and, as a recent graduate with a passion for creating captivating spaces, I am confident in my ability to contribute fresh ideas to your design team.
During my studies at Brighton School of Art, I focused on sustainable design principles, and my award-winning final project showcased innovative use of eco-friendly materials for a boutique hotel. As an intern at DreamScape Designs, I had the opportunity to assist in designing luxury suites for renowned hotels, which strengthened my skills in spatial planning and attention to detail. My proficiency in AutoCAD and SketchUp also allows me to effectively translate concepts into stunning visualisations, ensuring a seamless design process.
I am excited about the opportunity to enhance Ambience Resorts' reputation with my creative vision. I am available for an interview from Monday, and I am eager to discuss how I can contribute to your future projects.
Kind regards,
Sheena Talani ¦ 07777777777 ¦ s.talani@email.com
Template 2
Hi Lucie,
I hope this email finds you well. I am excited to apply for the Interior Designer role at UrbanHomes Ltd, and, with a keen eye for aesthetics and proven track record of client satisfaction, I am confident in my ability to transform living spaces into dream homes.
In my current role at ML Interiors, I led the design of upscale residential projects that garnered positive feedback and resulted in a 25% increase in referrals. My understanding of cutting-edge design styles, including Troptki and Sanderson Build, enables me to create modern and inviting interiors from simple spaces. As a proficient 3D visualiser, I present photorealistic renderings that help clients envision their dream homes and make informed decisions. During my 12-month postgraduate programme at Smithson Interiors, I played a pivotal role in conceptualising and executing the redesign of the Washington Square commercial space in North Manchester, resulting in a 15% increase in foot traffic and positive client feedback.
I am eager to contribute my design expertise to UrbanHomes' commitment to excellence. I am available for an interview at your convenience to discuss how my skills can elevate your residential projects.
Kind regards,
Luka Mahi ¦ 07777777777 ¦ luka.mahi@email.com
Template 3
Hi Christian
I hope this email finds you well. Following the completion of my MA in Interior Design from IBA, I am thrilled to apply for the Senior Interior Designer position at Inspire.
Throughout my 22-year career, I have a proven track record of delivering innovative designs that enhance productivity and elevate brand identity. At Visionary Spaces, I successfully led projects for prominent corporate clients, including JPMorgan and CFT, achieving a 20% increase in employee satisfaction by incorporating employee-centric design principles. My strategic space planning and knowledge of workplace ergonomics resulted in a 30% reduction in workplace injuries and improved staff well-being for Maguire's manufacturing company. Proficient in Revit and BIM, I collaborate seamlessly with architects and contractors, ensuring the successful execution of projects within strict deadlines.
I am eager to contribute my expertise to Inspire's continued success in commercial design. I am available for an interview at your earliest convenience to discuss how my skills can elevate your corporate projects.
Kind regards,
Toni Connelly ¦ 07777777777 ¦ t.connelly@email.com
Writing an impressive cover letter is a crucial step in landing a Interior Designer job, so taking the time to perfect it is well worth while.
By following the tips and examples above you will be able to create an eye-catching cover letter that will wow recruiters and ensure your CV gets read – leading to more job interviews for you.
Good luck with your job search!