As a HR professional, it's likely that you've dealt with the hiring or onboarding process in some way before, so it can feel strange when the shoe is on the other foot.
That being said, you know what will impress, so you just need to get your key skills, achievements and experience down on paper.
But we know that's easier said than done, so take a look at our top tips and advice below, along with our HR cover letter examples to guide you.

HR cover letter example 1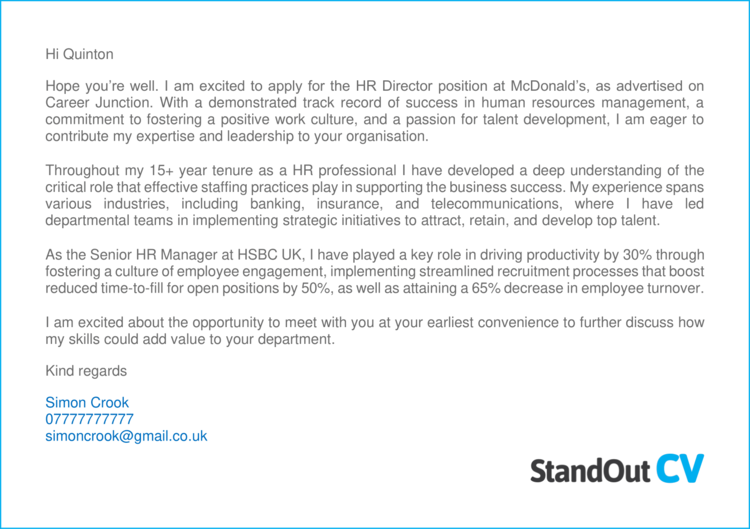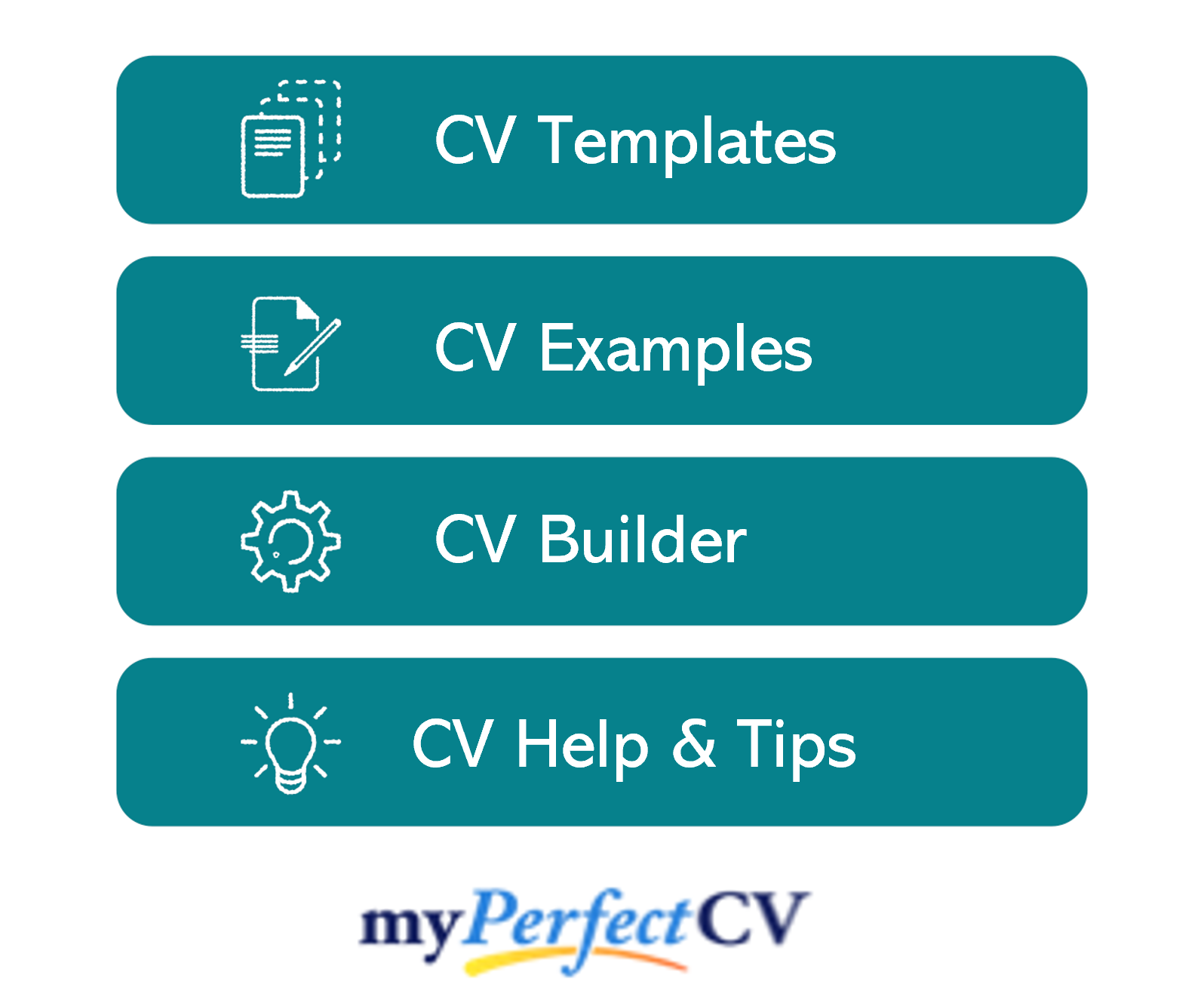 HR cover letter example 2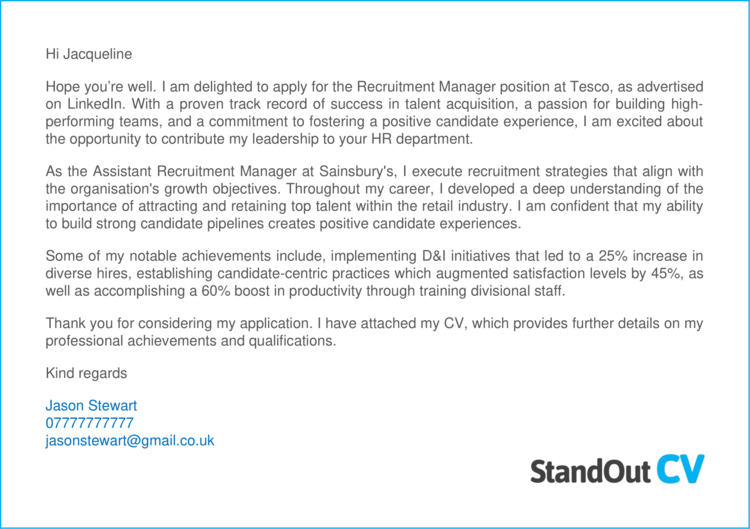 HR cover letter example 3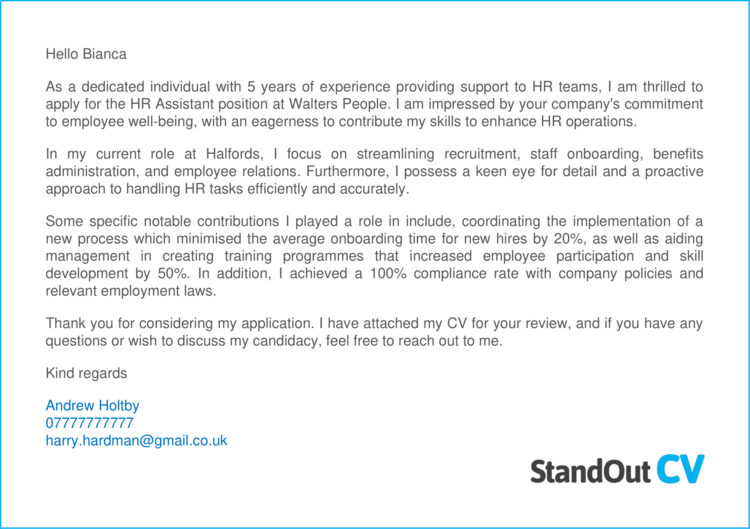 These 3 HR cover letter examples should provide you with a good steer on how to write your own cover letter, and the general structure to follow.
Our simple step-by-step guide below provides some more detailed advice on how you can craft a winning cover letter for yourself, that will ensure your CV gets opened.
How to write a HR cover letter
Here's a simple process to write your own interview-winning cover letter.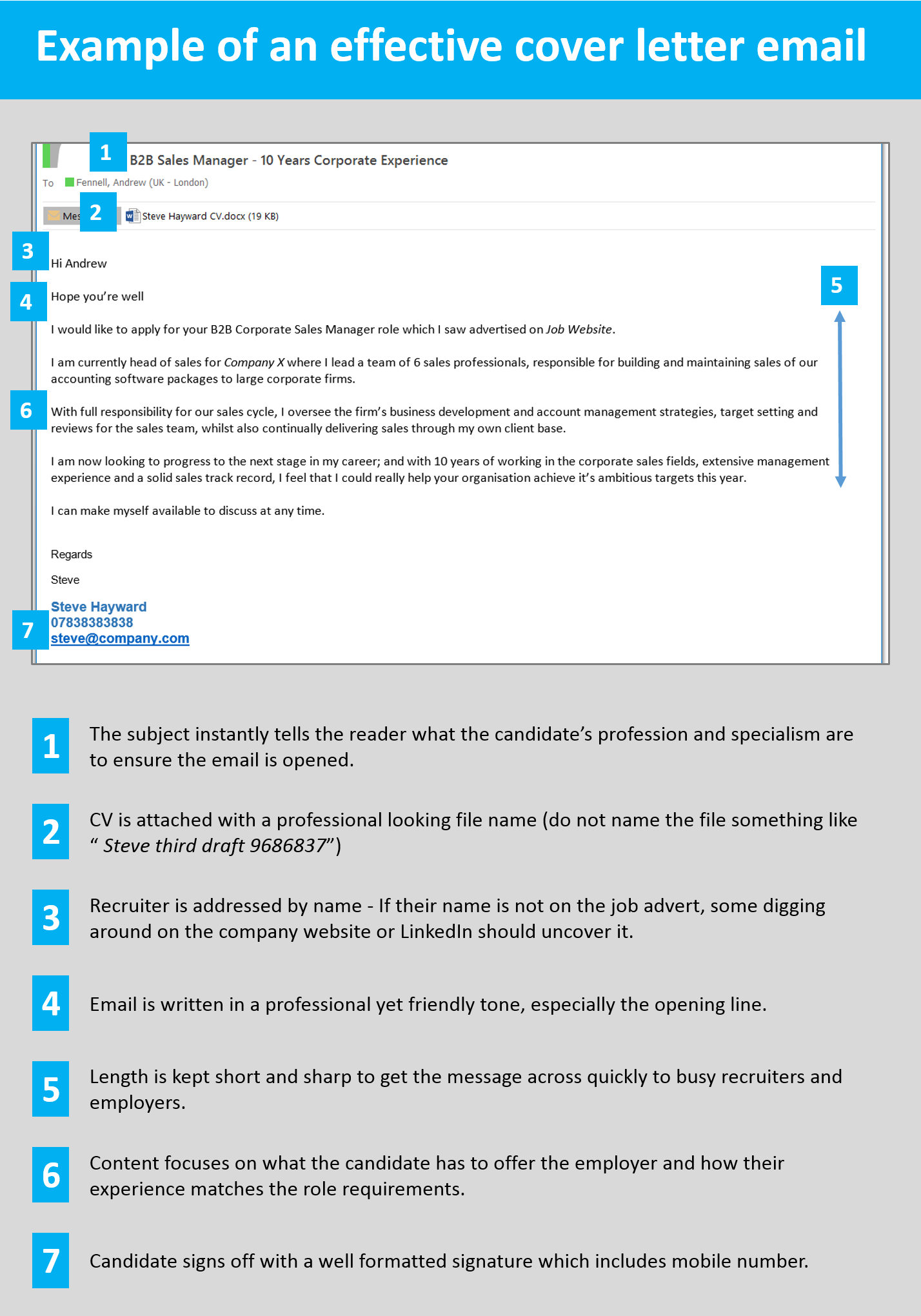 Write your cover letter in the body of an email/message
You should write your cover letter in the body of the email (or messaging system if sending via a job board) and never attach it as a document.
The reason for this?
You want your cover letter to start connecting with the recruiter from the moment they open your application.
If they have to open a document to read it, it will slow things down and they may not even bother to open it.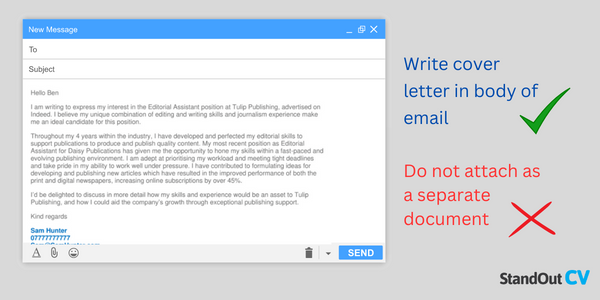 Start with a friendly greeting

To start building rapport with the recruiter or hiring manager right away, lead with a friendly greeting.
Try to strike a balance between professional and personable.
Go with something like…
Hi
Hi [insert recruiter name]
Hi [insert department/team name]
Stay away from old-fashioned greetings like "Dear sir/madam" unless applying to very formal companies – they can come across as cold and robotic.
How to find the contact's name?
Addressing the recruitment contact by name is an excellent way to start building a strong relationship. If it is not listed in the job advert, try to uncover it via these methods.
Check out the company website and look at their About page. If you see a hiring manager, HR person or internal recruiter, use their name. You could also try to figure out who would be your manager in the role and use their name.
Head to LinkedIn, search for the company and scan through the list of employees. Most professionals are on LinkedIn these days, so this is a good bet.
Identify the role you are applying for
Once you have opened the cover letter with a warm greeting, you need to explain which role you are interested in.
Sometimes a recruitment consultant could be managing over 10 vacancies, so it's crucial to pinpoint exactly which one you are interested in.
Highlight the department/area if possible and look for any reference numbers you can quote.
These are some examples you can add..
I am interested in applying for the role of *HR position* with your company.
I would like to apply for the role of Sales assistant (Ref: 40f57393)
I would like to express my interest in the customer service vacancy within your retail department
I saw your advert for an IT project manager on Reed and would like to apply for the role.
Highlight your suitability
The sole objective of your cover letter is to motivate recruiters into to opening your CV. And you achieve this by quickly explaining your suitability to the roles you are applying for.
Take a look at the job descriptions you are applying to, and make note of the most important skills and qualifications being asked for.
Then, when crafting your cover letter, make your suitability the central focus.
Explain why you are the best qualified candidate, and why you are so well suited to carry out the job.
This will give recruiters all the encouragement they need to open your CV and consider you for the job.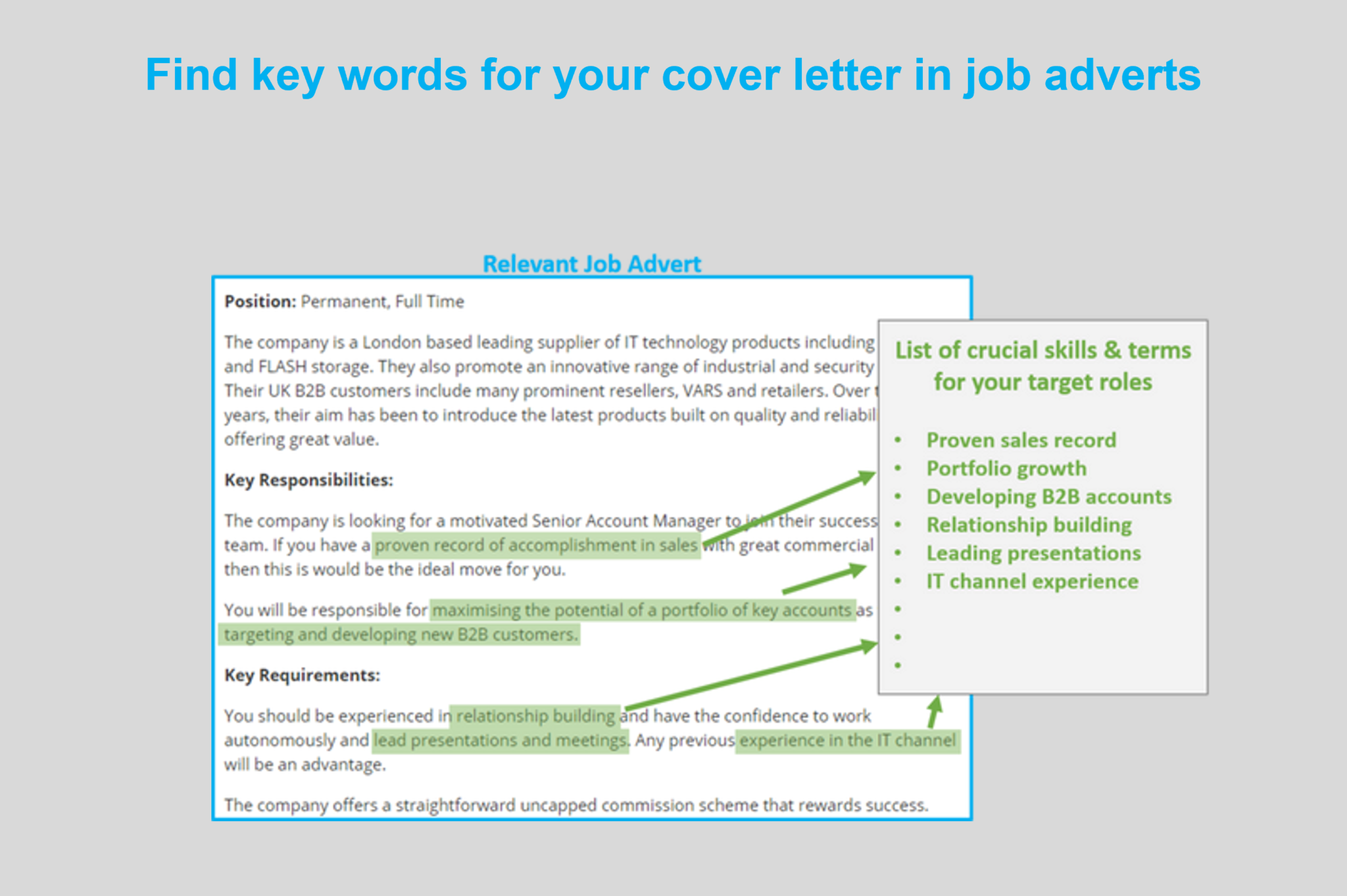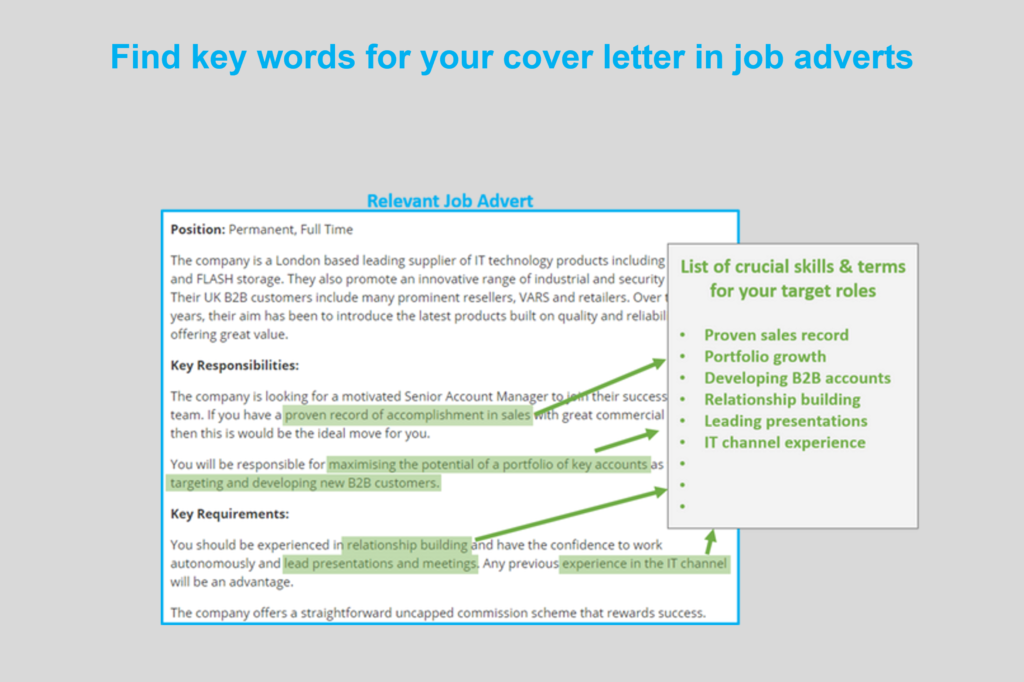 Keep it short and sharp
A good cover letter is short and sharp, getting to the point quickly with just enough information to grab the attention of recruiters.
Ideally your cover letter should be around 4-8 sentences long – anything longer will risk losing the attention of time-strapped recruiters and hiring managers.
Essentially you need to include just enough information to persuade the reader to open up your CV, where the in-depth details will sit.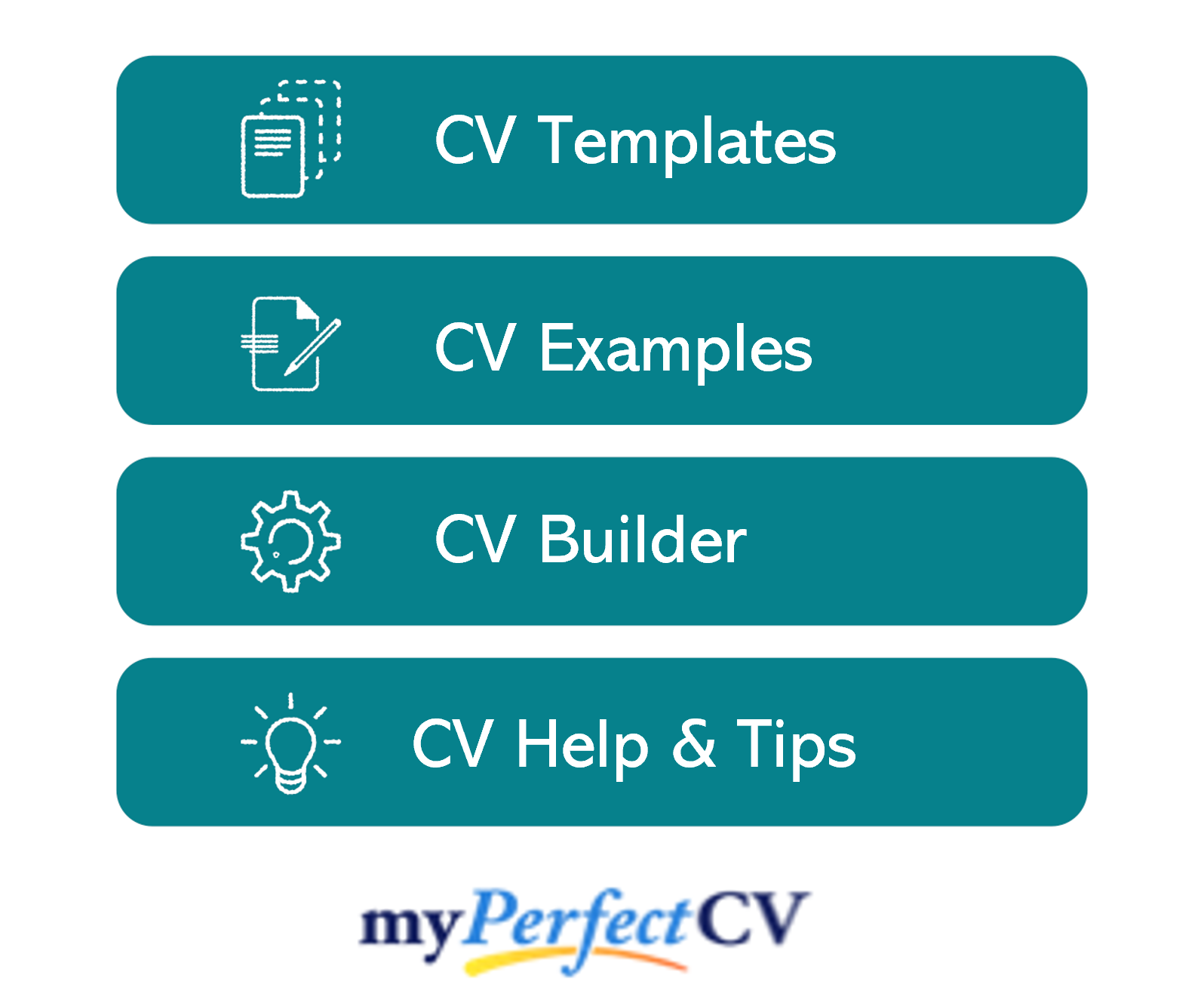 Sign off professionally
To finish off your cover note, add a professional signature to the bottom, stating your important contact details and information.
This not only provides recruiters with multiple means of contacting you, but it also adds a nice professional appearance to the cover letter, which shows that you know how to conduct yourself in the workplace.
Include the following points;
A friendly sign off – e.g. "Warm regards"
Your full name
Phone number (one you can answer quickly)
Email address
Optional
Profession title
Professional social network – e.g. LinkedIn
Here is an example signature;
Warm regards,
Aaron Smith
Customer service professional
075557437373
Aaron@smith.com
LinkedIn
Quick tip: To save yourself from having to write your signature every time you send a job application, you can save it within your email drafts, or on a separate document that you could copy in.

What to include in your HR cover letter
Here's what kind of content you should include in your HR cover letter…
The exact info will obviously depend on your industry and experience level, but these are the essentials.
Your relevant experience – Where have you worked and what type of jobs have you held?
Your qualifications – Let recruiters know about your highest level of qualification to show them you have the credentials for the job.
The impact you have made – Show how your actions have made a positive impact on previous employers; perhaps you've saved them money or helped them to acquire new customers?
Your reasons for moving – Hiring managers will want to know why you are leaving your current or previous role, so give them a brief explanation.
Your availability – When can you start a new job? Recruiters will want to know how soon they can get you on board.
Don't forget to tailor these points to the requirements of the job advert for best results.
HR cover letter templates
Copy and paste these HR cover letter templates to get a head start on your own.
Template 1
Hi Quinton
Hope you're well. I am excited to apply for the HR Director position at McDonald's, as advertised on Career Junction. With a demonstrated track record of success in human resources management, a commitment to fostering a positive work culture, and a passion for talent development, I am eager to contribute my expertise and leadership to your organisation.
Throughout my 15+ year tenure as a HR professional I have developed a deep understanding of the critical role that effective staffing practices play in supporting the business success. My experience spans various industries, including banking, insurance, and telecommunications, where I have led departmental teams in implementing strategic initiatives to attract, retain, and develop top talent.
As the Senior HR Manager at HSBC UK, I have played a key role in driving productivity by 30% through fostering a culture of employee engagement, implementing streamlined recruitment processes that boost reduced time-to-fill for open positions by 50%, as well as attaining a 65% decrease in employee turnover.
I am excited about the opportunity to meet with you at your earliest convenience to further discuss how my skills could add value to your department.
Kind regards
Simon Crook ¦ 07777777777 ¦ simoncrook@gmail.co.uk
Template 2
Hi Jacqueline
Hope you're well. I am delighted to apply for the Recruitment Manager position at Tesco, as advertised on LinkedIn. With a proven track record of success in talent acquisition, a passion for building high performing teams, and a commitment to fostering a positive candidate experience, I am excited about the opportunity to contribute my leadership to your HR department.
As the Assistant Recruitment Manager at Sainsbury's, I execute recruitment strategies that align with the organisation's growth objectives. Throughout my career, I developed a deep understanding of the importance of attracting and retaining top talent within the retail industry. I am confident that my ability to build strong candidate pipelines creates positive candidate experiences.
Some of my notable achievements include, implementing D&I initiatives that led to a 25% increase in diverse hires, establishing candidate-centric practices which augmented satisfaction levels by 45%, as well as accomplishing a 60% boost in productivity through training divisional staff.
Thank you for considering my application. I have attached my CV, which provides further details on my professional achievements and qualifications.
Kind regards
Jason Stewart ¦ 07777777777 ¦ jasonstewart@gmail.co.uk
Template 3
Hello Bianca
As a dedicated individual with 5 years of experience providing support to HR teams, I am thrilled to apply for the HR Assistant position at Walters People. I am impressed by your company's commitment to employee well-being, with an eagerness to contribute my skills to enhance HR operations.
In my current role at Halfords, I focus on streamlining recruitment, staff onboarding, benefits administration, and employee relations. Furthermore, I possess a keen eye for detail and a proactive approach to handling HR tasks efficiently and accurately.
Some specific notable contributions I played a role in include, coordinating the implementation of a new process which minimised the average onboarding time for new hires by 20%, as well as aiding management in creating training programmes that increased employee participation and skill development by 50%. In addition, I achieved a 100% compliance rate with company policies and relevant employment laws.
Thank you for considering my application. I have attached my CV for your review, and if you have any questions or wish to discuss my candidacy, feel free to reach out to me.
Kind regards
Andrew Holtby ¦ 07777777777 ¦ harry.hardman@gmail.co.uk
Writing an impressive cover letter is a crucial step in landing a job in HR, so taking the time to perfect it is well worth while.
By following the tips and examples above you will be able to create an eye-catching cover letter that will wow recruiters and ensure your CV gets read – leading to more job interviews for you.
Good luck with your job search!