You're great at creating bold visual concepts, but can you put this into words to effectively sell your skills?
If you need help producing a captivating cover letter that's going to make you stand out from the crowd, you've come to the right place.
Check out our step-by-step guide below, bursting with top tips and some graphic design cover letter examples to inspire you.

Graphic Design cover letter example 1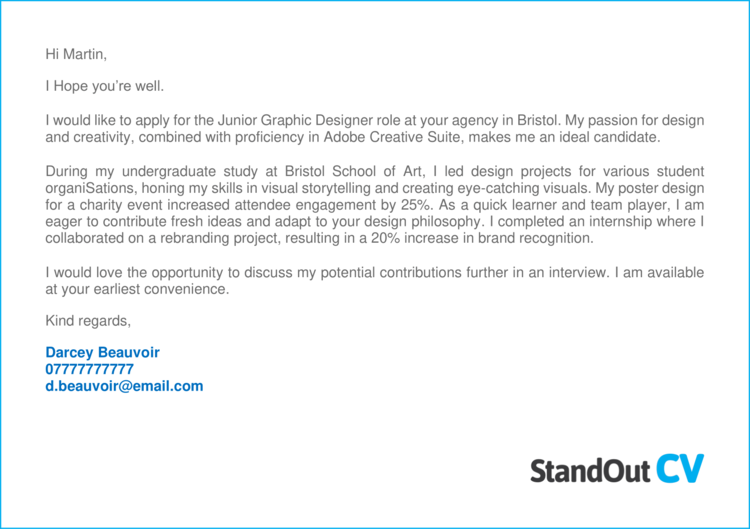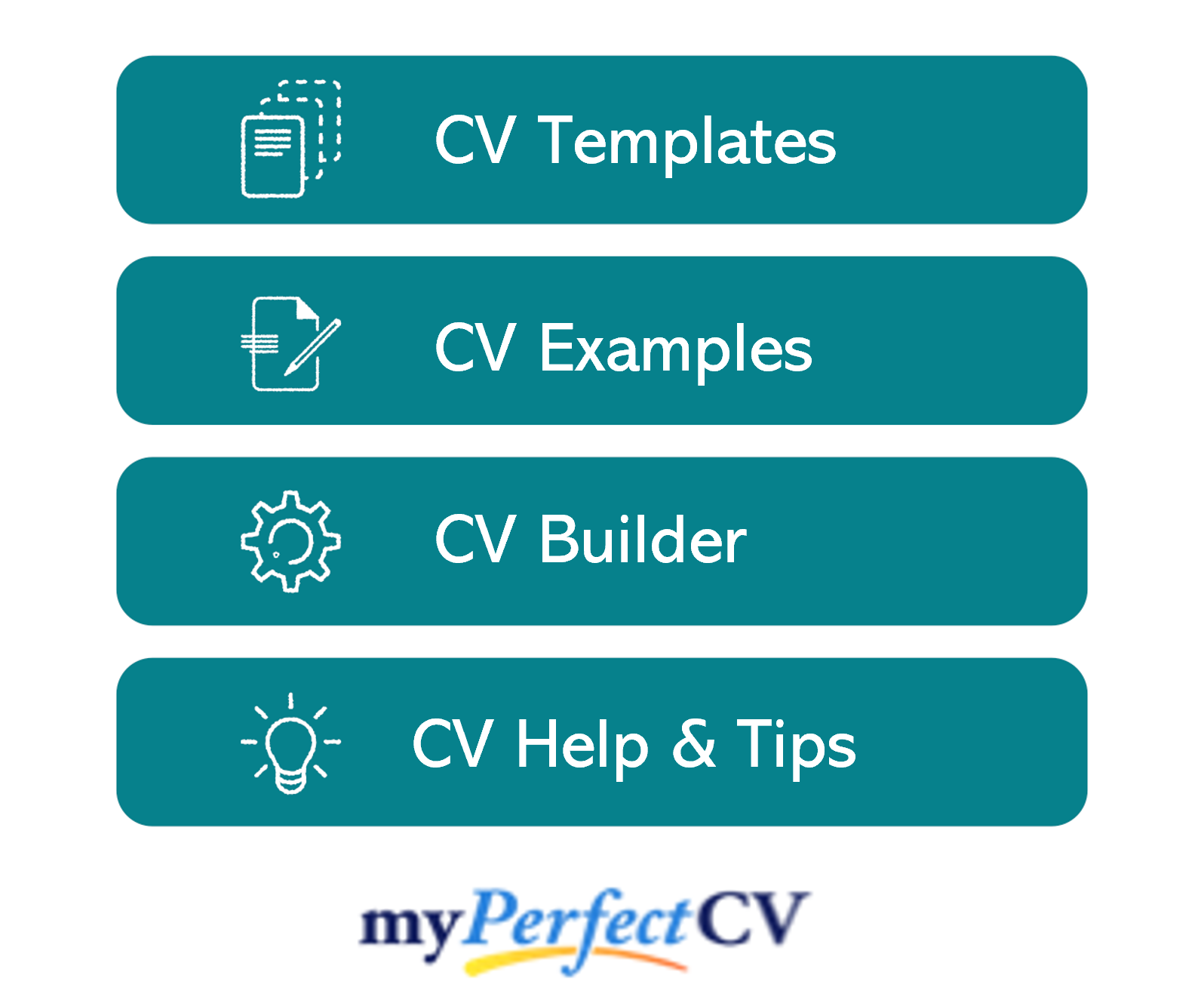 Graphic Design cover letter example 2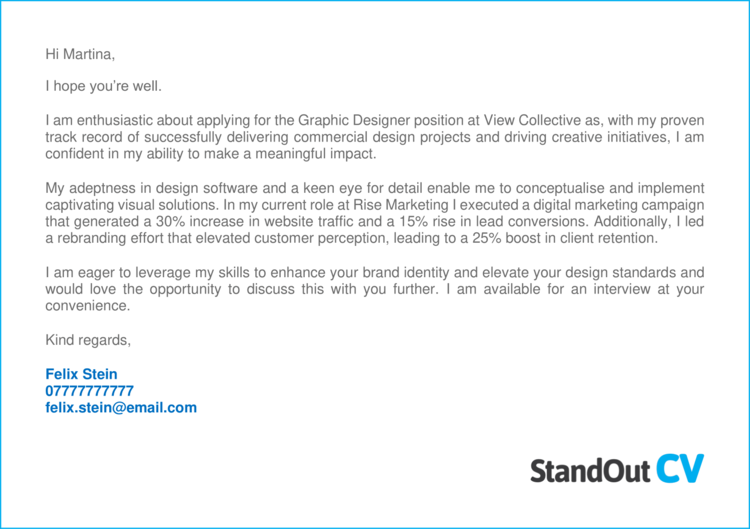 Graphic Design cover letter example 3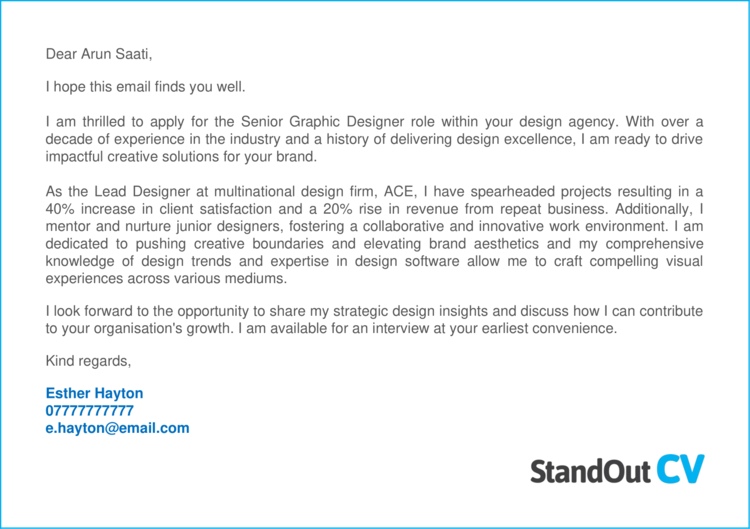 The example cover letters here should give you a good general idea on how your Graphic Design cover letter should be formatted and written.
The rest of this guide gives more specific guidance on how to create your own cover letter in this format, and even includes some templates you can copy and paste.
How to write a Graphic Design cover letter
Here's how to write your own winning Graphic Design cover letter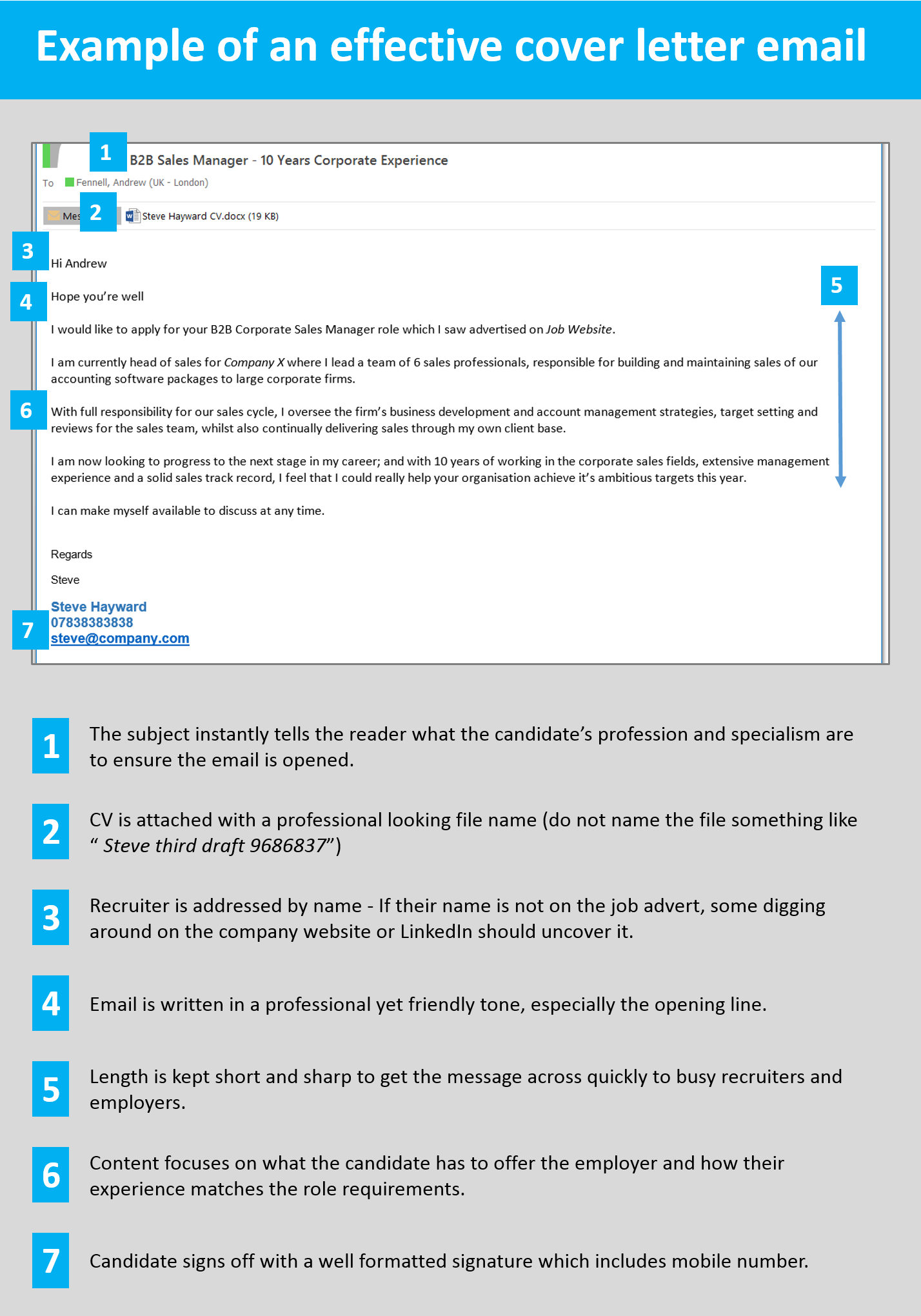 Write your cover letter in the body of an email/message
When writing your Graphic Design cover letter, it's best to type the content into the body of your email (or the job site messaging system) and not to attach the cover letter as a separate document.
This ensures that your cover letter gets seen as soon as a recruiter or employer opens your message.
If you attach the cover letter as a document, you're making the reader go through an unnecessary step of opening the document before reading it.
If it's in the body of the message itself, it will be seen instantly, which hugely increases the chances of it being read.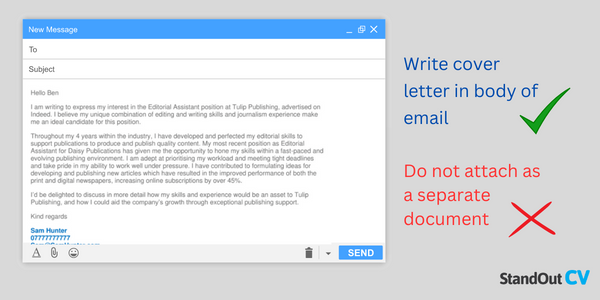 Start with a friendly greeting

To start building rapport with the recruiter or hiring manager right away, lead with a friendly greeting.
Try to strike a balance between professional and personable.
Go with something like…
Hi
Hi [insert recruiter name]
Hi [insert department/team name]
Stay away from old-fashioned greetings like "Dear sir/madam" unless applying to very formal companies – they can come across as cold and robotic.
How to find the contact's name?
Addressing the recruitment contact by name is an excellent way to start building a strong relationship. If it is not listed in the job advert, try to uncover it via these methods.
Check out the company website and look at their About page. If you see a hiring manager, HR person or internal recruiter, use their name. You could also try to figure out who would be your manager in the role and use their name.
Head to LinkedIn, search for the company and scan through the list of employees. Most professionals are on LinkedIn these days, so this is a good bet.
Identify the role you are applying for
Once you have opened the cover letter with a warm greeting, you need to explain which role you are interested in.
Sometimes a recruitment consultant could be managing over 10 vacancies, so it's crucial to pinpoint exactly which one you are interested in.
Highlight the department/area if possible and look for any reference numbers you can quote.
These are some examples you can add..
I am interested in applying for the role of Graphic Designer with your company.
I would like to apply for the role of Sales assistant (Ref: 40f57393)
I would like to express my interest in the customer service vacancy within your retail department
I saw your advert for an IT project manager on Reed and would like to apply for the role.
Highlight your suitability
The sole objective of your cover letter is to motivate recruiters into to opening your CV. And you achieve this by quickly explaining your suitability to the roles you are applying for.
Take a look at the job descriptions you are applying to, and make note of the most important skills and qualifications being asked for.
Then, when crafting your cover letter, make your suitability the central focus.
Explain why you are the best qualified candidate, and why you are so well suited to carry out the job.
This will give recruiters all the encouragement they need to open your CV and consider you for the job.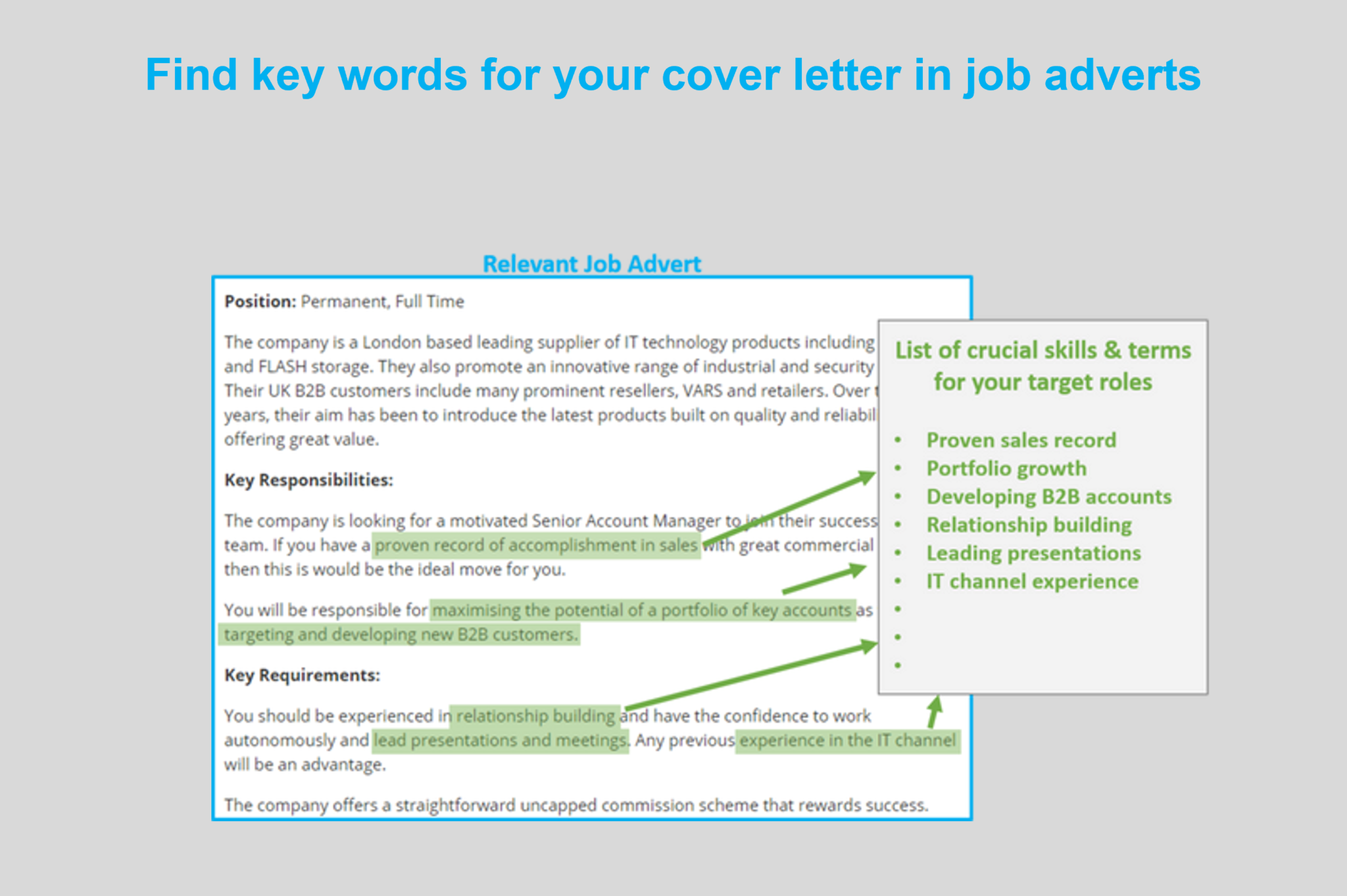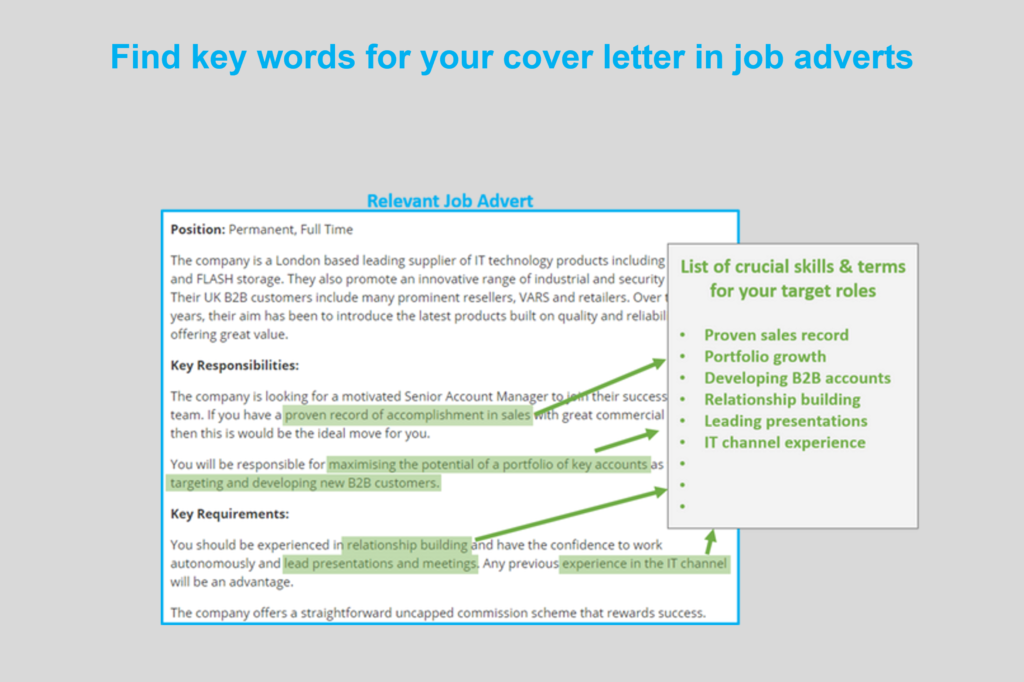 Keep it short and sharp
When sending a job application to a recruiter or hiring manager, it is important to remember that they will normally be very busy and pushed for time.
Therefore, you need to get you message across to them quickly (in a matter of seconds ideally). So, keep your cover letter short and to-the-point. A long waffling cover letter will overwhelm recruiters when they are running through hundreds of emails in there inbox, but a concise one will get their attention.
So, keep your cover letter to just a few sentences long, and save the extensive detail for your CV.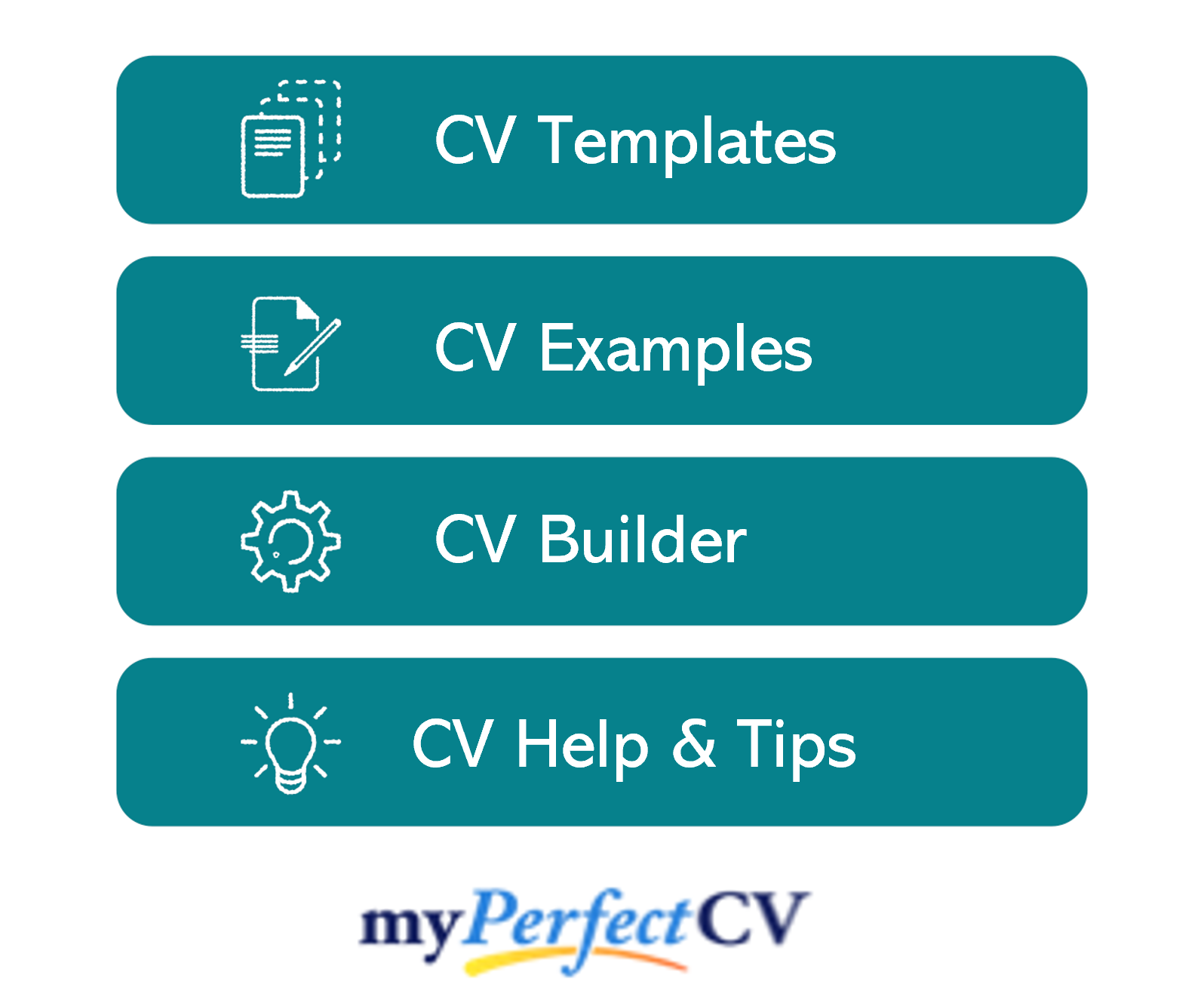 Sign off professionally
To round of your CV, you should sign off with a professional signature.
This will give your cover letter a slick appearance and also give the recruiter all of the necessary contact information they need to get in touch with you.
The information to add should include:
A friendly sign off – e.g. "Kindest regards"
Your full name
Phone number (one you can answer quickly)
Email address
Optional
Profession title
Professional social network –  e.g. LinkedIn
Here is an example signature;
Warm regards,
Jill North
IT Project Manager
078837437373
Jill@hotmail.com
LinkedIn
Quick tip: To save yourself from having to write your signature every time you send a job application, you can save it within your email drafts, or on a separate documents that you could copy in.

What to include in your Graphic Design cover letter
So, what type of information should you write about in your Graphic Design cover letter?
The specifics will obviously depend on your profession and the jobs you are applying to, but these are the key areas you should be covering.
Your industry experience – Tell recruiters the types of companies you have been working for and the roles you have held in the past.
Your qualifications – Highlight your most important relevant qualifications to show employers you are qualified to do the roles you are applying for.
The impact you have made – Demonstrate the positive impact you have made for employers in previous jobs. Have you saved money? Improved processes? Made customers happy?
Your reasons for moving – Employers will want to know why you are leaving your current/previous role, so provide them with a brief explanation here.
Your availability – When will you be able to start a new job? Check your current contract to find out your notice period if you are in a position already.
Graphic Design cover letter templates
Copy and paste these Graphic Design cover letter templates to get a head start on your own.
Template 1
Hi Martin,
I Hope you're well.
I would like to apply for the Junior Graphic Designer role at your agency in Bristol. My passion for design and creativity, combined with proficiency in Adobe Creative Suite, makes me an ideal candidate.
During my undergraduate study at Bristol School of Art, I led design projects for various student organisations, honing my skills in visual storytelling and creating eye-catching visuals. My poster design for a charity event increased attendee engagement by 25%. As a quick learner and team player, I am eager to contribute fresh ideas and adapt to your design philosophy. I completed an internship where I collaborated on a rebranding project, resulting in a 20% increase in brand recognition.
I would love the opportunity to discuss my potential contributions further in an interview. I am available at your earliest convenience.
Kind regards,
Darcey Beauvoir ¦ 07777777777 ¦ d.beauvoir@email.com
Template 2
Hi Martina,
I hope you're well.
I am enthusiastic about applying for the Graphic Designer position at View Collective as, with my proven track record of successfully delivering commercial design projects and driving creative initiatives, I am confident in my ability to make a meaningful impact.
My adeptness in design software and a keen eye for detail enable me to conceptualise and implement captivating visual solutions. In my current role at Rise Marketing, I executed a digital marketing campaign that generated a 30% increase in website traffic and a 15% rise in lead conversions. Additionally, I led a rebranding effort that elevated customer perception, leading to a 25% boost in client retention.
I am eager to leverage my skills to enhance your brand identity and elevate your design standards and would love the opportunity to discuss this with you further. I am available for an interview at your convenience.
Kind regards,
Felix Stein ¦ 07777777777 ¦ felix.stein@email.com
Template 3
Dear Arun Saati,
I hope this email finds you well.
I am thrilled to apply for the Senior Graphic Designer role within your design agency. With over a decade of experience in the industry and a history of delivering design excellence, I am ready to drive impactful creative solutions for your brand.
As the Lead Designer at multinational design firm, ACE, I have spearheaded projects resulting in a 40% increase in client satisfaction and a 20% rise in revenue from repeat business. Additionally, I mentor and nurture junior designers, fostering a collaborative and innovative work environment. I am dedicated to pushing creative boundaries and elevating brand aesthetics and my comprehensive knowledge of design trends and expertise in design software allow me to craft compelling visual experiences across various mediums.
I look forward to the opportunity to share my strategic design insights and discuss how I can contribute to your organisation's growth. I am available for an interview at your earliest convenience.
Kind regards,
Esther Hayton ¦ 07777777777 ¦ e.hayton@email.com
Writing an impressive cover letter is a crucial step in landing a Graphic Design job, so taking the time to perfect it is well worth while.
By following the tips and examples above you will be able to create an eye-catching cover letter that will wow recruiters and ensure your CV gets read – leading to more job interviews for you.
Good luck with your job search!