Are you a recent graduate looking to accelerate your engineering career?
Then you need to effectively showcase the skills and experience you gained during your studies, starting with a creative cover letter.
Find out how to tailor your application and highlight your value with our step-by-step guide below, complete with graduate engineer cover letter examples to shape your own.

Graduate Engineer cover letter example 1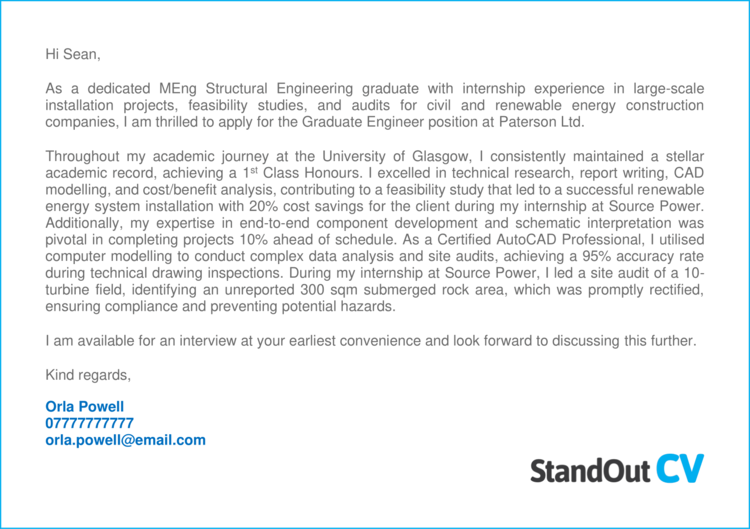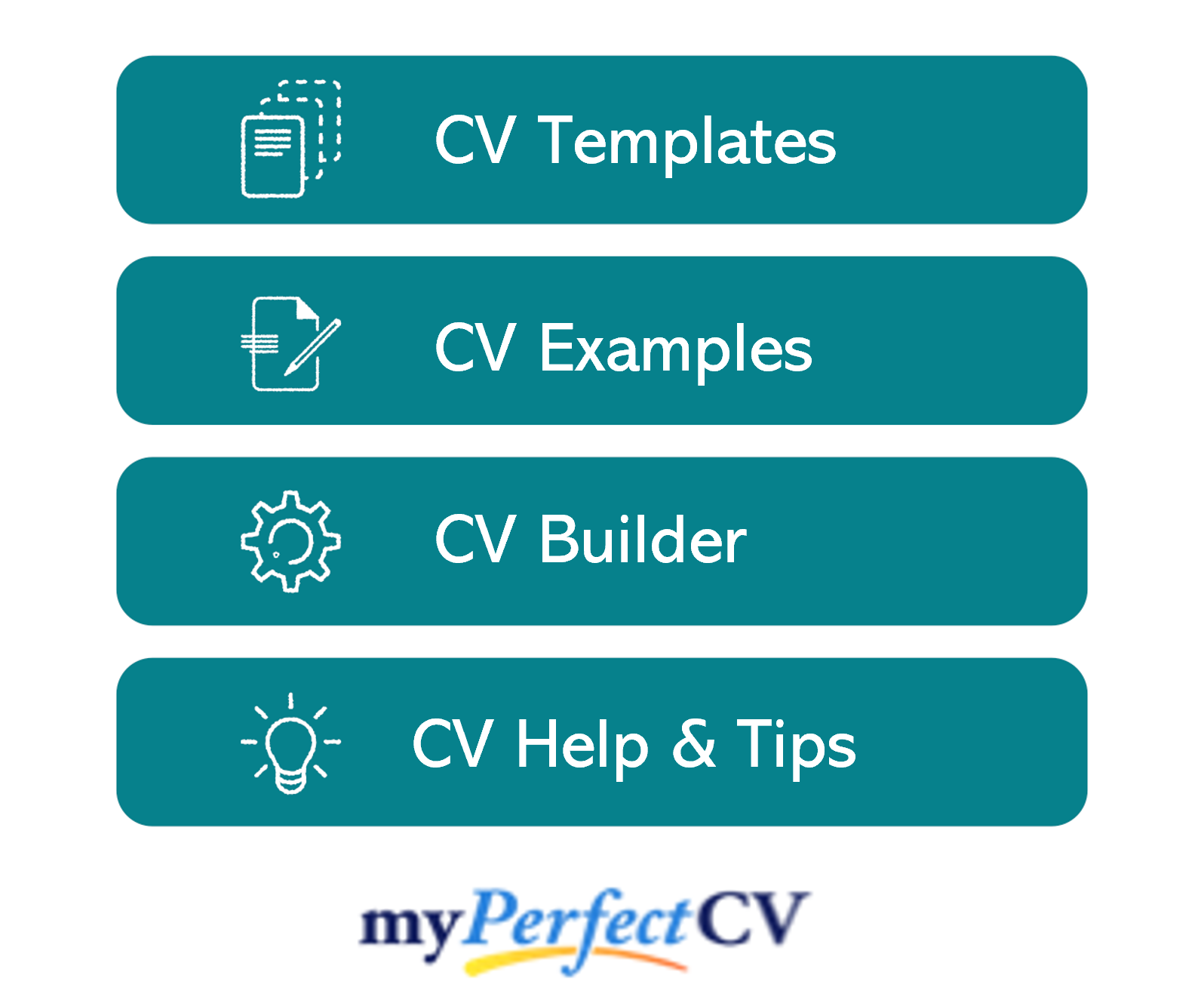 Graduate Engineer cover letter example 2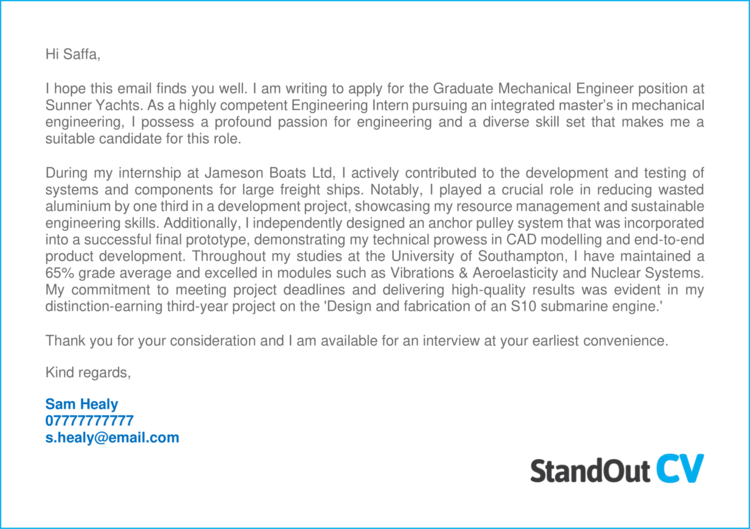 Graduate Engineer cover letter example 3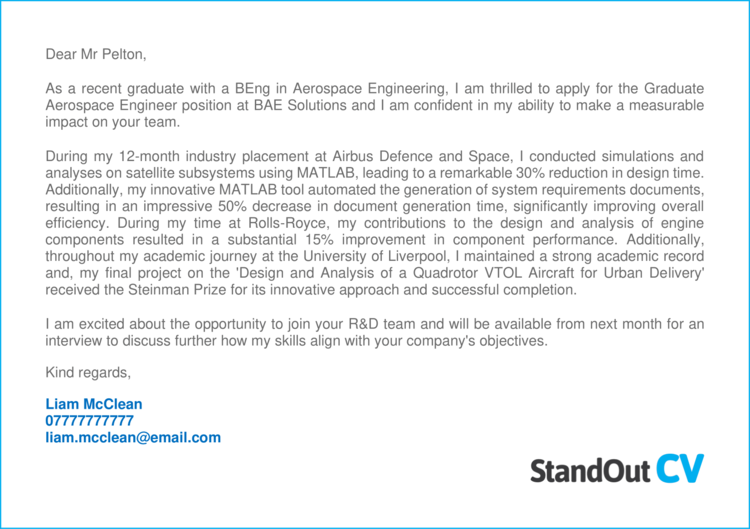 These 3 Graduate Engineer cover letter examples should provide you with a good steer on how to write your own cover letter, and the general structure to follow.
Our simple step-by-step guide below provides some more detailed advice on how you can craft a winning cover letter for yourself, that will ensure your CV gets opened.
How to write a Graduate Engineer cover letter
Here's how to write your own winning Graduate Engineer cover letter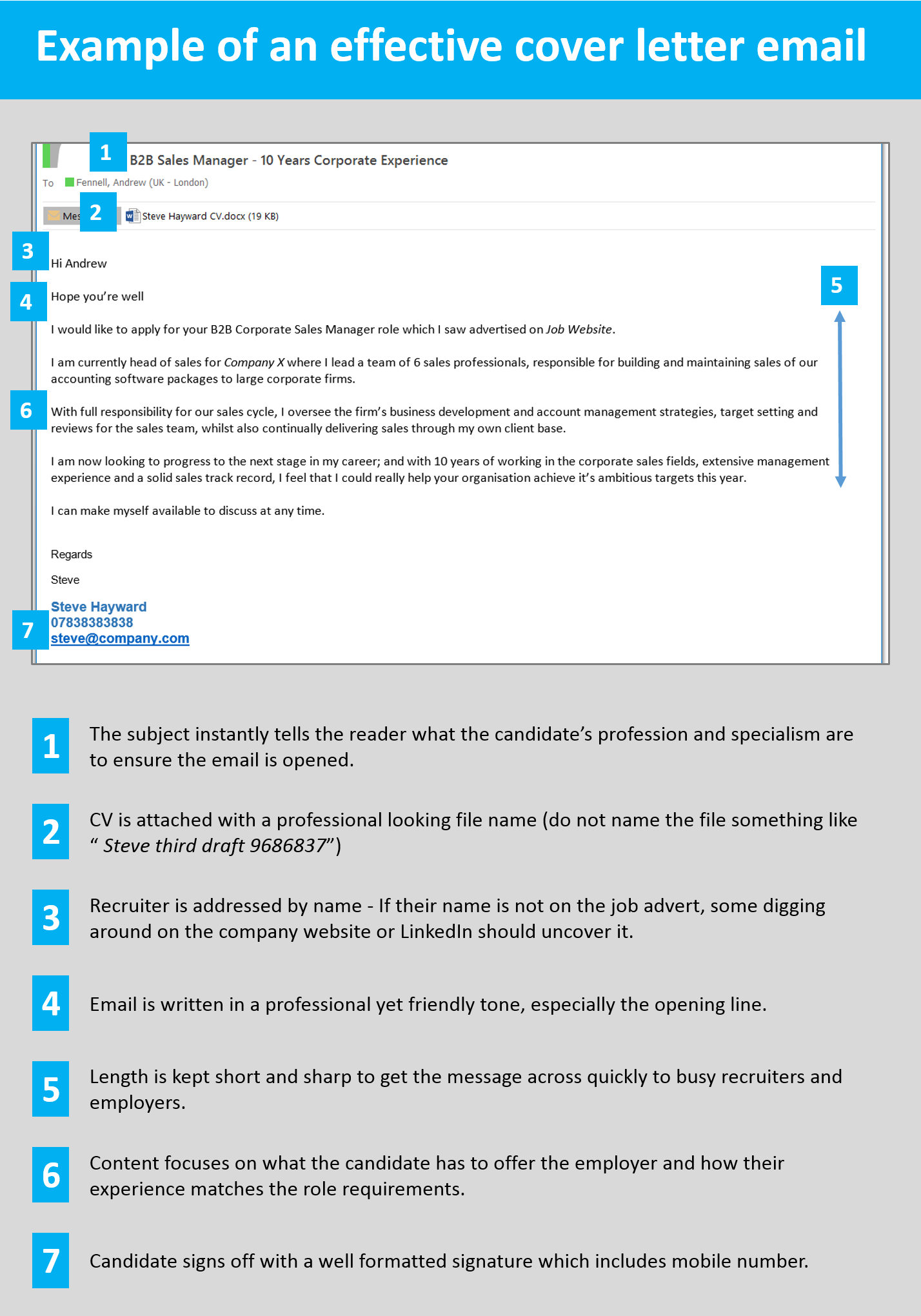 Write your cover letter in the body of an email/message
When you send a cover letter with a job application, you should always write your message into the body of your email – or the body of the messaging system if you are sending via a job website.
Why do this?
Simply because you want to get your message seen as soon as the recruiter opens your application.
If you attach the cover letter as a separate item, this means the recipient will have to open it before they can read it – slowing down the process and potentially causing frustration along the way.
So, write your cover note in the body of your email/message to ensure you make an instant connection with the reader.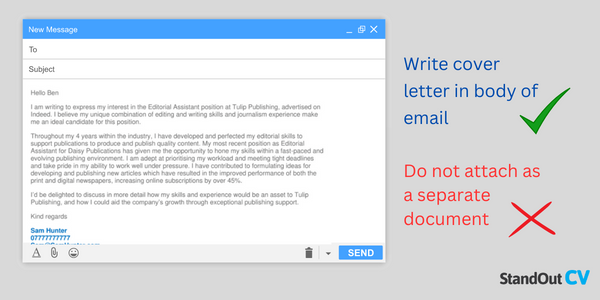 Start with a friendly greeting

To build an instant connection with the recruiter reading your cover letter, start with a warm greeting.
It should be friendly but not casual – keeping it professional at all times.
Hi, hope you're well
Hi [insert recruiter name]
Hi [insert department/team name]
Avoid overly formal greetings like "Dear sir/madam" unless applying to very traditional companies.
How to find the contact's name?
Addressing the recruitment contact by name is an excellent way to start building a strong relationship. If it is not listed in the job advert, try these methods to find it.
Check out the company website and look at their About page. If you see a hiring manager, HR person or internal recruiter, use their name. You could also try to figure out who would be your manager in the role and use their name.
Head to LinkedIn, search for the company and scan through the list of employees. Most professionals are on LinkedIn these days, so this is a good bet.
Identify the role you are applying for
Once you have opened the cover letter with a warm greeting, you need to explain which role you are interested in.
Sometimes a recruitment consultant could be managing over 10 vacancies, so it's crucial to pinpoint exactly which one you are interested in.
Highlight the department/area if possible and look for any reference numbers you can quote.
These are some examples you can add..
I am interested in applying for the role of Graduate Engineer with your company.
I would like to apply for the role of Sales assistant (Ref: 40f57393)
I would like to express my interest in the customer service vacancy within your retail department
I saw your advert for an IT project manager on Reed and would like to apply for the role.
Highlight your suitability
The bulk of your cover letter should be focused around highlighting your suitability for the job you are applying to.
Doing this will show the recruiter that you are suitable candidate and encourage them to open your CV.
The best way to do this, is by studying the job advert you are applying to, and find out what the most important skills and knowledge are.
Once you know the most important requirements, you then need to highlight your matching skills to the recruiter. In a few sentences, tell them exactly why you are a good fit for the job and what you can offer the company.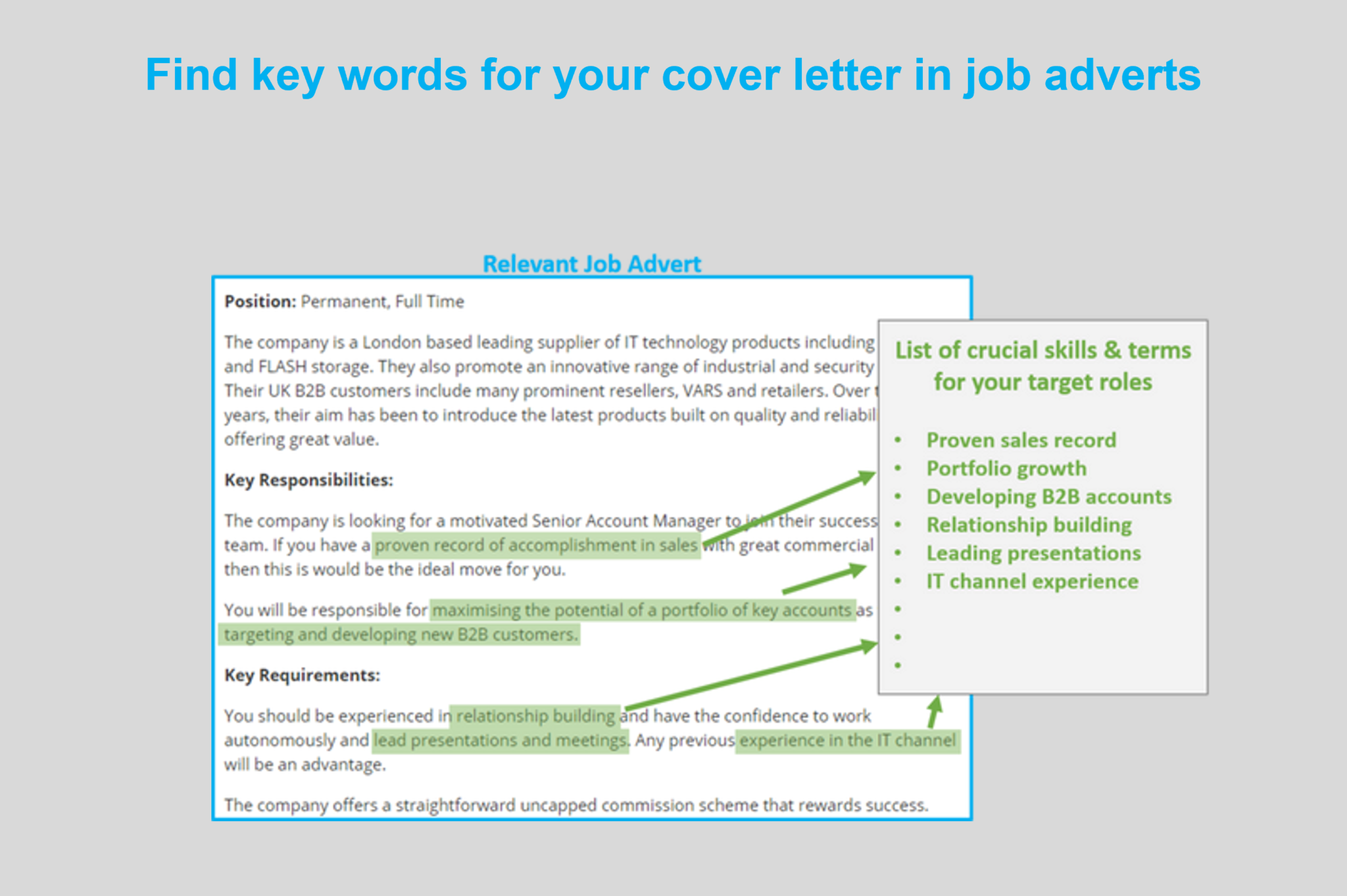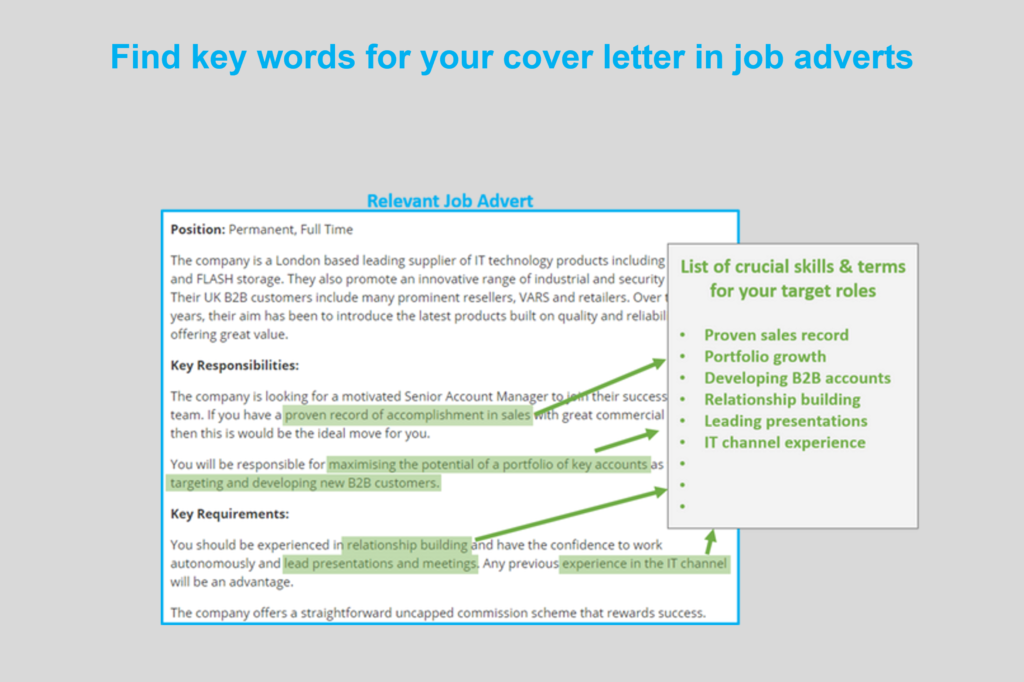 Keep it short and sharp
A good cover letter is short and sharp, getting to the point quickly with just enough information to grab the attention of recruiters.
Ideally your cover letter should be around 4-8 sentences long – anything longer will risk losing the attention of time-strapped recruiters and hiring managers.
Essentially you need to include just enough information to persuade the reader to open up your CV, where the in-depth details will sit.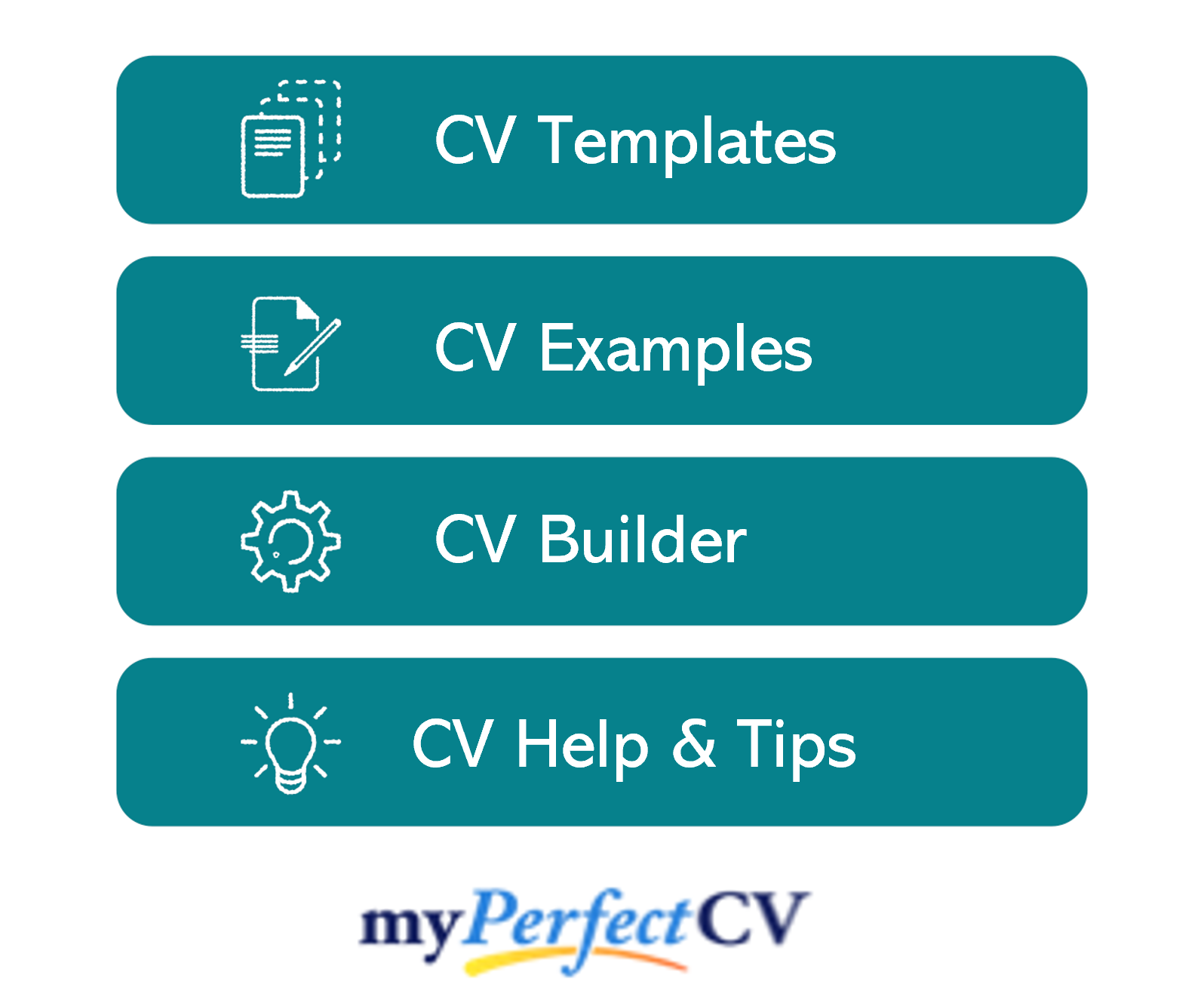 Sign off professionally
To round of your CV, you should sign off with a professional signature.
This will give your cover letter a slick appearance and also give the recruiter all of the necessary contact information they need to get in touch with you.
The information to add should include:
A friendly sign off – e.g. "Kindest regards"
Your full name
Phone number (one you can answer quickly)
Email address
Optional
Profession title
Professional social network –  e.g. LinkedIn
Here is an example signature;
Warm regards,
Jill North
IT Project Manager
078837437373
Jill@hotmail.com
LinkedIn
Quick tip: To save yourself from having to write your signature every time you send a job application, you can save it within your email drafts, or on a separate documents that you could copy in.

What to include in your Graduate Engineer cover letter
Here's what kind of content you should include in your Graduate Engineer cover letter…
The exact info will obviously depend on your industry and experience level, but these are the essentials.
Your relevant experience – Where have you worked and what type of jobs have you held?
Your qualifications – Let recruiters know about your highest level of qualification to show them you have the credentials for the job.
The impact you have made – Show how your actions have made a positive impact on previous employers; perhaps you've saved them money or helped them to acquire new customers?
Your reasons for moving – Hiring managers will want to know why you are leaving your current or previous role, so give them a brief explanation.
Your availability – When can you start a new job? Recruiters will want to know how soon they can get you on board.
Don't forget to tailor these points to the requirements of the job advert for best results.
Graduate Engineer cover letter templates
Copy and paste these Graduate Engineer cover letter templates to get a head start on your own.
Template 1
Hi Sean,
As a dedicated MEng Structural Engineering graduate with internship experience in large-scale installation projects, feasibility studies, and audits for civil and renewable energy construction companies, I am thrilled to apply for the Graduate Engineer position at Paterson Ltd.
Throughout my academic journey at the University of Glasgow, I consistently maintained a stellar academic record, achieving a 1st Class Honours. I excelled in technical research, report writing, CAD modelling, and cost/benefit analysis, contributing to a feasibility study that led to a successful renewable energy system installation with 20% cost savings for the client during my internship at Source Power. Additionally, my expertise in end-to-end component development and schematic interpretation was pivotal in completing projects 10% ahead of schedule. As a Certified AutoCAD Professional, I utilised computer modelling to conduct complex data analysis and site audits, achieving a 95% accuracy rate during technical drawing inspections. During my internship at Source Power, I led a site audit of a 10-turbine field, identifying an unreported 300 sqm submerged rock area, which was promptly rectified, ensuring compliance, and preventing potential hazards.
I am available for an interview at your earliest convenience and look forward to discussing this further.
Kind regards,
Orla Powell ¦ 07777777777 ¦ orla.powell@email.com
Template 2
Hi Saffa,
I hope this email finds you well. I am writing to apply for the Graduate Mechanical Engineer position at Sunner Yachts. As a highly competent Engineering Intern pursuing an integrated master's in mechanical engineering, I possess a profound passion for engineering and a diverse skill set that makes me a suitable candidate for this role.
During my internship at Jameson Boats Ltd, I actively contributed to the development and testing of systems and components for large freight ships. Notably, I played a crucial role in reducing wasted aluminium by one third in a development project, showcasing my resource management and sustainable engineering skills. Additionally, I independently designed an anchor pulley system that was incorporated into a successful final prototype, demonstrating my technical prowess in CAD modelling and end-to-end product development. Throughout my studies at the University of Southampton, I have maintained a 65% grade average and excelled in modules such as Vibrations & Aeroelasticity and Nuclear Systems. My commitment to meeting project deadlines and delivering high-quality results was evident in my distinction-earning third-year project on the 'Design and fabrication of an S10 submarine engine.'
Thank you for your consideration and I am available for an interview at your earliest convenience.
Kind regards,
Sam Healy ¦ 07777777777 ¦ s.healy@email.com
Template 3
Dear Mr Pelton,
As a recent graduate with a BEng in Aerospace Engineering, I am thrilled to apply for the Graduate Aerospace Engineer position at BAE Solutions and I am confident in my ability to make a measurable impact on your team.
During my 12-month industry placement at Airbus Defence and Space, I conducted simulations and analyses on satellite subsystems using MATLAB, leading to a remarkable 30% reduction in design time. Additionally, my innovative MATLAB tool automated the generation of system requirements documents, resulting in an impressive 50% decrease in document generation time, significantly improving overall efficiency. During my time at Rolls-Royce, my contributions to the design and analysis of engine components resulted in a substantial 15% improvement in component performance. Additionally, throughout my academic journey at the University of Liverpool, I maintained a strong academic record and, my final project on the 'Design and Analysis of a Quadrotor VTOL Aircraft for Urban Delivery' received the Steinman Prize for its innovative approach and successful completion.
I am excited about the opportunity to join your R&D team and will be available from next month for an interview to discuss further how my skills align with your company's objectives.
Kind regards,
Liam McClean ¦ 07777777777 ¦ liam.mcclean@email.com
Writing an impressive cover letter is a crucial step in landing a Graduate Engineer job, so taking the time to perfect it is well worth while.
By following the tips and examples above you will be able to create an eye-catching cover letter that will wow recruiters and ensure your CV gets read – leading to more job interviews for you.
Good luck with your job search!