If you're hoping to land your next executive assistant role, then you need an engaging and impressive cover letter to accompany your CV.
You need to prove you've got the skills and experience to juggle multiple responsibilities and support senior staff.
Find out how to do just that with our step-by-step guide and executive assistant cover letter examples below.

Executive Assistant cover letter example 1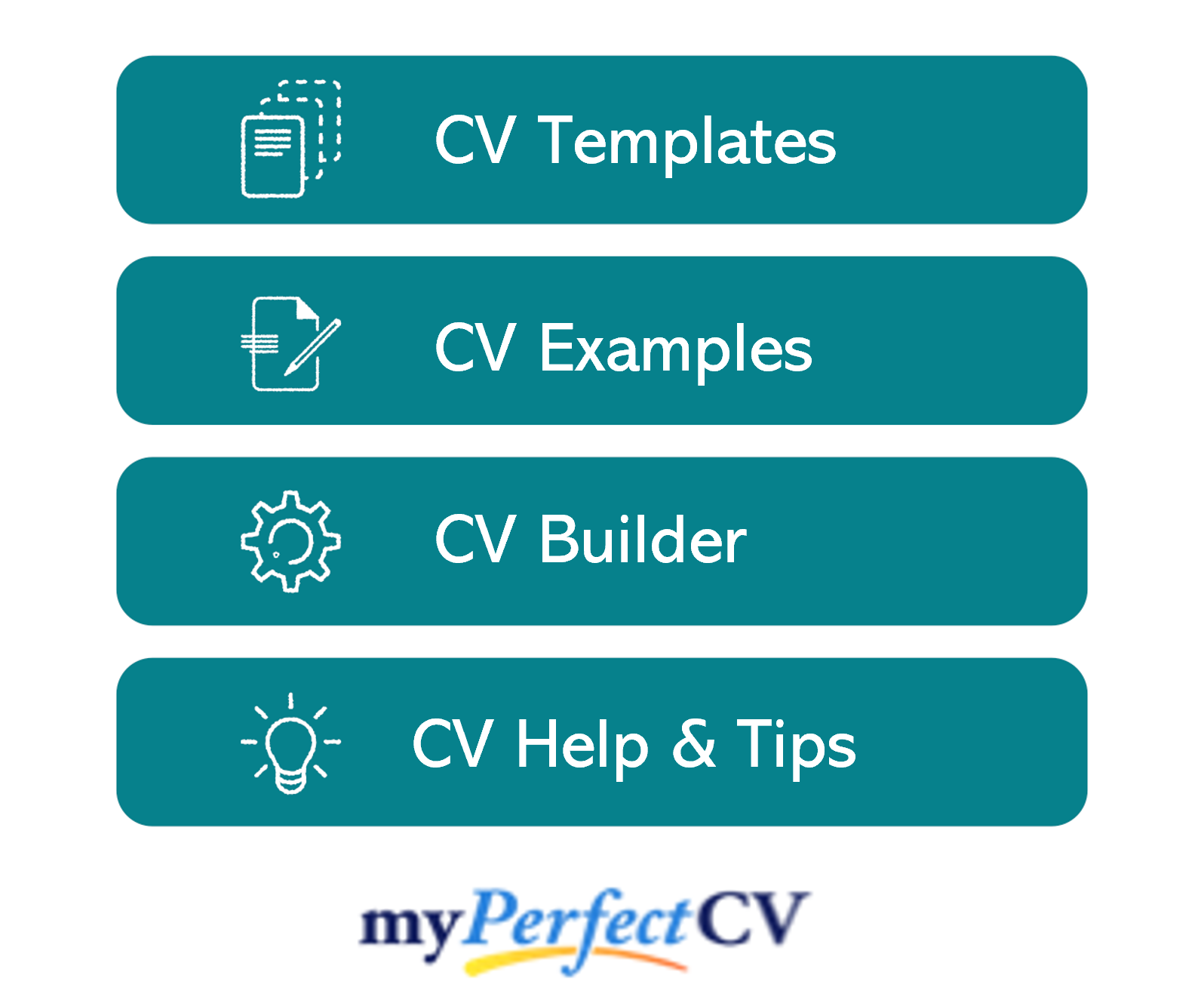 Executive Assistant cover letter example 2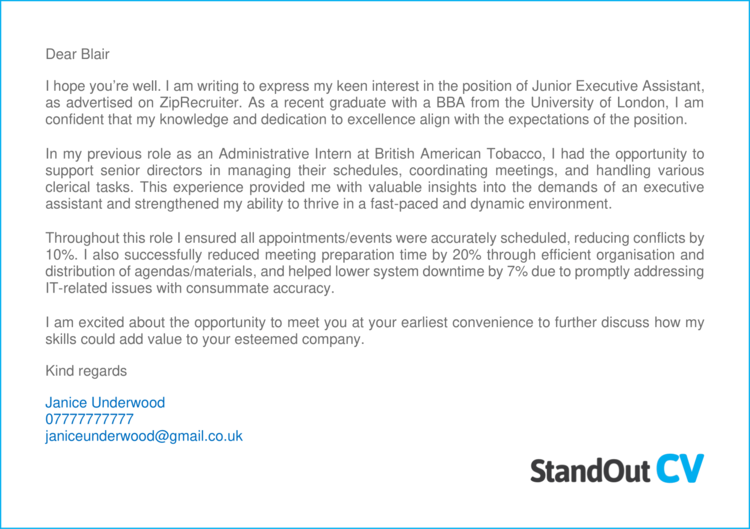 Executive Assistant cover letter example 3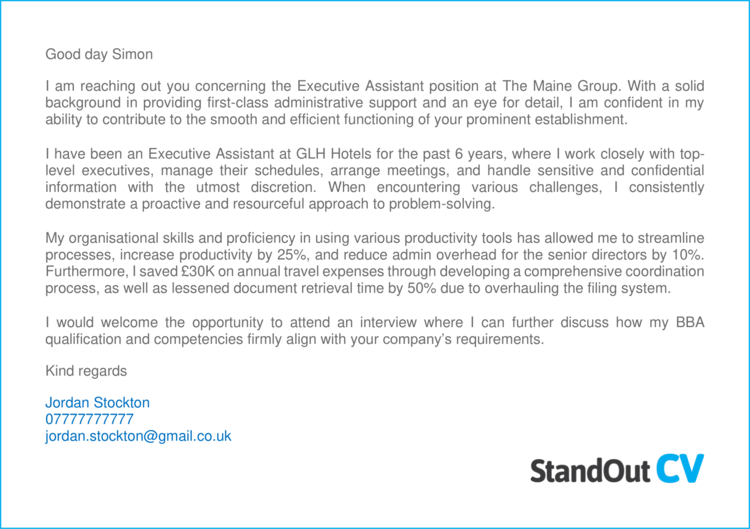 The example cover letters here should give you a good general idea on how your Executive Assistant cover letter should be formatted and written.
The rest of this guide gives more specific guidance on how to create your own cover letter in this format, and even includes some templates you can copy and paste.
How to write a Executive Assistant cover letter
Here's a simple process to write your own interview-winning cover letter.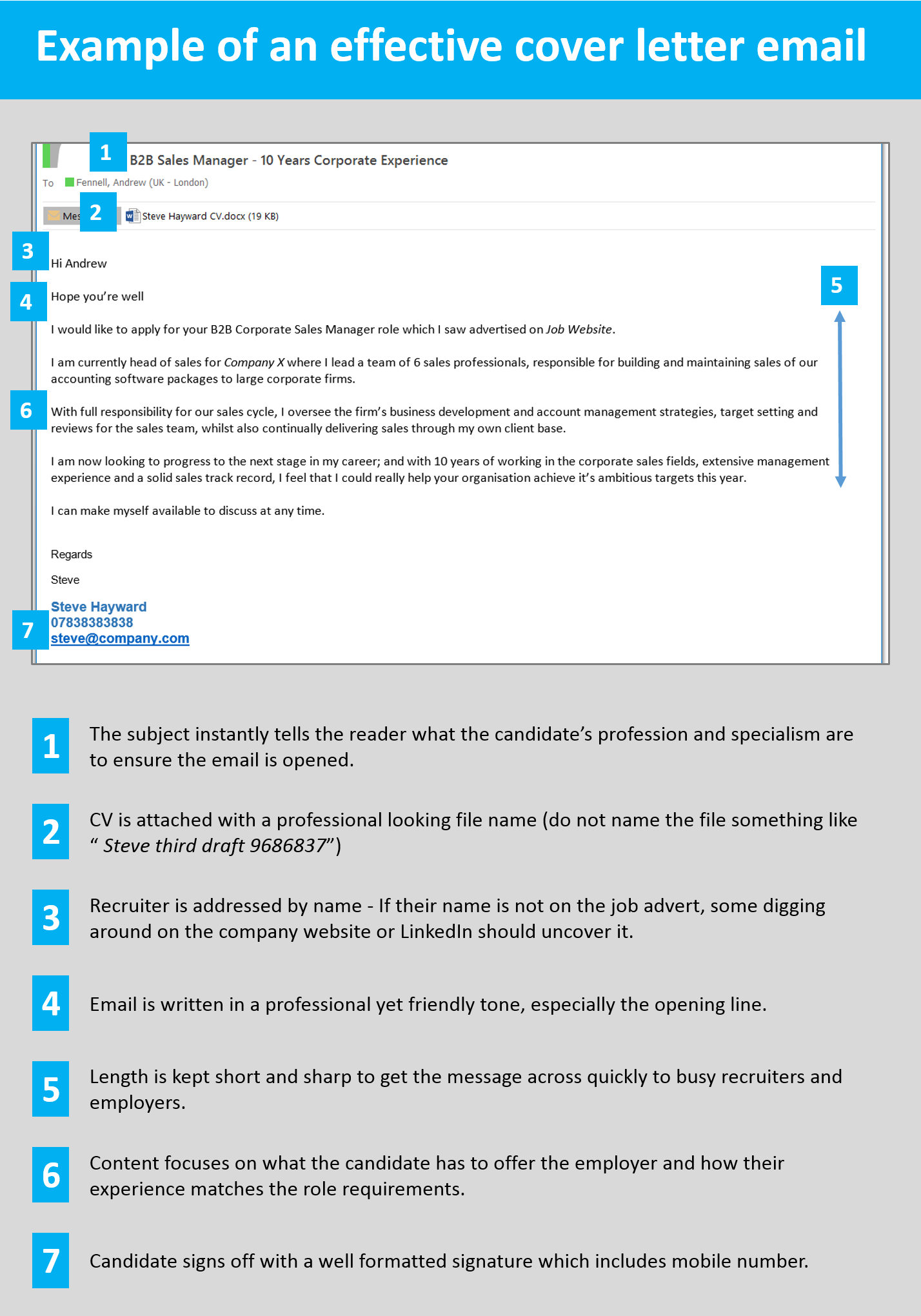 Write your cover letter in the body of an email/message
You should write your cover letter in the body of the email (or messaging system if sending via a job board) and never attach it as a document.
The reason for this?
You want your cover letter to start connecting with the recruiter from the moment they open your application.
If they have to open a document to read it, it will slow things down and they may not even bother to open it.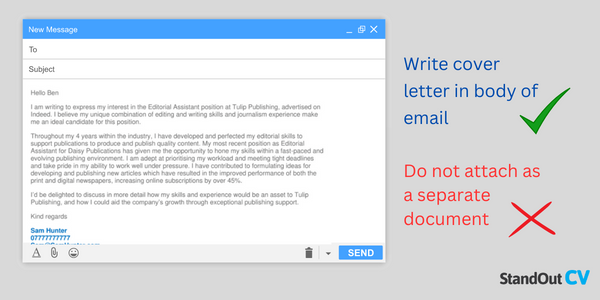 Start with a friendly greeting

To kick your cover letter off, start with a friendly greeting to build rapport with the recruiter instantly.
Your greeting should be personable but professional. Not too casual, but not too formal either
Go with something like…
Hi
Hi [insert recruiter name]
Hi [insert department/team name]
Avoid old-fashioned greetings like "Dear sir/madam" unless applying to very formal companies.
How to find the contact's name?
Addressing the recruitment contact by name is an excellent way to start building a strong relationship. If it is not listed in the job advert, try these methods to find it.
Check out the company website and look at their About page. If you see a hiring manager, HR person or internal recruiter, use their name. You could also try to figure out who would be your manager in the role and use their name.
Head to LinkedIn, search for the company and scan through the list of employees. Most professionals are on LinkedIn these days, so this is a good bet.
Identify the role you are applying for
After you have greeted the recruiter, it's important to state the job you are applying to.
Recruiters are often managing multiple vacancies, so they need to know exactly which job you are referring to.
Be as specific as possible and use a reference number if you can find one.
Here are some examples you can use;
I am interested in applying for the role of admin assistant with your organisation.
I would like to apply for the role of Sales assistant (Ref: 4057393)
I would like to express my interest in the customer service vacancy within your retail department
I saw your advertisement for a trainee project manager on Reed and would like to apply for the role.
Highlight your suitability
The sole objective of your cover letter is to motivate recruiters into to opening your CV. And you achieve this by quickly explaining your suitability to the roles you are applying for.
Take a look at the job descriptions you are applying to, and make note of the most important skills and qualifications being asked for.
Then, when crafting your cover letter, make your suitability the central focus.
Explain why you are the best qualified candidate, and why you are so well suited to carry out the job.
This will give recruiters all the encouragement they need to open your CV and consider you for the job.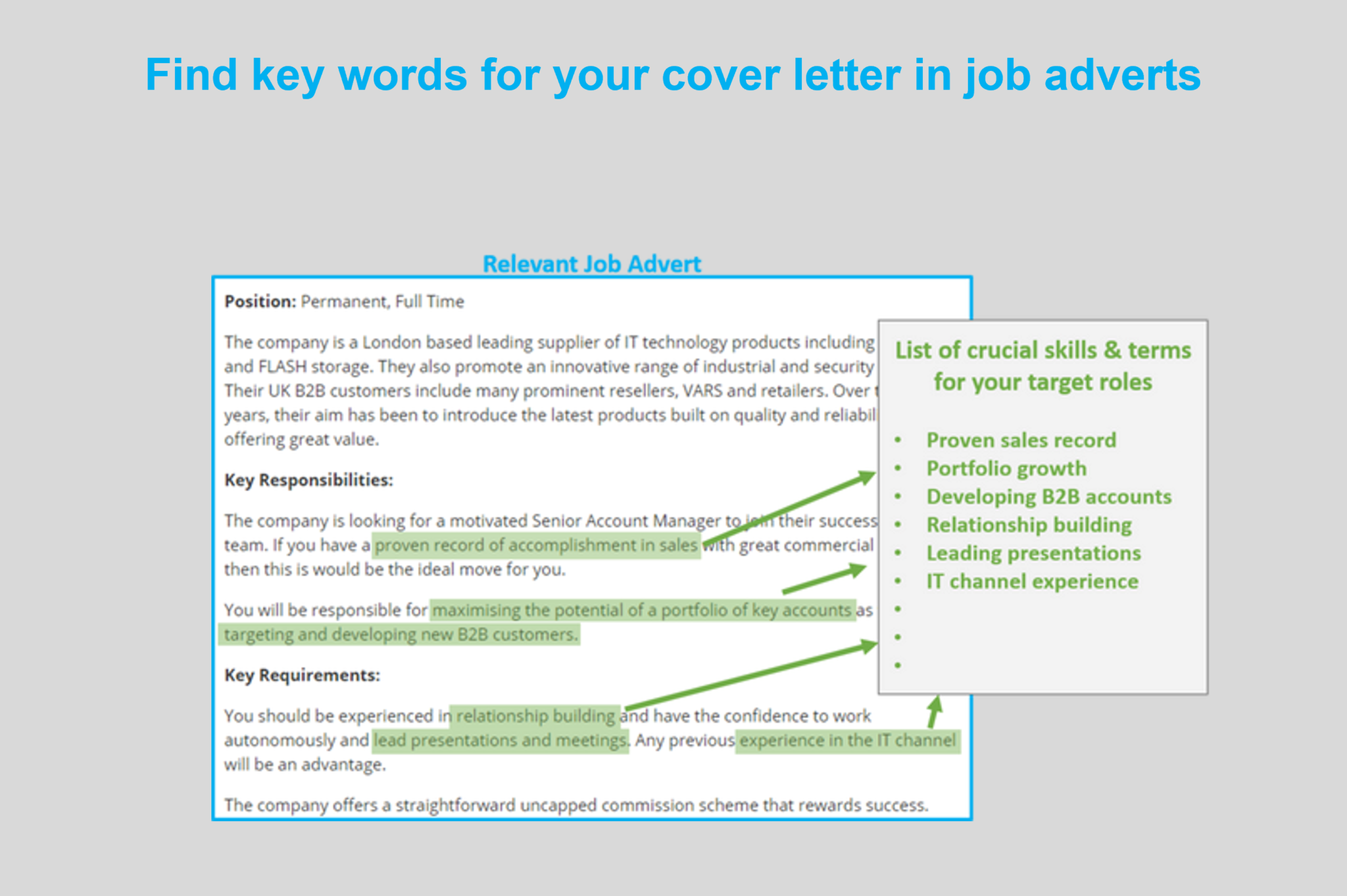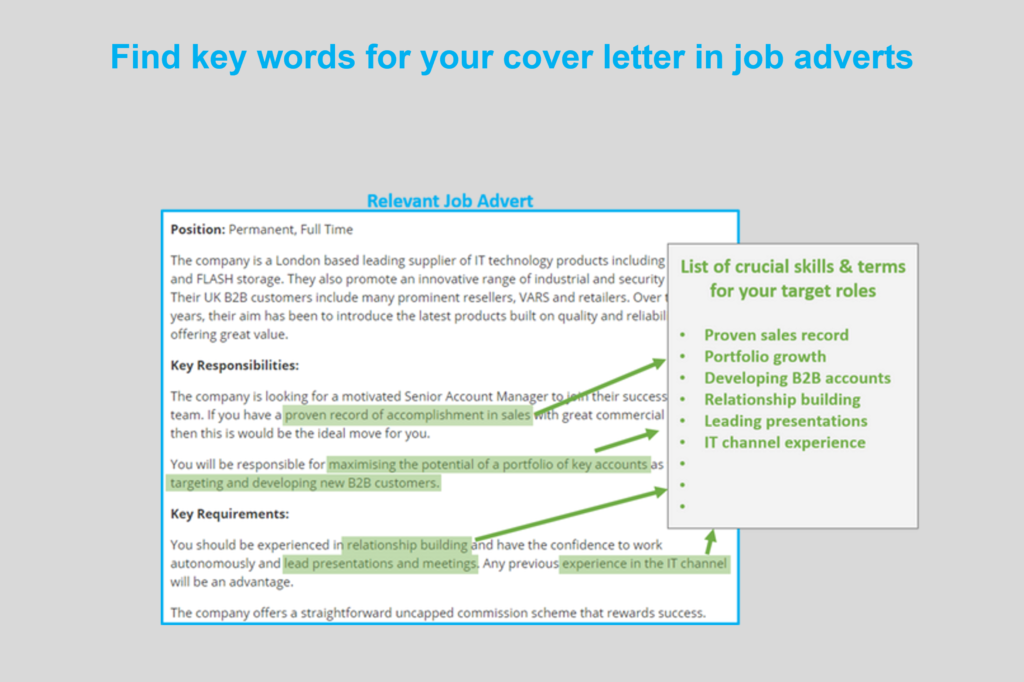 Keep it short and sharp
When sending a job application to a recruiter or hiring manager, it is important to remember that they will normally be very busy and pushed for time.
Therefore, you need to get you message across to them quickly (in a matter of seconds ideally). So, keep your cover letter short and to-the-point. A long waffling cover letter will overwhelm recruiters when they are running through hundreds of emails in there inbox, but a concise one will get their attention.
So, keep your cover letter to just a few sentences long, and save the extensive detail for your CV.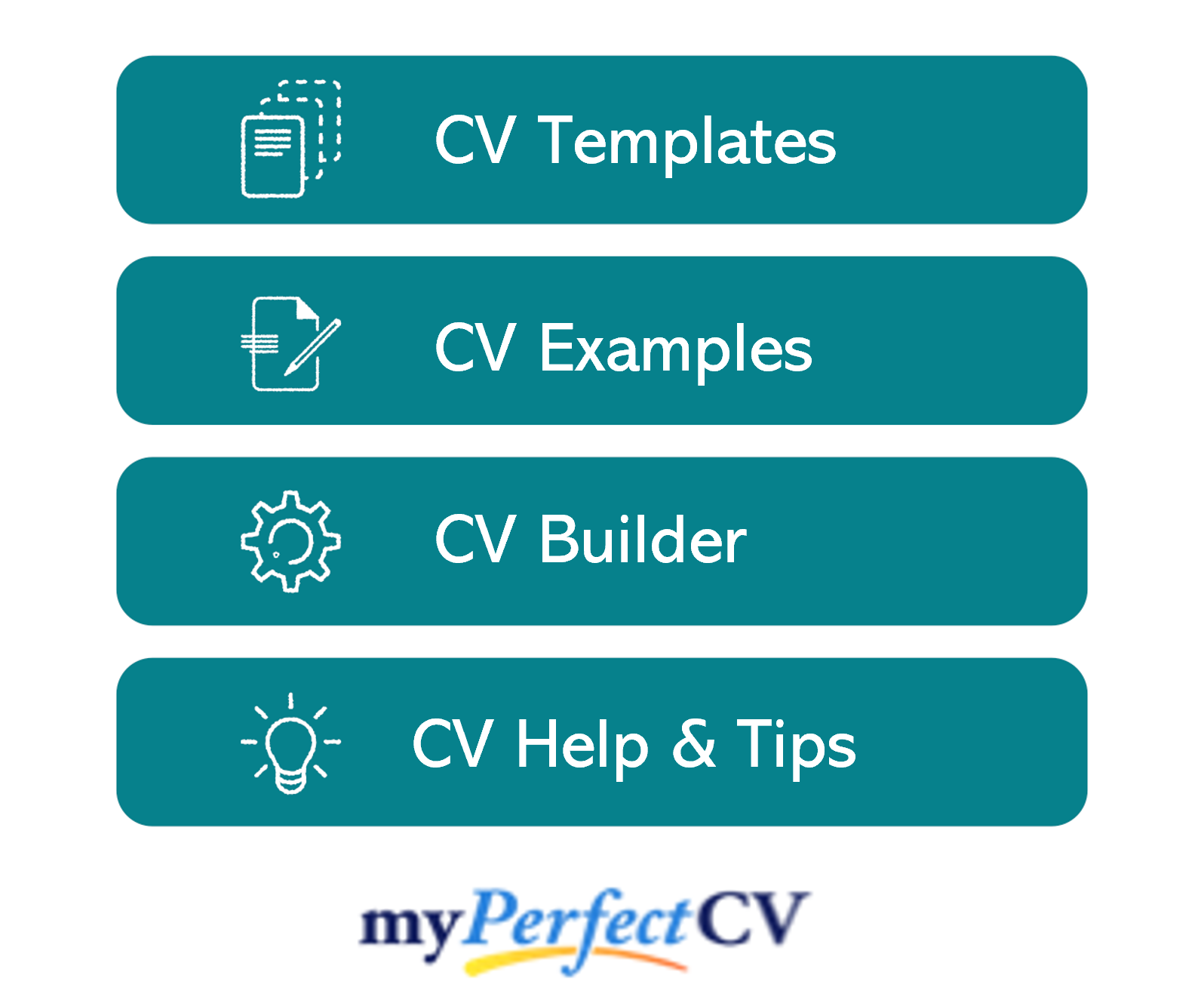 Sign off professionally
To round of your cover letter, add a professional signature to the bottom, giving recruiters your vital contact information.
This not only gives various means of contacting you, it also looks really professional and shows that you know how to communicate in the workplace.
Include the following points;
A friendly sign off – e.g. "Warm regards"
Your full name
Phone number (one you can answer quickly)
Email address
Optional
Profession title
Professional social network – e.g. LinkedIn
Here is an example signature;
Warm regards,
Gerald Baker
Senior Accountant
07887500404
Gbaker213@hotmail.com
LinkedIn
Quick tip: To save yourself from having to write your signature every time you send a job application email, you can save it within your email drafts, or on a separate document that you could copy in.

What to include in your Executive Assistant cover letter
So, what type of information should you write about in your Executive Assistant cover letter?
The specifics will obviously depend on your profession and the jobs you are applying to, but these are the key areas you should be covering.
Your industry experience – Tell recruiters the types of companies you have been working for and the roles you have held in the past.
Your qualifications – Highlight your most important relevant qualifications to show employers you are qualified to do the roles you are applying for.
The impact you have made – Demonstrate the positive impact you have made for employers in previous jobs. Have you saved money? Improved processes? Made customers happy?
Your reasons for moving – Employers will want to know why you are leaving your current/previous role, so provide them with a brief explanation here.
Your availability – When will you be able to start a new job? Check your current contract to find out your notice period if you are in a position already.
Executive Assistant cover letter templates
Copy and paste these Executive Assistant cover letter templates to get a head start on your own.
Template 1
Hi Amanda
I am writing in relation to the Senior Executive Assistant role at Wise May Ltd. As a seasoned professional with 15 of experience in supporting C-suites and managing complex administrative tasks, I am confident in my ability to provide exemplary assistance to your leadership team.
Throughout my career, I have demonstrated a strong commitment to excellence, impeccable organisational and time management skills, and a proactive approach to problem-solving. My ability to anticipate directors' needs and handle confidential information with the utmost discretion has been instrumental in enhancing operational efficiency and streamlining executive functions.
In my current role as a Senior Executive Assistant at Vattenfall, I implemented a time-blocking strategy that increased executive's productivity by 20%, reduced expenses by 10% through negotiating cost effective travel arrangements and created a filing system which lowered response cadence by 15%.
I am drawn to your company's reputation for innovation through a dynamic work culture and focus on achieving ambitious goals that align perfectly with my career aspirations. I look forward to sharing more of my accomplishments in an interview at your convenience. Thank you for your consideration.
Kind regards
April Keane ¦ 07777777777 ¦ april.keane@gmail.co.uk
Template 2
Dear Blair
I hope you're well. I am writing to express my keen interest in the position of Junior Executive Assistant, as advertised on ZipRecruiter. As a recent graduate with a BBA from the University of London, I am confident that my knowledge and dedication to excellence align with the expectations of the position.
In my previous role as an Administrative Intern at British American Tobacco, I had the opportunity to support senior directors in managing their schedules, coordinating meetings, and handling various clerical tasks. This experience provided me with valuable insights into the demands of an executive assistant and strengthened my ability to thrive in a fast-paced and dynamic environment.
Throughout this role I ensured all appointments/events were accurately scheduled, reducing conflicts by 10%. I also successfully reduced meeting preparation time by 20% through efficient organisation and distribution of agendas/materials and helped lower system downtime by 7% due to promptly addressing IT-related issues with consummate accuracy.
I am excited about the opportunity to meet you at your earliest convenience to further discuss how my skills could add value to your esteemed company.
Kind regards
Janice Underwood ¦ 07777777777 ¦ janiceunderwood@gmail.co.uk
Template 3
Good day Simon
I am reaching out you concerning the Executive Assistant position at The Maine Group. With a solid background in providing first-class administrative support and an eye for detail, I am confident in my ability to contribute to the smooth and efficient functioning of your prominent establishment.
I have been an Executive Assistant at GLH Hotels for the past 6 years, where I work closely with top-level executives, manage their schedules, arrange meetings, and handle sensitive and confidential information with the utmost discretion. When encountering various challenges, I consistently demonstrate a proactive and resourceful approach to problem-solving.
My organisational skills and proficiency in using various productivity tools has allowed me to streamline processes, increase productivity by 25%, and reduce admin overhead for the senior directors by 10%. Furthermore, I saved £30K on annual travel expenses through developing a comprehensive coordination process, as well as lessened document retrieval time by 50% due to overhauling the filing system.
I would welcome the opportunity to attend an interview where I can further discuss how my BBA qualification and competencies firmly align with your company's requirements.
Kind regards
Jordan Stockton ¦ 07777777777 ¦ jordan.stockton@gmail.co.uk
Writing a strong attention-grabbing cover letter is a vital step in landing a good Executive Assistant job.
Use the tips, strategies and examples above to get more responses from you job applications and start lining job interview up.
Good luck with your job search!