You know how to bring people together and create perfectly tailored events, but do you know how to create an interview-winning cover letter?
For starters, you need to put your communication skills and attention to detail to good use.
Find out how to write an engaging application using our step-by-step guide and event manager cover letter examples below.

Event Manager cover letter example 1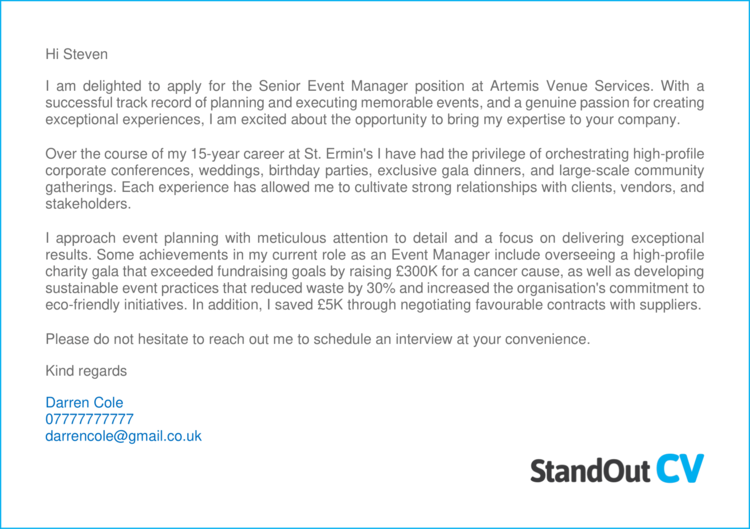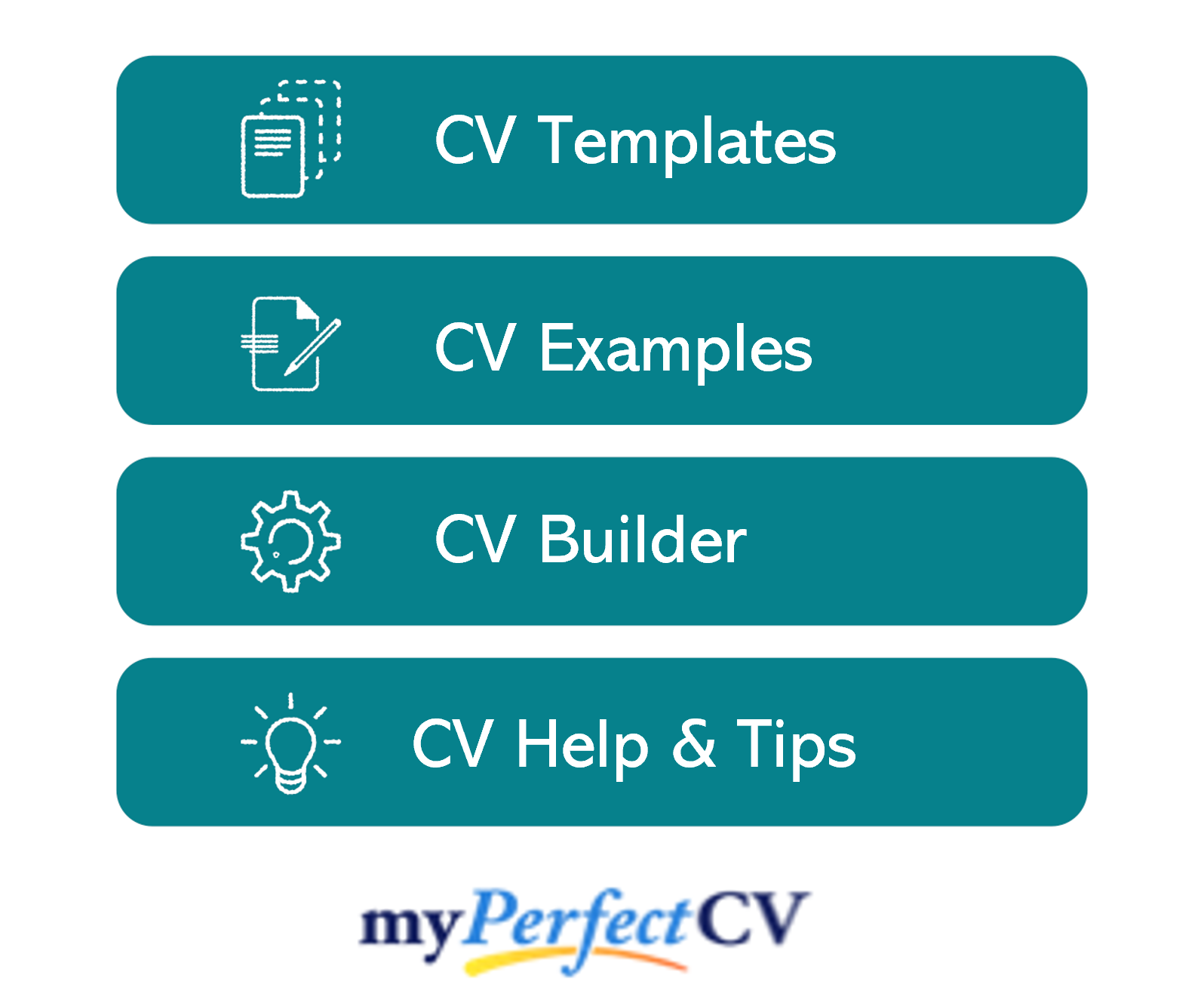 Event Manager cover letter example 2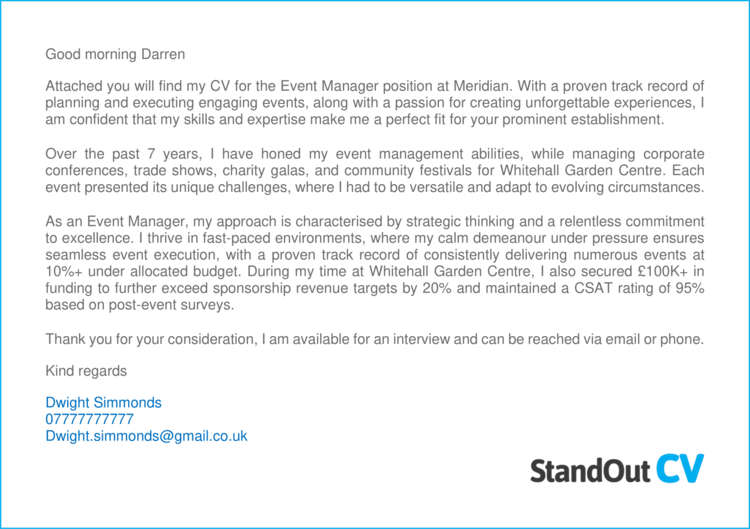 Event Manager cover letter example 3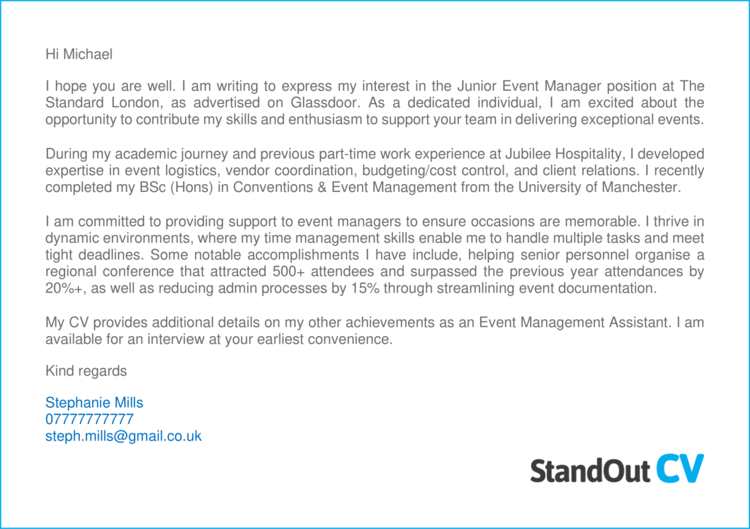 These Event Manager cover letter examples provide you with some guidance and inspiration for writing a cover letter that gets noticed and ensures your CV will get opened.
But if you really want to master the art of writing a winning cover letter, then follow our step-by-step cove letter writing guide below.
How to write a Event Manager cover letter
Here's how you can write your own eye-catching cover letter, broken down into simple steps.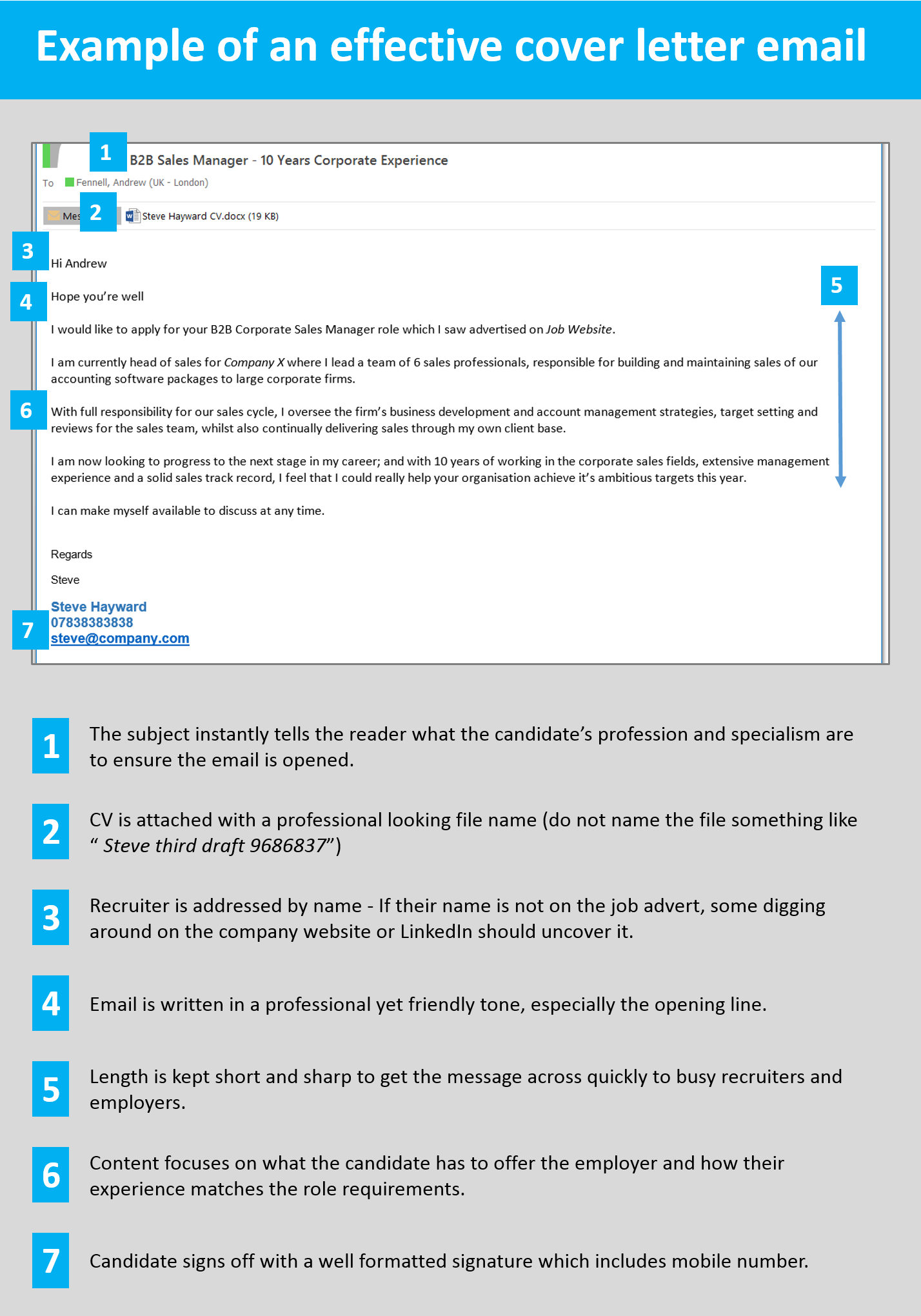 Write your cover letter in the body of an email/message
When writing your Event Manager cover letter, it's best to type the content into the body of your email (or the job site messaging system) and not to attach the cover letter as a separate document.
This ensures that your cover letter gets seen as soon as a recruiter or employer opens your message.
If you attach the cover letter as a document, you're making the reader go through an unnecessary step of opening the document before reading it.
If it's in the body of the message itself, it will be seen instantly, which hugely increases the chances of it being read.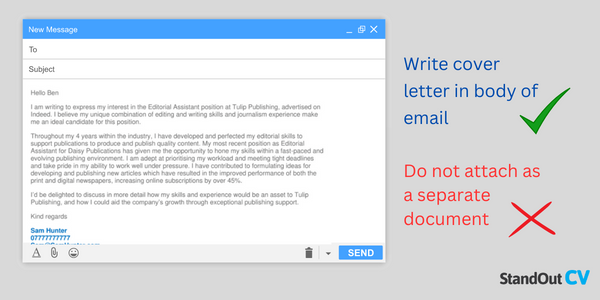 Start with a friendly greeting

Start you cover letter with a greeting that is professional but friendly.
This will build rapport with the recruiter whilst showing your professionalism.
Hi, hope you're well
Hi [insert recruiter name]
Hi [insert department/team name]
Avoid overly formal greetings like "Dear sir/madam" unless applying to very traditional companies.
How to find the contact's name?
Addressing the recruitment contact by name is an excellent way to start building a strong relationship. If it is not listed in the job advert, try these methods to find it.
Check out the company website and look at their About page. If you see a hiring manager, HR person or internal recruiter, use their name. You could also try to figure out who would be your manager in the role and use their name.
Head to LinkedIn, search for the company and scan through the list of employees. Most professionals are on LinkedIn these days, so this is a good bet.
Identify the role you are applying for
Once you have opened the cover letter with a warm greeting, you need to explain which role you are interested in.
Sometimes a recruitment consultant could be managing over 10 vacancies, so it's crucial to pinpoint exactly which one you are interested in.
Highlight the department/area if possible and look for any reference numbers you can quote.
These are some examples you can add..
I am interested in applying for the role of Event Manager with your company.
I would like to apply for the role of Sales assistant (Ref: 40f57393)
I would like to express my interest in the customer service vacancy within your retail department
I saw your advert for an IT project manager on Reed and would like to apply for the role.
Highlight your suitability
The bulk of your cover letter should be focused around highlighting your suitability for the job you are applying to.
Doing this will show the recruiter that you are suitable candidate and encourage them to open your CV.
The best way to do this, is by studying the job advert you are applying to, and find out what the most important skills and knowledge are.
Once you know the most important requirements, you then need to highlight your matching skills to the recruiter. In a few sentences, tell them exactly why you are a good fit for the job and what you can offer the company.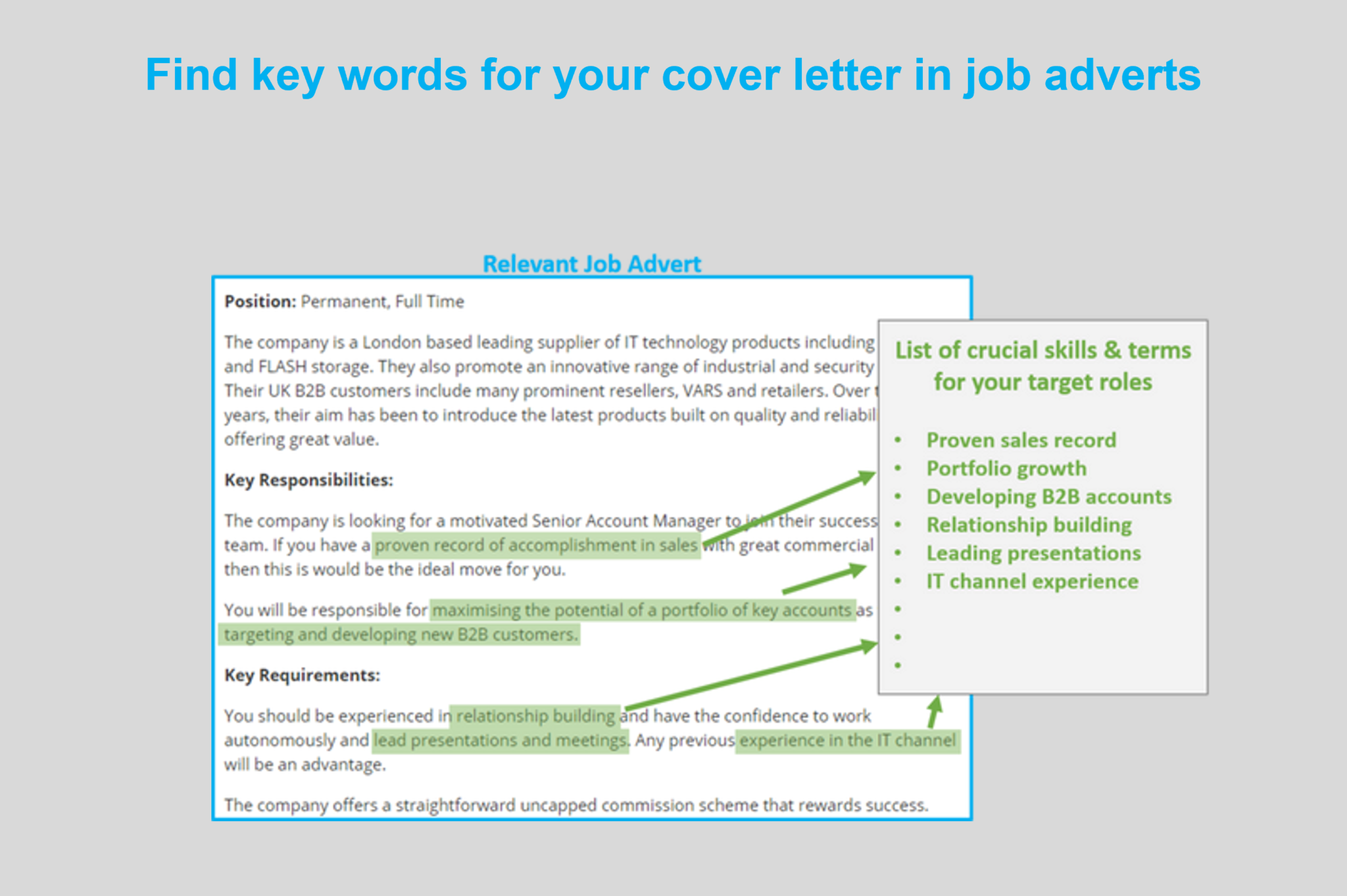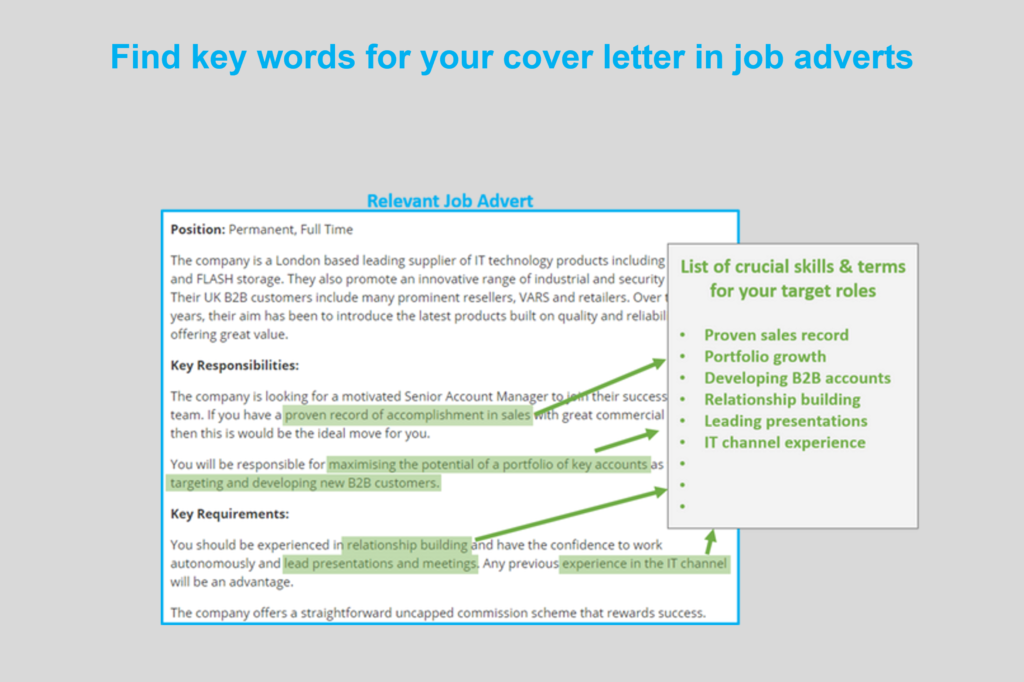 Keep it short and sharp
When sending a job application to a recruiter or hiring manager, it is important to remember that they will normally be very busy and pushed for time.
Therefore, you need to get you message across to them quickly (in a matter of seconds ideally). So, keep your cover letter short and to-the-point. A long waffling cover letter will overwhelm recruiters when they are running through hundreds of emails in there inbox, but a concise one will get their attention.
So, keep your cover letter to just a few sentences long, and save the extensive detail for your CV.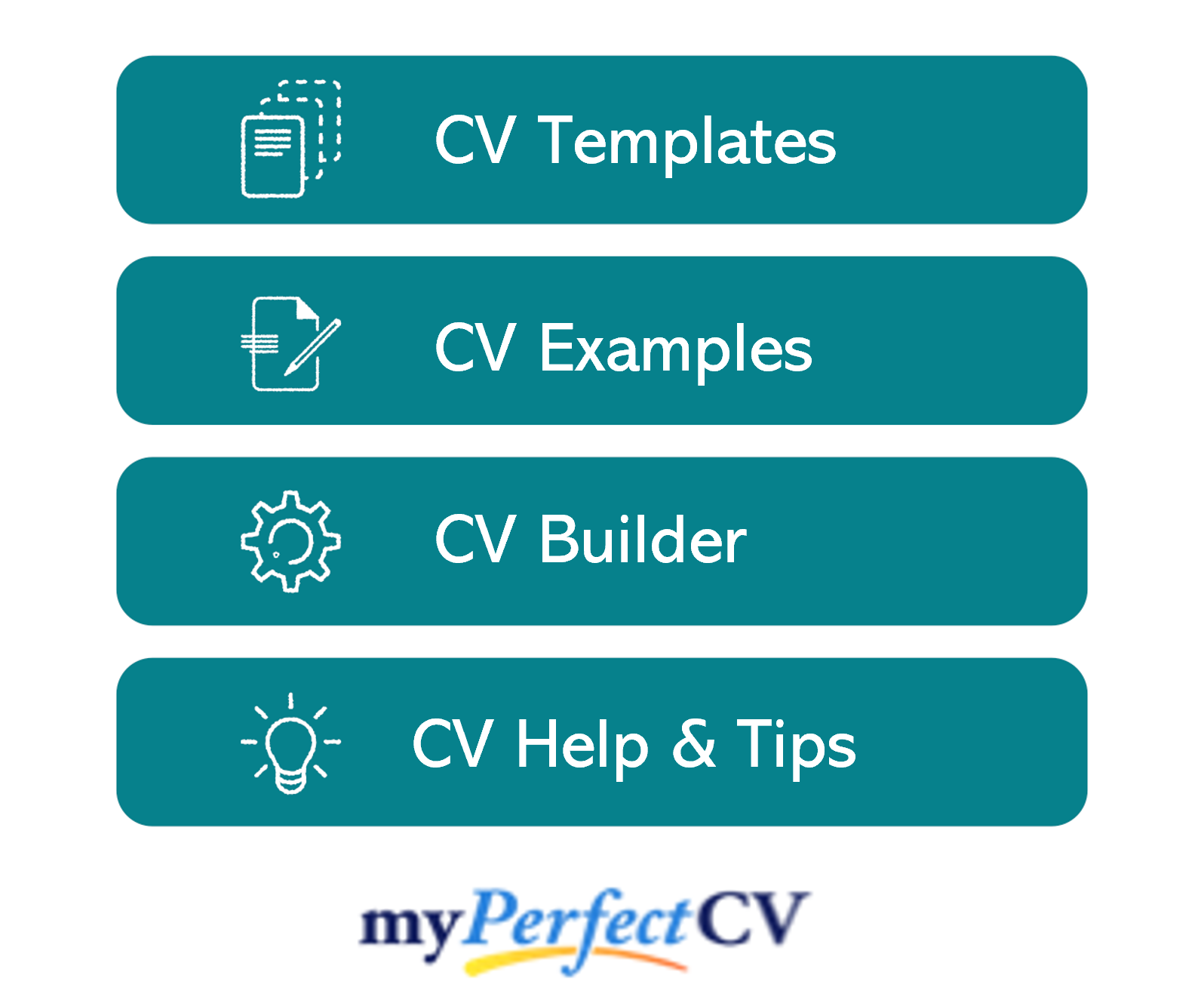 Sign off professionally
To finish off your cover note, add a professional signature to the bottom, stating your important contact details and information.
This not only provides recruiters with multiple means of contacting you, but it also adds a nice professional appearance to the cover letter, which shows that you know how to conduct yourself in the workplace.
Include the following points;
A friendly sign off – e.g. "Warm regards"
Your full name
Phone number (one you can answer quickly)
Email address
Optional
Profession title
Professional social network – e.g. LinkedIn
Here is an example signature;
Warm regards,
Aaron Smith
Customer service professional
075557437373
Aaron@smith.com
LinkedIn
Quick tip: To save yourself from having to write your signature every time you send a job application, you can save it within your email drafts, or on a separate document that you could copy in.

What to include in your Event Manager cover letter
Your Event Manager cover letter will be unique to your situation, but there are certain content guidelines you should stick to for best results.
To attract and entice recruiters, stick with the following key subjects in your cover letter – adapting them to fit your profession and target jobs.
Your professional experience – Employers will be keen to know if your experience is suitable for the job you are applying to, so provide a good summary of it in your cover letter.
Your qualifications and education – Highlight your most relevant and high-level of qualification, especially if they are essential to the job.
The positive impact you have made – Employers love to hear about the benefits you can bring to them, so shout about anything impressive you have done, such as saving money or improving processes.
Your reasons for leaving – Use a few words of your cover letter to explain why you are leaving your current job and ensure you avoid any negative reasons.
Your availability – Let recruiters know when you can start a new job. Are you immediately available, or do you have a month notice period?
Event Manager cover letter templates
Copy and paste these Event Manager cover letter templates to get a head start on your own.
Template 1
Hi Steven
I am delighted to apply for the Senior Event Manager position at Artemis Venue Services. With a successful track record of planning and executing memorable events, and a genuine passion for creating exceptional experiences, I am excited about the opportunity to bring my expertise to your company.
Over the course of my 15-year career at St. Ermin's I have had the privilege of orchestrating high-profile corporate conferences, weddings, birthday parties, exclusive gala dinners, and large-scale community gatherings. Each experience has allowed me to cultivate strong relationships with clients, vendors, and stakeholders.
I approach event planning with meticulous attention to detail and a focus on delivering exceptional results. Some achievements in my current role as an Event Manager include overseeing a high-profile charity gala that exceeded fundraising goals by raising £300K for a cancer cause, as well as developing sustainable event practices that reduced waste by 30% and increased the organisation's commitment to eco-friendly initiatives. In addition, I saved £5K through negotiating favourable contracts with suppliers.
Please do not hesitate to reach out me to schedule an interview at your convenience.
Kind regards
Darren Cole ¦ 07777777777 ¦ darrencole@gmail.co.uk
Template 2
Good morning, Darren
Attached you will find my CV for the Event Manager position at Meridian. With a proven track record of planning and executing engaging events, along with a passion for creating unforgettable experiences, I am confident that my skills and expertise make me a perfect fit for your prominent establishment.
Over the past 7 years, I have honed my event management abilities, while managing corporate conferences, trade shows, charity galas, and community festivals for Whitehall Garden Centre. Each event presented its unique challenges, where I had to be versatile and adapt to evolving circumstances.
As an Event Manager, my approach is characterised by strategic thinking and a relentless commitment to excellence. I thrive in fast-paced environments, where my calm demeanour under pressure ensures seamless event execution, with a proven track record of consistently delivering numerous events at 10%+ under allocated budget. During my time at Whitehall Garden Centre, I also secured £100K+ in funding to further exceed sponsorship revenue targets by 20% and maintained a CSAT rating of 95% based on post-event surveys.
Thank you for your consideration, I am available for an interview and can be reached via email or phone.
Kind regards
Dwight Simmonds ¦ 07777777777 ¦ Dwight.simmonds@gmail.co.uk
Template 3
Hi Michael
I hope you are well. I am writing to express my interest in the Junior Event Manager position at The Standard London, as advertised on Glassdoor. As a dedicated individual, I am excited about the opportunity to contribute my skills and enthusiasm to support your team in delivering exceptional events.
During my academic journey and previous part-time work experience at Jubilee Hospitality, I developed expertise in event logistics, vendor coordination, budgeting/cost control, and client relations. I recently completed my BSc (Hons) in Conventions & Event Management from the University of Manchester.
I am committed to providing support to event managers to ensure occasions are memorable. I thrive in dynamic environments, where my time management skills enable me to handle multiple tasks and meet tight deadlines. Some notable accomplishments I have include, helping senior personnel organise a regional conference that attracted 500+ attendees and surpassed the previous year attendances by 20%+, as well as reducing admin processes by 15% through streamlining event documentation.
My CV provides additional details on my other achievements as an Event Management Assistant. I am available for an interview at your earliest convenience.
Kind regards
Stephanie Mills ¦ 07777777777 ¦ steph.mills@gmail.co.uk
Writing a strong attention-grabbing cover letter is a vital step in landing a good Event Manager job.
Use the tips, strategies and examples above to get more responses from you job applications and start lining job interview up.
Good luck with your job search!