If you want to land your next electrician role, then you need to spark the recruiter's interest and secure an interview.
But how do you do that?
With an impressive cover letter, of course, and we've got the tools to help you create just that. Check out all our top tips below, along with our electrician cover letter examples to guide you.

Electrician cover letter example 1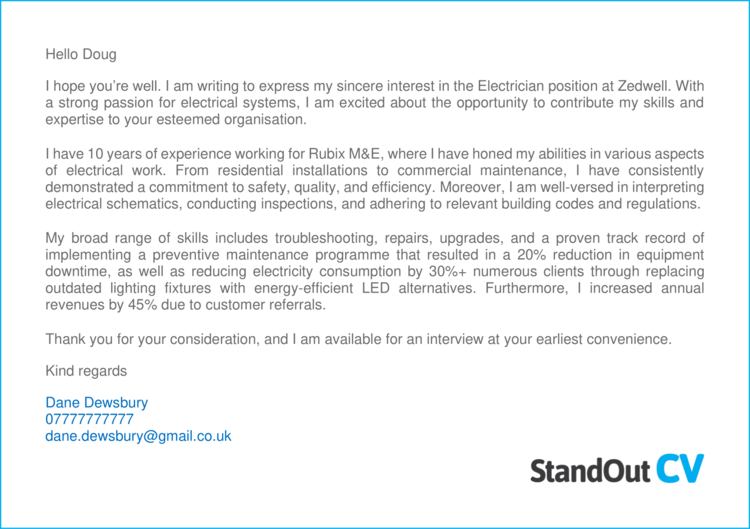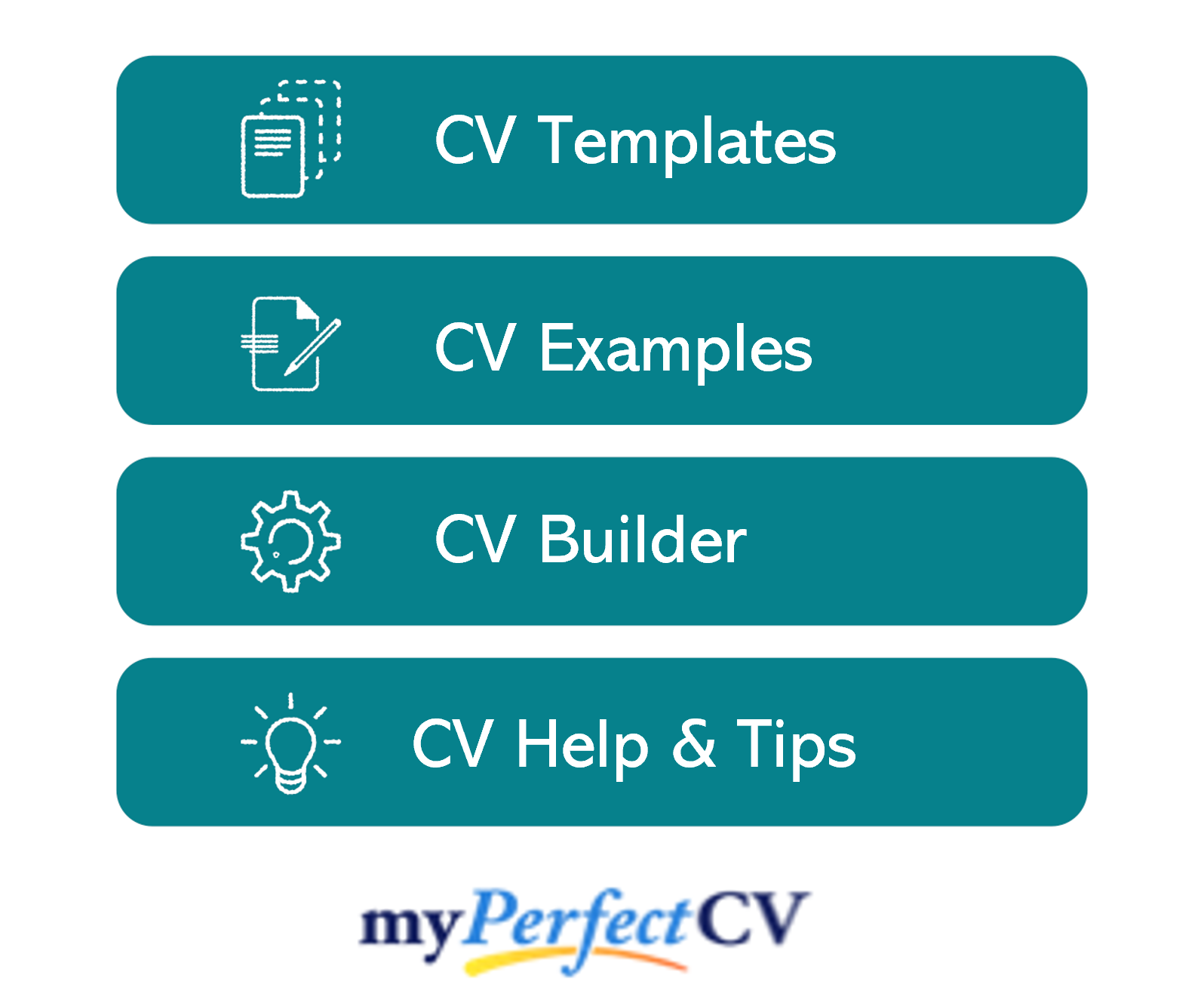 Electrician cover letter example 2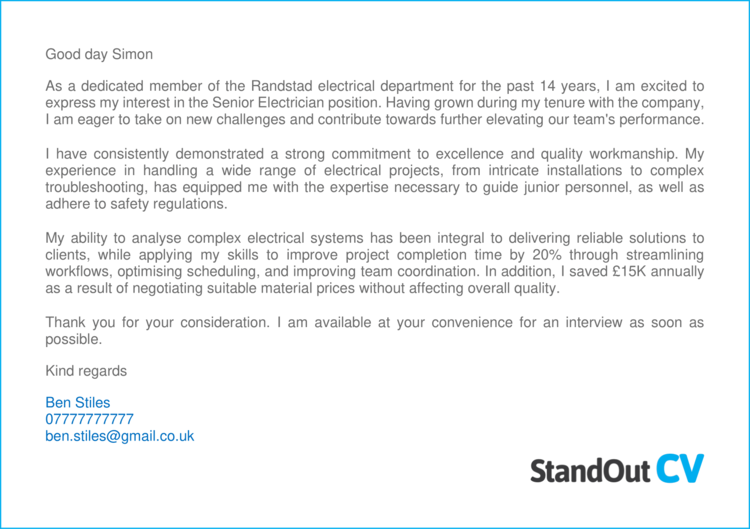 Electrician cover letter example 3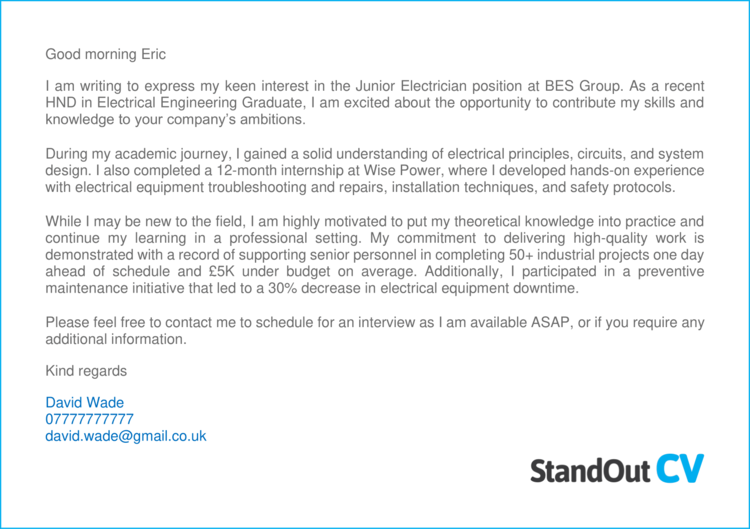 These Electrician cover letter examples provide you with some guidance and inspiration for writing a cover letter that gets noticed and ensures your CV will get opened.
But if you really want to master the art of writing a winning cover letter, then follow our step-by-step cove letter writing guide below.
How to write a Electrician cover letter
Here's how to write your own winning Electrician cover letter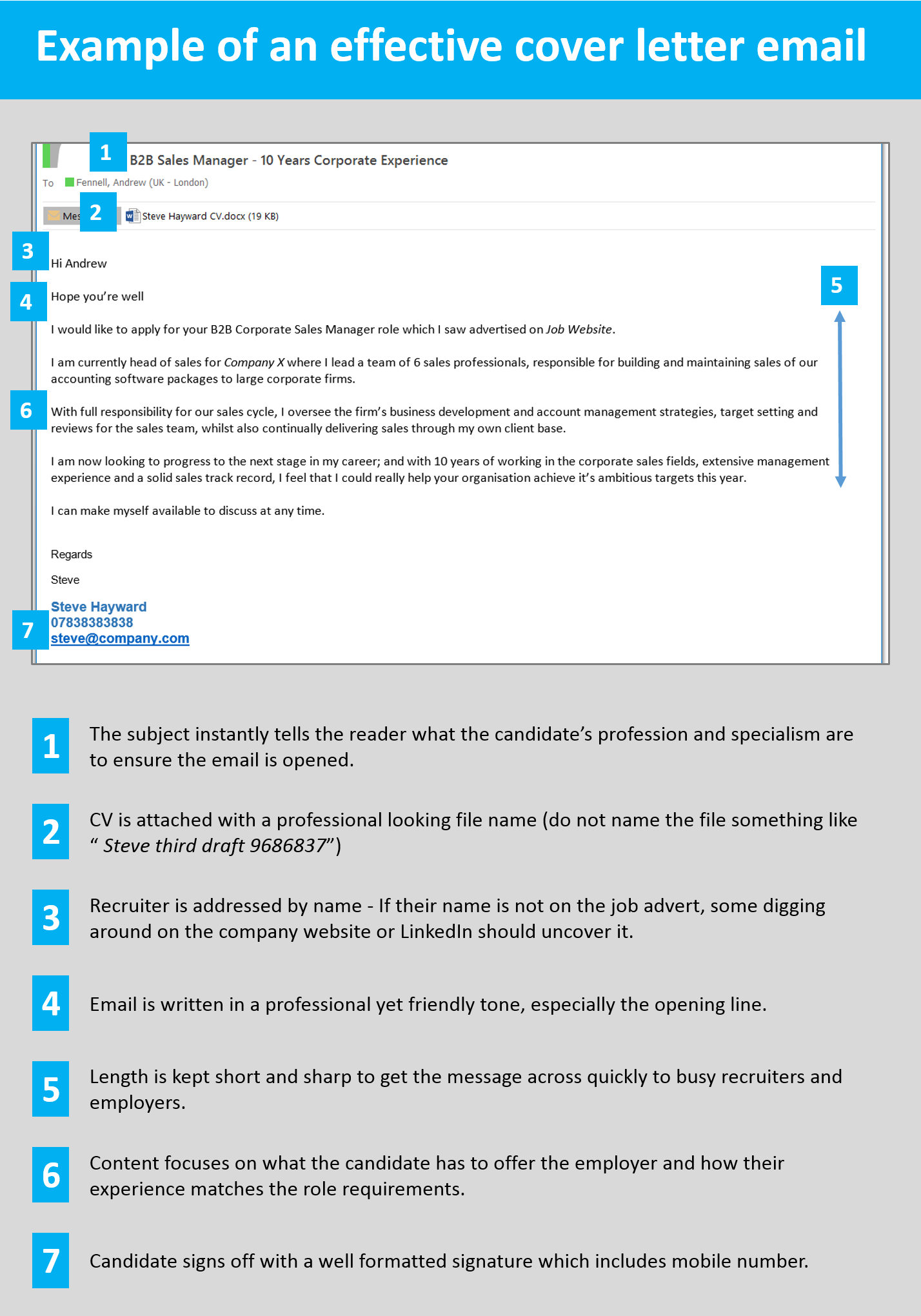 Write your cover letter in the body of an email/message
When you send a cover letter with a job application, you should always write your message into the body of your email – or the body of the messaging system if you are sending via a job website.
Why do this?
Simply because you want to get your message seen as soon as the recruiter opens your application.
If you attach the cover letter as a separate item, this means the recipient will have to open it before they can read it – slowing down the process and potentially causing frustration along the way.
So, write your cover note in the body of your email/message to ensure you make an instant connection with the reader.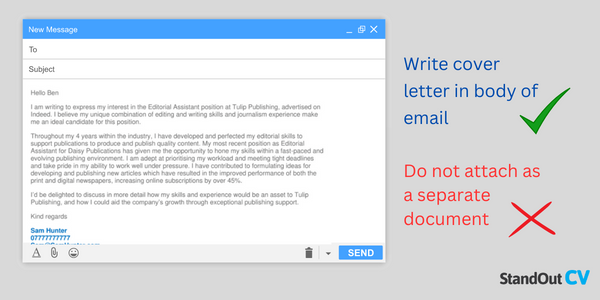 Start with a friendly greeting

To kick your cover letter off, start with a friendly greeting to build rapport with the recruiter instantly.
Your greeting should be personable but professional. Not too casual, but not too formal either
Go with something like…
Hi
Hi [insert recruiter name]
Hi [insert department/team name]
Avoid old-fashioned greetings like "Dear sir/madam" unless applying to very formal companies.
How to find the contact's name?
Addressing the recruitment contact by name is an excellent way to start building a strong relationship. If it is not listed in the job advert, try these methods to find it.
Check out the company website and look at their About page. If you see a hiring manager, HR person or internal recruiter, use their name. You could also try to figure out who would be your manager in the role and use their name.
Head to LinkedIn, search for the company and scan through the list of employees. Most professionals are on LinkedIn these days, so this is a good bet.
Identify the role you are applying for
Once you've opened up the cover letter with a warm greeting to start building a relationship, it is time to identify which role you want to apply for.
Recruiters are often managing multiple vacancies, so you need to ensure you apply to the correct one.
Be very specific and use a reference number if you can find one.
I am interested in applying for the position of Electrician with your company.
I would like to apply for the role of Sales assistant (Ref: 406f57393)
I would like to express my interest in the customer service vacancy within your retail department
I saw your advert for a junior project manager on Reed and would like to apply for the role.
Highlight your suitability
The sole objective of your cover letter is to motivate recruiters into to opening your CV. And you achieve this by quickly explaining your suitability to the roles you are applying for.
Take a look at the job descriptions you are applying to, and make note of the most important skills and qualifications being asked for.
Then, when crafting your cover letter, make your suitability the central focus.
Explain why you are the best qualified candidate, and why you are so well suited to carry out the job.
This will give recruiters all the encouragement they need to open your CV and consider you for the job.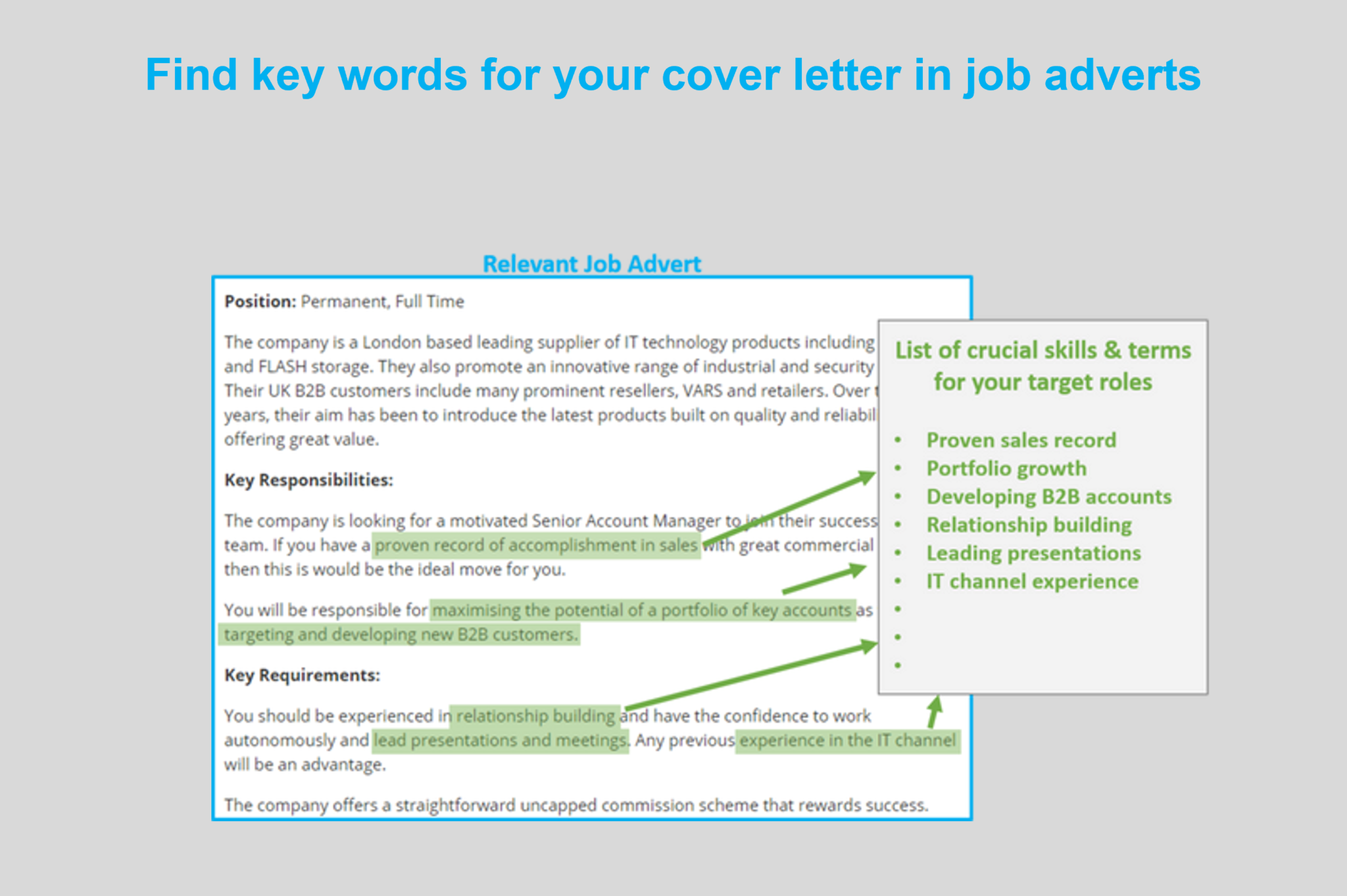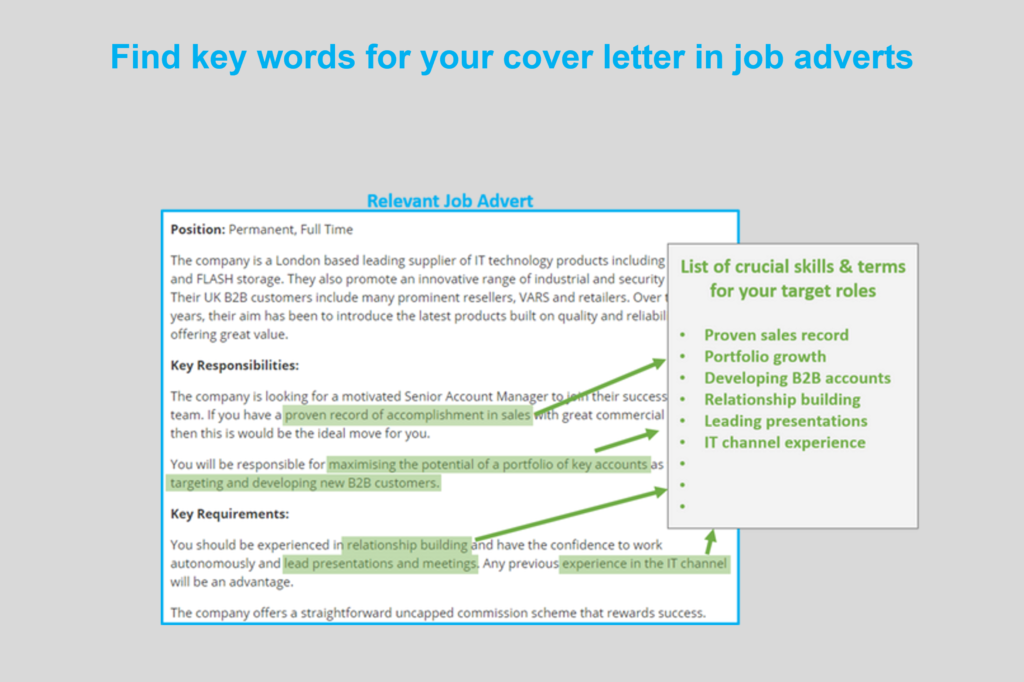 Keep it short and sharp
A good cover letter is short and sharp, getting to the point quickly with just enough information to grab the attention of recruiters.
Ideally your cover letter should be around 4-8 sentences long – anything longer will risk losing the attention of time-strapped recruiters and hiring managers.
Essentially you need to include just enough information to persuade the reader to open up your CV, where the in-depth details will sit.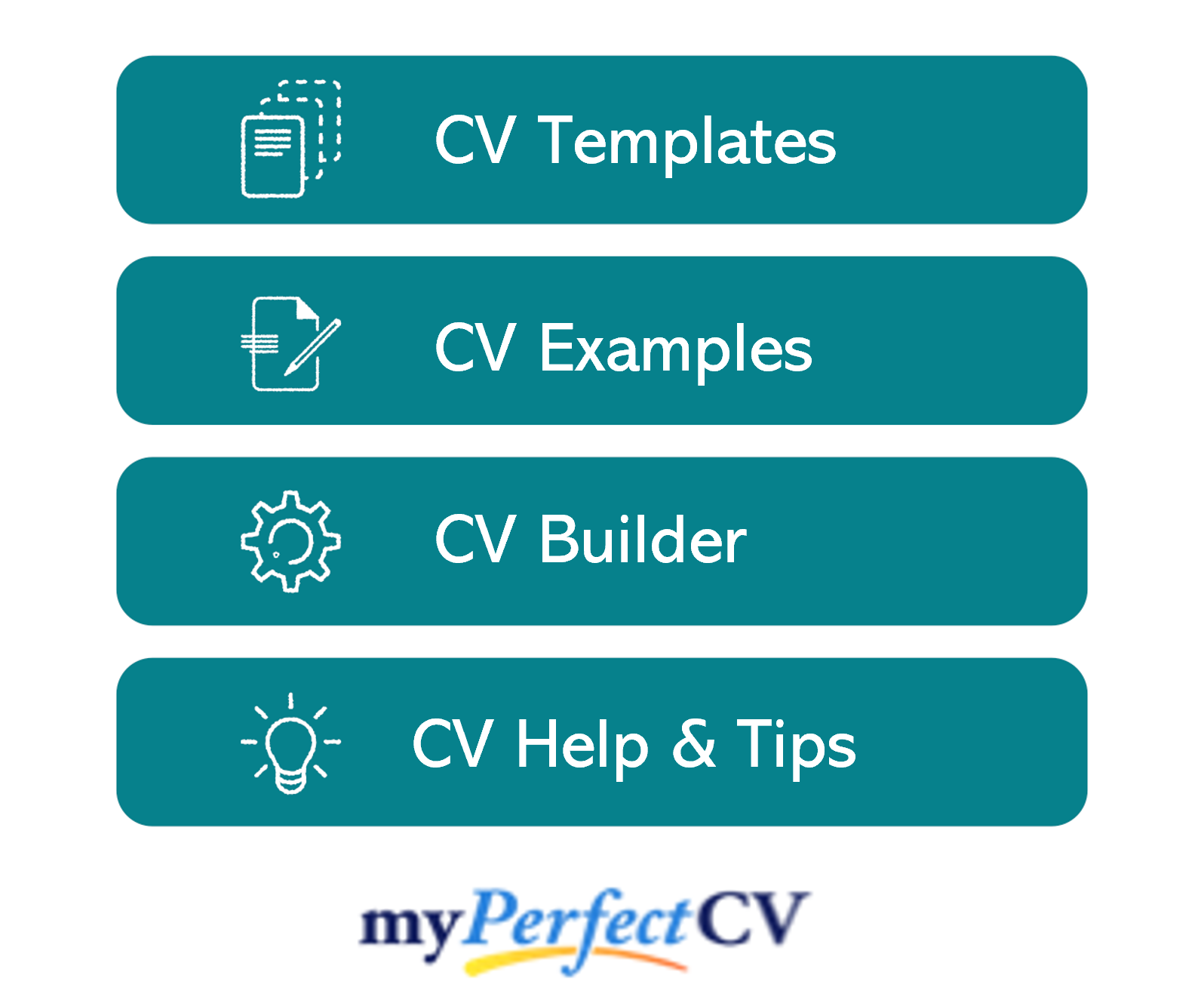 Sign off professionally
To round of your CV, you should sign off with a professional signature.
This will give your cover letter a slick appearance and also give the recruiter all of the necessary contact information they need to get in touch with you.
The information to add should include:
A friendly sign off – e.g. "Kindest regards"
Your full name
Phone number (one you can answer quickly)
Email address
Optional
Profession title
Professional social network –  e.g. LinkedIn
Here is an example signature;
Warm regards,
Jill North
IT Project Manager
078837437373
Jill@hotmail.com
LinkedIn
Quick tip: To save yourself from having to write your signature every time you send a job application, you can save it within your email drafts, or on a separate documents that you could copy in.

What to include in your Electrician cover letter
So, what type of information should you write about in your Electrician cover letter?
The specifics will obviously depend on your profession and the jobs you are applying to, but these are the key areas you should be covering.
Your industry experience – Tell recruiters the types of companies you have been working for and the roles you have held in the past.
Your qualifications – Highlight your most important relevant qualifications to show employers you are qualified to do the roles you are applying for.
The impact you have made – Demonstrate the positive impact you have made for employers in previous jobs. Have you saved money? Improved processes? Made customers happy?
Your reasons for moving – Employers will want to know why you are leaving your current/previous role, so provide them with a brief explanation here.
Your availability – When will you be able to start a new job? Check your current contract to find out your notice period if you are in a position already.
Electrician cover letter templates
Copy and paste these Electrician cover letter templates to get a head start on your own.
Template 1
Hello Doug
I hope you're well. I am writing to express my sincere interest in the Electrician position at Zedwell. With a strong passion for electrical systems, I am excited about the opportunity to contribute my skills and expertise to your esteemed organisation.
I have 10 years of experience working for Rubix M&E, where I have honed my abilities in various aspects of electrical work. From residential installations to commercial maintenance, I have consistently demonstrated a commitment to safety, quality, and efficiency. Moreover, I am well-versed in interpreting electrical schematics, conducting inspections, and adhering to relevant building codes and regulations.
My broad range of skills includes troubleshooting, repairs, upgrades, and a proven track record of implementing a preventive maintenance programme that resulted in a 20% reduction in equipment downtime, as well as reducing electricity consumption by 30%+ numerous clients through replacing outdated lighting fixtures with energy-efficient LED alternatives. Furthermore, I increased annual revenues by 45% due to customer referrals.
Thank you for your consideration, and I am available for an interview at your earliest convenience.
Kind regards
Dane Dewsbury ¦ 07777777777 ¦ dane.dewsbury@gmail.co.uk
Template 2
Good day Simon
As a dedicated member of the Randstad electrical department for the past 14 years, I am excited to express my interest in the Senior Electrician position. Having grown during my tenure with the company, I am eager to take on new challenges and contribute towards further elevating our team's performance.
I have consistently demonstrated a strong commitment to excellence and quality workmanship. My experience in handling a wide range of electrical projects, from intricate installations to complex troubleshooting, has equipped me with the expertise necessary to guide junior personnel, as well as adhere to safety regulations.
My ability to analyse complex electrical systems has been integral to delivering reliable solutions to clients, while applying my skills to improve project completion time by 20% through streamlining workflows, optimising scheduling, and improving team coordination. In addition, I saved £15K annually as a result of negotiating suitable material prices without affecting overall quality.
Thank you for your consideration. I am available at your convenience for an interview as soon as possible.
Kind regards
Ben Stiles ¦ 07777777777 ¦ ben.stiles@gmail.co.uk
Template 3
Good morning, Eric
I am writing to express my keen interest in the Junior Electrician position at BES Group. As a recent HND in Electrical Engineering Graduate, I am excited about the opportunity to contribute my skills and knowledge to your company's ambitions.
During my academic journey, I gained a solid understanding of electrical principles, circuits, and system design. I also completed a 12-month internship at Wise Power, where I developed hands-on experience with electrical equipment troubleshooting and repairs, installation techniques, and safety protocols.
While I may be new to the field, I am highly motivated to put my theoretical knowledge into practice and continue my learning in a professional setting. My commitment to delivering high-quality work is demonstrated with a record of supporting senior personnel in completing 50+ industrial projects one day ahead of schedule and £5K under budget on average. Additionally, I participated in a preventive maintenance initiative that led to a 30% decrease in electrical equipment downtime.
Please feel free to contact me to schedule for an interview as I am available ASAP, or if you require any additional information.
Kind regards
David Wade ¦ 07777777777 ¦ david.wade@gmail.co.uk
Writing an impressive cover letter is a crucial step in landing a Electrician job, so taking the time to perfect it is well worth while.
By following the tips and examples above you will be able to create an eye-catching cover letter that will wow recruiters and ensure your CV gets read – leading to more job interviews for you.
Good luck with your job search!