You've got a strong foundation in maths, statistics and programming, but do you have a cover letter that reflects this?
Selling your impressive skills and experience in just a few short paragraphs is never easy, but using our top tips and advice below, we can make it much easier.
We've also created some data scientist cover letter examples to inspire your own.

Data Scientist cover letter example 1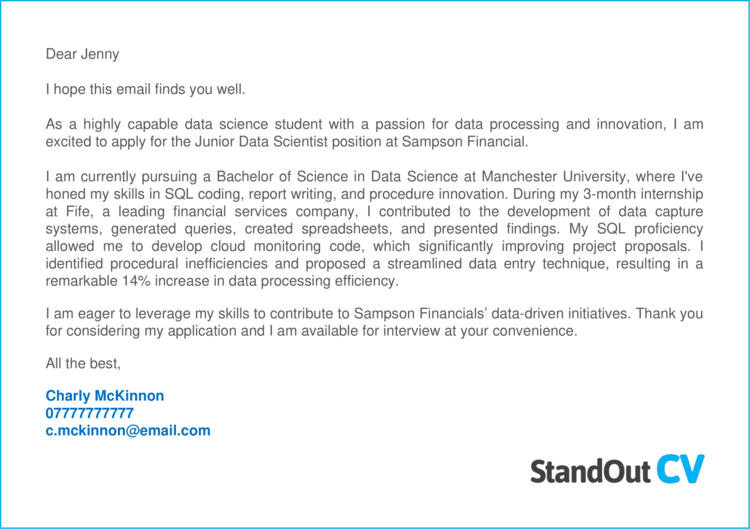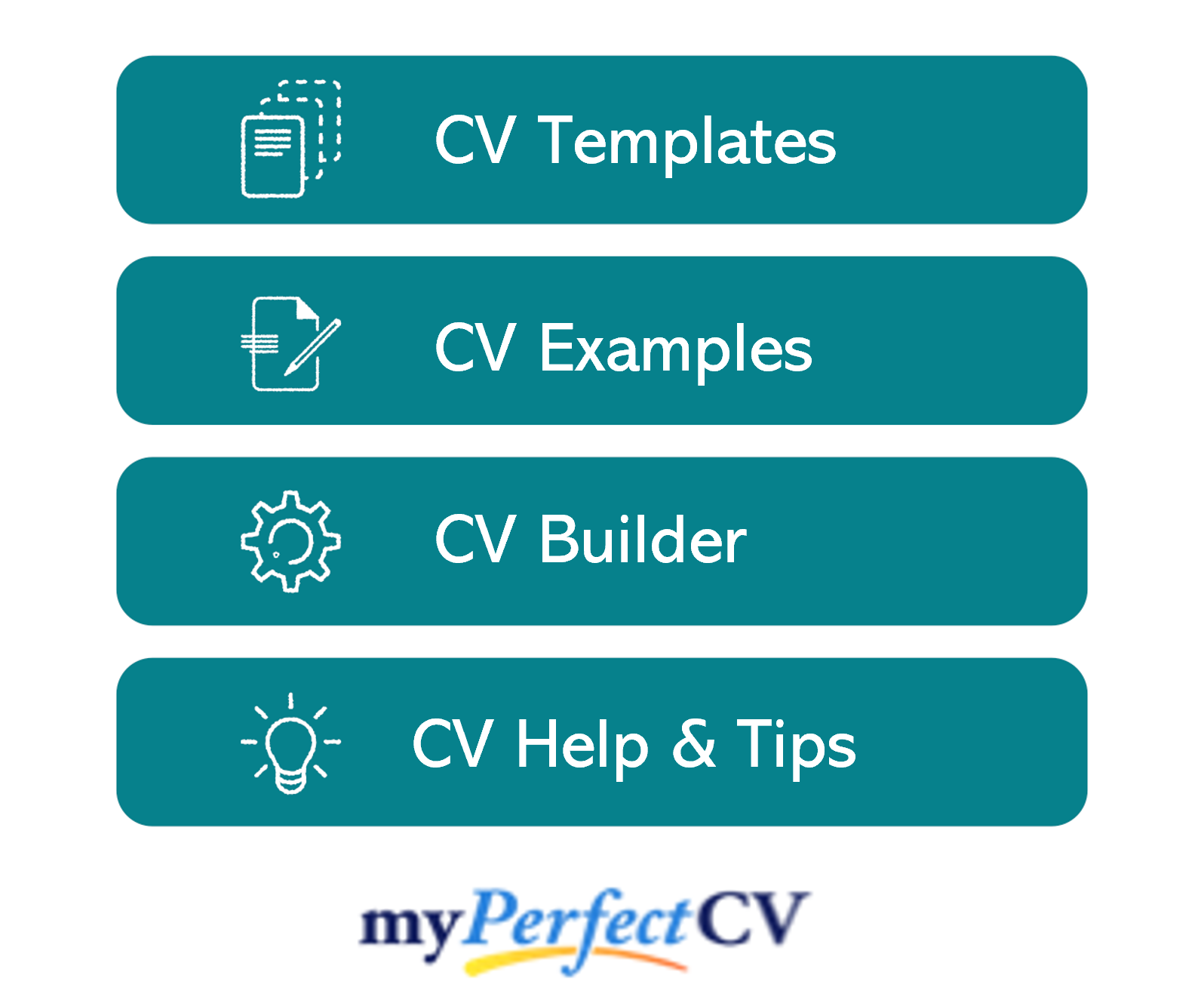 Data Scientist cover letter example 2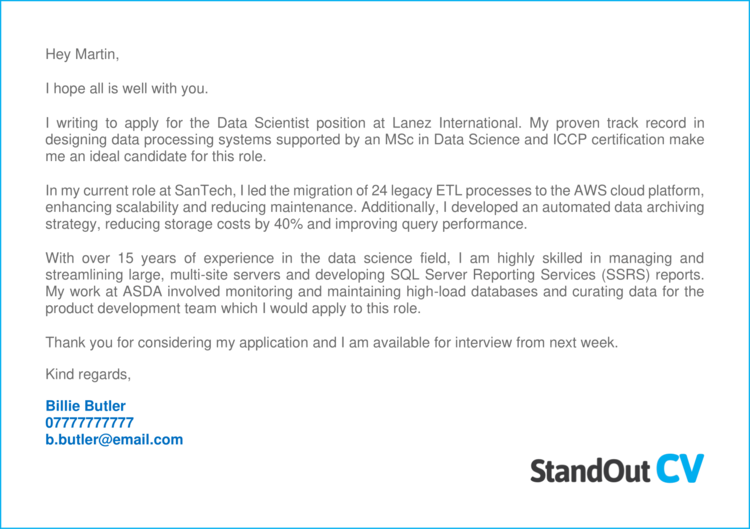 Data Scientist cover letter example 3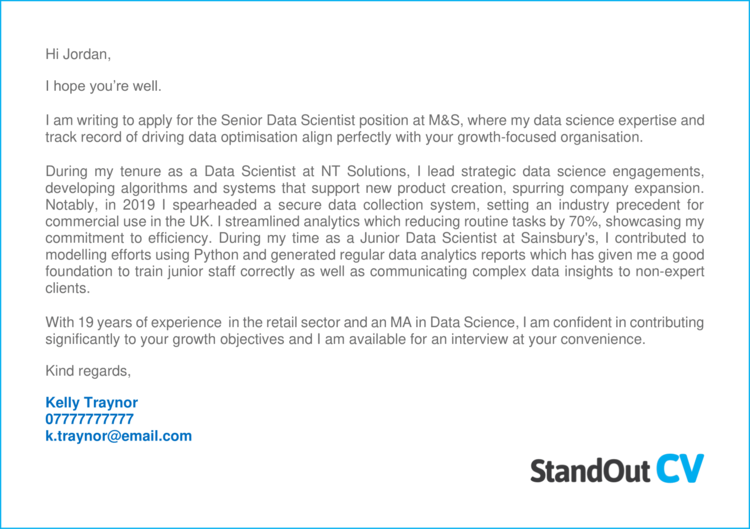 These 3 Data Scientist cover letter examples will provide you with some good ideas on how to format a cover letter, along with the type of message you should be trying to put across to recruiters.
To further understand exactly how you can write a cover letter that will get you noticed, check out our further guidance.
How to write a Data Scientist cover letter
Here's a simple process to write your own interview-winning cover letter.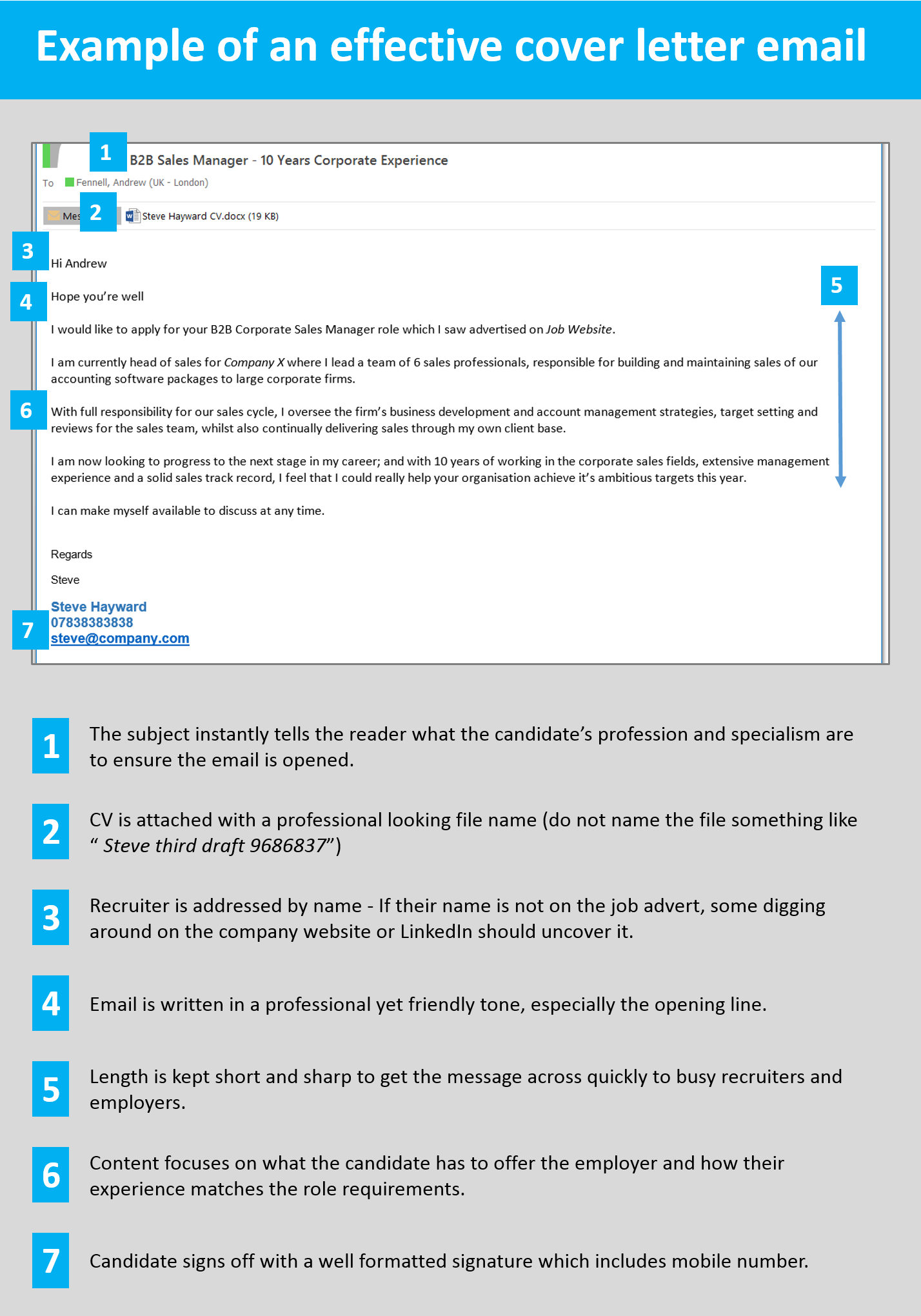 Write your cover letter in the body of an email/message
When you send a cover letter with a job application, you should always write your message into the body of your email – or the body of the messaging system if you are sending via a job website.
Why do this?
Simply because you want to get your message seen as soon as the recruiter opens your application.
If you attach the cover letter as a separate item, this means the recipient will have to open it before they can read it – slowing down the process and potentially causing frustration along the way.
So, write your cover note in the body of your email/message to ensure you make an instant connection with the reader.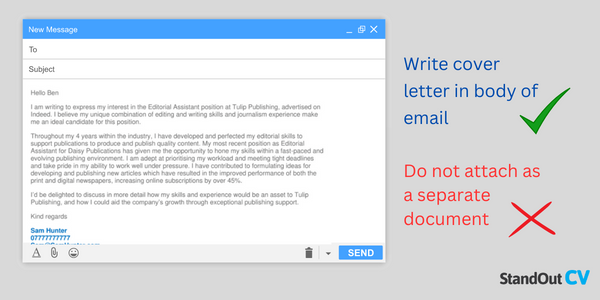 Start with a friendly greeting

To kick your cover letter off, start with a friendly greeting to build rapport with the recruiter instantly.
Your greeting should be personable but professional. Not too casual, but not too formal either
Go with something like…
Hi
Hi [insert recruiter name]
Hi [insert department/team name]
Avoid old-fashioned greetings like "Dear sir/madam" unless applying to very formal companies.
How to find the contact's name?
Addressing the recruitment contact by name is an excellent way to start building a strong relationship. If it is not listed in the job advert, try these methods to find it.
Check out the company website and look at their About page. If you see a hiring manager, HR person or internal recruiter, use their name. You could also try to figure out who would be your manager in the role and use their name.
Head to LinkedIn, search for the company and scan through the list of employees. Most professionals are on LinkedIn these days, so this is a good bet.
Identify the role you are applying for
Now that you have warmed the recruiter up with a friendly greeting, firstly you need to let them know which role you are applying for.
Sometimes a recruitment consultant will be juggling 10 or 10 vacancies, so it's important to specify which one you are applying to.
Give us much detail as possible (team/department, role title etc.) and paste in the reference number if you have one.
Here are some examples you can use.
I am interested in applying for the role of Data Scientist with your company.
I would like to apply for the role of Sales assistant (Ref: 40f57393)
I would like to express my interest in the customer service vacancy within your retail department
I saw your advert for an IT project manager on Reed and would like to apply for the role.
Highlight your suitability
The bulk of your cover letter should be focused around highlighting your suitability for the job you are applying to.
Doing this will show the recruiter that you are suitable candidate and encourage them to open your CV.
The best way to do this, is by studying the job advert you are applying to, and find out what the most important skills and knowledge are.
Once you know the most important requirements, you then need to highlight your matching skills to the recruiter. In a few sentences, tell them exactly why you are a good fit for the job and what you can offer the company.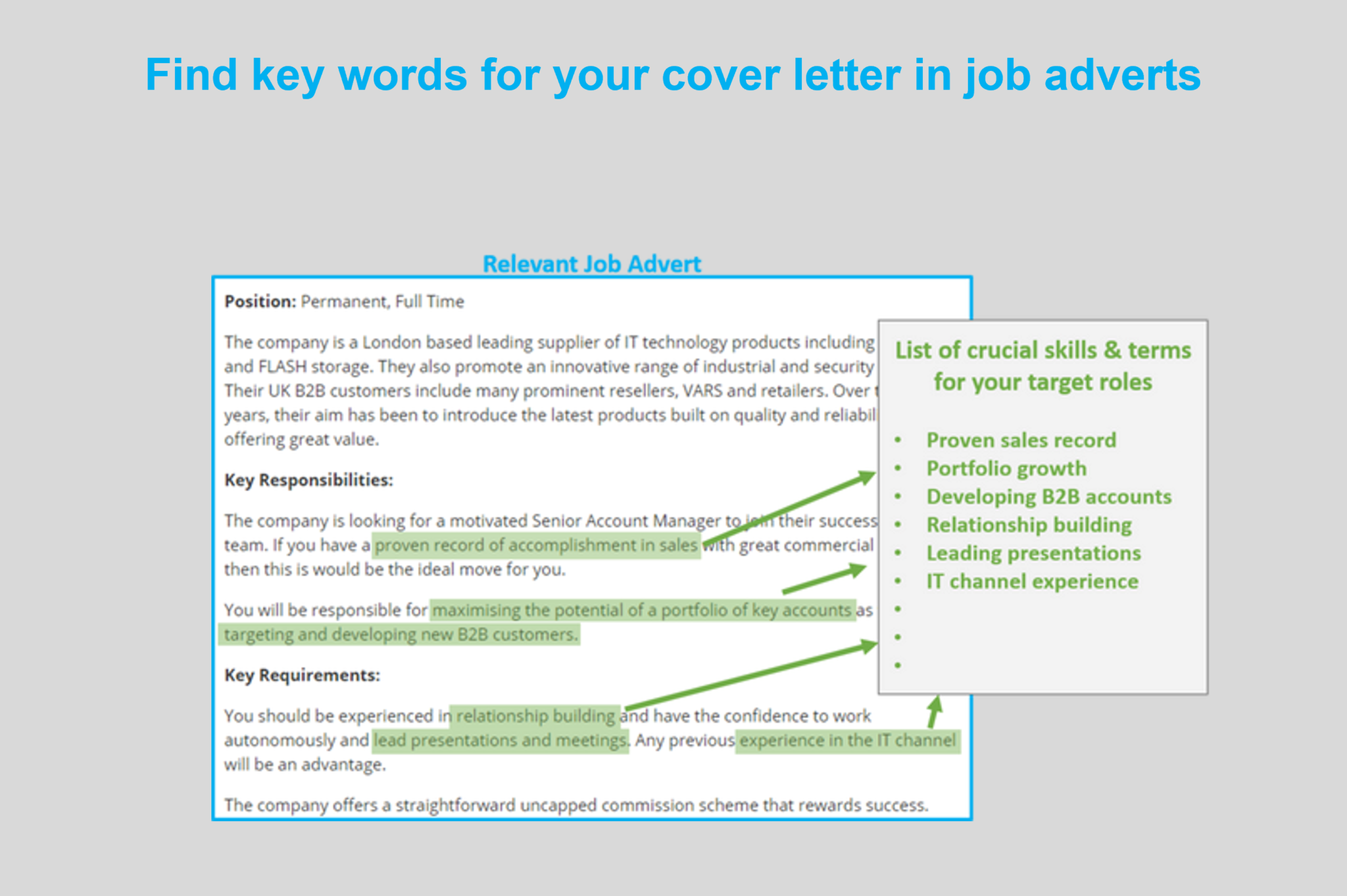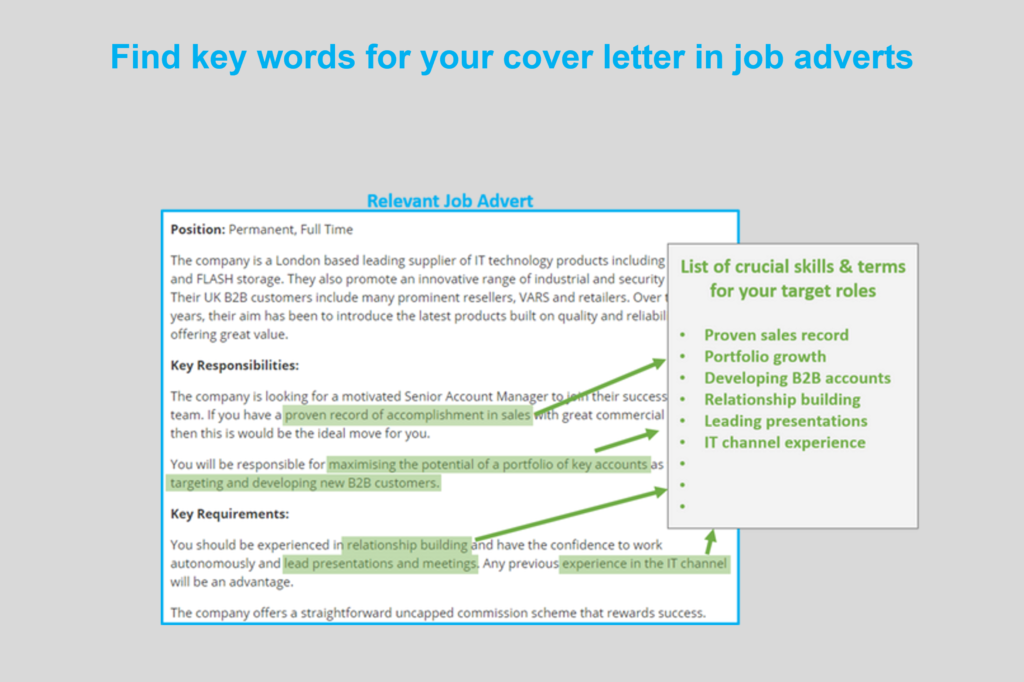 Keep it short and sharp
It is best to keep your cover letter brief if you want to ensure you hold the attention of busy recruiters and hiring managers. A lengthy cover letter will probably not get read in full, so keep yours to around 3-6 sentences and save the real detail for your CV.
Remember the purpose of your cover letter is to quickly get recruiters to notice you and encourage them to open your CV, so it only needs to include the highlights of your experience.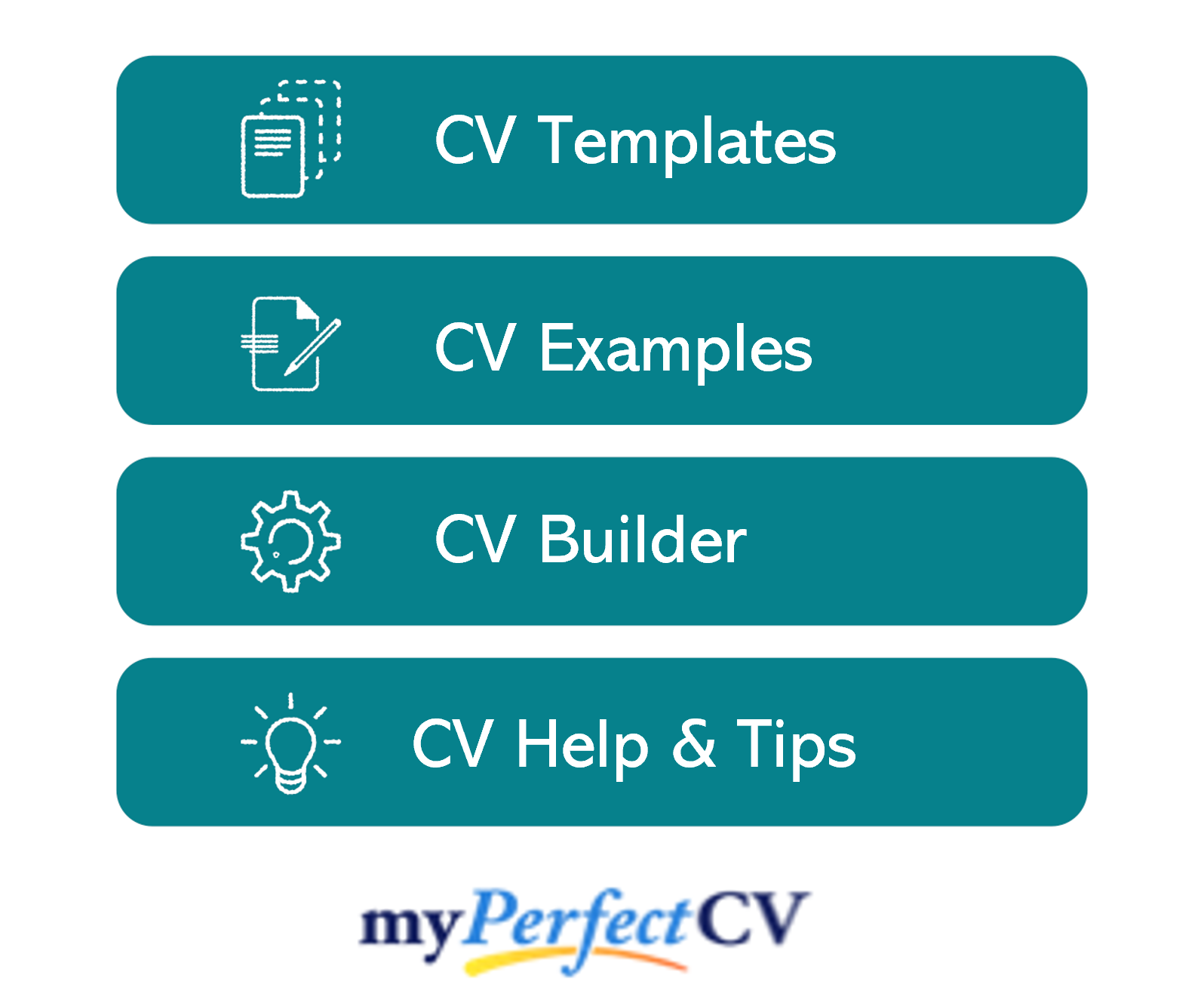 Sign off professionally
To round of your cover letter, add a professional signature to the bottom, giving recruiters your vital contact information.
This not only gives various means of contacting you, it also looks really professional and shows that you know how to communicate in the workplace.
Include the following points;
A friendly sign off – e.g. "Warm regards"
Your full name
Phone number (one you can answer quickly)
Email address
Optional
Profession title
Professional social network – e.g. LinkedIn
Here is an example signature;
Warm regards,
Gerald Baker
Senior Accountant
07887500404
Gbaker213@hotmail.com
LinkedIn
Quick tip: To save yourself from having to write your signature every time you send a job application email, you can save it within your email drafts, or on a separate document that you could copy in.

What to include in your Data Scientist cover letter
So, what type of information should you write about in your Data Scientist cover letter?
The specifics will obviously depend on your profession and the jobs you are applying to, but these are the key areas you should be covering.
Your industry experience – Tell recruiters the types of companies you have been working for and the roles you have held in the past.
Your qualifications – Highlight your most important relevant qualifications to show employers you are qualified to do the roles you are applying for.
The impact you have made – Demonstrate the positive impact you have made for employers in previous jobs. Have you saved money? Improved processes? Made customers happy?
Your reasons for moving – Employers will want to know why you are leaving your current/previous role, so provide them with a brief explanation here.
Your availability – When will you be able to start a new job? Check your current contract to find out your notice period if you are in a position already.
Data Scientist cover letter templates
Copy and paste these Data Scientist cover letter templates to get a head start on your own.
Template 1
Dear Jenny
I hope this email finds you well.
As a highly capable data science student with a passion for data processing and innovation, I am excited to apply for the Junior Data Scientist position at Sampson Financial.
I am currently pursuing a Bachelor of Science in Data Science at Manchester University, where I've honed my skills in SQL coding, report writing, and procedure innovation. During my 3-month internship at Fife, a leading financial services company, I contributed to the development of data capture systems, generated queries, created spreadsheets, and presented findings. My SQL proficiency allowed me to develop cloud monitoring code, which significantly improving project proposals. I identified procedural inefficiencies and proposed a streamlined data entry technique, resulting in a remarkable 14% increase in data processing efficiency.
I am eager to leverage my skills to contribute to Sampson Financials' data-driven initiatives. Thank you for considering my application and I am available for interview at your convenience.
All the best,
Charly McKinnon ¦ 07777777777 ¦ c.mckinnon@email.com
Template 2
Hey Martin,
I hope all is well with you.
I writing to apply for the Data Scientist position at Lanez International. My proven track record in designing data processing systems supported by an MSc in Data Science and ICCP certification make me an ideal candidate for this role.
In my current role at SanTech, I led the migration of 24 legacy ETL processes to the AWS cloud platform, enhancing scalability and reducing maintenance. Additionally, I developed an automated data archiving strategy, reducing storage costs by 40% and improving query performance.
With over 15 years of experience in the data science field, I am highly skilled in managing and streamlining large, multi-site servers and developing SQL Server Reporting Services (SSRS) reports. My work at ASDA involved monitoring and maintaining high-load databases and curating data for the product development team which I would apply to this role.
Thank you for considering my application and I am available for interview from next week.
Kind regards,
Billie Butler ¦ 07777777777 ¦ b.butler@email.com
Template 3
Hi Jordan,
I hope you're well.
I am writing to apply for the Senior Data Scientist position at M&S, where my data science expertise and track record of driving data optimisation align perfectly with your growth-focused organisation.
During my tenure as a Data Scientist at NT Solutions, I lead strategic data science engagements, developing algorithms and systems that support new product creation, spurring company expansion. Notably, in 2019 I spearheaded a secure data collection system, setting an industry precedent for commercial use in the UK. I streamlined analytics which reducing routine tasks by 70%, showcasing my commitment to efficiency. During my time as a Junior Data Scientist at Sainsbury's, I contributed to modelling efforts using Python and generated regular data analytics reports which has given me a good foundation to train junior staff correctly as well as communicating complex data insights to non-expert clients.
With 19 years of experience in the retail sector and an MA in Data Science, I am confident in contributing significantly to your growth objectives and I am available for an interview at your convenience.
Kind regards,
Kelly Traynor ¦ 07777777777 ¦ k.traynor@email.com
Writing an impressive cover letter is a crucial step in landing a Data Scientist job, so taking the time to perfect it is well worth while.
By following the tips and examples above you will be able to create an eye-catching cover letter that will wow recruiters and ensure your CV gets read – leading to more job interviews for you.
Good luck with your job search!