You're a cyber security expert with the credentials to back it up. The tricky part is proving this in just a few short paragraphs.
But with a carefully crafted cover letter, you can highlight your most impressive skills and achievements in the field and impress the hiring manager.
To help you with your application, we've put together some of our top writing tips, along with some cyber security cover letter examples to guide you.

Cyber Security cover letter example 1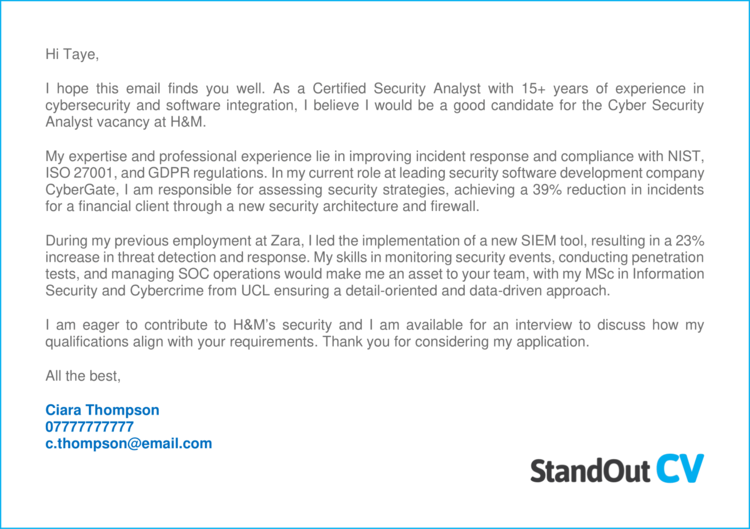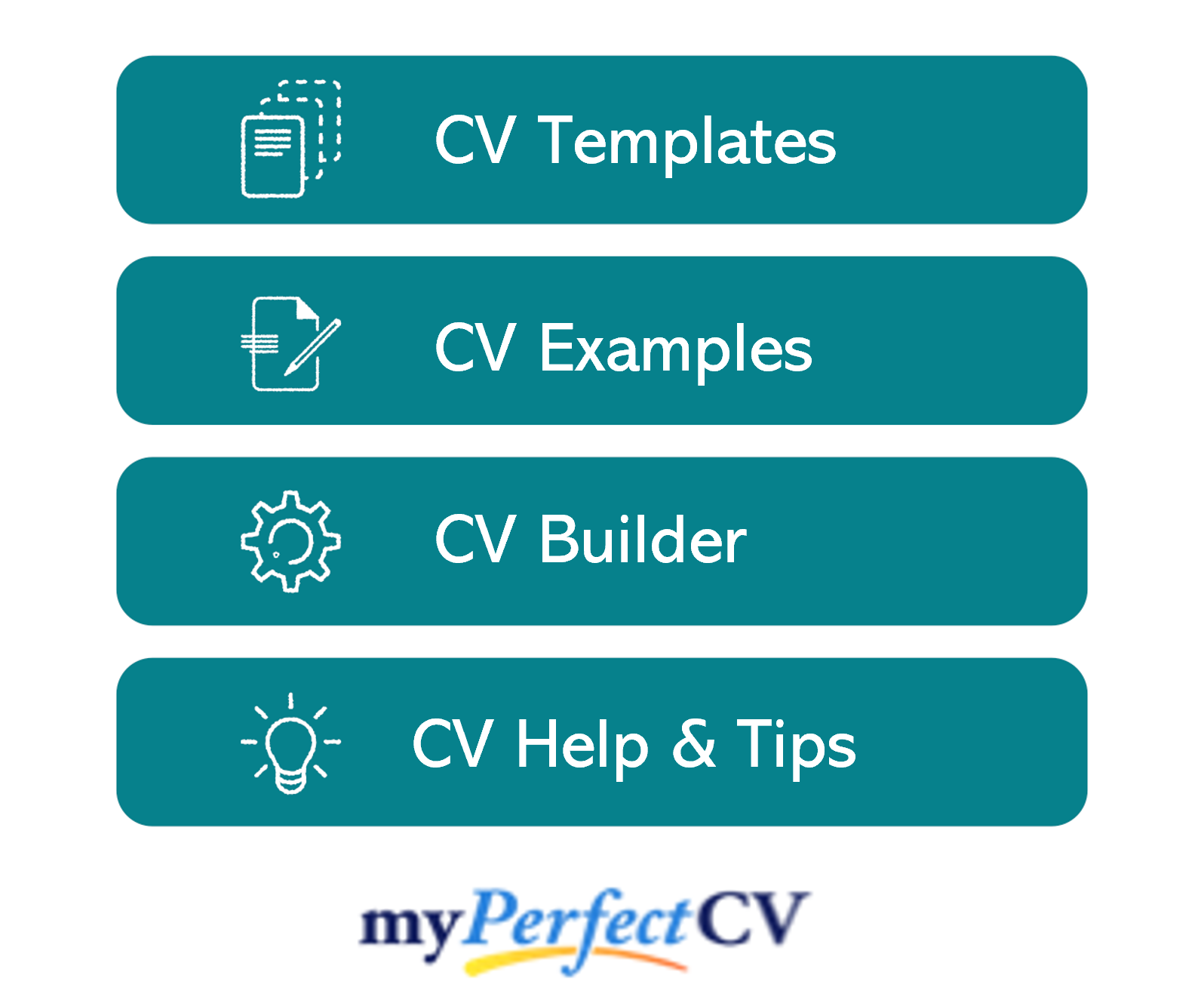 Cyber Security cover letter example 2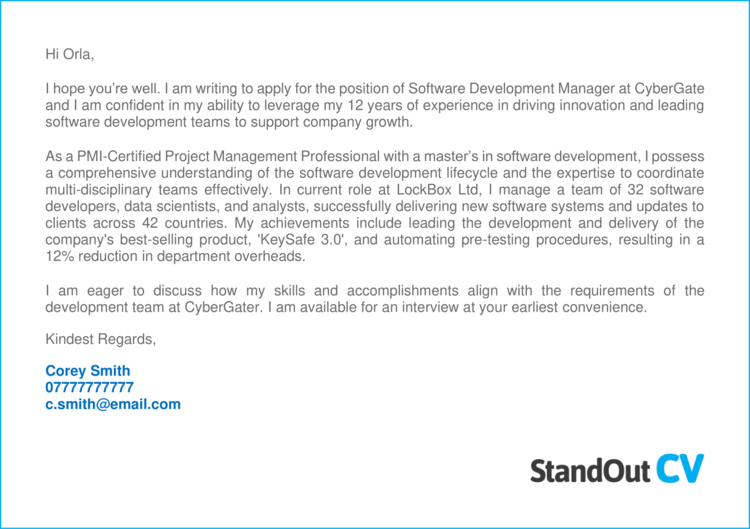 Cyber Security cover letter example 3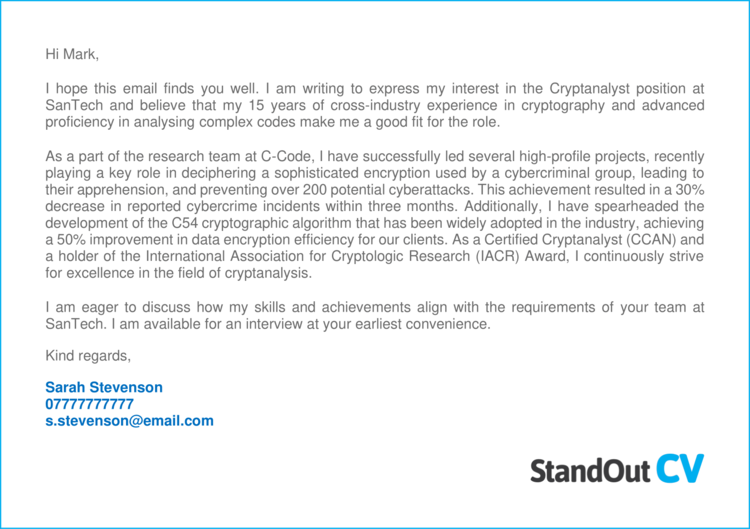 These Cyber Security cover letter examples provide you with some guidance and inspiration for writing a cover letter that gets noticed and ensures your CV will get opened.
But if you really want to master the art of writing a winning cover letter, then follow our step-by-step cove letter writing guide below.
How to write a Cyber Security cover letter
Here's how to write your own winning Cyber Security cover letter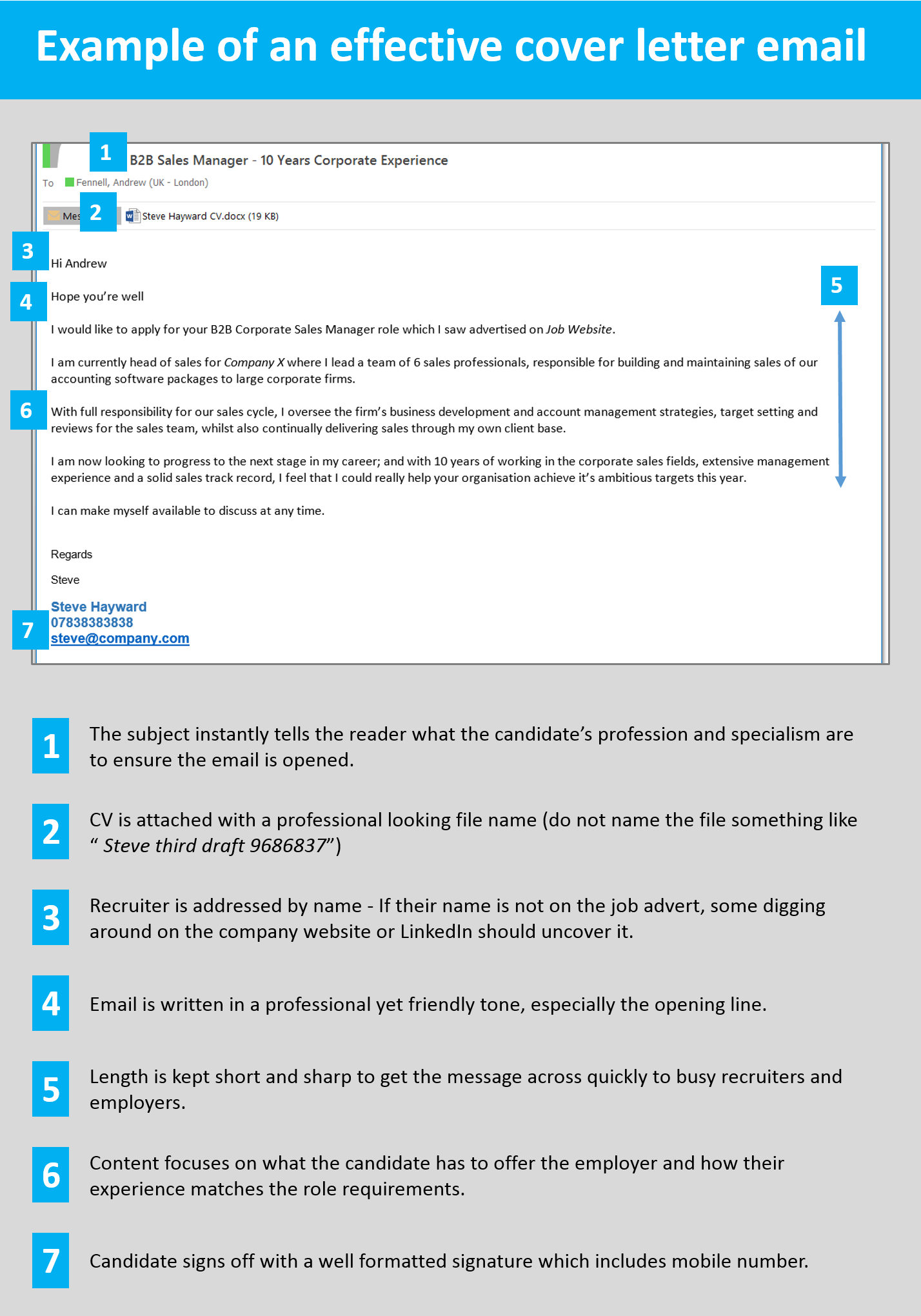 Write your cover letter in the body of an email/message
You should write your cover letter in the body of the email (or messaging system if sending via a job board) and never attach it as a document.
The reason for this?
You want your cover letter to start connecting with the recruiter from the moment they open your application.
If they have to open a document to read it, it will slow things down and they may not even bother to open it.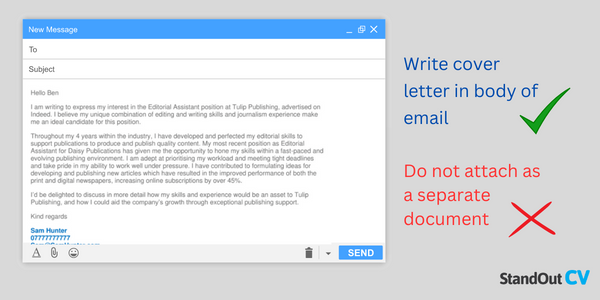 Start with a friendly greeting

To build an instant connection with the recruiter reading your cover letter, start with a warm greeting.
It should be friendly but not casual – keeping it professional at all times.
Hi, hope you're well
Hi [insert recruiter name]
Hi [insert department/team name]
Avoid overly formal greetings like "Dear sir/madam" unless applying to very traditional companies.
How to find the contact's name?
Addressing the recruitment contact by name is an excellent way to start building a strong relationship. If it is not listed in the job advert, try these methods to find it.
Check out the company website and look at their About page. If you see a hiring manager, HR person or internal recruiter, use their name. You could also try to figure out who would be your manager in the role and use their name.
Head to LinkedIn, search for the company and scan through the list of employees. Most professionals are on LinkedIn these days, so this is a good bet.
Identify the role you are applying for
After you have greeted the recruiter, it's important to state the job you are applying to.
Recruiters are often managing multiple vacancies, so they need to know exactly which job you are referring to.
Be as specific as possible and use a reference number if you can find one.
Here are some examples you can use;
I am interested in applying for the role of admin assistant with your organisation.
I would like to apply for the role of Sales assistant (Ref: 4057393)
I would like to express my interest in the customer service vacancy within your retail department
I saw your advertisement for a trainee project manager on Reed and would like to apply for the role.
Highlight your suitability
The bulk of your cover letter should be focused around highlighting your suitability for the job you are applying to.
Doing this will show the recruiter that you are suitable candidate and encourage them to open your CV.
The best way to do this, is by studying the job advert you are applying to, and find out what the most important skills and knowledge are.
Once you know the most important requirements, you then need to highlight your matching skills to the recruiter. In a few sentences, tell them exactly why you are a good fit for the job and what you can offer the company.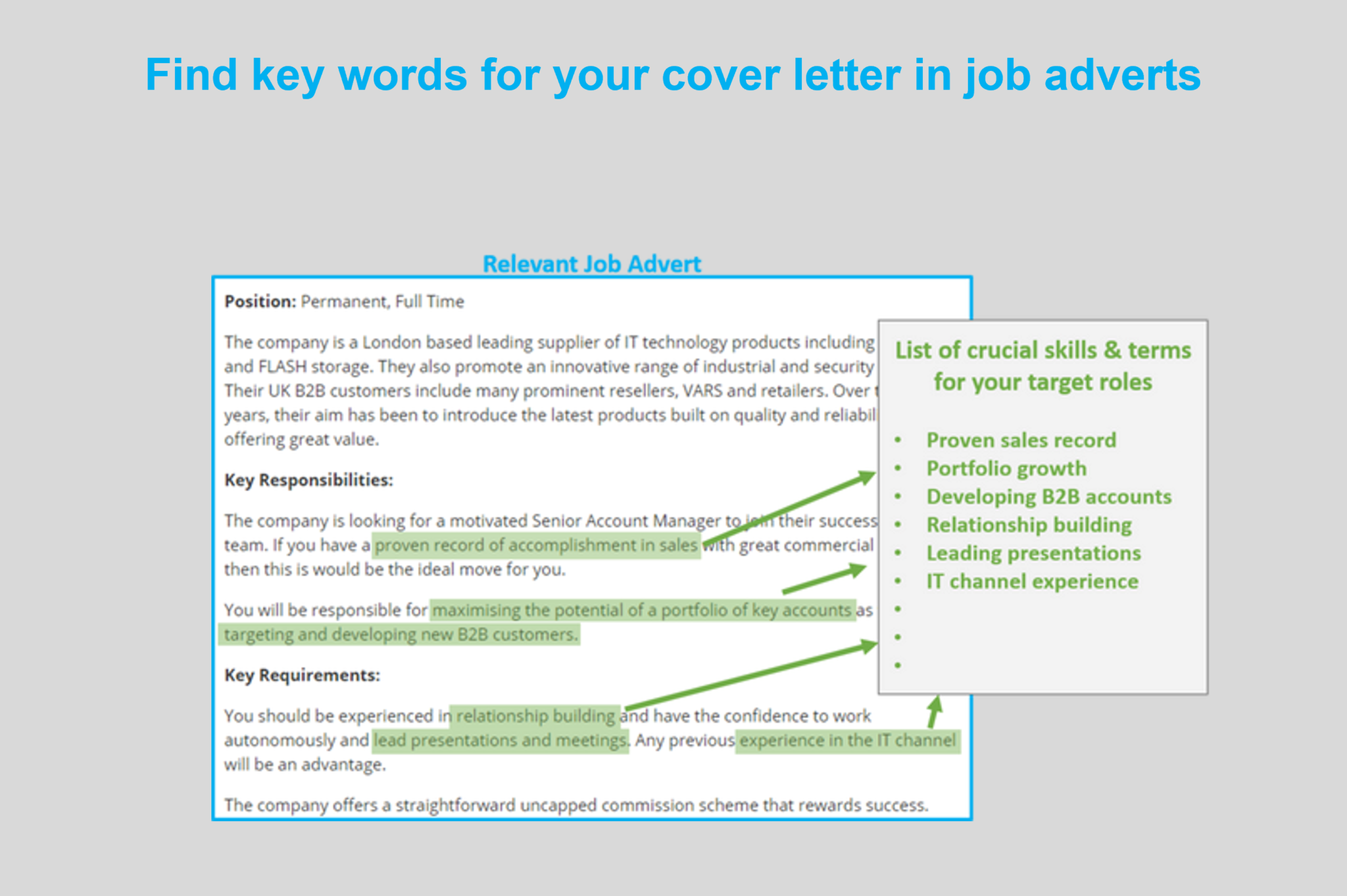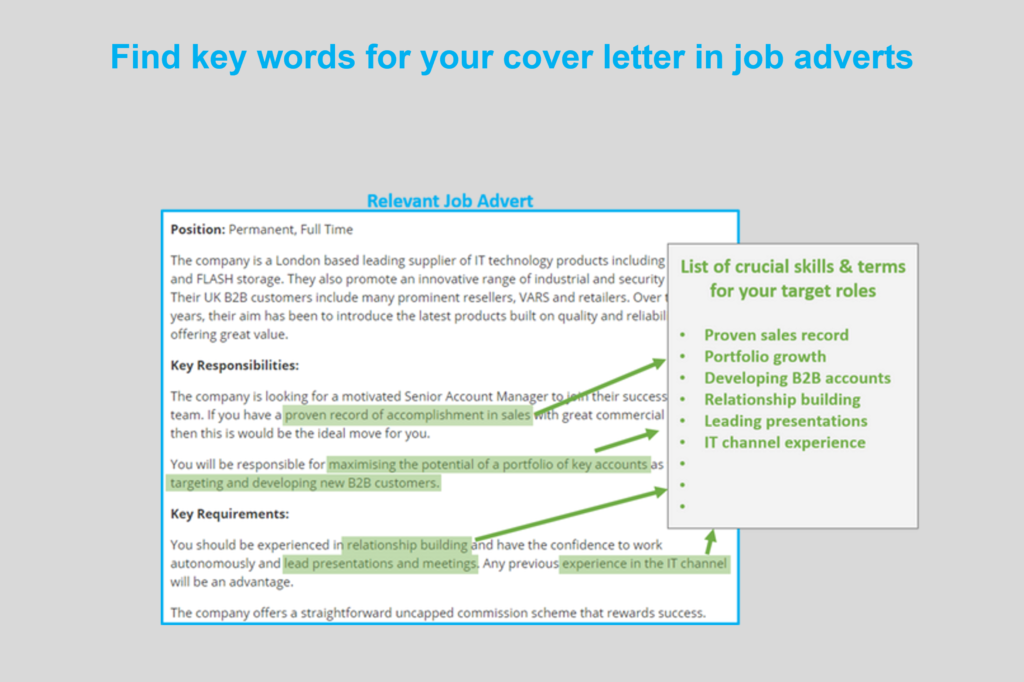 Keep it short and sharp
When sending a job application to a recruiter or hiring manager, it is important to remember that they will normally be very busy and pushed for time.
Therefore, you need to get you message across to them quickly (in a matter of seconds ideally). So, keep your cover letter short and to-the-point. A long waffling cover letter will overwhelm recruiters when they are running through hundreds of emails in there inbox, but a concise one will get their attention.
So, keep your cover letter to just a few sentences long, and save the extensive detail for your CV.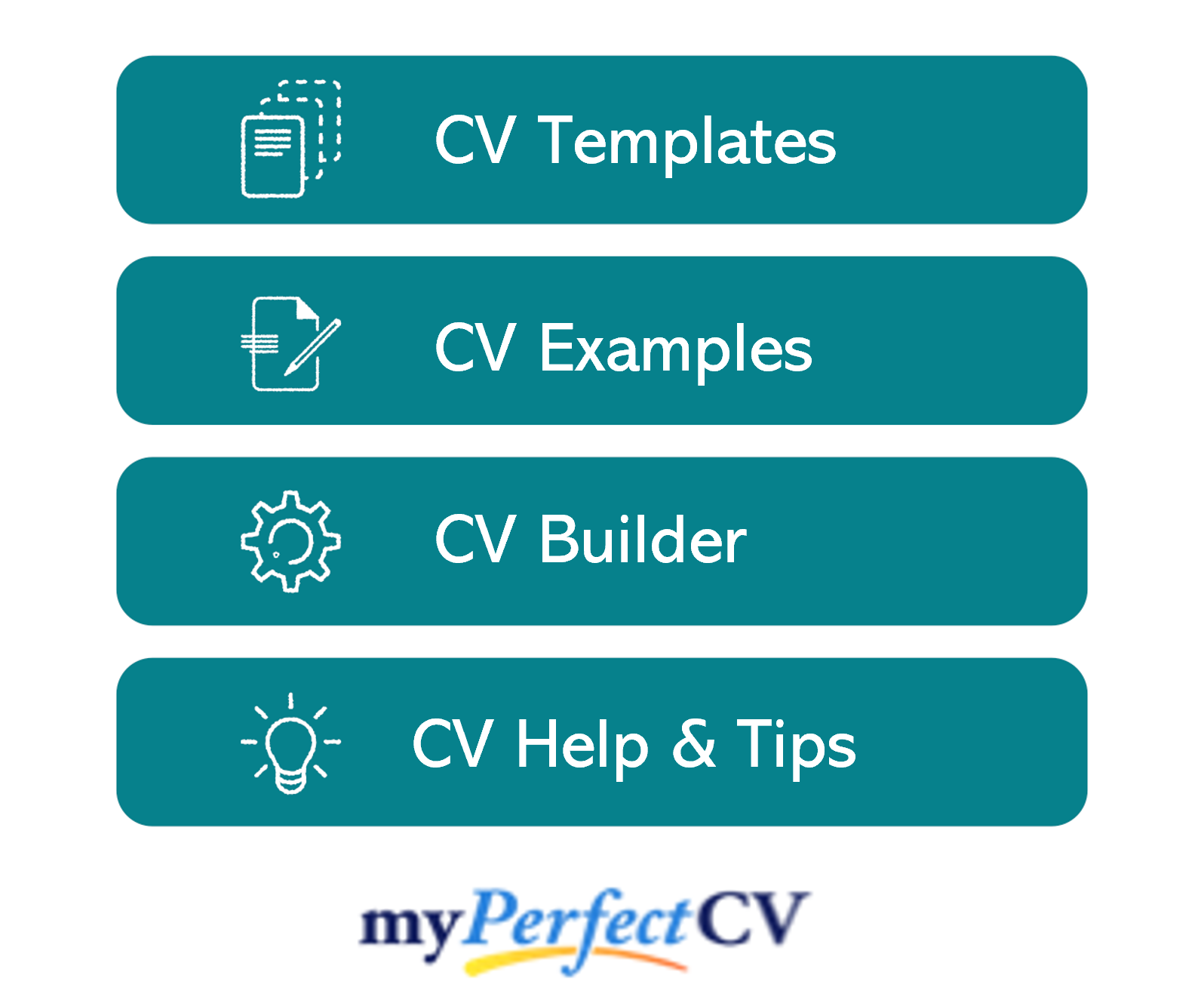 Sign off professionally
To finish off your cover note, add a professional signature to the bottom, stating your important contact details and information.
This not only provides recruiters with multiple means of contacting you, but it also adds a nice professional appearance to the cover letter, which shows that you know how to conduct yourself in the workplace.
Include the following points;
A friendly sign off – e.g. "Warm regards"
Your full name
Phone number (one you can answer quickly)
Email address
Optional
Profession title
Professional social network – e.g. LinkedIn
Here is an example signature;
Warm regards,
Aaron Smith
Customer service professional
075557437373
Aaron@smith.com
LinkedIn
Quick tip: To save yourself from having to write your signature every time you send a job application, you can save it within your email drafts, or on a separate document that you could copy in.

What to include in your Cyber Security cover letter
So, what type of information should you write about in your Cyber Security cover letter?
The specifics will obviously depend on your profession and the jobs you are applying to, but these are the key areas you should be covering.
Your industry experience – Tell recruiters the types of companies you have been working for and the roles you have held in the past.
Your qualifications – Highlight your most important relevant qualifications to show employers you are qualified to do the roles you are applying for.
The impact you have made – Demonstrate the positive impact you have made for employers in previous jobs. Have you saved money? Improved processes? Made customers happy?
Your reasons for moving – Employers will want to know why you are leaving your current/previous role, so provide them with a brief explanation here.
Your availability – When will you be able to start a new job? Check your current contract to find out your notice period if you are in a position already.
Cyber Security cover letter templates
Copy and paste these Cyber Security cover letter templates to get a head start on your own.
Template 1
Hi Taye,
I hope this email finds you well. As a Certified Security Analyst with 15+ years of experience in cybersecurity and software integration, I believe I would be a good candidate for the Cyber Security Analyst vacancy at H&M.
My expertise and professional experience lie in improving incident response and compliance with NIST, ISO 27001, and GDPR regulations. In my current role at leading security software development company CyberGate, I am responsible for assessing security strategies, achieving a 39% reduction in incidents for a financial client through a new security architecture and firewall.
During my previous employment at Zara, I led the implementation of a new SIEM tool, resulting in a 23% increase in threat detection and response. My skills in monitoring security events, conducting penetration tests, and managing SOC operations would make me an asset to your team, with my MSc in Information Security and Cybercrime from UCL ensuring a detail-oriented and data-driven approach.
I am eager to contribute to H&M's security and I am available for an interview to discuss how my qualifications align with your requirements. Thank you for considering my application.
All the best,
Ciara Thompson ¦ 07777777777 ¦ c.thompson@email.com
Template 2
Hi Orla,
I hope you're well. I am writing to apply for the position of Software Development Manager at CyberGate and I am confident in my ability to leverage my 12 years of experience in driving innovation and leading software development teams to support company growth.
As a PMI-Certified Project Management Professional with a master's in software development, I possess a comprehensive understanding of the software development lifecycle and the expertise to coordinate multi-disciplinary teams effectively. In current role at LockBox Ltd, I manage a team of 32 software developers, data scientists, and analysts, successfully delivering new software systems and updates to clients across 42 countries. My achievements include leading the development and delivery of the company's best-selling product, 'KeySafe 3.0', and automating pre-testing procedures, resulting in a 12% reduction in department overheads.
I am eager to discuss how my skills and accomplishments align with the requirements of the development team at CyberGater. I am available for an interview at your earliest convenience.
Kindest Regards,
Corey Smith ¦ 07777777777 ¦ c.smith@email.com
Template 3
Hi Mark,
I hope this email finds you well. I am writing to express my interest in the Cryptanalyst position at SanTech and believe that my 15 years of cross-industry experience in cryptography and advanced proficiency in analysing complex codes make me a good fit for the role.
As a part of the research team at C-Code, I have successfully led several high-profile projects, recently playing a key role in deciphering a sophisticated encryption used by a cybercriminal group, leading to their apprehension, and preventing over 200 potential cyberattacks. This achievement resulted in a 30% decrease in reported cybercrime incidents within three months. Additionally, I have spearheaded the development of the C54 cryptographic algorithm that has been widely adopted in the industry, achieving a 50% improvement in data encryption efficiency for our clients. As a Certified Cryptanalyst (CCAN) and a holder of the International Association for Cryptologic Research (IACR) Award, I continuously strive for excellence in the field of cryptanalysis.
I am eager to discuss how my skills and achievements align with the requirements of your team at SanTech. I am available for an interview at your earliest convenience.
Kind regards,
Sarah Stevenson ¦ 07777777777 ¦ s.stevenson@email.com
Writing a strong attention-grabbing cover letter is a vital step in landing a good Cyber Security job.
Use the tips, strategies and examples above to get more responses from you job applications and start lining job interview up.
Good luck with your job search!