A job as a civil engineer presents you with lots of exciting opportunities, not to mention a list of transferable skills as long as your arm.
So if you're ready for your next role, you need an impressive application that highlights your skills, achievements and relevant qualifications.
Sure, your CV will cover the basics, but that can only do so much. Find out how to take your application to the next level with our top tips and civil engineer cover letter examples below.

Civil Engineer cover letter example 1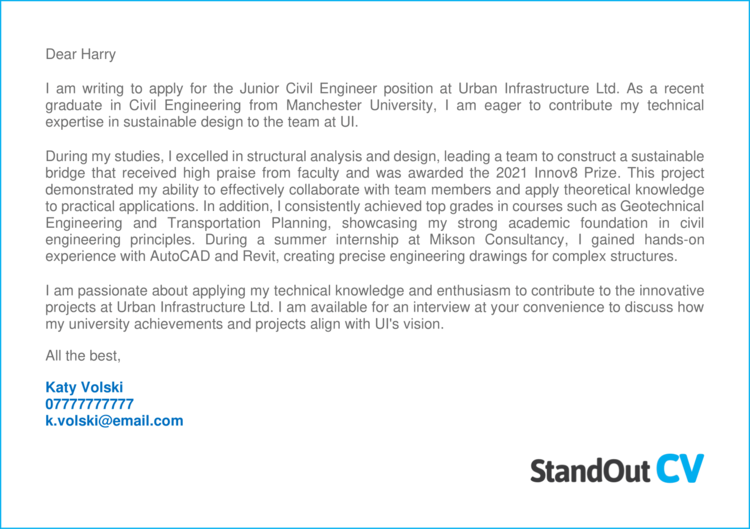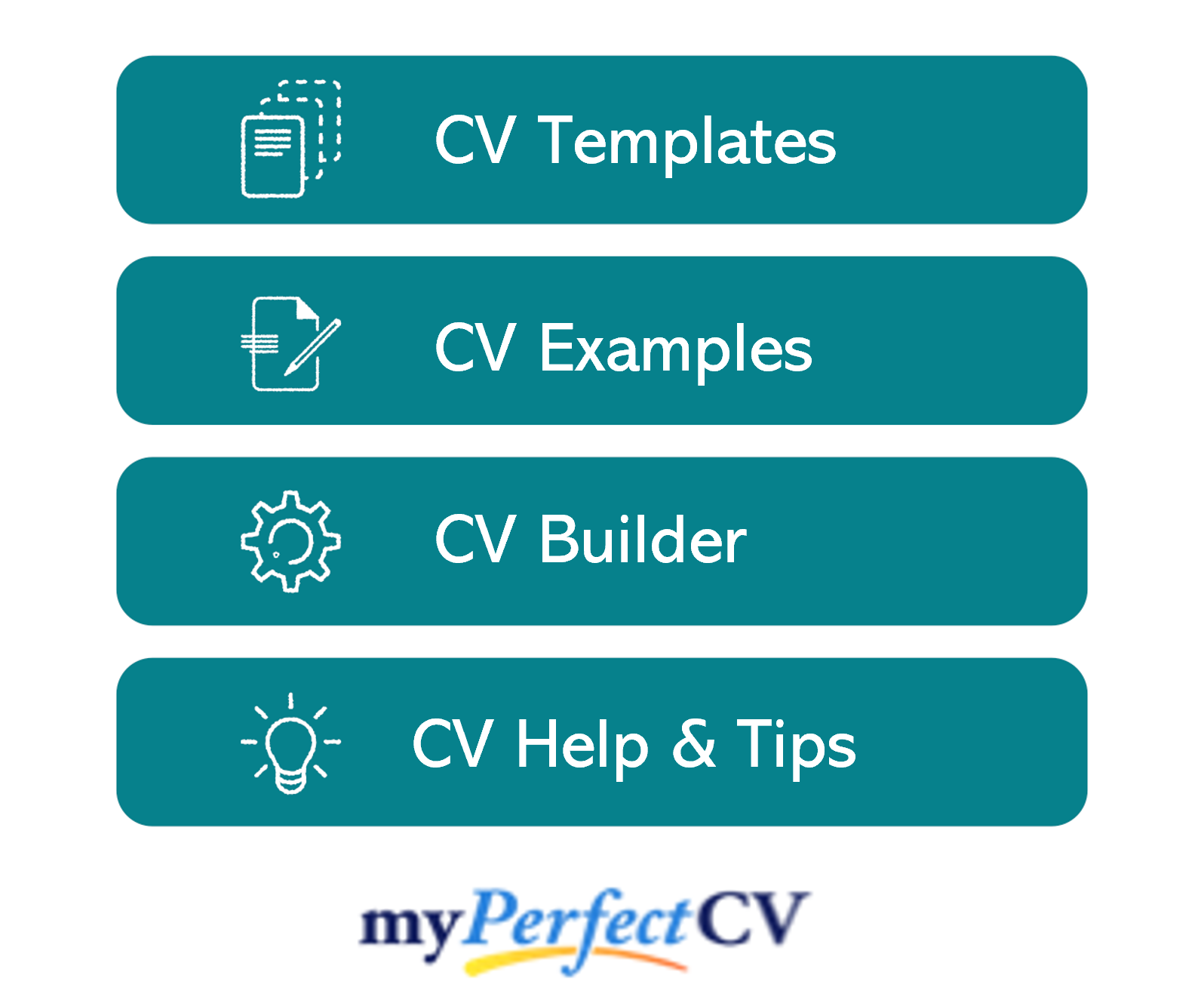 Civil Engineer cover letter example 2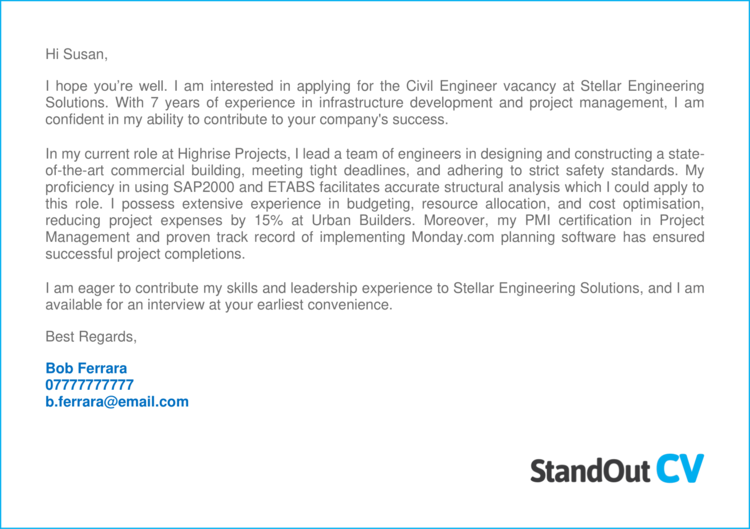 Civil Engineer cover letter example 3

The Civil Engineer cover letter examples above should give you a good idea of the type of content you need to include in your own cover letter, and how it should be structured.
But if you're really looking to wow recruiters and get your CV in front of the very best employers, then check out our guidance on how to write your own effective cover letter below.
How to write a Civil Engineer cover letter
A simple step-by-step guide to writing your very own winning cover letter.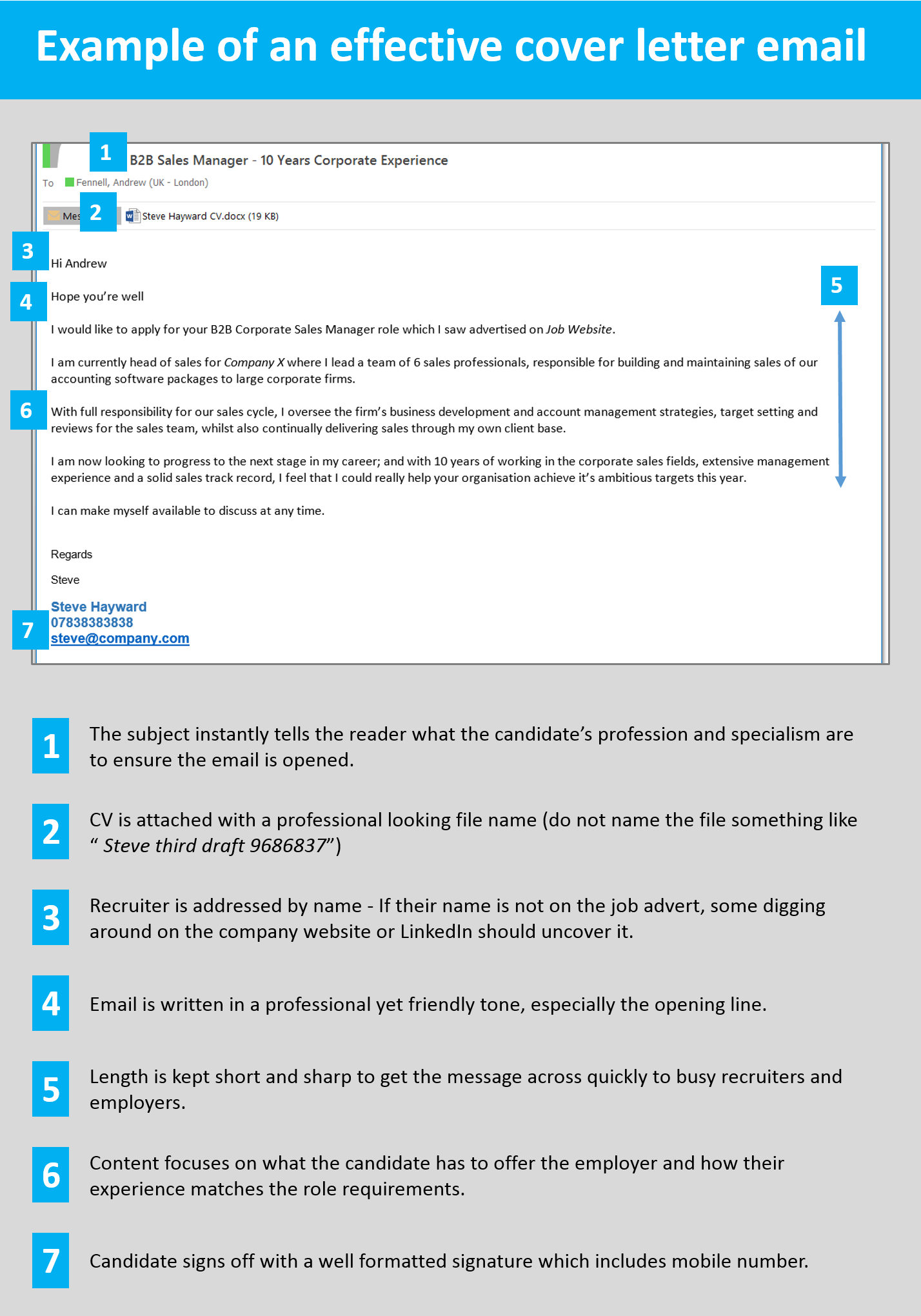 Write your cover letter in the body of an email/message
When you send a cover letter with a job application, you should always write your message into the body of your email – or the body of the messaging system if you are sending via a job website.
Why do this?
Simply because you want to get your message seen as soon as the recruiter opens your application.
If you attach the cover letter as a separate item, this means the recipient will have to open it before they can read it – slowing down the process and potentially causing frustration along the way.
So, write your cover note in the body of your email/message to ensure you make an instant connection with the reader.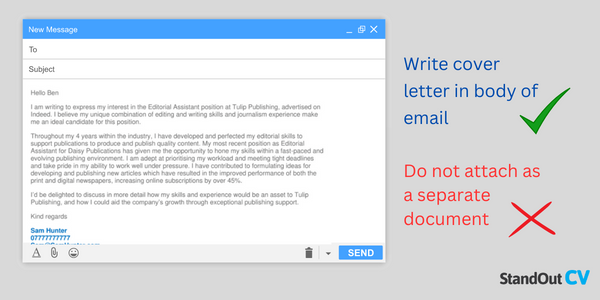 Start with a friendly greeting

Start you cover letter with a greeting that is professional but friendly.
This will build rapport with the recruiter whilst showing your professionalism.
Hi, hope you're well
Hi [insert recruiter name]
Hi [insert department/team name]
Avoid overly formal greetings like "Dear sir/madam" unless applying to very traditional companies.
How to find the contact's name?
Addressing the recruitment contact by name is an excellent way to start building a strong relationship. If it is not listed in the job advert, try these methods to find it.
Check out the company website and look at their About page. If you see a hiring manager, HR person or internal recruiter, use their name. You could also try to figure out who would be your manager in the role and use their name.
Head to LinkedIn, search for the company and scan through the list of employees. Most professionals are on LinkedIn these days, so this is a good bet.
Identify the role you are applying for
After you have greeted the recruiter, it's important to state the job you are applying to.
Recruiters are often managing multiple vacancies, so they need to know exactly which job you are referring to.
Be as specific as possible and use a reference number if you can find one.
Here are some examples you can use;
I am interested in applying for the role of admin assistant with your organisation.
I would like to apply for the role of Sales assistant (Ref: 4057393)
I would like to express my interest in the customer service vacancy within your retail department
I saw your advertisement for a trainee project manager on Reed and would like to apply for the role.
Highlight your suitability
The main purpose of your cover letter is to excite recruiters and make them eager to open your CV. And you achieve this by quickly demonstrating your suitability to the job you are applying for.
Take a look at the job adverts you are applying for, and make note of the most important skills being asked for.
Then, when you write your cover letter, make your suitability the focal point.
Explain how you meet the candidate requirements fully, and why you are so well suited to carry out the job.
This will give recruiters all the encouragement they need to open your CV and consider your application.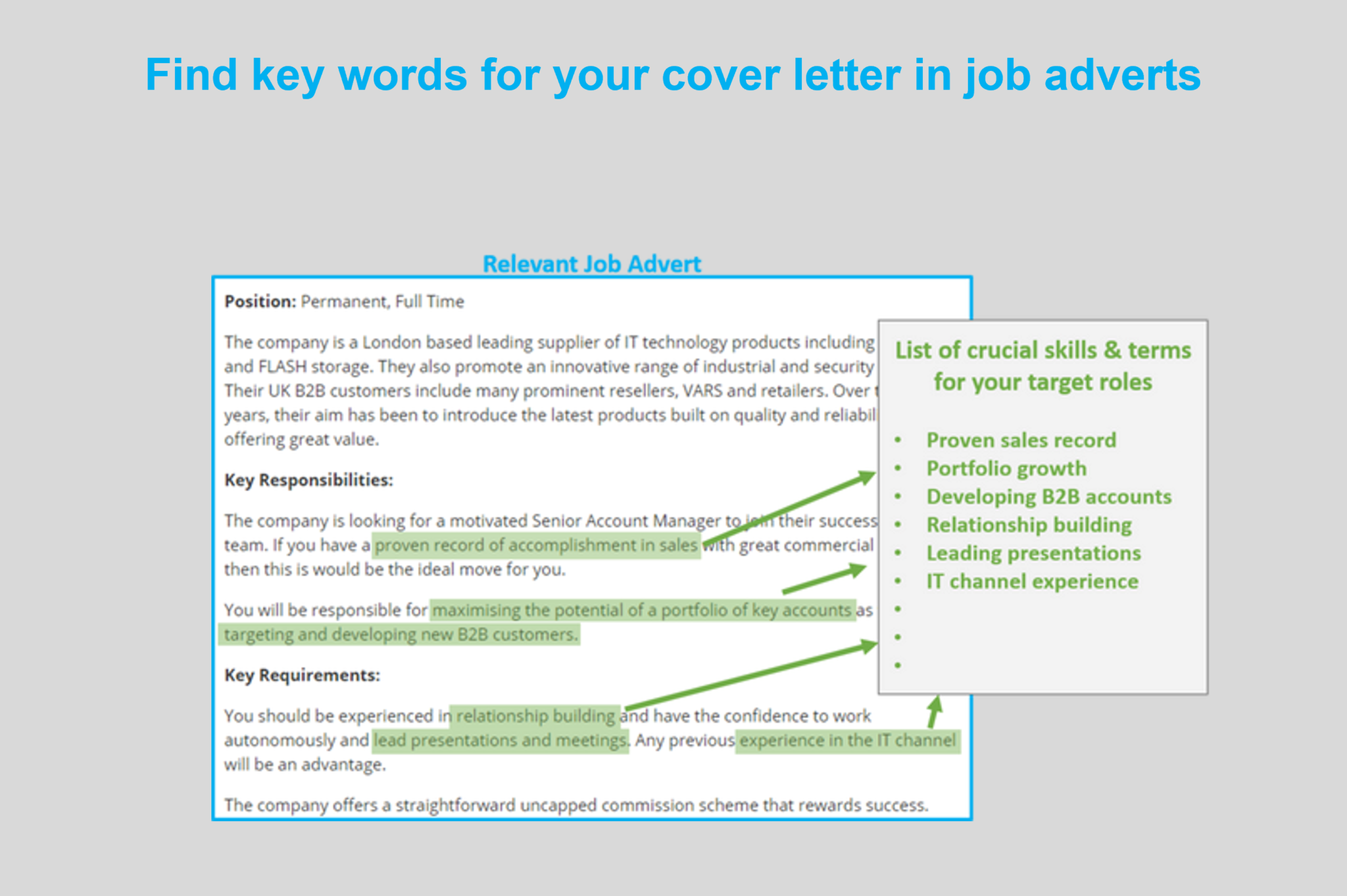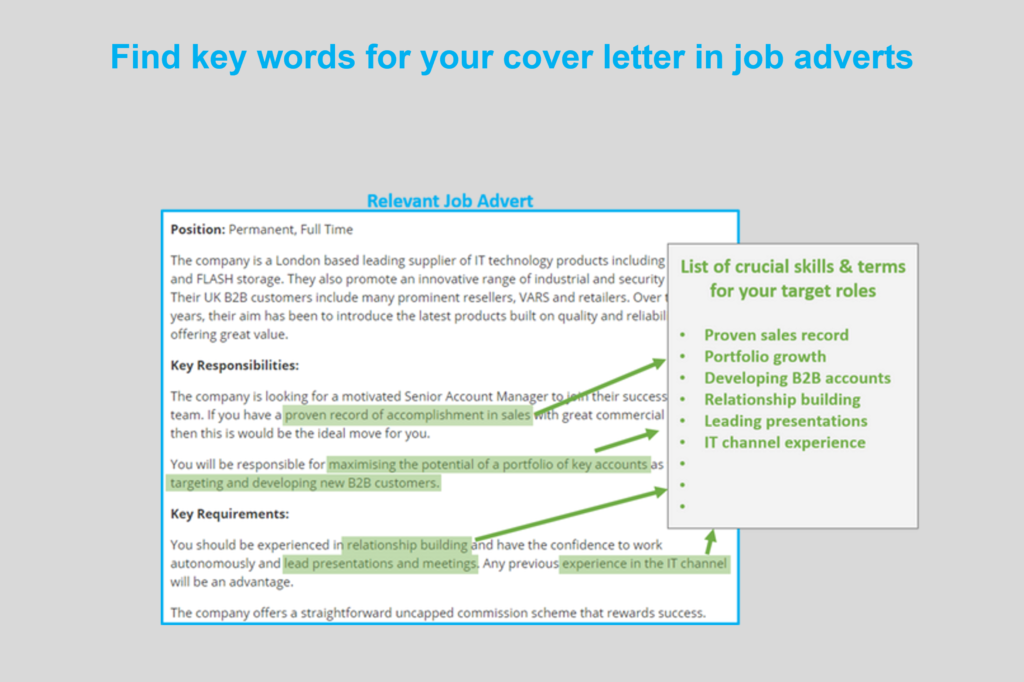 Keep it short and sharp
It is best to keep your cover letter brief if you want to ensure you hold the attention of busy recruiters and hiring managers. A lengthy cover letter will probably not get read in full, so keep yours to around 3-6 sentences and save the real detail for your CV.
Remember the purpose of your cover letter is to quickly get recruiters to notice you and encourage them to open your CV, so it only needs to include the highlights of your experience.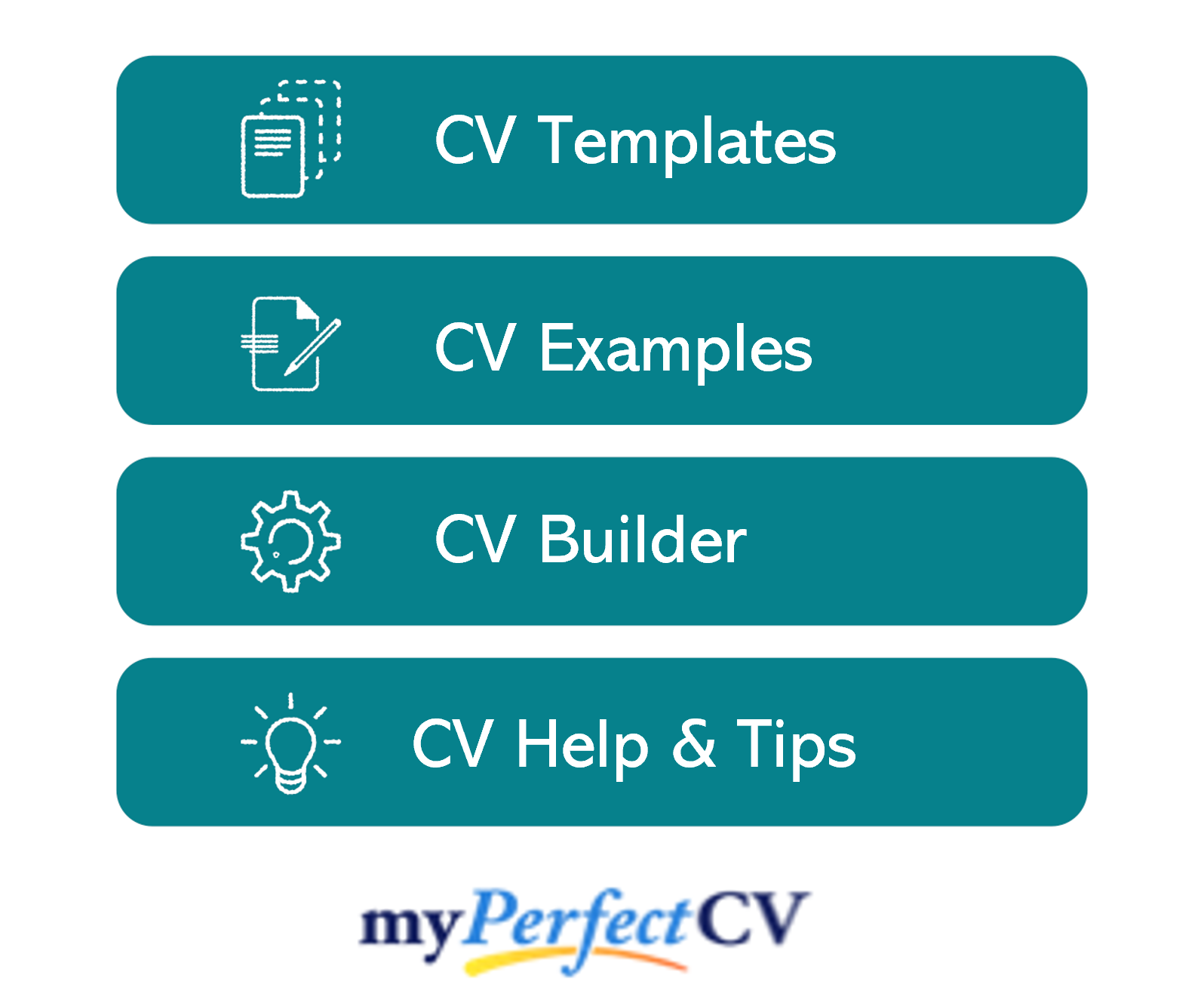 Sign off professionally
To round of your CV, you should sign off with a professional signature.
This will give your cover letter a slick appearance and also give the recruiter all of the necessary contact information they need to get in touch with you.
The information to add should include:
A friendly sign off – e.g. "Kindest regards"
Your full name
Phone number (one you can answer quickly)
Email address
Optional
Profession title
Professional social network –  e.g. LinkedIn
Here is an example signature;
Warm regards,
Jill North
IT Project Manager
078837437373
Jill@hotmail.com
LinkedIn
Quick tip: To save yourself from having to write your signature every time you send a job application, you can save it within your email drafts, or on a separate documents that you could copy in.

What to include in your Civil Engineer cover letter
Your Civil Engineer cover letter will be unique to your situation, but there are certain content guidelines you should stick to for best results.
To attract and entice recruiters, stick with the following key subjects in your cover letter – adapting them to fit your profession and target jobs.
Your professional experience – Employers will be keen to know if your experience is suitable for the job you are applying to, so provide a good summary of it in your cover letter.
Your qualifications and education – Highlight your most relevant and high-level of qualification, especially if they are essential to the job.
The positive impact you have made – Employers love to hear about the benefits you can bring to them, so shout about anything impressive you have done, such as saving money or improving processes.
Your reasons for leaving – Use a few words of your cover letter to explain why you are leaving your current job and ensure you avoid any negative reasons.
Your availability – Let recruiters know when you can start a new job. Are you immediately available, or do you have a month notice period?
Civil Engineer cover letter templates
Copy and paste these Civil Engineer cover letter templates to get a head start on your own.
Template 1
Dear Harry
I am writing to apply for the Junior Civil Engineer position at Urban Infrastructure Ltd. As a recent graduate in Civil Engineering from Manchester University, I am eager to contribute my technical expertise in sustainable design to the team at UI.
During my studies, I excelled in structural analysis and design, leading a team to construct a sustainable bridge that received high praise from faculty and was awarded the 2021 Innov8 Prize. This project demonstrated my ability to effectively collaborate with team members and apply theoretical knowledge to practical applications. In addition, I consistently achieved top grades in courses such as Geotechnical Engineering and Transportation Planning, showcasing my strong academic foundation in civil engineering principles. During a summer internship at Mikson Consultancy, I gained hands-on experience with AutoCAD and Revit, creating precise engineering drawings for complex structures.
I am passionate about applying my technical knowledge and enthusiasm to contribute to the innovative projects at Urban Infrastructure Ltd. I am available for an interview at your convenience to discuss how my university achievements and projects align with UI's vision.
All the best,
Katy Volski ¦ 07777777777 ¦ k.volski@email.com
Template 2
Hi Susan,
I hope you're well. I am interested in applying for the Civil Engineer vacancy at Stellar Engineering Solutions. With 7 years of experience in infrastructure development and project management, I am confident in my ability to contribute to your company's success.
In my current role at Highrise Projects, I lead a team of engineers in designing and constructing a state-of-the-art commercial building, meeting tight deadlines, and adhering to strict safety standards. My proficiency in using SAP2000 and ETABS facilitates accurate structural analysis which I could apply to this role. I possess extensive experience in budgeting, resource allocation, and cost optimisation, reducing project expenses by 15% at Urban Builders. Moreover, my PMI certification in Project Management and proven track record of implementing Monday.com planning software has ensured successful project completions.
I am eager to contribute my skills and leadership experience to Stellar Engineering Solutions, and I am available for an interview at your earliest convenience.
Best Regards,
Bob Ferrara ¦ 07777777777 ¦ b.ferrara@email.com
Template 3
Hi Elena
With over 12 years of experience in managing complex projects and leading multidisciplinary teams, I am excited to apply for the Senior Civil Engineer position at Blaze Engineering.
For my final four years at CDS, I served as the Lead Civil Engineer, overseeing a team of 20 engineers and technicians in designing and constructing high-profile infrastructural projects. My expertise in value engineering and innovative solutions led to cost savings of £2 million on a major bridge project. I possess a strong understanding of BIM and its implementation, streamlining collaboration and ensuring efficient project delivery. Moreover, my exceptional communication skills and client-centric approach have led to lasting partnerships and repeat business, demonstrated in 98% customer satisfaction scores for three consecutive years.
I am eager to bring my strategic vision and technical acumen to Horizon Engineering Consultants, supported by the recent completion of my PhD in Civil Engineering from UCL. I am available for an interview at your convenience.
Sincerely,
Marco Sanchez ¦ 07777777777 ¦ e.sanchez@email.com
Writing a strong attention-grabbing cover letter is a vital step in landing a good Civil Engineer job.
Use the tips, strategies and examples above to get more responses from you job applications and start lining job interview up.
Good luck with your job search!