Car sales positions can be very competitive and writing an impressive application can feel exhausting.
But we can steer you in the right direction and help you to create an engaging cover letter with our step-by-step writing guide below.
We've also put together a handful of car salesperson cover letter examples to inspire your own.

Car Sales Person cover letter example 1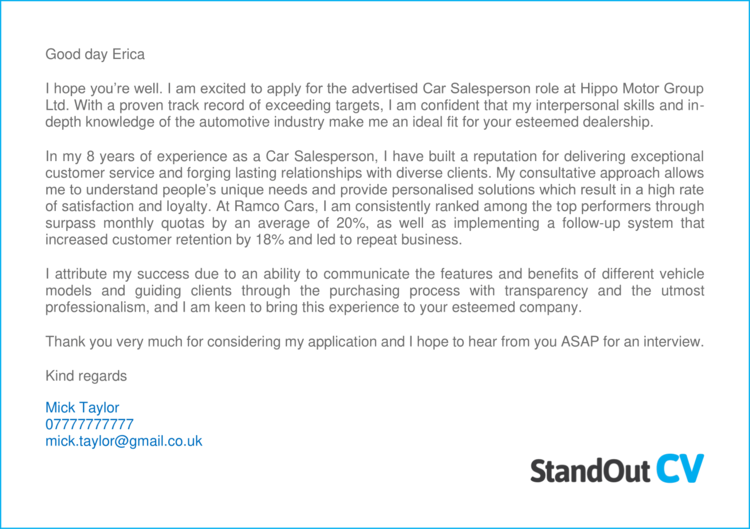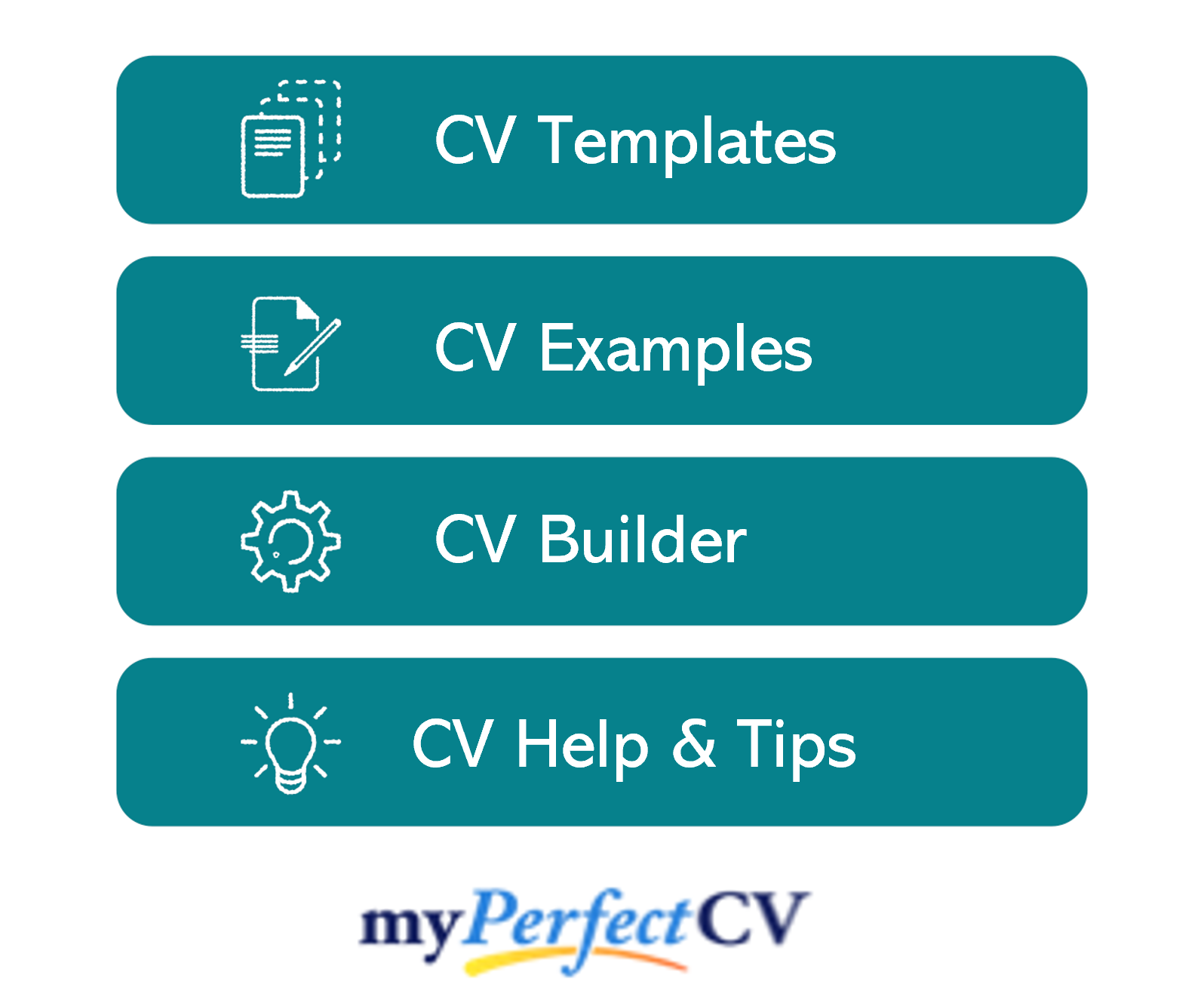 Car Sales Person cover letter example 2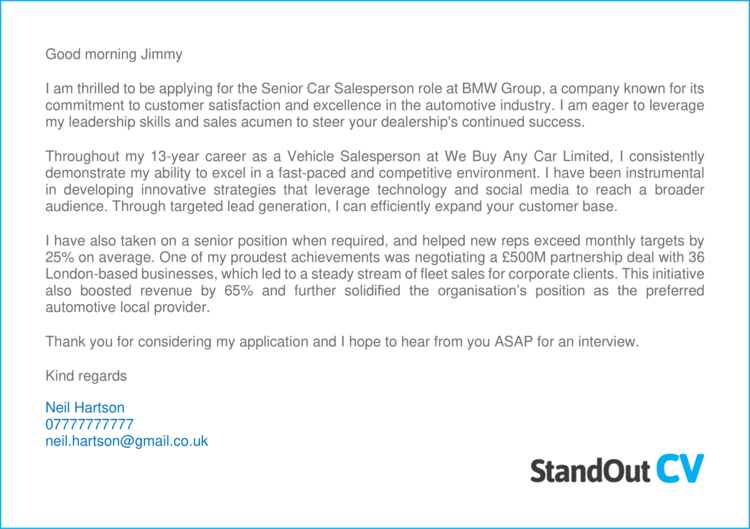 Car Sales Person cover letter example 3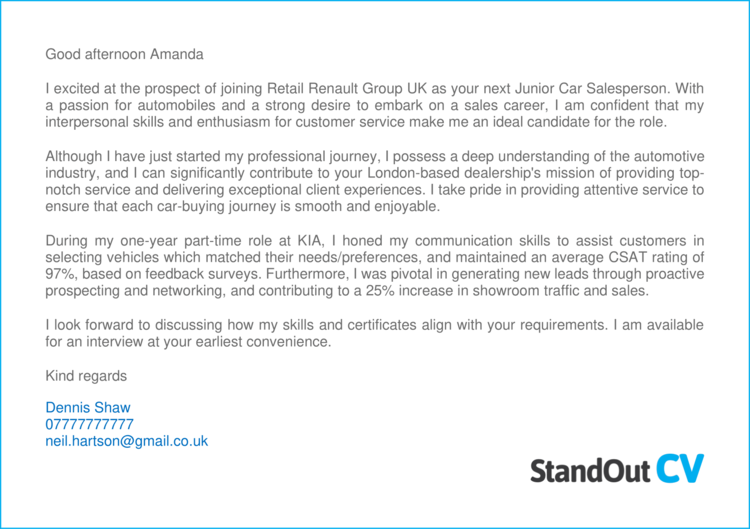 The example cover letters here should give you a good general idea on how your Car Sales Person cover letter should be formatted and written.
The rest of this guide gives more specific guidance on how to create your own cover letter in this format, and even includes some templates you can copy and paste.
How to write a Car Sales Person cover letter
Here's a simple process to write your own interview-winning cover letter.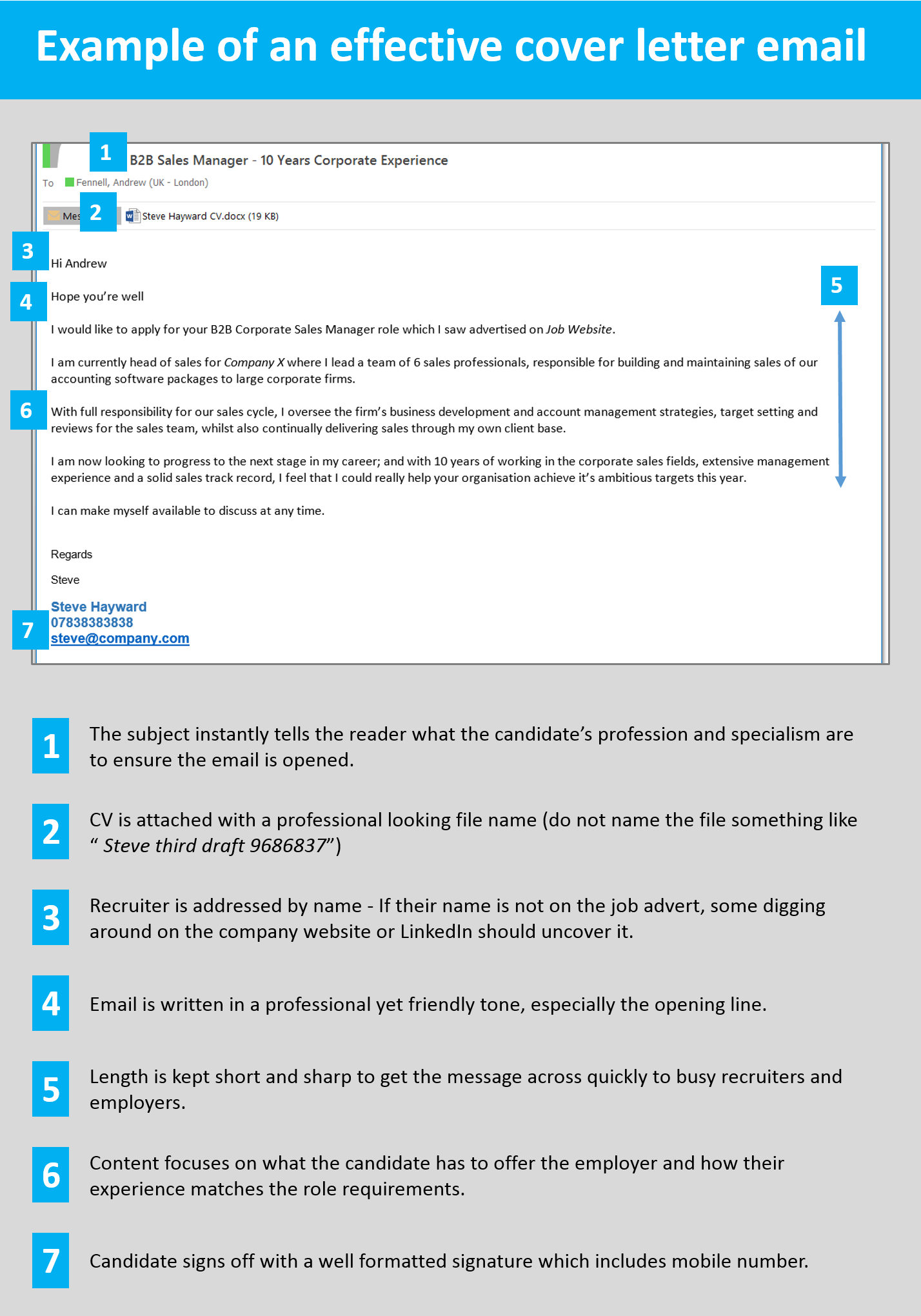 Write your cover letter in the body of an email/message
When you send a cover letter with a job application, you should always write your message into the body of your email – or the body of the messaging system if you are sending via a job website.
Why do this?
Simply because you want to get your message seen as soon as the recruiter opens your application.
If you attach the cover letter as a separate item, this means the recipient will have to open it before they can read it – slowing down the process and potentially causing frustration along the way.
So, write your cover note in the body of your email/message to ensure you make an instant connection with the reader.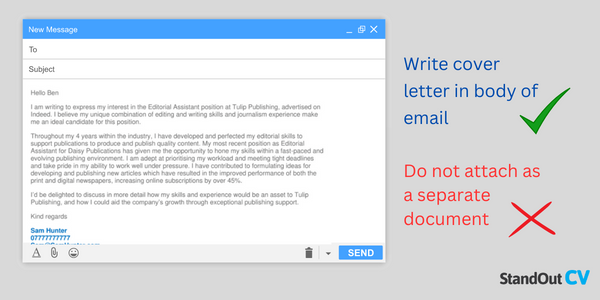 Start with a friendly greeting

Start you cover letter with a greeting that is professional but friendly.
This will build rapport with the recruiter whilst showing your professionalism.
Hi, hope you're well
Hi [insert recruiter name]
Hi [insert department/team name]
Avoid overly formal greetings like "Dear sir/madam" unless applying to very traditional companies.
How to find the contact's name?
Addressing the recruitment contact by name is an excellent way to start building a strong relationship. If it is not listed in the job advert, try these methods to find it.
Check out the company website and look at their About page. If you see a hiring manager, HR person or internal recruiter, use their name. You could also try to figure out who would be your manager in the role and use their name.
Head to LinkedIn, search for the company and scan through the list of employees. Most professionals are on LinkedIn these days, so this is a good bet.
Identify the role you are applying for
Once you've opened up the cover letter with a warm greeting to start building a relationship, it is time to identify which role you want to apply for.
Recruiters are often managing multiple vacancies, so you need to ensure you apply to the correct one.
Be very specific and use a reference number if you can find one.
I am interested in applying for the position of Car Sales Person with your company.
I would like to apply for the role of Sales assistant (Ref: 406f57393)
I would like to express my interest in the customer service vacancy within your retail department
I saw your advert for a junior project manager on Reed and would like to apply for the role.
Highlight your suitability
The bulk of your cover letter should be focused around highlighting your suitability for the job you are applying to.
Doing this will show the recruiter that you are suitable candidate and encourage them to open your CV.
The best way to do this, is by studying the job advert you are applying to, and find out what the most important skills and knowledge are.
Once you know the most important requirements, you then need to highlight your matching skills to the recruiter. In a few sentences, tell them exactly why you are a good fit for the job and what you can offer the company.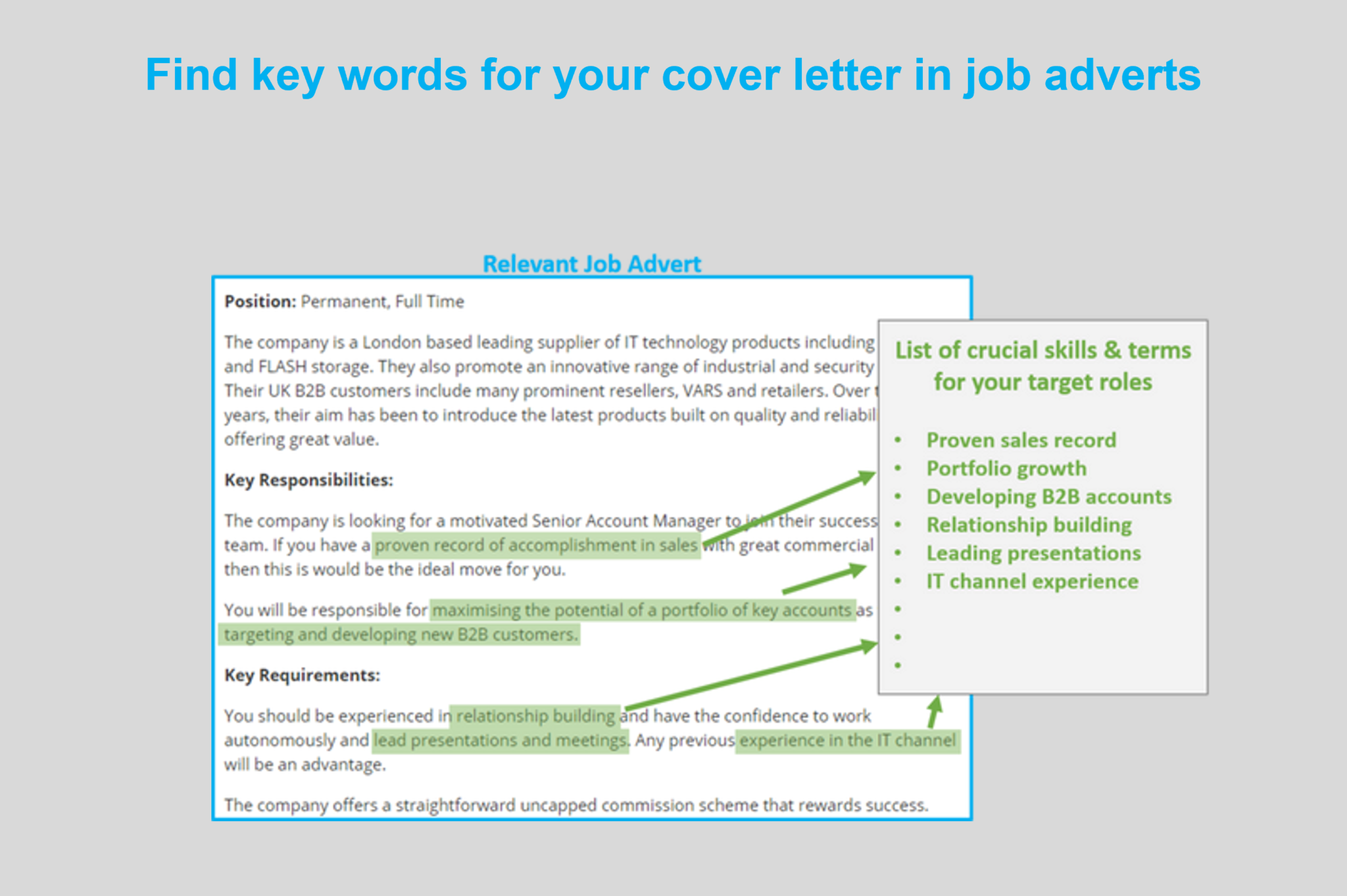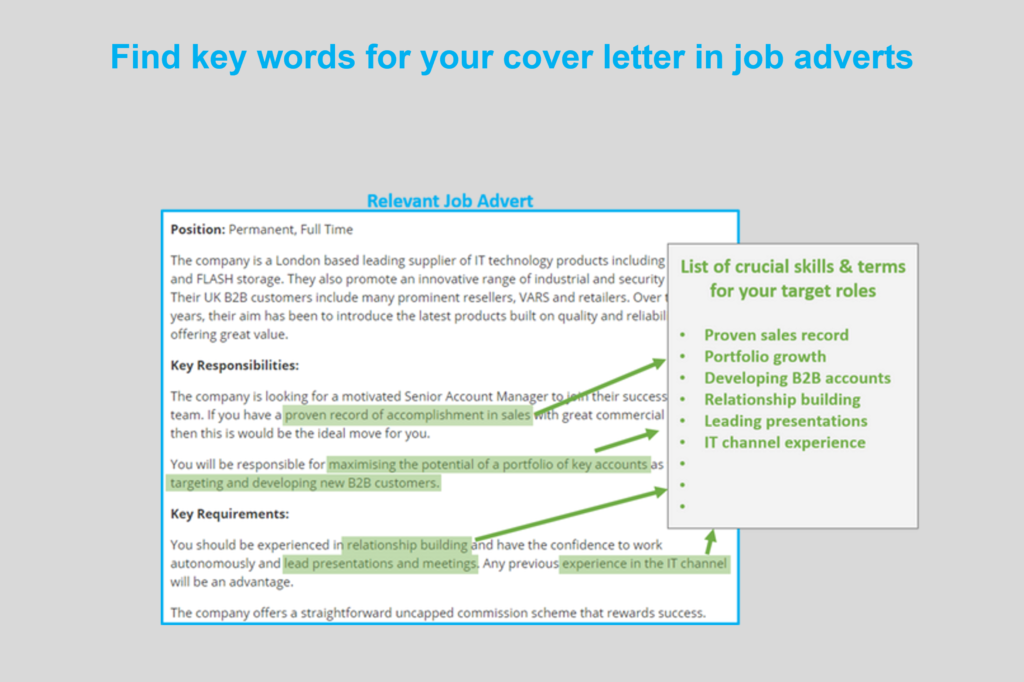 Keep it short and sharp
It is best to keep your cover letter brief if you want to ensure you hold the attention of busy recruiters and hiring managers. A lengthy cover letter will probably not get read in full, so keep yours to around 3-6 sentences and save the real detail for your CV.
Remember the purpose of your cover letter is to quickly get recruiters to notice you and encourage them to open your CV, so it only needs to include the highlights of your experience.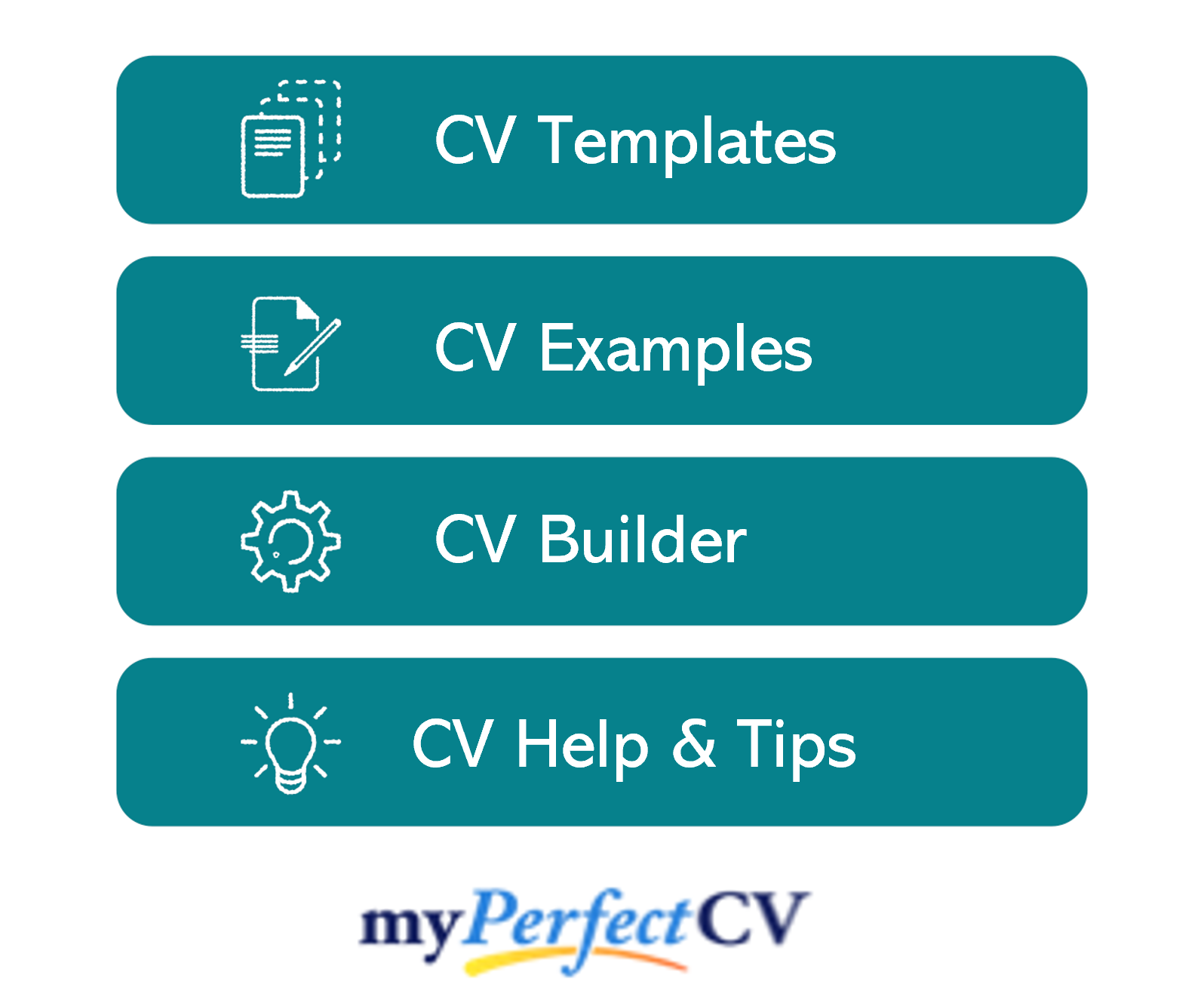 Sign off professionally
To round of your cover letter, add a professional signature to the bottom, giving recruiters your vital contact information.
This not only gives various means of contacting you, it also looks really professional and shows that you know how to communicate in the workplace.
Include the following points;
A friendly sign off – e.g. "Warm regards"
Your full name
Phone number (one you can answer quickly)
Email address
Optional
Profession title
Professional social network – e.g. LinkedIn
Here is an example signature;
Warm regards,
Gerald Baker
Senior Accountant
07887500404
Gbaker213@hotmail.com
LinkedIn
Quick tip: To save yourself from having to write your signature every time you send a job application email, you can save it within your email drafts, or on a separate document that you could copy in.

What to include in your Car Sales Person cover letter
So, what type of information should you write about in your Car Sales Person cover letter?
The specifics will obviously depend on your profession and the jobs you are applying to, but these are the key areas you should be covering.
Your industry experience – Tell recruiters the types of companies you have been working for and the roles you have held in the past.
Your qualifications – Highlight your most important relevant qualifications to show employers you are qualified to do the roles you are applying for.
The impact you have made – Demonstrate the positive impact you have made for employers in previous jobs. Have you saved money? Improved processes? Made customers happy?
Your reasons for moving – Employers will want to know why you are leaving your current/previous role, so provide them with a brief explanation here.
Your availability – When will you be able to start a new job? Check your current contract to find out your notice period if you are in a position already.
Car Sales Person cover letter templates
Copy and paste these Car Sales Person cover letter templates to get a head start on your own.
Template 1
Good day Erica
I hope you're well. I am excited to apply for the advertised Car Salesperson role at Hippo Motor Group Ltd. With a proven track record of exceeding targets, I am confident that my interpersonal skills and in-depth knowledge of the automotive industry make me an ideal fit for your esteemed dealership.
In my 8 years of experience as a Car Salesperson, I have built a reputation for delivering exceptional customer service and forging lasting relationships with diverse clients. My consultative approach allows me to understand people's unique needs and provide personalised solutions which result in a high rate of satisfaction and loyalty. At Ramco Cars, I am consistently ranked among the top performers through surpass monthly quotas by an average of 20%, as well as implementing a follow-up system that increased customer retention by 18% and led to repeat business.
I attribute my success due to an ability to communicate the features and benefits of different vehicle models and guiding clients through the purchasing process with transparency and the utmost professionalism, and I am keen to bring this experience to your esteemed company.
Thank you very much for considering my application and I hope to hear from you ASAP for an interview.
Kind regards
Mick Taylor ¦ 07777777777 ¦ mick.taylor@gmail.co.uk
Template 2
Good morning, Jimmy
I am thrilled to be applying for the Senior Car Salesperson role at BMW Group, a company known for its commitment to customer satisfaction and excellence in the automotive industry. I am eager to leverage my leadership skills and sales acumen to steer your dealership's continued success.
Throughout my 13-year career as a Vehicle Salesperson at We Buy Any Car Limited, I consistently demonstrate my ability to excel in a fast-paced and competitive environment. I have been instrumental in developing innovative strategies that leverage technology and social media to reach a broader audience. Through targeted lead generation, I can efficiently expand your customer base.
I have also taken on a senior position when required, and helped new reps exceed monthly targets by 25% on average. One of my proudest achievements was negotiating a £500M partnership deal with 36 London-based businesses, which led to a steady stream of fleet sales for corporate clients. This initiative also boosted revenue by 65% and further solidified the organisation's position as the preferred automotive local provider.
Thank you for considering my application and I hope to hear from you ASAP for an interview.
Kind regards
Neil Hartson ¦ 07777777777 ¦ neil.hartson@gmail.co.uk
Template 3
Good afternoon, Amanda
I excited at the prospect of joining Retail Renault Group UK as your next Junior Car Salesperson. With a passion for automobiles and a strong desire to embark on a sales career, I am confident that my interpersonal skills and enthusiasm for customer service make me an ideal candidate for the role.
Although I have just started my professional journey, I possess a deep understanding of the automotive industry, and I can significantly contribute to your London-based dealership's mission of providing top-notch service and delivering exceptional client experiences. I take pride in providing attentive service to ensure that each car-buying journey is smooth and enjoyable.
During my one-year part-time role at KIA, I honed my communication skills to assist customers in selecting vehicles which matched their needs/preferences, and maintained an average CSAT rating of 97%, based on feedback surveys. Furthermore, I was pivotal in generating new leads through proactive prospecting and networking and contributing to a 25% increase in showroom traffic and sales.
I look forward to discussing how my skills and certificates align with your requirements. I am available for an interview at your earliest convenience.
Kind regards
Dennis Shaw ¦ 07777777777 ¦ neil.hartson@gmail.co.uk
Writing an impressive cover letter is a crucial step in landing a Car Sales Person job, so taking the time to perfect it is well worth while.
By following the tips and examples above you will be able to create an eye-catching cover letter that will wow recruiters and ensure your CV gets read – leading to more job interviews for you.
Good luck with your job search!