Trying to write a creative barista cover letter can really grind you down.
After all, you need to think carefully about every paragraph to ensure you get the perfect blend of qualifications, skills, experience and achievements.
But if you're not sure how to get the balance just right, make use of our top tips and barista cover letter examples in the guide below.

Barista cover letter example 1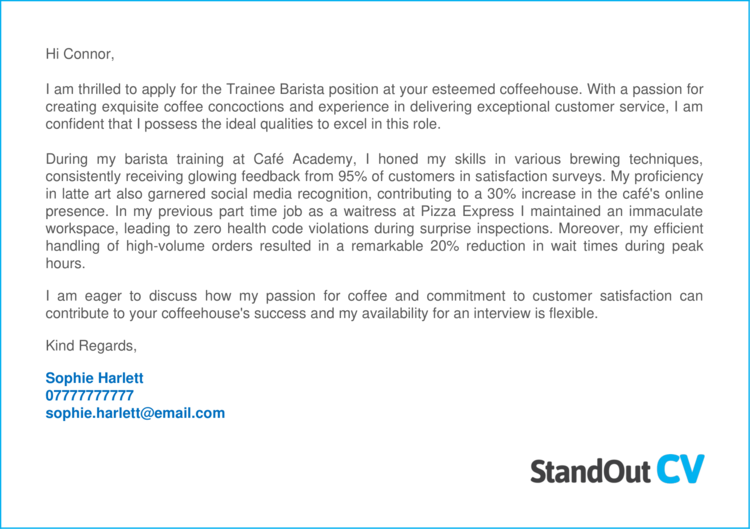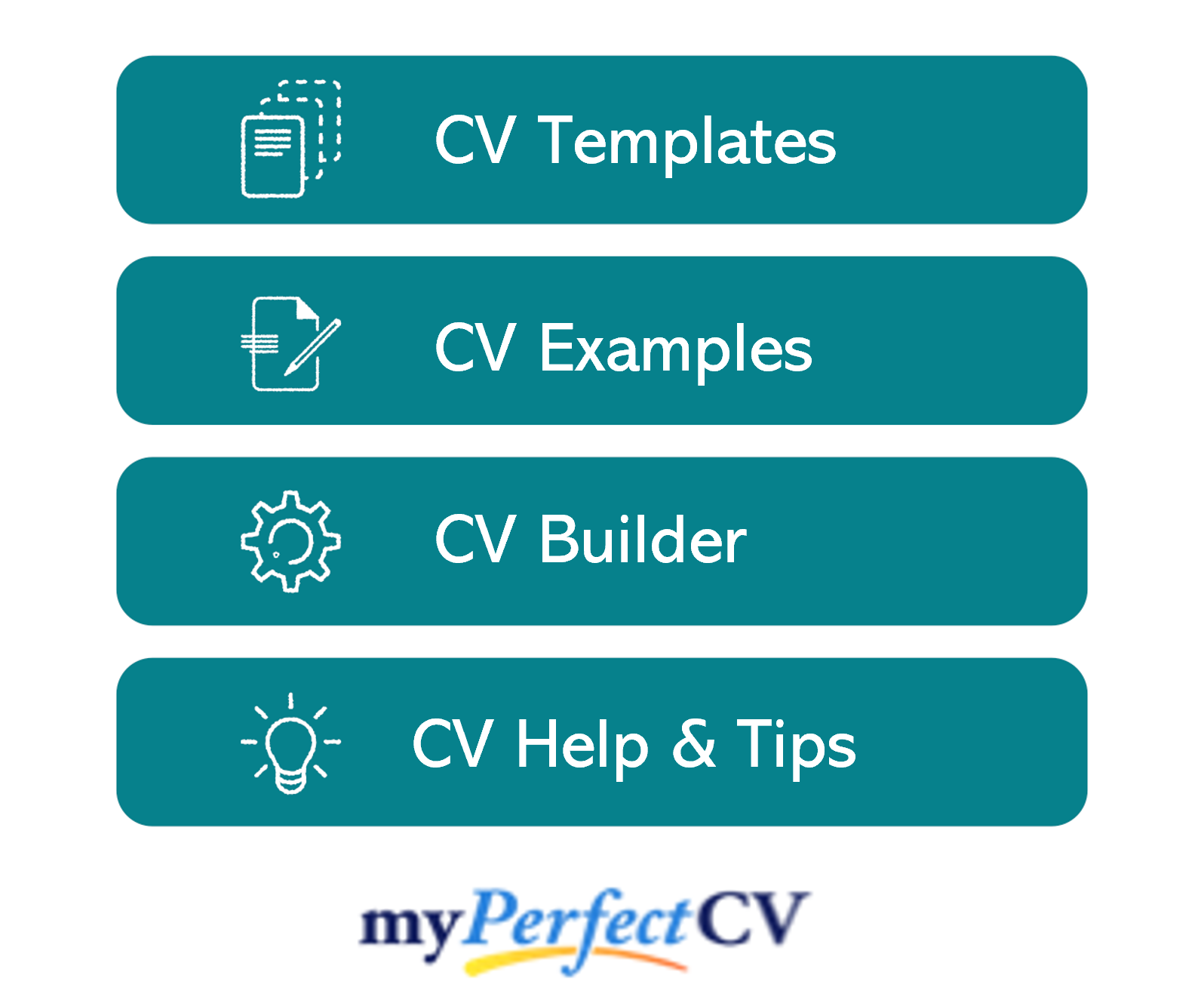 Barista cover letter example 2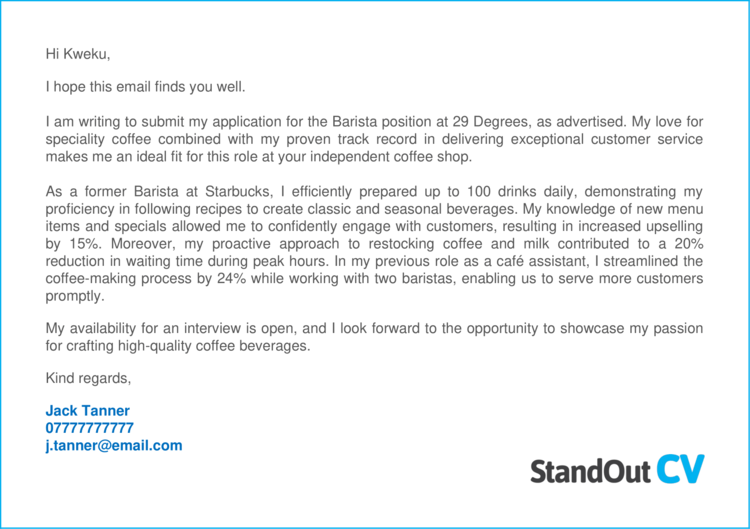 Barista cover letter example 3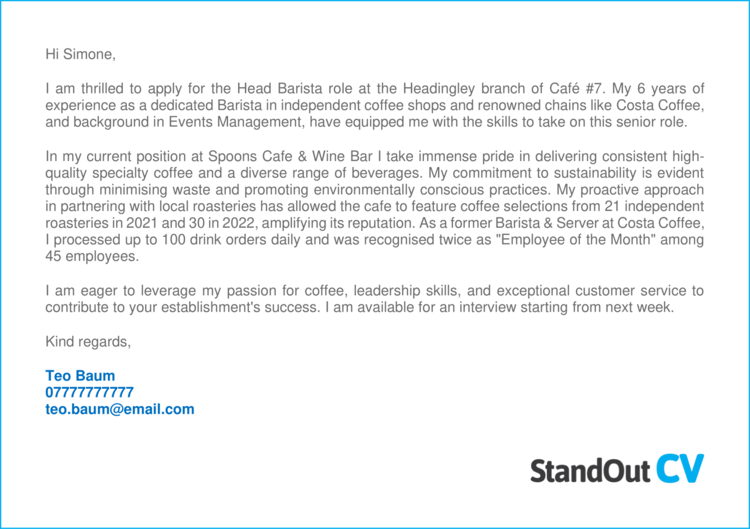 The Barista cover letter examples above should give you a good idea of the type of content you need to include in your own cover letter, and how it should be structured.
But if you're really looking to wow recruiters and get your CV in front of the very best employers, then check out our guidance on how to write your own effective cover letter below.
How to write a Barista cover letter
Here's how you can write your own eye-catching cover letter, broken down into simple steps.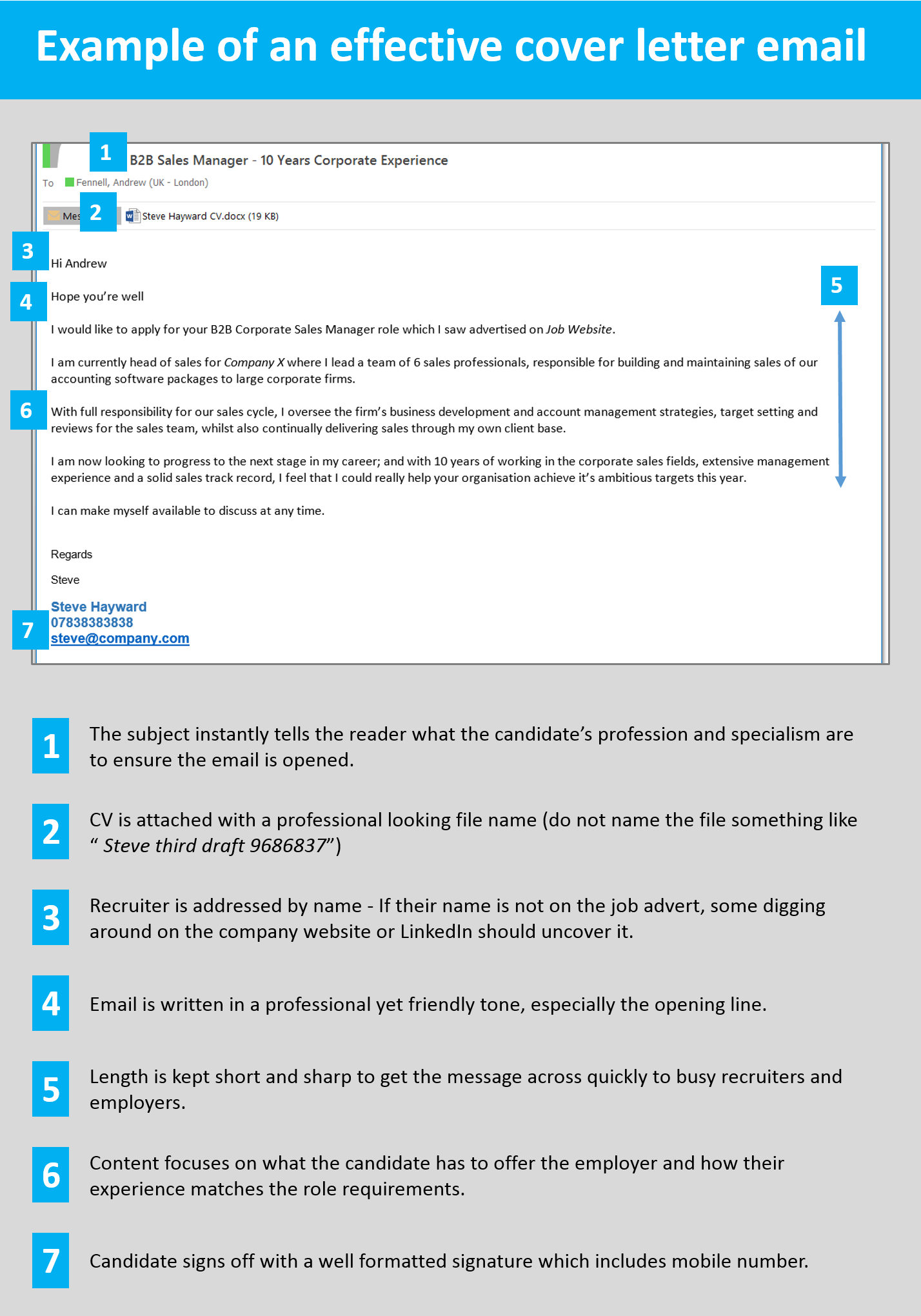 Write your cover letter in the body of an email/message
You should write your cover letter in the body of the email (or messaging system if sending via a job board) and never attach it as a document.
The reason for this?
You want your cover letter to start connecting with the recruiter from the moment they open your application.
If they have to open a document to read it, it will slow things down and they may not even bother to open it.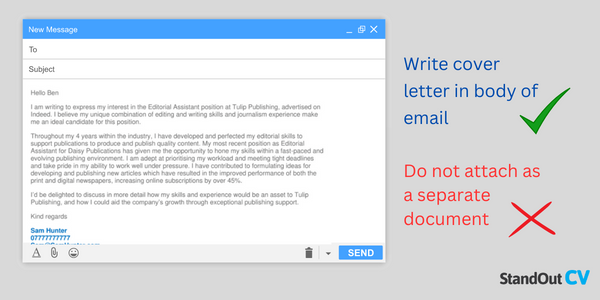 Start with a friendly greeting

To build an instant connection with the recruiter reading your cover letter, start with a warm greeting.
It should be friendly but not casual – keeping it professional at all times.
Hi, hope you're well
Hi [insert recruiter name]
Hi [insert department/team name]
Avoid overly formal greetings like "Dear sir/madam" unless applying to very traditional companies.
How to find the contact's name?
Addressing the recruitment contact by name is an excellent way to start building a strong relationship. If it is not listed in the job advert, try these methods to find it.
Check out the company website and look at their About page. If you see a hiring manager, HR person or internal recruiter, use their name. You could also try to figure out who would be your manager in the role and use their name.
Head to LinkedIn, search for the company and scan through the list of employees. Most professionals are on LinkedIn these days, so this is a good bet.
Identify the role you are applying for
Once you've opened up the cover letter with a warm greeting to start building a relationship, it is time to identify which role you want to apply for.
Recruiters are often managing multiple vacancies, so you need to ensure you apply to the correct one.
Be very specific and use a reference number if you can find one.
I am interested in applying for the position of Barista with your company.
I would like to apply for the role of Sales assistant (Ref: 406f57393)
I would like to express my interest in the customer service vacancy within your retail department
I saw your advert for a junior project manager on Reed and would like to apply for the role.
Highlight your suitability
The sole objective of your cover letter is to motivate recruiters into to opening your CV. And you achieve this by quickly explaining your suitability to the roles you are applying for.
Take a look at the job descriptions you are applying to, and make note of the most important skills and qualifications being asked for.
Then, when crafting your cover letter, make your suitability the central focus.
Explain why you are the best qualified candidate, and why you are so well suited to carry out the job.
This will give recruiters all the encouragement they need to open your CV and consider you for the job.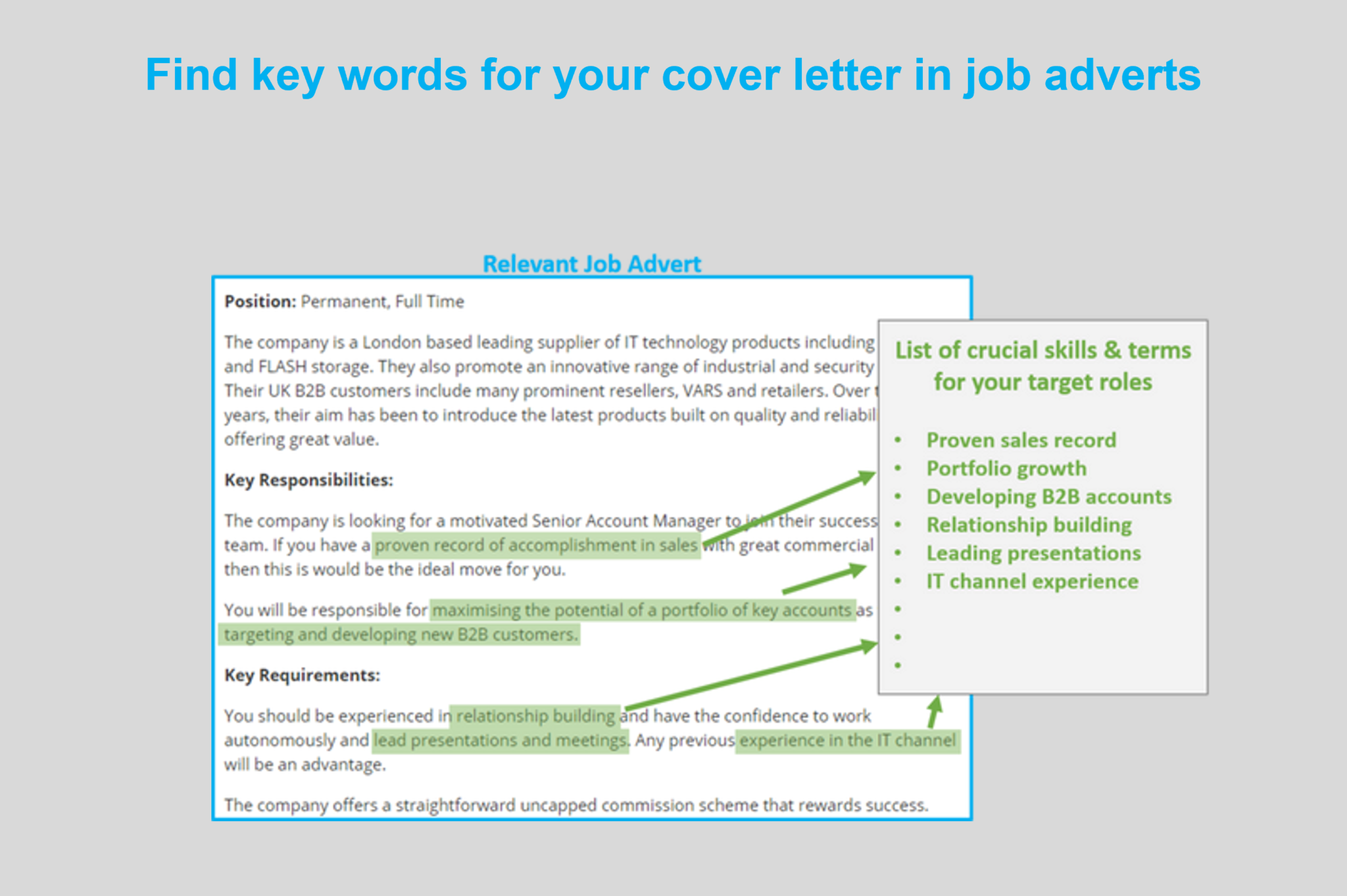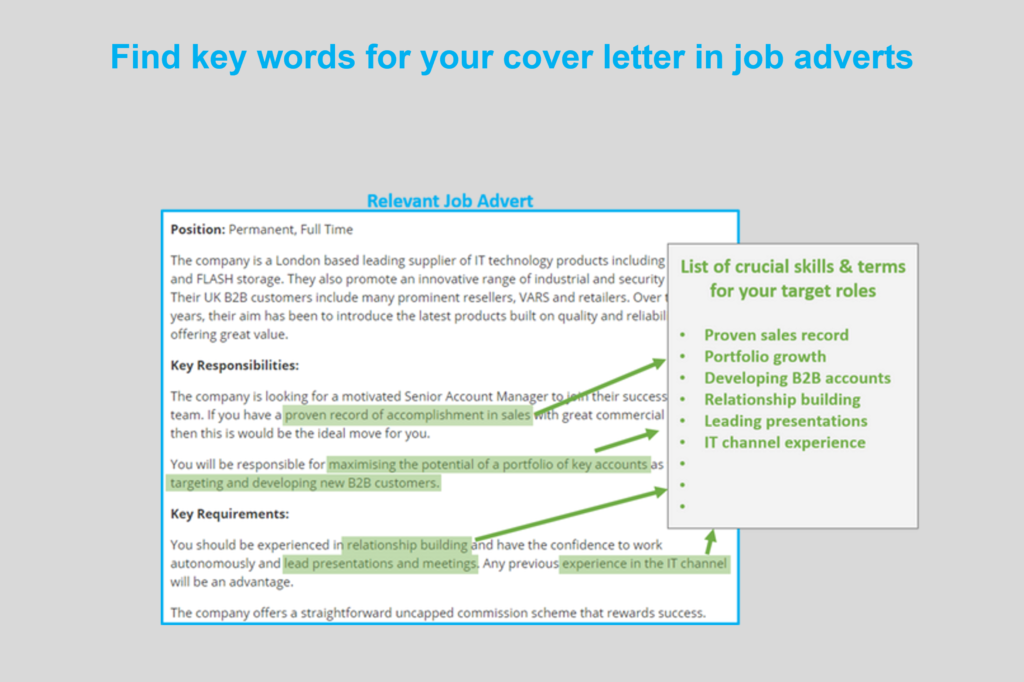 Keep it short and sharp
It is best to keep your cover letter brief if you want to ensure you hold the attention of busy recruiters and hiring managers. A lengthy cover letter will probably not get read in full, so keep yours to around 3-6 sentences and save the real detail for your CV.
Remember the purpose of your cover letter is to quickly get recruiters to notice you and encourage them to open your CV, so it only needs to include the highlights of your experience.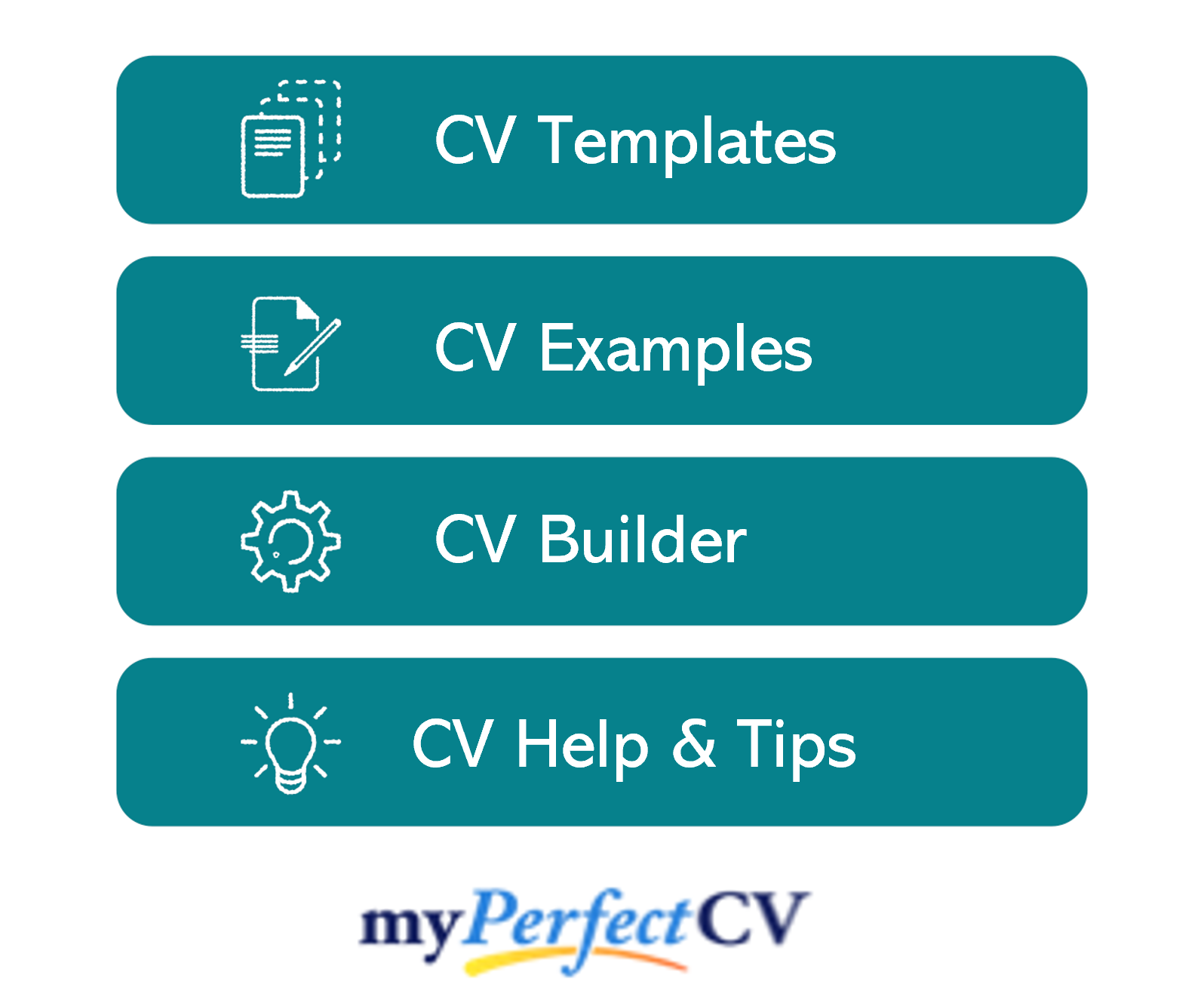 Sign off professionally
To finish off your cover note, add a professional signature to the bottom, stating your important contact details and information.
This not only provides recruiters with multiple means of contacting you, but it also adds a nice professional appearance to the cover letter, which shows that you know how to conduct yourself in the workplace.
Include the following points;
A friendly sign off – e.g. "Warm regards"
Your full name
Phone number (one you can answer quickly)
Email address
Optional
Profession title
Professional social network – e.g. LinkedIn
Here is an example signature;
Warm regards,
Aaron Smith
Customer service professional
075557437373
Aaron@smith.com
LinkedIn
Quick tip: To save yourself from having to write your signature every time you send a job application, you can save it within your email drafts, or on a separate document that you could copy in.

What to include in your Barista cover letter
Your Barista cover letter will be unique to your situation, but there are certain content guidelines you should stick to for best results.
To attract and entice recruiters, stick with the following key subjects in your cover letter – adapting them to fit your profession and target jobs.
Your professional experience – Employers will be keen to know if your experience is suitable for the job you are applying to, so provide a good summary of it in your cover letter.
Your qualifications and education – Highlight your most relevant and high-level of qualification, especially if they are essential to the job.
The positive impact you have made – Employers love to hear about the benefits you can bring to them, so shout about anything impressive you have done, such as saving money or improving processes.
Your reasons for leaving – Use a few words of your cover letter to explain why you are leaving your current job and ensure you avoid any negative reasons.
Your availability – Let recruiters know when you can start a new job. Are you immediately available, or do you have a month notice period?
Barista cover letter templates
Copy and paste these Barista cover letter templates to get a head start on your own.
Template 1
Hi Connor,
I am thrilled to apply for the Trainee Barista position at your esteemed coffeehouse. With a passion for creating exquisite coffee concoctions and experience in delivering exceptional customer service, I am confident that I possess the ideal qualities to excel in this role.
During my barista training at Café Academy, I honed my skills in various brewing techniques, consistently receiving glowing feedback from 95% of customers in satisfaction surveys. My proficiency in latte art also garnered social media recognition, contributing to a 30% increase in the café's online presence. In my previous part time job as a waitress at Pizza Express, I maintained an immaculate workspace, leading to zero health code violations during surprise inspections. Moreover, my efficient handling of high-volume orders resulted in a remarkable 20% reduction in wait times during peak hours.
I am eager to discuss how my passion for coffee and commitment to customer satisfaction can contribute to your coffeehouse's success and my availability for an interview is flexible.
Kind Regards,
Sophie Harlett ¦ 07777777777 ¦ sophie.harlett@email.com
Template 2
Hi Kweku,
I hope this email finds you well.
I am writing to submit my application for the Barista position at 29 Degrees, as advertised. My love for speciality coffee combined with my proven track record in delivering exceptional customer service makes me an ideal fit for this role at your independent coffee shop.
As a former Barista at Starbucks, I efficiently prepared up to 100 drinks daily, demonstrating my proficiency in following recipes to create classic and seasonal beverages. My knowledge of new menu items and specials allowed me to confidently engage with customers, resulting in increased upselling by 15%. Moreover, my proactive approach to restocking coffee and milk contributed to a 20% reduction in waiting time during peak hours. In my previous role as a café assistant, I streamlined the coffee-making process by 24% while working with two baristas, enabling us to serve more customers promptly.
My availability for an interview is open, and I look forward to the opportunity to showcase my passion for crafting high-quality coffee beverages.
Kind regards,
Jack Tanner ¦ 07777777777 ¦ j.tanner@email.com
Template 3
Hi Simone,
I am thrilled to apply for the Head Barista role at the Headingley branch of Café #7. My 6 years of experience as a dedicated Barista in independent coffee shops and renowned chains like Costa Coffee, and background in Events Management, have equipped me with the skills to take on this senior role.
In my current position at Spoons Cafe & Wine Bar I take immense pride in delivering consistent high-quality specialty coffee and a diverse range of beverages. My commitment to sustainability is evident through minimising waste and promoting environmentally conscious practices. My proactive approach in partnering with local roasteries has allowed the cafe to feature coffee selections from 21 independent roasteries in 2021 and 30 in 2022, amplifying its reputation. As a former Barista & Server at Costa Coffee, I processed up to 100 drink orders daily and was recognised twice as "Employee of the Month" among 45 employees.
I am eager to leverage my passion for coffee, leadership skills, and exceptional customer service to contribute to your establishment's success. I am available for an interview starting from next week.
Kind regards,
Teo Baum ¦ 07777777777 ¦ teo.baum@email.com
Writing a strong attention-grabbing cover letter is a vital step in landing a good Barista job.
Use the tips, strategies and examples above to get more responses from you job applications and start lining job interview up.
Good luck with your job search!