Are you hoping to land a position working at Barclays?
Then you can't just bank on your CV to secure an interview. Instead, you need to go one step further and create an engaging and tailored cover letter that will help you to stand out.
But if you're not sure how to get started, then check out our top tips and Barclays cover letter examples below. We promise you it will pay off.

Barclays cover letter example 1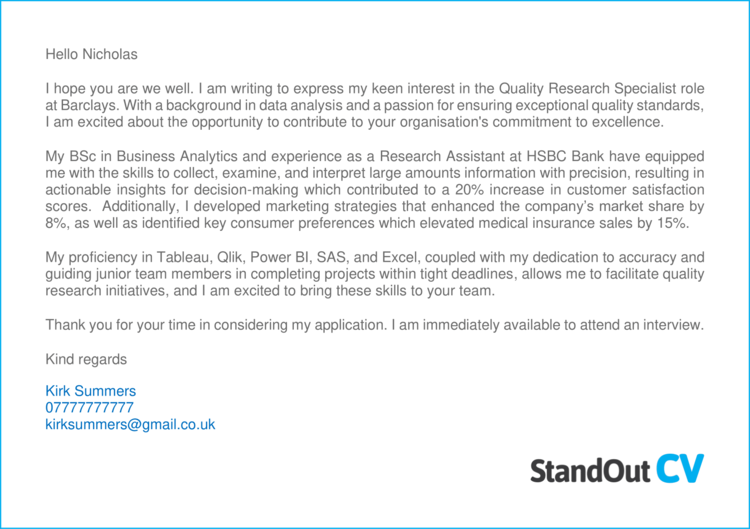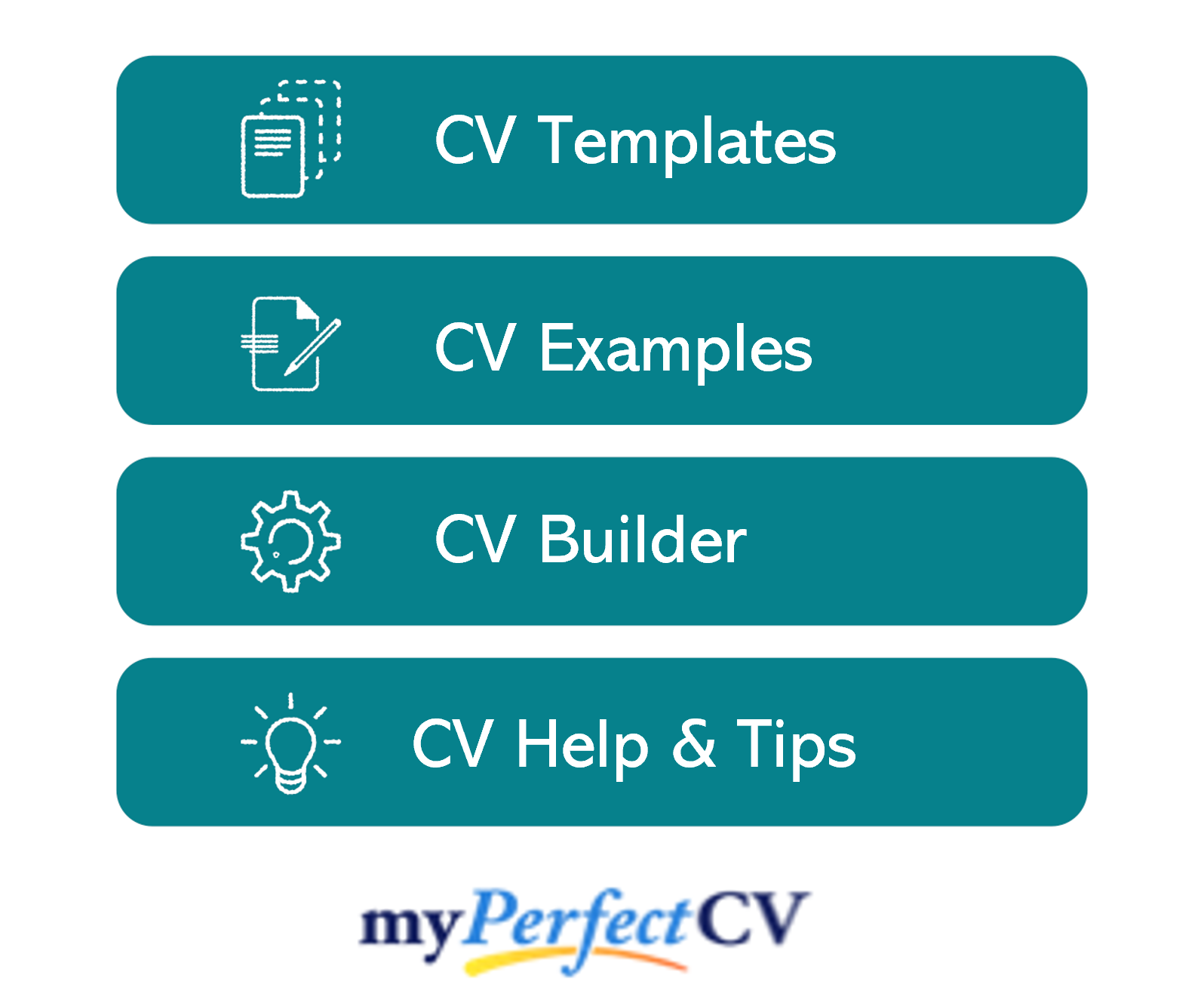 Barclays cover letter example 2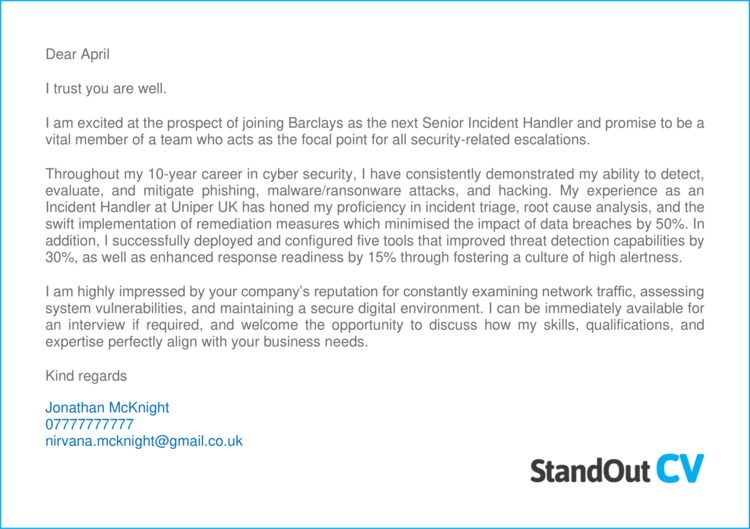 Barclays cover letter example 3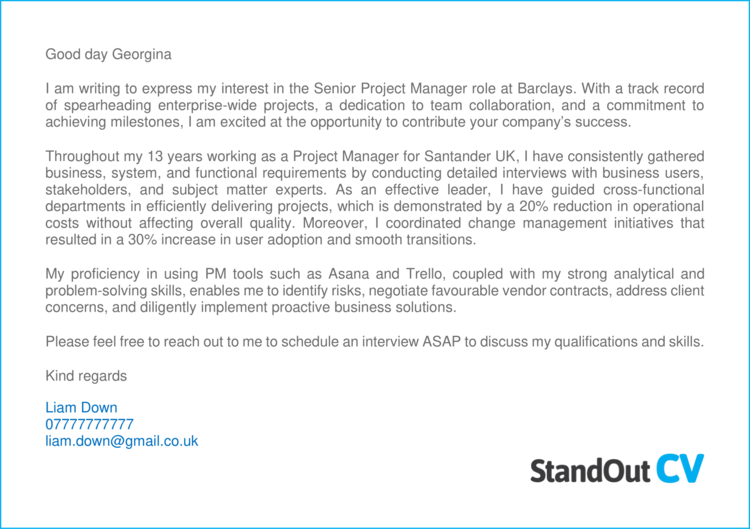 The example cover letters here should give you a good general idea on how your Barclays cover letter should be formatted and written.
The rest of this guide gives more specific guidance on how to create your own cover letter in this format, and even includes some templates you can copy and paste.
How to write a Barclays cover letter
Here's a simple process to write your own interview-winning cover letter.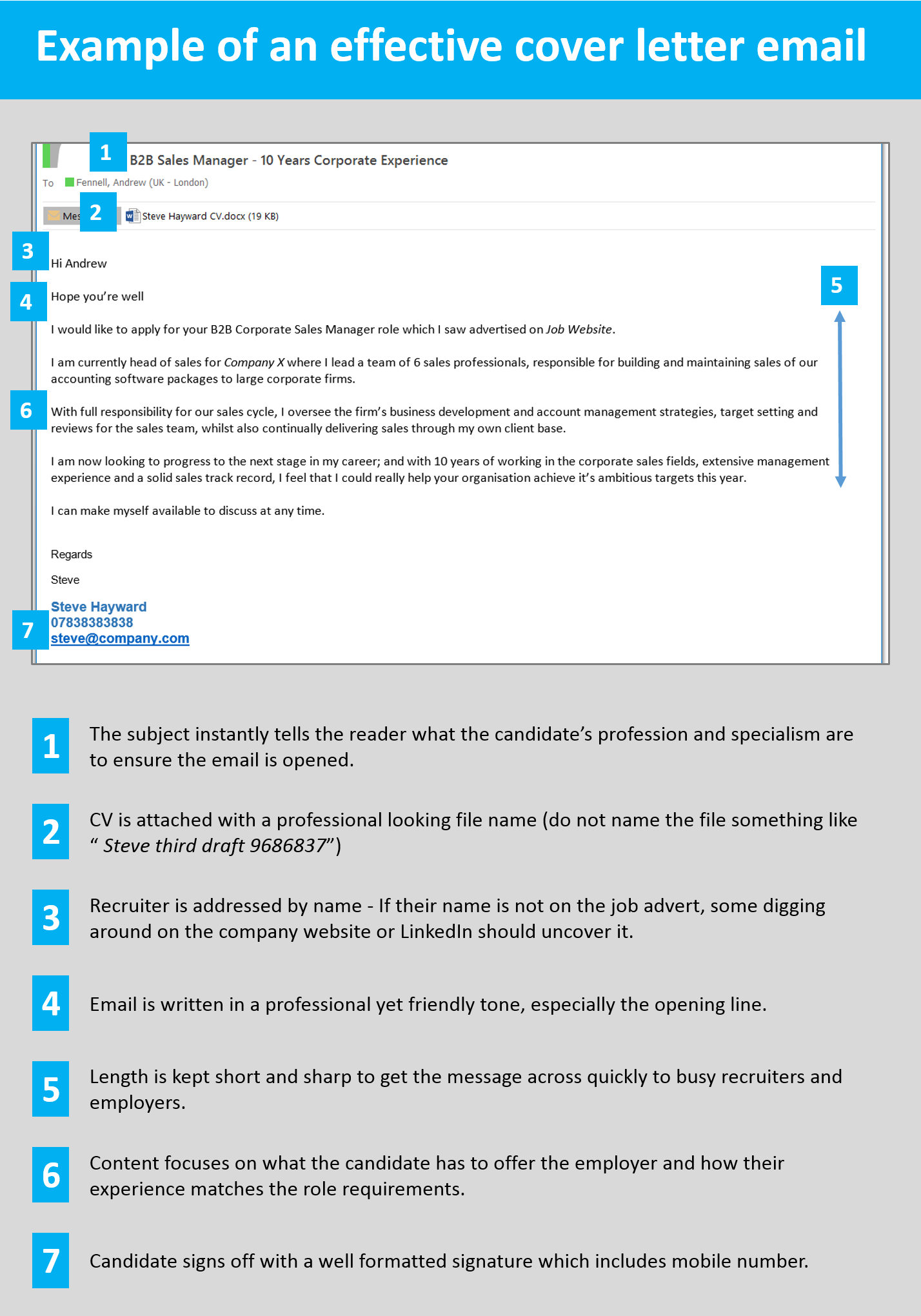 Write your cover letter in the body of an email/message
Type the content of your cover letter directly into the email you are sending, or if you are applying via a job board, directly into their messaging system.
The reason for doing this it to ensure that your cover letter gets seen instantly and you can start connecting with the recruiter as soon as they open your message.
If you attach your cover letter as a separate document, the recipient will have to open up the document, which will slow the process down, or make them less likely to even open your cover letter – which could mean your application gets skipped over.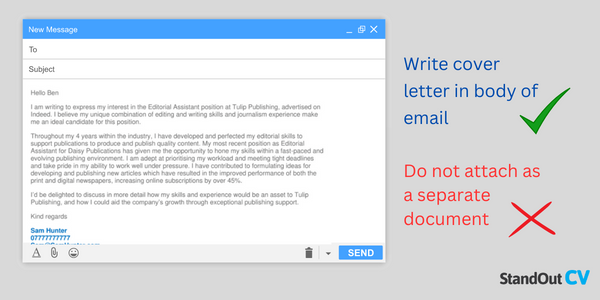 Start with a friendly greeting

To start building rapport with the recruiter or hiring manager right away, lead with a friendly greeting.
Try to strike a balance between professional and personable.
Go with something like…
Hi
Hi [insert recruiter name]
Hi [insert department/team name]
Stay away from old-fashioned greetings like "Dear sir/madam" unless applying to very formal companies – they can come across as cold and robotic.
How to find the contact's name?
Addressing the recruitment contact by name is an excellent way to start building a strong relationship. If it is not listed in the job advert, try to uncover it via these methods.
Check out the company website and look at their About page. If you see a hiring manager, HR person or internal recruiter, use their name. You could also try to figure out who would be your manager in the role and use their name.
Head to LinkedIn, search for the company and scan through the list of employees. Most professionals are on LinkedIn these days, so this is a good bet.
Identify the role you are applying for
After you have greeted the recruiter, it's important to state the job you are applying to.
Recruiters are often managing multiple vacancies, so they need to know exactly which job you are referring to.
Be as specific as possible and use a reference number if you can find one.
Here are some examples you can use;
I am interested in applying for the role of admin assistant with your organisation.
I would like to apply for the role of Sales assistant (Ref: 4057393)
I would like to express my interest in the customer service vacancy within your retail department
I saw your advertisement for a trainee project manager on Reed and would like to apply for the role.
Highlight your suitability
The bulk of your cover letter should be focused around highlighting your suitability for the job you are applying to.
Doing this will show the recruiter that you are suitable candidate and encourage them to open your CV.
The best way to do this, is by studying the job advert you are applying to, and find out what the most important skills and knowledge are.
Once you know the most important requirements, you then need to highlight your matching skills to the recruiter. In a few sentences, tell them exactly why you are a good fit for the job and what you can offer the company.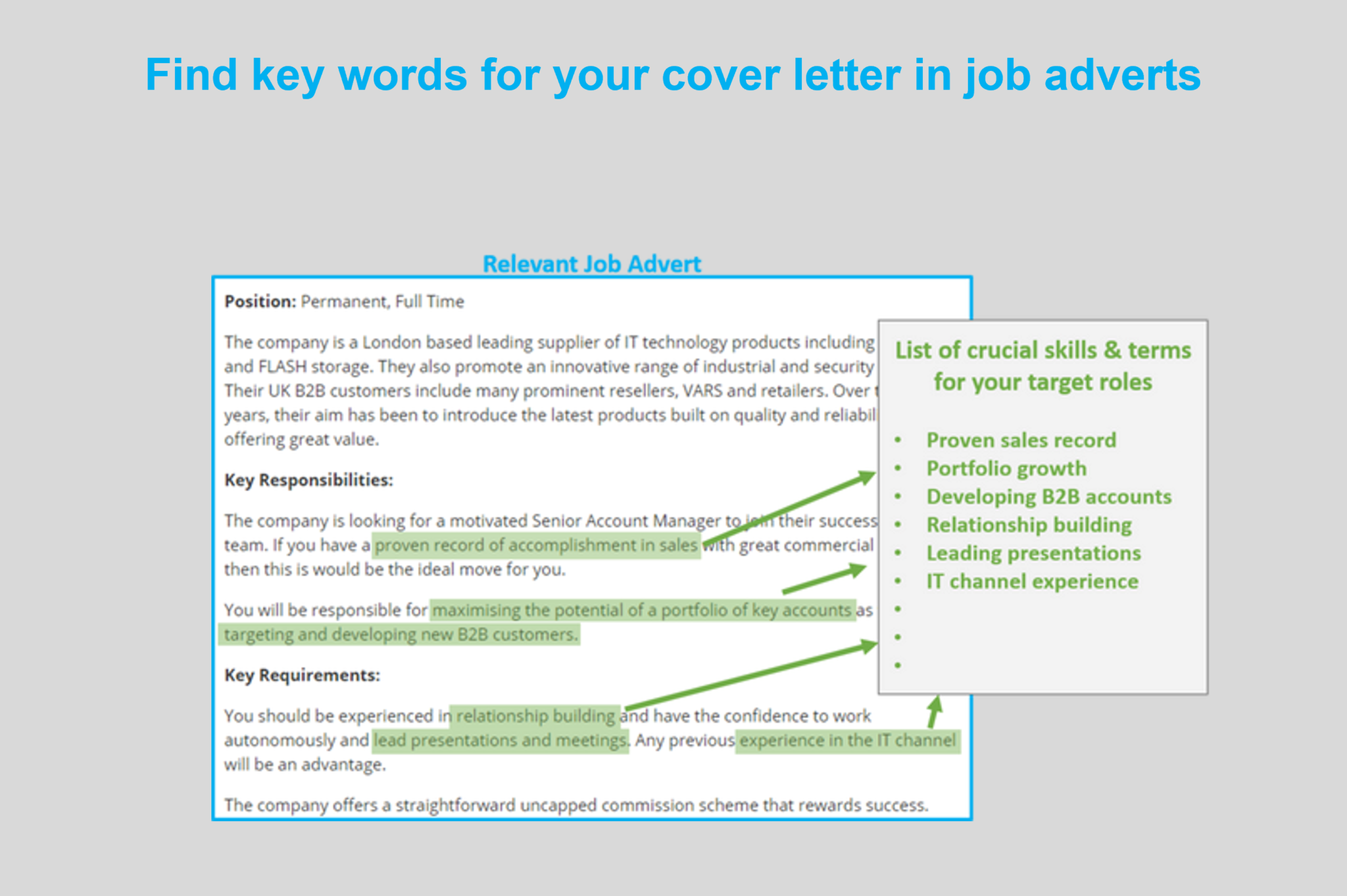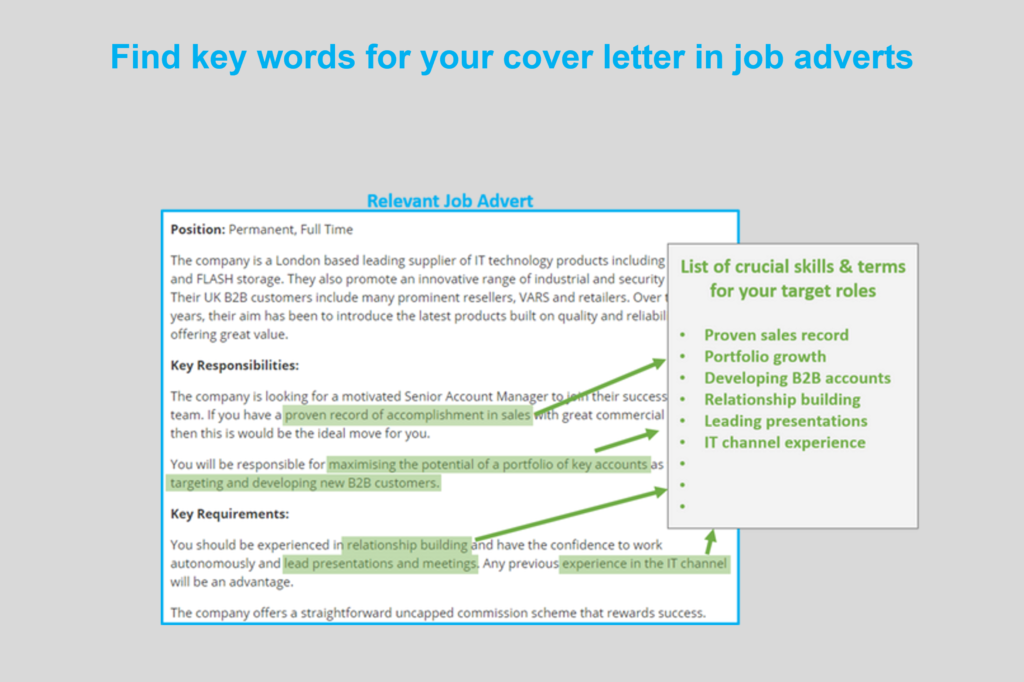 Keep it short and sharp
It is best to keep your cover letter brief if you want to ensure you hold the attention of busy recruiters and hiring managers. A lengthy cover letter will probably not get read in full, so keep yours to around 3-6 sentences and save the real detail for your CV.
Remember the purpose of your cover letter is to quickly get recruiters to notice you and encourage them to open your CV, so it only needs to include the highlights of your experience.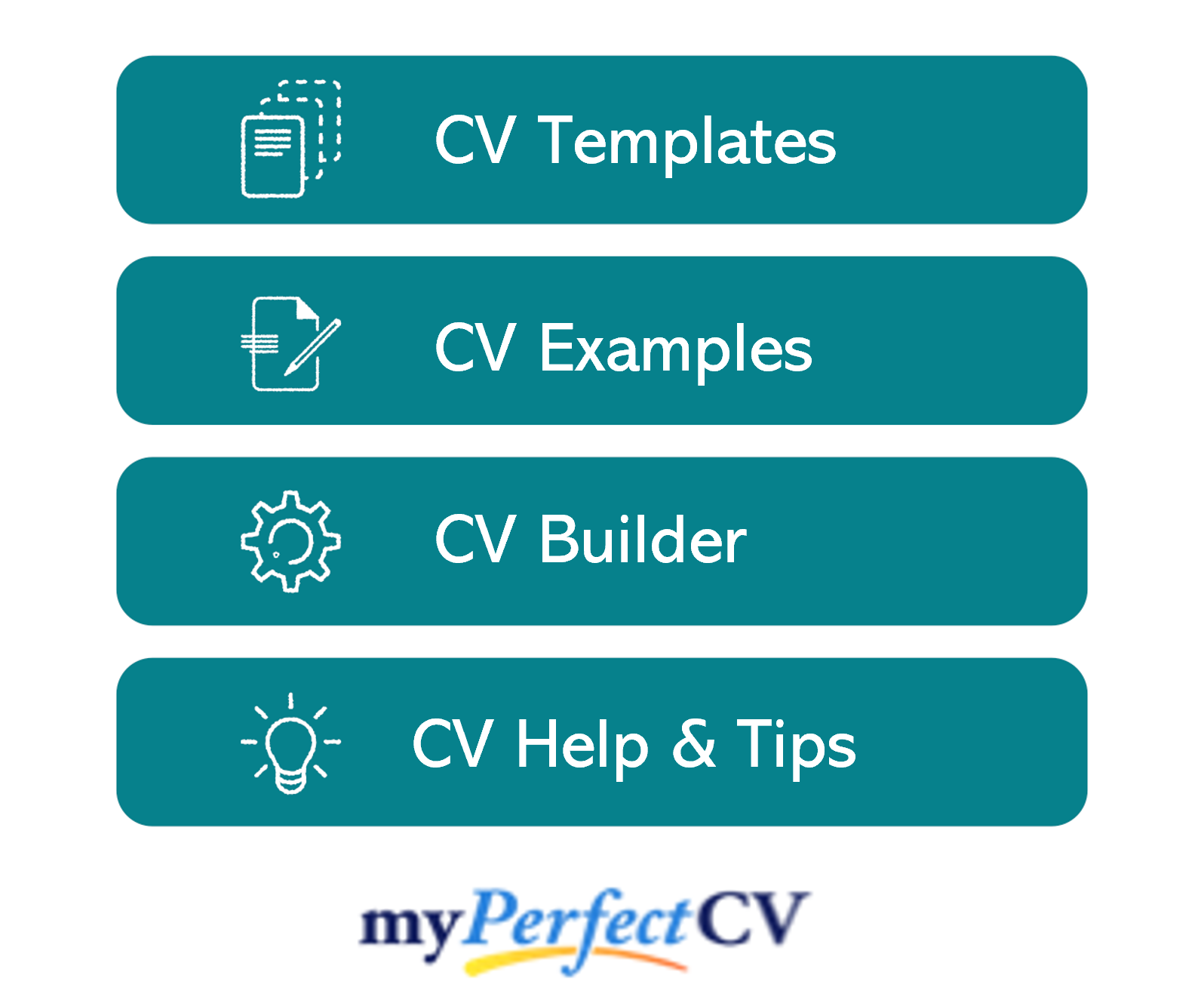 Sign off professionally
To round of your cover letter, add a professional signature to the bottom, giving recruiters your vital contact information.
This not only gives various means of contacting you, it also looks really professional and shows that you know how to communicate in the workplace.
Include the following points;
A friendly sign off – e.g. "Warm regards"
Your full name
Phone number (one you can answer quickly)
Email address
Optional
Profession title
Professional social network – e.g. LinkedIn
Here is an example signature;
Warm regards,
Gerald Baker
Senior Accountant
07887500404
Gbaker213@hotmail.com
LinkedIn
Quick tip: To save yourself from having to write your signature every time you send a job application email, you can save it within your email drafts, or on a separate document that you could copy in.

What to include in your Barclays cover letter
Your Barclays cover letter will be unique to your situation, but there are certain content guidelines you should stick to for best results.
To attract and entice recruiters, stick with the following key subjects in your cover letter – adapting them to fit your profession and target jobs.
Your professional experience – Employers will be keen to know if your experience is suitable for the job you are applying to, so provide a good summary of it in your cover letter.
Your qualifications and education – Highlight your most relevant and high-level of qualification, especially if they are essential to the job.
The positive impact you have made – Employers love to hear about the benefits you can bring to them, so shout about anything impressive you have done, such as saving money or improving processes.
Your reasons for leaving – Use a few words of your cover letter to explain why you are leaving your current job and ensure you avoid any negative reasons.
Your availability – Let recruiters know when you can start a new job. Are you immediately available, or do you have a month notice period?
Barclays cover letter templates
Copy and paste these Barclays cover letter templates to get a head start on your own.
Template 1
Hello Nicholas
I hope you are we well. I am writing to express my keen interest in the Quality Research Specialist role at Barclays. With a background in data analysis and a passion for ensuring exceptional quality standards, I am excited about the opportunity to contribute to your organisation's commitment to excellence.
My BSc in Business Analytics and experience as a Research Assistant at HSBC Bank have equipped me with the skills to collect, examine, and interpret large amounts information with precision, resulting in actionable insights for decision-making which contributed to a 20% increase in customer satisfaction scores. Additionally, I developed marketing strategies that enhanced the company's market share by 8%, as well as identified key consumer preferences which elevated medical insurance sales by 15%.
My proficiency in Tableau, Qlik, Power BI, SAS, and Excel, coupled with my dedication to accuracy and guiding junior team members in completing projects within tight deadlines, allows me to facilitate quality research initiatives, and I am excited to bring these skills to your team.
Thank you for your time in considering my application. I am immediately available to attend an interview.
Kind regards
Kirk Summers ¦ 07777777777 ¦ kirksummers@gmail.co.uk
Template 2
Dear April
I trust you are well.
I am excited at the prospect of joining Barclays as the next Senior Incident Handler and promise to be a vital member of a team who acts as the focal point for all security-related escalations.
Throughout my 10-year career in cyber security, I have consistently demonstrated my ability to detect, evaluate, and mitigate phishing, malware/ransomware attacks, and hacking. My experience as an Incident Handler at Uniper UK has honed my proficiency in incident triage, root cause analysis, and the swift implementation of remediation measures which minimised the impact of data breaches by 50%. In addition, I successfully deployed and configured five tools that improved threat detection capabilities by 30%, as well as enhanced response readiness by 15% through fostering a culture of high alertness.
I am highly impressed by your company's reputation for constantly examining network traffic, assessing system vulnerabilities, and maintaining a secure digital environment. I can be immediately available for an interview if required, and welcome the opportunity to discuss how my skills, qualifications, and expertise perfectly align with your business needs.
Kind regards
Jonathan McKnight ¦ 07777777777 ¦ nirvana.mcknight@gmail.co.uk
Template 3
Good day Georgina
I am writing to express my interest in the Senior Project Manager role at Barclays. With a track record of spearheading enterprise-wide projects, a dedication to team collaboration, and a commitment to achieving milestones, I am excited at the opportunity to contribute your company's success.
Throughout my 13 years working as a Project Manager for Santander UK, I have consistently gathered business, system, and functional requirements by conducting detailed interviews with business users, stakeholders, and subject matter experts. As an effective leader, I have guided cross-functional departments in efficiently delivering projects, which is demonstrated by a 20% reduction in operational costs without affecting overall quality. Moreover, I coordinated change management initiatives that resulted in a 30% increase in user adoption and smooth transitions.
My proficiency in using PM tools such as Asana and Trello, coupled with my strong analytical and problem-solving skills, enables me to identify risks, negotiate favourable vendor contracts, address client concerns, and diligently implement proactive business solutions.
Please feel free to reach out to me to schedule an interview ASAP to discuss my qualifications and skills.
Kind regards
Liam Down ¦ 07777777777 ¦ liam.down@gmail.co.uk
Writing a strong attention-grabbing cover letter is a vital step in landing a good job at Barclays.
Use the tips, strategies and examples above to get more responses from you job applications and start lining job interview up.
Good luck with your job search!