Are you hoping to land your next role tending bar? Then you need to serve up an impressive application that's going to make you stand out.
Sure, your CV allows you to outline your skills and experience, but it's your cover letter that needs to hit the spot with the recruiter.
So if you're ready to take your application to the next level, check out our detailed guide below, full of top tips and unique bar staff cover letter examples to inspire you.

Bar Staff cover letter example 1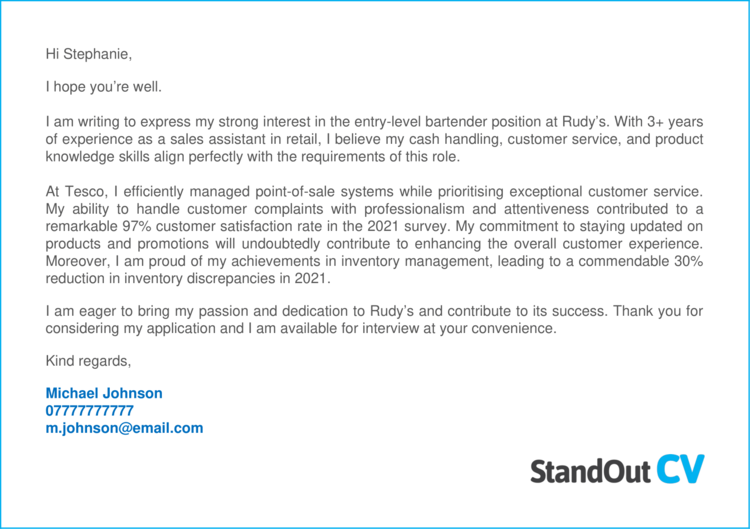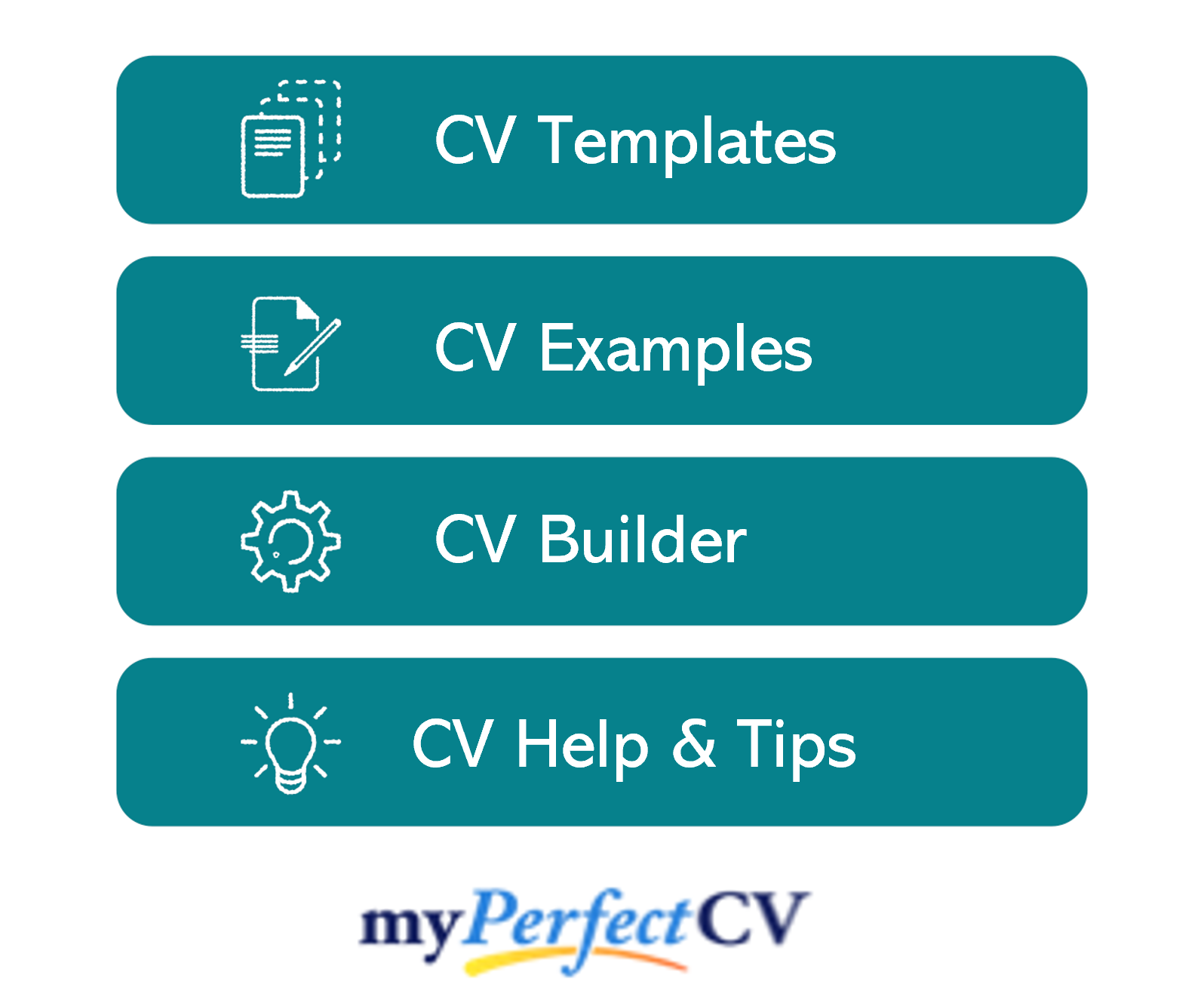 Bar Staff cover letter example 2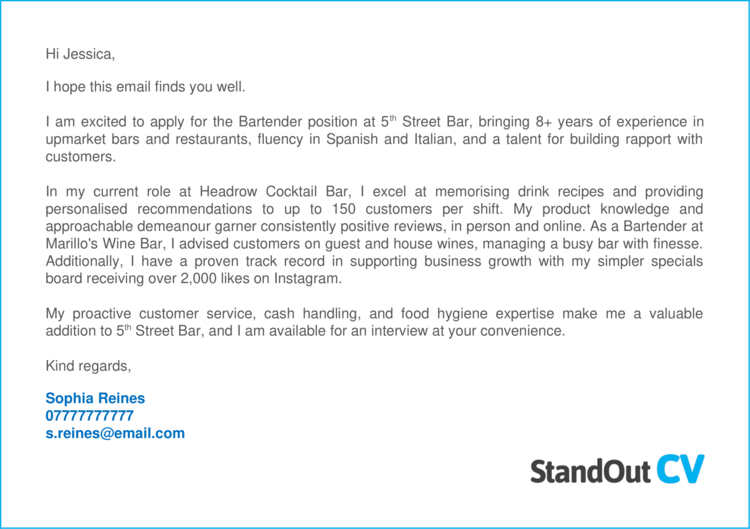 Bar Staff cover letter example 3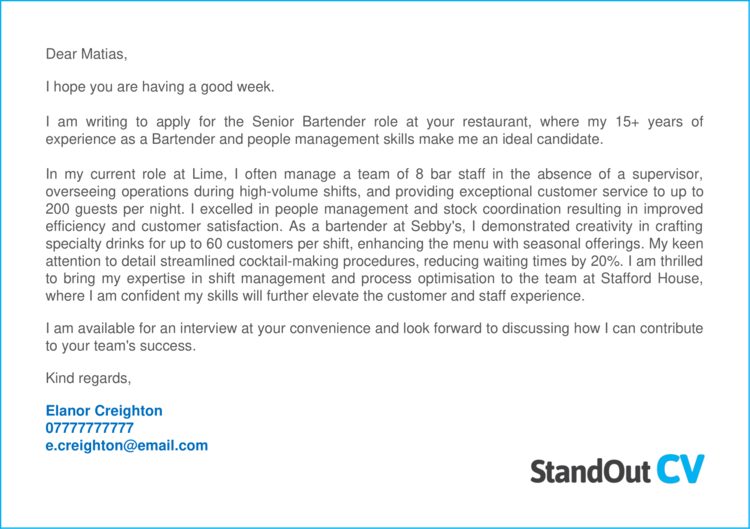 The Bar Staff cover letter examples above should give you a good idea of the type of content you need to include in your own cover letter, and how it should be structured.
But if you're really looking to wow recruiters and get your CV in front of the very best employers, then check out our guidance on how to write your own effective cover letter below.
How to write a Bar Staff cover letter
A simple step-by-step guide to writing your very own winning cover letter.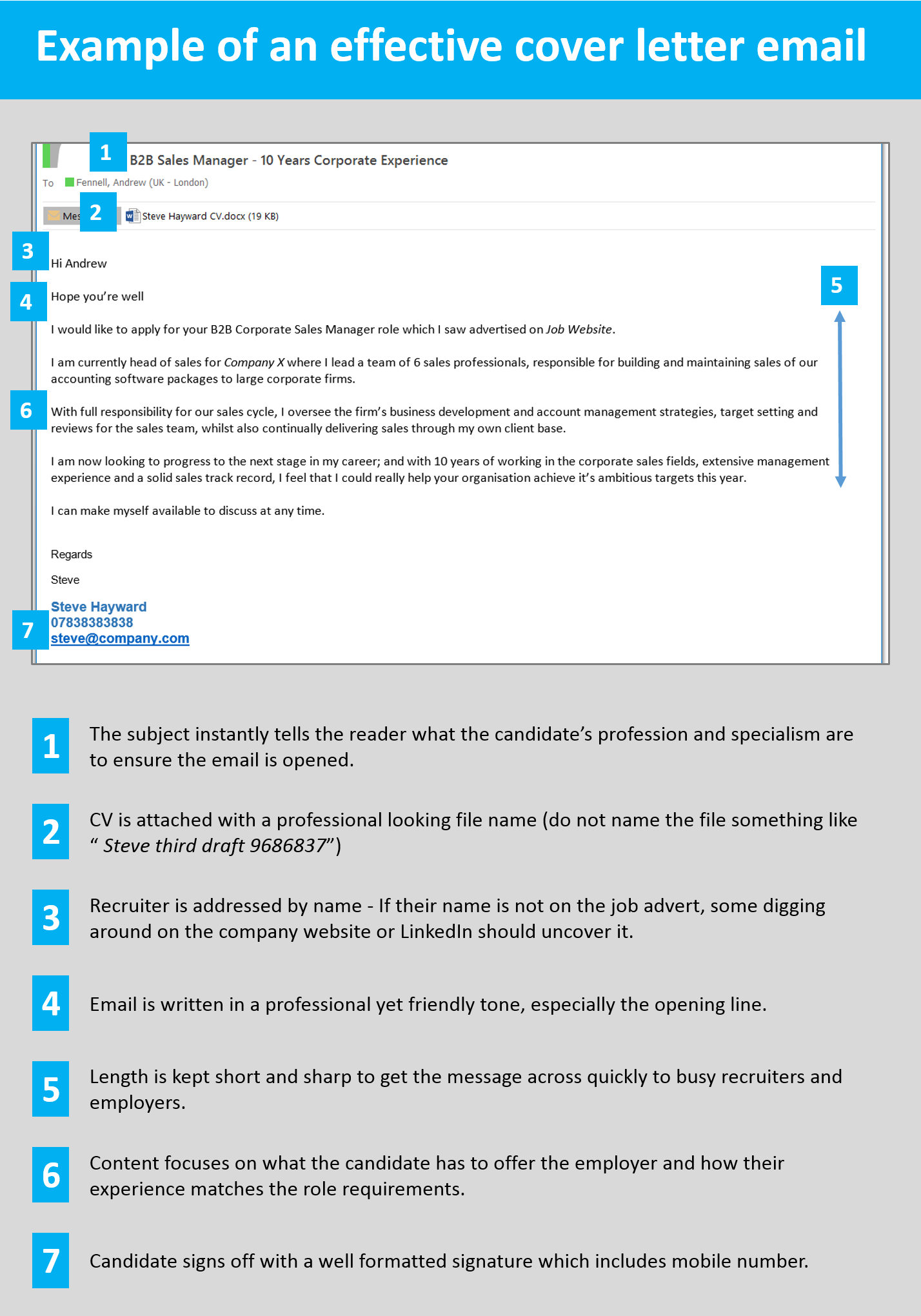 Write your cover letter in the body of an email/message
When you send a cover letter with a job application, you should always write your message into the body of your email – or the body of the messaging system if you are sending via a job website.
Why do this?
Simply because you want to get your message seen as soon as the recruiter opens your application.
If you attach the cover letter as a separate item, this means the recipient will have to open it before they can read it – slowing down the process and potentially causing frustration along the way.
So, write your cover note in the body of your email/message to ensure you make an instant connection with the reader.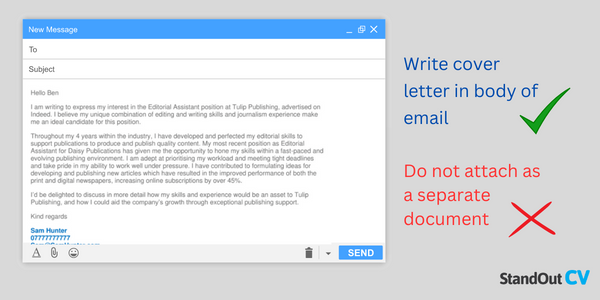 Start with a friendly greeting

To start building rapport with the recruiter or hiring manager right away, lead with a friendly greeting.
Try to strike a balance between professional and personable.
Go with something like…
Hi
Hi [insert recruiter name]
Hi [insert department/team name]
Stay away from old-fashioned greetings like "Dear sir/madam" unless applying to very formal companies – they can come across as cold and robotic.
How to find the contact's name?
Addressing the recruitment contact by name is an excellent way to start building a strong relationship. If it is not listed in the job advert, try to uncover it via these methods.
Check out the company website and look at their About page. If you see a hiring manager, HR person or internal recruiter, use their name. You could also try to figure out who would be your manager in the role and use their name.
Head to LinkedIn, search for the company and scan through the list of employees. Most professionals are on LinkedIn these days, so this is a good bet.
Identify the role you are applying for
Once you've opened up the cover letter with a warm greeting to start building a relationship, it is time to identify which role you want to apply for.
Recruiters are often managing multiple vacancies, so you need to ensure you apply to the correct one.
Be very specific and use a reference number if you can find one.
I am interested in applying for the position of *Bar Staff position* with your company.
I would like to apply for the role of Sales assistant (Ref: 406f57393)
I would like to express my interest in the customer service vacancy within your retail department
I saw your advert for a junior project manager on Reed and would like to apply for the role.
Highlight your suitability
The sole objective of your cover letter is to motivate recruiters into to opening your CV. And you achieve this by quickly explaining your suitability to the roles you are applying for.
Take a look at the job descriptions you are applying to, and make note of the most important skills and qualifications being asked for.
Then, when crafting your cover letter, make your suitability the central focus.
Explain why you are the best qualified candidate, and why you are so well suited to carry out the job.
This will give recruiters all the encouragement they need to open your CV and consider you for the job.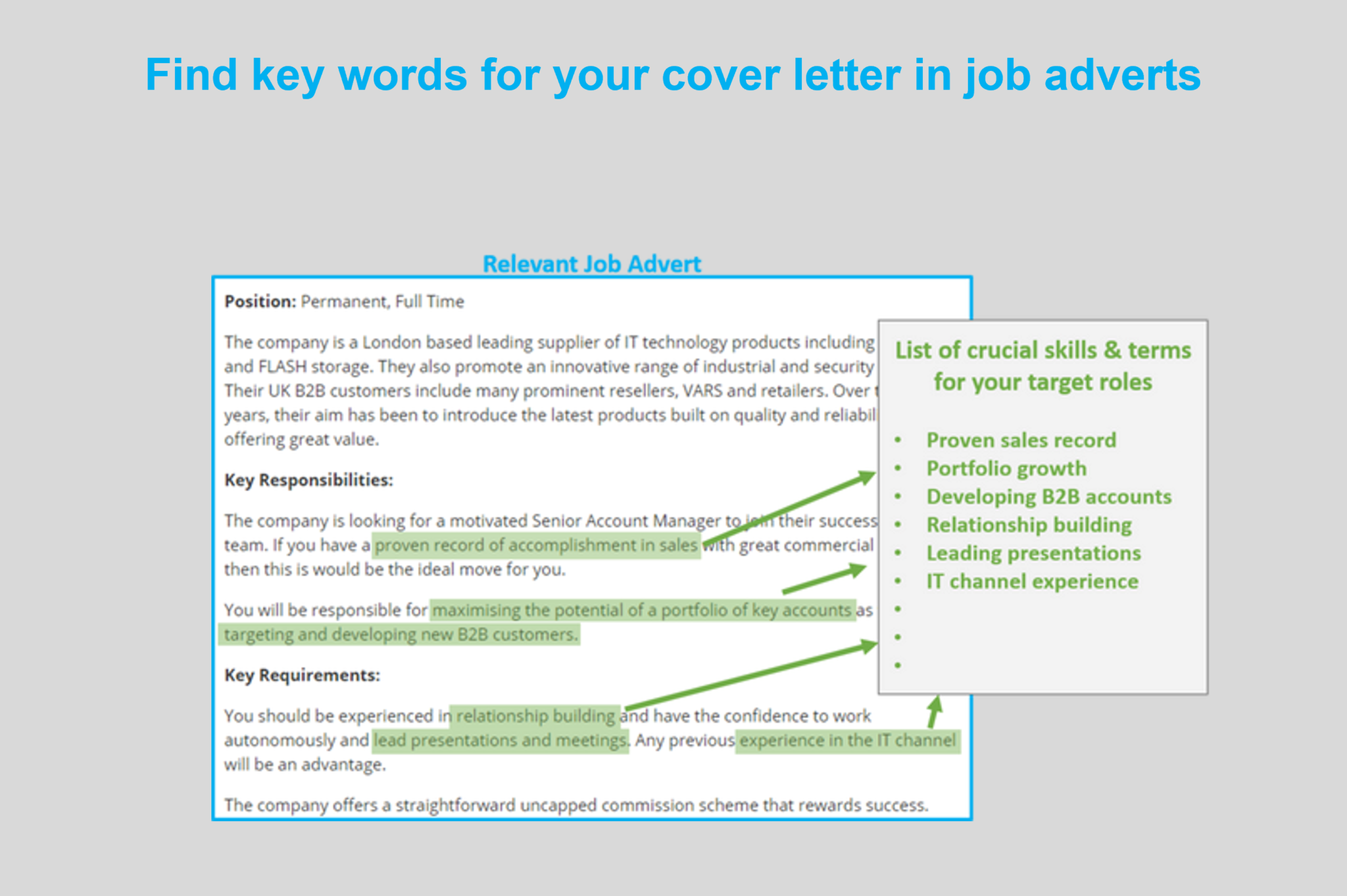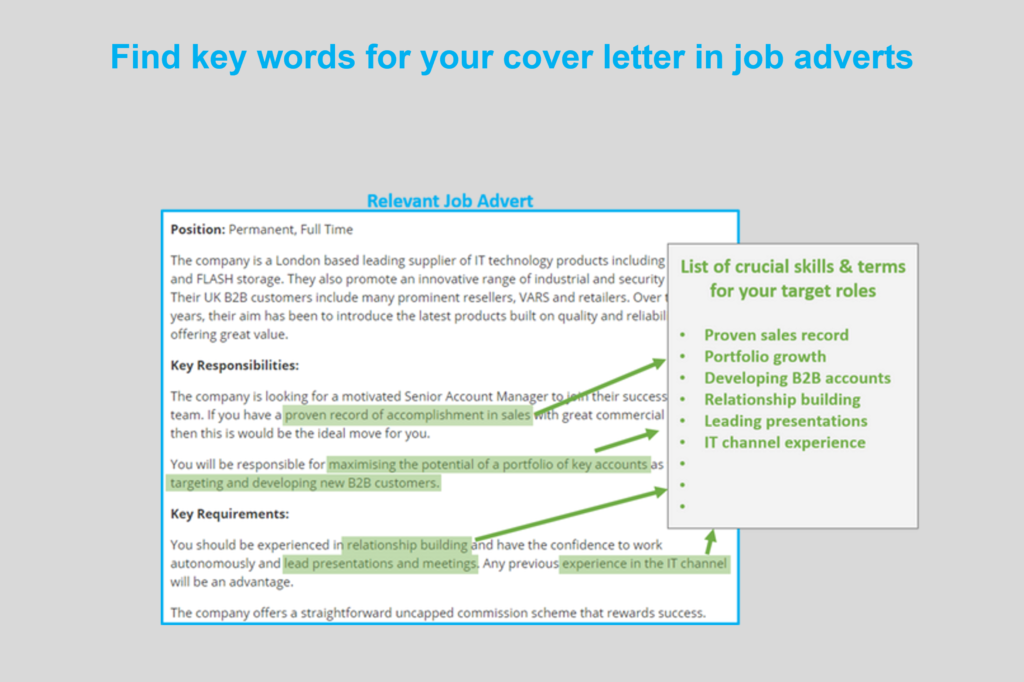 Keep it short and sharp
It is best to keep your cover letter brief if you want to ensure you hold the attention of busy recruiters and hiring managers. A lengthy cover letter will probably not get read in full, so keep yours to around 3-6 sentences and save the real detail for your CV.
Remember the purpose of your cover letter is to quickly get recruiters to notice you and encourage them to open your CV, so it only needs to include the highlights of your experience.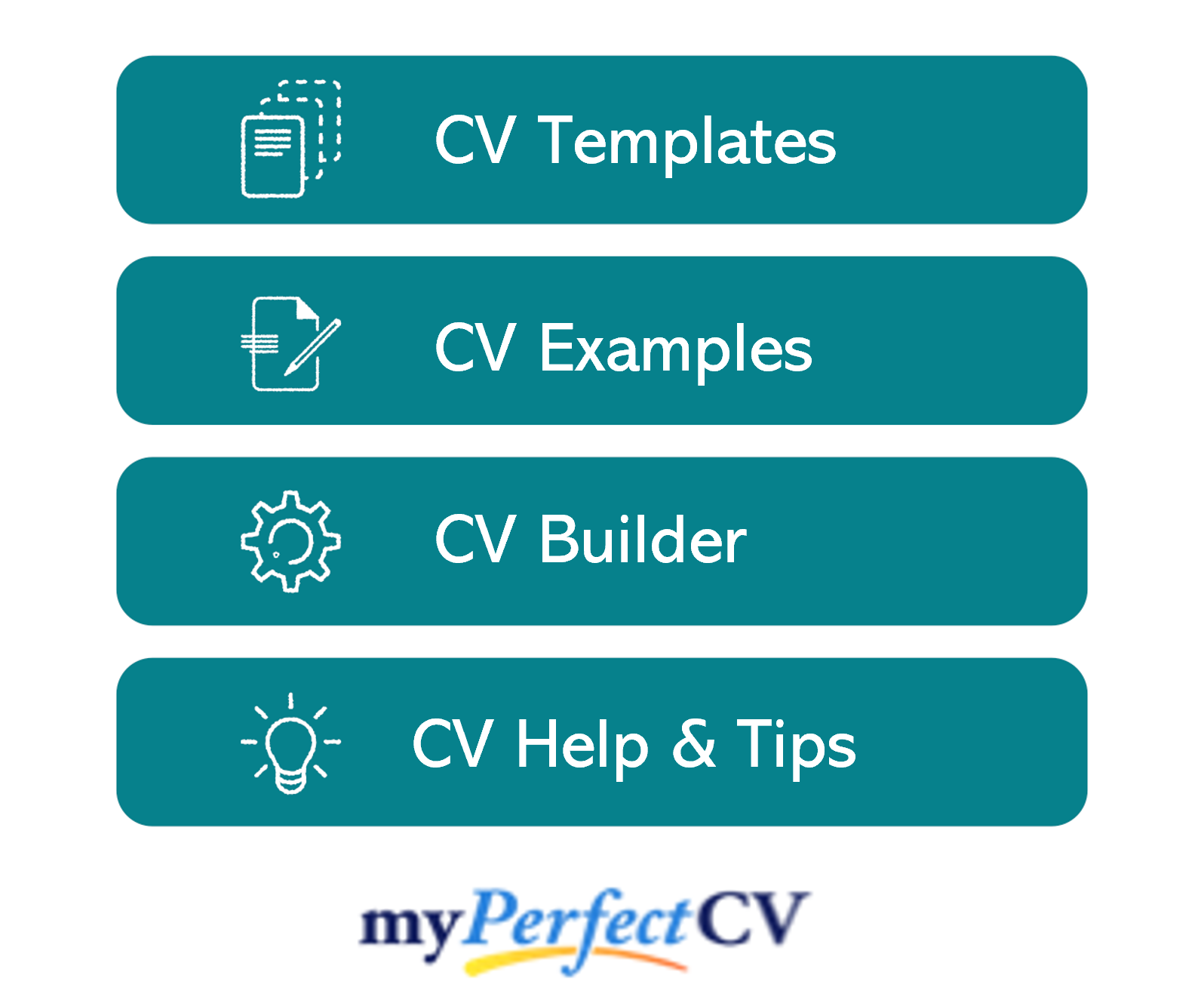 Sign off professionally
To round of your CV, you should sign off with a professional signature.
This will give your cover letter a slick appearance and also give the recruiter all of the necessary contact information they need to get in touch with you.
The information to add should include:
A friendly sign off – e.g. "Kindest regards"
Your full name
Phone number (one you can answer quickly)
Email address
Optional
Profession title
Professional social network –  e.g. LinkedIn
Here is an example signature;
Warm regards,
Jill North
IT Project Manager
078837437373
Jill@hotmail.com
LinkedIn
Quick tip: To save yourself from having to write your signature every time you send a job application, you can save it within your email drafts, or on a separate documents that you could copy in.

What to include in your Bar Staff cover letter
Here's what kind of content you should include in your Bar Staff cover letter…
The exact info will obviously depend on your industry and experience level, but these are the essentials.
Your relevant experience – Where have you worked and what type of jobs have you held?
Your qualifications – Let recruiters know about your highest level of qualification to show them you have the credentials for the job.
The impact you have made – Show how your actions have made a positive impact on previous employers; perhaps you've saved them money or helped them to acquire new customers?
Your reasons for moving – Hiring managers will want to know why you are leaving your current or previous role, so give them a brief explanation.
Your availability – When can you start a new job? Recruiters will want to know how soon they can get you on board.
Don't forget to tailor these points to the requirements of the job advert for best results.
Bar Staff cover letter templates
Copy and paste these Bar Staff cover letter templates to get a head start on your own.
Template 1
Hi Stephanie,
I hope you're well.
I am writing to express my strong interest in the entry-level bartender position at Rudy's. With 3+ years of experience as a sales assistant in retail, I believe my cash handling, customer service, and product knowledge skills align perfectly with the requirements of this role.
At Tesco, I efficiently managed point-of-sale systems while prioritising exceptional customer service. My ability to handle customer complaints with professionalism and attentiveness contributed to a remarkable 97% customer satisfaction rate in the 2021 survey. My commitment to staying updated on products and promotions will undoubtedly contribute to enhancing the overall customer experience. Moreover, I am proud of my achievements in inventory management, leading to a commendable 30% reduction in inventory discrepancies in 2021.
I am eager to bring my passion and dedication to Rudy's and contribute to its success. Thank you for considering my application and I am available for interview at your convenience.
Kind regards,
Michael Johnson ¦ 07777777777 ¦ m.johnson@email.com
Template 2
Hi Jessica,
I hope this email finds you well.
I am excited to apply for the Bartender position at 5th Street Bar, bringing 8+ years of experience in upmarket bars and restaurants, fluency in Spanish and Italian, and a talent for building rapport with customers.
In my current role at Headrow Cocktail Bar, I excel at memorising drink recipes and providing personalised recommendations to up to 150 customers per shift. My product knowledge and approachable demeanour garner consistently positive reviews, in person and online. As a Bartender at Marillo's Wine Bar, I advised customers on guest and house wines, managing a busy bar with finesse. Additionally, I have a proven track record in supporting business growth with my simpler specials board receiving over 2,000 likes on Instagram.
My proactive customer service, cash handling, and food hygiene expertise make me a valuable addition to 5th Street Bar, and I am available for an interview at your convenience.
Kind regards,
Sophia Reines ¦ 07777777777 ¦ s.reines@email.com
Template 3
Dear Matias,
I hope you are having a good week.
I am writing to apply for the Senior Bartender role at your restaurant, where my 15+ years of experience as a Bartender and people management skills make me an ideal candidate.
In my current role at Lime, I often manage a team of 8 bar staff in the absence of a supervisor, overseeing operations during high-volume shifts, and providing exceptional customer service to up to 200 guests per night. I excelled in people management and stock coordination resulting in improved efficiency and customer satisfaction.
As a bartender at Sebby's, I demonstrated creativity in crafting specialty drinks for up to 60 customers per shift, enhancing the menu with seasonal offerings. My keen attention to detail streamlined cocktail-making procedures, reducing waiting times by 20%. I am thrilled to bring my expertise in shift management and process optimisation to the team at Stafford House, where I am confident my skills will further elevate the customer and staff experience.
I am available for an interview at your convenience and look forward to discussing how I can contribute to your team's success.
Kind regards,
Elanor Creighton ¦ 07777777777 ¦ e.creighton@email.com
Writing a strong attention-grabbing cover letter is a vital step in landing a good Bar Staff job.
Use the tips, strategies and examples above to get more responses from you job applications and start lining job interview up.
Good luck with your job search!