If you're hoping to land your next banking role, then you need a cover letter that's right on the money.
In our step-by-step guide, we'll share our top tips and advice for writing an impressive application.
We've also created some banking cover letter examples to inspire your own. Check them out below.

Banking cover letter example 1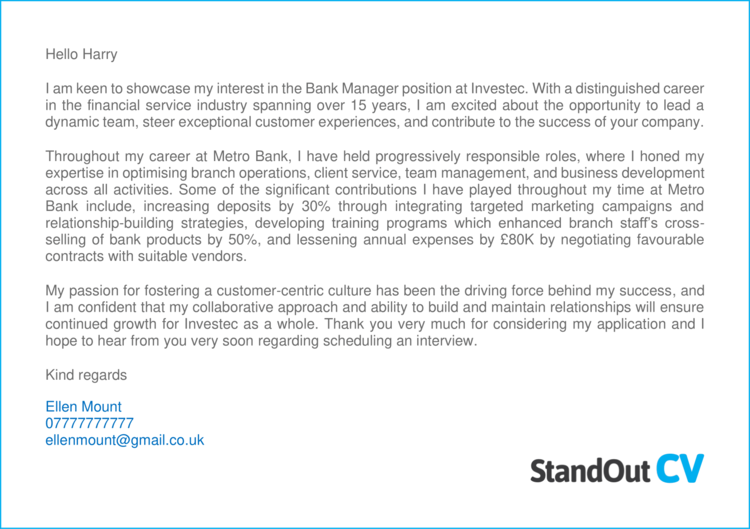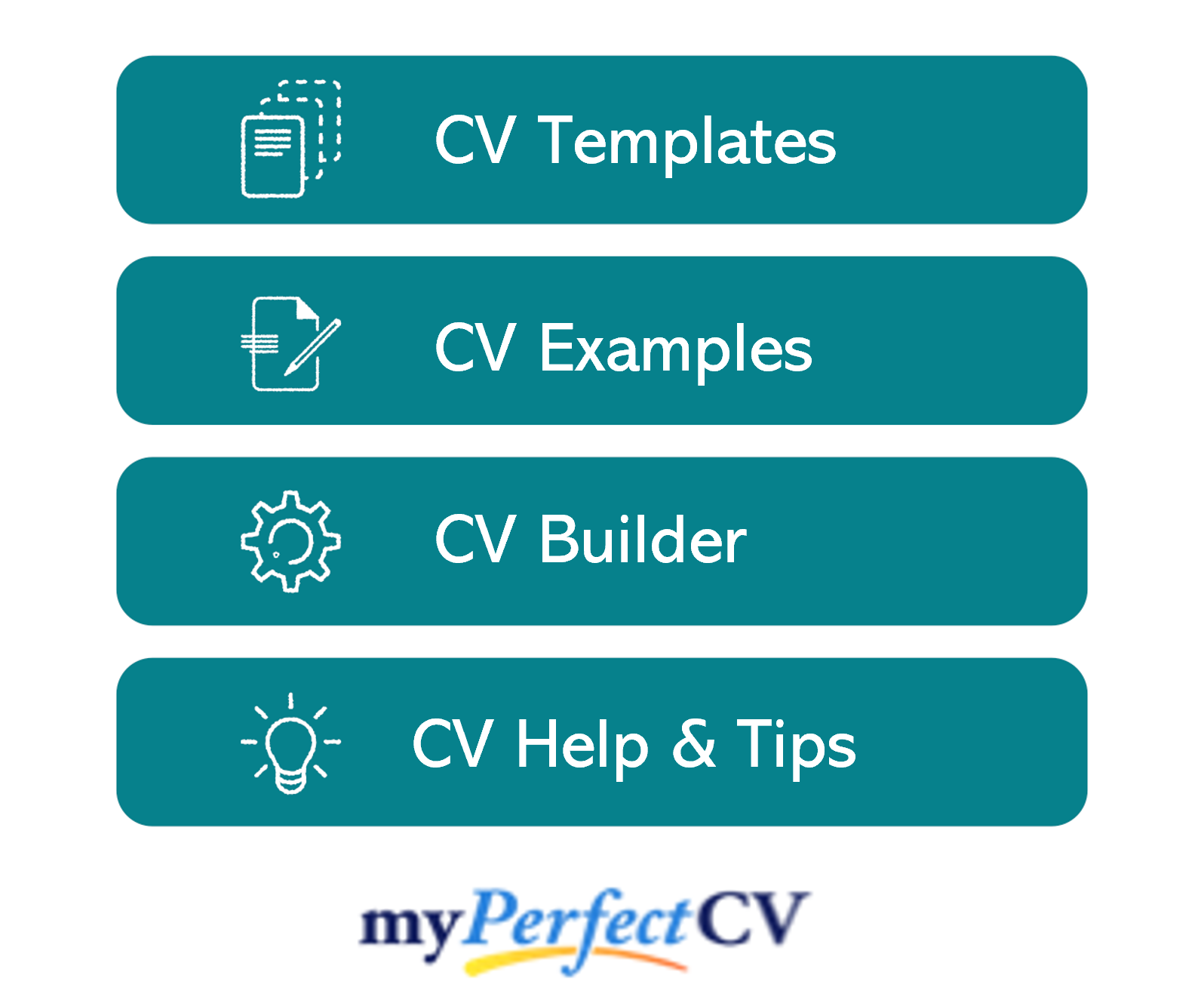 Banking cover letter example 2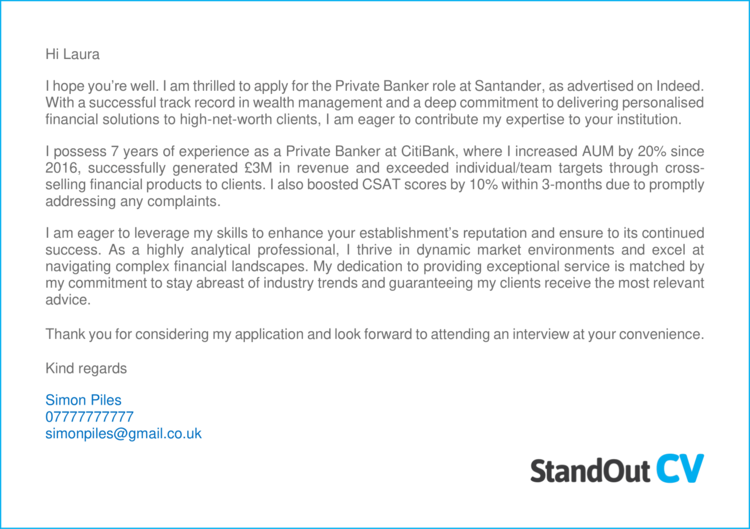 Banking cover letter example 3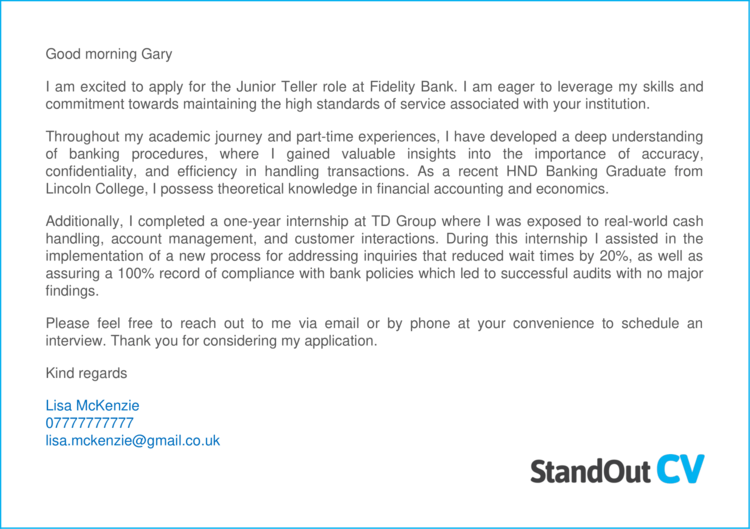 These 3 Banking cover letter examples should provide you with a good steer on how to write your own cover letter, and the general structure to follow.
Our simple step-by-step guide below provides some more detailed advice on how you can craft a winning cover letter for yourself, that will ensure your CV gets opened.
How to write a Banking cover letter
A simple step-by-step guide to writing your very own winning cover letter.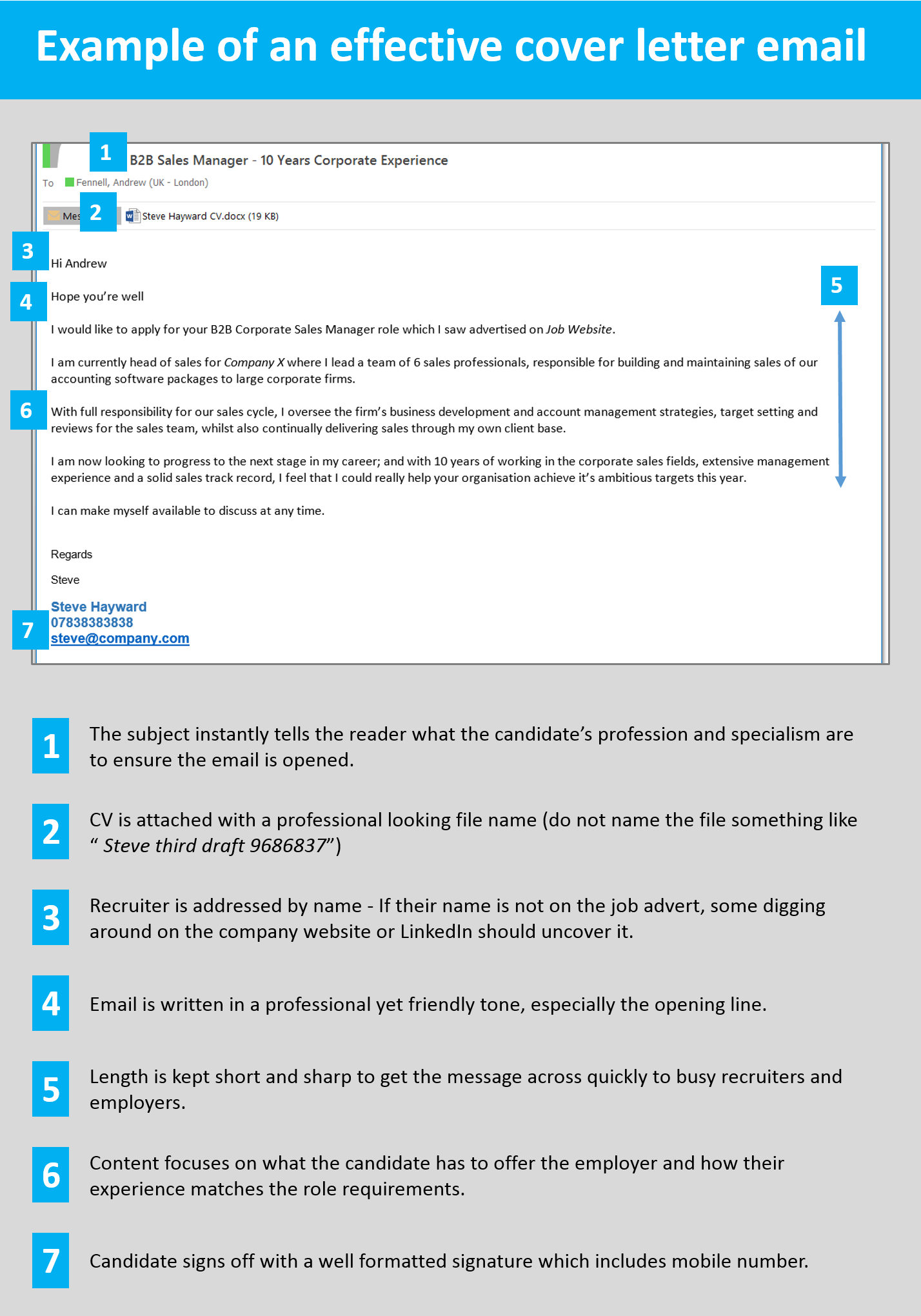 Write your cover letter in the body of an email/message
When writing your Banking cover letter, it's best to type the content into the body of your email (or the job site messaging system) and not to attach the cover letter as a separate document.
This ensures that your cover letter gets seen as soon as a recruiter or employer opens your message.
If you attach the cover letter as a document, you're making the reader go through an unnecessary step of opening the document before reading it.
If it's in the body of the message itself, it will be seen instantly, which hugely increases the chances of it being read.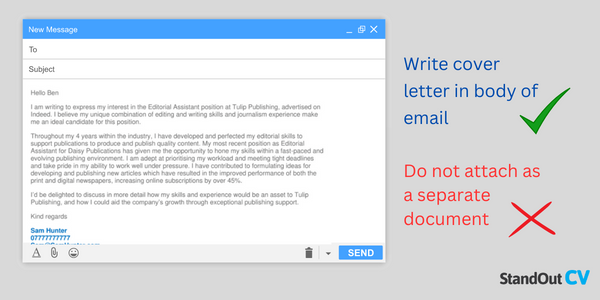 Start with a friendly greeting

To start building rapport with the recruiter or hiring manager right away, lead with a friendly greeting.
Try to strike a balance between professional and personable.
Go with something like…
Hi
Hi [insert recruiter name]
Hi [insert department/team name]
Stay away from old-fashioned greetings like "Dear sir/madam" unless applying to very formal companies – they can come across as cold and robotic.
How to find the contact's name?
Addressing the recruitment contact by name is an excellent way to start building a strong relationship. If it is not listed in the job advert, try to uncover it via these methods.
Check out the company website and look at their About page. If you see a hiring manager, HR person or internal recruiter, use their name. You could also try to figure out who would be your manager in the role and use their name.
Head to LinkedIn, search for the company and scan through the list of employees. Most professionals are on LinkedIn these days, so this is a good bet.
Identify the role you are applying for
Once you've opened up the cover letter with a warm greeting to start building a relationship, it is time to identify which role you want to apply for.
Recruiters are often managing multiple vacancies, so you need to ensure you apply to the correct one.
Be very specific and use a reference number if you can find one.
I am interested in applying for the position of *Banking role* with your company.
I would like to apply for the role of Sales assistant (Ref: 406f57393)
I would like to express my interest in the customer service vacancy within your retail department
I saw your advert for a junior project manager on Reed and would like to apply for the role.
Highlight your suitability
The sole objective of your cover letter is to motivate recruiters into to opening your CV. And you achieve this by quickly explaining your suitability to the roles you are applying for.
Take a look at the job descriptions you are applying to, and make note of the most important skills and qualifications being asked for.
Then, when crafting your cover letter, make your suitability the central focus.
Explain why you are the best qualified candidate, and why you are so well suited to carry out the job.
This will give recruiters all the encouragement they need to open your CV and consider you for the job.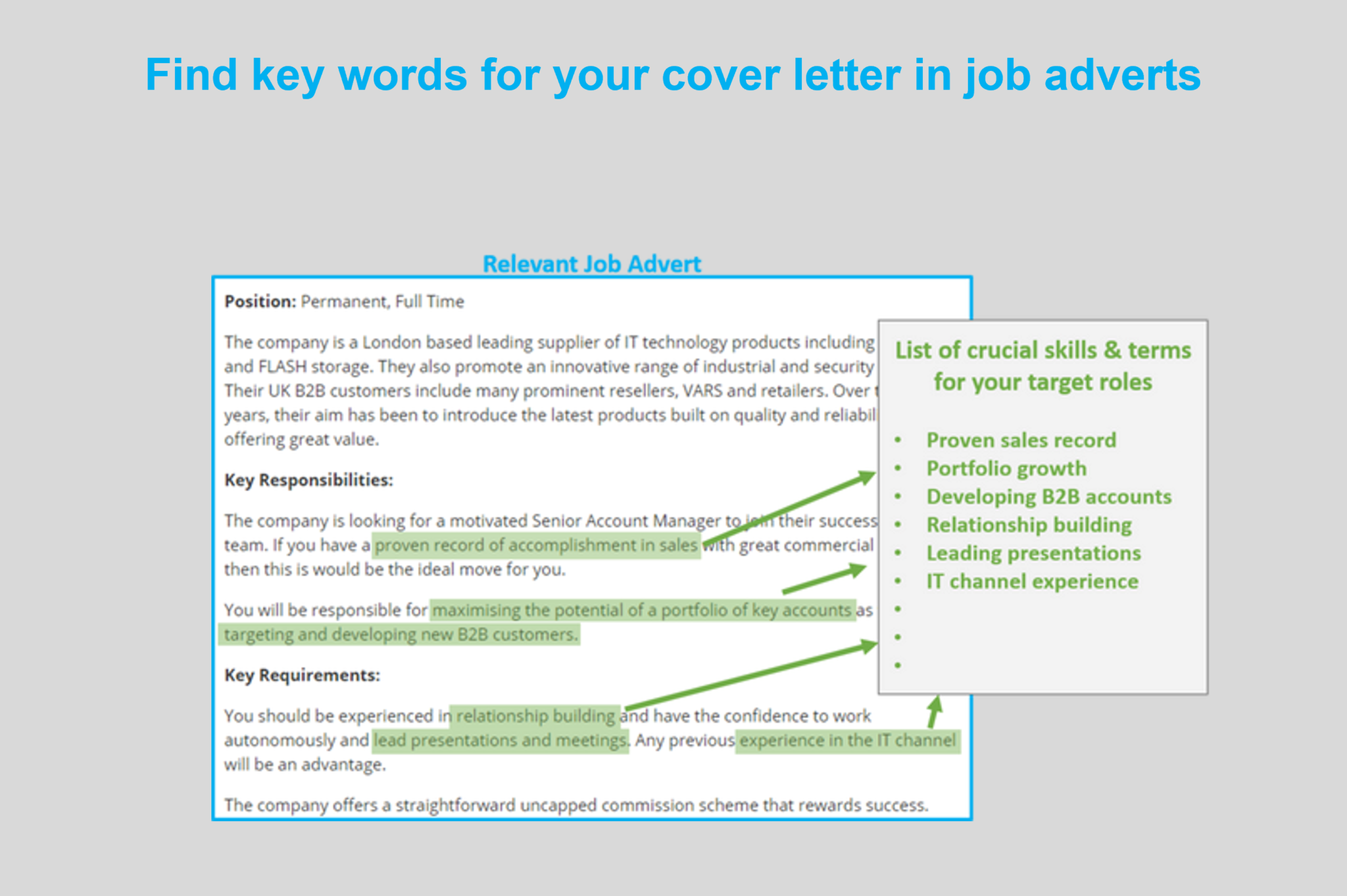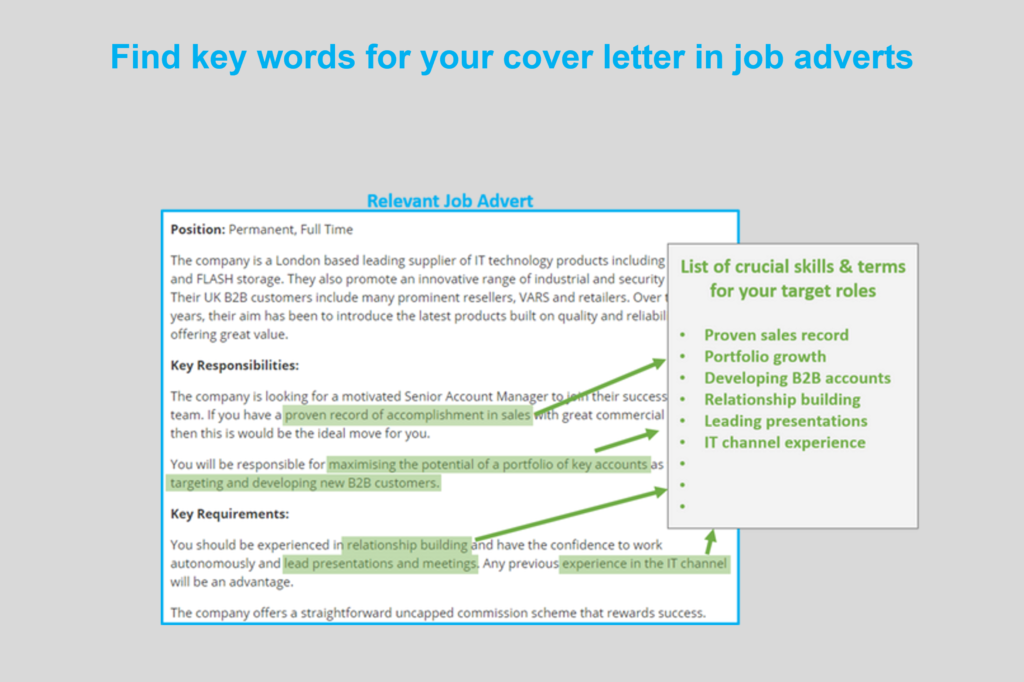 Keep it short and sharp
A good cover letter is short and sharp, getting to the point quickly with just enough information to grab the attention of recruiters.
Ideally your cover letter should be around 4-8 sentences long – anything longer will risk losing the attention of time-strapped recruiters and hiring managers.
Essentially you need to include just enough information to persuade the reader to open up your CV, where the in-depth details will sit.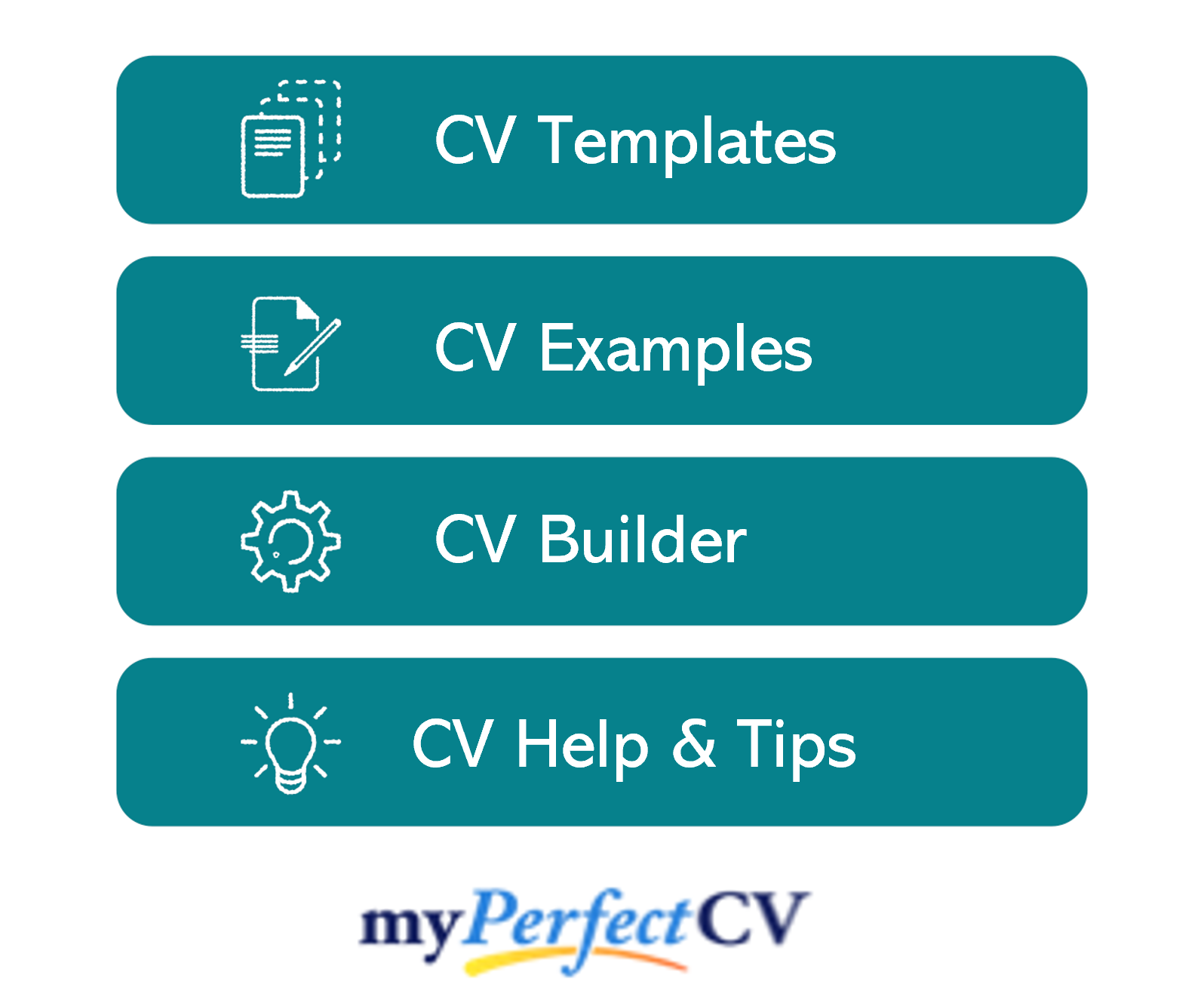 Sign off professionally
To round of your CV, you should sign off with a professional signature.
This will give your cover letter a slick appearance and also give the recruiter all of the necessary contact information they need to get in touch with you.
The information to add should include:
A friendly sign off – e.g. "Kindest regards"
Your full name
Phone number (one you can answer quickly)
Email address
Optional
Profession title
Professional social network –  e.g. LinkedIn
Here is an example signature;
Warm regards,
Jill North
IT Project Manager
078837437373
Jill@hotmail.com
LinkedIn
Quick tip: To save yourself from having to write your signature every time you send a job application, you can save it within your email drafts, or on a separate documents that you could copy in.

What to include in your Banking cover letter
Here's what kind of content you should include in your Banking cover letter…
The exact info will obviously depend on your industry and experience level, but these are the essentials.
Your relevant experience – Where have you worked and what type of jobs have you held?
Your qualifications – Let recruiters know about your highest level of qualification to show them you have the credentials for the job.
The impact you have made – Show how your actions have made a positive impact on previous employers; perhaps you've saved them money or helped them to acquire new customers?
Your reasons for moving – Hiring managers will want to know why you are leaving your current or previous role, so give them a brief explanation.
Your availability – When can you start a new job? Recruiters will want to know how soon they can get you on board.
Don't forget to tailor these points to the requirements of the job advert for best results.
Banking cover letter templates
Copy and paste these Banking cover letter templates to get a head start on your own.
Template 1
Hello Harry
I am keen to showcase my interest in the Bank Manager position at Investec. With a distinguished career in the financial service industry spanning over 15 years, I am excited about the opportunity to lead a dynamic team, steer exceptional customer experiences, and contribute to the success of your company.
Throughout my career at Metro Bank, I have held progressively responsible roles, where I honed my expertise in optimising branch operations, client service, team management, and business development across all activities. Some of the significant contributions I have played throughout my time at Metro Bank include, increasing deposits by 30% through integrating targeted marketing campaigns and relationship-building strategies, developing training programs which enhanced branch staff's cross-selling of bank products by 50%, and lessening annual expenses by £80K by negotiating favourable contracts with suitable vendors.
My passion for fostering a customer-centric culture has been the driving force behind my success, and I am confident that my collaborative approach and ability to build and maintain relationships will ensure continued growth for Investec as a whole. Thank you very much for considering my application and I hope to hear from you very soon regarding scheduling an interview.
Kind regards
Ellen Mount ¦ 07777777777 ¦ ellenmount@gmail.co.uk
Template 2
Hi Laura
I hope you're well. I am thrilled to apply for the Private Banker role at Santander, as advertised on Indeed. With a successful track record in wealth management and a deep commitment to delivering personalised financial solutions to high-net-worth clients, I am eager to contribute my expertise to your institution.
I possess 7 years of experience as a Private Banker at CitiBank, where I increased AUM by 20% since 2016, successfully generated £3M in revenue and exceeded individual/team targets through cross-selling financial products to clients. I also boosted CSAT scores by 10% within 3-months due to promptly addressing any complaints.
I am eager to leverage my skills to enhance your establishment's reputation and ensure to its continued success. As a highly analytical professional, I thrive in dynamic market environments and excel at navigating complex financial landscapes. My dedication to providing exceptional service is matched by my commitment to stay abreast of industry trends and guaranteeing my clients receive the most relevant advice.
Thank you for considering my application and look forward to attending an interview at your convenience.
Kind regards
Simon Piles ¦ 07777777777 ¦ simonpiles@gmail.co.uk
Template 3
Good morning, Gary
I am excited to apply for the Junior Teller role at Fidelity Bank. I am eager to leverage my skills and commitment towards maintaining the high standards of service associated with your institution.
Throughout my academic journey and part-time experiences, I have developed a deep understanding of banking procedures, where I gained valuable insights into the importance of accuracy, confidentiality, and efficiency in handling transactions. As a recent HND Banking Graduate from Lincoln College, I possess theoretical knowledge in financial accounting and economics.
Additionally, I completed a one-year internship at TD Group where I was exposed to real-world cash handling, account management, and customer interactions. During this internship I assisted in the implementation of a new process for addressing inquiries that reduced wait times by 20%, as well as assuring a 100% record of compliance with bank policies which led to successful audits with no major findings.
Please feel free to reach out to me via email or by phone at your convenience to schedule an interview. Thank you for considering my application.
Kind regards
Lisa McKenzie ¦ 07777777777 ¦ lisa.mckenzie@gmail.co.uk
Writing an impressive cover letter is a crucial step in landing a Banking job, so taking the time to perfect it is well worth while.
By following the tips and examples above you will be able to create an eye-catching cover letter that will wow recruiters and ensure your CV gets read – leading to more job interviews for you.
Good luck with your job search!